—
October 4th – Boulder          Oregon State 36, Colorado 31
—
Drew Litton speaks for the Buff Nation: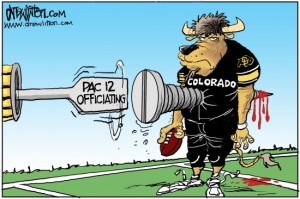 Colorado went over 400 yards in total offense for the fifth straight game, something not seen in Boulder since 1996, but the 431 yards of total offense were not enough to overcome mistakes and some questionable officiating, with Oregon State escaping Boulder with a 36-31 victory.
The game was close on the scoreboard and on the stats sheet. Oregon State had 445 yards of total offense; Colorado 431. The Buffs had the edge in first downs, 25-22, and both teams went 6-for-14 on third down attempts. The Buffs did have one costly turnover, an interception which led to an eight yard touchdown drive by the Beavers in the first quarter.
Sefo Liufau went 32-for-49 for 308 yards, two touchdowns and that costly interception. Nelson Spruce, the nation's leader in catches, yardage and touchdowns, was held to six catches for 35 yards. Tyler McCulloch helped to pick up the slack, with four receptions for 76 yards and two touchdowns. Michael Adkins, who had 14 carries for nine yards in the previous four games, had 13 carries for 79 yards and a touchdown to lead the Buffs' rushing attack.
—
Shortly before game-time, it was announced that Colorado would play Oregon State without its big back, Christian Powell, who had suffered a concussion the previous week against California. Powell's absence was felt early, as, on the first possession of the game, the Buffs faced a third-and-one at their 34-yard line. Tony Jones was unable to gain a yard, and the Buffs were forced into an early punt.
After the Buffs' defense got the ball back for the offense, the Buffs were able to drive into Oregon State territory with a pair of Michael Adkins runs gaining 15 yards, and a Sefo Liufau pass to D.D. Goodson going for another 15. After a Liufau hit Kyle Slavin for nine yards, the Buffs faced another third-and-one, this time at the Oregon State 37-yard line. A long incompletion set up a fourth-and-one. This time, the Buffs tried fullback George Frazier, with Frazier stuffed for no gain and a turnover on downs.
The Beavers were not as gracious to their hosts with their second possession. On second-and-four at their 43-yard line, cornerback Greg Henderson had the chance to catch OSU running back Terron Ward for a loss. Henderson missed the tackle, though, and Ward turned the opportunity into a 33-yard gain. On the next play, Oregon State quarterback Sean Mannion hit tight end Caleb Smith for 20 yards down to the CU four yard line. Ward took it up the middle on the next play, and, with 8:05 left to play in the first quarter, it was 7-0, Oregon State.
It wouldn't be 7-0 for long.
On third-and-12 on the Buffs' next possession, Sefo Liufau was intercepted by Beaver linebacker D.J. Alexander, who returned the pick 25 yards to the Colorado eight yard line. Two Terron Ward four yard runs later, Oregon State had a 14-0 lead.
Facing yet another third-and-one on their next possession, the Buffs finally came through. A Liufau-to-Phillip Lindsay completion on a swing pass went for 27 yards, giving the Buffs a first down at the OSU 39-yard line. A ten yard run by Lindsay gave the Buffs another first down, together with just a dash of momentum. Two plays later, Liufau hit Tyler McCulloch for a 31-yard touchdown. With 3:56 to play in the first quarter, it was a game again, at 14-7, Oregon State.
The Colorado defense was then able to make a stand against the Oregon State offense … sort of. The Buffs did allow a seven-play, 45-yard drive, with the Beavers settling for a 38-yard field goal by Trevor Romaine. The Buffs had a 135-to-124 advantage in total offense when the first quarter came to a close … and a 17-7 deficit.
The Buff offense opened the second quarter with an impressive drive. A 17-yard completion from Liufau to Shay Fields after a sack kept the drive alive, with Liufau hitting Fields for a 13-yard gain a few plays later. The Buffs, after two plays gained nine yards, faced yet another third-and-one, this time at the Oregon State 17-yard line. Michael Adkins picked up the first down this time with five yard run, with Adkins scoring on a 12-yard sweep on the next play to make it a 17-14 game.
The Colorado defense had an impressive series on OSU's next possession, forcing a punt. The Buff offense, though, quickly went three-and-out, and were lucky to just have a punt forced. On third down, a snap intended for Liufau sailed back into the end zone, but Liufau was able to get off a pass. The Buffs were forced to punt, but a disaster had been averted.
The Buff defense then almost got a sack on Mannion and a three-and-out … almost. Mannion got away, and was able to hit Hunter Jarmon for a 34-yard gain. On the next play, Mannion hit Jordan Villamin for 21 yards, and, just like that, Oregon State was deep into CU territory. The Buff defense then stiffened, forcing a second Trevor Romaine field goal, this time from 33 yards out. Oregon State, 20, Colorado 14, with 2:54 to play in the half.
Colorado responded with an 11-play, 75-yard drive to take its first lead of the game. A pair of Michael Adkins runs picked up the first 11 yards. Then, on third-and-two, Liufau hit Bryce Bobo for seven yards and another first down.
Then Tony Jones took over.
After dropping a swing pass, Jones redeemed himself with a tough 12-yard gain as the Buffs came back to him with the exact same play. After a nine-yard completion to freshman wide receiver Donovan Lee, Liufau hit Jones on another swing pass, with Jones this time gaining 19 yards to the Oregon State nine yard line. An eight yard completion to D.D. Goodson set up the Buffs at the one, with Tony Jones scoring his second touchdown of the season on the next play.
Halftime score: Colorado 21, Oregon State 20
Statistically, the worst quarter for Colorado in the first month of the season was the third, with the Buffs being out-scored 58-31 in the first three quarters.
When Oregon State converted a third-and-seven with a 32-yard completion, it appeared that September history would be repeated in the first game of October. Instead, the Buffs defense held, forcing a punt, making Oregon State just the second Buff opponent in 2014 to fail to score on their first possession of the second half (CSU turned the ball over in the opener).
Colorado opened up its first possession of the second half on the ground, getting up near midfield before a sack of Sefo Liufau forced a punt. On its second possession, the Beavers marched down the field. A 27-yard run and a 17-yard pass put the ball on the CU 20 … where the Buff defense made its stand. A sack by defensive lineman Timothy Coleman pushed the ball back to the 30, but Trevor Romaine had no problem hitting from 47 yards out. Oregon State 23, Colorado 21, with 6:47 to play in the third quarter.
The Buff offense could not respond, with a 15-yard hands-to-the-face penalty on offensive lineman Jeromy Irwin ending any hopes of a drive. A long punt by Darragh O'Neill, coupled with a personal foul penalty on a hit on linebacker Addison Gillam was a good news/bad news play. The penalty put the ball back to the OSU 13-yard line, but also took Gillam out of the game.
Oregon State then put together its first touchdown drive since the first quarter. Runs of 14 and 12 yards by Storm Woods got the ball to midfield.
Then, the play of the game … A deep pass from Mannion was intercepted by Ken Crawley, but Crawley was called for pass interference. Instead of having the ball and the momentum, the Buffs were on their heels. Three plays later, on the second play of the fourth quarter, Mannion hit tight end Caleb Smith for a 24-yard touchdown. Oregon State 30, Colorado 21, with 14:20 to play.
It was now Colorado's turn for a decent drive. Sefo Liufau posted completions of ten yards to Bryce Bobo (on third-and-one) and 11 yards to Nelson Spruce to move the sticks. After a non-call of a pass interference penalty on a pass to Spruce and an eight yard completion to Shay Fields, CU coach Mike MacIntyre faced a fourth-and-two and the Oregon State 27-yard line. MacIntyre opted to go with kicker Will Oliver – who had missed three field goals against Cal the week before – instead of going for the first down. Oliver helped out his coach, connecting from 44 yards out to pull the Buffs back to within a score. Oregon State 30, Colorado 24, with 10:48 left in the game.
With the game in the balance, the Colorado defense was unable to prevent the Oregon State offense from sealing the victory. The Buffs forced a third-and-three – and gave up a seven-yard run. The Buffs then forced a third-and-two – and gave up a seven yard completion. In the end, it was a 12-play, 85-yard five-minute drive, finished off by a Terron Ward ten yard touchdown run. The Beavers went for a two-point conversion and failed, but the damage had been done. Oregon State 36, Colorado 24, with only 5:09 left to play.
Not giving up, the Buffs responded with the Tyler McCulloch drive. A seven-yard completion from Liufau to McCulloch set up a third-and-three at the Buff 43 yard line. There, Liufau hit McCulloch on a nice 21-yard completion. giving the Buffs a first down at the Oregon State 36-yard line. Then, on third-and-six at the 32, Liufau went for McCulloch again. The pass went incomplete, but the Buffs were awarded a first down on an interference call. On the next play, Liufau hit McCulloch for a 17-yard touchdown. Eight plays, 75 yards, in just 2:11 of game clock.
The teams lined up for the kickoff, with Oregon State not putting anyone back deep. Will Oliver squibbed the kick deep, and while Oregon State recovered, the Beavers had to set up shop at their ten yard line. The Buffs' defense then forced its first three-and-out of the game, giving the Buffs one last chance.
A short punt gave the Buffs the ball at the Oregon State 45 yard line, with 2:08 still to play. Instead of a miracle finish, the Buffs were left with frustration. On third-and-six, Liufau tried to get the ball to Nelson Spruce in front of the Colorado bench. The ball felt incomplete, but the Buff bench, including an irate Mike MacIntyre, thought the call should have been pass interference.
The incomplete pass and kneel downs by Oregon State thereafter were anti-climatic. Colorado had once again played well, and once again had nothing to show for it in the win column.
Final score: Oregon State 36, Colorado 31
"It was a tough loss for our young men, they fought extremely hard," said CU head coach Mike MacIntyre. "That's two in a row now.  We've been in every football game and had an opportunity to win every football game, but we're 2-4, that's reality".
The sentiment of the head coach was echoed by his quarterback, Sefo Liufau, who went 32-for-49 for 308 yards, two touchdowns and an interception. "Obviously it's tough. Any time you lose a close game, especially two weeks in row, it's going to be tough," said Liufau. "I'm proud of the guys though and the way we fought. We're going to be a resilient team. We're going to bounce back from this. Everyone keeps hearing us say this but we're going to keep fighting and keep going."
Colorado stayed even with Oregon State on the stats sheet as well as the scoreboard. Oregon State had 445 yards of total offense to 431 for the Buffs. The Beavers were more successful on the ground, though, with 189 yards to just 136 for the Buffs.
Nelson Spruce, who entered the game as the nation's leader in receptions, receiving yards and touchdowns, was held to six catches for 35 yards. While Spruce's ten touchdowns continue to lead the nation, Spruce fell to third in receiving yards, second in receptions per game, and fifth in receiving yards per game.
– Game Notes –
– On a perfect 68-degree afternoon, the Buffs attracted only 36,415, the seventh straight home game, dating back to the 2013 season, in which Colorado had a home attendance under 40,000.
– True freshman defensive back Evan White earned his first career start. White posted three tackles on the afternoon.
– Colorado, with 431 yards, posting its fifth consecutive game with over 400 yards of total offense, a feat not accomplished since the 1996 season. The problem? In 1996, when the Buffs went over 400 yards five straight games, CU went 5-0. In 2014, CU went 2-3.
– On the upside, at the midway point of the 2014 season, the Buffs were averaging 476.7 yards per game in total offense, over 100 yards better than the average for the 2013 season (369.9) and almost 175 yards better than the 2012 season (302.8). On the defensive side of the ball, the Buffs were at 419.0 yards per game, about 50 yards better than in 2013 (468.0), and 70 yards better than in 2012 (488.5).
– Nelson Spruce did not have a touchdown reception for the first time in 2014, but his six catches moved him past Paul Richardson for third on the all time receptions list, with 161 (Richardson had 156).
– Tyler McCulloch had his first multi-touchdown game of his career (coming into the game with four total).
– Sefo Liufau had two touchdown passes, keeping alive his streaks of at least one touchdown pass in each of his 14 career starts, and his eighth consecutive game with at least two touchdowns (both school records).
– Will Oliver had four extra points against Oregon State, giving him 85 consecutive makes (adding to his own school record), as well as 112 total for his career, setting a new school record (old record: Mason Crosby, 109, 2003-06).
– Special team notes … Oregon State came into the game No. 1 in the nation in kickoff returns (32.5 yards per), while Colorado was 111th in the nation in kickoff return defense (allowing 25.0 yards per). In the game, Oregon State had five kickoff returns, going for 63 total yards (or 12.6 yards per return) … Punter Darragh O'Neill had four punts for an average of 50.8 yards per, with two punts inside the 20 yard line.
——-