—
Colorado Daily – UMass
—
September 5th
UMass to start four freshmen on defense against Buffs
From masslive.com … The week's worth of practices between game one and game two can make a world of difference in the development of a freshman.
Asked if the University of Massachusetts football coaching staff hopes last weekend's blowout loss at the hands of Boston College can be an important learning experience for the team's young, inexperienced defenders, defensive coordinator Tom Masella was blunt and honest.
"It better be," he said.
"The guys we put on the field have got to execute in the end," he continued. "We won't win football games and play great defense until we execute. Whether you're a freshman or a senior, it doesn't matter to me. We have to do a better job of executing."
UMass started three freshmen on defensive against the Eagles – end Peter Angeh, tackle Sha-Ki Holines and cornerback Jackson Porter. A fourth – outside linebacker Da'Sean Downey – played important minutes in the second half due to injury and is slated to start Saturday against Colorado.
—–
September 4th
UMass expecting Colorado to play more up tempo than Boston College
From masslive.com …  The University of Massachusetts football team knows it's in for a different type of fight this week against Colorado.
After facing a big, physical opponent like Boston College that was content to slowly grind down the Minutemen's defensive front seven with power running, a slippery quarterback and a mauling offensive line, UMass is preparing to speed things up against the Buffs.
Pac-12 Conference football, at its core, trends closer to the fast-paced approached that typifies SEC-type teams than it does what UMass saw against the Eagles last week. And Colorado – though weak compared to the upper echelons of its conference – fits the mold of its west-coast contemporaries.
Coach Mark Whipple said Colorado's offensive identity is a function of the up-tempo conference in which they play.
"They've got to match speed with speed," he said. I think that's what they're building their team for."
And that means UMass defenders will have to be ready to get out and run.
"People say that the Pac-12 is fast, so we're just looking forward to getting things going and attacking the ball," said linebacker Stanley Andre. "They're more of a lateral team, but they're fast and they're just as good as BC. We're prepared for it and we'll attack whatever comes at us."
What will come at them is an offense led by sophomore quarterback Sefo Liufau, who threw for 241 yards and a pair of touchdowns last week in the Buffs' season-opening loss to Colorado State. While Liufau isn't the type of runner Eagles quarterback Tyler Murphy was, his weapons – headlined by wideout Nelson Spruce (seven receptions for 104 yards and the two scores last week) and triad of running backs defensive coordinator Tom Masella described as "all fast and all good" – will present a new challenge.
"They look pretty good on film, no question about it," Masella said. "They're a different team than BC. With BC, we knew what we were going to get. They're more of a speed-ball team that we haven't seen. But they do run the power football game, too, so we have challenges."
After breaking down film, Masella thought the Buffs might look to the success Boston College had turning the corner against UMass' edge defenders last week as a guide for success.
"If I'm Colorado, I'm looking to get to the edge and run the football," he said. "They're an uptempo offense, but you really can't see just how fast they go on film. They have, really, three good running backs and they look fast."
—–
September 3rd
Colorado at Massachusetts – Fun Facts
Colorado has never played the University of Massachusetts, and has never before played a game in the Bay State. Usually, with his Game Notes, Dave Plati comes up with interesting facts about the series between the Buffs and their upcoming opponent. With no history between the schools, Dave had to be creative.
Some fun facts:
– The trip to Boston is the longest trip ever for CU within the continental United States. It's 1,770 miles to Boston (just slightly longer than the 1,746 miles it takes to get to Miami);
– This is CU's first trip to the northeast since 1977, when the Buffs traveled to West Point to take on Army, coming away with a 31-0 victory;
– The state of Massachusetts will be the 30th the Buffs have played in, and the easternmost state;
– This weekend's game is the first in a three game series. UMass will travel to Boulder in 2015 and again in 2021. When the Minutemen travel to Boulder, it will be only the third time UMass has come this far west (having played Nevada-Reno and Montana in 1-AA playoff games);
– Colorado is 9-21 all-time in games played in the eastern time zone (mostly bowl games);
– Saturday's game will be the first of four this season for CU on artificial turf (the others being Cal, Arizona, and Oregon);
And then there are these factoids from the UMass "Game Notes":
– Last weekend, against cross-town rival Boston College, UMass drew 30,479, the second-largest for the Minutemen ever for a home game (and about double their average from last season);
– This game will mark the first-ever meeting with a Pac-12 school;
– Both teams have the head coach's son playing. Jay MacIntyre is suiting up for the Buffs, while UMass head coach Mark Whipple's son Austin plays for the Minutemen. Another of Whipple's sons is an assistant coach for the Minutemen;
– While playing at the 1-AA level, UMass accumulated 22 conference championships, with eight playoff appearances and a national championship (under Mark Whipple) in 1998;
– If you are going to the game (CU there!), the game will be on the radio on 105.5 FM and 1200 AM (no television except ESPN3);
– The game, played at the New England Patriot's Gillette Stadium, will feature "A Taste of Amherst" before the game (I can't wait!).
—
Mark Whipple's teleconference quotes with regard to CU:
"We go from the ACC to the Pac-12, I would say the one advantage is we have been to Gillette Stadium and done the gameday routine so that won't be new for us. Colorado is a lot faster than Boston College. I'm not going to say they are as physical as Boston College – I hope they aren't as physical. Their style is a bit different on defense, they have some guys who can run and have a great middle linebacker. They have players in the secondary who when they can run with USC you know they can play and that's a concern of ours. On offense they have a quarterback that has plays under his belt, has a solid line and the wide receiver, Nelson Spruce, made some good plays. He was a good player for them last year and is a go-to guy. We have a huge set of challenges but we are more concerned about ourselves. We have to fix some things. We did not play well as a team and one or two mental breakdowns in certain areas cost us against BC. If we can shore up those things it will give us a chance".
—–
September 2nd
Injury report – two defensive backs "day-to-day"
From cubuffs.com …
OL – Brad Cotner – concussion – suffered in practice (Aug. 6), has yet to be cleared to return to practice OUT
DE – Garrett Gregory – knee – suffered a severe sprain in practice (Aug. 23) OUT/2-3 WEEKS
TE – Dylan Keeney – knee – suffered a severe sprain early in camp (Aug. 4), back practicing on a limited basis QUESTIONABLE
DB – Marques Mosley – lower leg – suffered a sprain in practice (Aug. 26), limited in practice DAY-TO-DAY
DE – Markeis Reed – groin – suffered a strain last winter (Feb. 27) and reaggravated it early in camp; had surgery for a sports hernia OUT
CB – Ahkello Witherspoon – back – has been experiencing pain since middle of camp, limited in practice DAY-TO-DAY
Those who are out for the season:
S – Jered Bell – knee – suffered a torn ACL in practice (Aug. 15); will petition for a sixth year from the NCAA OUT/SEASON-ENDING
DE – Tyler Henington – knee – suffered a torn ACL and MCL in practice (Aug. 22); no decision yet on surgery OUT/SEASON-ENDING
DT – John Paul Tuso – knee – suffered ACL and meniscus tears in practice (March 17), had surgery April 10 OUT/SEASON-ENDING
—
UMass starting linebacker "50/50" for CU game
From masslive.com … Speaking during his weekly segment on the Mid-American football coaches teleconference Monday, University of Massachusetts coach Mark Whipple said it remains up in the air whether starting outside linebacker Trey Seals will be available to face Colorado Saturday.
"We will practice this afternoon and he will be in for treatment. I would say he is probably 50-50," Whipple said. "Da'Sean Downey played the rest of the time and played pretty well so I believe we will know more in a couple days."
Seals – a junior who's worked with the first-team defense since the start of preseason – was hurt on the PAT following a Boston College's first touchdown of the day to make it 13-0 with 8:49 left to play in the third quarter.
The exact nature of his injury is undisclosed.
Seals finished the afternoon with six tackles (one solo). Downey – who would likely start opposite Kassan Messiah if Seals is ruled out for Saturday – recorded four solo tackles, including one for a two-yard loss, in relief.
—
UMass picks up junior college offensive lineman after paperwork goes through
From masslive.com … After weeks of waiting, Ryan Johnson is at last ready to give the University of Massachusetts football team's offensive line a shot in the arm.
Johnson – a 6-foot-5, 320-pound junior college transfer from Garden City Community College in Kansas – has officially joined the team after undergoing a five-day waiting period following his eligibility clearance last week. Monday night, he will practice in pads with his new teammates for the first time since arriving in Amherst over the summer.
"I'm past everything. I signed the NCAA papers, and I'm a fully-eligible, full-scholarship guy," said Johnson, who has two years of eligibility remaining. "I'm just ready to get after it today."
Johnson is one of three JUCO transfers whose additions didn't materialize quite as planned. Liam Porter – formerly of Boston College and Dean College – never joined the team and tight end Jean Sifrin – a 6-foot-7 tight end from El Camino College in California – is still awaiting eligibility clearance from the university.
Tired of waiting, Johnson is ready to get going without them. And it looks like he and his mammoth frame will be inserted into the lineup sooner rather than later, as coach Mark Whipple said during the MAC coaches conference call Monday that he believes Johnson will be listed on the team's two-deep roster this week against Colorado and should contribute on special teams immediately.
—–
September 1st
… CU in a few minutes …
– True freshman wide receiver Shay Fields, who tied a school record with eight receptions in his first game, is making a good impression, according to this article in the Daily Camera. "He's been showing ability all through camp," said fellow receiver Nelson Spruce, a junior captain. "I don't even think he showed what he's fully capable of (in the CSU game). I think as the season progresses he's going to expand his role and we're going to see a lot out of him."
—
Coach MacIntyre's post-practice comments
A transcript of Coach MacIntyre's comments made after Monday's practice (video at cubuffs.com):
On what he learned from watching game film … "That we have to run things better. We dominated about 65% of the game, and didn't score enough, and they dominated about 45% (yes, those are his numbers). We've just got to finish it off, and shore up a few things. They made some good plays, and we didn't make enough".
On run defense fairing poorly towards the end of the CSU game … "I don't know. We're working on it. We've got to figure it out and do a better job during the game, because early in the game they sure weren't. We've got to keep working on it".
On his team being young … "That's some of it could be that. We missed a few tackles. We didn't fit the run real well. There were three third downs that we messed up on, that kept drives going. If we stopped them on third downs – there was a third-and-seven, a third-and-ten, and a third-and-eight. We called certain things, and we just didn't play them right. We were right there to do what we were supposed to do, and we didn't do what we were supposed to do, on technique – and that would have made a big difference in the football game".
On third down and red zone defense … "We did really well in the first half; didn't do well in the second half. There were a couple of mistakes that a couple of guys made. We have coach them better, on technique – having their eyes in the right place".
On opportunities for turnovers … "We tried to strip it. We caused a couple of fumbles where they said the guy was down. A couple of those bounce out, and its our ball … We've got to pursue the ball better. If we hit the guy ball in the hole a few times, stand him up, we have a better chance to rip the ball out, that type of thing. We didn't have the chance to do that as much as we would have liked".
On whether its just a matter of "simple fixes" … "Yes. It's simple, but you've got to go do it. That's the way that works. Their running back made a couple of good runs. We were in good spots, and he bounced on us. We missed a couple of tackles, didn't take the right angles. That happens. But some of the stuff inside shouldn't have happened like it did".
On whether anyone on film stood out … "Overall, there were a couple of guys who made a few plays. We could have made more".
On looking at UMass against Boston College … "It was 6-0 at halftime. They played them tough and hard. Boston College kind of controlled the game (42 minutes in time of possession), but had to kick a bunch of field goals early. So that shows you to give credit to UMass and what they're doing. They played extremely hard, and I think they've got some who can make some plays and can do some things. They had a couple of long passes which they could have hit, which were barely overthrown. They could have had a couple of more touchdowns. It could have been a lot closer game than the final score indicated".
On the injury report … "We don't have anybody than what was reported after the game (no serious injuries)".
On playing a game on the east coast … "I've been told that there have already been over 2,000 Buff fans who have bought tickets. Plus, we have a couple of players from back east who can play in front of their friends and family for the first time. I think it's good exposure for us to play out east. Our name will be out there in the papers".
On whether the long trip changes the week's preparations … "Yes. We'll leave Thursday. Plus you've got a huge time change, too. Good thing we're playing at one o'clock our time (3:00 p.m., Eastern), so that will be alright".
—–
Getting to Know UMass personnel
– A running back likely to get more playing time … J.T. Blyden
From masslive.com … J.T. Blyden didn't start the University of Massachusetts football team's 30-7 loss against Boston College Saturday, but he may have played well enough to warrant consideration for the position somewhere down the line.
In a game in which UMass was held to just 86 rushing yards by a physical Eagles defensive front, the speedy first-year back provided one of few sliver linings for the Minutemen. After entering to spell starter Jamal Wilson early in the second quarter, the 6-foot, 195-pound freshman out of West Grove, Pennsylvania racked up exactly half the team's rushing total.
Nine carries for 43 yards to go with one reception for seven more might not seem like much, but for a kid making his collegiate debut against an ACC opponent, it was a fine performance.
Several runs – including a nice 14-yard gain in the fourth quarter in which Blyden jump-cut right out of collapsing hole to pick up extra yards on the sideline and pick up a first down – showed the kind of potential that had coaches raving throughout training camp.
After the game, coach Mark Whipple listed the showing among the positives he would take from the loss.
"J.T. Blyden showed that he could play at this level," he said.
—
– Transfer quarterback Blake Frohnapfel looking to improve in second career start against Colorado
From masslive.com … Earlier in the summer, University of Massachusetts football coaches said quarterback Blake Frohnapfel won the team's starting job because of his accuracy and consistency throwing the ball in the team's newly revamped pro-style offense.
Saturday in the Minutemen's 30-7 season-opening loss to Boston College, the junior transfer from Marshall didn't show much of either.
Making his first career start after two seasons as a backup, Frohnapfel was largely ineffective against an Eagles defense that put pressure on him all afternoon, finishing with 147 yards, an interception and a touchdown. Several deep throws over the heads of streaking receivers early in the game set an offensive tone Frohnapfel just couldn't shake.
"There were overthrows," he said. "Those are plays I have to make if we want to win games."
Matters were compounded by a fierce Boston College pass rush that left Frohnapfel little time to work through his progressions and make decisions. Often after incompletions he could be seen picking himself up off the Gillette Stadium turf.
Frohnapfel, however, absolved his offensive line – which featured new starters at four out of five positions – and shouldered most the blame himself, saying "It's on me to get rid of the ball sooner a lot of the time."
No matter who was at fault, the pressure got to Frohnapfel. On several occasions it gave him jittery, happy feet in the pocket, further affecting his usually impressive accuracy as he hit on just 5 of 15 attempts down the stretch after completing four of his first seven.
"He's a great quarterback. He's the brain of the operation," said Eagles linebacker Sean Duggan. "But when you rattle him you kind of shake the offense."
It isn't clear yet if Frohnapfel can be a great quarterback. Great quarterbacks don't throw lazy passes fourth down into the waiting arms of a defender in the flat that look as if they could have been the targeted receiver on the play like Frohnapfel did early in the fourth quarter.
Saturday's setback will leave lingering questions for many. But there is reason for the team to hope plays like his 77-yard touchdown bomb to Tajae Sharpe in the third quarter will become closer to the norm for Frohnapfel moving forward.
With one game under his belt, he's confident he can clean up his mistakes and make corrections.
"It's a game of inches and there were a couple throws here and there that I missed. That's a thing we've just got to work out by running routes in practice to get timing down," he said. "Because you can't miss stuff like that against a team like that. Next week against Colorado it's the same thing – we can't miss plays like that."
—
August 31st
UMass draws 30,000 for game against Boston College
From masslive.com … The Massachusetts football team opened the 2014 season with the best attendance mark of the FBS era, drawing a crowd of 30,479 in the "Battle of the Bay State" against Boston College.
The presence of an in-state opponent was a clear boon for attendance Saturday. The Eagles brought with them one of the healthiest away crowds the Minutemen have seen since moving away from McGuirk Stadium in Amherst. Strong student section attendance was another clear change from last season, with both UMass and BC contingents showing up in numbers.
However, it was Boston College with the clear edge in the volume of students in attendance.
Saturday's crowd was a huge jump from the 2013 numbers, almost doubling the season average of 15,830.2. Last season's average allowed UMass to avoid missing the NCAA's attendance threshold for FBS programs, which require teams to average at least 15,000 fans per game for one season per a two-year cycle. With the 2013 numbers, UMass passed the 2012-13 cycle. Now, UMass is required to do so again in 2014 or 2015, with the cycles repeating throughout FBS tenure.
Here are the Gillette Stadium attendance totals from 2013:
• Sept. 7 vs. Maine: 15,624
• Sept. 21 vs. Vanderbilt: 16,419
• Oct. 12 vs. Miami: 21,707
• Oct. 26 vs. Western Michigan: 20,571
• Nov. 2 vs. Northern Illinois: 10,061
• Nov. 16 vs. Akron: 10,599
—
Total attendance: 94,981
Avg. attendance: 15,830.2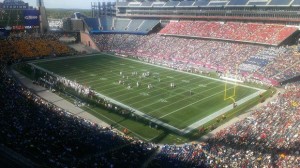 Buffs a 17-point favorite over UMass
VegasInsider.com has listed Colorado as a 17-point favorite over UMass this Saturday.
For what it's worth, Boston College, which defeated UMass 30-7 on Saturday, had also been listed as a 17-point favorite.
—-
August 30th
Minutemen hang with Boston College … for a half
Colorado's next opponent, the University of Massachusetts Minutemen, hung with cross-town rival Boston College for a half, but the Eagles were able to pull away in the second half, posting a 30-7 victory.
The first half was a battle between the Minutemen defense and the Boston College offense. Boston College forged a halftime lead of only 6-0, but completely dominated the game. In the first half, Boston College had four drives lasting ten plays or longer, but came away with only two field goals. The drive chart went like this for the Eagles:
– 10 plays, 51 yards, turnover on downs
– 10 plays, 71 yards, field goal
– 15 plays, 72 yards, field goal
– three plays, four yards, interception, and
– 10 plays, 43 yards, missed field goal
As you might imagine, with all of the long drives, the stats were very skewed. In the first half, UMass had only 69 total yards, with only seven of those by rushing.
Boston College took the second half kickoff and put together a thirteen-play drive, with this one resulting in a touchdown, giving BC a little breathing room at 13-0. UMass went three-and-out with its next possession (two incompletions and a seven yard sack – giving UMass exactly zero yards rushing early in the third quarter. Boston College then scored again (this time taking only ten plays) to make it a seemingly insurmountable 20-0 game.
The Minutemen didn't quit, though. Taking the ensuing kickoff, UMass scored on a 77-yard pass from Blake Frohnapfel to Tajae Sharpe (two names which will figure prominently in this week's "T.I.P.S."), more than doubling the Minutemen's offensive output and making the score a more reasonable 20-7.
Wanting nothing to do with a competitive game, Boston College took only four plays to score again, adding a field goal later in the fourth quarter for a 30-7 finish.
UMass finished the game with only 202 yards of total offense, while giving up 511 yards to Boston College (338 on the ground). The Eagles held a ridiculous 42-18 minute advantage in time of possession – which you get when you have six drives of ten plays or longer.
So, the formula for Colorado is set: hang onto the ball, put together sustained drives, and wear out the UMass defense. The Minuteman offense had one 77-yard play, but the rest of the day amounted to 43 plays for a grand total of 125 yards.
It won't be easy next week (it never is for Colorado) against UMass, but then again, it shouldn't be hard.
—
Here is the associated press recap of the game, billed as the "Battle of the Bay State":
Tyler Murphy ran for 118 yards and a touchdown, carrying Boston College to a 30-7 victory over in-state rival Massachusetts on Saturday in the season opener for both schools.
Murphy, a graduate transfer who played nine games for Florida last season before missing the final three with a sprained throwing shoulder, also completed 17 of 24 passes for 173 yards and threw for a TD and an interception.
The game was billed as the "Battle of the Bay State" and played at the home of the New England Patriots, where Massachusetts will play half of its home schedule this season.
Blake Frohnapfel completed 9 of 22 passes for 147 yards for the Minutemen, including a 77-yard scoring toss to Tajae Sharpe.
It was coach Mark Whipple's first game of his second stint at UMass. He coached the Minutemen from 1998-2003 and won a Division 1-AA title his first season.
The Eagles broke it open with two long drives on their first two possessions of the second half.
Leading 6-0, BC took the ball to start the second half and marched 75 yards in 13 plays, with Myles Willis' 1-yard touchdown run capping the drive. Two plays before the run, UMass' defensive back Jackson Porter was flagged for pass interference in the end zone. The Eagles had five different ball carriers combine for 48 yards.
Midway into the third quarter, BC had a 302-0 edge in net rushing.
Murphy's 1-yard scoring run capped a 10-play, 52-yard drive that made it 20-0. He connected with Josh Bordner, a QB who was converted to receiver this spring, with a 43-yard score on the first play of the fourth.
The Eagles led 6-0 at halftime after field goals from two different kickers. Alex Howell nailed a 44-yarder early in the second quarter and Mike Knoll had a 28-yarder.
Behind Murphy's nine carries for 92 yards, the Eagles outgained the Minutemen 211-22 on the ground in the opening half.
Neither team had much success through the air in the opening half. BC, which relied on the play of graduated running back Andre Williams — a Heisman Trophy finalist — last season, seemed intent to pound the ball from the start.
The Eagles carried seven times for 51 yards on their opening drive that stalled at UMass' 29 when Murphy threw an incomplete pass on fourth-and-5.
UMass' best scoring bid in the first came late when Blake Lewis missed a 47-yard field goal attempt.
BC opens Atlantic Coast Conference play on Friday night when it hosts Pittsburgh. The Minutemen host Colorado on Saturday.
—