—
Colorado Daily – UCLA
—
October 26th
… CU in a few minutes …
UCLA post-game injury report 
– Linebacker Addison Gillam (flu) … to be re-evaluated Sunday … day-to-day
– Safety Marques Mosley (knee) … to be re-evaluated Sunday … day-to-day
– Safety Tedric Thompson … all tests were negative at Boulder Community hospital, where he was taken for precautionary reasons. "If you're a praying person, please pray for Tedric [Thompson]," said MacIntyre. "When they took him off he was moving, but he was really scared. Hopefully everything is going to be alright with him and Marques Mosley."
Older … Running back Christian Powell (concussion) and offensive guard Kaiwi Crabb (concussion) … Powell was held out of the UCLA game, and, while Crabb was on the participation chart, he was replaced in the starting lineup by Gerrad Kough … both are listed as day-to-day
—-
October 24th
… CU in a few minutes …
Homecoming, 2014
Click here for a link to the CU Alumni Association website, which has a full list of activities for this weekend's Homecoming, the 100th in CU history.
—-
UCLA head coach Jim Mora – "Coach MacIntyre has done a really good job with that team"
From the Orange County Register … Colorado has protected its quarterback, sophomore Sefo Liufau, far better than UCLA has protected junior Brett Hundley.
The Buffaloes have the 12-26 advantage over the Bruins in terms of sacks allowed this season. But Colorado also has recorded 15 sacks to UCLA's 10, so Colorado coach Mike MacIntyre's defense presents another threat to a Bruins offensive line that has struggled at times.
That battle may prove to be the toughest in what is not expected to be a particularly tough game for UCLA.
"They play with a lot of confidence," UCLA coach Jim Mora said after Thursday's practice. "Coach MacIntyre has done a really good job with that team. They get after the passer, they tackle well. We've got our work cut out for us. We've got to play a really good game."
Redshirt freshman defensive end Derek McCartney leads Colorado with four sacks. He hadn't played in a game since 2011 until the Buffs' opener, but his pass-rushing presence has permitted them to drop eight men into coverage in likely throwing situations.
"I'm sure it'll be part of their plan," Mora said of that alignment. "We haven't gone through a game yet where we haven't seen some three-man rush. You mix it up. You mix pressure, you mix drops. I'm not sure what their plan is, but we'll be prepared for anything."
… UCLA injury update … Mora didn't answer specific questions about other players' injury status. Among the Bruins who could miss Saturday's game are inside receiver Thomas Duarte (hamstring), running back Paul Perkins (right wrist), cornerback Fabian Moreau (stinger) and offensive tackle Simon Goines (ankle), plus Redmond. "We're in good shape," Mora said. "Guys are coming back." Perkins seems likely to play.
—
UCLA's Ishmael Adams has CU special teams' "full attention"
From the Daily Camera … UCLA cornerback Ishmael Adams leads the Pac-12 in kickoff returns and is one of the most exciting players in the league when he has the ball in his hands whether he's returning a kickoff, a punt an interception or one of the handful of opportunities he gets on offense each week.
Neinas said the CU staff is torn on whether Adams is better punt returner or kickoff returner, but they all agree he is exceptional at both. He has three return touchdowns to his credit this season, two off interceptions and one on a kickoff. He also returned a punt 85 yards against Virginia but it was nullified by a penalty.
"He has our full attention, no question," Neinas said.
CU ranks 11th in the Pac-12 in kickoff coverage and is allowing more than 22 yards per return. The Buffs haven't allowed a kickoff return for a touchdown, but they have narrowly avoided it on multiple occasions. Colorado State and Massachusetts each recorded 43-yard kickoff returns against the Buffs earlier this season.
… even if he never gets his hands on a kickoff, Adams can still affect the game. The Los Angeles Times reported this week that Cal chose to squib its kickoffs into the middle of kickoff return unit last week in a loss to the Bruins in order to keep the ball away from Adams. The tactic resulted in UCLA's average starting field position being its 34-yard line.
"It gets a little annoying, but at the end of the day, the coaches tell me it's the ultimate sign of respect," Adams told the Times. "I'll take it as that, and whenever I get another opportunity, I will be ready."
——
October 23rd
... CU in a few minutes …
"Folsom Frenzy" includes flag giveaway
From cubuffs.com …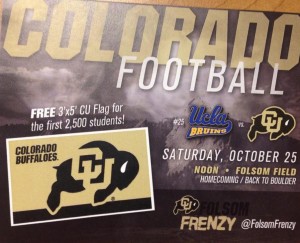 —
UCLA defensive lineman accuses Colorado offensive linemen of playing "dirty"
From the Los Angeles Times … UCLA defensive lineman Takkarist McKinley took a run-of-the-mill Pac-12 game and made it a little more interesting.
McKinley, a freshman, has never played against Colorado, the Bruins' opponent this week, but he said he knows what to expect in Boulder on Saturday.
"Colorado and their offensive line, I feel like if we get off with speed, we can beat them," McKinley said. "They're dirty, but if you use your hands, use your speed, rip and dip, we can beat them with speed."
When asked to clarify what he meant by "dirty," McKinley said, "They try to chop block you. They try to tear your [anterior cruciate ligament]. To me, that's dirty. But to them, it's their job. To me, it's pretty dirty."
The Bruins and Buffaloes developed a little animosity toward each other in UCLA's 45-23 victory in the Rose Bowl last season. UCLA was called for roughing the passer three times in the fourth quarter while leading by 18 points.
Linebacker Anthony Barr was called for leveling Colorado quarterback Sefo Liufau on back-to-back plays. The first was an obvious roughing the passer call, the second could have been argued. Colorado offensive linemen were in no mood to debate; three of them jumped Barr after the second penalty. Buffaloes' tight end Kyle Slavin went after Barr on the next play.
Liufau said, "none of it carries over. I mean, it was done as soon as the game was over. The hits, they come with the game."
—
UCLA injury update … Cornerback Fabian Moreau (stinger) was in a red no-contact jersey for Wednesday's practice. … Receiver Thomas Duarte (hamstring) was limited to individual drills Wednesday. He appears doubtful for Saturday's game.
——
October 22nd
… CU in a few minutes …
CU injury report includes three concussion sufferers
Three players have been added to the post-game report from Saturday. We were told about wide receiver Bryce Bobo, who was in street clothes during the second half of the USC game,  but the other three names on this week's list are new. All are contributors, all suffered concussions, and all are listed as "Day-to-Day":
WR – Bryce Bobo – chest – suffered a contusion against USC (Oct. 18), missed remainder of game …. PROBABLE
OG – Kaiwi Crabb – concussion – suffered late in the first half against USC (Oct. 18) … DAY-TO-DAY
TB – Christian Powell – concussion – originally suffered against Cal (Sept. 27), symptoms returned after USC (Oct. 18) …. DAY-TO-DAY
CB – Ahkello Witherspoon – concussion – suffered symptoms following USC game (Oct. 18) … DAY-TO-DAY
Those who are out for the season:
S – Jered Bell – knee – suffered a torn ACL in practice (Aug. 15); underwent surgery and will petition for a sixth year from the NCAA … SEASON-ENDING
WR – Elijah Dunston – knee – suffered a torn ACL and MCL in practice (Sept. 22); surgery date pending (week of Oct. 21) … SEASON-ENDING
DE – Tyler Henington – knee – suffered a torn ACL and MCL in practice (Aug. 22); underwent surgery in early Sept. and is rehabbing … SEASON-ENDING
DT – John Paul Tuso – knee – suffered ACL and meniscus tears in practice (March 17), had surgery April 10 … SEASON-ENDING
WR – Lee Walker – shoulder – suffered a subluxation in practice (Sept. 17); surgery set for Oct. 14 (was likely redshirting regardless) … SEASON-ENDING
—-
UCLA running back Paul Perkins "doing well"
From insidesocal.com … Running back Paul Perkins missed the fourth quarter of UCLA's 36-34 win at Cal last Saturday with a right wrist injury, but practiced with it wrapped on Tuesday and appears on track to play at Colorado this weekend.
Bruins head coach Jim Mora said the tailback is "doing well." Perkins is third in the Pac-12 with 116.6 yards per game, and also had four receptions for 75 yards and two touchdowns against the Bears.
Cornerback Fabian Moreau practiced after suffering what Mora originally called a "stinger." Inside receiver Thomas Duarte is still limited after tweaking his hamstring, and did not practice in full on Tuesday. Unsurprisingly, Mora also said they were "doing well."
——
October 21st
… CU in a few minutes …
Coach MacIntyre's Tuesday press conference quotes
From cubuffs.com … (the link will also take you to press conference quotes from Sefo Liufau and Juda Parker)
On The David Quisenberry Tribute That Will Take Place At Folsom Field On Saturday
"This weekend we are going to do something that I think is special. It's a tough situation. There's a young man that played for me at San Jose State named David Quessenberry, best leader and best captain I've ever been around as a coach or a player. When I went to San Jose State, he was a walk-on tight end and he wasn't playing much. I saw his effort and his intensity and I told him that if he could gain about 20 pounds over the summer, I'd put him on full scholarship. We ended up starting him at tackle for three years, he ended up being the team captain, he was an all-conference player and fourth-round draft pick for the Houston Texans. This fall, in preseason camp, he was having problems breathing. He thought he just had pneumonia or a cold, but they diagnosed him with non-hodgkins lymphoma and he's in a battle for his life. I know the family really well and our open date I kind of looked at some schedules and I realized that San Jose State is playing Navy this Saturday and we were playing UCLA. Well, David's brother is a starting guard for UCLA, Scott Quessenberry. And his other brother is a starting defensive end for Navy, Paul Quessenberry. Some the four schools that have anything or that have been with him …….. I coached David and I had the pleasure of coaching against his brother Scott and his brother Paul. I know the family really well.
He's in his seventh round of chemo and he's got a long fight ahead of him, but if anybody can beat it, I know David can. They've started a thing called the '10 for 10' campaign: Give me ten pushups for ten dollars to go to a lymphoma organization and to support him. So, this Saturday, we're going to recognize DQ (David Quessenberry) and the fight especially with this being cancer month, another thing is UCLA is going to do a thing about it. I've talked to Jim (Mora Jr., UCLA head coach) a couple times about it. San Jose State is doing something, Navy is doing something and we're going to try to honor him at the game. We're going to wear a DQ thing on our helmet this weekend to recognize him and just the battle of cancer. Things that I did not know when I looked into it when all this happened ……. Coach (Gary) Bernardi, who was also very close with him and coached him, and I flew down and saw him. We spent some time him and his mom back this summer. It's the most common blood cancer in adults and the third-most common cancer overall in children. Every seven minutes, someone is diagnosed with lymphoma. Almost 80,000 people will be diagnosed with lymphoma in the United States alone this year, 80,000. 700,000 people are right now living with it or in remission. So, it's a big deal and something that's close to our hearts.
Our football team, if you've noticed, a lot of them wear these wristbands (that say) 'Quiz Strong.' We've told them about him, they know about it. A 24-year old young man, in the prime of his life, having this happen …… Again, if anybody can beat this, I know he can. Our prayers go out to him and I'm excited about all four schools. I called all four coaches last Friday and they were all excited about it. I called them Friday morning and all of them wanted to do something, all of them were into it, all of them believe in it and understand the battle ahead for him. It's not just for DQ, but also to just get the word out there about this. It hits home for us especially our coaching staff. Our players know what this means to us too and they're fully behind it. That's something that we'll do a little bit on Saturday and we'll have some video and different things at the game. We just want to recognize that and let everybody know about that."
Opening Statement On The Matchup With UCLA
"They're very athletic on offense. They spread you sideline to sideline. They're a true spread football team. Their quarterback is excellent. They have a lot of big, athletic receivers that are good players. Defensively, they play an aggressive style and do an excellent job on defense. They have a phenomenal kick returner. He's a kick returner and punt returner and he can make play after play for them. He's a heck of a football player. He also plays corner for them and they also play him on offense, (his name is) Ishmael Adams. You'll see him go in on offense and usually when he's in on offense they get him the ball. So, we need to know when he's in the game. I think they're a very good football team. They've had a couple tough losses. I know they were ranked extremely high preseason and they're in the top 25 now. But, I think they're a heck of a football team and they're going to be a tough test for us."
On How Tough It Is To Defense UCLA Quarterback Brett Hundley
"It is very tough because you can have him hemmed up and …… Watching our game against him last year, I think they had 120 yards rushing in the game, but I think he had about 60 or 70 of them. Two of them were scrambles where we had him and he makes plays and gains about 20 or 30 yards. He's just very, very explosive. The other thing is, he's very, very accurate in his passing game. So, even when you make him move his feet, he's still very accurate. So, he makes it all go, there's no doubt about that. He makes it all go."
On Whether He Thinks UCLA Has Underachieved This Year
"Well, I don't know if they've underachieved. They've had some tough games and Brett being hurt there a little bit hampered his ability in the games some. So, I think that hurt them a little bit of course. But, I still think they're a really, really good football team. I think they're a top 25 team, there's no doubt."
On Whether He Agrees With Quarterback Sefo Liufau's Self-Assesment That He Played The Worst Game Of His Career Last Week
"I don't know about worst of your career. It was just one of those games where we kind of shot ourselves in the foot on a couple, they made plays don't get me wrong. They made plays and capitalized on some things, but we gave them kind of a running start at the beginning I guess you'd say. So, that always hampers you and we've just got to find a way to bounce back. I'm pretty sure he's upset about the first interception, but we've got to stop them and we've got to get the ball back and we've got to do different things and put ourselves in better chances to be successful. So, he's not taking all the blame for the game, I think he just wants to play better when he can. He did some good things in the game too. When you get behind the 8-ball that quick, it kind of puts a damper on everything."
 On Whether He Has Any Concerns About Where Liufau's Head Might Be At
"No, I don' have any concerns. He's a very mature young man, very focused, has done well in practice. I don't have any concerns about where his head is."
 On Whether He Likes To See His Quarterbacks Take A Poor Performance Hard
"No doubt, yeah. He used it as motivation. He's not a guy that's not confident. He's confident, but he's very humble. I think you all have seen that. That's the way he was brought up, that's the way he attacks life, that's the way he attacks everything. He'll bounce back and keep competing. I'm glad he's not the other way where he's blaming everybody else and saying this and that. Taking blame for it to understand it, look it in the barrel and going from there I think is good for all of us."
On Comparing Brett Hundley and Sefo Liufau
"I think they're different. Brett's not near as big as Sefo and they both do things differently. I think they're both good players. Brett Hundley has played a little bit longer and the offenses are …. There's some similarities in them, but with Brett, it's more of a spread type offensive scheme. So, I think they're both good players with what both teams ask them to do."
On Whether The Pass Rush In The Pac-12 Is Paramount On Defense
"Yes, it definitely is, but it's kind of misleading at times. When Brett Hundley and them are in rhythm, they're throwing it pretty quick and doing a run-pass option type thing. When they get off rhythm is when they've given up their sacks which is probably what you're leading to. Same thing with us, if we get off rhythm you've got to sit back there and they know you've got to throw and there's good athletes on the other side that can get to the passer. So, I think both teams offensively will try to stay in rhythm, try to keep it in rhythm and try to avoid where you're behind too far and you're having to throw the ball on third and long, so you have to throw it longer type thing. But, you're definitely right, you've definitely got to be able to harass the quarterback. That might not always mean that you sack him, but it means you're there, you're around him, you get in his passing lane, you tip a ball, he doesn't feel comfortable, he feels the people breathing down on him. There's a lot to that. All of a sudden, (you say) 'Why'd he throw it so early? Why'd he throw it high?' and those types of things. We've got to be able to do a good job with that with Brett."
 On Whether There Have Been Any Issues In Terms Of Re-Instilling Confidence With His Team After Their Latest Loss
"Well, I didn't have to go out there and yell at them to try to get them going if that's what you mean. They came out ready to practice Monday, they came out ready to practice today. They were there in the morning ready to go, focused. These young men are doing everything we ask as hard as they can. That one kind of just snowballed on us. I don't like that to happen, I don't want it to happen again, I hope I never see it again. But, they also made some really, really nice catches and the quarterback made some nice throws too."
On How Bad He Thinks This Program Needs A Big Statement Kind Of Win To Validate All He Is Trying To Accomplish
"We definitely …. I guess the best way to put it is: You work hard, you work hard, you work hard and you want to kind of see a reward for the hard work that is actually tangible. Now, I see rewards for the hard work, I see different individuals and different things coming together, but with the whole picture and all of them seeing it, you want to definitely be able to see that prize and that present or that type of thing. So, there's definitely no doubt that we want to get (a big victory) as quick as we can, there's no doubt about that."
 On How Much More Effort It Takes At This Point In The Season To Keep Guys Focused
"The thing we talk about hard a lot for us as coaches is: If they don't understand what to do, then they don't execute as well, then we need to do a better job of coaching. If they don't understand it, then that's my fault. The heart, the effort and the intensity, we motivate them and all that but different things happen: You get your bell rung, you miss a tackle or something negative happens, I can't jump in their heart, I can't jump in their soul, I can't jump in their mind to get them to keep playing. So far, they've kept playing. There could have been some incidents Saturday where they could have just folded the tent, but we regrouped and did it and kept going. But, that was one of those games where it kind of got out of hand and you weren't playing really to win, you were just playing for your pride. I don't want to go through that again, I know that. So, I think that the taste of having a chance for victory makes it even more special and we didn't really have that going into the last quarter. We have in every other game. In the seven games prior to that, we have starting at the end of the year last year with Utah. So, that's the first time we've been in that situation. So, we need to get back to that situation so we can get over the hump and get the kind of victory that Kyle (Ringo) is talking about that we desperately need."
 On Nickel Corner John Walker's Lack Of Playing Time Over The Last Two Weeks
"He got hurt, he got a thigh contusion in the game the other day. The week before, we made a change and put Greg Henderson in inside so we could play Akhello (Witherspoon) outside. Then, (John) made some really good plays on special teams, so he should be ready to go this week. He'll mainly play special teams and he'll play some backup nickel this week."
 On The Importance Of Keeping The "Bowl Dream" Alive
"We don't really talk about bowls. Now, they might because I know they haven't been to one. So, if I was them I would think that, there's no doubt. But, that's not something we talk about at any length. We know that if we put an amount of games together and keep winning games, then we'll be in a bowl. Of course we want to be in one, there's no doubt about that. I'm not downplaying that, but that's not something where we go out and say 'Hey, we need to win this one or we're not going to a bowl.' We don't talk about it that way. We just talk about going 1-0 and getting better and finding a way to get this win coming up."
On The Team's Mentality Heading Into A Difficult Stretch Of The Schedule
"I think that they're excited about playing the game and they look at it the same as every game: To go out there and try to win it in any way they can. They know that if they take care of their position and their job within the game, then we have an opportunity to win a football game. So, I don't think they're looking at it as, 'This team is a top 25 team,' because they've already played some top 25 teams. I think they just look at it as just trying to win a football game."
—–
Sefo Liufau on USC game: "I feel like that might have been probably my worst game in my career as a college football player"
From cubuffs.com … The University of Colorado's 28-point loss last weekend at Southern California was unquestionably the Buffaloes' worst game of the 2014 football season, but Sefo Liufau dropped his own afternoon in L.A. to an even lower level.
"I feel like that might have been probably my worst game in my career as a college football player," he said Tuesday.
In reality, Liufau doesn't have that many games to choose from; he's a true sophomore who throughout his brief career as a starting quarterback (14 games) has usually been his harshest critic. If his performance in the 56-28 loss wasn't up to personal standards, neither were most Buffs performances across the board.
But in a calamitous first quarter that saw CU fall behind 28-0, Liufau tossed a pair of interceptions that USC converted into touchdowns. Throw in five first-quarter penalties against the Buffs and a sunny afternoon was quickly showered with ugly. Liufau finished with his lowest passing yards total of the season – 143 on 23-of-35 completions – with two touchdowns and the two picks.
His biggest disappointment came from "missed reads that don't show up on the stat sheet. It's just frustrating and watching it back on film, it's a learning tool. But, just looking back, it's kind of frustrating letting your team down. And that's what I take the hardest is letting my teammates down."
A personal goal this Saturday when No. 25 UCLA visits Folsom Field (noon, Pac-12 Networkds) is "taking care of the football. Point blank, just taking care of the football. If I continue to turn over the ball, I'm just giving away the hopes and dreams of the team and you don't want to do that, especially as a quarterback."
…. MacIntyre said he has no concerns about Liufau's mindset, calling Liufau "very mature, very focused . . . he'll use (the USC loss) as motivation. He's confident but very humble. I think you've all seen that;  that's the way he was brought up, that's the way he attacks life. He'll bounce back and keep competing."
MacIntyre also said Liufau taking the loss on himself is preferable "to the other way – where he's blaming everybody else and saying this and that. Taking blame for it is to understand it, look it in the barrel, and going from there I think is good for all of us."
—
Sefo on Nelson Spruce's numbers being down the last two games … Buffs receiver Nelson Spruce is averaging a Pac-12-best 10.1 receptions a game and has a league-high 11 TD receptions. He's also second in receiving yards a game at 114.4. Through the season's first five games, he averaged 11.1 catches, with an eye-popping 19 catches for 179 yards and 3 TDs at Cal. He needs one touchdown catch to become CU's all-time single-season leader.
In CU's last two losses (Oregon State, USC), Spruce has caught six and nine passes, respectively, for 104 yards and one TD. His long reception against OSU was 11 yards and against USC 15 yards.
Said Liufau: "I think a lot of teams right now are making us throw the ball underneath, making sure we don't have anything deep. That doesn't just go for Spruce, that goes for every receiver that we have. We just have to take what they give us though. If they want to make us dink and dunk down the field, we have to be able to do that and sustain long drives. We had one long drive against USC. I think it was an 18-play drive that resulted in a touchdown. We just have to be able to do that more throughout the game, not just that one time."
——
Folsom Field turned 90 this month
A very good article about the history of Folsom Field has been posted by John Casey at cubuffs.com. Along with the multitude of stories are videos of Folsom, including a six-minute video on the "History and Tradition of Folsom Field", which is worth your time. The article, and links to the videos, can be found here.
As an enticement, here is the opening to the Casey write-cup:
The days begin to blend together here in this antiquated stadium at the foot of the Flatirons, just as they have for the major part of a century now. At times she has become the unfortunate victim of her own somewhat murky history.
From the moment the gates opened for the first time on October 11, 1924, Folsom Field has never stood out as an architectural marvel or, in the time since, ever quite been blessed with the kind of on-field history places like the Rose Bowl or Ohio Stadium might claim (although she has definitely had her share).
In that regard, it might have been only fitting that she would spend possibly her most momentous Saturday in such obscure fashion.
On this October 11, the anniversary of her 90th year in existence, Folsom was jarred awake from an idle slumber not by the kind of spectacle typically befitting such a milestone, but by the sounds of wave after wave of adolescents exploring the many intricacies of the tuba.  The stadium was the host of an annual high school band competition that afternoon as the football team was enjoying its bye week.
90 years. Only a handful of stadiums in America enjoy more longevity, yet Folsom has never really been thrown a celebration in which we might revel in all that she has meant to a University of Colorado football program and a community for all these years. 
Her biggest chance to shine has always come on those six or so magical fall afternoons every year when she is loaded with enough pageantry and excitement to fill a stadium five times her size. Typically, those are her moments. She celebrates as the Buffs do, in their successes on the field, all the while waiting to be formally recognized for her part in housing so many great memories for so many great years. Instead, more often than not, she sits silent.
Those untold stories of when Folsom actually does come alive have stuck with those involved for so long and continue to live on in such vivid detail as they wait to reach a bigger spectrum. Those stories unlock the door to Folsom's appeal, those recollections that often drift far beyond what actually shows up in the box score or on television sets around the country. For every Deon Figures interception in the end zone to seal a win over Washington or Chris Brown's six rushing touchdowns against Nebraska, there are obscure memories that never reached the public consciousness. A lack of familiarity with those moments just might be at the root of this lack of recognition.
—–
October 20th
… CU in a few minutes …
Buffs show resiliency in first practice after loss to USC
From cubuffs.com … The University of Colorado football team returned to the practice field Monday morning intent on correcting what went wrong in Saturday's 56-28 debacle at then-No. 22 Southern California.
"It's the same mentality we try to take every week," CU coach Mike MacIntyre said. "Try to go 1-0 the next week, and Monday is a new day no matter what. Of course it was more disappointing, there's a different side. If you lose a heart-breaker it's disappointing one way and disappointing another way (to lose by a significant margin). So we'll just keep working with them (players) on it."
Going 1-0 each week is a mantra MacIntyre has promoted since August training camp, and he sees it as a way to keep players focused week-to-week. The young Buffs have taken it to heart and have shown resiliency throughout the season to fight back.
"I thought today they came out here and practiced and asked questions and were flying around," MacIntyre said. "So, that showed me they were resilient."
… Penalty issues … Over his tenure as a head coach MacIntyre has always prided himself in having teams that do not commit many penalties. Last season the Buffs made a dramatic improvement in MacIntyre's first season, committing 21 fewer penalties than the previous season for 232 fewer yards.
However, in MacIntyre's second year on the job the Buffs have actually taken a step back having already committed more penalties (57 for 560 yards) through seven games than the Buffs did in all 12 games combined last year (52 for 461 yards).
MacIntyre acknowledged that it is an area he and his staff always try to improve upon. Yet he has seen a spike in penalties across the entire league and recognizes the Buffs are not alone when it comes to limiting the number of flags thrown in a game.
—
Colorado vs. Washington set for 11:00 a.m. kickoff
Breakfast with the Buffs! Next weekend's game against Washington has been set for an 11:00 a.m. (MT) kickoff, with the game to be televised by the Pac-12 Networks.
Glass half full … the kickoff will be even earlier for the Huskies, feeling like a 10:00 a.m. kickoff.
Glass half empty … already hurting for attendance, an early kickoff will not help matters. Plus, coming the morning after Halloween – how many students do you think will be on hand at kickoff?
Plenty of seats still available!
From CU SID David Plati:
The Washington at Colorado football game on Saturday, Nov. 1 will be televised nationally by the Pac-12 Networks and will kickoff at 11:00 a.m. MDT (confirm: 11:00 a.m.). The Network is televising three games that day and thus the earlier kick.
Saturday, November 1, 2014, Pac-12 football games:
11:00am MDT/10:00am PT – Washington at Colorado, Pac-12 Networks
1:30pm PT – USC at Washington State, Pac-12 Networks
4:30pm PT – Stanford at Oregon, FOX (broadcast)
7:30pm PT – Arizona at UCLA, ESPN
7:30pm PT – California at Oregon State, Pac-12 Networks
8:00pm PT/9:00pm MDT – Utah at Arizona State, Fox Sports 1
—–
October 19th
UCLA joins Top 25 … Pac-12 South has five ranked teams
Last week, UCLA was ranked just outside the top 25, coming in at No. 26. A 36-34 win over Cal, coupled with losses by No. 15 Oklahoma State, No. 21 Texas A&M, and No. 23 Stanford paved the way for the Bruins to rejoin the top 25.
UCLA's return gives the Pac-12 South five ranked teams, led by Arizona State, up three spots to No. 14 after defeating Stanford, 26-10. Idle Arizona moved up one spot, to No. 15, while No. 19 Utah and No. 20 USC moved up one and two spots, respectively.
While the Pac-12 South has five ranked teams, the Pac-12 North is down to just one. Oregon, which handled Washington over the weekend, moved up three spots, to No. 6, while Stanford, the only Pac-12 North team with any votes, fell from No. 23 to a tie for 30th, with only four votes.
Colorado State, meanwhile, became the highest ranked Mountain West team, in at No. 29, garnering 12 votes this week.
The October 19th Associated Press poll: