—
Colorado Daily – Colorado State
—
August 29th
CU in a few minutes …
Gotta love Drew Litton!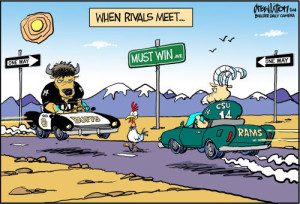 – According to the Denver Post, fans with the Dish Network can breathe a sigh of relief, as the FS1 broadcast of the Rocky Mountain Showdown will now be shown on Dish.
– While Buff fans certainly have their reservations about playing Colorado State in Denver, CU players (at least publicly), are embracing the game. "I think having it in Denver is fun," Sefo Liufau said in an article in the Daily Camera. "It is a bigger stadium, bigger stage and an even amount of fans from both sides which is really fun."
– The Coloradoan has posted a position-by-position breakdown for the game. Spoiler alert: Don't expect logic to enter into the conversation. Example: "Offensive Line. Even. Although CU returns three starters and CSU returns just one in tackle Ty Sambrailo, the Buffs struggled last year with a rushing attack that averaged just 120.8 yards a game. CSU averaged 204.4″. Umm … is averaging 204.4 yards per game rushing last season relevant to this season, when 80% of the line which generated those numbers are gone???
In the Daily Camera preview of the game, CSU quarterback Garrett Grayson was asked about one of the biggest question marks for the game – CSU's offensive line: "When they did make mistakes, they corrected it right then and there," Grayson said of the Rams' preseason work. "We went in and watched film a couple of times together, and you could tell that if they had a brain fart on the field, not having their eyes inside and looking outside, it's just young mistakes. They're going to make young mistakes like I did, but the confidence that I have in them has shown throughout this week."
Here is the Denver Post preview, including information about getting into the stadium (no backpacks!), matchups, and the beat writers (predictable) predictions for the game.
——
August 28th
CU in a few minutes …
– CU head coach Mike MacIntyre may be 3-0 against Colorado State as a head coach, and the Buffs may have held CSU quarterback Garrett Grayson to 201 yards passing in last season's Rocky Mountain Showdown, but the Buffs still have respect for Grayson. "I've noticed that he's progressed a lot," CU defensive back Kenneth Crawley said about CSU quarterback Garrett Grayson in an article for the Daily Camera. "He got better as the season went on and he matured a lot."
– The Coloradoan is at it again. A day after posting an article entitled, "CSU closes in on CU in Rocky Mountain Showdown ticket sales" (see story, below), the Ft. Collins newspaper has posted an article entitled, "CSU, CU on an even playing field in terms of talent", citing recent Rivals rankings (CU 77th in Rivals rankings for the recruiting Class of 2015; CSU 85th). See if you agree with the other arguments made on behalf of the Rams depth chart.
– B.G. Brooks has posted a great article at cubuffs.com on CU redshirt freshman defensive end Derek McCartney. It's hard enough facing your first career start in a rivalry game, but being Bill McCartney's grandson only intensifies the scrutiny. "He's done an awesome job; I'm excited to see how he does and I've got all the faith in the world in him," said teammate Juda Parker, adding that if McCartney lines up on his side of the defense he will assist him in communication with the defense and lining up correctly. "Having all that on your plate and not having played can be tough at times". The full article can be found here.
– Dr. Saturday, a/k/a Graham Watson, has posted a great profile of CU head coach Mike MacIntyre at YahooSports.com. Entitled "Mike MacIntyre transforms his body and now looks to do the same with Colorado football", Watson takes a look at how Coach Mac's weight loss over the off-season is a reflection of how he looks to take on the rebuilding project at Colorado. Included in the great article is this quote from Coach MacIntyre's wife, Trish: "Maybe some people would be scared away from rebuilding projects, but that's where I think he's able to see a little bit of the diamond in the rough," Trish MacIntyre said. "He sees it differently, maybe, than someone else. He focuses on the diamond and he knows it's going to come out and shine in time, but it's a process. That's the thing I think Mike has, he is an eternal optimist in that he's going to do whatever it takes to find a way to be the most successful that he can be. I think that gets to be a little contagious, hopefully, amongst the people around him. He's inspiring because of that. And he's not expecting anyone else to do something that he isn't willing to do himself first."
—–
August 27th
Colorado State "catching up" to Colorado in RMS ticket sales
The full article from the Coloradoan can be found here … The Rocky Mountain Showdown is less than three days away and ticket sales to the rivalry football game are finally heating up.
As of close of business Tuesday, CSU and the University of Colorado had distributed a combined 50,800 tickets to Friday's nationally televised gane in Denver. These numbers include season packages and student tickets.
…. CSU has significantly closed the gap on CU in the past week. On Aug. 19, the Buffs had distributed more than twice as many tickets as CSU, but the margin is now less than 6,800. Additionally, the Rams have sold more single-game tickets to the Rocky Mountain Showdown. About 22,200 of CU's are coming from season packages opposed to 5,300 season tickets by CSU.
—
Some observations from this article … CU has 22,200 season ticket holders; CSU has only 5,300 (if you build it, they will come??) … Only 50,800 total tickets sold through Tuesday. Barring a significant jump in sales in the next three days, the RMS won't get to the 59,801 total tickets sold last year, making this the fourth straight year the RMS is under 60,000 in attendance … CU will again have over 30,000 tickets sold, while CSU may get to 25,000. Um, CSU went 8-4 and went to a bowl game, while CU fans have endured eight straight losing seasons. At what point will little brother's fans start supporting the team? … Using the starting ticket price of $55 for CU; $25 for CSU, and the ticket sales to date, CU has collected over $1,584,000.00 in ticket sales; CSU $550,000.00  – yeah, CSU is really "closing in" on CU in ticket sales (the phrase used in the Coloradoan headline).
But give the Rams this … It's interesting to see a hometown paper can actually slant an article in favor of the home town team (are you listening, Daily Camera?)
——-
August 26th
Mike MacIntyre Press conference quotes
From cubuffs.com (quotes from quarterback Sefo Liufau and defensive lineman Juda Parker can be found at the cubuffs.com link)
General
"This is an exciting time for the state of Colorado. This is an exciting time for us and we're excited about playing in the game on Friday night. It's almost here and it's going to be a great contest. I think Jim McElwain has done a phenomenal job there in going to a bowl game last year and winning it. They beat a Pac-12 football team. They're an excellent, excellent football team. They've got a great quarterback coming back in Garrett Grayson who I think is a phenomenal player. So, they do a phenomenal job. This is going to be a tough test for us and I know our kids are excited to try and play in that game Friday night. Home openers are always fun and opening games are always exciting. I think it puts a double excitement on it when it's your rival that's only a little ways away. It's going to be an exciting day."
On the Season Opener Often Being The Tone Setter For An Entire Season
"I think every game is a tone setter to be honest with you. You can win that game then lose all the rest. You can lose that game and then win all the rest. The thing that's exciting about the opening game is, everybody has so much anticipation no matter who you're playing because it's the opening game. But, when you play a big rival team that's a very good football team, it puts a little bit more added energy to the game. But, I think it's an opening game and that's what it is and you go from there. You still have 11 more games after that and then hopefully another one."
On How Garrett Grayson's Game Has Changed Since The Opener Last Year
"I don't think he has changed that much (since last year).  They were able to run the ball a little bit better at the end of the year is what I noticed. (Kapri) Bibbs was running the ball really well as you could tell. So, I think that made it easier on Garrett to have more open one-on-one shots and he made some great plays. I've watched Garrett probably more than any quarterback in the country. The reason I say that is that we played against him when he was a sophomore (while we were) at San Jose State and we played against him last year and it was an opening game and we're playing against him in the opening game this year. We have had more time to watch all the tape. I do think that he has improved every year. I think Dave Baldwin is an excellent offensive coordinator. I've known him for a long time. He used to be the head coach at San Jose State. I think he does a great job with the quarterbacks. The thing that you notice about Garrett he gets them in the right play, he makes the right reads, he makes all the throws and he's a big strong guy that can run a little bit. So, I'm impressed with the young man. I really am."
On How CSU Might Match Up Talent-Wise With CU
"I think they have excellent talent. They have a receiver corps that is excellent. They have some good running backs there but if you look at the running backs they had there last year, they had three guys that were really, really good. Their offensive line was really good. They had a guy get drafted. They had a tight end get drafted. Defensively, they had the player of the year. I think they have very good talent and I think they're well coached."
On Whether He Considers The Talent Level Fairly Equal Between The Two Schools
"I think they're very, very talented. I think they've got a good football team. They were a bowl team and they won a lot of games. They scored a lot of points the last seven or eight games, a lot of points. So, that shows you that they've got talent all over the place."
On Whether He Has Found His Team's Identity
"It was identity week (here) two weeks ago and I think we did well on it. I think that we were trying to make a statement to each other about pushing through everything and working through everything and doing all this stuff they needed to do to be successful. I think they did that."
On How Much His Team Has Improved Since This Point Last Year
"First of all, the knowledge side of it—we're a lot deeper on the knowledge aspect and all the little things that make a difference. Then, I think we're a more physical and more athletic football team than we were at this time last year. I think we're a little bit deeper at some spots. So, I think those are the areas that we've improved in."
On CSU Wide Receiver Rashard Higgins
"He can fly. I see speed.  I see him making plays. I see him running by (defensive backs) right and left. I think he's an excellent football player. He's rangy. He's not super tall but, he's long if that makes sense. He's able to go stretch and get the football and do some things. I've been very impressed with all of their receiving corps. (Joe Hansley) I think is a playmaker. He can do a lot of things. (Kivon Cartwright) is a tight end that plays H-back and moves around. He is very, very athletic. They've got two big and really tall receivers. (Jordon Vaden) is a good player. I think they're very, very talented in that area."
On Whether The Team Progressed The Way He Hoped They Would During August Camp
"I think we did progress. It's never what you hope as a head coach, you want absolute perfection. But, we did progress. I don't think we took any steps back and I feel like we moved forward from spring and I feel like we've moved forward as a team from that point."
On How He Might Characterize The CU-CSU Rivalry
"I think it's a heck of a rivalry. I was in the Ole Miss-Mississippi State rivalry when I was coaching at Ole Miss. Colorado and Mississippi—I'm not saying they're the same. Population wise, there's not a lot of population in either state. So, everybody kind of knows everybody. All the small towns know each other, half of them are Colorado State, half of them are Colorado. So, I think that brings a better feel to it. They'll see each other all the time. If you're in a big city area, you might not see as many people that you play against but, here you see them quite often. You see them at church. You see them when you go out to eat dinner. I think they bump into each other more in a less populated state. Of course, our state is kind of densely populated up and down (highway) 25 and in this area. So, I think they run into each other all the time so I think that makes it more of a rivalry."
On CSU Head Coach Jim McElwain Saying All The Pressure Is On CU On Friday
"Jim is really smart. I think it'll be a heck of a football game for both of us. I know our kids are excited about playing. (CSU) is really good. They're a good football team."
On How He Feels About Playing A Rivalry Game To Start The Season
"That question was asked to me earlier this morning. I think that we need to play this game early in the season because we both want to be playing in a meaningful conference game at the end. Then, we want to play that game and then go to the championship game next. So, I think both schools would rather have it now instead of putting it at the end because if you go play a rivalry game that's non-conference at the end of the season, then you're thinking about a lot of other things at that point. So, it would still be a big rivalry game but, I like having it where it is since we're in different conferences. If we were in the same conference, then for sure it would be the last game but we're not in the same conference. So, I think where it sits, somewhere in the beginning, is a good place for it."
On The Emotional Level A Rivalry Game Like This Might Bring
"I think it does add a sense of urgency. Everywhere they go people are asking them about it. Every opening game is fun, but this one just has an extra vibe to it I guess because of that."
On Whether He Agrees With McElwain's Comment That Each Program Benefits When the Other Has A Good Season
"I like CSU to win every game but the first one. I really mean that. Some people would say 'Well ……' No, I'd like for them to do that because they are in our state. There are a lot of Colorado kids that play on their team. I think it's an opportunity to get our name out there. The better we do and the better they do, then (Sports Authority Field at Mile High) will start being completely packed and it adds a great experience there for everybody. I think it puts the name of Colorado out there more which is good for high school football (too) really."
On How Often CU and CSU Go Head-to-Head In Recruiting
"We do every once in a while."
On Whether He Tends To Worry More With A Younger Team As Opposed To A Veteran Team
"Yes. I'm taking some diaper rash with me to game because they're going to get pretty nervous. We have some young guys. They're going to be …… I hope they aren't peeing down their leg the first time they walk out there to play. A few of them will have jitters and a few of them won't. I'm excited about our young people and what they're doing and how they're improving. It's going to be fun to watch them play. At times, it's going to be exhilarating and at times it might make us want to pull our hair out. But, it'll be a growing process. I think they're ready to go and I think they'll play well and go from there."
On The Receiving Corps Minus Paul Richardson
"I think the receiving corps has grown well. (Receivers coach) Troy Walters does a great job with them. (Offensive Coordinator) Brian Lindgren does a great job with them. The other guy that had a great game in this game last year was a guy named (quarterback) Connor Wood. So, we've got a brand new quarterback out there in this game for the first time and of course we don't have (Paul Richardson). But, I think the other guys on our receiving corps have stepped it up. Some of the younger guys that redshirted (last year) have stepped it up. I think Tyler McCulloch and Nelson Spruce are healthy and D.D. Goodson has a whole year of playing receiver under his belt. He made some big plays in this game last year. So, I feel good about all those guys.
On His Team's Preparation Level Heading Into The Season Opener
"I think they'll be fine. The way our kids practice and …. We try to push them hard in practice, so hopefully the game is even easier and we'll see from there. But, I think they'll be ready to play."
On Whether He Likes To Play This Game In Denver As Opposed To On Either Campus
"I really have no control over it. I like to play it in Denver. It was fun last year. Not just because we won, but because the atmosphere, when you ran out there ……. All of our people were standing up and then all of their people were standing up. When either side scores, there's always a roar. So, I thought that was interesting. I think the young men enjoy playing in that pro stadium and dressing in the pro locker room. I think that's fun for a kid."
On Whether The Gap Between The Big Five Conferences And Everybody Else Is Growing And Whether Or Not That Might Affect This Rivalry Moving Forward
"I don't know. Only the future tells on that. I mean, I would be totally speculating on how all of that is going to work out. That's such an unknown right now. I don't even know if there's going to be new rules made or not. Half of the conferences might vote it down. You've got to have a certain amount. So, I don't know. I think the future will tell on that."
On The CU Running Game
"I feel good about our running game. I really do. I think we have four running backs who can run the football and are Division-I college football players. So, it'll be exciting to see what they do. Of course, our offense is going to take what they give us and we'll see what they can do. So, we'll see happens, but I do feel good about our running game. I feel better about the athletic ability of our offensive line this year than I did at this time last year. So, I feel good about that."
On Whether This Rivalry Could Boost High School Football Across The State
"Well, I said that earlier. That's what Jim McElwain was saying when he said 'If they do well, then we do well.' Then, more kids are excited about going to the games. More people are excited about watching more games on television and watching us on television. I think that doesn't do anything but help little kids, middle aged kids, junior high and high school kids ….. So, I definitely think that does help. I think it creates more involvement and more excitement. They see something that's big for this state on either side."
On How Important It Is To Win This Game In Terms Of Recruiting Within The State
"It's important for us to get the kids that we think are BCS-type players in the state. There's quite a few that we went after last year and there's quite a few that we're going after this year. We'll just keep working at it. Just the population in our state ….. People talk about California and Texas, but those states have big populations. That's just the way it works. But, there's quite a few good football players in our state that definitely want here and would like to have here."
On Whether It Becomes Easier To Prepare For The Rest Of The Schedule Following A Win In The Opener
"There's no easier way to prepare for a game. We go by the slogan—'We want to go 1-0 each week.' So, if we go 1-0 this week, we don't come in and say 'Ok, we want to go to 2-0'. We say 'We're going 1-0 again.' If we somehow, unfortunately, don't come out on the winning end, then we want to come back and go 1-0. But, as a coaching staff and as players you go in and prepare the same way week in and week out. I think there's a lot made of that. But, really you're only as good as the next game and we never know what will show up in the next game. You have different injuries. You have different situations with the matchups and that type of thing. So, it changes more than you think as you go through it."
On Whether There Might Be Any Difference In The Team's Level of Focus Following A Win
"I sure hope not. I sure would hope not. I would hope that they would come focused to play each and every week. In today's college football, you can win at any time and you can get beat at any time. Opening weekends are always that way too. Opening games are games that are exciting because there are a lot of new players playing and a lot of new things happening and all that type of thing."
On Quarterback Sefo Liufau's Development Since Last Season
"His arm is stronger. That's one of the things you'll notice. I think he's more accurate more of the time. He was accurate last year but, he's more accurate more consistently which is what we need. But, his arm is stronger. He's also moving better. He's moving a lot better and I think you'll see that too."
On Whether Liufau Might Have The Same Success  As San Jose State Quarterback And MacIntyre Protégée, David Fales
"That's what we plan. We sure hope so. I think he has some of the same qualities that David had as far as: he has a quick release, he can avoid the rush and he's very competitive. David had all those things. Sefo has made some of the plays in the games and now we have to see him consistently make them now. I think he will. But, David Fales was a very unique guy. He nicknamed himself 'David Never Fails.' So, that was pretty good. He had confidence. He was very key to our success.
You better have a good quarterback or you're not going to have success, not in today's college football. If you look at the pro teams, the ones that have good quarterbacks year in and year out, their coaches coach there a long time. That's just a fact. If you don't have a good quarterback, then those coaches probably wouldn't still be there. You've got to have a good quarterback and I think we do. I'm excited about Jordan Gerkhe behind him. I've said that a bunch of times. I think that if something happened to Sefo, and hopefully nothing does, Jordan has really improved and can do a lot of things. He's a little different but he can do a lot of things."
On What Makes Wide Receiver Nelson Spruce Tick
"Wow. Any company out there that hired Nelson Spruce will see him run that company in 5-10 years. He is a worker. He is intelligent. He pushes. He has ice in his veins. The thing that really helps him at receiver is …… they talk about his speed, I think he's pretty fast. Now, is he a blazer? No. But, he catches everything because he's so strong with his hands. He can be covered but still he comes and gets it. He has that ability to separate in a two-yard spot. He makes you think 'How does he…? He's covered. No, he's not.' He's able to turn, he's so strong, and break tackles a lot. I just really think he's a good player and he's a great leader for our young men, a great leader."
On Preparing His Young Players For The Ebbs And Flows That Happen Throughout The Game
"We talk about that with the whole team all the time. You just talk to the young men about the old cliché about the next play which is basically 'Play every play as hard as you can play.' If you screwed up the last play, don't let it affect the next play.' You don't want one bad paly to affect three other plays. Just keep playing. Keep playing. Hopefully, they'll do that."
On This Year's Freshman Class Rounding Into Leaders In The Film Room and Off The Field
"We started class yesterday and that will kind of start happening now more and more. So far, we've just been with them all the time. So, they've done a lot of film work that way. But, I think they will. I think they'll work at it hard. It's the leadership by those older guys like that that show them the way."
On The Importance of Winning This Game For The Program As A Whole
"Every game is important. Every game I look at is a season within itself. We're excited about this upcoming game. We're playing a bowl team that is a really good football team. They're really well-coached and it's going to be a tough game for us. It's going to be a great crowd there. It'll be on national television. So, it's a great opener for us and we definitely want to win it."
On The Versatility Of Senior Punter Darragh O'Neill
"Well, I don't know if I'll ever coach a punter like Darragh O'Neill again that can punt left-footed and right-footed. Last year it was so funny when I told the officials 'You know, he can punt left-footed and right-footed.' They (say) 'What?' We use him as a weapon. That helps us put people off balance. You can't really rush other sides because you don't know if it's going left, right or down the middle. So, you'll see us do a combination of all of it."
On Correcting The Special Teams Mistakes That Hindered The Team A Year Ago
"I feel like we're way ahead of that this year. It's kind of funny but, if you take out the first two games, and you know how statistics are, we were ranked in the top ten in nearly every statistical category after that. It's kind of funny. But, that's all it takes in special teams. One kickoff return, one punt return …. CSU did a great job last year.  (CSU Special Teams Coach Jeff) Hammerschmidt did a great job with their special teams and (CU Special Teams Coach) Toby (Neinas) does a great job with ours. You know, going into the first game the first time, those are usually the things that are the toughest.  But, I feel like we're way ahead than we were at this time last year at this time. I think the kids really understand what we're trying to do. I think we understand where to plug kids in at better. I think our kickers understand what we're trying to do better so I think we'll be better. I sure hope we're a lot better than we were in last year's game. We've looked better in practice. We really have."
On Defensive Back Richard Yates And Wide Receiver Wesley Christensen Being Placed On Scholarship For The 2014-15 School Year
"Richard was on last year and then we renewed him. He was a walk-on. He's a phenomenal young man. He does a great job for us on special teams. I'm just really proud of him. Then, Wes is a young man that came here a year ago from Butte Junior College as a walk-on wide receiver. He gives us everything that he's got. He's our backup holder. He's one of our backup long snappers. He plays receiver. He's just a phenomenal young man and I had the opportunity to give those guys scholarships and they both earned them. I had the privilege of being able to see their workmanship and honor them with it. So, I'm excited that we were able to do that."
——
Injury update
From cubuffs.com:
OL – Brad Cotner – concussion – suffered in practice (Aug. 6), has yet to be cleared to return to practice … OUT
DE – Garrett Gregory – knee – suffered a severe sprain in practice (Aug. 23) … OUT/3-4 WEEKS
TE – Dylan Keeney – knee – suffered a severe sprain early in camp (Aug. 4), back practicing on a limited basis … QUESTIONABLE
DE – Markeis Reed – groin – suffered a strain last winter (Feb. 27) and reaggravated it early in camp; had surgery for a sports hernia … OUT
Those who are out for the season:
S – Jered Bell – knee – suffered a torn ACL in practice (Aug. 15); will petition for a sixth year from the NCAA … OUT/SEASON-ENDING
DE – Tyler Henington – knee – suffered a torn ACL and MCL in practice (Aug. 22); no decision yet on surgery … OUT/SEASON-ENDING
DT – John Paul Tuso  – knee – suffered ACL and meniscus tears in practice (March 17), had surgery April 10 … OUT/SEASON-ENDING
—
CSU Injury Report
From the Coloradoan … Running back Dee Hart, junior linebacker Cory James (knee) and sophomore cornerback Tyree Simmons (knee) were all listed as "probable" for Friday night's season-opening game against the University of Colorado on the injury report distributed to reporters following Tuesday's practice. Senior Kivon Cartwright (ankle) and sophomore Jordan White (shoulder), both tight ends, were listed as "questionable."
Steven Walker, a mid-year junior-college transfer who was on campus and practicing with the Rams last spring, is listed as the backup to Cartwright on the CSU depth chart. White wasn't listed on the depth chart, which went three-deep at both tight-end spots.
—
CSU players – Rams equal to the Buffs
From the Daily Camera …  The players, even their coach, are aware of the outside perception. It's one Colorado State coach Jim McElwain admitted should carry some merit.
By virtue of being in a bigger conference, Colorado should have better depth, more talent, definitely more money and resources than do the Rams of the Mountain West. When autonomy comes into play later this year, the gap could conceivably widen further.
McElwain even played into it a little bit at his Monday press conference, suggesting "our little guys will show up and we'll go play the game."
To actually believe it would be a different matter all together, and as Friday's Rocky Mountain Showdown approaches at Sports Authority Field at Mile High (7 p.m.; FOX1), the Rams aren't buying into it in the slightest.
"Player by player, I feel like this program not only matches up to them, but in a lot of positions are better than CU player by player," senior tight end Kivon Cartwright said. "I just remember the game when CSU went to Boulder to play (2009), and at the time I was getting recruited by both schools, and when CSU went down to Boulder to play, it wasn't an upset at all. We just physically dominated them. I've never felt like CSU was the little brother in this rivalry."
The numbers might suggest otherwise, as the Buffs hold a wide gap in the series they lead 62-21-2, winning three of the past four meetings. But when CSU looks back at the 2013 game, the 41-27 outcome drives them a bit nuts.
Colorado State led 24-23 heading into the fourth quarter but fell apart. Not that it had not happened in bits and pieces earlier. The one player they focused on, Paul Richardson, broke free for two long scoring plays (82 and 75 yards to bookend the scoring of the day). CU recovered two fumbles, one Greg Henderson returned 53 yards for a score.
"He didn't get lost in the shuffle," McElwain said of Richardson, "he got really open. And when you let the fastest guy in the state of Colorado get open like that, not good things happen. And when you fumble a ball and give them a score, when you do things within the scheme, whether they be the seven drops we had, whether they be the couple of penalties that were just unforced errors, those are things you kind of look at.
"You know what? They took it to us and won the game."
Again, McElwain preached it won't be what an opponent does but what the Rams do, and when they look back, the Rams see mistakes they can correct.
The secondary that let Richardson run free is back and intact, a group CSU feels is more experienced, more comfortable in its assignments and communicates better. Richardson may be gone, but the Buffs will still line up somebody out there.
"One of the positives we can take out of that situation is knowing those are things we can do and it's not a fact that it's anything they did," linebacker Max Morgan said. "It was a lack of communication on my part or a lack of a contained rush or whatever the case may have been. They're all things that we've been working on and hopefully can not happen again."
McElwain even suggested this game is a "must-win" for both sides, and from the CSU perspective, getting off to a fast start is a goal after beginning 1-6 and 1-3 in McElwain's first two seasons.
What he said he was proud of both years is the way the team rebounded from those starts and learned some lessons to help produce victories. The key is to skip the hard lessons and put the learning to good use from the outset.
But backing down from the challenge, even if it is an in-state rival from a bigger conference is just not in the formula. A CSU win won't be an upset, McElwain said, because the expectation is to win.
"Shoot, they're a Pac-12 team and they have all the stuff that we don't have," McElwain said. "So, are we going to use that as an excuse? We're going to do what we do and go out and play the game. If we have a bunch of guys that refuse to get out of the tunnel, then we're going to be in trouble.
"But I think our guys will walk out of the tunnel and go see what happens."
Injury update — McElwain said Kivon Cartwright, Cory James and Dee Hart will all meet with team doctors on Monday looking for final clearance. Cartwright and James both have yet to take part in good-on-good drills, something McElwain requires to deem a player game worthy.
Jake Schlager (ankle) will not play, and tight end George Maumau is now out for the season with his third knee injury.
——-
August 25th
CU Depth Chart released
The depth chart for the Colorado State game, including substitutions, has been released, and can be found here.
Some names of note …
– Defensive lineman Tyler Henington is out for the season with a knee injury (torn ACL), joining safety Jered Bell as a former starter out for the year with an injury. "(Henington) is a big loss for us, but I'm not concerned (about the lack of experience at defensive end)," MacIntyre said. "I think they're athletic enough and good enough to play. The oldest guy in the group is a sophomore. So, we'll see what happens but I think they'll do fine."
– Red-shirt freshman Derek McCartney is the starter at left defensive end. With the loss of Tyler Henington, this means that, other than defensive tackle starters Josh Tupou and Juda Parker and backup Justin Solis, the entire defensive line, including backups, is made up of freshmen and sophomores.
– Running back Phillip Lindsay is listed as the primary kickoff returner, along with linebacker Ryan Severson, who held the job last season;
– Wide receiver Nelson Spruce remains the primary punt returner, joined by defensive back Greg Henderson;
– Sophomore Chidobe Awuzie is listed as the starting free safety, as well as the No. 1 nickel back (translation: when the Buffs are in a five defensive back package, Awuzie will play nickel back, and senior Terrel Smith will play at free safety). Sophomore John Walker is listed as Nickel back No. 2, coming in for "dime" packages (six defensive backs);
– Auburn transfer Shane Callahan is listed as a substitute, listed as a guard (after playing tackle at Auburn).
—
Notes …. Colorado remains ridiculously young, with only three senior starters on offense and only three on defense (though both specialists, kicker Will Oliver and punter Darragh O'Neill, are seniors) … Interesting to see Michael Adkins as the starter, ahead of Christian Powell, though it remains likely that both players will have plenty of carries before the season is through.
The Offense: 
WR (X) ………… 4 Bryce Bobo, 6-2, 190, Fr.-RS
WR (Y) ………… 22 Nelson Spruce, 6-1, 195, Jr.**
WR (H) ………… 3 D.D. Goodson, 5-6, 170, Sr.***
LT ……………….. 76 Jeromy Irwin, 6-5, 295, Soph.*
LG ………………. 54 Kaiwi Crabb, 6-3, 295, Sr.-5**
C ……………….. 74 Alex Kelley, 6-2, 305, Soph.*
RG …………….. 52 Daniel Munyer, 6-2, 295, Sr.-5***
RT ………………. 77 Stephane Nembot, 6-7, 295, Jr.**
TE ……………….. 81 Sean Irwin, 6-3, 245, Soph.*
QB………………. 13 Sefo Liufau, 6-4, 230, Soph.*
TB ………………. 19 Michael Adkins II, 5-10, 195, Soph.*
FB ………………. 28 George Frazier, 6-1, 245, Fr.-RS*
—
The Defense:
LE ……………….. 95 Derek McCartney, 6-3, 240, Fr.-RS
DT ………………. 55 Josh Tupou, 6-3, 325, Jr.**
DT ………………. 56 Juda Parker, 6-2, 270, Sr.***
RE ………………. 98 Jimmie Gilbert, 6-4, 230, Soph.*
ILB (mike)…….. 44 Addison Gillam, 6-3, 225, Soph.*
ILB (will) ……… 31 Kenneth Olugbode, 6-0, 210, Soph.*
OLB (sam) ……. 37 Woodson Greer, 6-3, 215, Sr.***
LC ………………. 20 Greg Henderson, 5-11, 185, Sr.**
SS ……………… 9 Tedric Thompson, 6-0, 200, Soph.*
FS ………………. 4 Chidobe Awuzie, 6-0, 190, Soph.* (N #1)
RC ……………… 2 Ken Crawley, 6-1, 180, Jr.**
—
No real surprises on CSU gameday depth chart
From the Coloradoan … There were no real surprises Monday, when CSU released its depth chart for Friday's season-opening football game in Denver against the University of Colorado.
Two former defenders will start on offense, with converted safety Jasen Oden getting the nod at running back over Alabama transfer Dee Hart and converted linebacker Nolan Peralta starting at one of the two tight-end spots.
True freshman Deionte Gaines was listed as the top kick returner, and two other true freshman, Deron Thompson and Kevin Nutt also were listed on the depth chart. Thompson was listed as the fourth running back, and Nutt was listed No. 3 at one of the cornerback spots.
Sam Carlson, a former Poudre High School standout, was listed as the starter at right tackle on an offensive line that has to replace four starters who were lost to graduation. Senior Mason Myers will start at right guard, redshirt freshman Jake Bennett at center, sophomore Fred Zerblis at left guard, and senior Ty Sambrailo, the lone returning starters, at left left tackle.
All 11 of last year's returning starters were listed No. 1 at their respective positions, including outside linebacker Cory James who missed most of fall camp while recovering from minor knee surgery.
Receiver Joe Hansley, a junior, was listed as the top punt returner, with Hart backing him up in that role. Receiver Rashard Higgins, a sophomore, was listed as the No. 2 kick returner behind Gaines.
—
A little something to get you going … CU Video's highlights from the 2013 Rocky Mountain Showdown …
http://vimeo.com/73828626
—
August 24th
Garrett Grayson trying to become just the third quarterback in 121 years to defeat Colorado twice
From the Coloradoan … Bradlee Van Pelt couldn't do it.
Neither could Kelly Stouffer, Moses Moreno or Caleb Hanie, who along with Van Pelt were some of the most successful quarterbacks to play at CSU.
Throughout the 121-year history of Colorado State University football, only two quarterbacks have been able to beat the University of Colorado twice: Matt Newton in 1999 and 2000 and Alexander "Sandy" Hutton way back in 1915 and '16. While a rare achievement for a Ram QB, there have been plenty of Buffaloes who have accomplished: the feat, including Joel Klatt, Cody Hawkins, Tyler Hansen, Koy Detmer — the list goes on.
"Frustrating" was the best way a handful of former CSU quarterbacks who failed to beat the Buffs twice could describe the experience. It's all the more reason they're cheering for Garrett Grayson to become the third quarterback to win two against CU in Friday's Rocky Mountain Showdown at Sports Authority Field at Mile High in Denver.
"It would be great to be mentioned with those guys; we've had so many great quarterbacks come through here. I honestly didn't know (only two had done it), but it would be a huge honor," Grayson said. "Hopefully I can make it happen. It would be a blessing and I'd be more than happy to be part of their company.
Not only is it a rivarly game, but there are other factors that make it difficult to play your best game, Grayson said.
"It's the first game of the year and everyone has a lot going on — those first-game jitters — you don't really have much film because you're going off of last year. … There's a lot that goes into a first game and (not having film to scout), I'm sure, is a big part of it."
Newton and Moreno agreed not having an updated look at an opponent makes preparation more difficult heading into a season opener, but it's no more of a disadvantage than what CU faces on an annual basis. For whatever reason, former quarterbacks said, they struggle with pulling out wins against CU, even during some of the best seasons in program history, like 1997's 31-21 loss in Boulder.
Multi-year QBs vs. CU since 1983
| Quarterback | Years | Record |
| --- | --- | --- |
| Garrett Grayson | 2012-Present | 1-1 |
| Pete Thomas | 2010-11 | 0-2 |
| Caleb Hanie | 2006-07 | 1-1 |
| Justin Holland | 2004-05 | 0-2 |
| Bradlee Van Pelt | 2001-03* | 1-1 |
| Matt Newton | 1999-2000 | 2-0 |
| Moses Moreno | 1995-97* | 0-2 |
| Scooter Molander | 1987-88 | 0-2 |
| Kelly Stouffer | 1985-86 | 1-1 |
*—Played in 1995 or 2001 game, but didn't start.
——
August 19th
Sales of tickets for Rocky Mountain Showdown continue to decline
From the Daily Camera … The Rocky Mountain Showdown between Colorado and Colorado State at Sports Authority Field next week is producing lackluster ticket sales once again even with the Rams coming off an eight-win season and bowl victory.
The Buffs and Rams will kick off their season at 7 p.m. on Friday, Aug. 29. This will be the 14th game in the series played in Denver.
CSU director of media relations Paul Kirk said the Rams have sold approximately 15,000 tickets as of the Tuesday morning. He said the program is hoping for a surge in student ticket sales in coming days as students return to school.
Colorado reported last week it had sold 21,800 tickets. It expects to be north of 30,000 in ticket sales by game day because student ticket sales are not yet factored into its report. CU generally sells 8,000 or more tickets to students for the game, sports information director Dave Plati said.
The Denver Broncos retain rights to sell a portion of the total tickets to the game and the franchise generally sells between 3,500 and 5,000 seats to the game. The Broncos moved 3,430 tickets last year.
Colorado routinely attracts a higher percentage of the fans attending the game. Last year, CU sold 32,779 tickets compared with CSU moving 23,392. In 2012, the Buffs sold 35,406 and CSU sold 18,169.
The programs haven't attracted 60,000 fans to the game since 2010. The 2011 crowd of 57,186 was the smallest of the games played in Denver. The teams attracted 58,607 in 2012 and 59,601 last year.
——
August 8th
CSU fires athletic director three weeks before the start of the football season …
From the Coloradoan … Jack Graham, the man behind the plan to build an on-campus stadium at CSU, has been fired as the school's athletic director, university President Tony Frank announced Friday.
"While I am grateful to Jack for the energy he's brought to CSU in establishing a culture that expects excellence within Ram athletics and his actions in hiring great coaches and staff, there have come to exist some substantial differences in our views," Frank said in a news release. "Based on our differences, I have chosen to exercise the termination for convenience clause within Jack's contract to allow the university and the athletic department to move forward building on the successes that Jack brought to our program."
Graham, 61, will continue to receive his salary and benefits for 90 days under terms of the "termination for convenience clause" in his contract, Colorado State University spokesman Mike Hooker said. He will continue to receive his annual salary of $260,000 in monthly payments, minus any money he might earn through subsequent employment, through the end of his contract, which runs through November 2016. Hooker said those payments will come from private funds.
Graham, a former CSU quarterback, was hired by Frank on Dec. 1, 2011, and was responsible for the hiring of new head coaches in three of the Rams' four revenue sports and nine head coaches in all. He brought in Jim McElwain to coach the football program, Larry Eustachy to run the men's basketball program and Ryun Williams to guide the women's basketball program. He also dropped the school's women's water polo program and replaced it with a women's soccer team.
Graham first pitched the idea of replacing aging Hughes Stadium with an on-campus facility to Frank in the fall of 2011. Frank cited that kind of bold thinking, along with Graham's business background and ties to CSU as an alum and former athlete, in selecting him as the school's athletic director.
A two-year deadline to raise at least half of the money needed for construction of the $220 million athletics portion of the proposed $254 million stadium in private donations before moving forward on the project is coming up in October, and Frank said he will give the university's Board of Governors an updated report on the stadium at its October meeting, and will discuss the leadership change as part of that presentation.
"This decision is in no way connected to the on-campus stadium project," Frank said in an email to Ram Club members, donors to the school's athletic department and season-ticket holders. "The stadium project is separate from this personnel action and will continue to move forward as planned, with me providing a recommendation to the Board of Governors in October."