—
Colorado Daily – California
—
September 26th
… CU in a few minutes …
Colorado picked … to cover … by a few experts
– From the San Jose Mercury News … COLORADO (plus-11.5) at CAL: The line has inched up to the 12-13 range, but I'm not so sure that's the proper direction. Cal is better than CU, has more talent than CU and is playing at home. But the Buffs will be well prepared, and the Bears could have some issues early as they work through the emotional and physical aftermath of the wrenching loss at Arizona. Pick: Colorado. (But Cal to win the game).
– From Athlon … The Buffs and Bears combined for one Pac-12 win and five total victories last year. Four weeks into the season, these two have already registered four wins. The one league win last year was Colorado's 41-24 win over Cal when Mike MacIntrye's team produced more yards (485) than in any other league game. Sefo Liuafau threw for 364 yards and will undoubtedly target the league's top receiver Nelson Spruce in a big way this weekend. Cal will turn to Jared Goff (and some Luke Rubenzer) to match the Buffs on offense, as the Bears try to erase the awful taste in their mouth from the debacle in the desert last weekend. Sonny Dykes' team is clearly improved and is a two-touchdown favorite at home so Cal could give Dykes his first career Pac-12 win.Colo. Athlon picks … Cal, 38-30 … Cal, 34-24 … Cal, 42-38 … Cal, 34-27.
– From The Oregon Register-Guard … The Bears would be 3-0 if they could have gotten a paw on Anu Solomon's 47-yard Hail Mary pass at Arizona last week. The Buffs are .500 with single-digit wins over Massachusetts and Hawaii.  Cal will feel better after clobbering CU, 45-24.
– From the Tacoma News Tribune … Colorado at California, 1 p.m., Pac-12 Networks (Cal by 14) — The Golden Bears were so painfully close to heading into this game with a chance at a 4-0 start. The Hail Mary hangover is a legitimate concern after what happened in Tucson last week, but Cal simply looks like a much better team than Colorado this season. Playing at home should help, too. The pick: California 41, Colorado 20.
—
Cal not thinking about 36-point fourth quarter and Hail Mary loss to Arizona … except they are
From the San Jose Mercury News … Even after scoring 100 points in its past two games, is it possible the Cal offense needs to do more to help its defense?
Offensive coordinator Tony Franklin says yes.
Cal scored six touchdowns at Arizona, but Franklin said the offense shoulders blame even as the defense tired and collapsed in the fourth quarter of a 49-45 defeat.
"In all honesty, I thought our defense played well enough for us to win that game if we do our job at the end," Franklin said. "All we had to do was get a first down, and we didn't do it."
As the Bears prepare to play their Pac-12 home opener Saturday against Colorado, the loss at Arizona, punctuated by a 47-yard Hail Mary pass on the final snap, leaves questions.
Did Franklin and coach Sonny Dykes dial up the best options when the Bears, leading 45-43, had third-and-6 from the Arizona 28 with 2 minutes left?
Quarterback Jared Goff was in the midst of an excellent game, and a first down would have let the Bears coast home. But an incomplete pass on third down would have stopped the clock, and Dykes' priority was giving the ball back to the Wildcats with as little time left as possible.
Dykes considered the obvious question: "Do you want to take the best player on the team off the field in that situation?" he said.
He and Franklin opted to go with freshman quarterback Luke Rubenzer, who has had success running the ball this season but played just a handful of snaps against Arizona. Rubenzer was stopped for a 1-yard loss after what Dykes said was a blown blocking assignment.
"If they'd had two timeouts, we would have definitely thrown the ball," Dykes said. "They had none left. That's why you have to run it. "
Both coaches say they continue to have confidence in Rubenzer, and Goff chimed in with his support.
"I always want to be in there whenever I can," he said. "Against Northwestern, he went in and got us the first down and won us the game. Unfortunately, it didn't work out (at Arizona). I have full faith in him."
The fourth-down call decision was easy, Dykes said. A field goal would have made it 48-43 and required the Cats to score a touchdown. James Langford's 47-yard try was wide left, leaving Arizona 52 seconds to go 70 yards.
That was enough.
——
September 25th
… CU in a few minutes …
"It's Time" Video released
BuffsTV has posted a three minute highlight video entitled "It's Time", with highlights from the first four games of the season.  You can watch it here.
Watch it now, or save it to get yourself fire up on Saturday.
Go Buffs!
—
StubHub named Buffs' Official Secondary Ticket marketplace
From cubuffs.com … StubHub, the world's largest ticket marketplace, announced its partnership with University of Colorado Athletics to be the program's official fan-to-fan secondary ticket marketplace. The partnership is facilitated through StubHub's existing relationship with Paciolan, the leading provider of ticketing, marketing, fundraising and sales automation solutions in college athletics. The agreement extends StubHub's collegiate partnership roster to 34 universities.
"We are always searching for ways to continually add value for our season ticket holders and our fans," said Matt Biggers, Chief Marketing Officer/Associate Athletic Director of External Affairs for the University of Colorado Athletic Department. "This new partnership with Stubhub will provide seamless flexibility for our fans to utilize the secondary market to sell their tickets for games that they cannot attend. We are excited to be able to provide this outlet with the market leader in the secondary ticketing space and look forward to growing our partnership together."
With the partnership, StubHub will be the official secondary ticket marketplace for the Buffaloes, providing a safe, guaranteed platform for fans to buy and sell tickets, backed by StubHub's 100% money-back FanProtect Guarantee, in which each ticket transaction will be between fans on StubHub.com.
"StubHub is thrilled to partner with Colorado," said Greg Ivry, Business Development Director at StubHub. "With our partnership with Paciolan, we will provide Buffaloes fans with more choice, flexibility and security when they purchase or re-sell tickets on the secondary market."
Together, StubHub and Paciolan provide barcode integration for University of Colorado Athletics ticket holders, so that they may seamlessly resell their tickets on StubHub. In addition, fans have access to streamlined listings to sell unused tickets, providing a simple and fast ticketing process.
"We are very excited to partner with Stubhub to deliver the industry-leading ticket resale service for Colorado fans," said David Butler, CEO of Paciolan. "The innovative leadership team at Colorado Athletics is a great example of a program offering exciting technology solutions to elevate value to fans."
——
September 24th
… CU in a few minutes …
Sefo Liufau on taking hits, Cal's defense, out-scoring the Bears
From cubuffs.com …
On How Cal Has Changed Since Last Year's Meeting
"I don't think they've changed a lot in terms of scheme purposes but, they play a lot more together and they'll be a lot tougher this year."
On Evaluating His Performance Against Hawai'i
"I think I played pretty well. Obviously we had two picks, I thought I had pass interference on the first one. So, I'm not some guy who throws into triple coverage. Obviously, the offense kind of struggled in the second half but, I think overall, looking at missed throws and missed reads, I think I played a pretty good game."
On Whether He Thinks He Is Taking As Many Hits As He Did Last Season
"I don't know. I haven't been counting the amount of hits. They do take their toll but, I mean it's part of the game. It's not going to take me down or take me out. In terms of this year versus last year, I can't really say. I'd say it's pretty similar."
On How He Feels Physically Going Into Cal
"I feel good. It's just another week, another week of preparation for a good team in Cal. They have an Explosive offense, and a really sound defense. All the guys are getting prepared and they're getting ready to go."
On Whether He Thinks He Has Been Effective In The Running Game
"I think I'm taking it when the opportunities are there. Obviously, it's not always going to be there and sometimes we have designed runs. I think I've done a lot better this year compared to last year. So, in terms of taking it when it's there, I think I've done a lot better."
On Improving On First And Second Down In Order To Set Up More Manageable Third Down Situations
"Obviously, we need to just execute more on first and second down, whether it be run or pass. We have to be able to get four or five yards on each down, that way we can just keep moving and not worry about getting the third downs. I've never heard of third down being called the 'QB down' but, we just have to be able to make plays. Coach (Brian) Lindgren always says 'A good (quarterback) makes plays on third down' but, we didn't make enough plays on third down last week."
On Whether He Thinks Teams Might Start To Double And Triple Team Nelson Spruce
"I mean, it's possible. If you want to really stop a big threat like Spruce, that's one way to do it. I don't think teams will be able to with the other receivers that we have. But, if they really want to, then that's their choice."
On Whether He Feels More Comfortable With Passing Opportunities In The Red Zone
"I think so. And I think that comes with time in the system more and just taking what the defense gives us. I just take what the defense gives me and if I see Spruce one-on-one, then obviously you're going to like that matchup ten times out of ten. But, it's just kind of based off what the defense gives us."
On Whether He Feels The Offense Will Have To Score A lot Of Points This Week
"No. We have a good defense and the defense can definitely stop them. I'm not worried about that. Obviously, yes, the offense has to put points on the board. You want touchdowns but, it's not like we're trying to go for a shootout here. I trust our defense and trust in our offense that will be able to execute. Obviously, we didn't execute last week like we should have in the second half. But, we went in and made the corrections coming out and we're ready to play."
—–
September 23rd
… CU in a few minutes …
Mike MacIntyre Tuesday Press Conference Quotes
From cubuffs.com …
General
"Saturday was a good day. It was absolutely a gorgeous day. I thought the crowd was loud and excited, so it was a lot of fun. Our players had a lot of fun. It was a tough game in the fact that our kids played extremely hard and had some opportunities to put the game away and we let them hang around. But that's also a credit to them because they made some plays and did some good things of course. I thought it was a very physical game. It was physical football game and I was excited that we won. We had some guys step up like Brady Daigh, who had to take the place of Addison Gillam and some other guys that played in there. It was pretty hot so, we rotated a lot of young men especially on the defensive line. We played 9-10 different guys up there, which was good. Some of those young guys are improving weekly for us, which is great. Now, we're getting ready to head off and play Cal Berkeley at Cal in our first road game in the Pac-12 this year. So, our guys are excited about it. (Cal) is a much, much improved football team, very, very good. Really, they should be 3-0, but everybody knows the whole story with that. So, they're playing a lot better on defense. Their offense looks to me a lot like their offense did when (the coaching staff) was at Louisiana Tech. We used to play them at San Jose State. They're clicking on all cylinders and their quarterback is throwing the ball on time and throwing it to spots and their receivers are getting there. It's pretty impressive what they're doing. So, it's going to be a tough task for us. Our kids will be excited about playing and we're looking forward to going up there and playing."
On A Play In The First Half When Quarterback Sefo Liufau Thought A Pass Interference Penalty Should Have Been Called on Hawai'i
"Well, on that: you have to see a flag before you throw it up. And it wasn't a pass interference on Shay (Fields). It was incidental contact. He went and they kind of tripped each other in a way. They don't usually call those. It wasn't hand contact. That's one where we should have just kept running or throw the ball out of bounds in that situation. Nelson looked open for a second, but it's hard to run and throw the ball across your body with people catching up. But, we learn from that and move on."
On Limiting Cal's Explosive Passing Game
"Well, one of the things is, they play really fast, it's simple but it's true, but as soon as the snap is over and you make the tackle you have to get up fast, look at the signal and be moving towards your position. They're going to be snapping the ball extremely quick because they want you to get misaligned half the time. They do a good job of that. So, that's one key from that. Then, you've got to play tight coverage. You've got to understand also that, when you they catch the ball, we have to tackle them in space and get them down. The thing that they're better this year than they were last year …… Everybody talks about the passing game, but they're running the ball well. They're averaging 187 yards rushing. If they run for close to 200 yards then, they're going to be extremely hard to stop. They're got a good attack going, a good balance attack. So, we're going to have to line up quickly, recognize the formations and play tight coverage and tackle the running backs well in the running game."
On Cornerback Greg Henderson
"Greg's playing well. He's playing really, really well. He's making plays for us and being aggressive. I thought that (cornerback) Kenneth Crawley is playing aggressive too. In today's football, you have to play aggressive and also, we're talked about it before, if you're not playing aggressive, they're going to complete 70 percent of their passes and it's going to be a long day. If you're playing aggressive, you're going to have a few flags every once in a while but, their percentage is down. I think we're down to teams only completing 49 percent on us, we need to keep that up. Now, the team that we play Saturday, if we can hold them to 49 percent, then we're going to be in pretty good shape. The way they do it though, it's a little bit tougher to do that at times."
On How Cal Might Respond After a Heart-Breaking Loss To Arizona Last Week
"I think the first thing you have to do is, and I'm pretty sure (Cal head coach) Sonny (Dykes) is doing it, you always forget …. You don't forget but, you always get ready on Sunday or Monday to come back for the next week. That last game doesn't really affect the next week. The only thing that does is injuries. You've got to figure out how you're going to out your team together and what you're going to play. And the team you're playing next is a totally different team, usually defensively and offensively. You can't let something like that linger on if you can help it. Any game that you lose on the last play of the game, any way like on a field goal or touchdown at the end, however it happens, you're always a little bit more emotional afterwards. But, usually, it's still a win or it's still a loss. You've got to get over it either way. So, I think that those types of games stay in the media a little bit longer probably as far as talking about it. So, the young men have to put it out of their mind. But, I think they'll definitely be ready to play either way."
On Pac-12 Offenses
"I think there are a lot of similarities in this league. Different leagues have offenses that are similar to it. I still think it's the quarterback that makes it go. But, I do think overall that our skill talent at receiver and those areas top to bottom is definitely one of the best in the country. You know, you could argue maybe about the SEC having better (defensive) linemen overall and all that type of thing, but I don't think there's anybody that has as much speed and quickness as our league has at the receiver areas and running back areas, and the way they spread you out and utilize it."
On What Returning to Northern California Means To Him And A Number of His Players Who Hail From That Area
"I think going back, of course they'll be some friends that come to the game and that type of thing, but ……. I think the second part of your question is true. We recruit a lot of young men from that area and we have a lot of young men on our team from that area. So, it'll be good for them to go home and play well. It's always good when they have more family in the stands. It seems like they're more focused maybe. So, I'm excited about that for those young men."
On The Team's Identity After Four Weeks
"I would say that this team has a 'never say die' attitude to it. A lot of people say that, but what I mean by that is: They're attitude is not just to finish the game good, they're idea is to finish the game and win it. I think that's the thing that we're clicked over on, I really do."
On Whether The Trip To Berkeley Is A Big Deal In Terms Of Recruiting
"Yeah, I think it is. Our name is going to be on television and be in the papers a lot more up there this week. So, we're recognized, and I'm pretty sure they'll be some kids at the game that Cal and us are both recruiting. It'll be that type of situation so, it'll be a big deal on that side of it, I definitely agree."
On The 25th Anniversary of Sal Auenese's Death And What It Means To The 2014 Buffs
"I think it's very important. Sal's locker is in our locker room. Our kids walk by it every single day. So, it's not something I would have to bring up. They know that and they understand that. I'll talk with (Athletic Director) Rick George and  some other people as to how exactly we want to handle all of that. That's a personal thing with the family but, they also see a picture every single day in our team meeting room of the team that year at Washington right after his death where they're all pointing up and praying. So, that is something that is not just on our minds because this is an anniversary of the death. It's something that's on our minds and in our thoughts for every single day and for every single person in our football program."
On Whether He Talks About That Moment With His Team
"I saying, it's not something we have to bring up. I mean, we don't bring it up and just talk about it. His son coached on our team last year. So, everybody knows a lot about it."
On Whether Cal Throws The Ball Deep Down The Field More Than Any Other Team
"Yeah, they do throw the ball down the field but, they also throw it …. They throw it everywhere. When you throw it down the field and you complete it, it gets re-run on television more often. If it is thrown down the field and just falls to the ground, they don't show those. So, they had a lot of big plays the other night in the football game. They have some big play capability receivers and can make a lot of things happen. Jared Goff is throwing the ball very accurately, especially down the seams. He's very, very accurate."
On Stephane Nembot's Progress At Right Tackle
"He's improved. I think there have been some tough days out there for him of course, but he's improved every day. He's getting more and more of an understanding of what's going on in the game. He's understanding how people are trying to attack him. He's understanding where his help is, so to speak, where the quarterback is setting up and where his landmark is. I definitely think that Stephane is improving. He works extremely hard at it."
On Cal's Defense
"Their defense has played really, really well except for the fourth quarter. They're probably tired of hearing that also I would imagine. Art Kauffman is their defensive coordinator and I know Art really, really well. He used to live across the street from me when we coached together at Ole Miss. So, I know Art and he does a great job. He's been to a lot of places. Last year he was at Cincinnati and he had the #19 defense in America. So, he does an excellent job. They know exactly what they're doing, and they get lined up correctly. If you see their communication, I think they're really improved. They have everybody back and healthy too, which has helped them personnel-wise. I think their defense is drastically improved from last year."
On The Offensive Struggles In The Second Half Vs. Hawai'i
"We made good yardage on first down. Except for the first drive, we had good yardage on first down. We were gaining four to five yards on every run. Our problem was, the next down. We either missed, or we missed the throw, or we ran a wrong route. We just kind of never got on rhythm. We got some first downs and then, we kind of got off kilter, we got off a rhythm. We were not trying to be conservative. We had a couple of throws down field that didn't go as well as we'd like, we weren't trying to be conservative at all. We did feel like we could run the ball on them some and we made some runs. We just never busted through and never got on rhythm. We had a couple third down plays where we were just off here and there that would have kept drives alive and helped us be able to move in and score for us. They did a good job with some things, keeping us off rhythm and we hurt ourselves some also."
On Whether The Plethora Of High Scoring Teams In The Conference Affects His Game Planning
"No, we have to score more points if we're going to win more football games in the Pac-12, there's no doubt about it. And we need to keep improving on defense. We need to make them kick field goals like we did last week. We've got to make them kick field goals and we've got to cause more turnovers. When we cause turnovers, we need to capitalize on them. When we make good, long kickoff returns, we need to capitalize on them. When we make good returns on punts, we need to capitalize on them. We did not do that as much Saturday as we're going to need to in order to beat some of these teams that we want to beat coming up."
On Whether Liufau Struggles With Throwing To His Left
"I think he has missed a couple throws to the left and that's something that we're definitely working on it every day. He'll get better on it as he goes. I think sometimes, that's easy to say when you're watching it. If you're really watching the film, there might have been a lineman in the way, he might have had a target type-thing. Now, definitely, all quarterbacks miss some throws, it's not just Sefo. Sometimes the window is tight, sometimes the guy might run the wrong route at the wrong depth. It could be a combination of those types of things happening. We just have to get in better rhythm."
On Whether He Thinks The Offense Needs To Be More Wide Open When Matching Up With The Kind Of Offenses That Reside In The Pac-12
"I kind of go by the way of the game. I'm trying to go on the game. Our punter is awesome at pinning the people down there if we can do that. But, if we're not stopping them very well or if I feel like they kind of got us on their heels, we'll probably go for it more on fourth downs to keep drives alive. I thought the other day there were a couple of times where I felt like, instead of kicking a real long field goal or punting it, we had opportunities to make it. We think we were 2-for-3 on fourth downs, the shortest one we didn't get, the other ones we did. I felt like our team needs that and I still think that we have to score touchdowns more often instead of settling, so to speak. So, I think you have to think a little bit more aggressively in today's football than you used to, I really do. So, that's why we do that. I'll kind of go into the game and be thinking about some things. I'll kind of look at it. Also, I felt like our defense was doing pretty good. So, it's kind of a feel situation. But, definitely in the Pac-12, you better score a few touchdowns if you're going to win some football games."
On The Positives And Negatives He Has Seen From His Team Through Four Games
"I think the young men's mindset, their focus and their intensity is at a level to be successful in every game they're playing now. I see that in practice, I see that in their attitudes, I see that on the sidelines. So, I think that's important. I think that's extremely important. Any football game, especially in the Pac-12, it's pretty much a roller coaster and you have to be able to play thru that positively and negatively. So, I see that. I think we want to be able to score points, we want to be able to rush the passer a little bit better. Those are a couple things that always keep you up at night. I do think we've improved our tackling, I definitely do. I think we're going to miss some tackles but I think we've improved our tackling in the open field. I think offensively we're able to move the ball on good football teams when we're in rhythm. I think we have guys that can make plays for us in space and even when they're covered, they can go up and make a play. So, I think that gives me an advantage of knowing that we can make some plays and do that."
On the Play Of Spectacular Wide Receiver Nelson Spruce
"Well, Nelson, like I was saying before the season started, I think is an elite Pac-12 receiver. Everybody didn't believe me except for Nelson, and our team knew that of course. I think he's a really good football player. We're able to move him around. He's very bright, he can play all the different spots. We'll keep getting him the ball and I think he'll be able to keep getting open. So, we have to be able to do that. He's a good player. People started rolling to him as early as the second game. So, I mean they've been trying to double him some and he's still making the plays. That's a credit to Brian Lindgren and Troy Walters for being able to utilize him and work with him. Our other receivers are good too. I mean Shay Fields is making a lot of plays, D.D. (Goodson) is making a lot of plays, Tyler McCulloch is making plays. So, that's good for us."
On the 20th Anniversary of 'The Catch' To Beat Michigan in 1994
"I see that every day too. That's on the wall in our meeting room. It's impressive. 1994 correct? I was coaching at UT-Martin. So, that's where I was. I remember seeing it on ESPN re-runs that night after the game, pretty amazing to say the least. I can't believe how far he threw it. That still boggles my mind, 70 yards in the air. Not many people would even try that because the guy can't throw it that far usually. Kordell Stewart was pretty much a freak wasn't he?"
—–
Injury report
Linebacker Addison Gillam is still listed as "day-to-day" in this week's injury report, though coach Mike MacIntyre has indicated that Gillam has passed all of his concussion testing so far this week, and his prospects for recovering and playing are very good …
DE – Garrett Gregory – knee – suffered a severe sprain in practice (Aug. 23) – OUT/2-3 WEEKS
ILB – Addison Gillam – concussion – suffered in the third quarter against Hawai'i (Sept. 20) – DAY-TO-DAY
DE – Markeis Reed – groin – suffered a strain last winter (Feb. 27), re-aggravated it early in camp and had sports hernia surgery; returning to limited practice – OUT
WR – Lee Walker – shoulder – suffered a subluxation in practice (Sept. 17); out indefinitely, but was likely redshirting regardless – OUT
Those who are out for the season:
S – Jered Bell – knee – suffered a torn ACL in practice (Aug. 15); will petition for a sixth year from the NCAA – OUT/SEASON-ENDING
DE – Tyler Henington – knee – suffered a torn ACL and MCL in practice (Aug. 22); no decision yet on surgery – OUT/SEASON-ENDING
DT – John Paul Tuso – knee – suffered ACL and meniscus tears in practice (March 17), had surgery April 10 – OUT/SEASON-ENDING
—
Dan Hawkins returns to coaching
Some things, you just can't make up …
From the Associated Press … USA Football has chosen former Boise State and Colorado coach Dan Hawkins to lead the senior national team during the American football world championships to be played in Sweden in July.
Hawkins was 53-11 at Boise State from 2001-05, winning four consecutive Western Athletic Conference titles. He also spent five seasons at Colorado, going 19-39 with one bowl appearance. He is currently a college football analyst for ESPN and SiriusXM satellite radio.
Hawkins' son, Cody, was the quarterback for the 2011 U.S. men's national team which won the last world championship in Vienna.
The championship is a 12-nation football tournament held every four years since 1999. All games in 2015 will be played at Tele2 Arena in Stockholm, July 4-18.
—-
September 22nd
Wilner likes Cal over Colorado
From the San Jose Mercury News …
Next up: vs. Colorado
The matchup: Favorable, at least on paper.
The Hotline has been locked in Vulcan mind-meld with the Bears thus far, correctly predicting the victory at Northwestern, a thumping of Sac State and a too-close-to-call finish in Tucson.
But at this point, in the wee hours Monday and with the events of Saturday night so fresh, I'm not sure what to make of the Colorado game.
I projected a victory for the Bears before the season, but the nature of the loss to Arizona makes me far less certain that Cal will take care of business and beat a lesser team at home.
*** The Bears lost badly in Boulder last year, but the score was hardly indicative of the relative talent on the rosters.
As was the case with Arizona — and will be the case with several other teams — Cal's personnel is at least comparable to Colorado's and probably better, especially at the skill positions and defensive front seven.
The Bears' 2013 performance was artificially depressed, the result of all the injuries and some questionable coaching decisions. The 85-man talent, in other words, wasn't nearly as bad as the scoreboard indicated week after week.
Now that Cal is healthier and Dykes' off-season changes have taken root — in particular: the change at defensive coordinator and improved strength/conditioning — the Bears are plenty capable of competing with teams in the bottom half of the conference.
Like Arizona.
And Colorado.
*** My best guess for Saturday:
Cal is lethargic early, as you'd expect as much coming off a gut-punch loss, and Colorado jumps to a significant first-half lead.
But the Bears, who opened as an 11-point favorite, whittle away at the deficit and take control in the fourth quarter for their third victory in four games.
Something like 38-28, and it's on to Pullman.
—-
Bears told to "Hang in There" after losing to Arizona on a Hail Mary pass
From the San Jose Mercury News … When it was over, and Cal had lost 49-45 at Arizona after allowing 36 fourth-quarter points, including a "Hail Mary" touchdown pass on the final play, coach Sonny Dykes' message to his team was equal parts sympathy and philosophy with a dash of defiance.
"Just hang in there, get over it, learn from it," he said. "I told them I was proud of them for playing hard, sorry we couldn't win the game. And I told them it won't happen again."
The Bears, four seconds from a 3-0 start to their season, could barely digest losing a game they led 14-0 after less than four minutes in and 28-6 at halftime. They led 45-30 with less than four minutes left before the Wildcats scored three more touchdowns.
"So painful," quarterback Jared Goff said late Saturday night from Arizona Stadium.
"Very difficult," defensive end Brennan Scarlett said.
Dykes, trying to see the big picture on a night when few could get past Anu Solomon's 47-yard winning pass to Austin Hill, said these are the painful steps a team must take a year after going 1-11.
"You lose games like this, then you figure out how to win," he said. "That's part of the process of building a program."
—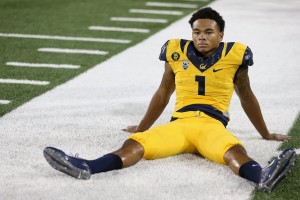 —
Premature email from merchandise company congratulates Cal on "win" over Arizona
From ESPN … An amazing comeback by the University of Arizona became a little bit more painful for Cal fans on Saturday night.
An email sent by the athletic department's official store, sent moments before the Wildcats completed their comeback with a Hail Mary, congratulated the Bears on the win and offered 25 percent off the merchandise. Like most schools, Cal's store is run by an independent contractor. The site is run by Gameday Merchandise out of Littleton, Colorado, and has deals to run the official shops of both Cal and Oregon State.
Arizona was losing 31-13 heading into the fourth quarter on Saturday night. The team scored 36 points in the quarter, including a 47-yard Hail Mary as time expired to beat the Bears, 49-45.
A message left at a number listed at the corporate headquarters was not immediately returned, but the store's Twitter handle tweeted out an apology.
—
Colorado opens as an 11.5-point underdog to California
According to vegasinsider.com, Colorado is a double-digit underdog to the California Golden Bears. The line opened at 11.5, but has since moved down to ten points, indicating that the betting world is liking the Buffs more than the spread setters.
Other games of note:
– UCLA is a 5.5-point favorite on the road against Arizona State (Thursday night game) – the line opened at 3.0
– USC is an 11.0-point favorite at home against Oregon State – the line opened at 12.5
– Stanford is a 6.5-point favorite on the road against Washington – the line opened at 4.5
– Utah is a 10.0-point favorite at home against Washington State – the line opened at 11.5
and
– Colorado State is a 3.5-point underdog on the road against Boston College – the line opened at 2.5
– UMass is a 9.5-point underdog at home against Bowling Green – the line opened at 14.0
——-