—
Colorado Daily – Arizona State
—
September 13th
Game Day!!
… CU in a few minutes …
Buffs not looking for a moral victory against Sun Devils
The theme this weekend for Colorado might well be "keep it close". After all, the scores of the three games between Arizona State and Colorado since the Pac-12 was formed have been 48-14, 51-17, and 54-13.
But the Buffs aren't seeing it that way.
In an article by B.G. Brooks, posted at cubuffs.com, coach MacIntyre was asked about being appeased by a "good effort," but MacIntyre insists neither he nor his players are into measuring sticks or moral victories: "No, not even close. I think that only happens in Las Vegas".
Added quarterback Sefo Liufau: "I think it could be a measuring stick. They're a very good team. We're going out there to win. We're not going out there to measure how close we can lose by. You should never go in with that mindset. We're going out there to win. We're going out to win every Pac-12 game. So, everyone has got the belief right now".
In an article in the Daily Camera, wide receiver Nelson Spruce concurred. "I think it's just about improving on what we did last year," Spruce said. "I think we're a more competitive team overall. This is a team that kind of dominated us last year, honestly. We didn't play as well as we could have last week but I think we learned how to fight for four quarters. I think if we handle our business on offense and defense, we'll still be in it. We'll be in it for four quarters. If we can finish like we did last week, then it's anyone's game."
—–
September 12th
… CU in a few minutes …
… "Receiver by committee" working so far for Buffs … One of the issues for Colorado coming into the 2014 season was whether the Buffs would be able to find a way to replace Paul Richardson. After two weeks, Nelson Spruce is second in the Pac-12 in receptions (8.5 per game), with Shay Fields sixth (7.0 per game.  Here is an article on the topic by B.G. Brooks at cubuffs.com, which includes this quote from Nelson Spruce:  "I think the good thing with our team is that we saw, Shay has been having a big year and Bryce Bobo stepped up last game," Spruce said. "Tyler (McCulloch) and D.D. (Goodson) are always going to be making plays. I don't think we're a team that you can really double cover. Other guys are always going to hurt you".
… Bryce Bobo is also the focus of an article posted by Bryan Howell at the Daily Camera. "I think my career is going to go a long way," said Bobo, who had five catches for 54 yards against UMass. "I look at myself very positively and I think that I can make plays throughout the whole time I'm here at Colorado."
… Howell also posted a commentary on the Daily Camera website entitled, "It's Time for CU Buffs fans to Fill Folsom Field". "It's time for CU fans to stop being reactive and start being proactive" … I agree with Howell, but it doesn't sound as if his arguments are taking root. A crowd of only 36,000 is predicted for the Pac-12 opener for the Buffs, the smallest crowd for Colorado in a conference opener since 1985.
… CampusInsiders.com has an interesting article on Derek McCartney and his grandfather, Bill McCartney. "I'm 74 years old and in the fourth quarter of life. For me to have this opportunity, to be a part of Derek's life, is a privilege," said Bill McCartney, the all-time winningest coach at Colorado and a member of the College Football Hall of Fame. "It's just thrilling for me that he's here, at Colorado, because this school was so good to me."
—
Arizona State trying to stay focused, despite CU's 0-5 record against the Sun Devils
From ArizonaSports.com … Five times Arizona State has played Colorado on the football field. Five times Arizona State has beaten Colorado.
In fact, looking at those previous matchups, the Sun Devils have outscored the Buffaloes, 206-61, including a 54-13 route in Tempe last season.
One-sided? Absolutely, but don't tell that to ASU head coach Todd Graham.
"I told [our] guys you better stay humble, better stay hungry, better get out butts prepared. It's conference play," he said. "There's no team in this league that can't beat you if you don't prepare to play, and the only team that can beat us is us."
Graham pointed to Washington State winning at USC in their Pac-12 opener last year as an example of what can happen should a team overlook an opponent.
It matters little to him that Colorado has but four conference wins since joining the Pac-12 in 2011.
What matters to Graham is the here and now.
"You can throw all of (the records) out," he said. "People are going to play. You've got nine opportunities and you've better win all nine of them. This is a South opponent. You got to beat every team in the South to win it. We were able to do that last year (but) that doesn't count for this year."
—–
September 11th
Arizona State – Offense is the best Defense
From ESPN … The question for Arizona State coach Todd Graham focused on his defense. This was not a new topic. The Sun Devils are pretty much completely rebuilding their defense after losing nine starters from the 2013 Pac-12 South Division champions, and it obviously had experienced some ups and downs against second-rate competition through two games.
"We've just got to eliminate the mental errors and the breakdowns," Graham said. "These guys are fast and we're gaining depth on the inside on the defensive line. We have seven or eight guys we feel good about playing. Five corners we feel good about playing. We're getting there."
Then, after a pause, Graham added his own footnote, one that probably anticipated what his listeners were thinking while he talked about his questionable defense.
"Our offense has helped a lot, too," he said. "That helps a lot. Our offense is going to score a bunch of points."
The best defense, in ASU's case, at least in the early going, is going to be a good offense.
If you're looking for a reason why the No. 16 Sun Devils probably feel pretty comfortable about their trip to Colorado on Saturday, it's their offense. Though averaging 51.5 points per game against Weber State and New Mexico isn't exactly going to make the front page of the New York Times, it seems notable when that offense is facing a Buffaloes defense that yielded an average of 34.5 points and 5.7 yards per play against Colorado State and UMass. Against that weak schedule, those two numbers still rank last in the Pac-12.
The Buffs are young on defense and it has showed thus far, so there is no question where ASU holds a decided edge. Though second-year coach Mike MacIntyre said nice things about the Sun Devils' defense — "I see a lot of athletes. I see a lot of players who can make plays," he said — it's pretty obvious what is keeping him up at night this week. Asked about which player most concerns him on the Sun Devils' offense, he didn't feel a need to be specific.
"Shoot, all 11," MacIntyre said. "Their line is good, their running backs are good, their quarterback is excellent. Their receivers are big and their tight ends are good. Their offense is one of the most talented in the Pac-12, no doubt about it."
—
Coach Mac impressed with the play of Christian Powell and Bryce Bobo
From cubuffs.com … As the University of Colorado makes its final preparations for Saturday's football game against Arizona State (8 p.m., ESPNU), coach Mike MacIntyre is looking forward to the growth of his young players and the future developments of the Buffaloes' program.
One member in particular that MacIntyre is looking forward to bringing new elements to the team's offense is redshirt freshman wide receiver Bryce Bobo.
"He's a bigger body. [He's] got a big target area and can run and do some things for us," MacIntyre said. "He blocks well. A couple of those screens he blocked well on the edge out there and helped us."
MacIntyre is also looking forward to Christian Powell's playing potential after coming last season's thigh injury.
He says that Powell is "fresher and healthier" and that he is going to be "playing a lot of different roles for us." MacIntyre states that he'll be "playing on kickoff coverage some, playing on punt coverage some, playing fullback some, playing tailback some."
Last season, Powell was the Buffs' leading rusher with 562 yards on 147 attempts. He won the 2013 John Mack Award which is given annually to the team's most outstanding offensive player. That same year, Powell became the 50th player in CU history to record at least 1,000 career rushing yards.
The team is also looking forward to seeing the new club level seats on the north end zone of Folsom Field that are going to premiere during Saturday night's ASU game. "Our guys see it all the time," MacIntyre said. "It puts a sense of pride. Every day they see it and get excited about it."
—
Arizona State Practice report
From azcentral.com … To win in the Pac-12, ASU needs to reduce its defensive mistakes. "Nine critical errors and 21 mental errors," Graham said. "Mental errors are going to happen. A critical error means you totally missed your assignment. I can't think of how many games I've ever won and had double-digit critical errors, so we're right at the threshold of double-digit critical errors. Every touchdown we gave up last week (against New Mexico) was a critical error, somebody just not doing what they're supposed to be doing. And you can't do that. It's nice to win and to have those errors and learn that way then learn the other way."
-I wrote last week that Norvell was the first ASU coach to notice freshman cornerback Armand Perry. I finally had a chance to ask him about it. He said he first went to Las Vegas Bishop Gorman to check out a couple offensive players. "It was the first place I went when we had our evaluation period," Norvell said. "When I saw him out there practicing I came back and I said, 'Boys,I don't know what your thoughts on him are,' but I thought he was a can't-miss guy. Tremendous foot speed and I loved the way he competed in practice. I was really impressed." Perry is expected to start for the second consecutive week at boundary corner.
-Running-backs coach Bo Graham said freshmen Kalen Ballage and Demario Richard made significant improvement from Week 1 to Week 2. "The first week there were definitely some freshman mistakes," Bo Graham said. "Little things like alignment and assignment errors. There was some indecision, guys thinking too much. (Against New Mexico), those young guys took a big step forward. They were a little more comfortable with what we were asking them to do. Demario had a little miscommunication when we put the ball on the ground, but for the most part, overall big picture, I think they definitely made big-time improvement."
-Graham said ASU's defensive front — which has struggled to generate much pressure — has a lot of work to do. Junior defensive tackle Jaxon Hood's reaction: "Obviously, we lack experience. We just got to get better at everything, every day. Right now we need to get our movements going. We're a blitz defense. We move a lot, we stunt a lot. That right there, that's something you get used to in games and with experience. On the flip side, we don't have time to be waiting for some of these young kids. … I can definitely feel the sense of urgency in the whole front compared to the last two weeks."
——
September 10th
… CU in a few minutes …
Injury update includes SIX defensive linemen
OL – Brad Cotner – concussion – suffered in practice (Aug. 6), has yet to be cleared to return to practice OUT INDEFINITELY
DE – Garrett Gregory – knee – suffered a severe sprain in practice (Aug. 23) OUT/2-3 WEEKS
DE – Derek McCartney – concussion – suffered against Massachusetts (Sept. 6) DAY-TO-DAY
DB – Marques Mosley – lower leg – suffered a sprain in practice (Aug. 26), limited in practice DAY-TO-DAY
DE – Markeis Reed – groin – suffered a strain last winter (Feb. 27) and reaggravated it early in camp; had surgery for a sports hernia OUT
DE – Christian Shaver – ankle – suffered a sprain in the first quarter at Massachusetts (Sept. 6) DAY-TO-DAY
Those who are out for the season:
S – Jered Bell – knee – suffered a torn ACL in practice (Aug. 15); will petition for a sixth year from the NCAA OUT/SEASON-ENDING
DE – Tyler Henington – knee – suffered a torn ACL and MCL in practice (Aug. 22); no decision yet on surgery OUT/SEASON-ENDING
DT – John Paul Tuso – knee – suffered ACL and meniscus tears in practice (March 17), had surgery April 10 OUT/SEASON-ENDING
——
September 9th
Coach MacIntyre: Arizona State "overall one of the top offenses in the Pac-12"
Here is a link to the video of Coach MacIntyre's press conference video.
Below is a full transcript of Coach Mike MacIntyre's press conference Tuesday, courtesy of cubuffs.com:
General
"It's an exciting day. As we look outside out there (at Folsom Field), they're going to have (the construction work) done. So, that's a story in itself, what's going on out there. It's exciting. I know our players are excited about what they see out there when they come back and forth from practice. Arizona State, the team we're playing, is an excellent …… They're probably one of the top offenses in the Pac-12. Their quarterback, Taylor Kelly, doesn't get all the big time accolades that probably the other big time quarterbacks in our league do off the teams that win championships like they did last year. But, he makes plays. He runs their offense really well. He's a deceptive runner. He makes really good runs. He makes really good throws.
They have big, big athletic receivers. Their running backs are good. Their offensive line is excellent and intact and can do a lot of things. I think they're an excellent, excellent offensive football team. Of course, they're averaging 50-somehting points per game right now. That's what they do. Defensively, I think they have some good talent. Coach (Todd) Graham and those guys do an excellent job on defense there. The guy that sticks out to me is Damarious Randall, number 3. He makes all kinds of plays. There's another guy, number 1. He's so big it doesn't look like the jersey even fits him. He's so big ….. Marcus Hardison. They're a very talented football team and it's going to be a great test for us. I'm excited about playing here. It will be our first home game, really, of the year at night on ESPNU. So, it's going to be exciting."
On  The Progress The Team Has Made On The Defensive Side Of The Ball And How Much More Needs To Be Made  This Week
"I thought that we made good progress, especially in the second half at UMass. We pretty much shut them down except for the one drive where we had like four different penalties, which we have to stop doing. I've got to figure out some things on that. So, we'll get better at that. I thought the kids started understanding. We started tackling better. We fit the run up a lot better this week at that game. I've seen glimpses of really good things and I've seen glimpses of some really tough things. We're really, really, really, really young on defense. Watching those guys kind of come into their own in that second half was good to see. We had some pressure on the quarterback, we had guys making plays that we hadn't been making on the line of scrimmage. We had aggressive play in the secondary which was good. So, I think they kind of grew up a little bit there. The team that we're about to play this Saturday is excellent. They're big and powerful and fast and we're going to have to play much better on defense than we have. We'll have to be able to match their intensity and their athletic ability."
On Whether The Team Has To Be Cautious When Rushing ASU Quarterback Taylor Kelly Due To His Ability To Escape And Scramble Outside The Pocket
"Yes, you have to be careful but, also if you always sit back, then they'll make plays. You just have to pick and choose your times and hopefully you blitz right and hopefully you're aggressive enough. Hopefully, when you do different line stunts, you'll be able to get a guy free and if they run it correctly. Yes, they do throw the ball pretty quick. He doesn't hold the ball really long. That offense is truly more of a spread type offense. They don't always play with four (wide receivers), but you'll look out there and it looks like four (wide receivers). They'll have running backs out at wide receiver. They do the same formations out of the same personnel group. So, you'll have to be ready to be able to adjust to everything. So, it's a little bit harder to get as much pressure on him.
He won't hold the ball quite as long. But, you're exactly right. Also, when he does hold it …… When he pulls it down to run he pulls it down to run. He does a good job at that. Last year, we had him all hemmed up and had everybody covered and he put the ball down on the goal line there.  He made about an 18-yard run and got to the pylon before we did. He made a great play. So, that's something …. We have to be able to create our rush lanes. But, if you try to stay in your rush lanes all the time and you're very conservative, then you never get to him either. So, he's a good player."
On Arizona State Running Back D.J. Foster
"I think he's, number one, a special player. Number two, they get him the ball in a lot of good situations on the edge and in what I call some power read plays ….. Some outside type horn, where they get the ball outside on the edge. Then, he's a really good cutback runner. So, that's where he makes a lot of his hay. He gets to the sideline then, he'll cutback on you. So, we've been working on that. Hopefully we'll be able to take the right lanes on him. But, he's powerful and he's strong. They're able to get him the ball in the passing game too. So, they utilize him well."
On The Improvement of Wide Receiver Shay Fields' From Week 1 To Week 2
"I think about halfway through camp he started coming on. Then, I thought he played well our first game and I thought the second game he played better. We had a couple plays out there where he might have had an even bigger game where he got behind the guys because he can run. He can make plays. I'm excited about what Shay brings to the table. I think he's a good player."
On How Much a Good Home Crowd Might Really Help His Team
"It means a lot to everybody when the place is filled. When you get out between the lines and you just start playing, you just play. You're just as happy if there's 10,000 people there and you win as (you would be) if there was 80,000 if that makes sense. You're just as sad when you lose either way. But, the crowd does make a big difference. The crowd does, I think, keep inspiring you, especially if they keep the energy going and keep the excitement going during the ebbs and flows of a football game. I know that out at UMass, the group that was there, they were loud and excited the whole game. I think that inspired our kids a lot."
On The Play Of The Interior Of His Defensive Line Thus Far
"They played really well last week. The first week they were hit and miss. They knew it. They were disappointed in it. We corrected a few things, they corrected a few things and I think they'll keep playing really well. I thought they played technique sound, they rushed the passer, they started not letting the guys get to the second level on the running plays which is a big deal so we can let our linebackers go. I was really pleased with the way they played last week and I think they understand it and will play well the rest of the year here. I think they can do pretty well in there in our league."
On The Special Teams Struggles
"On we're not working on it at all (sic). No, we're working on it. Just on our kickoff coverage, we didn't fit a couple things up right and kind of stayed on some big blocks on the backside. Your backside has got to get there. We didn't get off blocks well. We've got to design a little bit better with that. Then, we've made some changes on some guys. We feel like we can do better with that. We're working at it and we'll keep pushing at it."
On Whether The Team Needs A Marquee Win To Propel The Program Forward
"I think you just have to keep improving every day and those wins will come. I don't think the kids go 'Wow, we had a marquee win. Now we can keep going and getting better.' I do not believe that. I believe you just keep playing then I think the marquee win happens and I think you've improved well enough that you can keep doing that. If it's just a fluke, then it's a fluke. So, I think it's a daily process of everything that goes along with it. So, we've just to keep working."
On The Team's Overall Progress After Two Games
"I think that we still have, of course, a long way to go. I think that our young guys are getting better. It's starting to slow down for some of them, the game is. They're starting to see things. They're not making the same mistake over and over. The other thing you  notice as a coach or a teacher, if you've ever taught before, is that when a student asks you very intelligent questions or (something like) 'Coach, when this happens, we should do this.' Then, you know they understand it and I'm getting a lot more of those questions from those younger guys.
Some of those guys, like (sophomore safety) Tedric Thompson …… He's starting to ask me question after question. He says 'Coach, if they do this, then we can do this.' Wow, he wasn't ever asking questions like that before. Then, last week he had an (interception) and made a bunch of tackles. The light bulbs are starting to come on. If you make a pick, then you're in the right place, and if you're not, then the ball falls to the ground and it's a different ball game. I think that's just an example and he was player of our game last week on defense. I think he's an example of a guy that played on and off as a freshman and now he's starting all the time this year as a sophomore. He's just kind of getting his feet more and more wet and it's kind of opening up for him."
On Whether It Is Rare For Young Players to Be Comfortable Enough To Ask The Coach A Question
"No, I want them to be able to say 'Hey coach, the guy's lining up on the hash not outside the hash now. Should we play that in or out? Should we cup that? Should we do this?' Yes. When they're thinking "I don't know where he lined up. I don't know where to line up' …….. Does that make sense? All of that type of thing. They're always running … In that UMass game they were running up the sidelines going 'Coach, every time #87 is in the game they're throwing the ball.' That's exactly right. 'Hey, they're throwing the ball every time #87 is in.' They're picking that up in the drive. Before, they didn't even know who #87 was. They were just trying to get in and get out there in their own spot. So, that's exciting for me as a coach."
On Whether Tedric Thompson's Big Tackle Numbers Last Week Are An Indication Of Bad Defense Up Front Or The Safety Actually Having a Good Game
"It was a combination (of the two). A lot of times we had him down at the line of scrimmage in the game. He wasn't back in coverage as much. We had him down in a lot of their sets closer to the line. So, he ended up being in between linebacker and a safety so, he should have had more tackles. If it was more of a 'passing team' and that type of thing, he may not have had as many unless they were catching a lot of passes. Then, he'd have to make a lot of tackles. But, he did a good job fitting, he did a good job reading some stuff.
Even on the play he got beat on, which was a good throw and route by them, he had enough common sense to him to run the guy down and strip the football. We should have gotten that ball. We had three guys down there and it kind of bounces back to them. In the past, he would have just run the guy down and tackled him. Now, he's saying 'I've got to get the ball.' He's playing under control. That's the type of thing that all the guys are staring to do more and more of. Chidobe (Awuzie) is starting to do that all the time now. So, we're getting better at those subtle things which you do …. You make a pick or you cause a fumble every game, then you have a chance to change the game. Hopefully, we'll keep doing that."
On The Team's Recurring Struggles At The End of The First Half
"Well, I know what happened last week. We didn't get a first down there and we gave them the ball back. Then, they hit us on a double move deep pass. Then, their 6 or 7 foot tight end jumped up and caught a ball with one hand that our guys were all over. We came back and responded and finished it off. We just have to find ways to finish the half. There's different ways at different times."
On Linebacker Addison Gillam's Performance So Far This Season
"He played really well this last game. I thought the first game he didn't play as well as Addison usually plays. But, overall, he still in that game had 10 tackles. I would have liked him to have about 18. But, he played well last game. He's kind of been beat up a little bit. He's playing through some stuff but he comes to play every day.  I've been very pleased with his leadership, his effort, and his playing though some soreness he's had in some areas. So, he's done well there. I think he'll play really well this week because he's feeling even better than he has the last two weeks, physically."
On Importance Of Success When It Comes To The Teaching Process
"I think success is important. You show success to the young men on certain things they do in practice, certain things they do on game film, and all those types of things. You achieve success as team by setting small goals. Then, they reach that goal and they go to another goal, then they go to another goal. That creates confidence and then, you start making plays. I think the way we responded in the second half last week was definitely a confidence builder to those kids. To do your job when everything around you looks like it's going south ……  If you just go out there and do your job as hard as you can and do it right, then eventually you'll make a play. I think that we're starting to learn how to do that a little bit in the heat of battle."
On Whether He Needs To Remind His Team About Last Year's 54-13 Loss To Arizona State As A Source Of Motivation
"We don't have to remind them about that. They know about that. We severely got beat last year from the opening whistle to the end. Our kids know that. I know they'll come out ready to go from the beginning and play them extremely tough. So, I don't think you need any motivation on that side of it."
On How The Team Might Improve In The Running Game And Phillip Lindsay's Role Moving Forward
"I thought that we ran the ball well again in the second half the other day. I thought that Phillip ran well. We're going to mix those guys around as you see that are playing on all different special teams. One of the things last week was, it was so hot that them being able to rotate in and out, I think you saw a burst when we put those guys in at different times. So, I think Phillip is doing a good job and Phillip will get carries as everything goes. Different guys will get nicked up too and I think Phillip made some good plays for us last week."
On Arizona State Wide Receiver Jaelen Strong And Whether He Will Be The Best Receiver The Team Has Played Against Thus Far
"Yet? In the first three games? Yes. He is very talented. He's very, very big. He reminds you a little bit of the guy who plays for the Detroit Lions. He's big like that …. Or maybe like the young man who plays out here for Denver (DeMaryius Thomas) ….. Those big athletic guys …… he's a good player. He's got very, very strong hands too ….. Very strong hands."
On Where The Pac-12 Ranks In The FBS Conference Hierarchy
"I think the Pac-12 is, to me, the best. I think we have the best quarterbacks which means week in and week out, you're going to have excellent offensive play. If you look at the NFL, and I think the same thing happens in our league, those teams that have great quarterbacks, their coaches stay there a long time and coach and they win a lot of games. The teams that don't have great quarterbacks, they don't win a lot of games in the NFL. I think the same thing goes when you get to major FBS college football.
Once your team is good enough around him, if you have a stable of quarterback that's really good ….. In our league, there's quite a few. I think that's why our league is so productive week in and week out offensively. I mean you can look at Oregon this past weekend. When (Marcus Mariota) is well, they're hard to beat by anybody in America. And that was supposed to be one of the best defenses in America and they scored quite a bit of points and he's pretty good. I think that the quarterback is the key. I think that's why our league is better than everybody else's league. I think our talent is good all over, I just think our talent on our top notch teams at quarterback is exceptional.

On This Week's Injury Report
"We're still waiting to see, but I think everybody will be back. They haven't been able to practice much this week, so they'll probably really be practicing Thursday and Friday. So, hopefully they'll all be back. As of this morning, it looked like they would be unless we have a setback sometime this afternoon. Hopefully, we don't."
On How To Kickstart The Running Game And Whether The Offensive Line Or The Running Backs Are The Root Of The Problem
"I think it's a combination of both. I think we have to block a little better, run a little better and keep trying to scheme it up to where we can have some better schemes to do it. They loaded up against the run a little bit which opened up some big time passing plays. We missed two others that if we would have hit them, we would have thrown for well over 450 yards. So, when you're playing that close to the line of scrimmage as many times as they did, you're kind of banging your head against the wall if you want to run it. So, we were able to make some big time runs and passes for us.
You're in trouble when you're trying to run it when  they're playing a soft shell and you still can't run it. That's when you're really in trouble.  So, we want to keep balanced and I think it allows us to do that. When he a few runs in the second half and they started to have to get more people in the box, then that opened up some of the big plays for us. So, we'll just keep working at it. And with Boston College(UMass' first opponent of the year, who rushed for more than 300 yards in Week 1 against them), if you've ever watched them,  that's what they do. They use three tight ends and a big ol' fullback. All they do is run the football."
On Whether He Has Played All The Freshman He Is Planning To This Season
"I don't know. I don't know. There are still some guys that we're working with that might see some action in the next game or two."
On Whether They Might Use This Game As A Measuring Stick To See How They Stack Up With The Rest Of The Conference
"No. I don't use it as a measuring stick. I use it as a game that we're going out there trying to definitely go 1-0 on. We're going to go out there and play and hopefully at the end of the game, we're ahead. So, that's what we want to do. So, we'll just go out and work on it, but I won't come off the field and say 'Ok, we've improved this much, so we're this much better,' because next week's game is a whole other game. I don't know who is going to be well on my team, I don't know who is going to be well on their team. We just have to keep improving and keep getting better in all phases on our football team. Now, is (Arizona State) one of the top 25 football teams in the country? Yes. There's no doubt in my mind. Are they talented that way? Yes. So, as far as: Is this a test against a top-caliber team? Yes, this is a top-caliber football team."
On Whether It Might Be Considered A Moral Victory If The Team Is Competitive Throughout The Game On Saturday
"No, not even close. I think that only happens in Las Vegas."
——
September 8th
Coach MacIntyre: "We have to shore up our kickoff coverage, which we will"
From cubuffs.com … Two days after their close win over the University of Massachusetts, the Colorado Buffaloes are preparing for their Pac-12 Conference opener and 2014 home opener on Saturday night against Arizona State.
As they work toward Saturday's kickoff (8 p.m., Folsom Field, ESPNU), coach Mike MacIntyre is proud of what the Buffs achieved in New England. He stated that he noticed a new attitude within the young team.
"I thought that we played extremely hard and we fit the run a lot better this game which was good for us," MacIntyre said. "In the second half, except for the penalty ridden drive, we pretty much dominated."
In the fourth quarter of the game at Gillette Stadium, the Minutemen rushed for negative one yard, a statistic that, according to MacIntyre, proves that his defense is growing up and improving.
"The last two games, on defense, we had one senior, one junior, and nine freshmen and sophomores," he said. "You see them keep growing up as you watch the games and yeah, they're going to watch mistakes, but they'll keep growing up and keep getting better. We'll keep a maturation process."
He also saw an improvement in the attitude and fire within his players. At halftime, MacIntyre said he was "hoping to see what I saw" in the locker room.  "What I saw gave me extreme comfort. I knew that we would play hard."
Despite his heightened confidence in the team's defense , MacIntyre also understands that work needs to be done in spots, including with the special teams.  Many of the Buffaloes' mistakes on Saturday came from weak kickoff and punt return coverage.
"We have to shore up our kickoff coverage, which we will," said MacIntyre. "We missed a tackle but we didn't get off blocks well and we have to do a better job of doing that. We'll make some changes on that and we'll coach it better and work on it better and that type of thing."
Despite a developing special teams and MacIntyre's belief that "we left about 17 more points out there that could have been good plays," he knows that a win is a win and is confident that Saturday's win over UMass was chock-full of "big, big turning moments."
—
Coach Mac pleased with Buff attendance at UMass game
From cubuffs.com … MacIntyre was thankful for the outpouring of support from CU fans in New England and pointed out the importance of having a big crowd on Saturday night against ASU.
"They [the fans] kept the energy on the bench and they never really got down on us," MacIntyre said. "Even when we got down, they were cheering. Our kids fed off of that. We need that here."
As for Saturday's game, MacIntyre said that "every game is a season in itself." He said the team's goal is "to go 1-0 again" and "find a way to win."
—
Here are my photos from Saturday's game. Only 10,227 in attendance – it sure looks like many of them were Buff fans: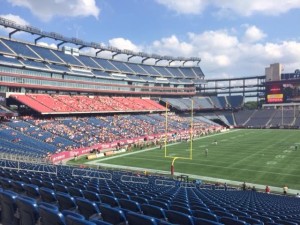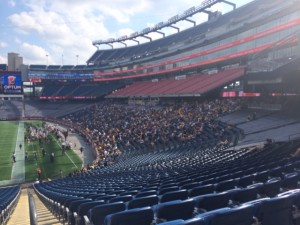 —
September 7th
Buffs open as a 13 1/2 point underdog to Sun Devils … but the line is moving
Colorado, in its home opener against Arizona State, opened as a 13 1/2 point underdog, according to vegasinsider.com. The line quickly moved, and not in CU's favor. Apparently not impressed with the "Blackout" game coming Saturday night (8:00 p.m., MT, ESPNU, the line has already moved, in some betting circles, up to 15 points.
And will probably go higher as gameday approaches …
—
Arizona State jumps out to 22-0 first quarter lead against New Mexico, finishes with 423 yards rushing
… Disclaimer … If you are a Buff fan with a heart condition, you may not want to read the following recap …
From ESPN … D.J. Foster and Taylor Kelly left New Mexico behind — in a hurry.
Arizona State coach Todd Graham still saw a lot of room for improvement after the No. 17 Sun Devils' 58-23 victory over the Lobos on Saturday night.
"Do I think we were sharp and hitting all cylinders, no," Graham said. "Were we better than last week? Markedly better than last week."
Foster ran for a career-high 216 yards to become the first Sun Devils back to top 200 yards since Delvon Flowers had 226 against Oregon State in 2001.
Kelly added 84 rushing yards from the quarterback position and Arizona State (2-0) had 423 yards on the ground — its most since 1996.
Kelly was 11 of 20 for 129 yards two touchdowns, both in the third quarter.
The Sun Devils took a 22-0 first-quarter lead behind rushing touchdowns from Deantre Lewis, Kelly and Kalen Ballage, who also had a scoring run in the second quarter.
And that actually have been a bit of a problem, Graham said.
"I thought our guys just thought we were just going to blow them out," he said.
But when the Lobos (0-2), playing without injured starting quarterback Cole Gautsche, turned to redshirt freshman Lamar Jordan to replace an ineffective Clayton Mitchem, New Mexico got back in the game.
The Lobos pulled to 29-21 with 4:49 left in the second quarter, scoring on runs Jhurell Pressley, Teriyon Gipson and Crusoe Gongay. During that stretch, New Mexico's Nik D'Avanzo recovered a fumble for the Lobos' first defensive takeaway in eight games. Jordan finished with 130 yards passing and a touchdown.
Although Arizona State added a field goal just before half to lead 32-21, Lobos coach Bob Davie had high hopes for his team.
"At halftime, I thought we could win this game," Davie said. "I'm dead honest. But we just came out in the second half and couldn't execute."
That was the difference for Arizona State, Foster said, particularly up front.
"We had a great communication, great momentum and great vibes out there," Foster said about the offensive line. "It took me and my teammates a while to get going. We knew that we needed to get things going and I really depended on my line and they did a great job."
Arizona State scored two touchdowns in the third quarter and New Mexico's only two points in the second half came on a blocked extra point that Brandon Branch returned 98 yards.
The Sun Devils had 621 yards of total offense, with Cameron Smith adding four receptions for 77 yards and a score. Kelly added 192 passing yards and two touchdown passes.
Teriyon Gipson led New Mexico in rushing with 73 yards and also had four catches for 65 yards and a score.
—–