—
Colorado Daily
—
November 14th
Oregon's center, who has started 50 straight games, may miss Colorado game
From csnnw.com … Oregon offensive line coach Steve Greatwood said today that he hasn't given up on senior center Hroniss Grasu returning to action following a knee injury suffered at Utah last Saturday.
However, the No. 3 Ducks (9-1, 6-1 Pac-12) are preparing for his absence just in case.
"He's day-to-day," Greatwood said. "We're hoping that he'll be back. We're hoping that he'll be back with us as soon as possible."
Grasu, who has made 50 consecutive starts since 2011, underwent an MRI on Monday, according to a team source, and was expected to have his knee scoped. He is believed to be out at least awhile, but there's no definitive word on what "awhile" means. It could mean through Colorado next week, the Civil War the following week, the Pac-12 championship game on Dec. 5, until a bowl or playoff game, or until he begins his rookie NFL season next fall.
Losing Grasu the leader would hurt Oregon on the field, but Greatwood said he expected the line's orchestrator to be very much involved with his teammates regardless of his playing status.
"Even if Hroniss can't play for some reason, and we're not ruling that out at this point, I expect him to be there and be involved and be on the sideline and still give that leadership," Greatwood said. "It's not what I wanted. It's not what he would want, to miss this game. But I know he'll be there for the guys."
The logical expectation is that Grasu misses at least the Colorado game. The Buffaloes would pose no real threat to Oregon if it sat out all of its starters along the offensive line (ouch!).
Grasu's absence would mean that redshirt freshman Doug Brenner would see his first career start. Brenner, out of Portland's Jesuit High School, entered the Utah game for Grasu in the fourth quarter of the Ducks' 51-27 victory.
—–
November 13th
Addison Gillam ready to put injuries behind him for final two games
From cubuffs.com … After leading the Buffaloes in tackles last season and earning a handful of freshman All-America honors, Addison Gillam's name became an almost weekly addition to this season's injury list. There was the elbow in early August . . . then the AC (shoulder) sprain in September . . . then consecutive concussions in October . . . then a bout with bronchitis in November.
"I've never had a season as off-and-on as this one," Gillam told me on a frigid Thursday morning when the Buffs finished their morning work inside their practice bubble. "My senior year (at Foothill High School, Palo Cedro, Calif.) I missed a couple of games after I messed up my foot. It was frustrating, but nothing like this."
It was the bronchitis that mostly caused Gillam to shed nearly 20 pounds, dropping his weight from 225 to about 205 before he began gaining some of it back. But it was the shoulder injury that he says disrupted his game the most.
A linebacker with an injured shoulder is as limited as a carpenter minus his hammer. "It just lingered," Gillam said of his shoulder ailment. "Every week it just hurt a little bit more and more . . . but now it's manageable. You can't avoid (using your shoulder) at this position. It's tough, definitely. The elbow at the beginning of the year, it was like nothing compared to the shoulder."
… coach Mike MacIntyre said even though Gillam's performance at Arizona was limited (38 snaps), it hinted at a return to overall health. "I thought he played well last week," MacIntyre said. "He threw himself around and looked more like Addison, health-wise. He's doing better in practice so I expect him to finish the last two games off strong.
"He seems like his breathing is back under control. It's hard to play when you can't breathe real well with the bronchitis he had. But, he's looked good to me and it looks like he's closer to what he was at the start of fall camp."
—
Michael Adkins may miss the final two games
From the Daily Camera … MacIntyre said if the Buffs were playing this week, running back Michael Adkins II could not play. Adkins suffered a sprained MCL in knee against Arizona and might not be available in either of the final two games. "We need him," MacIntyre said. "He's a good player and he was really, really hot when he got hurt, too."
—–
November 11th
… CU in a few minutes …
Jordan Gehrke to get some playing time in final two games
From Daily Camera … Colorado football coaches have decided quarterback Jordan Gehrke will play in each of the Buffaloes' final two games this season. They haven't decided if he will make his first start at CU.
Gehrke has served as the backup to starter Sefo Liufau all season and has played in three games. He was called on in the fourth quarter last week at Arizona after Liufau was hit hard while throwing an interception. Coach Mike MacIntyre said Tuesday that Liufau is going through the program's concussion protocol this week.
But while Liufau is injured, it is not the primary reason coaches are thinking about taking him out of the starting lineup or spelling him at times with Gehrke. CU has a bye this week and doesn't play again until Nov. 22 at No. 3 Oregon.
Offensive coordinator Brian Lindgren said Liufau has turned the ball over too much recently, and the staff also wants to get Gehrke some experience heading into the offseason. Those are the reasons they have decided to at least give him a handful of possessions at Oregon and at home against Utah on Nov. 29.
Lindgren said MacIntyre will ultimately make the decision regarding how much Gehrke plays.
"We've got to do a better job at the quarterback position of taking care of the football," Lindgren said. "Sefo has turned it over and he would be the first one to tell you he's got to do a better job of it. I think those turnovers, they fall on a lot of different positions on offense, but ultimately it's the quarterback that is making the decision or is holding on to the football in the pocket".
—–
Buffs using bye week to work with red-shirt freshman
From cubuffs.com … After a loss on Saturday to the Arizona Wildcats, the Colorado Buffaloes football team was back at practice after two days off in the first of three straight days of practices during the bye week.
The Buffs will practice Wednesday and Thursday before having Friday and Saturday off. During the snowy week, coach Mike MacIntyre is spending a lot of his time with the practice squad.
"We're working a lot with the redshirt guys," MacIntyre stated. "It's very beneficial because a lot of the kids that we're playing with now will play for us next year. We're not going to go to a bowl game so we're trying to get these practices in the last couple weeks with these guys."
The focus will soon enough return to Oregon, however.
"We'll get back cranking on Oregon next week" MacIntyre said.
Liufau update … Starting QB Sefo Liufau took a shot to his head in the Arizona game and left with a concussion in the second half.
"He's doing alright" MacIntyre said. "He's still little concussed but he's doing okay and making the progress but he's still out for a little while."
Despite Liufau's condition, MacIntyre is still confident in his offensive line.
"I thought the protection was alright," MacIntyre stated. "They had one of the sack leaders [Scooby Wright] and I thought we did some good things. We're going to get hit back there sometimes but overall I thought they did okay."
The one change that MacIntyre stated really needs to happen though, is that "we just have to protect the ball."
—–
November 10th
… CU in few minutes …
CU soccer team earns bid to NCAA tournament … will host BYU this Saturday
From cubuffs.com … The University of Colorado women's soccer team has earned a berth to the 2014 NCAA Tournament and will host the BYU Cougars in the first round at Prentup Field on Saturday, November 15 at noon MT, the Division I Women's Soccer Committee announced Monday.
"Obviously we are really excited to be selected and excited for an opportunity to host," said Colorado head coach Danny Sanchez. "A lot of great work by our players, and our administration put a great bid together so we have an opportunity to host. We are very familiar with BYU and they're familiar with us. They are a very good team. They really rolled through the West Coast Conference this year and will be a huge challenge for us. But right now we're just really excited to have an opportunity to represent the University of Colorado in the tournament again and hopefully we get a good crowd on Saturday and we're ready to go."
The Buffaloes, 13-6-1 overall, finished third in the Pac-12 Conference, a school best since Colorado became a member in 2011 and posted the program's first winning Pac-12 record at 6-4-1. It will be the third time CU hosts a first-round match and a first since the 2007 season.
BYU won the West Coast Conference with a 13-4-3 overall record (7-1-1 West Coast) and is ranked No. 15 in the most recent NSCAA Coaches' Poll.
It is the Buffaloes eighth tournament appearance and the first time Colorado has earned back-to-back postseason bids since making six consecutive tournaments from 2003-08. Colorado holds a 6-7-1 record in 14 matches.
Saturday's contest will also be the second consecutive year CU faces BYU in the tournament and third time overall in the postseason with the series tied 1-1. The two programs squared off last season in the second round with the Buffs upsetting then-No. 19 BYU 2-1 in Tallahassee, Fla. to advance to the Sweet 16 for only the second time in school history. In 2003, CU's first trip to the tournament, the Buffs' fell 2-0 to BYU in Salt Lake City, Utah.
Colorado enters postseason play on a three match winning streak and is unbeaten in its last four times out. The Buffs were 9-3-1 at home in the regular season and shut out eight of their 11 opponents at Prentup Field.
The Pac-12 Conference has a league-record nine teams, the most of any conference in the nation that will compete in the Division I College Cup. Also representing the conference are UCLA and Sanford who earned two of the four top seeds, Arizona, Arizona State, California, USC, Washington and Washington State. The Southeastern Conference has eight teams, and the Atlantic Coast Conference and Big 12 each have six.
Tickets can be purchased online at cubuffs.com, by calling 303-49-BUFFS or at the gate on Saturday. Admission for adults is $7, students, seniors (55+) and children (under 12) can get in for $3 and tickets for children (5 years and younger) are $1 each.
—
CU volleyball drops only one spot in poll – to No. 22 – despite losses this past weekend
From cubuffs.com … For the second straight week, the University of Colorado volleyball team is ranked in the AVCA Division I Coaches Poll. The Buffs are 22nd overall this week, falling one spot from last week's ranking of 21st, after losing a pair of matches against top-25 opponents last weekend.
CU is one of eight Pac-12 Conference teams ranked in the poll this week. Stanford tops the rankings, followed by Washington (second), Oregon (10th), Arizona (14th), UCLA (18th), Arizona State (19th) and USC (21st). Two others, Utah and Oregon State, are receiving votes.
"Dropping one spot in the national poll after a tough weekend shows the relative strength of the Pac-12, all twelve teams are formidable opponents, and some of the best volleyball in the nation is being played in our league," head coach Liz Kritza said.
Colorado is 15-11 this season and is tied with Arizona State and USC for sixth in the Pac-12 standings (7-7). CU is also 4-8 this season against ranked opponents, and is making the climb through the ranks nationally as the NCAA tournament approaches. The Buffs have defeated Arizona twice this season, as well as UCLA and Arizona State on the road. CU came close to knocking off top-ranked Stanford in Boulder (2-3) earlier this season and also had a very tight match against ASU (2-3).
The Buffs wrap up their four-match home stand this weekend. They will face No. 2 Washington on Nov. 13 at 6 p.m. and Washington State on Nov. 16 at 12 p.m. Both contests will be televised on Pac-12 Network. 
"We are focused on the upcoming match and ensuring that we put our best foot forward to continue the significant progress we have been making thus far this season," Kritza said.
—-
Buffs to play Oregon at 2:30 … or 3:00 p.m. next Saturday
With so much volatility in the Pac-12 South race, the networks are opting to hold off on placement of some of next weekend's games.
The last-place Buffs at the first-place Ducks, however, is not subject to such drama, and has been set – sort of. The kickoff will be at either 2:30 or 3:00 MT, next Saturday. No reason was given as to why the time has yet to be finalized.
Here is the schedule for next weekend:
Washington State at Arizona State, 10 a.m. PT / 11 MT, Pac-12 Networks (live stream here)
Colorado at Oregon, TBA (1:30 p.m. PT or 2 p.m. PT), Pac-12 Networks (live stream here)
Oregon State at Washington, TBA (6 p.m. PT or 7:30 p.m. PT), Pac-12 Networks (live stream here)
Arizona at Utah (TV network and time to be determined Nov. 17)
Stanford at California (TV network and time to be determined Nov. 17)
USC at UCLA (TV network and time to be determined Nov. 17)
—–
November 9th
… CU in a few minutes …
Injury update
Three player injuries were reported after the Arizona game:
– Running back Michael Adkins (knee) … day-to-day for Oregon
– Quarterback Sefo Liufau (concussion) … day-to-day for Oregon … "He's a little bit woozy or dizzy right now," said Mike MacIntyre after the game. "I don't know exactly the state of it, if it's a concussion right now, but it's something to do with his head. He's going to be okay but I don't know how serious it is at this point."
– Safety Evan White (concussion) … day-to-day for Oregon
Previous injuries:
– Safety Chidobe Awuzie (lacerated kidney) … suffered in practice last Tuesday. Awuzie is likely out for the remainder of the season
– Wide receiver D.D. Goodson (sprained ankle) … Did travel with the team, but did not play against Arizona
– Offensive tackle Jeromy Irwin (sprained ankle) … Did not travel … day-to-day for Oregon
– Safety Tedric Thompson (concussion) … Did not travel … day-to-day for Oregon
—–
November 8th
… CU in a few minutes …
Buffs lose leading tackler for the remainder of the season
Colorado managed to get through most of the season without significant injuries to its starters.
But that has been changing of late.
The most recent loss is starting free safety Chidobe Awuzie. The sophomore had started all but one of CU's games this fall, but was lost for the season with a lacerated kidney, according to a tweet from Kyle Ringo of the Daily Camera.
Awuzie leaves the team as its leading tackler. Through the first nine games of the season, Awuzie had 64 tackles, with 57 unassisted.
Senior Terrel Smith, who has 21 career starts – but none this year – will get the start at one safety position. He will be joined by true freshman, who has two starts so far this season, including last weekend's game against Washington.
—–
November 7th
… CU in a few minutes …
Chidobe Awuzie not in Tucson with the team?

Drew Litton sums up CU's situation, heading into Tucson as 16-point underdogs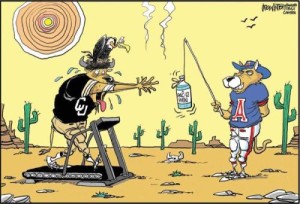 —
Arizona newspaper: "Statistics say Colorado is not your average 2-7 team"
From the Arizona Republic … Sometimes it's easy to tell on paper if a team is bad.
The worst teams give up a lot of points, score very few, are rarely competitive and their statistics back it up.
That is not the case with 2-7 Colorado, a team seeking its first Pac-12 victory.
Consider:
•The Buffaloes have 44 more first downs than their opponents this season.
•Colorado has passed for 2,734 yards through nine games and allowed just 2,220.
•Coach Mike MacIntyre's squad has gained 4,258 yards, and opponents have gained 3,997, meaning the Buffaloes are averaging nearly 30 yards more per game than their opponents.
•The Buffaloes have run 796 plays this season. Opponents have run 611. Colorado's 88.4 plays per game are even more than Arizona's fast-paced offense, which is running 85 a game.
"They're close, and they're right there in every game," UA coach Rich Rodriguez said.
This isn't your average 2-7 team. And for the Buffaloes, their threats on offense are real.
… Liufau has thrown for 2,590 yards and 25 touchdowns. He does have a knack for turning the ball over with 12 interceptions.
But he has the longest current streak of consecutive games with multiple touchdown passes in the nation with 12. He's already fourth on Colorado's all-time career passing touchdown list and has set the single-season school record for touchdown passes (25) and completions (274).
"It seems like he has great command of their offense," Rodriguez said. "He's not making mistakes; he's putting the ball in the right spot. They're second in the country in plays, which means they're getting a lot of first downs.
"Usually when you get a lot of first downs, it's because you're quarterback is executing."
The Buffaloes also have three running backs — Michael Adkins II, Tony Jones and Christian Powell — who are averaging more than four yards per carry, and all have more than 60 rushes this season.
So the Buffaloes aren't exactly Oregon, but the 2-7 record appears to be more of a fluke than the offensive numbers.
—–
November 6th
… CU in a few minutes …
Offensive line reshuffles with Jeromy Irwin out of the lineup
From cubuffs.com … After a mere 13 offensive plays against Washington, left tackle Jeromy Irwin went out with an ankle injury, which under normal circumstances would mean shifting senior left guard Kaiwi Crabb outside to tackle and replacing him with Gerrad Kough.
But Kough was in the midst of a hurl-a-thon and not nearly up to facing a Huskies defense that relentlessly rushes the passer. Minus the Kough at guard, Crabb at tackle option, Bernardi turned to redshirt freshman Sam Kronshage to play tackle and be the primary left-side safeguard (safetackle?) between CU quarterback Sefo Liufau and UW linebacker/end Hua'oli Kikaha – the FBS leader in QB sacks.
"It could have been a disaster," Bernardi said.
It wasn't.
Kronshage, a 6-5, 285-pounder from The Woodlands, Texas, was more than up to a formidable task. Kikaha registered one sack, increasing his season total to 15.5, but the Huskies finished with just three in a 38-23 win. Protecting Liufau wasn't the Buffs' problem – and it hasn't been all season.
"I thought I held my own out there," said Kronshage, who played 85 snaps. "Of course, there were a few mistakes, but that's a given. I'm ready to learn and keeping on pushing forward from there."
Said Bernardi: "He did a good job . . . he had a tough assignment to say the least. There were obviously some things we'll continue to work on, but, yeah, it could have been a disaster."
Irwin's status for Saturday's game at No. 21 Arizona (6 p.m. MST, Pac-12 Networks) remains cloudy. "We still don't know," said Bernardi. "We we're still holding out hope that he'll be able to return to practice on Thursday or Friday."
Bernardi also was uncertain what Kronshage's role might be against the Wildcats. "Obviously he's going to play this week, but whether he starts and will be there the whole game, I don't know," Bernardi said. Kough's status will factor into that decision, but Kronshage's performance against UW might have inched him closer to being the backup left tackle and eliminate the need to shift Crabb outside from guard.
"He does some things that show up on film that are pretty good, you know?" Bernardi said of Kronshage. "But he's a freshman and sometimes he plays like a freshman. That's just the way it is. But he's gotten better. He's learning how to study football and understands the importance of studying it. And his technique has improved."
Whatever happens before Saturday, Bernardi is thankful he's got able and capable bodies to plug into his rotation. Keeping Crabb at left guard and Daniel Munyer at right guard are preferable because both are seniors and are able to offer in-game help to right tackle Stephane Nembot, center Alex Kelley and whoever lines up at left tackle.
"Pretty valuable, those two," Bernardi said of Crabb and Munyer.
Bernardi backstops himself in the spring and during August camp by teaching most of his O-linemen to play every position. Having options when injuries arise is ideal.  "That's why I try to cross-train guys," he said. "In the NFL you can play seven guys, rotate them and figure out what to do later. But those are guys in the NFL . . . there's a difference."
From Kronshage's perspective, when he replaced Irwin there were no glaring chemistry or cohesion issues in the O-line. "I didn't feel like we shut down or we didn't break off . . . we kept on driving pretty well," he said. "I felt like we had the same chemistry."
—–
November 5th
… CU in a few minutes …
Injury report does not include Addison Gillam
The weekly injury report does not list linebacker Addison Gillam, who has missed most of the last two games with an illness. Gillam had flu-like symptoms, and was "feeling better" Tuesday, said MacIntyre. Gillam was diagnosed with "a viral thing that turned into bronchitis. It's very unfortunate for him and us".
Those who are listed this week:
WR – D.D. Goodson – ankle – suffered a sprain late in the game against Washington (11/01)  – QUESTIONABLE
OT – Jeromy Irwin – ankle – suffered a sprain on the 13th play of the game against Washington (11/01) – DOUBTFUL
SS – Terrell Smith – concussion – suffered on the next to last play of regulation against UCLA – PROBABLE
SS – Tedric Thompson – concussion – suffered on the fourth play of overtime against UCLA; all tests for any other injury (neck, etc.) were negative – DAY-TO-DAY
Those who are out for the season:
S – Jered Bell – knee – suffered a torn ACL in practice (Aug. 15); underwent surgery and will petition for a sixth year from the NCAA – SEASON-ENDING
WR – Elijah Dunston – knee – suffered a torn ACL and MCL in practice (Sept. 22); surgery date pending (week of Oct. 21) – SEASON-ENDING
DE – Tyler Henington – knee – suffered a torn ACL and MCL in practice (Aug. 22); underwent surgery in early Sept. and is rehabbing – SEASON-ENDING
FS – Marques Mosley – knee – suffered a torn ACL and MCL against UCLA (Oct. 25); surgery pending – SEASON-ENDING
DT – John Paul Tuso – knee – suffered ACL and meniscus tears in practice (March 17), had surgery April 10 – SEASON-ENDING
WR – Lee Walker – shoulder – suffered a subluxation in practice (Sept. 17); surgery set for Oct. 14 (was likely redshirting regardless) – SEASON-ENDING
November 4th
… CU in a few minutes …
Tuesday press conference quotes from CU head coach Mike MacIntyre
From cubuffs.com …
General
"Last Saturday's game, we fought extremely hard. The game changed in about six plays where, it looked like we were in good control and Washington did a good job there on that. I just keep telling our young men, and I believe this with my heart and soul, how much we have improved. But, that still doesn't take the sting out of the loss, the sting out of wanting to get W's. We played Washington last year and at the end of the third quarter, it's 59-7. This year, we're winning in the third quarter, halfway thru it and playing really well and having opportunities to win the game still. You go back to the Arizona State game last year; I think its 49-7 at halftime. This year, we're going in and having a chance to win it right there. So, there's game after game. UCLA beat us really handily last year and this year, we took them to double overtime. So, you can just keep doing that. Oregon State killed us last year and (this year) we had the last drive and we're going in to win it. So, we've come a long way, but we're still not close to where we need to be. It's really little things. People ask me all the time, 'What do you do to keep the kids spirits up?' We show them all the positives, then we show them all the things that we mess up as coaches too. I think that's critical that you do that. 'Hey, we should have done this. We should have coached you better here.'
Then, we show them little things that they can do. For example, we work role-tackling, You guys will say 'What's role-tackling?' That's hitting a big back that's 235 pounds that can run right over you. If you hit him in the chest, he's going to run right over you. If you hit him low and wrap him up, which you saw us do in that second half, you stop them. We had young men that didn't do that in the first half and show it to them and they go 'Ok, coach we've worked it out.' I've role tackled a hundred times between August to now. Just little things like that. Hitting a guy low instead of hitting him high can make the difference between winning and losing. That's how we keep them going because it's all about work ethic, it's all about execution, it's all about executing under pressure. As our team gets older, as the teenagers become 20-year olds, we'll keep getting better. So, it's very frustrating, but not we're getting on to Arizona, another very good football team. They came off a tough loss to UCLA. They're excellent. Their freshman quarterback (Anu Solomon) is an excellent player and makes a lot of plays. They have the biggest receivers in the conference. I don't think anybody they have …. They have one guy that's little, but he's fast as lightning. But, the rest of them are all 6' 3" plus which puts a bind on you in the secondary. Defensively, they're flying around and Scooby, what a great name; he is a heck of a football player. You've got to know where number #33 is at all times on their defense. So, it's going to be a tough test. Rich (Rodriguez) does a great job with them. They've got some very good players. It will be exciting to go up there and play in Tucson."
On How The Seniors Have Responded Since Learning That Their Careers Will Now Come To An End Without Having Ever Played In A Bowl Game
"They practiced really well today. They have an upbeat attitude. It's interesting, and I mean this, we want to win as many games as we can always and I take each week and go 1-0 each week no matter what happens the week before. They've taken that philosophy on. Every time I always tell them too, and I truly believe this: you only get so many times to play. Each week, somebody on our team gets injured or something happens where it can be taken away from us. So, each game is precious. Definitely, it hurts for those seniors and for our team not to be able to go to a bowl, but a bowl game is not what I talk about all the time. I talk about us getting better, going 1-0 and improving. Then, all of a sudden, that will happen, it will happen. Unfortunately, it won't happen with these seniors, but it will happen with guys on this football team. But, these seniors have set the stage of the improvement with the way we've improved, the buying in, the practice attitude, the way they conduct themselves in the classroom, the way they come over to workouts, their whole attitude change, the whole culture change. These seniors have set that stage. So, when we do go to a bowl, they've helped set that stage because it's a foundation as you help build it up."
On What Would A Win Over The Next Three Weeks Would Mean To This Program Moving Forward
"Number one: you definitely want to win all three of them that are left, period. At the same time, you haven't reached the ultimate if you win them or win one of them and you're not at the bottom of the world if you don't win one of them. But, at the same time, you're going to fight, claw, scrape and it's going to hurt like crazy if you lose and you'll be overwhelmingly joyful if we win. I've gone thru this before and then the next year we start out going like gangbusters. Then, I've been on teams before where you win the last two and then you lose the first five the next year. It just depends. It all is the process and the work ethic. There is no doubt that I don't wake up and our kids don't wake up wanting to win this game on Saturday, getting a win and getting it going. The way these games are happening, it lingers with you. You can say it doesn't, but it lingers with you a little bit longer. But, you can also use that as fuel to energize yourself. Two weeks ago I think it was, I told you that that Tuesday was a bad practice. Today, this was the best Tuesday practice we've ever had. Maybe it was because of the weather, it was gorgeous. But, they came out there understanding and they saw what they saw on film, they felt it in the game and they just need to understand.
The other thing that they know is that every Pac-12 game, I think except USC, we've outgained the opponent. We've had time of possession, we've won most of the third down battles. So, there's a lot of things happening, we just have to find a way to finish it. You have to do that to do that. I don't think you can go from 1-10 over night with a really, really young football team. So, that's the process and they see it growing. I've seen some guys on our team take their practice to another level. Before, they'd come out and they'd go hard, but wouldn't finish the play or they wouldn't do this. All of a sudden now, I see them finishing the play, I see them sprinting to the ball, I see them carrying out fakes, doing things that are extra that you used to have to stay on them (about). Now, I also see them coaching other kids and saying, 'Hey, we have to finish this, you have to do this," if they mess up. To me, that is a great buy-in that just started happening really the last two weeks, which is good.
On Whether Quarterback Sefo Liufau Is Benefitting And Learning From What He Has Seen On The Field
"Yeah, I think the only thing that we've talked about a little bit is: Sometimes, on the shorter stuff, we're staring it down a little bit. But, that's tough sometimes. The pick the other day, that was  a great pick because the guy (Washington linebacker Travis Feeney) went with the underneath guy and then came back off to the outside guy. The guy also had 'strectho' arms. He looked like he had arms that were about eight feet long. He was a long, athletic guy and he made a good play. A lot of times, that ball is just tipped and knocked down, not caught. But, Sefo has done a really good job. Those are hurtful (plays). He knows it, but he'll bounce back and then here we go. Playing quarterback is tough in this league. He's done some good things at a young age and he'll keep improving. But, no I wouldn't say we've taught him something and all of a sudden he's made the wrong reads twice in a row and thrown a pick. No, he has not done that."
On Arizona Quarterback Anu Solomon's Ability To Throw Accurately On The Run And What Kind Of Problems That Presents For His Defense
"Their scheme, a lot of it has to do with that (as far as) the whole moving on the run type thing and throwing on the run. He's very good at that. A lot of people can throw on the run, but they can't be accurate on the run. He's accurate on back shoulders, throwing down the field and throwing it back across. He does a good job with that. The thing that it does is it keeps the play alive longer, so therefore you're covering longer. So, routes turn into …… Instead of an out-route, all of sudden it turns into a curl-comeback. A curl turns into (a play where) a guy redirects and then turns up field and now you have to turn as a DB. So, a lot of times as a DB, you've got the main route covered and then it extends and you get in a position where you're back is to the ball, you're in different spots. That's where that happens.
So, it puts you to where if the play is not on time ….. Anybody that's played on defense and the play is not thrown on time where the guy is supposed to stop and then all of sudden, he takes off past you …. Naturally, a lot of times what you try to tell the guys, it's really hard to do and I know it sounds crazy but, if you've got a guy stopped and he's running a curl route, you've got him. Well, if you go look at the quarterback and he starts to scramble, what does the receiver do? He takes off. So, it's natural to go look at the quarterback and then try to find him. That's just a natural instinct because you've got it stopped and then he takes off. So, you've got to get your eyes back on the receiver. Then, zones turn into man-type principles  in those type situations. So, that makes defending the play tough. We've got to do things to keep him from extending the play. He will some, we've just got to limit it."
On How Close He Thinks The Team Is To Finally Breaking Thru In Terms of Long Term Success
"I would love to say it just takes one (win). One definitely validates things and gives them confidence, but it's the work process, it's the effort, it's the intensity day in and day out. It's also a lot of our young men going from 235 to 245, 255 or running backs going from 185 to 195. Now they're running thru tackles. DBs going from 180 to 190 and now they punch the guy and the ball falls out. Things like that, maturing as men ….. That's a process that we're working on every day to do. Definitely, it helps the encouragement, it helps the energy. But, our kids are learning to fight thru that, which I think helps us in football as far as building a foundation and I really believe, helps in life. I'm tired of losing. I want to win a bunch. But, I do think that that teaches them that you do have to just keep going, just keep going, you keep going. When they punch thru, they're going to have a foundation and a fortitude instinct inside that other people wouldn't have. I really believe that. So, when it happens, it's really going to be special."
On His Conversations With Former Boss And Current Duke Head Coach David Cutcliffe And What He Has Told Him About The Rebuilding Process
"I talk to David. I'd say we talk about once every two weeks or so probably. If it's not on the phone, its messages or texts type thing because we're both pretty busy. I learned a lot from him. It's just the endurance factor of it. When you're turning a program around, it's the endurance factor. When I was at San Jose State we would talk and he was there. We just kept pushing and working. It takes time, but at different schools and in different leagues, sometimes it takes longer because of the competition week in and week out. You have to build more depth on your team, more guys that have played. So, that type of thing takes a little bit longer sometimes. Then, it's also how your schedule falls in place some years. That helps it too. Because you might run into teams where their quarterback goes down and then all of a sudden, you're in a situation where it's hard for them. There's a lot of things that can break your way, you just have to keep pushing. Mainly, he just tells me 'You just have to keep staying the road, keep building the foundation, keep building the character, keep building the team up, keep pushing, keep working. The staffs need to stay united which our staff is completely. That's a big key in it. It'll work.
He told me when he was at Ole Miss he did really well. Then, he came to Duke and he just kept working and working and working. In year five, they won six games, year six they won 10. I think they'll win 10 again this year or more. Year three and four, they went 3-9, 3-9. Then, they got to six wins. Even his fifth year, which they were phenomenal, I think they were 6-2 or 6-1 and then lost the rest of them. They just kept working. It was hard. Ross Cocker, who plays for the Buffalo Bills and who I recruited to play at Duke, came to our game Saturday because they were off. He just wanted to come by and talk to me. I said 'Duke won in  double overtime.' He said, 'Yes coach, it took us six years to do that.' I was talking about how we lost a couple of them. He meant it positive, but he just meant that it would take time. He grew up in that. He got redshirted and he went all the way thru. Then, he was the first player drafted at Duke, I think, in 20 years. He was one of those guys that we recruited. He had no offers but Duke's. He worked at it hard. He's an excellent, excellent kid doing great at the Buffalo Bills."
On Whether A Packed Folsom Stadium Is Part Of His Visions Of When CU Does Finally Break Through And Return To Prominence
"There's no doubt. When we get winning …. I think a lot of people have seen the improvement. I also think, when they get frustrated like we do, which is understandable ….. But, I think they do see the improvement and see what's going on. Definitely, it'll be full. When we were at San Jose State, there was a couple times I went out there and there was maybe 1,500 people in the stands. Then the last year, we're on national television games, which wasn't happening, of course we were the late night game because we were in the west.  Then, there's a bunch of people and there's big crowds. We had tailgating, which we had never had tailgating before. They let us off and our kids would walk thru the crowd, everybody was going crazy. Before, we pulled up and there was just the mom and dad there. So, yes it definitely happened and it will happen. I look forward to that day. It will be enjoyable. The thing is, it will be great for these young men. They'll see that hard work pays off. That's a dirty word in the world sometimes, work, especially for teenagers. When they learn how to work and they learn that that's a great word, then they achieve a lot."
On Whether He Is Happy With Quarterback Sefo Liufau's Management Of The Offense
"We're running the ball really well right now too. If you notice our system, we have a lot of run with pass off of it. So, Sefo is reading that. If the pass is there off the support, he throws it. If they stay back, he hands it off. The other thing that he's doing a great job of is that he goes up to the line now, this is maturity and its why our offense has matured, with three calls on a run or a pass and he's doing it. That's why we're running the ball, that's why we're moving the ball, that's why we're moving on rhythm. Brian Lindgren has done a great job with him. Our offensive line is doing a great job, our receivers are doing great, our running backs are running more. But, he's getting us in the right play a lot of times. People are starting to try to move on him and he figures it all out. To me, those are invaluable things that he couldn't do last year. There's no way we could have asked him to do that. As he keeps getting better and better with that, better and better things will keep happening for us."
On Whether The Team Is Learning How To Deal With The Big Moments Of Games
"In the UCLA game, I knew that we were they making the drives. I wanted to call timeout because I wanted to kind of catch our breath. Sometimes, with those hurry up offenses, if you can call timeout you can kind of stop the momentum and do things. The Washington game, we kind of talked about that as a team and we showed it. There's two plays on that drive that they dumped the ball to (running back Shaq Thompson).  We had a young man come up and try to shoulder him down. 180 is not going to knock down 230. If you juts wrap him up in the legs, he's goes down, the clock's running and they either have to use a timeout or, now its 2nd-&-9. It's a whole different world, they're back on their 38-yard line and it probably doesn't happen. So, that killer instinct is, under pressure do what you're supposed to do, tackle the way you're supposed to tackle, put your face across the face or across the legs and get him down, whatever you have to do. You're going to have to make some open field tackles.
Those are examples of what we show them and I think that is the killer instinct within each guy. Do your job as best you can do it, as hard as you can do it, the way we coached you to do it in those situations and it all works out. He came over right over to me after they scored and looked me dead in the eye and said 'I screwed up coach, I'm sorry. I won't do it the rest of the half. And he (didn't). It's not the whole team. I think the whole team feels like we can stop them, feels like we're going to win. There's no doubt in my mind every one of them thought we were going to win the football game against UCLA in the first overtime after we rose up and stopped them. We stopped them, went down and scored, rose up and stopped them and I thought for sure ….. But, it just didn't work out. Those are things we have to execute better. But, I think they're starting to understand that you do have to rise to that level. They're starting to understand that, instead of pointing fingers at everyone else, they're going 'Ok, we have to do that better.' That is a process. We have a saying, 'No excuses, no regrets.' They stopped making excuses and they'll stop having as many regrets. If we stop making excuses … Our coaching staff is doing a good job with that and we're all fighting as hard as we can. We just have to keep going."
On His Confidence Level in Liufau
"Yeah, the quarterback and the head coach always take the brunt of everything, good or bad. If we're winning right now, 'Man, you're doing everything right coach. Sefo, you're doing everything right.' We lose a few games and  ….. 'Coach, you're not doing anything right. Sefo, you're not doing everything right.' Those are always the two guys. That's part of understanding that you have to be sure within yourself, you have to be honest all the time, be the same person and Sefo is doing that. As our team matures around Sefo, we'll start winning more games. As he keeps maturing, we'll start winning more games. Is that anything against (backup quarterback) Jordan Gehrke? No, I think Jordan is a good player. If anything happens to Sefo, I have confidence that Jordan will be able to go in and play, I really do. That's a luxury to have. That's another thing that's hard about playing that position: There's usually only one guy that really plays a whole lot unless something happens. At all the other positions, you rotate guys in and people are getting to play. So, that's why it's always that same guy and he always gets the brunt of everything. Sefo is doing a good job, it's just that you want to find ways to win, for sure."
On Running Back Phillip Lindsay's Response After Fumbling Twice on Saturday
"He's bounced back good. He is the Tasmanian devil. He plays extremely hard, he does a lot of things. He's probably the most distraught young man I've ever seen after a fumble. So, my whole job was to just get him back going because he was fighting and clawing and the other guy just did a good job of punching the ball out. He's bounced back and he'll do well. Fumbles are unfortunate. He just had a couple really unfortunate ones because we don't fumble. The ASU game, when we were backed up, we had that fumble. We had the momentum and (against Washington) we had the momentum. So, we have to keep that from happening. The other thing is, the defense has got to stop them right there and we didn't. The good thing about it is, when we fumbled the kickoff and we stopped them and they couldn't even score, I thought that was a big, big moment in the game. Then, we screwed up on the offensive series after that. But, I thought that was a big moment where we kind of stopped them. We could have gone down then and scored. If we had moved the ball and got it back to balance, it would have been a different game I think. But, Phillip is doing fine. He'll battle back thru it. All running backs have fumbled. They all have. Every one of them in the Hall of Fame has fumbled. So, he's got to understand that and do it. The other thing is, there's a lot of pride in that running back room that they don't fumble, so I think any time there is a fumble, they just feel  ……. Because I tell them all the time, 'You're carrying the hopes and the dreams of everybody. You really are when you have a football. If you think of it that way, you'll hold onto it better.' They've done a good job. Unfortunately, we've had a couple.
On Linebacker Addison Gillam's Injury Status
"Yeah, he's feeling better today. He had a viral thing that turned into a little bronchitis. So, that's what he's trying to get all out of his system. (It's) very, very unfortunate for him and very, very unfortunate for us. So, we went out there without Addison or Tedric (Thompson) and hopefully, we'll have them back this week. I won't know for a couple more days on that, but we'll just keep pushing. I thought (safety) Evan White went out there and played really well for a true freshman. I think he's going to be an excellent football player. He never missed a tackle and he made a bunch of tackles. So, he'll keep battling."
On Playing Young And Inexperienced Defensive Backs Early On And Whether He Is Surprised That Offenses Try To Challenge Them Right Away
"There's no doubt that you would try to do that. We played a couple freshmen safeties this year that had good times and bad times in that. But, I think this late in the year hopefully, they're better than they would be the first or second game. They've seen more things, they've understood it, they've kind of gotten a better feel for it. Still, when they get out on the field and play 70-80 plays, it's a lot different than playing 20. So, that's the process of trying to stay focused and stay intense. You go up and make a big hit and you kind of get up and you go 'Ok, here we go. I've got to get lined up.' Then, the ball is snapped again. In our world, they don't huddle and I think that's where it makes it harder for a secondary player because you don't have as much time to recognize formations or sets. It's happening so fast that you've got to be really quick on your feet, so to speak."
On What He Has Learned From This Team So Far
"My wife says I don't have all the answers, so I don't think coaches have all the answers. I think that there's always a learning process for a coach too because you work on things and you do things and you find different ways to help it especially as the game kind of changes. You kind of see different things and learn from it. But, I do think it was kind of a microcosm of a team in the fourth quarter there.  We had the momentum and we overthrew the guy and they made the pick. Then, they go down, and we have to stop them. Against top teams in the past, somehow, someway we would have wilted and they would have scored. That's a fact, that's what has happened against top teams. In that series, we stopped them. And then we had a roughing the passer (penalty). I've seen us before just go 'Uhhhh.' They didn't mean to, they just kind of did in their mind. They were still playing but in their minds ….. This time, they didn't. They rose to the challenge and they stopped them on 4th-&-1 which would have put the game away. Then, we take it the length of the field and score.
To me, that was a team growing up. Now, we didn't win the game, but I thought for sure when we stopped them in the first overtime, and I think everybody in the stands and you guys did too, I thought that we were going to win that game. Now, we didn't, but I think that whole mindset, that whole attitude, that whole body demeanor, that whole everything showed a team grow up a little bit. I really believe that. Those are the things that I show them and we're looking forward to. Now, when we play another double-overtime game or a triple-overtime game, which we'll probably have another one for sure because around here there is going to be a lot of close ones, we've got to try to finish it. I think that gives them confidence to know that they can do it."
——
Stats worth noting
Just a few numbers to ponder as we wait for Election Day results:
– Colorado fell from 17th to 38th in net punting in one week. Darragh O'Neill had four punts against Washington, going for a 44.0 per kick average, which is right about his average for the season. What the drop does represent, though, is what an 87-yard punt return for a touchdown will do to skew your numbers.
– If it feels like the Buffs have been more fun to watch this season, it's because they have been in the lead more often. Last year, the Buffs were in the lead for a total of 197:17 of game clock the entire season. Through the first nine games of 2014, Colorado has already surpassed that total, having spent 206:37 of game clock in the lead. In 2013, the opposition was in the lead 413:47 (197:17 tied). This fall, the opponents have had the advantage for 269:10 (64:13 tied).
– CU's touchdown drive in its opening possession of the game marked the first time the Buffs have scored a touchdown on their first opportunity all season (the Buffs posted a field goal in their opening drive against UMass). After taking the ball to open the game at every opportunity, the Buffs deferred against the Huskies. The 70-yard drive which followed a three-and-out by Washington to open the game added significantly to the total yardage in CU's opening drives this fall (103 yards in the first seven games … including three three-and-outs and two turnovers).
– After posting just four receptions (for 36 yards) in the first seven games of the season, tight end Kyle Slavin has had five receptions (for 53 yards) in the last two weekends.
– Michael Adkins had just 77 yards rushing in five games in September, battling injuries for much of that time. In the past four games, however, Adkins has gone for 320 yards and three touchdowns.
– With Tedric Thompson and Addison Gilliam saddled with injuries the past few weeks, the Buffs' leading tackler is now … Chidobe Awuzie. Awuzie has 64 tackles this fall, followed closely by Thompson (59), Kenneth Olugbode (58), and Gillam (57).
– Big plays hurt … Colorado has given up seven plays of over 50 yards or more this season … with all seven being posted by Pac-12 opponents. The Buffs, meanwhile, have generated only four plays of over 50 yards all year, and none since the Hawai'i game in September.
– Colorado remains stuck on three interceptions (all by Tedric Thompson) for the year, with none in the past four games. If the Buffs can't pick up another pick in the next three games, the defense will match the 2012 team in futility (when three different Buffs tied for the team lead with one interception apiece).
– After starting a pedestrian 5-for-9 in field goal attempts, senior kicker Will Oliver has made his last six, going three-for-three in both of the last two games.
—
CU volleyball ranked for the first time since 2005
From cubuffs.com … Coming off a victorious road sweep through the desert against Arizona and Arizona State, the University of Colorado volleyball team is ranked in the AVCA Division I Coaches Poll, coming in at 21st.
"Garnering national attention is a must for any program that has the goals that we do," head coach Liz Kritza said. "Getting the Buffs back in the national poll has been something that we have been working hard at for the last few years, and it is great to see that hard work recognized."
CU is 15-9 this season and is tied for third in the Pac-12 with a 7-5 record. The Buffs have been quite impressive this season and are coming off a four-match road trip where they accumulated a 3-1 record with wins against Washington State (3-0), No. 15 Arizona (3-1) and No. 19 Arizona State (3-2). The only loss in that stretch came against then-No. 3 Washington (0-3) in tightly contested sets.
The Pac-12 has eight teams ranked in the poll this week. Stanford tops the rankings, followed by Washington (second). Oregon (11th), UCLA (15th), Arizona (16th), USC (19th) and Arizona State (20th) are the other teams.
After four straight matches on the road, the Buffs return home this weekend to the Coors Events Center for matches against No. 15 UCLA (16-7, 7-5 Pac-12) and No. 19 USC (13-9, 6-6 Pac-12). The match against UCLA is set for Thursday, Nov. 6 at 6:30 p.m. CU will host USC on Sunday, Nov. 9 at 12 p.m. Both contests will be televised on Pac-12 Network.
—–
November 3rd
Coach MacIntyre impressed with the play of Sam Kronshage and D.D. Goodson
From cubuffs.com … Regarding the UW loss, head coach Mike MacIntyre was most impressed with freshman offensive lineman Sam Kronshage, who stepped into the game after the starter Jeromy Irwin went down with an ankle injury early in the first half.
"Sam did well against one of the leading sackers in the country (UW's Hau'oli Kikaha)," MacIntyre said. "Sam battled him well and for his first time out there this season against a guy that good, he did good job."
MacIntyre has also been impressed with the growth of D.D. Goodson this season.
"He's made some big plays for us and has progressed from where he was last year," MacIntyre said. "I'm pleased with what D.D's done and he's made the most of his opportunities. He brings a lot of energy to the team."
The senior wide receiver has tallied two touchdowns this season with an average of 41.6 yards receiving per game.
—
Injury update
From cubuffs.com … After suffering a lower ankle injury Saturday, offensive lineman Jeromy Irwin was in a walking boot Monday. MacIntyre said a decision on his status for this weekend should be made by Wednesday or Thursday . . . . Also missing practice was Addison Gillam, who has suffered from the stomach flu since CU's game against UCLA two Saturdays ago. After extensive testing, MacIntyre said the sophomore linebacker has tested negative for mononucleosis and pneumonia, adding, "He has that flu that's going around." Gillam's availability this weekend is questionable … Safety Tedric Thompson sat out Saturday's game with a concussion. His condition will be updated later this week.
—–
Neill Woelk – "No silver lining this time"
For those who read my "Just Keep Believing, We'll Keep Battling", it may be a bit redundant, but it appears as if Neill Woelk and I were on the same page after the painful loss to Washington.
The excellent article, which I recommend, opens:
From the Daily Camera … In a season spent searching for silver linings in the wake of frustrating losses, the Colorado Buffaloes reached a painful milestone Saturday afternoon.
There were no silver linings. Not this time. Instead, the Buffs gave themselves a great chance to win — and just as quickly, yanked the rug out from under themselves, completing a 38-23 pratfall against Washington in front of 35,633 at Folsom Field, the smallest home crowd this season.
That the Buffs managed to lose — convincingly — despite holding the edge in yardage (495-442), first downs (24-14), time of possession (35:04-24:56) and third-down conversions (11 of 21 compared to just 2 of 11) is an indication of just how badly they played when it mattered most.
Simply, the Buffs did all the wrong things at the right time …
… And finishes:
There is, however, a point when progress has to be measured strictly in wins and losses. Silver linings won't sell too many more tickets.
But all that's that's left this year is for the Buffs to throw haymakers and hope for the best.
Otherwise, nothing has changed.
The rest of the article can be found here.
——
November 2nd
Colorado a 16-point underdog to No. 21 Arizona
Another ranked opponent, another large point-spread.
Colorado has opened up as a 16-point underdog to No. 21 Arizona (6:00 p.m., MT, Pac-12 Networks), according to vegasinsider.com. The Wildcats were the first Pac-12 opponent the Buffs ever defeated, falling in Boulder in 2011, 48-29. Since then, however, Arizona has run off a pair of lopsided victories, defeating Colorado 56-31 the last time the teams met in Tucson, and 44-20 last year in Boulder.
The rest of the Pac-12 games next weekend:
– No. 11 Arizona State is a 1.5-point pick at home against No. 8 Notre Dame (1:30 p.m., MT, ABC)
– Oregon State is a 7.5-point favorite at home against Washington State (2:00 p.m., MT, Pac-12 Networks)
– No. 18 UCLA is a 4.5-point choice on the road over Washington (5:00 p.m., MT, Fox Sports)
– No. 5 Oregon is a 9.5-point favorite on the road against No. 20 Utah (8:00 p.m., MT, ESPN
… Stanford, Cal, and USC have the week off …
——
Arizona falls seven spots in latest AP poll; CSU remains just outside
The Pac-12 had a number of showdowns this past weekend, with the results having a significant impact on the latest Associated Press rankings.
No. 5 Oregon took out Stanford, but stayed did not move in the poll. Arizona State defeated Utah, 19-16, in overtime, with the victory moving the Sun Devils up four spots, to No. 15. Utah, meanwhile, fell two spots to No. 20. UCLA took out Arizona, 17-7, with the result causing significant movement for both teams. UCLA moved up seven spots, from No. 25 to No. 18, while Arizona fell seven spots, from No. 14 to No. 21.
USC, which dropped out of the poll last weekend, stayed out of the poll this weekend, despite a 44-17 rout on the road against Washington State. The Trojans stayed at No. 27 this week, one spot behind Colorado State, which remained at No. 26 this week.
Stanford, despite its 45-16 loss to Oregon – and a 5-4 record – is still receiving votes (4), good enough for 31st in the poll.
Here is the full poll:
—–
November 1st 
… CU in a few minutes …
Latest CU Video – "Foundations"
The CU Video crew has put together a great six-minute piece to get you excited about Colorado football!  Enjoy!!
http://vimeo.com/110419769
Construction update – 10/31/2014
Here is a link to the latest construction update video.
"We're on schedule" is the best part of the piece, which runs for just over a minute.
——