Colorado Daily – Hawai'i
—
September 20th
… CU in a few minutes …
Drew Litton, on the mark as always: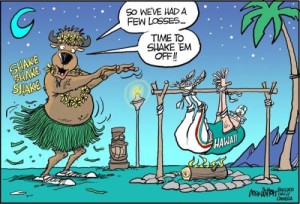 —–
September 19th
… CU in a few minutes …
The Daily Camera has a series of articles for the Buff Nation, including a story about a five-star basketball recruit who will be in Boulder this weekend …
– Brian Howell has a story on whether Buff fans can expect to see more action from the tight ends in coming weeks … "They're involved in every game plan," CU tight ends coach Klayton Adams said. "It's just a matter of the way people are playing us."
– CU athletic director Rick George has gone on record as stating he doesn't want to give out discounted tickets this season, not wanting to "devalue" the tickets which season ticket holders have purchased. Still, there is a deal at LivingSocial.com this week. According to the deal, a customer can get a ticket for end zone seating normally valued at $45 for only $28 and customer can get a ticket on the goal normally valued at $88 for $55.  George, according to an article by Kyle Ringo, said the prices which are being offered are not less than CU season-ticket holders pay on a per game basis for similar seats.
– Five-star basketball recruit Tyler Dorsey will be in Boulder this weekend, according to Brian Howell. Dorsey has a final six list of CU, Arizona State, California, Kansas, Oregon and UNLV. Dorsey originally committed to Arizona, but in June re-opened his recruitment.
—–
September 18th
CU four running backs … the "Quad Squad"?
B.G. Brooks has posted a lengthy article at cubuffs.com concerning the Buffs' four-headed rushing attack. It's a good read, and can be found in its entirety here.
An excerpt:
In the scheme of CU's 2014 ground game, it pays to be selfless rather than selfish. It isn't impossible over the next two months that one Buffs back will be called on for 25 or more carries on a single Saturday, but at this point it's unlikely.
Hoping to take a toll on defenses, CU opened the season wanting to use four running backs with mostly dissimilar styles. There's big and powerful, smaller and quicker, swift and slashing. And dividing carries among that diverse foursome – the "Quad Squad" maybe? – is how it's played out entering Saturday's final non-conference game against Hawai'i (noon, Folsom Field, Pac-12 Networks).
Thus far, Christian Powell's 35 attempts – that's 11.2 a game – for 206 yards are the team high. Michael Adkins II, who has been slowed by an ankle injury, is next with 23 carries for 70 yards, and following him are Tony Jones (16-91) and Lindsay (18-80).
Powell – CU's big back at 230 pounds – is averaging a team-best 5.89 yards a carry, followed by Jones at 5.69. It's only mid-September and a rugged Pac-12 Conference schedule awaits, but as a team the Buffs are averaging 174 yards a game – nearly 55 yards more than their final 2013 rushing average.
Lindsay, averaging 4.4 yards a carry and 22.2 yards on 10 kickoff returns, sees game-by-game improvement in the running game that's traceable to several factors. One is a camaraderie that has developed in the backfield.
"As a group, the running backs have gotten closer," he said. "We're accepting our roles and now we're able to just flow with it and help each other out. If we see something we make sure everybody sees it. It's all about helping each other out and that's helping us on the field."
——-
September 17th
… CU in a few minutes …
From cubuffs.com …
ADKINS READY TO BOUNCE BACK
Adkins had previously obtained an ankle injury during the Buffs' season opener against Colorado State. Despite his initial physical ailment, MacIntyre said that his ankle is back to normal but that his fumble on Saturday night "bothered him a bit." MacIntyre assured the media, though that he's ready for Saturday's game against Hawaii.
MacIntyre hinted that there is a bit of competition between the running backs for playing time. "The other guys that get in there, they're running it well too," said MacIntyre. "So, it's kind of who is hot will get the carries. It motivates them."
FRAZIER SEEING DOUBLE DUTY
Defensively, MacIntyre is impressed by freshman George Frazier, who began the season at fullback and has now moved over to spot duty along a depleted defensive line.
"He's really, really smart and he's also football smart," MacIntyre said. "You tell him one time, show it to him one time, and he basically has it. He's in good condition and he's powerful and strong."
MacIntyre expects Frazier to continue to play both fullback and defensive end, possibly even for the rest of his career.
JEROMY IRWIN UPDATE
Expected to return on Saturday is sophomore Jeromy Iriwn, who suffered a concussion in the fourth quarter of Saturday's game and did not return. According to MacIntyre, as long as Irwin passes his physical this afternoon (he checked out well on Wednesday), it is likely that he will play on Saturday, despite his sitting out practice so far this week.
On the concussion topic, MacIntyre stated that he is supportive of the new concussion protocol but because of the strictness of the rules, he states that "I do not have a cutoff date (as to when players have to practice that week in order to play)," MacIntyre said. "I don't want to handicap our team with a rule that really doesn't fit like it used to."
—
Notes from Tuesday's press conference … When CU lines up against Hawai'i on Saturday (noon, Folsom Field, Pac-12 Networks), four Buffs will face fellow islanders. Hawai'ians on the CU roster include guard Kaiwai Crabb, linebacker K.T. Tu'uamalo and defensive lineman Juda Parker – all seniors – and freshman defensive back Jaisen Sanchez . . . . The Rainbow Warriors are 1-2, with their two losses to Pac-12 opponents by a total of nine points. They lost to Washington 17-16 and to Oregon State 38-30. Hawai'i's win was against Northern Iowa 27-24 . . . . Hawai'i's punter is also its punt returner. Scott Harding averages 40.7 yards a punt and 10.6 yards a return . . . . CU's leading tackler – by one – is sophomore safety Tedric Thompson. He's got 29 tackles, sophomore Addison Gillam has 28. Both have 21 solo tackles . . . . CU's Darragh O'Neill is second in the Pac-12 in punting, averaging 47.3 yards. No. 1 is Utah's Tom Hackett at 51.1 . . . . Buffs receiver Nelson Spruce is second in the conference in receiving yards a game (115.3) and scoring (12.0 points a game). Spruce's six TD receptions are a league high. Spruce has been added to the Biletnikoff Award watch list . . . . Quarterback Sefo Liufau sat out CU's final series against ASU, mainly because MacIntyre believed his sophomore starter had been banged up and wanted to rest him. On Tuesday, Liufau said, "It's good. I'm over here smiling, going to practice, going to school. I won't let coach take me out unless it's on a stretcher. That probably sounds bad and I'm sorry if my mom is listening but it's just kind of how I am. I'm here for my team and I'm here to fight all the way".
——-
September 16th
… CU in a few minutes …
Mike MacIntyre Tuesday Press Conference Quotes
From cubuffs.com …
General
"I've got one question: I love the weather in Colorado but, somebody has got to explain it to me. I've never seen it snow in September last Thursday, then today is ….. Sunday was 80 (degrees). I figured one of ya'll were smart enough to explain it to me. It's pretty awesome to say the least.
"Briefly about the Arizona State game, ASU has a great football team. I think they're one of the most explosive offenses in the country and definitely, in the Pac-12. I think in the south they've proven how explosive they are and what they can do.  Defensively, I thought they did a lot of good things.  They have some huge defensive linemen who are very, very good players. I thought our guys did a good job against them most of the night at different times. That game last year (against Arizona State): we weren't even it in it at halftime. This year we were in it until the very bitter end. We had one throw we all wish we could have back. At (the) 4:45 (mark of the 4th quarter) going in, it's a seven point game. It should have been. Our kids battled hard, fought hard. We have to correct a few things here and there. Honestly, two plays go differently on both sides of the ball and it's a different football game. I don't think anybody would have said that watching last year's game. So, I feel like that we've improved. In no way is there a moral victory, no way. There was not a dry eye in our locker room as far as ….. I guess there were a few dry eyes but, those were very disappointed young men. (They were) very heartbroken that we didn't get it done and they believed they could win it when I think a lot of other people didn't think we could win it even as  the game went along. So, I'm very, very proud of what I'm seeing that way.
"Now, we have to go get some of those games. We have to get the one this weekend, which will be a very, very tough game against the University of Hawai'i. If you watched the Washington game, I think they definitely could have won it there's no doubt about it. The Oregon State game was one of the most amazing games I've seen. They were down 38-7 basically starting the fourth quarter and the game ends up 38-31. If Oregon State doesn't run the clock out there and get a first down, they're going to get the ball back. Then they won last week. I think they're a very good football team. I think they're very physical. Their quarterback is extremely athletic. They've got big, big wide receivers, kind of like the wide receivers that we saw last week. Defensively, they bring a lot of different types of blitzes and a lot of man coverage. They're going to be a strong test for us. One thing I've never seen before in college football, and I don't know if ya'll have ever seen it before, their punter, Scott Harding is also their punt returner. I don't know if you've ever seen that before. He's their punter and punt returner. He's very good. He's from Australia. He can punt it left footed, right footed like Darragh [O'Neill] can. He also plays receiver. So, that's a very intriguing story for me to see that."
On Whether Darragh O'Neill Might Be Able To Return Punts As Well
"He's a good enough athlete but, I don't think he's ever caught on back there. He's definitely a good enough athlete to run and do some things. The catching part of it: I guess [Harding] is such a good punter that he can just catch it himself. Maybe that's how he learned how to do both. (He's a) pretty good athlete."
On How To Guard Against The Same Type of Letdown That Happened Last Year After Playing Well Against UCLA Then Falling Flat Against Washington
"I think that overall, we're a better team than we were like in the UCLA game last year. So, I think that we'll keep it going. I think that they understand how to practice and how to fit it.  They understand how to take the corrections the next day and not just think, 'Hey, we can do that again.' No, I have to correct things, I have to do this. So, I think our attention to detail is better on our overall team. That's not a knock on last year's team. They're just learning how to pay attention to detail, how to ask questions and how to learn, how to focus, how to watch the tape and learn from the mistakes and gain from that. So, every week we come out, we have to come out with great, great energy and great, great effort.
So, if we bring that each week, then we'll keep having an opportunity to win. If we don't do that, then we don't have an opportunity to win. So, I think the effort and the mentality and fight in them they have to keep up. I believe they will because I see more of a 24-7, 365 day a year mentality which means you're more invested. And when you're more invested, it's harder to give it up. When you're more invested, you're more precise, you study it more, it means more to you, you're more focused. All of that goes into it. If you're trying to withdraw and just …… I don't see that with our team. I see them taking the steps farther in that direction if that makes any sense to you."
On Whether Having Confidence And Resolve Is Part Of Being A Better Team
"Yeah, I think it is. I didn't see a look in their eyes that said 'Hey, we just played good.' I saw a look in their eyes that they were disappointed that they didn't win. There's a whole different look in that to me, a whole different mindset."
On How Sefo Might Turn His Fourth Quarter Interception On Saturday Into Something Positive
"I think the way he does it is learn to read the whole field. The one negative is, you have more turnovers when you're trying to come from behind because you're trying to hurry. He was trying to make sure we got the good completion and not seeing the whole picture there. The busted the coverage, that's the other thing. It's kind of a crazy deal there. So, they busted it and they had an extra guy there and kind of got all busted up. So, usually that quick little throw is always there but because they busted the coverage, it wasn't. So, I think he'll learn from that. We'll have another game down the road where somebody will bust the coverage and same type of thing will happen and he'll go ….. and it'll be a touchdown. I think with experience, that happens. You see it in the NFL. Guys that play more and just able to do it more. But, I think as he keeps getting more and more experience, he'll understand that. He studied it.
He understands what happened and he'll bounce back from it. And we've got to do a better job of coaching him in those situations. If something looks so crazy, then you can throw it away there or whatever. That's a hard way to learn but, sometimes that's the way you have to learn. But, I thought his toughness, his ability ….. He made some really good plays. He did some really good things. Quarterback is a tough spot. You can play 75 good plays and play two bad ones and everybody remembers the two bad ones. I was encouraged by the way he kept fighting and the way he kept playing. I mean, they were bringing stuff from everywhere and he was able to pick it up and do some things. It was a combination of everything. It wasn't just that one throw by Sefo."
On Hawaii's Offense
"Their quarterback, you'll see that he throws on the run a lot, a lot of boots, a lot of sprint out, that type of thing. So, he doesn't take a lot of sacks and if it's right there, throw it away or run. So, not turning the ball over so to speak and he's a good enough athlete where he can do that. Defensively, they've caused turnovers, they've blocked a punt. They caused three turnovers in the fourth quarter, it was a blocked punt and three turnovers in the fourth quarter against Oregon State. That got them back in the game. They're causing those turnovers so we have to make sure we don't turn the ball over and we have to cause more turnovers than we have been."
On Quarterback Jordan Gehrke
"I thought he did a good job when he got in there. He played and he showed some quickness and it was good to get him out there at that time and let him play just a little bit."
On Why Such Great Players Come Out Of Hawaii
"I think first it's genetics. The Polynesian population usually are pretty big men. Also, they have a great passion for the game, they love playing the game there. On the island, it's important. High school football nights, Friday nights, are big deals in Hawaii. Everybody goes, everybody in the communities go, so it's important. I think the genetic side of it and how important it is for them to play football. I think there's a lot pride in that and I think that creates more and more football players."
On Forcing More Turnovers Defensively
"We marked how many times we stripped, how many times we tipped the ball. We had a lot of strip attempts, we had a lot of tipped balls. We have to get some interceptions, we have to get some fumbles. If you just keep doing it, eventually you'll have a game that has four or five turnovers in it and that's what we're need to have happen. I think we are trying to do that, we're still conscious of it, we're still rewarding it at practice, we're still doing it. I think that it comes in droves. I'd like to see it come this weekend and more weekends ahead. I see us still trying to do it with those strip attempts. We're trying to get our hands up on the balls, that type of thing. We need to do a better job getting those things out."
On The Similarities Between Freshman Shay Fields and Former Buff Paul Richardson
"They both have good hands, they both run well. I think that they're both really good players. I don't know if I can compare them yet but they both have the ability to go vertical. They can both do a lot of things. I think Shay eventually will be  a little bit, he already weighs more than Paul did at the same time so I think that in another year he'll be about 10 pounds bigger and he might be a bit bigger than Paul is. I guess you could say they're comparable in a lot of ways."
On Moving George Frazier To Defensive End
"I looked around and we only had like two healthy defensive ends, that's one of the things. As a matter of fact, it was in warm ups of the UMass game and I'm going, 'we need to play George at defensive end.' So, we got on the plane on the way back and every one else was asleep and he was still up and I said 'hey, how would you like to play defensive end too and play fullback?' Because, he can still play his 15, 20 plays there and do all of that. He goes, 'I'd love to,' because he played both ways in high school. Sure enough, we threw him out there. He's very very bright, he learned it quick. He played good Saturday night and will keep playing at defensive end and getting better and better and better. He's 260 pounds and he's six foot three and a half and so he gives us some more size that we need there too. I'm excited about what George has done. This is something he'll do the rest of his career, he's going to be playing that."
On Continuing The Upward Trend This Week
"Just keep playing hard and keep going and of course you want W's. Find a way to get Ws. We need to just keep fighting, keep competing and I think we're playing faster and more aggressive on defense now. I think we're understanding it and all of our young guys are starting to get it. There's better communication in the secondary, there's better communication between the linebackers in the secondary. There's better communication to the front. I know that sounds funny but when you watch those NFL games, you can hear all of those guys talking because they have those microphones. You have to do that, you have to know where everybody is. You have to know where your fits are and you have to understand where the safety is. It happens different ways because you're in different formations. We are really starting to understand that and I wish we could do it all at one time but not everybody comes out and lines out the exact same way you practice every day so they have to able to adapt. We're showing them how to adapt and they're starting to completely understand it. It happened so fast so I'm pleased with how they're improving. We have a long way to go but I'm pleased with how they're improving."
On The Maturation Of His Team
"I see that they think that they can beat anyone but they also realize that anybody can beat us. I do see them thinking that. It's easy to say that but to actually put it into practice, compete at it, push at it, fight at it, work at it, you have to put those words into motion so to speak. I do see them actually doing that on the practice field. I see them actually fighting in the game when they go right down the field and score on us like that and you're thinking 'oh gosh.' And I see them thinking, 'hey coach, we're over there fixing it. This is what they said: 'Okay, coach, I got it, I got it. I'll go take care of it.' The next time they run that play, we stop it. So, in the past, we couldn't have done that. They would have been [frustrated]. But now, they've got it. Next time they ran that play, boom, four yard loss. So now, next time they see that, it may be five games from now, but they'll see it and knock it for a loss. They did a few things that we hadn't practiced, which every team does and now as those kids start learning more and more and go by the rules, if you just freeze a second and you end up inside the guy instead of outside of the guy, he's off. So it's a tough thing to do, especially with the offensives we're playing. Arizona State is really, really good on offense, really good."
On How The Coaching Staff Is Improving
"I think we [the coaching staff] are cohesive. Again, it goes back to the kids. If we're doing a good enough job teaching it, if we're doing a good enough job of getting the correct practice reps, and if the kids are executing it in the game. What was good is that they [ASU] had a lot of different stunts they pulled on us and we were able to block it and push it by and run it back and knew how to cut back on it and if he would have just piled in there a couple of times, we would have been in trouble. I think it was just a combination of all of us working together. I know that the kids trust the coaches and that the coaches trust the kids. That's a huge, huge component of improving and trying to get better."
—-
Chris Naeole homecoming this weekend
– Chris Naeole is the offensive line coach for the University of Hawai'i, but he is also very familiar to the Buff Nation.
Naeole's bio from cubuffs.com … A consensus first-team All-American as a senior in 1996 … He became the first native Hawaiian player to earn consensus All-America honors in 51 years (Herman Wedemeyer did it in 1945 for St. Mary's) … A Playboy preseason All-American prior to his senior year … A first-team All-Big Eight performer in 1995 as a junior, and a unanimous first-team All-Big 12 team member as a senior, when he was co-winner of the John Mack Award as CU's outstanding offensive player… Set a school record as a senior with 58 pancake blocks… Ended his career by not allowing a quarterback sack in his final 28 games (including 468 pass plays as a senior)… The only player in CU history to win the spring Romig (top senior-to-be), Casotti (top-junior-to-be) and Irwin (top sophomore-to-be) awards… A first round choice by New Orleans in the 1997 NFL Draft (10th overall, the highest position a Colorado offensive lineman has ever been drafted)… He played his first five pro seasons with New Orleans (1997-2001) before moving on to Jacksonville for six seasons (2002-07).
Welcome home, Chris! Hope you have a great career as a coach … but not too great of a game this Saturday!
—
Colorado a touchdown favorite against Hawai'i
– According to vegasinsider.com, Colorado is a seven-point favorite over Hawai'i this weekend. The Buffs failed to cover (or beat) CSU as a three-point favorite in the opener, failed to cover the 17-point spread against Massachusetts, but then came in under the 15-point spread against Arizona State.
So what does it all mean? Not much.
Other Pac-12 betting lines:
Utah – a 7-point underdog on the road against Michigan
Washington – a 35-point favorite at home against Georgia State
Oregon – a 23.5-point favorite on the road against Washington State
Oregon St – a 10-point favorite at home against San Diego State
Arizona – a 10-point favorite at home against California
— USC, Arizona State, and UCLA have byes this weekend —
——-
September 15th
… CU in a few minutes …
– Jeromy Irwin, who was the only player to come out of the Arizona State game with a questionable injury (concussion; day-to-day) got a positive update after Monday's practice. "I definitely think he'll play," said MacIntyre. "His test signs were low so if he has no setbacks, he'll be out there."
– At cubuffs.com, there is a good article about the Buff receiving corps.
– At the Daily Camera, there is an article about the Buff offensive line (feel free to disregard the intro speculating about the makeup of the line should Jeromy Irwin not be available).
– Neill Woelk, the longtime columnist at the Daily Camera, has been posting some post-game essays. His "Buffs have pieces for future success" is a must read. An excerpt:
"Most promising, though, has been the young Buffs' refusal to quit. The attitude carried them to a win over UMass a week ago, and Saturday night it helped keep them competitive in a game they could have conceded after the first 15 minutes.
Not that ASU coach Todd Graham was ever seriously worried about Saturday night's outcome – and not that any upper-division Pac-12 teams are sweating a date with the Buffaloes. Truth is, the Buffs are still a breather for the majority of their conference foes.
"There is, though, a difference in this Buff team from those in recent years. These Buffs are young enough not to know better. They don't know they are supposed to play dead for the big boys – and even when they get punched silly, they keep getting back up and throwing a few blows of their own.
"Down 17-0 early, they came back to cut the lead to 17-14. Even when the Sun Devils bumped the lead back to a comfortable 38-17, the Buffs made it interesting, cutting the edge to 38-24 midway through the fourth quarter before an interception finally snuffed any hopes of a final rally.
"What's clear is this: MacIntyre has them believing they belong".
——
September 14th
Hawai'i picks up first victory of the season with 27-24 win over Northern Iowa
From Honolulu television station KITV.com … The University of Hawaii football team earned its first win of the 2014 season against Northern Iowa at Aloha Stadium Saturday night, 27-24.
Although both teams had three offensive touchdowns, the Rainbow Warrior defense was the first to score with a fumble recovery that turned into a touchdown with 10:19 to go in the first quarter.
The Panthers never held a lead in the game, but got to within three points with 1:56 left in the game.
The Rainbow Warriors capitalized on two turnovers, which turned into 10 points in the game.
The Panthers' quarterback Sawyer Kollmorgen outdueled the Rainbow Warriors' quarter Ikaika Woolsey.  Kollmorgen had 265 yards passing with two touchdowns.  Woolsey had 188 yards passing with one touchdown.
But, the Rainbow Warriors' rushing game may have been the difference.  RB Steven Lakalaka led the Hawaii rushing corps with 124 yards and 1 TD.  The Panthers had 55 total yards rushing in the game.
First look … Hawai'i
The Warriors lost their first two games, both at home, to Pac-12 teams, Washington and Oregon State.
The games, though, were anything but blowouts for the Power-Five conference schools.
… Washington 17, Hawai'i 16 … A win was about all Chris Petersen got in his coaching debut with No. 25 Washington. Questions about the Huskies' offense will continue into next week after Saturday night's 17-16 victory at Hawaii. Jeff Lindquist completed just 10 passes while filling in for a suspended Cyler Miles, earning most of his yards on one long play. Lavon Coleman and Dwayne Washington split carries in a mediocre rushing game. And Washington punted on eight of nine possessions in the second half, every one except its final snaps to run out the clock.
"We didn't play nearly as well as we think we can play," said Petersen, who left Boise State to take over Washington. "I think it's going to be a big wake-up call". John Ross scored on a reverse and a 91-yard catch, and Washington held off the Rainbow Warriors despite giving Hawaii repeated chances for the upset.
—
… Oregon State 38, Hawai'i 30 … Sean Mannion threw for 300 yards and three touchdowns Saturday night and Oregon State beat Hawaii 38-30. Mannion completed 26 of 37 passes as the Beavers (2-0) racked up 464 yards of total offense against the Rainbow Warriors (0-2). Victor Bolden caught 11 passes for 119 yards, including a 6-yard touchdown reception early in the second half. Terron Ward rushed for 124 yards and scored on runs of 32 and 2 yards in the first half.
Oregon State built a 38-7 lead by the 10:56 mark in the third quarter, but Hawaii scored the final 23 points of the game, including 16 points in a four-minute stretch early in the fourth quarter.
—
– Northern Iowa, though a 1-AA school, is accustomed to playing 1-A schools well. The Panthers beat Iowa State last season, and opened the 2014 season with a close 31-23 loss to Iowa.
– The game against Colorado will be the first road game of the season for Hawai'i, and the noon kickoff (Pac-12 Networks) will be a very early start – 8:00 a.m. local time in Hawai'i.
– Colorado is 1-2 all-time against Hawai'i, with a win in Boulder, and two losses in games played in Honolulu.
– The Warriors will be without their star running back Joey Iosefa, who is out 4-6 weeks with a fractured ankle. After averaging 146 yards the last four games of last season, Iosefa had 143 yards and a touchdown in the opener against Washington.