February 27th
CU the 9th-best coaching job in the Pac-12?
Athlon has published (thanks to Ron Ward for finding this) a ranking of the coaching positions for all of the Division 1 schools.
Colorado comes in at No. 50 overall, ninth in the Pac-12. Here's what Athlon had to say about being a head coach in Boulder:
9. Colorado
Pros: Colorado lacks the tradition of some of the Pac-12 powers, but this program has enjoyed strong pockets of success over the past 25 years. The Buffs won three Big Eight championships in a row from 1989-91 (along with a national title in '90), and they won four Big 12 North titles in the 2000's. With the right coach in place, this is a school that will attract quality players.
Cons: The facilities at Colorado lag behind most BCS conference schools, and the school's commitment to athletics has been questioned in recent years. The Buffaloes recently announced a $170 million facility upgrade proposal, which is a step in the right direction. Also, the CU fans can be fickle; Folsom Field (53,750) has rarely been filled to capacity over the past few seasons.
Final Analysis: Three different coaches have won 10 games in a season since 1990, so it's possible to win big at Colorado. But until the school makes a significant commitment to the program — which it claims to be doing now — CU cannot be considered an elite job.
– Some of the logic can be argued with (CU averaged right at 50,000 in attendance for the two years of the Jon Embree era, with the Buffs' "fickle" fans enduring the worst stretch in school history, while Stanford, with Andrew Luck in 2011 and a Pac-12 championship team in 2012, averaged 46,000 over those same two seasons). Stil, much of the analysis rings true. The bottom line – Colorado has been a great place to be a head coach, and has the potential to return to that status … but is not there currently.
Rankings for all of the Pac-12: 4. USC 12. Oregon 16. UCLA 24. Washington 35. California 39. Arizona State 40. Arizona 47. Stanford 50. Colorado 57. Oregon State 58. Utah 65. Washington State
Others schools of note:
Kansas State – 60: Kansas – 61; Colorado State – 85; Air Force – 86; Wyoming – 89; San Jose State – 96.
—
February 25th
Utah star player has a heart condition
From ESPN … Star Lotulelei, one of the elite prospects for the 2013 NFL draft, will not be allowed to work out Monday at the scouting combine after an echocardiogram revealed that the former Utah defensive tackle has a heart condition that requires more testing.
Lotulelei's agent, Bruce Tollner, confirmed to ESPN's Joe Schad that the first team All-American had an abnormal test result as part of his physical and will visit a specialist this week.
Tollner told The Associated Press in an email that Lotulelei would not take questions regarding the diagnosis yet. The Tonga native was scheduled to fly to Utah on Monday night, Tollner said.
Lotulelei was discovered to have an abnormally low Ejection Fraction, detecting that the left ventricle of his heart was pumping at only 44 percent efficiency, sources said. The normal range is between 55-70 percent efficiency.
The 6-foot-2, 311-pound Lotulelei will undergo further testing in Salt Lake City in an effort to seek more clarity with the condition, a source said. If it's a confirmed chronic condition, medical experts consider it an indication of possible heart damage.
Tollner said Lotulelei was asked by combine officials not to participate until consulting a specialist. Lotulelei still will be interviewed by NFL teams in Indianapolis and plans to participate at Utah's Pro Day on March 20.
Lotulelei is the No. 1 overall player as ranked by Scouts, Inc., and has been rated as a top-5 draft prospect by ESPN draft experts Mel Kiper Jr. and Todd McShay.
Utah player dismissed from team after arrest
From the Salt Lake City Tribune … A University of Utah defensive lineman has been dismissed from the team after being charged with aggravated assault and kidnapping for allegedly beating and threatening to kill his wife.
Koliniasi "Niasi" Leota was charged Friday in Salt Lake City's 3rd District Court with one count each of first-degree felony aggravated assault and kidnapping, and third-degree felony domestic violence in the presence of a child. Four misdemeanor domestic violence charges were also filed.
In court papers, Salt Lake County prosecutors contend that Leota, 24, punched his wife in the face, causing her to bleed. Leota, who is 6-foot-4 and 278 pounds, attacked his wife again in the bathroom, striking her head with a curling iron and a towel rod that he ripped out of the wall and also attempted to stab her with, court papers say. Prosecutors allege Leota wrapped the curling iron cord around his wife's neck in an effort to choke her and tried to electrocute her by filling the bathtub with water and tossing in the curling iron.
Leota also prevented his wife from leaving the apartment, grabbing her by the hair and dragging her back inside, court papers say.
The alleged assault occurred in front of the couple's 2-year-old child.
Leota's wife was able to escape and lock herself in a car when another person arrived at the home with the couple's two older children.
Leota was arrested and remained in jail on Friday. Bail is set at $250,000. An initial court appearance is set for Feb. 25.
Leota, who played in 10 games for the Utes as a junior, was suspended and now has been dismissed in response to the formal charges, according to a Friday statement from Utah coach Kyle Whittingham.
"We will do everything we can to help Niasi and his family get through this situation, but obviously we do not tolerate this kind of behavior," Whittingham said.
February 24th
USC completes staff with addition of three assistants
From si.com … Southern California coach Lane Kiffin has hired three assistant coaches to complete his staff overhaul after the Trojans' disappointing 7-6 season.
USC added Mike Summers, Tommie Robinson and Mike Ekeler on Saturday night.
Kiffin parted ways with offensive coordinator Kennedy Polamalu and defensive guru Monte Kiffin, his father, after the Trojans' fall from a preseason No. 1 ranking to an embarrassing Sun Bowl loss.
Summers will be the Trojans' running game coordinator and offensive line coach. Robinson is the Trojans' passing game coordinator and running backs coach, while Ekeler is the new linebackers coach.
Kiffin also shuffled assignments among his current coaches, notably giving the additional title of offensive coordinator to quarterbacks coach Clay Helton. Kiffin runs the Trojans' offense himself.
Clancy Pendergast was named USC's new defensive coordinator earlier.
Read More: http://sportsillustrated.cnn.com/college-football/news/20130223/usc-assistants.ap/#ixzz2LsRLCrV6
February 20th
Washington leads the Pac-12 in "over-signing" players
An interesting article at CBSSports.com on the practice of over-signing players (having more than 85 scholarship players on the books after Signing Day, planning on attrition before Fall Camp, when the NCAA counts heads).
Out of the Pac-12, Washington is second in the nation in an over-abundance of talent on the roster, with a head count of 91 players.
Also on the list from the Pac-12 are Oregon State, with 88 scholarship players on the roster, and UCLA, with 87.
Colorado might have one or two extra bodies right now, depending on how you do the head count. There may well be some transfers come May, after spring practices and the decision for some players to move on, and perhaps several others to take a medical redshirt. By the time the Class of 2014 is signed, Colorado will be in a position to sign a "normal" sized Class of 22-25 new freshmen.
Dan Hawkins introduced as head coach at Montreal – "I know how the world works"
From the Montreal Gazette … Of course there will be skeptics out there, second-guessing the decision to hire Dan Hawkins as the 20th head coach in Alouettes history. There will be some just waiting for him to fail, quick to note his lack of Canadian Football League experience.
Guess what? You can find fault in everyone who went through the interview process. Danny Maciocia won a Grey Cup in Edmonton before the Eskimos experienced some lean years. Jim Zorn and Turk Schonert have no CFL experience. Mark Washington has never been a head coach. Steve Fairchild?
Who's he?
This is not Hawkins's first rodeo, although it marks the first time he has coached professional athletes. And it would seem he understands precisely the challenge he has undertaken.
"Totally. I get it. I know how the world works. You've got to back it up. I get it and understand it," Hawkins said on Tuesday, after the Als confirmed what montrealgazette.com reported last Thursday — the hiring of Hawkins along with Mike Miller as his offensive co-ordinator.
"Getting out of your comfort zone and learning and challenging yourself … that's how I live. Some would shy away from a job like this. What do you know about 12 guys … about everybody in motion … about the Canadian league? I'm not that guy.
…
Hawkins admits he has much to learn about Canadian football, and has no problem admitting mistakes were made at Colorado, his last collegiate job following earlier success at Boise State. But there's no coach, at any level, who hasn't failed, learned from it, grown and matured. So give the guy a chance and remember the quarterback he's inheriting is five years older than the one Trestman received.
"Maybe I fit what this team needs, right now," Hawkins said. "My whole life has been about change and growth. I told my staff today, 'guys, mark my words. You're going to look back on life and your career and think back on the magical moment when, for whatever reason, the stars were aligned and we went to Montreal'.
"I truly believe that."
Full story can be found here (including video of introductory press conference) …
P.S. For those wondering, an "Alouette" is a bird, actually a lark. But here's the creepy part. You know the children's song "Alouette", as in "Alouette, gentille alouette. Alouette, je te plumerai"? Well, it's actually about being upset after being awoken by this morning bird. The opening phrase is translated as, "Lark, nice lark. I will pluck you", with the rest of the song about plucking various body parts off of the bird. "Je te plumerai la tete" is "I will pluck your head" …
Yuck.
February 19th
Big East contract one-tenth that of the Pac-12
Okay, it never made sense for Boise State and San Diego State to be members of the Big East, but now it makes more sense than ever for them to remain in the Mountain West. With the new deal the Big East is left with, the Broncos and the Aztecs would have had a hard time just paying for the airfare for their teams to play in what's left of the Big East …
From Street and Smith's SportsBusinessJournal … After months of enduring defections and disappointment, the Big East plans to start rebuilding its brand this month with two new TV deals, albeit at a much lower value than the conference had hoped when it started negotiations more than a year ago.
The Big East is close to finalizing deals with two partners, NBC and CBS, that will give the conference exposure across multiple networks. The agreement with NBC will put football and basketball games primarily on its cable channel, NBC Sports Network, with the ability to move some games to the NBC broadcast network.
CBS also is close to renewing its package of basketball games for its broadcast channel.
ESPN has the right to match NBC's offer. Sources said that Bristol had not seen NBC's offer yet, as of late last week. Typically, a network has about a week to decide whether to match a bid or not. ESPN could decide to match the offer to keep the programming away from its rival, NBC. Or ESPN could decide that it's not willing to pay the Big East as much as NBC.
NBC will pay close to $25 million per year over six years for a bucket of games to go on NBC and NBC Sports Network. The two channels' football game inventory will be substantially more than the 25 to 30 games ESPN carried each year, according to industry sources. The deal will bring live sports content to NBC Sports Network, NBC's 24-hour sports channel that has struggled to attract viewers outside of NHL games.
The Big East, in its former model, had eight football teams. With future expansion planning to take the conference to 12 teams, which could lead to a football championship game, NBC will have 50 percent more game inventory.
NBC's new deal with the Big East would start with the 2013-14 basketball season and the 2014 football season. One of the quirks in ESPN's current contract with the conference is that it extends through the 2013 football season.
CBS's contract will pay $2 million to $4 million per year for its package of basketball rights, sources said.
Both the NBC and CBS deals take into account the impending departure of the Catholic 7 basketball schools — DePaul, Georgetown, Marquette, Providence, St. John's, Seton Hall and Villanova. The conference is negotiating an early exit with those schools, which are under contract to stay in the Big East for two more years.
But Big East Commissioner Mike Aresco said the conference is unlikely to cede the Big East name to the Catholic schools that are breaking away.
"We're talking to them," he said. "Our strong inclination is to keep the name."
Aresco, a former executive with CBS and previously ESPN, would not discuss specifics of either deal. But he said that solidifying the conference's media rights is a crucial first step toward rebuilding the Big East brand.
"We're trying to be realistic. We're not the Big East of even several months ago," Aresco said. "But we think we're the best positioned to challenge [the top five conferences] and put ourselves in a better place with the schools we have."
It was 2011 when the Big East and ESPN were on the doorstep of a deal that would have paid the conference $150 million a year over a long-term contract. But some administrators in the conference balked because they thought the Big East should take its rights to the open market in an attempt to find a bonanza like the Pac-12's $250 million-a-year deal.
More on the story here …
February 17th
TSN: Lane Kiffin's days at USC are numbered
Matt Hayes is one of my favorite sports writers, and he usually gets it right (although, as we speak, I have within arm's length Hayes' January 13, 2006, Sporting News article entitled, "Hawkins can take CU back to the mountaintop".
So you can take for what it's worth Hayes' article entitled, "Lane Kiffin: The end approaching for USC's coach".
Here is a link to the entire article. Some excerpts:
There's nothing left now. Nothing but the stark reality that the end is coming for Lane Kiffin at USC.
It's only a matter of how much uglier it gets.
… The coach who really can't afford another mistake last week strolled into a post-recruiting press conference and left little doubt that more are on the way.
He talked about a lack of commitment from high school players, and how the media—that's right, the media—and the glorification of National Signing Day are to blame for prep stars changing their minds. Imagine that, the guy whose coaching reputation is media-fueled—because it sure isn't results-fueled—is blaming the one thing that has kept him afloat in a cutthroat business where those lacking are quickly weeded out.
… On the day that recruiting class barely stayed in the top 20, Kiffin bragged that his class of 13 was better than anyone else's 13. Suddenly, I had a flashback to last summer, when Kiffin was saying his 75-man roster was better than anyone else's 85.
"Sometimes when you go big-game fishing, you're not going to get a lot of them," Kiffin said. "But you're going to get some really big prizes."
Sometimes you don't catch anything at all.
And still get three plum jobs.
February 14th
Joey O'Connor to play for Colorado State
From the Coloradoan … The combination of playing close to home and for a program he feels is on the upswing was enough to convince Joey O'Connor to transfer to CSU, he said Saturday.
In January, the 6-foot-4, 295-pound offensive lineman from Windsor High School decided he wanted to leave Ohio State. He asked for, and was granted, a release from his scholarship at Ohio State.
"When I decided I was going to transfer, I knew that coach (Jim) McElwain had a good thing going on at Colorado State," O'Connor said. "I talked to them a little bit once I was released. I just knew that it was close to home and close to my support. It seemed like it was the right place to go."
In his freshman season at Ohio State, O'Connor redshirted after undergoing knee surgery.
O'Connor remains in Columbus, Ohio, as he finishes out the semester. He is able to use the facilities to continue his workouts and rehabilitation of his knee. He said he is ahead of schedule with his rehab.
O'Connor will have three years of eligibility remaining after sitting out next season due to NCAA transfer rules.
February 13th
Oregon to go with camouflage helmets for spring game?
CBSSports.com is reporting that Oregon may unveil a camouflage-style helmet at their Spring game.
What do you think ….. ?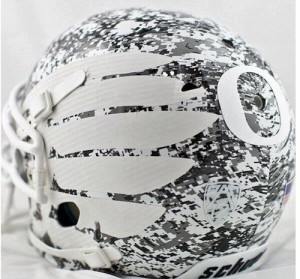 Big Ten to end scheduling of FCS opponents
From the Milwaukee Journal-Sentinel .. Speaking on his monthly radio show Tuesday night, Wisconsin athletic director Barry Alvarez shared a nugget of information that should cheer football fans who long for better nonleague games.
According to Alvarez, Big Ten officials recently agreed to stop scheduling nonconference games against FCS programs.
"The nonconference schedule in our league is ridiculous," Alvarez said on WIBA-AM. "It's not very appealing…
"So we've made an agreement that our future games will all be Division I schools. It will not be FCS schools."
It is not clear when the agreement will take effect but the likely starting point would be the 2014 season, when Maryland and Rutgers are set to join the Big Ten.
February 12th
Big Ten to increase to nine (or ten) conference games
Now, if we can get the SEC on board, we'll have a level playing field …
From ESPN … The Big Ten will increase its conference schedule from eight games to nine or 10 soon after the additions of new members Maryland and Rutgers.
The league's athletic directors and football coaches met Monday in Park Ridge, Ill., and all future scheduling discussions will focus on models featuring nine or 10 league games, Big Ten commissioner Jim Delany told ESPN.com. There was "no support" for staying with the current eight-game league schedule model.
Delany said the new schedule format likely would go into place for the 2016 or 2017 season. Maryland and Rutgers will join the Big Ten for the 2014 season.
The Big Ten approved a nine-game conference schedule in August 2011 but went back to eight after forming a scheduling partnership with the Pac-12. With the partnership fell apart last summer, the Big Ten decided to maintain an eight-game league schedule.
"There's real recognition that we now live in two regions of the country, and we want to make sure those are bound together as best we can, so more games [makes sense]," Delany said. "Eight games is not on the table. It's nine or 10."
Ohio State athletic director Gene Smith, who chairs the Big Ten's athletic director group, said there's a desire to make sure a football player doesn't go through his entire career without facing another league school. Delany hopes to have a resolution on the final number by late spring, and the athletic directors are scheduled to meet several times in the coming months.
"There's television considerations there when you have intriguing conference matchups that are better than some of our nonconference matchups, that's an important piece," Smith said.
Ohio State and several other Big Ten schools base their athletic budgets around having at least seven home football games per season. More conference games could decrease the number of home games, and Delany said if a 10-game schedule is implemented, there would be discussions about an "equalization process" with revenue, possibly through the Big Ten's next television agreement.
February 11th
Utah hires former national championship coach Dennis Erickson
From ESPN … Reports at Utah have been circulating for weeks that head coach Kyle Whittingham had wanted to bring in some help for the offensive side of the ball.
Those reports were made official when the Utah announced that Dennis Erickson had been hired as co-offensive coordinator Monday morning. He will officially start Feb. 19.
Erickson, 65, who won national championships in 1989 and 1991 at Miami, has coached at three Pac-12 schools — Washington State, Oregon State and most recently Arizona State.
In total, he's been head coach at six universities and he is the only coach to have won Pac-10 or Pac-12 Coach of the Year honors with three different schools.
"Dennis Erickson brings a wealth of knowledge and coaching experience to our program," Whittingham said in a statement. "He has been labeled as one of the original architects of the spread and we are looking forward to the impact he will have on our offense. Coach Erickson also has recruiting connections across the country which should benefit us on that front as well."
It's unclear yet exactly what role he will share with existing offensive coordinator Brian Johnson. Johnson, 26, was promoted to offensive coordinator at age 24 and in his first year, Utah's injury-plagued offense was 11th in the Pac-12 in total offense and last in the conference in passing offense, averaging just 190.7 yards in the air per game. The Utes were eighth in the league in scoring offense, averaging 26.7 points per game.
As a college head coach, Erickson compiled a 179-96-1 record in 23 seasons. He also spent two seasons with the San Francisco where he went 9-23. He was at Arizona State from 2007-2011 and the Sun Devils went 31-31 over that stretch.
"I want to thank Kyle Whittingham and the University of Utah for the opportunity to get back into college football," Erickson said. "Being around football players and coaches has been my life and that's why I'm coming out of retirement. I will do whatever I can to help the players and coaches at Utah be successful and I am excited to get back out on the football field."
In its second season in the Pac-12, Utah went 5-7 and 3-6 and failed to reach a bowl game for the first time in nine seasons.
February 8th
Playoff selection panel to consist of 14-20 members 
From ESPN …The sites for college football's first national semifinals have been announced. The first championship game site is all but a certainty. The six bowls that will rotate as hosts for the national semifinals are a foregone conclusion.
But the biggest unknown, and perhaps the most controversial decision remaining, concerning college football's impending four-team playoff is simply this — who will select the teams each year, and how will they be selected?
The BCS commissioners got closer to answering that question following their latest meeting Thursday at the Grand Hyatt Regency Dallas-Fort Worth.
"If you don't get that right (how and who), it's hard to get the rest of it right," Big 12 commissioner Bob Bowlsby said. "There are a lot of business elements, but generally speaking, you've got to get the competition aspects of it right for it to be 'right.' That's the biggest thing."
BCS executive director Bill Hancock said the selection committee would consist of between 14-20 members, including at least one individual representing each of the 10 FBS conferences.
Finding more than a dozen individuals interested won't be a problem. But finding individuals that are interested and qualified to be on the committee might be a tougher task.
The committee will resemble the NCAA men's basketball tournament's selection committee, except there will be a great deal more pressure and scrutiny on the football committee determining which four teams can compete for the national title.
ACC commissioner John Swofford was jokingly asked if the committee members might have to be in the witness protection program since college football fans have been known to be fanatical.
"Witness protection program: That's been said," Swofford said, laughing.
"There are a lot of great people out there that love the game, that will be able willing and qualified. We want people that know the game and understand the game, that have wisdom, integrity and respect. We're confident those people are out there."
The committee members could come from all walks of life, including former commissioners, former and current athletic directors and former coaches, Hancock said.
"We want experienced football purists, experts," Hancock said.
The selection committee will receive a "jury charge" from the commissioners. In ranking the teams, the committee will consider strength of schedule, where the games were played, conference championships and whether teams lost games because of injuries to key players.
In the playoff, the top four ranked teams — as determined by the selection committee — will meet in the semifinals. After those four teams are selected, the league champion or top available team from the Pac-12 and Big Ten will play in the Rose Bowl presented by Vizio, SEC and Big 12 teams in the Allstate Sugar Bowl and ACC in the Discover Orange Bowl.
The commissioners next meet April 23-25 in Pasadena, Calif.
At that time, they are expected to officially announce Cowboys Stadium in Arlington, Texas — the site of the AT&T Cotton Bowl — as the site of the first title game on Jan. 12, 2015. ESPN previously reported Cowboys Stadium is the "prohibitive favorite" to host the national title game.
The BCS announced last month the Rose and Sugar Bowls will host college football's first national semifinals on Jan. 1, 2015. The Orange Bowl is also in the semifinal rotation.
The commissioners also likely will reveal in April the three other bowls that will host the semifinals — sources have told ESPN they would be the Cotton, Tostitos Fiesta and Chick-fil-A bowls — the name of the new playoff, and how the selection committee will be formed.
Under the 12-year deal, which begins after the 2014 regular season, the Rose Bowl and Sugar Bowl will be played on every non-Sunday Jan. 1, no matter whether they are hosting the national semifinals.
During the 12-year contract, the Rose and Sugar Bowls will host the semifinals four times. In the years they aren't hosting, the national semifinals would be moved from Jan. 1 to Dec. 31, sources said.
The national semifinals will rotate through the six bowl games, setting up two playoff games and four major bowl games each season. The national title game will be bid out each year through a separate process similar to the Super Bowl.
The six games will include three "contract bowls" and three "host bowls." The spots in the contract bowls are reserved for teams that have deals with those bowls.
February 7th
Colorado and Nebraska to renew rivalry with four game series
Rivalry? What rivalry?
Here's the first bulletin board material for the 2018 game … said Bo Pelini, Nebraska head coach, of the upcoming series … "There is a lot of great history between Nebraska and Colorado on the football field, so I think this will be an outstanding series for both schools," Nebraska coach Bo Pelini said in a statement released by the school. "I think our fans will enjoy the matchups, particularly those in Western Nebraska who can make the short drive out to the games in Colorado."
So, Nebraska is going to treat CU as a de facto home game? Nice arrogant attitude (okay, so this in Nebraska we're talking about). Here's hoping CU is selling out every home game in 2018, and there are no extra tickets available for Nebraska fans …
—
From cubuffs.com … The premier rivalry for the first decade of the Big 12 Conference is being resumed, except this time around it will Pac-12 versus Big 10 as Colorado and Nebraska will renew their football series later this decade, University of Colorado athletic director Mike Bohn announced Thursday.
The Buffaloes and Huskers will reunite for a four-game series from 2018 through 2024, with the first meeting in Lincoln on Sept. 8, 2018; CU will host the following year (Sept. 7, 2019). Then after a three-year break, Colorado will play host to the Huskers on Sept. 9, 2023, with Nebraska the home team the next year (Sept. 7, 2024).
Bohn made the announcement at the school's annual recruiting luncheon in downtown Denver, much to the approval of the nearly 1,000 people in attendance. He arranged the series with Nebraska AD Tom Osborne just prior to his retirement.
For years, the Big 8 Conference title was often decided by the winner of the Nebraska-Oklahoma game, highlighted by the Game of the Century in 1971 when the Huskers won, 35-31. That year, NU finished No. 1, Oklahoma No. 2 and Colorado No. 3, still the only time in history the top three teams in the final poll came from the same conference. But at the end of the 1980s, Colorado supplanted the Sooners as the threat to Nebraska, and overtook it for Big 8 titles in 1989 and 1990; the two tied for the crown in 1991, thanks to the pair dueling to a 19-19 tie in the snow and cold in Boulder. But a longstanding series, though decidedly one-sided, between the schools of neighboring states dating back to before 1900, and which CU fans called a rivalry but many NU fans would not, was now intensified.
The outcome of the CU-NU game determined the Big 8 champion in the league's final seven years of existence (1989-95). When the Big 12 Conference was formed, that battle carried over to the Big 12 North Division, with the game being moved to the Friday after Thanksgiving, the spot previously occupied by the annual NU-Oklahoma game.
The Huskers won the first five meetings between the two as members of the Big 12, referred to as the "Frustrating Five" by some in Colorado, the five losses came by a combined 15 points, all going down to the wire (17-12, 27-24, 16-14, 33-30 in overtime and 34-32). All that pent up frustration was vented on Nov. 23, 2001, when the Huskers came to Boulder as the No. 2 team in the nation in the AP and Coaches polls, but No. 1 in the BCS Standings.
Colorado had rebounded from an opening season loss to Fresno State to post an 8-2 record entering the regular season finale, trailing Nebraska by one game in the standings; the winner would earn a spot in the Big 12 Championship game. The Buffaloes ran rampant that day, Chris Brown scoring six touchdowns and combining with Bobby Purify for 352 rushing yards as CU rolled to a 62-36 win to claim the division crown. (CU beat Texas, 39-37, in Irving the next Saturday to win the Big 12 title).
The two have had a pension for knocking the other out of postseason contention. CU's 26-20 win in Lincoln in 2004 ended two significant Husker streaks: 43 straight winning seasons and 35 consecutive years of bowl appearances. The only other year NU didn't make a bowl was in 2007, and yes, Colorado ended the Husker hopes with a wild 65-51 win in Boulder.
Not that Nebraska hadn't enjoyed doing the same to Colorado; Cornhuskers wins in season finales in 1987, 1997, 2003, 2008 and 2010 all kept the Buffs from becoming bowl eligible.
The schools have met on the gridiron 69 times, with Nebraska owning an overall 49-18-2 edge. The first 20 games were almost a draw, with the Buffs owning a 10-9-1 advantage. But between 1962 and 1985, Nebraska dominated in winning 23 of 24 games to pull well ahead in the head-to-head battle. NU won 11 of the 15 between the two as members of the Big 12, though has won six of the last 10.
Many games have also had significance to them. CU's first big win over a regional foe in its football history came over Nebraska, a 6-0 win in Boulder in 1904. In 1951, the Buffaloes won 36-14 in Lincoln in the first televised game in CU history. In 1992, it was the believed to be the only game in the history of the Associated Press poll where both teams entered the game with the same ranking; in the eighth game of the season, both teams were tied for No. 8 in the poll.
The contract calls for $300,000 payments from the home team to the visitor in each of the four designated years of the games, with a buyout clause of $1 million if either team wants to cancel out of a game.
USC tight end suspended after felony arrest
From the LA Times … USC tight end Junior Pomee is facing felony charges of burglary, grand theft and possession of stolen goods after being arrested last week near the campus on suspicion of receiving stolen property, officials said Wednesday.
Pomee, 21, was arrested on suspicion of possessing stolen goods by officers with USC's Department of Public Safety on Jan. 29 at 2:45 a.m. near 642 28th St., Los Angeles Police Sgt. Rudy Lopez said.
Two days later, Pomee was charged with five felony counts, including burglary, grand theft and three counts of receiving stolen goods including an iPad, an iPad Mini and iPhone5, court records show. Pomee pleaded not guilty Jan. 31 and will appear in court again Feb. 15, said Jane Robison, spokeswoman for the Los Angeles County district attorney's office. He is free on $110,000 bail.
A post on USC's daily incident report for Jan. 29 at 2:09 a.m. includes an entry that an unnamed student was arrested at a location listed as Phi Kappa Psi. USC's telephone directory lists the Phi Kappa Psi fraternity at 642 W. 28th St. The incident is described as "Theft-Grand" and "receiving Stolen Property."
"DPS officers responded to an intoxicated student who passed out in an alley behind the location," the entry said. "The student became combative when contacted by the officers and had to be physically subdued. The officers found the student in possession of a tablet computer and other property that did not belong to him and they subsequently determined that the items had been stolen.
"The student was then arrested and transported to [the LAPD's Southwest Division] station for booking."
[Updated: Feb. 6, 6 p.m.: USC Coach Lane Kiffin said he was aware of the situation and that Pomee had been removed "from all team activities until we get all the information."] Pomee could not be reached for comment.
Pomee, 6 feet 3 and 250 pounds, is a second-year student redshirted as a football player as a freshman. Last season, he played in every game but did not catch a pass.
February 6th
Pac-12 Signing Day notes
Arizona State loses top two recruits
From ESPN … Arizona State lost a quarterback to Tennessee and a receiver to Nebraska on signing day.
The big hit was ESPN 300 quarterback Joshua Dobbs, who signed with Tennessee. The highly rated dual-threat player passed for 3,625 yards and 29 touchdowns and rushed for 419 yards and 10 touchdowns at Alpharetta (Ga.) High School. Unless the Sun Devils uncover a quarterback after signing day, they will have not signed QB in two years. Dobbs seemed like an ideal fit for the Sun Devils up-tempo offense.
The other loss was four-star athlete Tre'vell Dixon (Baldwin, La./West St. Mary). Just this week he had flipped from Nebraska to Arizona State, but he ultimately gave the Cornhuskers his signature.
Big Day for UCLA
It looks like UCLA will by-pass USC as the No. 1 recruiting school in Los Angeles, and the Pac-12. At Rivals, with some jostling still to be done before day's end, UCLA is the top Pac-12 school, in at No. 9 nationally. USC is next, at No. 13, with Washington at No. 17. Oregon is further down than you might expect, in at No. 22, with the Ducks the only other Pac-12 school in the top 25.
The rankings:
UCLA – 9
USC – 13
Washington – 17
Oregon – 22
Cal – 29
Arizona State – 35
Arizona – 36
Utah – 37 (with the largest class – 29)
Oregon State – 38
Washington State – 51
Stanford – 64 (this with only 12 commits. This ranking will go higher in coming days)
Colorado – 67
Others rankings of note … Colorado State, 81 … Other BCS schools ranked lower than Colorado … Duke, t-67; Syracuse, 73; Georgia Tech, 85; Boston College, 87; Cincinnati, 101.
Pac-12 notes from ESPN … Oregon pulled a signing day flip, landing ESPN 300 defensive end Torrodney Prevot, a USC commitment, while the Trojans got off the carpet by landing outside linebacker Quinton Powell. Prevot actually was thought to be a Texas A&M lean, but the Ducks made the successful late push on the Texas prospect. Powell's commitment gives the Trojans another top Florida prospect. He's the No. 6 outside linebacker. He is good friends with current USC defensive tackle Leonard Williams … Washington received bad news when longtime committed defensive end Daeshon Hall opted to sight with Texas A&M.
UCLA flips a top quarterback recruit
From ESPN … After committing to South Florida and decommitting from South Florida, then recommitting to South Florida before again decommitting from South Florida, ESPN 150 quarterback Asiantii Woulard (Winter Park, Fla./Winter Park) went a different route on Wednesday, as he announced that he will sign with the UCLA Bruins.
Woulard's second decommitment from South Florida came on the heels of Skip Holtz' firing in early December. Kentucky and Clemson received January visits, and it appeared that the nation's top-ranked dual-threat quarterback would remain on the East Coast. But an official visit to UCLA was quickly scheduled for Jan. 25, and following the trip, the Bruins jumped into the lead.
It looked as if UCLA would finish the 2013 class without a quarterback. But instead, continuing the tremendous run of recruiting success over these final few months, the Bruins will add the nation's No. 143 player.
February 5th
Oregon loses one four-star recruit; steals another
While it is relatively quiet in the Buff Nation as Signing Day approaches, there is a feeding frenzy going on around the nation. Case in point: Oregon lost a four-star player to Ohio State, but stole one from Cal …
According to Rivals … Four-star running back Dontre Wilson announced on Monday night that he will attend Ohio State. Wilson is rated by Rivals as the No. 5 all-purpose back in the nation, and the No. 100 overall recruit this year.
Dontre Wilson first committed to Oregon on May 25, but speculation began to creep about possible interest in Ohio State toward the end of 2012, and that speculation immediately escalated once Chip Kelly left Oregon to coach the Philadelphia Eagles during the middle of last month. Wilson added further drama when he chose to take one last official visit to Texas this past weekend.
Meanwhile, according to the GoldenBearReport … The country's 18th ranked offensive lineman, Cameron Hunt, committed to Cal back on July 7th, but re-opened his recruitment following the firing of head coach Jeff Tedford and Cal offensive line coach Jim Michalczik. Hunt took official visits to Michigan, Ohio State, and Oregon over the last three weeks, before trimming his final four to a final two: Cal and Oregon, before switching his commitment to Oregon. A member of the 2013 Rivals250, the 6'4″, 267-pound tackle is Rivals' 34th-ranked player in the state of California.
Speaking of Cal … Bears reach settlement agreement with former head coach
From ESPN … California reached a settlement with former football coach Jeff Tedford on Monday that will pay him up to $5.55 million for the final three seasons of his contract.
Under terms of his contract, Tedford had been guaranteed $2.3 million a year for the final three seasons of his contract.
With the settlement announced by the school Monday, Tedford will get $1.8 million in 2013, $1.8 million in 2014 and $1.95 million in 2015, saving Cal at least $1.35 million over the three years.
The deal allows Tedford to keep a larger share of any salary he receives in the next three seasons as a college head coach or NFL head coach or assistant. The university and Tedford will split evenly any amount he earns in excess of $1.5 million in any year in those roles before Dec. 31, 2015.
"During his tenure at Cal, Jeff Tedford deeply cared for his student-athletes, their performance on the field and in the classroom, as well as their families, this department and the entire university," athletic director Sandy Barbour said in a statement. "We appreciate all that Jeff contributed to Cal's reputation for excellence during his 11 years at the university and wish him well in all his future endeavors."
Tedford is the winningest coach in Cal history with an 82-57 record. He was fired in November after going 3-9 last season.
Tedford also played a big role in Cal's $321 million renovation of Memorial Stadium and adjacent $150 million on-campus High Performance Center that gave the school the facilities to compete with the rest of the Pac-12.
"I am proud of all the accomplishments we achieved together at Cal, both on and off the field, and the manner in which we raised the program's national profile and expectations," he said in a statement. "I am honored to have played a role in the renovations to California Memorial Stadium, and in improving the facilities, with the goal of enhancing the experience for the entire Golden Bear community.
"I look forward to maintaining my strong personal bond with my former players and staff, while pursuing the next chapter in my professional career."
—
For those keeping score at home … According to the Daily Camera, "the buyouts for the three years remaining on Embree's contract and offensive coordinator Eric Bieniemy's contract was $2.437,500. CU spokesman Bronson Hilliard said CU attorneys determined Monday Embree is owed $1.625 million and Bieniemy is owed $812,500".
USC loses four-star cornerback to Florida State
From Noles247Sports … Brentwood (Tenn.) Brentwood Academy four-star cornerback Jalen Ramsey is expected to publicly switch his commitment from USC to Florida State during a signing ceremony held at his school tomorrow morning. The ceremony will be held at 11 a.m. EST.
Ramsey and his family informed the Florida State coaching staff of his change of heart late on Monday evening. It was again confirmed on Tuesday morning.
Florida State was a late entry into the pursuit for Ramsey's services. He was one of the first players targeted by new defensive coordinator Jeremy Pruitt when he was hired by the Seminol
Down the stretch Ramsey considered the Trojans, Seminoles, and Florida Gators.
Ramsey is considered the No. 39 overall player in the nation by 247Sports.com. He is the No. 5 cornerback overall and No. 1 prospect from Tennessee.
—
February 4th
Oregon recruit posts tweet picture he'll likely regret …
The gentleman in the green jacket appears to be defensive end recruit Davin Bellamy, (Rivals bio) who was visiting Oregon this past weekend. Judging from his twitter mentions, the tweet was quickly deleted.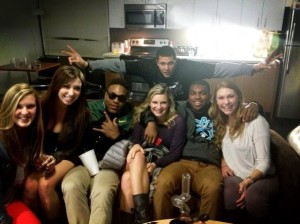 Bellamy is a three-star defensive end, who told UGASports.com of the photo … "First I would like to say that if I knew the bong was in the room I wouldn't have even taken the picture in the room. I know everything I have to lose so I want to just put that out there," he said. "We were walking down the dorm hallway toward a party and these girls saw us walk by. They wanted to take a picture with us. We ran in for 15 to 20 seconds and sat on the sofa. We took the picture and ran out. In just the short amount of time we were in there, we didn't get to check out the surroundings. If I had known it was in there I wouldn't have taken a picture. That's common sense."
First reactions … If this had been a CU recruit, can you imagine the fallout? (If you were a Buff fan ten years ago, I'm guessing that you can) … Forget the bong.  Where is the supervision? What about the female accompaniment?  Any repercussions, either for the recruit or for the University of Oregon? Here's guessing that it will be met with a laugh and a shrug in Eugene.
This just in … there are double standards in college football.
February 1st
Washington State running back arrested for DUI
From the Spokane Spokesman-Review … Washington State running back Leon Brooks was arrested early Sunday morning by a Whitman County Sheriff's Deputy on suspicion of driving under the influence of alcohol.
The sheriff office's arrest log shows Brooks was arrested at 3:01 a.m. on Sunday. According to an arrest report obtained by the Spokesman-Review, Brooks was pulled over after making a wide turn from Monroe Street onto Stadium Way.
Whitman County Sheriff's Deputy Bryce Nebe reported that after he noticed an odor of intoxicants, he asked Brooks to step out of the car and perform a field sobriety test. The deputy concluded from that test that Brooks was impaired, transported him to the Pullman Police Department and administered two breathalyzer tests.
Brooks, age 21, allegedly blew a .088 and a .092 four minutes apart. The legal maximum in Washington is .08. Brooks was transported to the Whitman County Jail and was later released.
Brooks, who will be a fifth-year senior next season, was the Cougars' primary punt returner the last two seasons.
WSU coaches are aware of the situation.