Colorado Daily – USC
November 24th
Parker Orms receives Buffalo Heart Award
From the Daily Camera … "I feel like all the seniors deserve that award," Orms said in a late-night postgame press conference. "Since we've battled through the last four or five years that we've grown together and battled every Saturday together. All the seniors deserve that award."
The tradition of CU fans honoring one player with the award after the final home game each season was started in 1998 by four friends — Pat Grimes, Craig Augustin and Ashley and Thaddeus Cernac. Fans vote for the Buff who demonstrates grit, determination and toughness with his play throughout the season. Orms has done all that and more during his career.
During the fourth quarter Saturday, he had to remove his shoulder pads on the sideline so team athletic trainers could wrap his shoulder after he re-injured it in a collision. He put his pads back on and ran back on the field still in pain.
Torn knee ligaments ended his 2010 redshirt freshman season in the first game that year against Colorado State. That injury has continued to hamper him, but he has never allowed it to keep him off the field.
"I can't imagine how much better he would be if his knee wasn't hurt," MacIntyre said this week. "He would make a lot more plays than he's able to make because he literally drags his knee around every week and gets ready to play. Most guys wouldn't be trying to play. They'd say 'Oh, I've had enough. I've done what I can do.' He loves it so much and he loves this school so much. He loves playing."
Former Buffalo Heart Award Winners
1998 Darrin Chiaverini, WR
1999 Mike Moschetti, QB
2000 Eric McCready, WR
2001 Cortlen Johnson, TB
2002 Tyler Brayton, DT
2003 Medford Moorer, FS
2004 Bobby Purify, TB
2005 Joel Klatt, QB
2006 Thaddaeus Washington, ILB
2007 Jordon Dizon, ILB
2008 Ryan Walters, FS
2009 Cha'pelle Brown, CB
2010 Cody Hawkins, QB
2011 Rodney Stewart, TB
2012 Will Pericak, DE
—-
November 22nd
Franklin Field closed for USC game
From CUBuffs.com … Due to the snowfall the latter part of the week, the grass fields at the University of Colorado will be closed for the Buffaloes' final home game Saturday night against the University of Southern California.
University officials made the decision Friday morning to close all fields, meaning that there will be no parking permitted on Franklin Field just east of Folsom Field, and in addition, all pregame activities scheduled for Duane Physics Lawn and Benson Field have been relocated or cancelled for the safety and comfort of those planning to attend.
The Alumni C-Club tailgate will move to Boedecker Gym in the Coors Events Center, which is located in the basketball/volleyball practice facility which can be accessed off Regent Drive.  Ralphie's Corral has been cancelled.
Athletic department officials will determine on Saturday if the field conditions inside the stadium are safe for Ralphie, CU's live buffalo mascot, to make her usual run leading the team out on to the field ahead of the game's 7:37 p.m. kickoff.
Those with permits to park at Franklin Field may park in lot 494 near the Coors Event Center.  All surface parking lots will open at 3:30 p.m.
On non-game days, Franklin Field is a well-maintained athletic field used by campus recreation and club sports as well as providing an environmentally friendly open space for the beauty of the CU campus.  It is important that the integrity of University fields are not destroyed as it will displace programs that use them and cost a significant amount of money to repair.
Click here for a map of CU parking lots.
Additional game day information can be found at: CUBuffs.com/gameday
—
Senior salute
The Buff Nation will say goodbye to 14 seniors Saturday. These seniors have been through three head coaches, have yet to post a winning record, and have won a total of four Pac-12 games in three seasons in the new league.
"These seniors been through a lot," said CU head coach Mike MacIntyre. "It would be great to send them out with two home wins in a row and give them something to shoot for in the last Saturday of the season. That's what we hope to do."
The end of the road for these seniors may be bittersweet. A final home game, against a ranked team, before what will likely be a very sparse crowd. Not the send-off this groups deserves, but it is the reality of the CU program in 2013.
The list:
DT Nate Bonsu – played in ten games this season, recording 16 tackles and two sacks. Nominated for National Football Foundation Scholar-Athlete Award
K Justin Castor – suffered a flexor strain injury on August 21st (may petition for a medical redshirt)
TE Scott Fernandez – played in ten games, five receptions for 36 yards
RB Josh Ford – suffered an ankle sprain on August 11th (is planning on petitioning for a sixth year)
C Gus Handler – started every game at center this year. The only offensive player in on every offensive play this season
OT Jack Harris – a team captain, Harris has started every game at left tackle this season. In for 663 of CU's 694 offensive plays this season.
SN Ryan Iverson – Has handled 406 punt and placement snaps in his career. Iverson has forced more fair catches (23) and make more special teams tackles (15) than any long-snapper in CU history. A candidate for the Burlsworth Award, given to the nation's top special teams performer
S Parker Orms – started in every game before the Cal game, when he was held out with an injury. Started 25 games in his career. Third on the team in tackles, with 61
WR Alex Turbow – a former walk-on, Turbow was awarded a scholarship for his senior season
DE Chidera Uzo-Diribe – a captain, Uzo-Diribe was named to the Hendricks midseason watch list on November 11th. Uzo-Diribe leads the team with ten tackles for loss (four sacks), five forced fumbles, four passes broken up, and nine quarterback hurries. Uzo-Diribe is 8th on the team in tackles, with 40. He is tied for sixth on the all-time CU list for sacks, with 20
LB Paul Vigo – a captain, Vigo has been in for three games this season, recording two tackles. Vigo is fourth on the team in special teams points, with 14
LB Derrick Webb – a captain, Webb is second on the team in tackles, with 74, missing only one start (Arizona) this season. Webb is 43rd on the CU all-time tackles list, with 233, sixth on the all-time special teams tackles list, with 32, and fourth on the all-time special teams points list, with 79
QB Jordan Webb – a starter for much of the 2012 season, Webb, a transfer from Kansas, is 23rd on the all-time passing yardage list, with 1,434 yards. Webb completed 144-of-265 passes, with eight touchdowns and eight interceptions
TE Alex Wood – started two games this season, against Oregon State and against Cal (as a fullback). Wood is sixth on the team in special teams points, including 12 KSD's – Knockdown or Springing blocks on Kick returns.
While the above players will not leave Boulder with a championship, they will leave a legacy. "I think as seniors we want to leave this program better than it was when we came in", said senior tight end Scott Fernandez. "That's what we're striving for. We've made big strides this year and they're going to make even more when we're gone. That's the biggest deal."
"It's been hard on them," said MacIntyre. "Even when we came in they looked at us sideways because they had been through this before and they weren't sure it would work. But they believed in what we were doing and trusted us and we have trusted them. They all have stayed very positive (throughout their careers) and to me that's been very impressive by them. I want to win this one for them more than anything."
Thank you, seniors!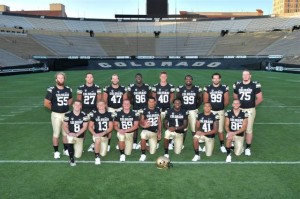 —
November 21st
CU Athletic Director Rick George reflects on his first 100 days
Interview from CUBuffs.com …  On Aug. 12, Rick George hit the ground running. He hasn't stopped, and his long-range forecast doesn't offer a hint of downshifting.
On Tuesday, Nov. 19, George observed his 100th day as Colorado's athletic director. His first official day on the job was Aug. 12, but chances are good that he had his mind on the Buffaloes several days prior. And there was no doubt where his heart was. (Just don't tell the Texas Rangers.)
In some facets of his new job, George is ahead of schedule. In others, he's playing from behind. Regardless, his pace hasn't changed, nor will it.
"We've done a lot of things in a short period of time," George told me on Day 101. When I asked him to hit a highlight or three, he went immediately to the school being (mostly) successful during its fall sports calendar. "Probably the most impressive thing that we've done is our sports teams are performing at a very high level; I think people sometimes lose focus of that," he said.
As of his 100th day, the Buffs' cumulative fall sports record was 258-76-7. A Pac-12 championship was won in men's cross country, with the women finishing second. The soccer team advanced to the NCAA round of 32 and plays BYU Thursday afternoon in Tallahassee, Fla. The volleyball team is battling for an NCAA tourney berth. Both golf teams and the tennis team had their autumn moments.
And then there's football, which is at a modest four wins with two games remaining and bowl eligibility still within reach. Upsetting No. 23 USC Saturday night would make the season finale at Utah on Nov. 30 must-see Pac-12 TV – at least on this side of the Rockies and downslope on the other.
"Football is making progress," George said, and compared to last season's one-win nightmare four 'W's and the overall state of the program underscore his point.
Of course, the revamping of the football program is not one of the areas that George touts as being ahead of schedule. That project is not to be rushed – and couldn't be. Ditto for fund raising, although George is full speed ahead on trying to reach the goal of $50 million by early December to kick-start an ambitious facilities upgrade that he and the CU administration believe will eventually elevate the Buffs in the Pac-12.
"It's still there . . . the first week in December," George said of the specific date for closing in on the $50 million goal.
I asked if it's close to coming to fruition, and he answered, "We need to make it come to fruition. Are we there yet? No. But we're going to work hard to try to get it there, so we do have the approvals we need to move forward. It's a real important part of our future . . . whether we get to that ($50 million) at this point, unless we get something really significant, I doubt we'll get to that number. But do we need to get to that number to have this built right now? I don't think so."
A shovel hasn't been put in the dirt yet, but he's even targeted a date for the project's completion: 2015. "That's aggressive, but I'm aggressive," he said. "Yeah, I would like to get moving on this as quickly as we can. I think the longer we go, the delta grows. I think the sooner we get it done, the sooner we can close that gap."
I asked him if this is a hard sell in light of the football team's lack of success over a trying and tumultuous seven-season span. "I think it's an easy sell, because I think what we have to sell is unique and special," he answered. "However, some people want to know where we're going and what our strategic plan is and what we're doing with facilities before they'll invest. So it's a 'chicken and an egg' – it's very difficult. We're going to go someplace and we're going to build something people will be proud of. And we're going to put together a long term strategic plan but it's very difficult to know where you're going until you know who you are. It's taken me some time to figure out here's who we are, here's where we are, now where we do we want to be? That takes some time; we'll be done with it in January.
"I understand some people's hesitancy in investing in a company that doesn't have a plan they can get into and support. Once we roll out that plan I really believe that people are going to get behind our vision, where we're going and how we're going to do it and they'll be supportive of that. I think it's going to take all of us in collaboration and unifying our base for people to say, 'I can buy into this, I can invest in this.' And I think they will."
In that sense, George is asking donors to take a leap of faith. If they want to know specifics of where the Buffs are headed on his watch, they'll have to wait until January when his strategic plan for the department is rolled out. In truth, that's early.
"We said previously that would be done on April 1, we now plan to complete that by January," he said. "We will have a game plan in place for the next 15 years that will be a series of five three-year plans, and those three-year plans will be a series of three one-year plans. We'll determine who our peer groups (as universities) are, we'll see where the gaps are and we'll develop a plan that will help us narrow that gap and become what we want to be – and that's become a nationally recognized, fiscally responsible athletic department."
The team fashioning the strategic plan for athletics consists of 34 members that George says "represent all of our constituents." The formation of that group was among his priorities, as was the formation of an interim structure in the department that made Ceal Barry the senior associate athletic director for internal operations, Jim Senter the senior associate athletic director for external operations, and Kris Livingston the associate athletic director for student success. Former Buffs receiver Lance Carl was hired as an associate athletic director in an external community outreach/revenue generating role.
That structural development, said George, "allowed us to focus on our day-to-day business internally and externally (and) allows me some time and freedom to raise money and develop our strategic plan. So that was something I thought was important to do and we did it at the 30-day mark."
The remainder of the interview can be found here.
November 19th
Tuesday Press Conference Quotes
From CUBuffs.com ….
General / Opening Statement "First of all, off of last week: it was a good win for us.  I thought our kids came out of the tunnel excited and they stayed excited the whole game.  When I watch film I do an interesting thing: when I watch film I also watch the sidelines.  I see how into it they are and I see how they react.  And that's something we talk about as a team.  I watch how backups react when guys in front of them do things good or bad.  Do they congratulate them?  Do they help them?  That's all part of team.  We had some guys that had to change some roles the other night.  We'll have some guys this week that will with the type of offense and the type of defense that they've run.  So, it was an exciting day for us and our kids had a lot of fun.
The crowd was really into it and going.  I know maybe it was really cold in the second half but, it was fun.  It's going to be cold this Saturday night and it's going to be fun again.  So, we're excited about it.  We've just go to keep pushing and keep working.  I thought we came out with a lot of intensity and kept that for really the full 60 minutes which I was really …… Maybe this game and the Charleston Southern game were the first games where for the entire game or week we pretty much came out and played intensely and didn't have some big kind of letdown that we've had in some other games for the full 60 minutes which I think shows some big improvement for us."
On Whether there is an Extra Jump In the Team's Step Following Their First Pac-12 Win of the Season "I haven't seen a big jump in their step because I think every day they've come to practice.  That wasn't a coach's cliché when I said that.  I do imagine that they have more excitement because they have bowl eligibility left, you have a team that came in that just had a huge upset, it's the last home game.  So, I think all of that adds to it.  They've been coming to practice ready to go so, I've excited about what they've done all year with that."
On the Drastic Improvement in Tackling Last Week "It was good and that's what I expect out of us.  There was a lot of open-field tackling.  We had a couple we missed at the end but that was really more my fault than their fault.  I know that sounds funny but, we backed the linebackers up and gave them a little bit more space to make sure they didn't give them a quick shot.  (Cal wide receiver) (Brendan) Bigelow made us miss on one but, he's a really good player.  I remember watching a highlight …… Didn't he make one of the Top Ten's last year?  Against Ohio State he made their whole team miss and they're pretty good I think.  But, I thought overall the tackling was much improved.  I think we were a little bit fresher and I think we were a little bit embarrassed from the week before and I think they understood it.  We went back to some more drills that we've been doing all along then we pulled off a little bit because you play so many games that you don't want to beat them up.  Now, I told them 'We can't pull off of them.'  So, we just keep doing them every Tuesday and Wednesday.  I won't pull off of them again.  We'll just keep doing it until we really get experienced."
On How USC has Improved so Much Since a Mid-Season Head Coaching Change "To me they've looked good along.  They're running the football better the last five, six games.  Their offensive line ….. I don't do this very often but, when I watch tape I see the skill guys and I see offensive linemen and I see the defensive linemen but, I just started watching their offensive linemen the other day.  How many people do that?  So, they're offensive linemen are very athletic and talented.  They've got talented players all over.  I think they're playing hard and they're playing well."
On USC Quarterback Cody Kessler "Cody is doing a good job.  I think he's a very good football player.  Since their running has got going …. I know you all hear that on television all the time and on ESPN when they say 'If you have a good running game it makes the quarterback calm down.'  That's what has helped him.  The windows are a little bit bigger because of the running game. The linebackers get sucked up.  So, that has helped him in the passing game and I think he's doing a good job."
On Whether his Outlook on the USC Game Changed after the Trojans Upset Stanford "No, I thought they were good all along. And I think Stanford is a very good football team. That wasn't a huge surprise to me that they beat Stanford, especially playing at home. Those young men wanted to win that one and I think they hadn't got (a win over Stanford) in a while. I think it just kind of comes in cycles. I think they're a very good football team and so is Stanford. They're really good too."
On Tuesday's Practice "I thought we had a good practice.  I thought we flew around well.  I thought we did some good things.  I thought they competed.  We have to really get good at our run fits for this football game.  We've got to get more than one guy to the football because their running backs are excellent runners and very fast and powerful guys.  So, we're doing that. Offensively, we've got to be able to move the ball and control the clock some.  And I feel like we have to have a good plan of attack on how to do that.  Defensively, they're very talented.  Their secondary is good and their defensive line is good. Their secondary to me is just really, really athletic, makes a lot of plays and causes some havoc here and there.  They've got some young guys back there so they've had a couple break downs from time to time because of their inexperience but, athletically they're excellent."
On How to Attack a Talented USC Defense "Well, I can't give away all of our secrets.  We're going to have to be balanced.  If you just decide you're going to throw every time: they're defensive line is too good.  They can cover well enough that they can get to the quarterback.  Then, if you decide you're going to run all the time, then they're good enough to press up.  You have to be able to keep them off balance and be able to do that.  There's different ways to do that but, you can't get one-dimensional on them because I think they're too good.  You have to keep them off balance with different formations and different things that we do. Then, that allows our windows to be a little bit more open for our quarterback.  Because they are so athletic it's kind of like the pros.  The window is shut really quick.  That's something we have to help Sefo (Liufau) with for the game on Saturday."
On the Emotions Involved with Senior Day "I hope it helps us.  The senior days that I've been around lately have always helped us. I definitely hope it does.  These seniors have been through a lot.  It would be great to send them out with two home wins in a row and then give them something to really shoot for on the last Saturday of the season.  So, that's what we hope to do and that's what we need to do."
On Whether Paul Richardson Might Forgo his Senior Season and Enter the NFL Draft "I think Paul is a really good player.  I definitely think Paul can play at the next level.  He has to decide what's best for him and his family and all the different things that he has going on and what's best for him physically too.  We'll see how that works out.  In the crazy world of college athletics these days, with basketball and football and all the different things, some guys finish out somewhere and it's not right or wrong if they do or don't.  It's just the way it is."
On Whether he May Talk to Richardson about what Might be Best for His Future "Yeah, the NFL will send a report to him and they'll look at it and decide.  The, he's got to decide what he wants to do and how he wants to do it and finishing his degree and all those types of things will go into it.  I'll sit down with his mom and dad too and we'll talk it out and then decide.  I'm not going to try to twist his arm either way.  It's his decision on what he wants to do."
On College Graduates and Their Success Rate in the NFL "I haven't really looked into that.  I do know that the years that the New England Patriots were making their big runs they had the most college graduates of any team in the NFL.  I think that is a big deal.  I know that's something that, when I worked for coach Parcells that he would always ask.  'Is he a graduate or not?'  Because he always felt that showed an ability to finish something, he was always on top of tasks, he was on time and all those types of things.  If he felt like two people were even, then that could be a beneficiary to show that there's some extra work ethic there.  So, you've got to look at that on all sides of it.  I wasn't talking about Paul I was just talking about that theory."
On Parker Orms' Legacy and his Final Game at Folsom "Parker is the ultimate fighter.  His heart and soul goes into every game and everything he does.  It was unfortunate he couldn't play last week.  Hopefully he's going to be well enough to play this week.  I think he will be.  He probably doesn't mind me telling you this: I go up to him right after the game.  After I kind of shook (Cal head coach) Sonny (Dykes') hand I saw Parker over by the stands and I see tears in his eyes.  And he's just so happy that we won.  We talked for a minute and I said 'You need to get healthy so you can play next week.'  He's doing everything he can.  We talked today.  He went and practiced today but he wasn't able to hit anybody today.  So, I think that his attitude and what it means to him to play at the University of Colorado, being from right down the road in Wheat Ridge and being a high school star ……… His heroics always get bigger and bigger.  I always tease him.  Once I said 'I heard there was nobody on the field in that championship game.  I heard it was just you by yourself out there.'  I heard he was phenomenal.
I really would have loved to have seen him play without his knee bummed up because he's really tough and quick now.  I can't imagine how much better he would be if his knee wasn't hurt.  He would make a lot more plays than he's able to make because he literally drags his knee around every week and gets ready to play.  Most guys wouldn't be trying to play. They'd say 'Oh, I've had enough.  I've done what I can do.'  He loves it so much and he loves this school so much.  He loves playing.  His last game is going to be sad for him because it means so much to him.  Hopefully, he'll go into coaching because usually that's what coaches do.  They don't want to put it down and they love the competition and they love what it means.  I think he'd be a heck of a coach."
On Watching his Son Play High School Football Last Weekend "I got to see my son play last Friday.  I sure did.  Our hotel that we stay at ….. I drop them off and its three miles from the stadium.  Then, I come back for the team meetings at 9:15.  And so it works out really well.  So, it was fun watching him play."
On his Son Playing in the State Playoffs "I'm excited about him playing in the state playoffs.  They play at 1:00 Saturday and we play at 7:30.  So, I'll get to see a little bit of it.  That'll be good because that's the time when our guys are sleeping for three hours.  So, it worked out good. It was the luck of the draw.  I thought we'd be playing at the same time.  If they make it to the state championship game then, we'll be playing at the exact same time.  So, mom and brother will hopefully be at Denver stadium watching him play."
On the Influx of Night Games on the Schedule this Year "I've gotten to point where, night or day doesn't bother me.  The only thing that sometimes is hard, which will be hard for USC, is when you play a night game away and you get back in at 4 in the morning.  Then you're back at the office really quickly.  So, that's the toughest part but, at home it doesn't matter to me."
On the Impact of the Folsom Field Crowd during Night Games "I don't think there is a difference (between day and night).  There might be but, I don't notice any difference.  When you get out there on the white lines, you hear the crowd and you do all that and you enjoy it but, you're intensely involved in the battle.  The crowd helps and it involved in the game, no doubt about it but, as a coach when you get there, you're watching that and you're intensely involved in that."
On a San Jose State-Boise State Game that was Played at 8 am a Few Years Ago "I wasn't there for that.  (Running backs/ Tight Ends coach) Klayton Adams played in that game for Boise."
On the Theory that USC might Struggle in the Cold Weather "I sure hope (that's right).  I sure hope so.  Once you start playing it doesn't really bother you that much.  It's just going out there and getting ….. One of the things it does: if you're on defense and the offense takes a long drive which is a good thing ……. On a hot day you like it.  On a cold day you're trying to get warmed back up again.  But, I think you just go play. I really do.  You just go play."
On the Running Back Rotation "I like the rotation as it is.  We want to get where one guy is hot and that type of thing but, running backs take a lot of beating and I think if you got more guys involved and more guys ready to play, that it does help you.  If one guy gets a hot hand or we found a formation that fits his strengths and we're able to attack then we will.  I like the ability to have three guys that can go in and be ready.  That helps you if one of them gets nicked up or that type of thing too. So, I think Klayton Adams has been doing a good job with those guys."
On the Successful On-Side Kick in the Second Quarter of the Win over Cal "That was an interesting play.  We tried to kick it as hard as we could and the guy didn't get out of the way.  Usually the guy gets out of the way.  You want it to get down there far enough.  You don't want it to go twenty yards.  Then, K.T. (Tu'uamalo) made an unbelievable play.  We watch film on Sundays and we talk about it and I circled his play and showed it over and over to the team.  We hit the ball, it hit that guy and K.T. is right there.  He goes and just unloads on him.  He juts sacrifices his body and knocks the guy one way, the ball goes the other way and Isaac Archuleta gets it.  I always talk about how your role is extremely important. K.T. plays on special teams for us. He doesn't play a lot on defense so, some people say 'Well, that's not that important.'  'Yeah it was'.  His play helped change the game.
Isaac Archuleta plays on one special teams, really just kickoff.  He recovered the fumble.  He dove in there and got it.  So, that was important.  I had it broken down to the team to show how important it was.  It really was.  So, that was a nerve-wracking play and it was an exciting play.  It was kind of like when you tell a guy who's getting ready to shoot a three-pointer to win the game and you don't want him to shoot.  You're going 'No, no, no, no!'  Then, he hits it and you're going 'Yeah, yeah, yeah.'  It was one of those situations.  Effort was what played out.  Our guys had unbelievable effort.  Effort makes you get lucky sometimes. It really does."
On the Successes of the Special Teams Unit Versus Cal "(Special Teams coach) Toby Neinas does a great job.  We work on all that stuff all the time.  We've actually worked on if it hits the guy and how you have to be prepared for that.  You have to be prepared for that and get in there.  That's not something that just happens.  I will say we haven't worked on Nelson (Spruce) catching it and scoring.  He's always had to get it down but, usually you get it and you have to get down with the way it comes to you.  He caught it going, sort of, out of bounds so he has that option to either hit it out and don't even try to catch it if nobody is there.  So, he caught it and if you saw, nobody was there so he caught it and kind of took off.  The only thing I wish I could have advised him on looking back is: 'Just fall down at the 2 and then we can run more time out, then score and they won't get the ball back.' We've talked about that before with other guys going into the end zone with time.  'If you're up, fall down the run more clock off because time is really more your friend.  Then you can punch it in.'"
On the Up and Down Nature of Special Teams Play "We've had some tough things on special teams and we've had some good things.  That's also growing pains.  But also, the way football is, I think almost every year there is something crazy that goes one way or the other in special teams.  It's just the type of play it is.  They're talking about taking the kickoff and the kickoff return out of football maybe, there has been rumors about that.  I sure hope not because it's such an exciting play in the game.  It's very unique."
On Whether a Victory over USC Would be a Statement Win "I put a stock in every win.  I really do.  Getting this one would be big.  I guess winning this game would mean the stock …. Everybody would stand up.  You'd see it on ESPN over and over.  They'd talk about it.  So, in that aspect it would probably help the program I think nationally again.  I think it would help in the recruiting realm because kids would see it more often.  So, all of that would be …… I think it gives you more exposure and I would say this game would give us more exposure."
On the CU Football Tradition of Dedicating a Brick to Each Big Win "(CU Sports Information Director) David Plati was talking to me about that the other day because I don't know what the criteria is for the brick.  I was looking through there and asking one day 'Why isn't the Oklahoma win they had a few years ago when Oklahoma was #3 in the nation up there?  It's not up there.'  I'm thinking 'What is the criteria for a brick?'  They were #3 in the nation and undefeated at the time.  We were talking about that.  Maybe (Larry Zimmer) and Mark Johnson can give me some pointers on what the brick is.  Seriously, we were talking about that at lunch the other day and trying to figure out what that is because I sure hope there are some brick moments ahead."
On Whether the Win Over Cal Deserves to be Designated as a 'Brick Game' "I don't know whether that would be a brick game or not.  I don't know.  Like I said, they're all brick games for me and I think our players.  But, I think there has got to be a certain criteria for a brick and what that would mean I think.  Because, it's a great wall, it's a traditional wall and it's a special wall."
On the Struggles Versus Upper-Echelon Teams and How This Week's Matchup Might be Different "I talked about it with the staff the other day a little bit.  We've been right in a few of the games and then something crazy happens.  (For example) the Oregon State game with the two balls that bounced ball over the place and the UCLA game where we were right there for a half.  So, there has been a couple different situations where it has just kind of, pulled away from us and then we had a hard time coming back in.  We need to make sure we don't let it pull away with something freaky or something stupid.  So, that's what we're making sure we're trying to keep from happening.  Like I said, we need to play a full 60 minutes.  This football team is good. They're really good."
On Why he Lets First-Year Players Talk to the Media When Other Coaches do not "Dave Plati said Sefo (Liufau) can handle it.  Dave gets to know the kids and hears them and talks to them.  There are some kids that he says 'I don't know if this kid is ready for it or not.'  So, it's kind of on a person by person basis on what we feel like they can handle.  Some kids come to me and say 'Coach, I don't want to talk to the media.'  Then really I've gone ahead and helped them get in a speech class to cut down on them being nervous in that situation.  We've even had help sessions with kids before.  Not here but at other places I've been to.  I think it all depends on the person's personality and their situation."
On Whether he is Worried that a First-Year Player may say the Wrong Thing in an Interview "I hope not.  I think even grown-ups say something every once in a while that hurts themselves or hurts other peoples so, that's just something you have to learn to live with and I think that is probably a good growing experience sometimes. You all don't try to bate us into any questions either so, we're alright on that."
Quarterback Sefo Liufau
On Scouting USC's Defense "They do a lot of base stuff.  Nothing really that we haven't seen at all this year.  Kind of the only difference is that they are a lot more athletic than a lot of the teams in the Pac-12.  We have to go into this weekend being really consistent, like I always say."
On Offensive Success Versus Cal "I think that we just executed the game plan that the coaches gave us.  They gave us a really good game plan throughout the week, we had a really good practice week, and the scout team gave us a really good look at what Cal [Berkeley] was going to do.  When we went out there, I wouldn't say speed-wise was like practice in a sense, but we were really prepared for them, we knew what they were going to do, and we just executed."
On What Has Clicked With CU's Offense "I think it just everyone doing their individual job on each play.  Each person has a job; each player has someone to block, or has to throw, catch, or run the ball.  I think that we are all just putting it together at the right time now and we are all starting to click more as an offense and be more consistent."
On the Feeling Going into the Game Versus Cal "I wouldn't say that I ever know if I am going to have a good game or not.  I just went out there and took what the defense gave me.  My reads were pretty well on Saturday, which just credits my coaching staff and my teammates helping me out throughout the week at practice."
On the Tradition of USC Football "Just a really good football team, that is really fast and physical.  You always are going to have a good game against them because they are always up there at the top competing with everyone."
On What Impresses Him about USC's Defense "Their athleticism. That goes from the defensive linemen, to the defensive backs.  Last week against Stanford, I watched a little bit of that game.  They packed the box and they told their DB's to guard their receivers one-on-one.  They did a really good job last week and that just accredits their athleticism across the board."
On Senior Day "You want to be playing for them each week and for the whole team each week, but it is really special for them next week with it being senior night, so we are going to try and go out there and get them a win.  They deserve it.  They have put in a lot of hard work and time into this program and we just want to give back to them."
On Why This Game Might be Different than the Other Matchups This Year Against Highly-Touted Teams "I believe that this game will be different because we are going to come out with the fire.  We have something to prove.  Obviously we haven't performed as well in the Pac-12 as we would have liked, but this week is another opportunity to come out and perform really well.  Most people probably don't think that we can across the nation, but I know that we can and I think our teammates also know that we can (win)."
On the Team's Confidence Level after the Win over Cal "Obviously every time you get a win you are going to gain some confidence from that, because getting a win can only help the team.  I think that we are just going to come out, treat it like another week, and just get ready to play hard.  It is going to be a physical game and it is going to be a cold game, but we are ready for whatever comes our way, whether it is windy, cold, sunny, etc.  We are just ready to come out here and play a hard game."
On Convincing Wide Receiver Paul Richardson to Return Next Season "I haven't really thought about it yet.  In my opinion, I think that Paul [Richardson] should do whatever he thinks is best for himself and his family.  Obviously we want him to come back because he is a great player, but I haven't thought about it at all this year."
On the Importance of this Saturday's Game Against USC "It is one game at a time.  Like I said before, this game is like the Super Bowl, or like the championship Game.  You have to try and treat each game like that every week because each team in college is really good and if you take anyone lightly, they can easily beat you."
On Wide Receiver Nelson Spruce "He is a very detailed guy and has great techniques.  His route running is under looked by some people.  He is not the fastest guy and is not blowing anyone away with his speed, so he needs to focus on his route running.  I think that helped him a lot last week and he got a lot of yards after a catch, which is a credit to him.  He made the play; I just gave him the ball.  Nelson always knows what he is supposed to do on every play.  It is kind of like a security blanket, he is always there for me.  Obviously I feel like every receiver is, but I feel very comfortable throwing to Spruce."
On the Seniors "You can't really point out any one guy.  Everyone has been a really great role model to me.  Even in the summer when I first got here, I had offensive guys and defensive guys that were all talking to me and encouraging me to go out there and play hard and have fun.  I don't think you can pinpoint one guy because the senior class overall is an amazing class mentor-wise."
Wide Receiver Paul Richardson
On USC's Turn-Around "Usually when I talk to my friends that play for SC, we don't really talk about football very much.  I have talked to the middle linebacker, Hayes.  I have talked to their center, Martin.  They are excited.  They want him to stay there and continue to be the head guy, so that just speaks values in of itself."
On How Much Injuries have Hampered His Play "It impacted my game a lot, but I just can't watch.  It's hard to watch and I just feel like if I'm at 60 or 70%, it is going to help regardless.  I know that I am not hurting myself.  I am monitoring my body and the coaches are monitoring me and they pull the plug when they need to."
On Breaking the School Single-Season Receiving Yardage Record "It was awesome breaking the single season yardage record.  I am only about 280 away from the career yardage record, so that would be fun.  I was very grateful, but it is one of those things that these coaches bring you here for.  In Coach MacIntyre's case, it is one of those things they try and keep you here for: to continually break the records that great players have done before.  If we continue to do those things, it would help us to be more successful."
On What He Has Learned about USC's Defense "How athletic they are; they have guys that play all over the place.  Kind of how Oregon has a very athletic defense, SC has a very athletic defense that is very physical.  I am looking forward to that."
On His Leadership Technique "I think a little bit of both (vocally and by example). Freshman year I had to lead by example because I didn't know how to talk to guys that were 4 or 5 years older than me.  However, the past couple of years I have turned into more of a vocal leader.  I pride myself on being able to lead by example, so I think definitely a little bit of both."
On Fighting Through His Injury "Even some of them have been vocal about it and I appreciate them taking the time to tell me how much they appreciate me play through the injury.  It was just unfortunate that I got hurt, but just to be able to still make some of those explosive plays that give us energy makes it worth playing."
On What He Thinks When He Thinks of USC "I think of their coach, (Ed) Orgeron, who is doing great right now.  I think of the players that are there now like (wide receivers) Marquise Lee, and Nelson Agholor. They have a lot of up and coming talent.  They have a great receiver and a great secondary.  I really think of their whole team; they have a strong team.  They have four or five different running backs that touch the ball. When you have that many weapons it is tough.  I don't think about the past SC, I think about the players that are there now."
On Whether he was a Fan of USC While Growing Up in Los Angeles "I wasn't really a fan of anything growing up. I had a UCLA family for the most part, but I was kind of split between UCLA and USC coming out of high school. I appreciate their rivalry, but USC has always had a great program."
On Why This Saturday's Game will be Different than Most of the Team's Other Pac-12 Matchups This Season "I think that us winning at home and then followed by another home game, we will have a lot of momentum.  We will be heating up that momentum, and the elements will be to our advantage, so we have to make the most of those opportunities. Offensively, we just have to just be able to finishing drives and putting drives together.  We can't just kick field goals and put that on our kickers and special teams to make 50+ yard field goals.  We have to punch the ball in and that is on us.  That is on the playmakers on offense executing."
On the Cold Weather Affecting the USC Players "I think it going to affect them a lot, but I think that they are one of those teams that feed off of energy and attitude, so I think they will be up for the challenge.  I think most of the players on our team that play are from areas that don't get very cold either, so it is going to be tough.  Yeah we have been getting used to it, but we don't ever really play in the below 20's.  The coldest game I have ever played in was probably Utah, two years ago."
On Preferring Day or Night Games "I would rather play earlier, just because you don't want to be at the hotel all day.  I would rather play earlier and get it out of the way, but it is going to be fun.  It is going to be a fun night game.  We are going to have a good crowd.  It's senior day.  We have a lot to play for: we have a 2 game playoff going on right now for ourselves to be able to make ourselves bowl eligible."
On This Year's Senior Class Legacy "Every week, they talk about how much we fight. That is a good legacy for us to have.  I think that they are content with how much we have been fighting.  I appreciate how much our seniors put forth for us, but I just wish we could have been more successful early on for these guys."
On Coming Back for His Senior Year "I haven't given it much thought at all.  Two games left could make a bowl game and then if we get a bowl game, that would be great.  If not, that would be unfortunate.  I still have school left."
On Quarterback Sefo Liufau "I think that he just grows each week.  He is making better decisions each week.   He wouldn't have had a turnover this past week if he didn't get hit in the arm on that one pass, that would have actually been a touchdown.  I just like his growth and maturity.  Watching him mature, helping him, and encouraging him has been awesome.  When he comes down on himself about little things, like a bad throw or a throw that is off the spot, I tell him that once it leaves his hands, it is on us to make the play.  Him understanding that and making him want to put it in the air more leaves opportunities for guys, like Nelson, to have 140 receiving yards."
On Liufau's Poise in the Huddle "For him to be so young, he is a great leader offensively.  Some quarterbacks don't feel comfortable addressing the whole offense, but he addresses everyone: from the seniors on the line to the playmakers on the back end.  He doesn't have a problem addressing anyone and I really appreciate that from him."
On Saturday Possibly Being His Last Game on Folsom Field "I've thought about it a lot, but every week, whether it is the first game of the season freshman year or now, the feeling of playing on Folsom Field is amazing.  Whether we have a small crowd or a big group of people there, it is always fun and exciting.  I get the chills before kickoff and just play through the game off of adrenalin.  I am looking forward to it again."
—
November 18th
Game time set for Utah game
So, unless Colorado can upset USC this Saturday night, the Buffs' season will come to an end around 3:30 p.m., MT, next Saturday.
The Final game of the regular season, Colorado at Utah, will begin at noon, MT, next Saturday, November 30th. The game will be televised by the Pac-12 Networks – the tenth time this season Colorado has been relegated to the conferences network (the only exceptions: the CSU game, which was shown on the Mountain West's contracted network, CBS-SN, and the UCLA game, which was broadcast by FoxSports1.
—
Game time set for USC at Colorado
So, you thought it was chilly for the Cal game …
Colorado will host No. 23 USC this weekend for Senior Day, or, more correctly, Senior Night.
Kickoff is set for 7:30 p.m. this Saturday, with the game to be televised by the Pac-12 Networks.
The current forecast for Saturday night calls for clear skies, with temperatures dropping into the low 30's by kickoff.
—
Colorado a three-touchdown underdog to No. 23 USC
According to vegasinsider.com, the Buffs are a three-touchdown underdog to USC this Saturday.
The line opened at 21.5, and has since moved to 22.5, with the Trojans coming to Boulder on a four-game win streak and hopes of a Pac-12 title showdown against UCLA in two weeks.
Other lines of note …
– Oregon a 19-point favorite on the road against Arizona;
– Stanford a 31.5-point pick over Cal;
– Oregon State a 3.5-point favorite at home against Washington;
– Arizona State a 2.5-point favorite on the road against UCLA;
– Utah at Washington State – no line (perhaps waiting to see if Utah quarterback Travis Wilson is cleared to play);
– Colorado State a seven-point underdog on the road against Utah State;
– The worst line? Florida State a 56-point favorite over Idaho …
—
Injury Update
– Safety Parker Orms and linebacker Woodson Greer were both held out of the Cal game. Orms suffered a neck injury in Friday's practice, and was held out as a precaution. "The coaches didn't think I could protect myself out there", said Orms. Greer, meanwhile, is recovering from a "stinger". Both players are hopeful to be available for USC. Orms, a senior, was pretty adamant about playing in his final game at Folsom Field. "I think I'm going to be out there no matter what", said Orms Saturday night.
– Wide receiver Paul Richardson acknowledged that the ankle he injured late in the Arizona game remains "sore". Richardson is expected to play against USC, in what will likely be his final home game as a Buff.