Colorado Daily – UCLA
November 2nd
CU at No. 17 UCLA … 'It's going to be a big challenge"
From CUBuffs.com … CU plays No. 17 UCLA in the Rose Bowl (5:30 p.m. MDT, Fox Sports 1), with the Bruins happy to be home but probably more than a little chafed following consecutive losses to ranked opponents over the past two weekends. UCLA (5-2, 2-2) lost at No. 12 Stanford 24-10 on Oct. 19, then was smacked 42-14 at No. 2 Oregon last weekend.
Suffice to say the Bruins have a turnaround in mind and probably believe the Buffs (3-4, 0-4) are visiting at a perfect time. MacIntyre doesn't doubt twice-beaten UCLA will be steamed, but he's not convinced that facing an opponent on a healthy winning streak isn't the more formidable task.
"I've always thought that a team that was winning and on a roll, they're always more focused," he said. "They're always on top of everything and they know what's at stake. I think those are more dangerous. Now, they can come out and kill us too or we could kill them. But, I still think teams that get on a roll and they know what their mission is . . . . You have a lesser chance of having a distraction during the week I think with a team like that."
MacIntyre contends his team has remained focused despite four blowout conference losses. The Buffs have played well at times in each of the four, but haven't come close to fitting a full game together. They led Arizona 13-10 last weekend before surrendering a pair of touchdowns in the first half's final 2:28, rallied briefly then wilted in the second half and wound up losing 44-20. Big plays were a big problem: The Buffs allowed the Wildcats a season-high 10 20-plus yard plays, with those 10 averaging an eye-popping 37.3 yards per play.
"The (Arizona) game hurt, but we're still pretty positive," said freshman linebacker Addison Gillam, the conference's leading tackler at 9.4 a game – .3 in front of UCLA linebacker Eric Kendricks (9.1). "We're running and going for the ball . . . we just need to do our assignments better and tackle better."
The urgency to do both comes after Arizona quarterback B.J. Denker punched up 457 yards in total offense – 192 of it on the ground – by himself. If UCLA's coaching staff didn't formulate Saturday's game plan around the running ability of quarterback Brett Hundley, then the Bruins weren't paying attention to Denker's performance.
"It's going to be a big challenge," CU senior defensive tackle Nate Bonsu said of slowing Hundley. "Obviously, Hundley is a pretty good quarterback. He's on prospect boards to go to the league. We played him last year and he played well against us . . . we know we have to be sound in our assignments from watching tapes on Stanford and Oregon, who both did really well against him.
"I think that's going to help a lot. We just have to be sound in our gaps and push the pocket and contain him, which is going to be the hardest thing to do. And he's a great passer, too, so you've got to get pressure on him. We have to make tackles, wrap him up . . . you miss a tackle and a big guy like that gets two or three more yards."
Hundley (6-3, 222) is coming off a pair of sub-par games against a pair of above-average defenses. Stanford limited him to 27 yards rushing and 192 passing, Oregon held him to 72 rushing, 64 passing and intercepted him twice. Still, he's sixth in the Pac-12 in total offense, averaging 297.7 yards a game. He's thrown 14 touchdown passes and run for another four.
MacIntyre said the Cardinal and Ducks defenses "consumed him a little bit," and called both defensive fronts "excellent . . . everybody talks about sacks but it's also passing lanes, harassment, having to sit where you don't really have a clean pocket makes you inaccurate. And we've got to get better at that ourselves."
CU is tied for last in the conference in sacks with Arizona (1.29 a game) and is No. 11 in total defense (475.4 yards a game) and scoring defense (37.1 points a game). UCLA is averaging 36.1 points a game and allowing 22.4 points, both fifth in the league.
The Bruins lead the Pac-12 in third-down conversion percentage (51.9) and are second in stopping opponents on third down (32.7 percent). MacIntyre pointed to outside linebacker Anthony Barr and inside linebacker Myles Jack as primary reasons the  Bruins make third downs so difficult to convert: "They come off the edge and they wreak havoc and they cause problems. Their secondary is very good and they cover close but those two guys wreak a little havoc and make the quarterback a little nervous. To me, that's their key. So, we've got to find a way to neutralize those guys the best we can."
Barr is third in the league in QB sacks (.86 a game) and first in tackles for loss (1.86). Jack, one of a school-record 18 true freshmen who have played this season, averages 6.6 tackles a game.
The Buffs could be without leading rusher Michael Adkins II, who suffered a concussion last weekend. The true freshman's status will be determined on Saturday. Leading receiver Paul Richardson was hobbled by an ankle sprain early in the week but is listed as probable to play against the school that initially signed him.
—
November 1st
Adkins may not play (concussion) … Tony Jones and Donta Abron look to fill the void
From the Daily Camera … It's unlikely Colorado will have its leading rusher when it travels to UCLA this week.
True freshman Michael Adkins II hasn't practiced as he continues to recover from a concussion suffered in last week's loss to Arizona. Adkins' absence means senior Tony Jones and sophomore Donta Abron are likely to see more playing time behind Christian Powell, who has started six of the first seven games.
"I feel confident about those guys," CU running backs and tight ends coach Klayton Adams said. "There are a couple of guys who are getting an opportunity who have haven't had opportunities the last couple weeks. … I have total faith in those guys. They've worked really hard, they've stayed really focused in the weeks they didn't play as much."
Jones and Abron have played in all seven games on offense this season but neither has had a lot of success. They have combined for 55 carries for 205 yards no touchdowns. Jones is responsible for the bulk of that production having rushed 44 times for 183 yards.
Jones was the backup to Rodney Stewart in 2011 and began the 2012 season as the starter, but he was eventually surpassed by Powell, who put together one of the best seasons by a freshman running back in school history last fall.
Jones has been forced to deal with a diminishing role again this season with the emergence of Adkins in the Oregon State game back in September. Powell and Abron, who appeared to be blossoming late last season, also have taken a back seat to Adkins at times.
—
October 31st
Updates on Richardson / Gillam
From CUBuffs.com … The status of wide receiver Paul Richardson and running back Michael Adkins II remains uncertain as the Buffs' prepare for a trip to Pasadena this Saturday to take on No. 17 UCLA.
Richardson, who has been the Buffs' biggest offensive playmaker this season, sprained an ankle in the third quarter of the team's loss to Arizona last week and remains day-to-day. There was at least one promising sign during Wednesday's practice though, as Richardson was out of his protective boot, able to move around and even participate in some non-contact drills for the first time since the injury.
"Paul was doing good today," said coach Mike MacIntyre. "He was moving around and did good in the drills so hopefully he'll be able to practice some more tomorrow. I think he's a go for Saturday but I'm not positive at this point. We'll see how he does. Hopefully it doesn't swell up tonight but I wouldn't think so."
Richardson also seemed optimistic that he will be able to play this Saturday. And the fact that the game will be played in his hometown gives him an added incentive to try to play.
"Yeah, I mean it's always good to go home and see your family and play in front of your family, play against kids I was recruited (by UCLA) with," said Richardson. "It'll be fun to play. I would like to be (ready), but I can't make any decisions. I want to."
Meanwhile, Adkins' status remains in serious doubt after suffering a concussion late in Saturday's loss. For precautionary reasons, players with concussion-like symptoms require the completion of a series of medical tests before a player can be cleared to return to football activities. Adkins hasn't practiced since the setback and will need that final clearance from team doctors before he can return.
"I'm not sure yet on Adkins," said MacIntyre. "He has some more tests this afternoon. We do allow players to play even if they don't practice during the week so there's some hope there. I changed that a few years ago with all the concussion stuff because he could get cleared and ready to go. It's just the way it is because it's out of our hands completely, which it should be. I don't want to punish a kid or punish a team because the guy didn't practice. It wasn't like he wasn't trying to be out there."
—
Buff Notes
From CUBuffs.com … The Buffs practiced indoors for the second consecutive day. "We can get in all the work (inside) it's just a little tight," said MacIntyre. "We work it out to where if we're throwing deep balls we can move to one end or the other. Just a little bit more logistics (involved), that's all." . . . . UCLA is tied for the conference lead in blocked kicks with three and MacIntyre has made that a point of emphasis during practice this week. "They're rushing (the kicker) good," he said. "They've had some good schemes that they do and up front they've had some good push on some field goals. So, that was good for them. I think they blocked a couple in one game so it's something to think about." MacIntyre believes his team may be able to avoid some of those potential blocked kicks thanks to the talents of a punter like the multi-faceted Darragh O'Neill. O'Neill makes it harder for opposing teams to block his kicks because he is so skilled in executing rugby-style punts and can move around so well. O'Neill hasn't had a punt blocked since early in his freshman season . . . . The Buffs will practice again on Thursday morning before heading to Los Angeles on Friday morning. Saturday's kickoff is at 5:30 p.m. MDT (Fox Sports One).
—
October 30th
Pink Ralphie helmet auction / Sal Aunese film donations
Get out your checkbook ….
1) If you would like to bid for a CU helmet with a pink Ralphie, you can do so here …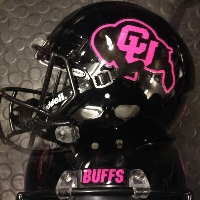 2) Or if you would like to help finance the Sal Aunese movie, "Born to Lead: The Sal Aunese Story", kickstarter is looking for donations.
You can contribute, or at least watch the trailer to the film (great video!) here.
—
Paul Richardson … "I'm playing!"
Not up for speculation any longer, at least as far as Paul Richardson is concerned. The junior wide receiver suffered an ankle sprain late against Arizona, and has been listed as "day-to-day" by the athletic department.
But Richardson seems ready to go. He has sent out the following tweets this morning … "I got rid of the leg boot because I couldn't play football in that thang! Time for practice!" … followed by … "No more boot! I'm playing!".
So the Buffs have Richardson going for them … which is nice.
—
October 29th
Injury update
From CUBuffs.com …
TB – Michael Adkins II – concussion – suffered in the fourth quarter against Arizona (Oct. 26 ) – DAY-TO-DAY
OL – Brad Cotner – ankle – suffered a sprain against Charleston Southern (Oct. 19), could have played if needed versus Arizona – PROBABLE
TB – Josh Ford – ankle – suffered a high ankle sprain (Aug. 11), underwent surgery (Aug. 19), practicing on limited basis – OUT/1-2 WEEKS
FB – Clay Jones – neck – suffered a neck sprain against Central Arkansas (Sept. 7) – OUT/1-2 WEEKS
WR – Paul Richardson – ankle – suffered a sprain in the second half against Arizona (Oct. 26) – DAY-TO-DAY*
TE – Alex Wood – concussion – suffered against Arizona State (Oct. 12); missed Charleston & Arizona, but cleared for UCLA – PROBABLE
* – Mike MacIntyre quote (below) … On Paul Richardson's Injury Status – "Paul didn't go today.  From everything Miguel tells me, he's feeling a lot better than he was yesterday and I talked to him and he said 'I'm feeling a lot better than I was yesterday.'  He's a skinny little guy so a little ankle does hurt him a little bit. I know he wants to play Saturday at UCLA in the Rose Bowl back at home.  So, hopefully he'll be able to go because we definitely need him.  It's definitely still day-to-day."
* – Sefo Liufau quote (below) … On Paul Richardson's Status – "I haven't talked to him yet.  He's fine.  He's walking around right now.  I think he just took a day off today to rest up his ankle but, he should be fine for the game."
Out for the season:
PK – Justin Castor – hip – suffered an avulsion (severe flexor strain on Aug. 21) that required surgery – OUT/SEASON
OL – Jeromy Irwin – foot – suffered a broken bone in his foot doing yard work at a friend's house (July 30) – SET TO REDSHIRT
DB – Josh Moten – Achilles – suffered initially in late May, was rehabbing and recently reinjured it a second time (late July) – OUT/SEASON
OT – Marc Mustoe – lower leg – suffered a fractured fibula against Charleston Southern (Oct. 19); surgery this Thursday (Oct. 24) – OUT/SEASON
OLB – Tommy Papilion – knee – suffered a torn ACL in the spring game (Apr. 13); he has elected to be a student coach – OUT/SEASON
S – Terrel Smith – shoulder – underwent surgery on Sept. 5 to mend a chronic injury and is redshirting – OUT/SEASON
—
Tuesday Press Conference quotes
From CUBuffs.com … Coach Mike MacIntyre:
General / Opening Statement "The game the other night was a tough game for us.  All of our players, coaches …… all of us were really down and frustrated after the game.  So, I go up after the game is over and do media thing, take a shower ….. There's nobody there so I walk upstairs and my boys and daughter and wife and everybody is sitting up there.  When I get up there my brother-in-law has a pink shirt on and I look at him and I realize his sister died of cancer four years ago.   Then I walk out the door and I walk by three other people that have pink shirts on.  I get home and I get some phone calls from some people talking about how they liked the helmets we wore and honoring and about their father or their brother or their sister.  All of a sudden I said 'Wow, you can get frustrated but you've got to realize really, really, really what's important in life.'  Definitely a football game is important to us there's no doubt about it but, you have to put everything in perspective.  Got up the next morning and went to church.  Then came back and then Monday I walk in the office and 'bang', one of my players grandmother died and he's got to go to a funeral this Friday.  Another one of my players who is going through some issues comes by and sees me.  One of my employees has someone in their family where the cancer has come back and it doesn't look good.  Bang after bang after bang …… it just puts everything into perspective and that we do what we do as hard as we can but the thing is it's the relationships we build every day with these young people and the people we work with.  And if we just keep being positive, keep pushing, keep everything in the right perspective and not let our emotions take control sometimes then everything will work out and we'll be successful.
A lot of success is measured daily.  Of course everybody sees that success on the field, which it wasn't successful the other night, but there was a lot of success when I went back and watched the film.  We had one young man, Parker Orms, who made 13 tackles and he missed two.  Two of them went for a total of 125 yards or almost 100 yards.  But, he gave all he had.  He hit him and another guy should have been overlapping but he had 13 tackles and he played his absolute heart out and had tears in his eyes.  That's kind of what I've been frustrated about.  We've been fighting so hard and we had a really good practice today.  I gave them Sunday night off as far as practice.  We watched film for an hour and a half.  We watched the entire game.  We watched UCLA for another 45 minutes then we lifted weights.  And we had a lot of guys beat up and we played late.  We played five in a row now we've got a long travel game then we've got as long travel game after that one.  But I thought they came today fresh and refreshed.  Sometimes you've got to kind of let off the pedal to let the smoke clear and then you can put the pedal back down.  I thought they did a great job out there today.  They were flying around and asking questions and getting after it.  So, their effort was good and we just have to, all of us coaches and players, just do a better job and it will eventually happen."
On Keeping Things in Perspective After a Loss "I always have perspective but emotions and the fight when you walk in the locker room and you see guys hurting and you know hard the assistant coaches have worked from six in the morning to 11 at night and they've been away from their families.  Then, you're right there and you just don't get it done.  And you're kind of like 'Ahhhh'.  You don't know what to do at that time.  That's kind of the way I felt there for a few minutes."
On Having Patience in Attempting to Turn the Program's Fortunes Around "Patience is a good word.  You can ask my wife and she'll tell you that I'm probably not that patient.  But, I'll use the word perseverance I really do.  Because you have to keep pushing and you have to keep walking and you have to keep being patient.  But you have to keep making change, you have to keep structuring, you have to keep pushing people and you have to keep leading.  You can't just sit back.  So, you're moving chips and you're moving things and you're working.  You asked me 'what can we do on defense?'  Well, I was already thinking.   We've made some moves we've done some things. We've tried to change a few schemes a little bit.  Honestly, we've done some things that if you sat down and watched the film with me you'd think I was crazy but we were every spot except one time.  And the one time, we made a correction at halftime to stop it and they ran that play the second play of the second half but we didn't do the correction we had worked on.  But, they're young guys.  Then rest of them, we were right there we just didn't make the play.  That quarterback— he hit the guy an inch from the sidelines like three times and we were all over him.  The long touchdown pass—we covered that guy better than they covered our guy earlier.  So they made some plays and we'll eventually make those plays.  We'll be in our system.  We'll be doing it more and more and I sure would like to make them Saturday.  I know the kids do too and they're working hard to do it."
On Paul Richardson's Injury Status "Paul didn't go today.  From everything Miguel tells me, he's feeling a lot better than he was yesterday and I talked to him and he said 'I'm feeling a lot better than I was yesterday.'  He's a skinny little guy so a little ankle does hurt him a little bit. I know he wants to play Saturday at UCLA in the Rose Bowl back at home.  So, hopefully he'll be able to go because we definitely need him.  It's definitely still day-to-day."
On Michael Adkins' Injury Status "Adkins is day-to-day also.  He'll get retested again this afternoon to see how …. The concussion situation is not one where you can say 'Go gut it out.'  It's going to be what the doctors say.  If (Adkins) can go full-speed I know he'll go."
On Sefo Liufau's Maturity "He's very mature.  He can handle anything thrown at him.  He came off the sidelines after the play where we went for it on fourth down and goes 'Coach, I think I had him but I wasn't sure.'  He kept it a lot.  Next time we'll all be on the same page.  We'll keep working at it.  He's a phenomenal young man.  We have a lot of phenomenal young men.  I just think for an 18-year old guy he's pretty …. A little bit ahead of his time so to speak."
On Derrick Webb's Limited Role Last Week "He's handled it very well.  As a matter of fact I talked to him, Connor (Wood) , and Paul Vigo Wednesday in a team meeting.  We stood those three up and said 'Their roles have changed and but they have the same attitude, and the same work ethic.'  Derrick got back in the game and practiced a little bit with the first string this week.  It was just the way we felt it would fit and work out the best.  You watch him on kickoff coverage and punt coverage, he was the first guy down there.  He was hustling.  He was busting his butt.  That's what you expect and that's the kind of guy Derrick is."
On Webb as a Team Leader and Captain "He's been a good leader.  He really has been a good leader.  It's been fun kind of watching him mature in that stage and working with him with it.  This week was a big test for him and I thought he passed it with flying colors."
On Arizona's Offensive Schemes "They were in what you would call 10 and a half personnel.  They had a wide receiver that could play tight end in number 18 (Terrence Miller).  So, they would go from a spread look to a one tight end type look.  So, we had to be kind of musical chairs with them.  For the most part we lined up well and we played hard we just didn't make some plays we needed to make.  I thought we made a lot of open field tackles but, we also missed a few.  We've got to find a way to get those guys down mainly the quarterback.  He had a really, really good game.  And we need one of those quarterbacks that we play pretty soon to have a bad game against us.  Maybe we need to cause that a little better but sometimes I watch them on film and they're wide open but people don't even get near them.  So, hopefully that will start happening some."
On Linebacker Woodson Greer "Well, Woodson played really well the week before and Woodson is doing good.  Woodson's a little bit faster in the open field a little bit.  Derrick (Webb) is straight line fast.  We switched them off.  We'll alternate them this week and alternate them in practice and see who does …… We'll probably play both of them because they both play special teams too so they won't wear each other out.  So, you'll see both of them in the game at different times.  And if the team goes 21 or 22, and I don't even know if schools that do that even exist anymore, you'll see them both on the field."
On Greer's Development in the Last Year "I'll tell you what Woodson's done.  When we got here he was going to flunk out of school.  If he had a bad semester he was done.  And he had a great spring semester.  He had a great summer.  He's got three B's and an A right now.  He's doing everything we ask of him on the football field.  He's kind of just decided to grow up.  And he's a really good athlete and he's made a lot of plays for us.  The other night he made some good ones and he would probably tell you he didn't make so many other good ones too.  But I think those two guys together (he and Derrick Webb), could be a really good player for us because they both play on special teams and they both play kind of our nickel, will backer where you have to make a lot of plays in space.  That's just the way the game has changed."
On How Fun it is to See a Player Like Greer's Development Before Your Eyes "It's a lot of fun. (Defensive Coordinator) Coach (Kent) Baer has done a good job with him.  It's funny …… I saw his mom and dad when after we beat Colorado State.  They came up to me in the parking lot when we were getting on the bus and said 'Coach?' and I said 'Yes' and they said 'You just keep kicking his butt.  You just keep kicking his butt.  Keep him in line.'  And he was grinning from ear to ear.  I think it was exciting for them too because they knew he was about to not make it and then, he's turned the corner.  He's going to be very successful not only in football but in life.  He's always got a great smile and a great personality.  And he understands that you can't procrastinate on everything in school.  He understands that and he's doing really, really well."
On Samson Kafovalu Returning to the Field for the First Time in More Than a Month "He has to come by and see me every day.  And we talk every day.  Those are neat moments, they really are for me.  He's turning a corner and I hope he keeps turning a corner.  He did some good things the other night and he'll get some more playing time this week.  I just love his energy he brings.  I mean, like in practice today if you watched he was jumping around.  If somebody makes a big play he's whooping and hollering.  He just has a lot of energy and I enjoy having that out there."
On the Persona of a Dangerous Team "I think there's a two-edged sword there but I've always thought that a team that was winning and on a roll, they're always more focused.  They're always on top of everything and they know what's at stake.  I think those are more dangerous.  Now, they can come out and kill us too or we could kill them.  But, I still think teams that get on a roll and they know what their mission is …. You have a lesser chance of having a distraction during the week I think with a team like that."
On Whether the Last Two UCLA Opponents Have Exposed Quarterback Brett Hundley's Weaknesses "They consumed him a little bit, Stanford and Oregon.  Oregon and Stanford's front is excellent.  I mean, I think Stanford sacked Oregon State nine times the other day.  And Oregon just brings them in in waves.  One 6'6", 280 guy for another 6'6", 280 guy.  I think that distracted …. I think his running lanes and I think his passing …. Everybody talks about sacks but it's also passing lanes, harassment, having to sit where you don't really have a clean pocket makes you inaccurate.  And we've got to get better at that ourselves."
On UCLA's Third-Down Defense "One of the reasons is there's a guy named Anthony Barr and there's another guy number 30 (Myles Jack).  He's a freshman.  They come off the edge and they wreak havoc and they cause problems.  Their secondary is very good and they cover close but those two guys wreak a little havoc and make the quarterback a little nervous.  To me, that's their key.  So, we've got to find a way to neutralize those guys the best we can."
On Managing the Team's Psyche after a Loss "I really think we're a together team.  I really think they're trying hard.  I really think they're playing hard.  We've just got to play a little better.  We've got to do a few more things.  I know that sounds simplistic but I don't see fractions and I don't see people pointing fingers at each other.  I don't see guys not coming to work.  I don't see guys not going to class.  I see all of the things that you would see a good football team maturing doing.  Now, it takes a process to get it done against good teams and really good football teams.  It's another bowl team we played.  We're going to play another bowl team that was ranked eighth in the country ten days ago.  They were tenth in the country eight days ago, nine days ago. So, we're playing really good football teams so we have to keep getting better as people, getting better as players, getting better as athletes, better coaching, we've got to all move it forward.  I think we're all going that way.  We'll see what happens tomorrow though, but I think we're going that way.  I really do."
On Whether the Rebuilding Project Now Seems Tougher Than When He Was Hired "No, I don't.  I do think that the Pac-12, from when we played some Pac-12 teams at San Jose State a couple years ago …… I think we should have beat UCLA two years ago.  We were 17-17, going in to score at the three yard line and my first-string quarterback went down, my second-string quarterback went down.  I put my third-string in and then we messed it up and all of a sudden they made a long drive and make a fourth down and barely beat us at the end of the game.  We should have beat Stanford last year.  But I think in the league, all those young quarterbacks have matured.  All those young players have matured. I think it's kind of at a good peak right now in the upper echelon teams.  My hope and my plan is those guys will ease out and my guys will keep growing and getting better and we'll be there.  And that's usually what happens.  It goes in cycles.  So, it better happen that way."
On Signs of Improvement "I do see this team getting better.  I really do.  I see our effort, and I see the things we're trying to do.  One of our goals going into the other night was to hold (Arizona Running Back) Ka'Deem Carey down.  We did.  One of our goals was to stop the quarterback.  We didn't.  We got one of the two.  At least we didn't get zero or 0-2.  I'm being serious.  Yeah, we have to do some things better and all of that.  I thought we tried to execute what we wanted to do, we just have to be better at it and coach a little better.  Offensively, I thought we did some good things.  We need to keep trying to be consistent.  The crazy thing about today's football is if you didn't score 35 or 40 points you didn't have a good night on offense.  And that used to be the exception.  It used to be score 20 or 24 and don't turn the ball over and you'll win the football game.  It's not that way anymore right now.  I don't think.  So, that's something that we have to keep working on and I think we're getting there.  The scoreboard is the final telltale sign, I understand that.  But, I try to look at everything else and that's not a ….. There's sometimes when we've won some games where I've said 'Shoot, we didn't do that as well as we did last week but we won the game.  And so I think you see those type of things."
On the Frustration of Seeing an Improving Team that is Still Waiting to Get Over the Hump in the Pac-12 "You want them to taste that carrot.  You want them to drink that sweet wine so to speak and understand what that feels like.  I honestly hurt for them and for my coaches.  I mean, I really honestly do.  You see their blood, their sweat, their tears, and their heartache.  You want them to taste that.  You want to see that big smile and that satisfaction in their eyes and when you don't see it, it bothers you."
On Stephane Nembot's Impact "Well, he speaks six languages.  That helps him some.  His story, all the kids in the room know his story.  He's very, very attentive to detail.  It might not be one of the things you were trying to ask but, in our meetings he'll ask a lot of questions because it's all so new to him.  But, he doesn't care, which is a great, great quality, as far as he's a great person but he doesn't care what other people think of him as far as asking a question.  Sometimes college kids don't want to ask that because they think they'll think 'I don't know what I'm doing.'  Or 'I'm not smart.'  He doesn't care.  He goes and asks.  He wants to learn.  He has a great thirst for knowledge.  He has a great thirst for being successful.  He wants to graduate.  He wants to be a pro-football player not because that's what he wants to do but, he wants to help where he came from.  He has an inner drive to be able to take that money and go use it for something bigger than himself and I think that's where he kind of separates himself.
It's really a neat and noble ….. It's something that's going to drive to be very successful and that's what he lives for every single day.  He has to send a lot of his money back home.  Sometimes he struggles to eat exactly, correctly …… So, he has our snacks and our one meal a week so we try to make sure he always hits those meals.  You don't learn those things until you get around him.  You say 'Hey, why haven't you been eating?'  'Well, coach I have been sending money home. They didn't have any.'  I'm like 'Well, what are you going to do?'  So, neat things like that and sacrifices like that that you don't think about that a college student has to make to achieve the goals he wants to achieve.  It's a lot of sacrifice.  I'm very proud of Stephane Nembot."
On Liufau's Performance "I thought Sefo (Liufau) did some very good things.   I really did.  I talked to him right after the game, 'Well, coach I missed this one and I missed that one.'  So, I don't have to tell him.  He's go out and works at it.  He's up there at night. He's there early in the mornings.  He makes great grades but he is studying film.  He reminds me so much, when I was at Ole Miss, of Eli (Manning) when he was young.  The guy would be up there at 9 or 10 o'clock at night watching tape and working on things and doing things.  He'd finish his paper and he'd come back and do it.  He'd be there in the morning. He'd pull me over, I was a receiver coach, 'Hey coach, what about this?'  He has that same type of intelligence, that same type of humbleness, that same type of work ethic.  Really, that's what I've noticed here in the last two weeks."
On Whether Liufau's Mistakes are just a Result of Inexperience "Yes they are.  It's timing and it's doing it.  It's having more pressure on you.  You get used to that pressure and the height and stepping and throwing into the window.  You hear it all of the time in the NFL and in college all the time too—the windows.   The window might be 'I'm supposed to throw that curl but there's a guy standing right there but the guy's open.  I have to throw side-step, I have to throw side-arm.  I can't just …. So, all of those type of things he is starting to do more and more of those type of throws and he's a good enough athlete to do them.  And he'll be more and more accurate because he's accurate in practice.  That's a nice window.  Now, it kind of gets a little bit more clogged up …. And I've seen him be able to do that a couple of times since his first game playing until now."
On Liufau's Mobility "He is good at rolling out.  That's a very good observation.  On his high school team he had to roll out a lot because of what they did.  He's a great basketball player so on the move-type things don't bother him.  Those are things that we'll keep developing in our …… as we start seeing how accurate he is, we're starting to add a few more of those into our package and kind of start fitting it to the player a little bit.  And he's so sharp that he'll start making suggestions.  'Coach, what about this and what about that?'  'Ok, good idea.  Are you comfortable with that?'  Him and coach (Brian) Lindgren have a good relationship on that part so I think you'll keep seeing different strengths of his keep developing and we'll keep utilizing them and he'll start interjecting them more and more."
On Whether the Strength and Conditioning Program Has Been One of the Main Reasons the Team Has Been Able to Stay Healthy "I think we do a good job there.  We're so much in the primitive stages of it though.  So, I think that we have helped ourselves there.  We've got a long way to go.  Coach Dave Forman and the guys have done a good job with them.  I do think our running, our conditioning and our agility-type work has helped us in the pulled muscles, movement area.  I think our lower body strength that we've been working on is improved but we're a long way from where we need to be.  I think it has helped us.  People might say 'Well, sometimes it's by the luck of the draw on knees because it's how the pile falls on you and there's nothing you can do there.'  But, I do think it has helped us and I do think we're doing stuff with glycogen counts to help our bodies come back and I think that's helped us.  I think that's given us a lot of energy on game day because I do think our kids have played with energy and fire and passion.  We just need to execute a few things better and coach a few things better."
On Offensive Line's Resiliency "They are tough, hard-nosed guys and we're ……. Coach (Gary) Bernardi does a good job with them.  The offensive line's job is not to read their name in the paper.  It's to read their wide receiver's name in the paper or their running back's name in the paper, or their quarterback's name in the paper.  And I think this group gets that.  I've been really proud of how, I think, they've improved.  They're going to have a tough test Saturday with the pass rush ability of the team we're about to play.  But, I thought they did a good job the other night and I definitely think they're improving."
On the Possibility of Liufau Developing into a Top-Notch Leader "I think he already is a leader as far as how he handles himself off the field and in the classroom.  I watch him every once in a while and he'll go up to somebody and give them an encouraging word without any reason to do it.  But, he's also one of those types that if they're not lined up right or not running it right, he'll say 'You've got to run it like this' or 'You've got to do it like this.'  So, he has enough authority to him to be able to do that. And he does it in a good way.  I think that he'll keep developing that and after he has a couple of big games in the Pac-12, that will help it even more."
Quarterback Sefo Liufau
On His Performance "I need to make plays, kind of bottom line there.  I missed a couple throws and a key read which could have easily turned into two touchdowns and could have helped the team turn the tide of the game."
On Those Two Missed Reads "There was one specifically to (Wide Receiver) D.D. Goodson going towards the U-shaped end of the stadium in the second quarter.  I think I over-threw him by a yard or two.  And a missed read to (Wide Receiver) Keenan Canty in the fourth quarter that could've been another touchdown but instead I threw a pick."
On Team's Overall Performance "I think that in the first half we played really well.  It's just frustrating I guess to say because we know what we're capable of and we just missed a play here and a play there.  The consistency isn't there and that goes back to putting it on myself and making plays and putting the guys in the right spots.  I messed up a couple times that most people won't see, many people won't see except for the coaching staff and the players.  So, it just comes back to consistency because we know that we can compete.  As everyone saw, we competed in the first two quarters.  Next week is another opportunity we get against UCLA."
On Personal Development as a College Quarterback "I learned that I'm harder on myself than I was in high school.  I think I demand more perfection of myself, which obviously perfection is not attainable but you always want to strive to do your best.  I think that I have more confidence now in making plays and making throws than I did in the beginning of the season."
On Leadership Role as a Quarterback "Everyone is different.  Not everyone is going to have the same mentality.  Obviously, you want everyone to strive to be the best they can be.  I'm not asking everyone to be a perfectionist.  I'm just asking them to go out there ….. As coach said this week, we each have our three by three box and if we each take care of our job within each play then the whole picture will come into place so I'm not asking anyone to do anything extraordinary or anything.  I just want everyone to do their job to the best of their ability.  Just being a quarterback though, you kind of have to worry about everyone's position and everyone's job and making sure everyone is in the right spot.  So, you kind of have more control and you have to be in more control so, I put that more on myself."
On Paul Richardson's Status "I haven't talked to him yet.  He's fine.  He's walking around right now.  I think he just took a day off today to rest up his ankle but, he should be fine for the game."
On Stephane Nembot "It was interesting I guess because he just walks up to me and he just towers over me.  I'm taller than most kids but, Stephane is not only big but he is also 300 pounds of muscle.  So, he's a freak of nature.  He's a big teddy bear off the field and he's a really nice guy.  He's a great team player.  Most people, you'd love to get to know Stephane because he's a great guy."
On 75-yard Touchdown Pass to Richardson "It felt good because I got to sit in the pocket for a little bit so he could get to the corner, turn his hips and run.  But, once I threw it he caught the ball and ran for the touchdown.  It was pretty exciting especially being down seven and tying the game up.  It was really a key point in the game."
On How the Richardson Touchdown Developed "I saw it on the field.  You won't always be able to see it on a specific play.  It was just a one man route with everyone else blocking.  It was a choice route where he could do one thing or the other.  And Paul went up top and I just put it out there for him and he put in a second gear and he went and got it."
On Staying Focused "Each week we're working very hard.  It's just not happening right now.  We just have to put our head back down and keep working.  Obviously, you don't like losing but it's in the past now and you can't dwell on the past.  We have to get ready for UCLA."
On UCLA "Number 11 (Anthony Barr) is a great player, a great pass rusher.  Their whole defense is sound.  I think they're a little bit younger but they all play well in the secondary.  Their front seven is very strong and very active."
On Support from Backup Quarterback Connor Wood "He's helped me a lot on my reads and kinds of leadership things.  And on when times get tough on how to stay in the pocket, how to keep calm when things are going crazy and plays aren't going your way.  Also, (He's taught me) how to handle the game mainly."
On Grading His Performance as a Starting Quarterback over the Last Three Weeks "I'd say it's been up and down for myself.  The Arizona State game, obviously, we had too many turnovers.  Charleston Southern we came back and I believe I managed the game well that week.  This past week, I believe I missed some throws but other than that, slowly and progressively getting better each week.  (I've been) managing the game and seeing things and working with the team."
On Playing in the Rose Bowl "Honestly, I don't really think about the importance of stadiums yet I guess.  To be honest, I don't think it's hit me that I'm even a Pac-12 quarterback. I'm just out here enjoying the game and playing with my team and all my brothers.  I think it's really just a fun experience for me and I'm just trying to stay level-headed and stay grounded and help lead the team."
On Whether Family Will Attend the Game "Yes. My mom, my dad, my sister, and my grandmother are coming down.  It's going to be great."
On Reaction Around Campus "Everyone has been very supportive of the team, saying 'Great game.'  And 'Great game to you and your guys.'  They're saying they'll come out next week and support us again which is really encouraging.  We need the support of our student body.  Our teammates, coaches, coaching staff, everyone (does)."
On Increased Recognition "I'd say yes but then again I'm usually at Dal Ward doing football stuff and stuff with school so, I'm not relay around my room or campus besides for class."
Safety Jered Bell
On UCLA Quarterback Brett Hundley "They are a good team and have a great quarterback.  We have to find ways to stop him, be fundamentally sound and do whatever the coaches ask from us."
On UCLA's Strengths "They pass the ball, they do a lot of flare screens with the backs, and find ways to get open."
On The Defensive Strategy "We have to trust our teammates.  We have to be responsible for our job and our job only.  Don't do too much, just do what the coaches ask from us."
On The Frustration After Last Week's Game "Yes, we were frustrated after the game, but in this game you have to move on and move forward.  We have to just focus on this week so we don't let something like that happen again.  We are keeping our heads up and our spirits high.  We know what we have to do and we know to focusing on the task at hand."
On His High School Coach "My high school coach got on us.  Losing wasn't acceptable; it wasn't a part of us."
On What It's Like to Have a Different Kind of Coach Now "I mean, he does do that sometimes.  When he needs to he can be intense, very intense.  He knows that we are out there giving a lot of effort and we're trying.  Unfortunately, the results don't show on the field, but we are still doing our jobs and giving our best efforts."
On His Enjoyment Level This Year Compared to Previous Years "Yeah, I can say that [this year has been the most fun].  I am doing well on the field.  I have great teammates.  The coaching staff is amazing, so I am enjoying every bit of it."
On Improving at Safety "I am just doing what the coaches ask of me.  My knee feels better and I am getting more comfortable out there.  I am learning the scheme."
On Not Feeling Discouraged "That is what we signed up for.  We go out there and we want to compete against the best, we want to go out there and play, and we are having fun doing so.  You have to just step up to the plate and accept the challenge week in and week out."
On Whether the Team's Freshmen are Ready to Play in a Tough Setting the Rose Bowl "They are ready.  It's a big stadium. I think they are mentally tough enough, so we are going to get focused and move on past the scenery, get ready for the game, and only focus on that."
On Playing in the Rose Bowl "Originally I am from Pasadena.  Both sides of my family are from Pasadena, so it's fun for me.  I've been there a bunch of times, so I am pretty comfortable there.  I have never played there; the year we went there I tore my ACL."
On Being Among the Conference Leaders in Interceptions "It feels good, but I still have a lot of work to do.  The people out there playing week in and week out getting interceptions, so I have to catch them and pass them.  It's not going to be easy, but I feel like I can do it."
On Whether He and Teammate Greg Henderson Engage in a Friendly Competition for the Team Lead in Interceptions "Oh yeah.  Every week we have a little competition and little bets going.  It's good to have healthy competition within your team."
On The [Defensive] Team's Trust "We are starting to trust one another when we are making plays out there.  It is going to come a time.  We are heading in the right direction.  I feel like we are doing well in that area."
On His Approach to Dual-Threat Quarterbacks "Just being fundamentally sound and doing your job and not trying to do too much.  Everybody has a responsibility and if everybody does it right then we can stop them.  Yes, definitely.  [That is what it is all about]. If one person messes up, then it is going to affect the whole team and it can result in a big play, as we saw last week."
On The New Scheme "New schemes have a thing to do with it, but we are far enough into the season where we know what we are supposed to do. It comes down to missed tackles too.  We miss tackles a lot last week and that really hurt us in the end."
On Defensive Coordinator Kent Baer "Yeah, I like Coach Baer.  I am used to that type of coaching style, so I came in and at first he can be kind of scary, but he is a great guy and I love playing for him."
On The Verbal Communication in the Secondary "It's important because all our jobs are on the line and if one person messes up, it's going to cost us.  It's very important for me and Parker [Orms] to get the calls all the way across the board.  [On it being clear so far]–No, we have struggled a little bit, there is no denying that.  We have given up touchdowns with it, but we are working on it and getting better at it, so it is coming along."
On Feeling Tired of Losing "I mean yeah, nobody likes to lose.  We are not playing this game to go out there and lose.  We are still giving it our all, but unfortunately it's just the way it going right now.  We are not going to stop.  We will keep fighting and eventually it will go our way."
On Seeing Improvement and No Results "Yeah, it can be frustrating.  At the same time though, it has given us hope.  We are not giving up.  We still have a lot of games to go, so by any means we are not going to give up."
—
UCLA offensive line still hurting – started three freshmen against Oregon
From Insidesocal.com … Wrecked by injuries, UCLA started three true freshmen on its offensive line in a 42-14 loss at Oregon.
Reinforcements are working back. Sophomore Simon Goines (knee) and Conor McDermott (shoulder) both practiced Tuesday, albeit without pads. Goines, who started at right tackle before moving to left, was still limping and had his right knee wrapped.
(Starting left tackle Torian White's season ended on Oct. 3 when he broke a bone and tore a ligament near his ankle.)
"They develop a sense of urgency to get back," head coach Jim Mora said. "I feel that with a lot of guys. You look at our injury report and it's pretty vast. You see a bunch of guys that want to get back out here and do whatever they can, whatever they can."
Linebacker Eric Kendricks, who played through a back bruise with the help of an anesthetic shot on Saturday, was at practice without pads. He is also recovering from a mild AC sprain he sustained at Oregon, as well as a sore ankle. Mora was hopeful the junior would go full speed in a red jersey later this week.
"When he was leaving that game on Saturday, he was sobbing like a baby," Mora said. "It hurt him so bad not to be out there with his team. You want that passion in all of your players. … It resonates with everybody else. It's going to be hard to keep him off the field."
A number of other Bruins are also recovering from various ails. Starting running back Jordon James, who has missed three games with an ankle injury, left halfway through practice. He was in full pads and was not limping. Sophomore running back and kick returner Steve Manfro (ankle) was not present.
Sophomore defensive lineman Ellis McCarthy (knees) was at practice. Cornerback Marcus Rios and Y-receiver Darius Bell both wore non-contact red jerseys. Rios is still regaining weight after a life-threatening fungus infection.
October 28th
Colorado a 27-point underdog to UCLA
According to vegasinsider.com, Colorado should lose to UCLA by four touchdowns this Saturday night (6:00 p.m., MT, Fox-Sports). The line is currently 27 points, up from 24 points at the opening.
For those interested in such things, there are only two games involving BCS teams with a higher spread this weekend … Ohio State (-31) over Purdue, and Texas (-28) over Kansas.
Not that it means anything, but I thought it was interesting that Florida State is a 21-point favorite over Miami. How long do you think it has been since an undefeated, 7th-ranked team in the nation was a three-touchdown underdog in November?
—
UCLA quarterback Brett Hundley coming off of worst game of his career
From the Los Angeles Daily News … Brett Hundley isn't himself.
Since throwing 12 touchdowns against four picks in his first five games, the UCLA quarterback's performance has spiraled downward. Against Stanford and Oregon, currently ranked No. 6 and 2 in the Associated Press poll, the redshirt sophomore mustered just two combined touchdown throws. His interception count is up to eight, third-worst in the conference.
His showing in Saturday's 42-14 loss to the Ducks was arguably the worst of his career; he passed for 64 yards on 19 attempts.
Asked if Hundley's confidence is shaken, head coach Jim Mora didn't disagree.
"I'm not going to dance around it," Mora said Sunday. "I do (worry). When you absorb the offensive line losses that we've absorbed, and you're a quarterback, whether you want it to or not, it has an effect on you."
If Hundley was affected, it was most likely a lingering haze. While injuries have forced three or four different iterations of the line over past weeks, the version that took the field at Autzen Stadium performed surprisingly well — paving the path for 219 rushing yards. UCLA had failed to clear 80 in its last two outings.
True freshman Scott Quessenberry made his career debut, sliding in at left guard after working primarily as a center. He held his own against the Ducks' defensive front, even drawing on his background in the middle of the line to make reads. Throughout the game, he was seen communicating with center Jake Brendel.
"He was kind of making all the calls that I couldn't make, couldn't see," said Brendel, whose recurring struggles with low snaps almost disappeared. "As a freshman, just as a player, he did a really good job."
Mora was hopeful that the performance will help repair Hundley's swagger moving forward.
CU injury report unchanged from Saturday night
From the Daily Camera … Colorado receiver Paul Richardson left Saturday's game late with a sprained ankle. After the game, CU said Richardson is day-to-day.
"I think he's fine," Colorado head coach Mike MacIntyre said. "He said he was fine. Hopefully it doesn't swell up or something tonight."
Richardson finished with 132 yards on seven catches, including a 75-yard touchdown. He has 50 catches for 914 yards on the season. His seven touchdown catches this year have covered 405 yards.
Starting tailback Michael Adkins suffered a concussion and is listed as day-to-day.
UCLA injury report
Linebacker Eric Kendricks, who took an anesthetic shot to play through a back bruise on Saturday, suffered a mild AC joint (shoulder) sprain at Oregon. Defensive lineman Ellis McCarthy banged up his knees and is recovering from soreness. Neither injury is expected to be serious.
Mora said running back Jordon James (ankle) and left tackles Simon Goines (MCL) and Conor McDermott (shoulder) could potentially return this week. James has missed three full games, while the two linemen were both injured over a week ago at Stanford.
Senior running back Damien Thigpen was also held out after he injured his hamstring on Thursday. Third-best on the roster in all-purpose yards last season, Thigpen is working back from a torn ACL and also has a history of hamstring problems.
"You really feel for the kid," Mora said. "It's so important to him."
The injury that most concerns Mora, though, is running back and kick returner Steve Manfro's sore ankle. He is questionable after returning three kickoffs for 83 yards in Eugene.