Colorado Daily – Central Arkansas
September 6th
Drew Litton – "Don't eat the Cheese!"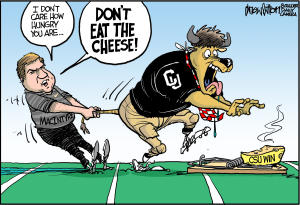 Jordan Webb sentenced
From the Daily Camera … University of Colorado quarterback Jordan Webb was sentenced Friday to two years of probation and 20 days on a work crew for his role in an altercation with an Air Force cadet on University Hill in May.
Boulder District Judge Patrick Butler also sentenced Webb, 22, to 80 hours of community service and alcohol treatment.
Webb pleaded guilty last week to third-degree assault — a misdemeanor — in exchange for prosecutors dropping felony assault charges. Webb and former CU Buffs lineman Alex Lewis were arrested May 11 after witnesses said Lewis and Webb assaulted Lee Bussey, 22.
"In its totality, this was a very brutal assault," said prosecutor Bruce Langer. "(Bussey) doesn't know how (the assault) will affect his military career, he doesn't know how it will affect his health. That's an unknown he lives with and will continue to live with."
According to a police report, witnesses said Lewis pushed Bussey's head into a brick wall, then both Lewis and Webb pushed him to the ground and began punching him.
An emotional Webb told Butler at the hearing that he did shove Bussey, but was only trying to break up the fight.
"My role was minimal at best, but I take full responsibility and I shouldn't have put myself in that type of situation," Webb said. "I'm not a violent person, never have been."
—
Need to Know – UCA v. UCB
– Central Arkansas has never before played a Pac-12 Conference team; Colorado has never before faced a team from the Southland Conference;
– The Bears have only been in the FCS for seven seasons, but in four of those seven seasons, they have finished ranked in the Top 25 nationally;
– Central Arkansas played a BCS opponent for the first time last season, taking on Mississippi from the SEC. While the final score was 49-27, Mississippi, the Bears did hold a 20-14 halftime lead;
– The crowd for the Mississippi game was 50,545, the largest crowd to ever seen Central Arkansas play a game … the Bears' home field, Estes Stadium, holds 9,000;
– UCA has won more games (96) than any other school in the state of Arkansas since 2001, more even than the University of Arkansas (91);
– The Bears got into Boulder on Thursday, to give the players more time to adjust to the altitude …
– Two famous alumni from Central Arkansas: Monte Coleman, who played 16 seasons (1979-94) with the Washington Redskins; and Scottie Pippen, six time NBA champion with the Chicago Bulls.
Some Buff numbers
– With his ten catches for 208 yards against Colorado State, wide receiver Paul Richardson pole vaulted his way up the all-time lists. Richardson moved into the top 20 all-time in receptions, with 83, passing, amongst others, the former No. 20, Jon Embree (80).
– Richardson also jumped from No. 21 to the top ten in all-time receiving yards. With 1,277 yards, Richardson moved past, amongst others: Dusty Sprague (now No. 11), Mike Pritchard (12), Jon Embree (17), Toney Clemons (18) and Dave Logan (20).
– Kicker Will Oliver, with his 15 points against the Rams, moved into the top ten in all-time CU kick scoring. With 123 career points, Oliver moved from 14th to 9th on the all-time list. Oliver also moved up to No. 32 on the all-time scoring list, while Paul Richardson, with 80 points, moved up to No. 64 on that list.
– The official announced attendance for the 2013 Rocky Mountain Showdown was 59,601, with CU selling 32,779, CSU selling 18,169, with 5,032 coming from the Denver Broncos. It was the third straight year (and fourth of five) in which fewer than 60,000 seats were sold.
– CU did not commit a turnover in a season opener for the first time since 2000.
– The Buffs' two-point conversion (a pass from Connor Wood to D.D. Goodson) was the first successful two-point conversion in three seasons.
– Colorado improved to 9-4-2 all-time in games played on Sundays.
– Connor Wood set a record for passing efficiency in a game with over 40 pass attempts. Wood went 33-for-46 for 400 yards, three touchdowns and no interceptions, a 166.3 passer rating. The old mark was 162.3, set by Koy Detmer v. CSU in 1996 (31-of-42, 364 yards, two touchdowns)
—
September 5th
Gary Bernardi: "There's obviously a lot of things we need to get better doing"
From CUBuffs.com … This week's across-the-board objective for the Buffs: make the first-to-second game improvement that most football coaches point to as the most dramatic of the season. In offensive line coach Gary Bernardi's area, getting better means continuing to keep Wood upright, relatively untouched and effective. Ant then there's the running game . . .
Wood's 33 completions accounted for 400 yards and three touchdowns in the 41-27 victory against the Rams, and Bernardi noted, "Considering it was the first game and a team that wanted to put pressure on us, I think (his O-line) responded pretty well. But there's obviously a lot of things we need to get better doing."
After what was close to a total rebuild up front, Bernardi opened with center Gus Handler, guards Kaiwi Crabb (left) and Daniel Munyer and tackles Jack Harris (left) and Stephane Nembot. Crabb, a junior making his first career start, said the O-line communicated well and was mostly efficient for a first game: "I felt good, felt we played well and were prepared."
Crabb, said Bernardi, "did an excellent job preparing. I thought he carried it over into the game as well as anybody."
All the other O-line starters came in with more game experience, although in Harris' case it was on the right side (guard and tackle) in his junior season rather than on the left. Munyer, a junior, had started at both guard and center over the past two seasons but was coming off a spring leg injury that limited his August practice time. Nembot opened seven games at right tackle last season while Handler saw his junior season abbreviated by a pair of injuries but started at center in five games.
Bernardi said Nembot continues to make progress and called the opener "an eye-opener" for the 6-7, 305-pound junior because of his significant number of plays (83) over four quarters. "He's never played that many consecutive plays in his life," Bernardi said. "He didn't get to play 100 plays in Pop Warner football.
"I don't want to say he survived, but the fact he was able to play all of those plays and compete without it being a massacre (was good). It's still a little bit of a roller coaster with him, but the valleys aren't as deep – I guess that would be the best way to put it."
Nembot wasn't alone in having a high number of total plays. Handler, Handler and Munyer also were in on all 83 snaps, while Crabb played 82 of the 83.
But Nembot was more pleased with the win than his performance. "It was a good beginning with a 'W' but I have a lot of work to do," he said, pointing specifically to his pass protection. "I need better technique and footwork."
He said his run blocking "is a little better compared to (pass protection). I'm required now to use a lot of technique in run blocking. I used to just go down and knock people down. But (now) it might be the wrong guy."
CU's switch to the pistol offense, said Nembot, has created "very different" blocking assignments than last season. Targeting who to block often changes on the fly, or as Nembot said: "The guy that you see first might go away and then you have to find a new guy. I have to learn to use my footwork and find the new guy that I need to block . . . that's going to be more difficult and technique-based."
… The Buffs are preparing this week for Saturday's home opener at Folsom Field (6 p.m., Pac-12 Network) against the University of Central Arkansas, a FCS opponent currently ranked No. 5 in that subdivision of college football. The Bears' defensive front has the full attention of Bernardi and his group. The defensive ends are 6-6, 271-pound sophomore Johanthan Woodard and 6-0, 265-pound senior Markeith Gaines. Playing inside are 6-2, 281-pound senior tackle Matt Hornbuckle and 6-3, 291-pound junior nose man T.J. Randall. The Bears averaged 2.5 quarterback sacks last season and had a pair in last week's blowout win (58-7) against Incarnate Word.
"They are very good, very athletic," Nembot said. "I have to prepare myself for that. They're very sound and know exactly what to do."
Crabb echoed that: "They're very athletic and big. They're big on the inside, the play low and fire off the ball well. It'll take good technique and hard work to keep them under control."
Bernardi agrees with all of the above, but believes what makes the Bears especially formidable is their experience – specifically their experience at winning. "The thing I really respect about them is they have a lot of guys who have played a lot of games and have won a lot of games. That's what I really respect," he said. "Their front seven plays hard and tough. But they've won a lot of games. I don't care what level you're on, when you've won a lot of games you usually play pretty confident."
—
Buffs looking for support in the stands Saturday night
The projected attendance for Saturday's game against Central Arkansas, according to the media release from the CU athletic department is between 40,000-42,000.
If such were to be the case, it would be the smallest crowd at Folsom Field in some time. Only 43,148 were on hand last November for the 38-3 loss to Washington. Going lower, you have to go back to 2010, when 41,147 were on hand for CU's last tussle with Kansas State.
The last time below 40,000 at Folsom? You have to go back to 1988, and the season finale against Kansas State. The Buffs faced an 0-10 Wildcat team (the last game for KSU before Bill Synder was hired as head coach), and won easily, 56-14.
So, the athletic department has some promotions for you …
1. Stampede Friday night on Pearl Street is always great support for our players and staff .
2. Central Arkansas – Friends Night Out presented by Coors Light and Hazel's Beverage World – 2 tickets and 2 beverage coupons for $49. Beverage coupons are good for a Pepsi or a 12 oz. beer at Ralphies Corral between 2:30 and 5:30 on Saturday.
3. CU also has a 3 game flex plan starting at just $120.00. You get the option of taking either Central Arkansas or Fresno, then Cal or Arizona, then USC or Oregon.
4. Fresno State – Friends and Family 4 Pack presented by Old Chicago Pizza and Tap Room – 4 tickets and a coupon for a large pizza for $99. Coupon is valid at all local Old Chicago restaurants. One pizza coupon for every 4 tickets purchased.
5. Single game tickets available for all home games as well.
Here is a link to the CU ticket office website, where you can get your tickets!
—
September 4th
Parker Orms first recipient of Sledgehammer Award
From CUBuffs.com … Coach Mike MacIntyre has decided to carry a tradition over to Colorado from his time at San Jose State. He and the team will hand out a weekly Sledgehammer Award to the player who dishes out the biggest clean hit on an opposing player – and the big-hit winner from the season-opener is Parker Orms.
"The sledgehammer is a thing the kids vote on every week for a big hit," MacIntyre said. "It has to be a big clean hit. We nominate and show it and the kids vote and the guy gets to carry the hammer around. This week, Parker Orms won it so he'll get to carry it around all week and carries it out on the field."
Orms, a senior strong safety, was lugging the 20-pound instrument around with him when spoke on Wednesday about the excitement surrounding his winning the award.
"It feels good," said Orms. "It was voted on by the team, so I'm happy my teammates respect me for that. It's pretty cool."
The hit that merited the award came in the fourth quarter of Sunday's 41-27 win over rival Colorado State. The Rams were trailing by nine and had driven deep into Colorado territory. They faced a third down at the Colorado 13 when quarterback Garrett Grayson fired the ball over the middle to tight end Kiv Cartwright. The pass was high and as Cartwright went up to snag it, Orms hit him in the legs, sending him crashing back down to the turf, thus forcing the Rams to settle for a field goal at a crucial time in the game.
MacIntyre has also decided to continue his tradition of having every one of his players write a down an individual goal for each game and place all of them into a "Commitment Toolbox" at the team's Thursday evening meeting. He also had that ritual at his previous post.
"The toolbox is a commitment box that we make where each kid stands up and commits something that he is going to do in the game for the team," said MacIntyre. "Usually it's something specific that they've worked on that could happen during the game then they put it in the box and we carry the box out (onto the field on game day)."
—
Jordan Webb back to practicing; will serve a one game suspension
From the Daily Camera … "Like they always say, you never miss something until it's taken away from you," Jordan Webb told the Daily Camera. "I have a whole new value of being out here, being able to be around these guys, be in meetings and stuff like that."
Webb returned to practice Thursday, he said. Tuesday was his first day in pads. He has not been cleared for live drills, but is participating in 7-on-7s and individual work. He hopes to compete soon for a backup role behind Wood.
"Just making myself available, and being a viable option whenever it's necessary," he said of his goal.
On Wednesday, Webb plead guilty to third-degree assault from an altercation in Boulder on May 11. He is scheduled to appear for sentencing on Friday.
"I'm really anxious to get it over with and move on with my life," he said. "It's been pretty stressful."
… Upon his clearance for play, Webb will serve a one-game suspension for his legal issues.
—
Coach MacIntyre press conference quotes
The entire transcript can be found here.
Some highlights:
Opening Statement … First of all, just a comment about the last game….I thought our crowd was phenomenal. The energy behind our bench was a lot of fun and I thought our kids just kept playing hard like we talked about on Sunday and just kept fighting and fighting and I think they enjoyed playing. I thought CSU's team made some really big plays and I thought they had a good plan. I thought it was a fun game to play in and really enjoyable. UCA this weekend, University of Central Arkansas, they're ranked fifth in the nation in FCS. Seven FCS teams won this past weekend. They are a very good football team and they have the player of the year coming back, their quarterback, Wynrick Smothers. He was the player of the year in their conference….A very good conference in the Southland Conference…He's a dual quarterback. He can run, he can throw it and he makes a lot of plays. They have an excellent, excellent receiver in Dezmin Lewis number 5. Big tall athletic guy…Very impressed with him. Defensively, they have two really good rush ends that can wreak havoc. They're very athletic. One is 6' 6" 250, can really run and their secondary is all seniors except one junior so they've played a lot of football. I've been very impressed watching them on film from last year and from their first game this year. So they're a very good football team and it's going to be a very tough test for us."
On Keeping the Team Focused … "Well we talked about it in the locker room as soon as the game was over. Enjoy this, they've earned it but it's just one game so we take every game as a season within itself. You've heard me say that before and we do. So we got our next season this week. Mondays are off for us but they were able to get huddle and they can look at it on tape on their own but we had meetings and practice today. I thought they were energetic at practice. I thought they came focused and ready and understood that it's a work day. You succeed during Tuesday, Wednesday, Thursday and Friday to be successful on Saturday period. You have to get yourself motivated and focused during the week to be motivated and focused on Saturday and I think they're starting to understand that and they've got to do that. They've watched Central Arkansas on film and they understand how good they are."
On the Turnaround after Sunday's Win … "We enjoyed the game and I know our kids did too. I was well grounded. We were at the office at 5:45 the next morning working on Central Arkansas. So that's how grounded we were. It didn't last very long so a few hours we went to sleep here we were back on Central Arkansas and once you watch them on tape you forget about everything else because you realize that they can make a lot of plays."
On Special Teams Adjustments … "We tweaked a little bit on our kickoff team. Even kind of moved some guys around at some different spots that we thought they might fit better at so we did that a little bit on that."
On Turning Point of Sunday's Win … "When they returned that a second kickoff and you couldn't hear yourself think on the Colorado State side and you could hear a pin drop on our side. I'm sitting there thinking 'ok how are we going to respond' and they didn't blink. They took it from there. We took a drive down, kicked a field goal…Got it back, caused a fumble … scored stopped them stopped two fourth down stops. It was kind of like it was defining moment for them to me. And I was very, very happy to see that. I really was."
On Running Game … "We had the sack that lost some yardage they took away from us on the intentional grounding….They were stacking up against the run some so that enabled us to be able to throw it. You know, we're going to basically take what they give us so to speak but we always want to run more. There was a couple of runs that I think we had a chance to bust and I think we will so if you bust one for 50 then all of sudden you're at 200 yards rushing and that's a good day. So I felt good about some of the things we did in the rushing game and we just need to keep improving it."
On Whether FCS Schools Treat Games Against FBS Foes as Their 'Super Bowl" …  "I definitely think it is a chance for that. You could see the emotion of Eastern Washington's quarterback as he ran up into the stands, hugging his family and parents, I mean that was like winning a Super Bowl and they did a great job. So I think they do take it that way and I think we all should play every game like it's the Super Bowl . That's why I'm so passionate about…you know I don't know if I'm going to get to coach again. I could get in a car accident you know. You need to enjoy every moment you have in life and when you have those special moments…to me, Saturday is another special moment….Something that you get to do that you love. I think for their situation, they're going to get to play in front of a big crowd. They're going to get to play on a national television audience and I think that's a big deal for them. I coached in FCS for six years of my life and I enjoyed every moment of it and to me I felt no different when we beat Murray State than when we beat Colorado State and that was our big rival. I mean that because you put the same amount of time, the same heart…all the kids are giving all they have. They're just not as many people watching but when you get in between those white lines it's game on and it's a passionate awesome time."
On Possible Letdown After a Big Victory … "We talked about either you're getting better or you're getting worse. Nothing stays the same so we talk about that all the time. We talk about competing every day, every play not only in athletics but in life. You've got to compete every day in life. You do. And you have to keep trying to push yourself to get better. We're talking about that constantly. Off the field, on the field, in the classroom, in the meeting room, everything they do so I sure hope not….I didn't see that at all today. I saw everybody on time. I saw everybody showing up. I saw everybody alert and taking notes. I saw people working hard in practice and I saw people focused. If people are showing up late and not doing what they're supposed to do and not focused and you're having to stay on them…I didn't see any of that today."
—
September 3rd
More awards for Buffs – Addison Gillam and Will Oliver honored
In addition to wide receiver Paul Richardson being named the Pac-12 Offensive Player-of-the-Week (see September 2nd story, below), two other Buffs have been honored.
Will Oliver was one of three kickers honored nationally by the Lou Groza Award as a Star of the Week. He also earned honorable mention kicker of the week honors by the College Football Performance Awards, a computerized ranking system.
Oliver was a perfect 4-of-4 on field goals, including a clutch 52-yarder (matching his career long) in the fourth quarter that gave the Buffs the lead for good. He hit on distances of 22, 41 and 44 yards along with the 52-yarder. He hit all three of his point after attempts for 15 points in the game.
Freshman linebacker Addison Gillam was named the CU Athlete of the Week after recording 14 tackles (seven solo) with one sack (17 yards) and two total tackles for loss. He also had three tackles for no gain and four third down stops, including one fourth down stop.
Alex Turbow placed on scholarship
Senior walk-on wide receiver Alex Turbow has been placed on scholarship for the season.
Turbow entered the fall listed fifth at the "Z" receiver position.  He caught four passes for 68 yards in spring scrimmage action, averaging 17.0 per catch with a long of 43. He has dressed for 18 games over the past three years, but has yet to see any action in a game.
Turbow was placed on scholarship for his senior year on Sept. 3. Congratulations, Alex, and thank you for your hard work and dedication to the team!
—
Was the Colorado State game a "defining moment" for Buffs?
Coach MacIntyre conducted his weekly press conference Tuesday. Here are some of his quotes:
On falling behind CSU in the third quarter … "When they returned that second kickoff and you couldn't hear yourself think with the Colorado State fans and you could hear a pin drop on our side, I'm sitting there thinking, 'Ok, how are we going to respond?'. They didn't blink. They took it from there. We took a drive down and kicked a field goal, got it back, caused a fumble, scored. Stopped them, stopped them two fourth-down stops. It was kind of like it was a defining moment for them, to me … I was very, very happy to see that. I really was."
On playing in Folsom for the first time … "I'm really looking forward to playing here. I can't imagine what it's going to be like to have a packed house and just really Colorado faithful cause it was fun playing at Denver's stadium there with just half the place us."
On playing Central Arkansas, a FCS team … "I coached FCS for six years of my life and enjoyed every moment of it. To me, there was no difference. I felt no different when we beat Murray State than when we beat Colorado State. …You put the same amount of time, the same heart and all the kids are giving all they have. There are just not as many people watching. You get between those white lines, it's game on and it's a passionate awesome time."
On the lack of a running game against CSU … "We always want to run more but we have to take what they give us".
—
Injury update …
– Even though he was not listed in the CU post-game injury report, it was conceded Tuesday that running back Christian Powell suffered a thigh bruise during the CSU game. Powell practiced on Tuesday, and is listed as "probable" for Central Arkansas.
– Linebacker Paul Vigo suffered a "stinger" late in fall camp, and was used sparingly Sunday. He is expected to play more against Central Arkansas.
– Wide receiver Tyler McCulloch has a foot injury, and did not practice Tuesday. He wore a protective boot, but should be back Saturday
—
Special teams a point of focus this week
From CUBuffs.com … "If that game had not gone our way, there's no doubt in my mind as to what would have caused it – there's no doubt in anybody's mind," special teams coach Toby Neinas said following a Tuesday morning practice that, yes, included work on both punt and kick coverage.
He continued: "You have such enormous swings of momentum on plays like that. We're about ready to knock them out – then we give them the punt return. We're kind of getting ready to knock them out again – then we give them to kick return . . . we have to avoid that. I have to have them better than that."
That ranks among Neinas' and the Buffs' chief tasks this week as they prepare for Saturday's home opener against the University of Central Arkansas (6 p.m., Folsom Field). The Bears, members of the Southland Conference and ranked fifth in the FCS, feature freshman Jatavious Wilson as their primary return specialist.
Neinas says Wilson can match the straight-ahead speed of CSU's Hansley and Coffman, but is quicker laterally. And Wilson showed it in UCA's 58-7 opening win against Incarnate Word, returning a kickoff 93 yards for a score and adding 17 more yards on punt returns. Wilson also had 105 receiving yards, giving him 215 all-purpose yards for the night and earning him Southland Conference Special Teams Player of The Week on Monday.
To fix the Buffs' coverage woes, coach Mike MacIntyre said there have been some personnel tweaks: "We've moved some guys around in different spots we thought they'd fit better in." He also said, "I think about seven of those kids, that was their first time to ever run down on a kickoff. So that happens sometimes. We'll improve on that and bounce back from it."
Both MacIntyre and Neinas shouldered the blame for the coverage lapses. MacIntyre said Hansley – CSU's No. 25 – didn't catch him by surprise: "No. 25 for them – I knew him going in the game because we had played against them the year before. I thought he was really quick and athletic."
On his 74-yard TD return, said MacIntyre, "We had him right there at the point of attack, two people right there, and they both missed him. Then we had another guy and another guy miss him. So, he's on scholarship and he made a good play. Do we need to not let that happen? Of course . . . we've got to improve that."
Of Coffman's 84-yard kickoff return that set up a 16-yard, three-play scoring drive, MacIntyre said, ". . . my fault. We just didn't do a good enough job. We practiced it a lot, worked at it tremendously. We just didn't do a good enough job of getting off blocks or understanding our leverage on kickoff. You get so spread out. On both of those kickoff returns (Tyree Simmons had another for 30 yards) we're down inside the 20 before the kid gets out of the end zone – which is good. You're running down there. Then they made some good blocks and he made a couple of guys miss and we kind of went in on some bad angles."
Neinas, however, said CSU made early adjustments in its return games and he didn't match those fixes: "I didn't do a good job helping them understand exactly what their assignment was. We got in the game and saw something we had not prepared for, I didn't adjust well and they (Buffs) had a hard time with what they saw."
Aside from the personnel "tweaks" – or adjustments in lining up – MacIntyre mentioned, Neinas wants to refine the coverage schemes instead of starting over. He said coverage assignments would be "really boiled down and made cleaner, simpler – just one task. If (opponents) do this, you do this – and that's it.
In Tuesday's practice, 15 minutes of a 20-minute period were spent on coverage. Neinas said if more work on coverage was required on Wednesday, so be it. "But we will get that absolutely fixed. I think we'll be so much better this weekend; if we aren't you'll see wholesale changes in schemes. But I don't think we need to do that; we're not ready for that yet."
Neinas said the message CU's coverage teams sent in the opener was straightforward: We're a work in progress and we're vulnerable.
"We cannot do that in major college football," he said. "We can't have what we saw (Sunday). Give credit to the Rams. (Coach Jim McElwain) identified what we were doing early, went right to it and adjusted very well. We thought we had it in practice, we thought we had it in drill work – and obviously I didn't have it. Because we were bad, we were bad.
"And the terrible part about that is, when you start that way in the first game, people see that. Once that's out there, it's a bad sign. We have to illustrate that we're sound in coverage on Saturday night. We have to do that, absolutely have to."
—
Central Arkansas looking good …
YouTube highlights of Central Arkansas' easy 58-7 win over The Incarnate Word last Thursday. It may not look like more than a high school game, but the Bears to have some talented offensive players to keep an eye on …
September 2nd
YouTube highlights of pregame and postgame CU Rocky Mountain Showdown locker room
Paul Richardson Pac-12 Offensive Player of the Week
From the Pac-12 … Wide receiver Paul Richardson of Colorado, safety Tra'Mayne Bondurant of Arizona, and Vincenzo D'Amato of California have been named Pac-12 Players of the Week in football.
Richardson, a junior from Los Angeles, Calif., caught 10 passes for 208 yards and two touchdowns in the Buff's 41-27 season-opening win over Colorado State on Sunday. Two of his receptions went for 75 yards or more, including an 82-yard touchdown reception from Connor Wood to open the game. It was Richardson's first game back after missing all of the 2012 season rehabbing a knee injury that ended his 2011 campaign early. The over-200 yard performance was the only one in the nation over the weekend and just the fourth in Colorado history. Richardson now owns two of those four efforts, with the first one coming against California in 2011 where he set the school mark of 284 receiving yards.
Also nominated for Colorado were linebacker Addison Gillam, who led the Buffs with 14 tackles against the Rams, and kicker Will Oliver, who hit on all four of his field goal attempts, including a career-best 52-yarder early in the fourth quarter, giving CU a lead it would not relinquish.
—
Coach MacIntyre brings a new tradition to Colorado
From CUBuffs.com … Mike MacIntyre arrived in Boulder last December preaching commitment. If his Colorado football players tired of hearing it through their off-season conditioning work, through the summer and into preseason camp, the weariness never showed.
Instead, the Buffs bought in. More commitment was asked of them, and finally on Thursday night in the Dal Ward Athletic Center auditorium, MacIntyre asked each player to put their personal commitment for Sunday's opener against Colorado State in writing.
It didn't stop there.
When they were done writing, MacIntyre had each player stand and read their commitment to the team. Then, one-by-one after reading, they filed to the front of the auditorium and dropped their sheets of paper in a black metal tool box.
MacIntyre's plan: Have one of his six captains carry the box into Sports Authority Field at Mile High and keep it on the sidelines. For road games, that week's commitments will go into the box and onto the Buffs' charter.
"It's a great idea," said senior center Gus Handler, who was among the seniors addressing the team before the game then speaking again at halftime. Handler's commitment for Sunday centered on communicating with his O-line mates.
"Even before the season we kind of committed to certain stuff, but when you put it down on paper you're more likely to achieve it," he said. "And saying what you've committed to in front of the whole team, hey, then it's out there."
Many commitments were position-, assignment-, or technique-specific. Many players further down the depth chart committed to simply being good teammates.
Senior left tackle Jack Harris, one of CU's captains, committed to not allowing a sack. And how's this for honoring that: Quarterback Connor Wood spent no time on his back en route to completing 33-of-46 passes for 400 yards and three touchdowns in the Buffs' 41-27 win.
"Those guys up front did a great job," Wood said. "They worked their butts off for me and that's awesome."
Wood's written commitment for the opener: "Be keyed in to their blitzes and the coverages they bring. We've been studying them for two weeks or so, but be ready. It's the first game of the season and they may have put in some different things. Just be ready for the blitzes and coverages."
He was more than ready, showing new-found poise and the ability to keep plays alive when necessary. On an 82-yard scoring pass to Paul Richardson, he scrambled to his right, stepped up while scanning the field and spied "P-Rich" as alone as he might ever find himself.
"I was really, really impressed with Connor today," MacIntyre said. "I knew he had the ability to do it, he just had to go do it. I'm very, very proud. He's got to regroup and do it again Saturday (against Central Arkansas). We'll find out if he can put it back-to-back, which I think he can. I think we'll have a really good quarterback, but today he was excellent."
Richardson, playing in his first game back after missing last season following knee surgery, caught 10 of Wood's passes for 208 yards, including TD catches of 82 and 75 yards. But "P-Rich's" commitment wasn't about making big plays. "I committed myself to being a good decoy and making plays without the ball in my hand – which is being a good decoy and blocking," he said. "I felt like I did my role as a decoy, but I could have blocked a lot better. But I'm so proud of my receiver corps. It was a great win."
It also was great to be back, Richardson said: "It feels great. What better game to come back to than your in-state rival? You couldn't write a better story, you couldn't write a better story."
Junior cornerback Greg Henderson committed to "being very disciplined with my eyes and don't let anything go over the top of me. I feel like I did my job . . . I lived up to my commitment." And then some; Henderson delivered a game-changing 53-yard fumble return for a fourth-quarter touchdown when CSU had crept back into the game.
Senior linebacker Derrick Webb, another of the Buffs captains, pledged to his teammates that he would "leave everything on the field." Consider it done. He and his defense stepped up and stood out when needed, stuffing the Rams on two late possessions and securing the first win of CU's MacIntyre era.
The Buffs could have shrunk after a pair of special teams coverage mishaps – one a 74-yard punt return for a TD by CSU's Joe Hansley, the other an 84-yard kickoff return by Thomas Coffman that set up the Rams for a three-play scoring drive that produced their only lead of the afternoon (24-23).
"I felt like everybody on the sideline was saying the same thing – keep your head up and let's go, let's fight, pick it up," Webb recalled. "It's over with, let's get the next play. Everyone was on the same page. We knew it was going to be a fight to the end. We were prepared for adversity going into the game. It sucks that they got those two returns on us; we were upset about it. But no one went in the tank."
Instead, they stayed committed, as did their teammates on the sidelines. On Thursday night, many of those players who knew they might not leave the sideline committed themselves to staying mentally involved and offering support.
All of the Buffs throughout camp have worn wristbands reading "CARE," and MacIntyre reminded them again in their Thursday night team meeting, "You all help each other control our destiny, no matter how big or small a role it is."
When it was almost over Sunday, after his defense had strangled any CSU hope with a fourth-down stop, a jubilant MacIntyre pumped his fist on the sidelines and celebrated. What was he thinking? Only the obvious, he said: "We won . . . just we won. I was so happy for those kids."
—
Injury update
Colorado sustained no significant injuries against Colorado State, with only "normal bumps and bruises" reported.
However, it was announced before the game that senior safety Terrel Smith, listed in the fall camp depth chart as the backup to Parker Orms at strong safety, will miss the 2013 season. Smith will undergo shoulder surgery, and will be out until spring. Smith still has a red-shirt season available, and will return in 2014 as a fifth-year senior
Two players suspended
Sophomore defensive end Samson Kafovalu and freshman wide receiver Jeff Thomas were suspended for the game against Colorado State for undisclosed violations of team rules.
Kafovalu was listed on the depth chart for the Colorado State as third defensive tackle (after being listed in the pre-fall depth chart as the No. 1 left defensive end). Thomas, meanwhile, was listed as the third "X" wide receiver, behind Nelson Spruce and Tyler McCulloch.
—
Just a few more numbers from the 2013 Rocky Mountain Showdown
Before we leave the Rams and focus on the Bears, a few fun numbers to take away from the 41-27 Colorado victory.
The last time:
– Colorado had over 500 yards of total offense in a game – the win over Washington State last fall … 509 yards Sunday.
– Colorado had over 400 yards passing in a game – the Cal game in 2011 … 400 yards Sunday.
– An opponent had less than 100 yards rushing in a game … the win over Washington State last fall … 94 yards Sunday.
– Colorado had a turnover free game – last season's game against Sacramento State.
– A player had two touchdowns receiving … Toney Clemons v. USC in 2011 … Paul Richardson had two touchdowns Sunday.
– A player had three touchdown passes … Tyler Hansen v. Cal in 2011 … Connor Wood had three touchdowns Sunday.
– A player had 400 yards of total offense … Tyler Hansen v. Cal in 2011 … Connor Wood had 409 Sunday.
– Colorado had a fumble recovery for a touchdown … Josh Moten v. Arizona State in 2011 … Greg Henderson had a 53-yard fumble return for a touchdown Sunday.
– A player had a 50-yard field goal … Will Oliver had a 52-yarder v. Cal in 2011 … Oliver tied that mark Sunday.
– A player had four field goals in a game … Will Oliver had four v. Cal in 2011 … Oliver tied that mark Sunday.
—
Team statistics are skewed after only one game, but it's nice to see Colorado break out of the 100's in many national statistical rankings. The official numbers for the 2013 "season" are out, and we can take a look at last season's numbers and check out CU's improvement.
Team statistics:
– Scoring offense: 17.8 in 2012 (117th); … 41.0 (27th)
– Scoring defense: 46.0 in 2012 (120th); … 27.0 (61st)
– Total offense: 302.8 in 2012 (116th); … 509.0 (25th)
– Total defense: 488.5 in 2012 (117th); … 295.0 (32nd)
– Rushing offense: 110.3 in 2012 (109th); … 109.0 (83rd)
– Rushing defense: 226.0 in 2012 (115th); … 94.0 (29th)
– Passing offense: 192.5 in 2012 (96th); … 400.0 (9th)
– Passing defense: 262.5 in 2012 (97th); … 201.0 (55th)
We could go on and on (while quietly neglecting to check out kickoff return defense and punt return defense), but you get the picture. Again, one game does not a season make … but the future does look a great deal brighter than it did a just a few days ago.