Colorado Daily – Arizona 
October 27th
Pac-12 commissioner in Boulder for CU/Arizona game
Quotes from CUBuffs.com interview with Pac-12 commissioner Larry Scott
General – "I come to every campus at least once during the football season. It was a great day. I got a chance to meet with some coaches. I'm looking forward to getting together with Colorado Athletic Director, Rick George spend some time with President Benson, and chancellor DiStefano. I will say hello to Coach Mac (Mike Macintyre). Especially, in the last couple of season it has been exciting getting around to see the plans and all the developments going on. I think it is really remarkable all the progress that is going on in terms of facility development. There is a lot of excitement with where the Pac-12 is going."
On the Most Pressing Questions Regarding the Conference – "The question I get asked the most is TV distribution on the network. We launched it last year, so we are in our second year. It is very much a long term initiative. That is something I will not be satisfied with until we have full distribution for us. That is a pressing issue. Things are really going exceedingly well. Within our second year with TV deals that we have in place, we have a football championship game well established, basketball tournament, and we have a had a great first year in Vegas. Now that we have the selection committee in place on site for the first semi-finals, there have been some major initiatives."
On Negotiations with DirecTV – "There hasn't been movement in a long time. We've reached out and tried to engage in further conversation. There really is no movement. It's been clear to me at football media day when I made it clear to the media that it looks like we are at an impasse. I'm not expecting DirecTV during this football or basketball season."
On the Distribution of the Coverage Becoming a Financial Risk – "I don't see that time coming. We are ahead of schedule I'd say. We have over fifty distributors that are profitable. The quality of what we are producing is amazing. We have had 750 live events this year and it's going to go to 850 next year. From where we started, this is such a long term initiative, and we have a responsibility to our fifty distributors that have signed on for a price and to our universities. We are not going to compromise with those values."
On Audiences Switching Providers – "I'm very sensitive. That is not easy thing for people to do. A lot of people are waiting for a contract be up. A lot of them will not break their contract, but wait for it to be done. We have seen a lot of change. DirecTV is losing a lot of customers because of this. Over time, that will help more and more."
On Working with DirecTV – "It is just how the industry works. When the Big 10 started their network it took several years for them to get cable. A friend form the NFL Network told me it took eight years to get Time Warner Cable. It's unfortunate because fans are caught in the middle. If you are going to start something as ambitious as a TV network, you have to realize what is open and that it is going to take some time. It's unfortunate that DirecTV was the one who had an impasse on it, but I am hoping that in time they will stop depriving their customers."
On DirecTV's Reasoning for Not Picking up Pac-12 – "I don't really know. It is probably money for during the day. We want everyone to take it. That is why we created it. It has to happen on a responsible basis. That way it is fair to others who have signed on."
On the Conference Rank in Television – "As far as I've seen, we are number one. The schools are fairly satisfied with where we are."
On the Ability to Get a Pac-12 Team in the National Championship Game – "I don't think we are alone. There are other conferences that are a bit frustrated. Last year we would have liked to see Alabama-Oregon. I think that would have been a better game than what we had. I actually think the play-off will be excellent for the Pac-12. I think that will get a Pac-12 team to play in the National Championship."
On the Selection Committee – "We knocked it out of the park in terms of athletic directors, former coaches, and some at large members that bring a lot of integrity. They were all shaking hands here."
On the Effects of DirecTV Not Covering the Buffs – "I have to respect their decision to show whatever video coverage they want. They cover a lot of Buff sports. I think we have sixty total accounts this year featuring the Colorado Buffaloes. We've had six football games; we are going to have twelve men's basketball games, fourteen women's basketball games, eleven alone are going to be for volleyball, soccer, and spring sports. So from that alone, we have to be thankful, the most passionate Buffs fans will make this work because they do not want to miss some amazing Buffs coverage. To them I say that, "you've got Dish." In all seriousness, I feel very bitter about saying that to the fans, but there are multiple options in every category. They have a cable option, a satellite option…"
On Colorado's Self-Sustaining Facilities – "I had the chance to see a little earlier. Coach gave me a tour of the Coors Event Center, some of the practice facilities there, and some of the plans for future development, and I was delighted. In basketball, Colorado is prime speed with any other team in the conference in terms of facilities. They've got kids running football and the media that needs to be done is probably a 1-2-3.
On Discouraging  Schools to Schedule 'Lower' Teams – "Yes, I do. Lucky enough, I haven't had to do much discouraging. In our conference, there have always been a bias for playing top ranked teams for a variety of reasons. There is the culture of our schools; we want to give the student athletes a chance in their big time match-ups, there are some traditional match-ups like USC and Stanford going against Notre Dame and we play nine conference games. We are already playing a tougher schedule than most other conferences. I always try to remind our schools, especially with the conference play offs coming up, scheduling is more important. Football scheduling is done way out."
On Funding Athletic Programs Equally – "I think each school has their own model. Some have very deep basic donors within. I don't see any one school in our conference that has disproportioned facilities. When I go around our conference, for example, Washington just completed a new $280 million dollar facility. They did that without any one big donor. I just visited Arizona last week and they just completed a new north-end project for the football operations facility. I was at Arizona State and they have grand plans for what will be hundreds of millions of dollars for a facility. I don't think that one particular strong donor has been an impediment for our campuses to get done what they need to get done."
On Communication with DirecTV – "Every couple of months we are reaching out to see if anything has changed. It is a high priority for us".
—
October 26th
B.G. Brooks – "RTD" replaced by "RTR"
From CUBuffs.com …  If Gary Barnett's master plan for Colorado football in 1999 was RTD, Mike MacIntyre's mission 15 seasons later has become RTR.
Barnett wanted a Return To Dominance, MacIntyre first must settle for a Return To Relevance – and his upwardly mobile first-year CU program can take a step in that direction Saturday at Folsom Field against Arizona (6 p.m., Pac-12 Network).
Defeating the Wildcats would give the Buffs their initial Pac-12 Conference win of the MacIntyre Era and send them into November one game above .500 (4-3) this late in a season for the first time since 2008. CU lost its first three conference games to Oregon State, Oregon and Arizona State by a combined score of 155-46.
MacIntyre is keenly aware of the big-picture importance of the pink-themed, blackout Saturday night at Folsom. Following last weekend's 43-10 rout of FCS plug-in opponent Charleston Southern, he acknowledged that a win this weekend "means November matters in Colorado."
The Buffs haven't had a winning season since 2005 (7-6) and haven't been a postseason participant since 2007 (Independence Bowl). A win against Arizona (4-2, 1-2) on Saturday night would put CU within two 'W's of bowl eligibility for the first time since 2007, with November offering five opportunities to get that pair.
"We all want to go to a bowl," said freshman quarterback Sefo Liufau, who is eager for his first Pac-12 start. "We know how possible it is if we stay consistent and we take the coaching that we learn and put it out on the field. We think it's very possible."
"It's very big," added senior defensive end Chidera Uzo-Diribe of Saturday's game. "One more win and we're closer to our goal of a bowl game. Every game from here on out is very important to us."
Full story can be found at CUBuffs.com
—
Addison Gillam interviewed by ESPN
True freshman linebacker Addison Gillam has been making an impression since the start of spring practices. Originally a San Jose commit, Gillam instead followed Mike MacIntyre and most of his staff to Boulder last December.
All Addison has done since then is to lead the Buffs in tackles … not to mention the Pac-12. In half a season, Gillam is already tied for third on the CU all-time tackle list for freshmen, with 67, and is well on his way to smashing the record of 85 set by Matt Russell in 1993. Gillam set a freshman record (true or redshirt) with 18 tackles in the game against Oregon.
Since tackles started being tracked by CU in 1964, no freshman has ever led the team in tackles. In fact, in those 49 seasons of keeping track of tackles made, only five times has a sophomore led the team in tackles (the last being Jordon Dizon in 1999).
So it proper that Gillam is receiving not only freshman All-American accolades, but All-Pac-12 mentions as well.
Gillam has caught the eye of ESPN, who did a Q&A with the freshman this week.
The full transcript of the interview with ESPN's Kevin Gemmell can be found here.
—
October 25th
Paul Richardson sends out an email to the CU student body
As posted at BuffStampede.com (click on to enlarge):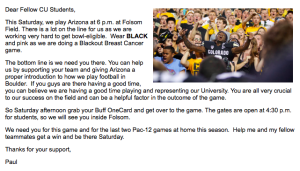 Happy 27th anniversary!
It was 27 years ago today that the football program at the University of Colorado turned a corner. On October 25, 1986, a 2-4 Colorado team took on an undefeated and third-ranked Nebraska team.
The game was another in a long line of mismatches between the teams. The Buffs had defeated the Cornhuskers since 1967, and were not considered a threat on that October afternoon.
But what happened changed everything for CU. The 20-10 victory propelled the Buffs to a bowl game, and a recruiting class which provided the core of players who would go on to win the national championship in 1990.
If you would like to spend a few minutes with an underdog team which had few believers outside of its own locker room, the write-up for the game (including the video highlights and KOA call of both touchdowns) can be found here.
)I just watched the replays again – for probably the 1000th time – and I still got chills!).
Enjoy!
Q & A with offensive coordinator Brian Lindgren and defensive coordinator Kent Baer
The Daily Camera has posted Q & A's with CU's two coordinators.
The opening … The Colorado Buffaloes are 3-3 at the official midway point of their football season. Does any other regular season in sports fly by so fast?
We've seen plenty for CU fans to be excited about in the first six games this fall and still plenty of the same old problems. Yet, entering Saturday's homecoming game against Arizona, the Buffs have an opportunity to get to the postseason for the first time since 2007 if they can win three more games in the second half.
Some believe the idea is farfetched based on how the Buffs have remained uncompetitive in the Pac-12 Conference and others, including the coaches and players, believe it's an attainable goal. We'll begin to find out Saturday night.
This week seemed like an appropriate time to catch up with CU offensive coordinator Brian Lindgren, who is in his first season in the Pac-12 Conference, and defensive coordinator Kent Baer, who is in his 19th season in the Pac-12, including 18 during a 21-season period from 1987-2007. During that time, he served as defensive coordinator at Cal, Arizona State, Stanford and Washington.
The Q & A with defensive coordinator Kent Baer can be found here.
While the Q & A with offensive coordinator Brian Lindgren can be found here.
Both interviews are worth your time …
—
October 24th
Daily Wildcat lists reasons for each team to win
From the DailyWildcat.com …
3 ways UA will win
Ka'Deem, duh
If you're reading this, then you're probably well aware that UA running back Ka'Deem Carey had a record-breaking day last year against Colorado.
Carey, of course, had 366 yards against the Buffaloes in 2012, plus five touchdowns and 34 yards receiving.
Last year Carey ran for 204 yards at Utah a week after his 366 against Colorado. Then last week the All-American ran for 234 against UU, including runs of 30 and 44 yards. It looks like he is due for at least 200 yards on Saturday.
Carey, who has a streak of nine games in a row of rushing for 100 yards and leads the nation in rushing, is playing the best he has all year.
B.J. strikes back?
Beleaguered senior quarterback B.J. Denker isn't generally on this side of the "Three Ways," but he could be due for a big game against a team he's had success against in the past.
Last year, in his first NCAA start, Denker fumbled on the first play, leading to a Colorado touchdown — but his fortunes improved.
He ran for 44 yards against the Buffaloes and passed for 136, completing 12-of-14 passes. He even had a 214.5 quarterback rating, the best of any UA quarterback in 2012 — even Matt Scott, who is cashing NFL checks now — or maybe he has direct deposit?
Colorado the cupcake
Colorado is improved this year, but the team is still not the same caliber as Washington or USC. Arizona stands at 4-2, but its two losses were at Washington in the rain and at USC in the Trojans' first game without former head coach Lane Kiffin. Basically, the Wildcats beat the teams they were supposed to and lost to the teams they were expected to.
At 3-3, CU has already tripled its 2012 win total, but two of those wins were against FCS teams. It was allowed to play a second team from the lower division because its game against Fresno State was canceled due to the Boulder, Colo., floods.
3 ways UA will lose
Scary Carey
Arizona running back Ka'Deem Carey set a record against Colorado last year with 366 rushing yards and five touchdowns. It would make sense Carey wants to repeat himself this year, but it would also make sense that the Buffaloes want to stampede him.
It hurts giving up that many yards to one person, and the Colorado defense will make sure to avoid that embarrassment. The Buffaloes may be at the bottom of the Pac-12 South, but the Colorado red-zone defense is No. 4 in the conference, at 78.8 percent compared to Arizona's 91.7 percent, which is 11th.
Carey might be hungry, but Colorado sure does not want the guy in its end zone. Or on the field at all, really.
Let it pass
Arizona is at the bottom of the Pac-12 in pass efficiency, with 115.7. That means every team in the conference can pass better than the Wildcats, or should I say senior quarterback B.J. Denker — especially Colorado, who ranks eighth in the Pac-12 with 130.4 pass efficiency.
Buffalo junior quarterback Connor Wood was demoted in favor of true freshman Sefo Liufau, and still has better numbers than Denker. Wood has completed 82-for-154 and seven interceptions, Denker has completed 91-for-164 and two interceptions and Liufau was 14-for-20 in his first start last week against Charleston Southern.
The other Richardson
Arizona senior cornerback Shaquille Richardson has some big competition this weekend in his own cousin, Colorado's star junior wide receiver Paul Richardson.
Paul and Shaquille Richardson spent their childhoods competing against each other on and off the field. Though Shaquille Richardson is a potential NFL draft pick, Paul Richardson happens to be fourth in the nation with 130.3 receiving yards per game.
It will be quite the battle for the Wildcats, as long as their defense can keep a close eye on these two friendly rivals.
—
October 23rd
Ka'Deem Carey has the attention of CU defenders
From CUBuffs.com … Ka'Deem Carey went on an extended afternoon run last November 10, and all Parker Orms could do was watch. Unfortunately, his Colorado defensive teammates also slipped into spectators' roles for Carey's fun run in sunny Tucson.
Orms was recovering from a concussion and watched from the sideline when the Buffaloes lined up to play Arizona. At day's end, Carey had stomped into the Arizona, CU and Pac-12 Conference record books, rushing for 366 yards and scoring five touchdowns in the Wildcats' 56-31 rout.
No Arizona back had run for that many yards in a single game. No back CU ever played had run as productively. And no back in Pac-12/10 history had reached that yardage as Carey broke the former league mark (357) set by Washington State's Rueben Mayes in 1984.
Carey's total was just short of being 100 yards more than the 268 that Kansas' David Winbush pounded out of CU's defense in 1998. Carey had 293 yards in the first three quarters, and the Wildcats finished the game with 438 yards rushing (574 total).
In a season of bad CU Saturdays, this one was among the worst.
"It was embarrassing, very embarrassing," CU defensive end Chidera Uzo-Diribe said. "As a defense one of the things you always take pride in is being able to stop the run. Having given up all those yards to one guy, it definitely hurts."
Buffs coach Mike MacIntyre said rather than his defenders getting "mad and angry" over the memory of Carey prancing past them last season, they should concentrate on getting their assignments right for Saturday night's visit by Arizona (6 p.m., Pac-12 Network) "then be mad and angry when you hit him."
Taking in last season's carnage from the sidelines, Orms said Carey "found holes whenever anyone had a missed assignment and then he was off to the races . . . he's the type of back that makes the first guy miss and you can't have that. You have to have the first guy wrap up, then have the other ten guys coming."
—
October 22nd
Tuesday press luncheon quotes from Mike MacIntyre and Sefo Liufau
From CUBuffs.com …
General / Opening Statement "Last Saturday's game was a great game for Boulder.  Our kids were excited that Rick George and our administration was able to get us another game to play so we could play 12.  You only get so many times to play so, we're excited about that.  I thought we played well.  There were a couple things that we could have done better but I thought it was a good outing for us.  And now we're 3-3 and getting ready to go back and play in the Pac-12 against Arizona who is a very good football team.  (Arizona Running Back) Ka'Deem Carey is a phenomenal player. I wish we were playing Jim Carrey and not Ka'Deem Carey.  He is an unbelievable player.  Not only is he a good runner which everybody knows, but he is a physical, tough guy.  When you watch him play he really makes things happen.  (Arizona Quarterback) B.J. Denker has done an excellent job complementing him.  He can really run also.  He's been able to throw on the run and I thought in the Utah game he played excellent.  He really put it together.  I'm very, very impressed with their team.  Defensively, they've really improved from last year's defense.  Watching some film on them last year and watching them this year …..  They've drastically improved and I guess that's because they're one year into the system …. Another year into the system and they're playing really well and making a lot of plays.  They're pass rush has really improved and I'm very impressed with them.  They had good special teams play on Saturday.  They're doing some really great things on special teams.  They're a really good football team and it's going to be a really good contest for us.  We need to play better in the Pac-12 which everybody knows, and that's what we plan on doing."
On Saturday's Halftime Comments In Which He Scorned a Struggling Defensive Line "We there were some things we worked on and worked on with our pass rush ….. Very simple things that we did not do and we left gaping holes for the quarterback to scramble through.  We should have had two sacks and we should have had …..  That's what I was ….. I was frustrated at that point about that.  (Defensive line coach) Jim (Jeffcoat) does a good job with them.  The kids are playing as hard as they can.  That's one of the things that I'm talking about.  They have to stay intense and focused the entire time.  You can't have lapses like that on things that we've gone over and over with. That's what I told them at halftime.  Sure enough in the second half I don't think we gave up a third down.  We did the same exact rushes and sacked him.  So, that's the thing that we cannot have happen against a really high caliber team or all of a sudden its six points quick.  So, I was just frustrated at the time.  The kids understood it and rallied behind it and we went from there."
On the Importance of Having Momentum Going into a Big Conference Game "I don't know.  I'll tell you after the game.  I thought we practiced really well today.  I know I always say that but today was our best Tuesday practice all year.  Maybe it was the sunlight.  Maybe it was the game win.  Maybe we were excited about the upcoming game and having a little more pep in their step.  I thought we did some good things.  We had kids stopping and asking us questions and making us re-do plays instead of just getting through practice, which are all things I look for that hadn't really happened before.  Those were some positive signs for me that we're headed in the right direction.  Hopefully it'll show up better Saturday.  It has a better chance to with us doing that and the kids doing that."
On Ka'Deem Carey's 366 Yard Performance against CU Last Year "I haven't (ever been involved in something like that).  He's an excellent player.  The offensive line does a good job.  Rich Rodriguez has a good scheme that he's developed and the ability to ….. It seems like it would be pretty easy to stop. There's one running back there.  Go tackle him.  It's hard to stop the way he does it and the way he moves the line of scrimmage.  Throws the different screens and the different bubbles and the quarterback being able to run like he can I think even helps it more because you have to be aware of him too.  You can't just dive down on the running back.  He pulls it out and he's running down the sidelines.  Your linebackers have to have keys.  It's a little bit like the option stuff responsibility which hopefully from last week helps it pay off this week …… with knowing where they've got to fit, how you block it, whether you step outside or inside.  If you step outside and you're supposed to step inside (Carey) is to the house.  I mean it's that hard.  He does a good job at it."
On Arizona Quarterback B.J. Denker "You have all the guys that came in with the big names which deservedly should have them, but I think what they ask him to do, he's really good at.  He can really run.  I saw him a little bit on television but watching the six games this year and watching the plays he made ….. There was a play against Washington where he hurdled a guy and outran the whole team to the one yard line.  That was a spectacular play.  I haven't seen many quarterbacks that can do what he did running the ball wise.  And then he's very accurate on the run as thrower which is hard to do.  He does a good job with that.  He's a lefty so it comes out a little awkward sometimes so watch it.  But he does a good job at it."
On Denker Taking Pressure off of the Arizona Ground Game "Well a lot of times it back to that old run-pass option that I've been talking to you about.  There's a lot of that.  He's such a good runner that once he gets there he can pump fake and take off.  He does a lot of that where other quarterbacks would throw it as a pass for a five yard gain or a 10 yard gain.  He'll take it and run 30.  I think that's also why he hasn't had quite as many turnovers.  So, I think that might be part of their process.  If we don't turn it over with what we're doing then hopefully we can make him throw some incompletions and stop Ka'Deem Carey."
On Watching the Tape of Last Year's CU-Arizona Game "Yes I did (watch it) and Ka'Deem Carey looked just about like he's looked against every other team I've watched.  I think they gave it to him 40 times against Utah the other night and he's a beast of a ball carrier.  He really is."
On Liufau's Performance against Charleston Southern "I thought Sefo (Liufau) played well.  His first play of the game he needs to follow through and get it there.  He was probably a little bit of nervous.  We were trying to get a good easy throw for him and then he made some better throws than that later on.  That was good.  It was good to see him come back and do that.  I thought he did some really good things.  He had some good reads.  There were some things to learn from and always when you go into your first game and you go into your first start I think it's a bit tougher.  I think then as you watch it on tape and then you know that coach (Brian) Lindgren is telling you certain things ….. Whew, I really better be on my Ps and Qs.  If it happens in the game it really makes a big difference.  That's part of the experience of playing."
On Supposedly Conservative Game Plan against Charleston Southern "We had a lot of plans doing it.  Once we got to running it we wanted to run it better.  That was good.  We need to be able to do that.  That takes a lot of pressure off the quarterback.  You hear that on Monday Night Football.  You hear that everywhere.  If you can run it, it makes that guy relax and he can start making more plays if he's not dropping back every snap, especially when you're young.  So, I thought that was good to complement it for sure."
On Having Adkins and Powell at the Top of Running Back Depth Chart "They'll be our one and two guys and then Tony (Jones) …… If we had more plays …… They kept the ball a couple times on us and limited some of our play counts but we had some more things for Tony to do.  Tony will be in the mix also but, the bulk of the mix right now, unless one of them gets nicked up which happens at running back, would be Mike (Adkins) and Christian (Powell) but Tony's definitely in the mix there and we have some things for Tony to do also."
On Run Defense "I think we've improved in that area.  I really do.  We need to keep improving in that area.  It's all about run fits.  It's all about knowing who to fit.  It's all about containing your gap.  Seeing the back field sets pre-snap is really a big deal. (Linebacker) Addison (Gillam) has done a good job with that being a freshman.  I think (Linebacker) Woodson Greer is getting better and better at fitting that.  Our D-line is getting better at knowing when they've got to secure the blocks and different things that we're doing.  That's going to be critical this week.  If you cut out of your gap this week you're in trouble.  That's what they do. They spread you out and if they can get you cut out of a gap, then he creases it and then he runs through an arm tackle and then he's on the safety at mid-field.  Not many safeties tackle him the first time.  That's just the way it is."
On the Development of Michael Adkins "We felt like Michael was good all along when he first got here.  We saw his explosiveness and speed.  I had watched him when he was a sophomore.  We had a bunch of guys that played at San Jose State that played on his high school team so we were really excited about him.  We just wanted to bring him along.  One thing that helped Michael was the flood, truly, because he got more practice time and he was ready to go.  So, that helped him get ready.  He had a really good time in that off-week, those couple off-weeks there, and really got better and we felt like it was time to play him.  And then, he's done well.  He's just got to keep doing well."
On Ryan Severson's Big-Play Ability "He's been really close (to breaking a long run) a couple of times.  I think he'll break one.  He's a 10 700 meter kid and I think he ran back nine or 10 in high school.  He had over 2,000 yards rushing last year in high school.  They had a pretty good back field in his back field.  They had him, Byron (Marshall) that plays for Oregon, and the starting tailback at San Jose State.  They all three were in the back field at the same time and they all three are pretty good players."
On the Possibility of Playing in a Bowl Game at the End of the Season "We don't really talk about a bowls but they're at the first time where maybe they could utter it.  We're three away.  To me that's good motivation for them to go out and practice.  And to understand what's at stake and keep focusing, and keep getting better and remembering every little thing matters ….. To push from that ….. I think every college football player aspires to have that happen.  Especially if haven't ever been to one.  Then you really aspire to have that happen.  I look at it as positive.  With these guys right now, they look at it as motivation to keep helping them to stay positive.  They haven't really ever had that chance before really."
On the Added Motivation of Stopping Kadeem Carey after Last Year's Record Setting Performance vs. CU "If I would've been out there playing I would've been embarrassed and want to redeem myself for sure.  So, hopefully they play that way.  I think any competitor would.  But, it's not about being mad and it's not about being angry.  It's about doing the right thing, and then when you have the opportunity to hit him it's about being mad and being angry.  But, you've got to do all the other things first.  You can be made and say you want to hit him all you want but if you don't get in the right spot and play the right angle you're not going to be able to touch him so, you're going to be mad the whole rest of the day.  So, we've got to make sure we do those things right."
On Whether Carey's Performance in the Game Last Year was the Result of Arizona Out-Scheming CU "I wouldn't really say they out-schemed them.  If that's the case then he's out-schemed every team in America because (Carey) has gained yards every game.  He broke a couple big runs.  If he breaks a run I hope he breaks it from the 10 and not inside our 10.  But, I think you just have to play better and understand it.  I think the kids understand what he can do if you're not in the right spot.  I do think they understand that."
On Freshmen Dealing with the Pressure of Being a Student-Athlete at the College Level "I feel like they're doing well with it.  Last week was funny.  Addison (Gillam) had two exams and two papers and said 'I can't come to this thing Thursday,' which was a night meeting that we had.  I said 'Ok, we'll make it up.'  Because the academic counselors came to me and he did good.  I got the reports back today and he did good on the test and everything and then he had to go play in the game.   So, Saturday I said 'How are you doing?' They're going through all the rigors of a college student and getting used to it.  All those young men that really want to be successful, they want to be successful in every part of their life and Addison is one of them.  So, I think all those freshmen are going through that and I think they enjoy competing.  I think they enjoy playing so, hopefully they'll be able to keep moving and progressing forward."
On Having Patience with Freshmen "You've got to have patience with all of them because the whole team is young to me.  So, hopefully they won't be making the same mistakes two years from now when they're juniors.  I don't think they will."
On Whether the Team's Tackling is Improving "Well, we'll see Saturday.  We didn't tackle as well Saturday, a few times when I thought we should have made some plays, as we had been to be honest with you in some situations.  But we swarmed the ball.  You've got to make open-field tackles this week.  You've got to make one-on-one tackles in the hole.  And then you've got to run to the football at any time with these guys.  We'll get a steady dose of it to see if we've improved.  I feel like we've improved especially from the spring practices, I feel like we've really improved."
On the Importance of Having a Big Home Crowd this Saturday "It's real big. It's breast cancer awareness Saturday for us.  It's homecoming so we're going to do the blackout for cancer. So, that's very big.  Then, there are a lot of people in the athletic department that have battled cancer and beat it and we have some people that are battling cancer in our athletic department.  Then, we have some people that have been victims of it and it's really touching a lot of lives.  Saturday, not only the game but what it represents and the emotions of it all the way around not just dealing with football, is a big deal.  So, to have a great crowd there and homecoming for a big Pac-12 game would be inspirational to our players and also to the people that we're going to represent Saturday for the breast cancer awareness game."
On the Possibility of Christian Powell Playing Fullback "It depends on …. We have plays for him to do.  It depends on how much we get into those sets.  We have different sets that we want to do at different times.  It depends on what they're doing defensively too sometimes. You kind of mix and match and say 'Ok, this is what we're going to do to this then we have an advantage here.'  So, if an advantage is for him to be in the game in some of those sets ….. But he's a good fullback.  He's a good tailback.  He's a good versatile player.  So, we're just trying to use him in as many ways as we can if he's not being the tailback all the time."
On Playing Your Starters Late in One-Sided Games "I had a coach tell me one time that he was getting beat badly by somebody and he got so mad that he ran out on the field and he said 'Coach, I can't believe you did that.'  (The other coach) said 'Wait a minute, you bring the team and see how they play against them.  It's the players that are on the field playing.'  So, I never have thought anything about any coach playing his starters or not playing his starters at the end of a football game.  It's our job to play well no matter who's out there and what they're doing.  So, I've never thought too much about that to be honest with you.  The only thing that I've always thought is, late in the game if you had your starting quarterback out there and somebody hits him and he gets hurt , well that's not real bright I don't think on my side of it.  Because I would be kicking myself all night long if that happened."
On Injury Report "(Offensive Lineman) Marc Mustoe broke his ankle so, he's going to get operated on I think tomorrow or Thursday so, that's a big loss for us. He was getting better and better and playing in some certain sets for us and helping us on different special teams.  So, hopefully all of that will heel up good and he'll be able to get back.  That's the only one we have.  Hopefully (Tight End) Alex Wood will, be back.  I think they're doing all the testing on him today so hopefully we'll know.  We're thinking he'll be back Saturday but he probably won't be able to practice till Wednesday."
On Josh Ford's Progress after His Off-Season Injury "His ankle is getting better but he's still not a full go.  He's doing a few things here and there but he's still not full go yet.  It just all depends on how he comes back.  To me, the way I see him moving around, I don't see him coming back in the next couple weeks.  Now he could get better in a week but he's not moving around as well as I would like to throw him out there at tailback.  I don't' want him to re-break it.  Hopefully (he'll be back this year)."
On How he will Utilize Inactive Freshmen for the Remainder of the Season "We've used all of the freshmen we're going to use at this point unless something absolutely disastrous happens on the offensive line.  We've got some preliminary plans but if we get two or three more guys hurt then ….. Hopefully we won't.  I don't think we will.  So, we'll see."
On Evaluating First Career Start "I'd say overall that it was a good start.  I believe I did a really good job of managing the game and taking what the defense gave me.  We had a lot of running plays called because of what they were giving us.  So, we took that this week and I think overall I did a pretty good job this week."
On Making Audibles at the Line of Scrimmage "We have some checks here and there."
On Reading Defenses at the College Level Compared to High School "In high school they don't run as many coverages per say.  They're not like switching from cover-three to cover-one or cover-eight to cover-three.  At the college level they do a lot more switching mid-play and you have to read it and you have to be able to act on the move.  It's a lot different from high school."
On Replicating Sophisticated Defensive Looks in Practice "We can do that in practice.  Our scouts do a really good job of watching game film and doing what the opposing team is doing that week. "
On Throwing the Ball Out of Bounds and Not Forcing Throws "We were going ….. on one play, I think Paul was open on one of the third downs and I got flushed out of the pocket and there was no open throw.  Obviously you want to make the third down and convert and keep the drive alive but, obviously you don't want to force anything and throw an errant pick so just throwing it out of bounds is partly coach Lindgren and partly myself because I did that a lot in high school if it wasn't there."
On the play of the Arizona Secondary "I'll probably see something on film this week.  So far I just know that they're good cover guys and that a lot of quarterbacks have forced throws into their coverages.  I just have to keep watching film and try to see what they're good at …. Each corner and each safety, even their back-ups if they're in and just get prepared."
On Advice from Paul Richardson in Going Against the Arizona Secondary which Includes His Cousin, Shaquille Richardson "Paul has given me tips on both corners, not necessarily just his cousin.  But he's given me tips on both corners and what they're good at so, we're communicating very well, me and the receivers.  We plan to do a couple things this week that will help us win."
On Playing Better Against Pac-12 Opponents "I think we all just want to play better.  It's not about who we play each week because we know what we're capable of and we've seen, when we go first-team offense against first-team defense in practice, what each side can do.  And we just have to come out against Pac-12 opponents and just let loose.  Coach says 'Jump in and swim and start playing and just go all out.'  I think if we take what we do in practice and put it into the game I think we'll do very well."
On Overcoming the Hurdle of Winning a Pac-12 Game "I think it's one of the hurdles that we have.  We haven't been playing especially well in the Pac-12 this year but I know that we can.  It's just a matter of being consistent like I keep saying.  Last week we were very consistent.  We did all of our protections well ….. Passing, receiving and especially running the ball ….. I think if we do that this week we can have the same result that we did last week."
On the Importance of This Week's Matchup "Every game is a big game.  You can't take any of them lightly even a Charleston Southern team that was very good.  In my eyes, I treat every game like it's the championship game.  Each game matters like coach says.  You don't know when you're last play is, or your last game and so you have to go hard every game and every play.  Every team is really good. Arizona is an extremely good team …. Very fast, very physical ….. You have to be very perfect on all your plays and your assignments so, we have to come out ready to play."
On the Bowl Implications of Saturday's Game "I'd say it's very important.  We all want to go to a bowl.  We know how possible it is if we stay consistent and we take the coaching that we learn and put it out on the field.  We think it's very possible."
On the Team Wearing Pink Cleats This Saturday in Support of Breast Cancer Awareness "I don't think they're distracting.  I think they're pretty cool and they have good meaning to them.  I don't think they're distracting at all though."
On Whether Pink is Becoming the New Black "Yeah I guess so shoe-wise.  I don't know what other guys are doing, maybe pink gloves, but just pink cleats for me."
—
Local boy makes good: Sefo Liufau article in Tacoma newspaper
From the Tacoma News Tribune … Even though quarterback Sefo Liufau prides himself in being diligently prepared, even with all his beyond-his-years maturity, the moment Saturday was far too big for him to ignore.
Maybe it was the sight of 36,000 fans, including his parents from Tacoma and a cousin from San Jose, starting to fill up Folsom Field, home of the Colorado Buffaloes.
Maybe it was the attention-grabbing pounding hooves of mascot Ralphie as the live buffalo galloped around the field during pregame warm-ups.
There was no avoiding the public-address announcer's introduction: "At quarterback for Colorado … Sefo Liufau."
Just four months ago, Liufau – The News Tribune's 2012 All-Area player of the year – was partaking in Bellarmine Prep's graduation ceremonies. Hours later, he was on an airplane with his father, Joe, to Boulder, Colo., to enroll in college, and jump into the Buffaloes' summer football.
And Saturday, Liufau became what is thought to be the first true freshman from Pierce County to start at quarterback in the Pac-12 Conference.
"Like I've said, I don't know if it has all hit me," Liufau said Sunday morning, hours after leading the Buffaloes to a 43-10 victory over Charleston Southern, a previously undefeated Football Championship Subdivision (FCS) opponent.
"It is unreal that I am playing in such a big conference, on a team like Colorado. I am trying to help turn this team around. And I am not alone in this."
Liufau executed the Buffaloes' conservative game plan efficiently, if not flawlessly. He completed 14 of his 20 passes for 198 yards, marking the fourth-highest passing total for any Colorado freshman making his starting debut.
And early in the second quarter, he fielded a skidding shotgun snap off the turf, found star receiver Paul Richardson over the middle and lobbed a high pass against the Buccaneers' all-out blitz that resulted in a 60-yard catch-and-run TD.
"(The snap) kind of rolled and bounced up to me in slow motion," Liufau said. "I knew they were in cover-zero, bringing pressure. I had to get it out quickly. (Richardson's) guy got picked off, and Paul came open. I just gave it to him."
Liufau did not throw an interception, and he left his first start with a 169.7 passer rating, which drew a positive assessment from first-year Colorado coach Mike MacIntyre.
"He made some good throws," MacIntyre told the media after the game. "He was able to calm down a bit."
Upcoming games include another home date Saturday against Arizona, followed by road games at UCLA (Nov. 2) and Washington (Nov. 9).
"I am looking forward to that (UW) game," Liufau said.
Nobody, including Liufau, knows if this is a permanent change. It appears the job is his for the foreseeable future.
The initial plan was for Liufau to sit behind redshirt junior Connor Wood, who won the starting position in fall camp, and hope he could redshirt. But when Wood struggled for a second game, he was pulled when the Buffaloes went down 25-0 in the first quarter against Arizona State on Oct. 12.
Liufau came on and led the offense to a score in his first career drive, capped by his 10-yard touchdown pass to Nelson Spruce.
Though Colorado lost, 54-13. Liufau's numbers were respectable (18-for-26 passing, 169 yards), He did throw a pair of interceptions.
On the way home, he talked to Brian Jensen, his former offensive coordinator at Bellarmine Prep. Jensen previously was offensive coordinator at Idaho State.
"He gave me a 'D' for my performance, if I remember correctly," Liufau said. "And it was totally fine."
With word out that Liufau might remain the starter for 3-3 Colorado – it wasn't officially announced until last Monday – Jensen got a head start in giving his former pupil a few pointers.
"I just told him basically to just keep things simple, and do what you've always done – let the bells and whistles be bells and whistles, and stay grounded in your preparation," Jensen said.
Liufau said the week leading to the Charleston Southern game wasn't stressful or out of the ordinary. He met all his pregame media obligations Tuesday, and spent more than his normal time studying video on the Buccaneers with offensive coordinator Brian Lindgren, a former DeSales star quarterback.
"I know the whole playbook … but we simplified it a little bit (Saturday) so we could play faster," Liufau said.
All week teammates came up and offered encouragement. Richardson, the face of the program, told him to "play and have fun like any football game."
Liufau said only on game day did the reality of it – starting his first game – hit him. Afterward, he spent a few hours with his parents at the hotel watching football, sending out tweets and text messages to friends back home and talking about the game.
"It was just so exciting and fun to see Sefo take the field," Joe Liufau said. "We were talking about it that last year, he was in high school. Now he is on the biggest stage he can be. All the hard work and the patience have paid off for him."
—
Arizona trying to avoid letdown against Colorado
From the ArizonaStar.com … When the Arizona Wildcats are at their highest, Rich Rodriguez can often be at his angriest.
In other words, don't be shocked if "mad RichRod" makes an appearance this week.
Following Arizona's 38-31 loss to USC earlier this month, the coach loosened up and made sure a couple of the UA's next practices were fun and productive. The team's psyche was fragile following two losses, and Rodriguez wanted to make sure the Wildcats were still having fun.
But there was no time this season the second-year coach was more agitated than after the UA's 35-0 win over NAU in its opener. In the Tuesday practice following that win, Rodriguez was annoyed, mad and frustrated with his bunch, thinking their heads were getting too big.
He didn't let any players conduct post-practice interviews —the only time this season that's happened — and even made himself off limits.
So, following a big 35-24 win over Utah and a Colorado team that's 3-18 in Pac-12 play the last two-plus years looming Saturday, Rodriguez's letdown meter will be on high alert this week in practice.
"I'm only with them a couple hours a day, but they're out and about in the community and on campus a lot more time than that, and I'm sure they hear things about, 'Oh, what a great win,' and, 'Now you can do this and that,'" Rodriguez said Monday at his weekly news conference.
"Confidence is OK. But there's a difference between confidence and cockiness. We have a lot of ways to keep them humble. That's the way we do things."
It would be easy to overlook the Buffaloes. CU is giving up 36 points per game, letting opponents gain 443 yards a game and has been outscored 155-46 in three Pac-12 games this season.
Oh, and the UA hung 56 points on the Buffs last season.
But Rodriguez and his players swear they won't let off the gas pedal this week.
"They're a much improved team from last year, so we're not thinking about how we had a big day last year," junior offensive tackle Mickey Baucus said. "We're thinking about what we have to do to get ourselves better and what we have to do to have another big day this year."
Rodriguez said the message to his team when it meets for practice this afternoon will be simple and to the point.
"We're just halfway through now, and there's a whole lot at stake," Rodriguez said. "I said it last year to them, too, 'The more you win; the more is at stake. You have to stay humble and you have to stay hungry.' I'll say that and preach that to the team."
Bondurant, Tevis hurting
Rodriguez said Monday that junior safeties Tra'Mayne Bondurant and Jared Tevis are questionable for Saturday's game at Colorado.
Bondurant suffered a concussion against Utah and is day-to-day. Tevis, who has 36 tackles and a sack in five games, hurt his knee against USC and missed the game against the Utes.
Rodriguez said Tevis didn't participate in practice Sunday and is uncertain if he will today.
Bondurant, who has 29 tackles and three interceptions, hasn't been cleared for contact after suffering his concussion.
Will Parks started for Tevis, and sophomore Anthony Lopez filled in for Bondurant.
"They both did pretty solid," Rodriguez said of Parks and Lopez. "They were a little nervous at first, particularly Anthony when he got in there. He wound up playing a solid game and Will Parks the same thing. Tra'Mayne and Jared Tevis are two of our best football players, period. Not just defensive players. They have the ability to make plays, so we hope we can get them back."
—
October 21st
Colorado at UCLA set for a 5:30 p.m. MT kickoff next Saturday
From the Pac-12 …. The Pac-12 Conference has released television selections for football games to be played Thursday, Oct. 31, Friday, Nov. 1 and Saturday, Nov. 2, including contests on Pac-12 Networks, the ESPN family of networks and FOX. TV networks and kick-off times are as follows:
Oct. 31, 2013, Pac-12 football
Arizona State at Washington State, 7:30 p.m. PT, ESPN
Nov. 1, 2013, Pac-12 football
USC at Oregon State, 6 p.m. PT, ESPN2
Nov. 2, 2013, Pac-12 football
Arizona at California,12:30 p.m. PT, Pac-12 Networks
Colorado at UCLA, 4:30 p.m. PT, 5:30 p.m. MT, FOX Sports 1 (FOX Deportes simulcast)
—
October 20th
Wear black … or pink … to Homecoming this weekend
From CUBuffs.com … It will be a busy week for the University of Colorado football faithful. On top of the normal pageantry accompanying all football games, Saturday's game with the Arizona Wildcats (6 p.m., Pac-12 Networks), is CU's annual Back To Boulder Homecoming Game and the Buffs are encouraging fans to Blackout Breast Cancer.
The game has been slated as the Breast Cancer Awareness game for a while and when the Pac-12 Networks selected the game with a 6 p.m. start time, the Buffs decided to designate the game Blackout Breast Cancer and fans are encouraged to wear black and pink to the game.
CU has teamed up with Boulder Community Hospital and Safeway for Breast Cancer Awareness for the second straight season and Safeway will host a pink area for breast cancer survivors who will be participating in the Blackout Breast Cancer activities throughout the game as part of a bigger Safeway Game Day Experience.
Tagged as the Ultimate Free Football Tailgate, gates to the 18,000-square-foot Safeway Game Day Experience will open from 2 p.m. until kickoff. There will be a media room airing live football games, football-themed video games, an old-school arcade with foosball, pop-a-shot and Pac-man, a DJ, a photo booth, 20 giant HD TVs, free food and drinks, prizes and giveaways, a mascot named Tank the Tail-gator and much more.
CU's Breast Cancer Awareness weekend will also encompass athletics events on Friday, starting with the soccer game at 3 p.m. at Prentup Field against USC and then the volleyball match that night at 7 p.m. against Arizona at the Coors Events Center.
CU's Homecoming Week 2013 is sponsored by the CU Student Government among others and starts Monday with a variety of events, large and small, occurring throughout the week all over campus, culminating with the Homecoming Parade and football game on Saturday. The theme for this year's Homecoming Parade is "Colorado Pride" and CU Senior Associate Athletic Director Ceal Barry will be honored as the Grand Marshall.
Back To Boulder Homecoming Weekend 2013 is a series of great events put on by the Alumni Association starting Thursday with the 84th Annual Alumni Association Awards Ceremony at the Boulderado Hotel and running through the football game Saturday night.
For more information about Homecoming Week 2013, please visit www.cuhomecoming.com and for more information about the Alumni Association Back to Boulder Weekend, please visit alumni.colorado.edu/back2boulder.
And don't forget to wear your black and pink and help cheer on the Buffs to a victory over Arizona.
—
Colorado a 15.5 point underdog to Arizona
According to vegasinsider.com, the Buffs are a 15 1/2-point underdog to the Wildcats this weekend.
Perhaps its because the Buffs covered the 31-point spread in beating Charleston-Southern … but the early money seems to be on Colorado.
The line opened at 17-points for the Wildcats …
—
Stanford back into; UCLA out of top ten
No. 13 Stanford defeated No. 9 UCLA 24-10 Saturday, with the teams swapping positions in the new AP poll.
Oregon remains at No. 2 behind solidly entrenched Alabama. Stanford moved up five spots to No. 8, while UCLA moved down three spots to No. 12. The Cardinal still have the loss to Utah on their resume, but Stanford is now the highest-rated one loss team in the nation.
No other teams from the Pac-12 are ranked, with No. 20 Washington falling out of the poll after losing big to Arizona State, 53-24. Surprisingly, the Sun Devils did not move into the poll, sitting just outside at No. 26 (Nebraska is No. 25, moving into the poll after an impressive – denote sarcasm – win over Purdue).
Three other Pac-12 teams received votes this week, with Oregon State coming in at No. 28, with Utah and Washington tied for the No. 33 spot.
The Associated Press poll of October 20th:
Dropped from rankings: Georgia 15, Washington 20, Florida 22
Others receiving votes: Arizona State 108, Notre Dame 82, Oregon State 79, Michigan State 73, Georgia 30, Ole Miss 27, Florida 17, Utah 4, Washington 4, Texas 2, Ball State 1, Brigham Young 1