Colorado Daily – USC
October 20th
Reminder … Follow CU at the Game on Twitter for updates throughout the game this afternoon …
CU's best chance at victory over USC …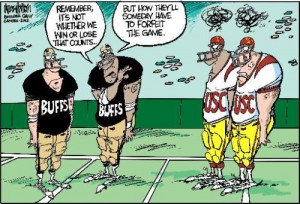 Ray Polk returns to the starting lineup
Senior Ray Polk has been a captain for the Buffs for five of the first six games.
Unfortunately, for five of the first six games, the coin toss has been the only time Polk has seen the field of play.
Until now …
From the Daily Camera… Polk was injured in the season opener on Sept. 1 against Colorado State and hasn't played since. He suffered a torn tendon in his ankle along with unspecified ligament damage that he hopes won't require surgery. He announced this week he will definitely return to action at Southern Cal on Saturday (4:07 p.m. Pac-12 Network).
"I'm playing," Polk said. "It's definitely exciting. I'm happy to be out here practicing with these guys. It's good to be back out here. I know I'm not at 100 percent, but I think I can help the team out."
He has made being a help to the team rather than a hindrance the determining factor in when he returns to the field. He didn't feel quite right a week ago before the Arizona State game and opted not to play because he didn't want to miss a tackle or have a receiver run by him in coverage.
"The thing is, I'm starting to come to the realization that it's not going to get better any time soon," he said. "So I think a lot of it is about being out there and getting everybody lined up and everything and being functional and a help to the team. If I see that I'm not being a help to the team, then I will be the first one to say, 'Hey, take me out. I'm not doing my job correctly.'"
Polk has been named a captain in five of the first six games this season, even though he only played in part of the season opener before suffering the ankle injury.
"The fact that he is not out there on the field, he still is a big influence for us and still does a lot with those young guys," coach Jon Embree said.
CU's head coach noted that during the first half of the season while recovering from his injury, Polk acted like a captain in everything he did. He said Polk regularly meets with his teammates on Monday nights to watch film. He said Polk has been active in meetings even though he hasn't been playing. He quizzes teammates and works with players on Friday nights before games, too.
When game day arrives, Polk naturally fits into a coaching role offering tips and encouragement on the sidelines because he's been doing it all week in practice and meetings and the weight room.
Polk says the entire experience has been eye opening for him. He now is considering a career in coaching, which is at least one positive that has come from all the physical sacrifice he given to the program he loves.
"The biggest thing that is most annoying about this injury is I could play with the other stuff and I didn't mind doing it," he said. "I was happy to do it. I was happy to be able to go out there every day and perform to whatever degree. But this is the most frustrating thing because I don't know how it's going to limit me. It's already cost me six games. I can't play through an ankle injury being in the secondary. It's just not functional. You're putting yourself at risk and more importantly, everybody else. It's the most frustrating thing I can think of, even more than a season-ending injury because that is definite and concrete. You are not going to play. This is a huge tease."
Polk said he doesn't remember the last time he felt completely healthy on the football field. It was likely either early last season or at some point in 2010 when he was a sophomore. But he was forced to miss last season's game against USC at Folsom Field because of a concussion he suffered the week before and he doesn't want to miss out a chance to play one of college football's legendary programs twice in his career.
"This is my only chance to play them and I'm finally feeling like I'm able to be functional on the field," Polk said. "So I'm looking forward to it."
October 18th
Embree: "We haven't been able to run the football like we want"
On Changing The Offense
"Well you can't do too much different because you are in the middle of it (the season) obviously.  In the offseason, that is our top priority of getting that fixed, we have to run the football and that has been the biggest issue with me as far as what we have done from an offensive standpoint.  Our lack of production is the fact that we are not able to run the football.  I think we have had three times where it was fourth and one and we couldn't get it running the football.  We have to be able to do that, and it will be examined thoroughly.  I've already started that process but it will be something that we do as a staff.  That will be addressed during the recruiting process, there is that dead period in December so that will be addressed and discussed in the direction that we need to go."
On Any Ideas For The Second Half Of This Season
"Yes, some possibly.  Again some of it is personnel too.  You have some ideas but you don't have the people, or if your people don't fit that, you can't do it.  But there are some things that we will keep trying to mix in and do and see if that can help us."
On Establishing An Identity
"I don't feel like we have established that due to the offensive side of the football from running.  We just, we haven't run the football like we want.  Defensively, I think we are heading in the right way from the standpoint of scheme.  Obviously, we haven't been able to do a lot of things I have envisioned us doing just because youth or injuries.  You have to make sure guys at least have an idea of what they are doing when they are out there; we haven't been able to do it on that side.  Last year, it seemed like most of the injuries were on the defensive side, and now obviously we are playing six guys that are freshman on that side.  I just want them to be able to line up and tackle, and be in the right gap when you are on the D-line.  I think the pieces are there from a personnel standpoint on that side, to go the direction that we need to go."
On Being 41-Point Underdogs Against USC
"Well [Sports Information Director] Dave [Plati] had just mentioned that to me when I got here.  That was news to me.  Again, I don't pay attention to that.  But I am sure that will help the players be motivated, but again, you have to prepare in a certain way if you are going to go out and win any game, and it is important that we have a great practice today and that is all we can control.  We can't control anything else and so it is important we have a good practice today.  I thought Sunday was a good first step.  Yesterday, a bunch of guys watched some tape.  That is where it is, and go out there and go play.  Let's see what happens."
October 17th
Notes worth Noting … USC
– Colorado is 2-14-1 all-time in the state of California, wins over UCLA and Washington (in the Holiday Bowl) and a tie against Tennessee (in the 1990 Pigskin Classic).
– CU sold 2,100 of its allotted 2,500 tickets for the USC game. A sell-out crowd of 93,607 is expected.
– Buff kicker Will Oliver has only three attempts on the season (making two). CU is on pace for the fewest field goal attempts in a season since 2003 (7-of-11).
– USC, after playing four of its last five games on the road, will play four of its last six at home (with one of the "road" games against cross-town rival UCLA).
– The Trojans are 6-0 all-time against the Buffs. Overall, USC has out-scored Colorado 180-41 … or an average score of 30-7.
– USC has won 11 national championships, has 31 bowl victories (CU has 12), and six Heisman trophy winners.
– In its history, USC has had 11 players from the state of Colorado (none current). Of the 11, four played for Boulder-Fairview high.
– Senior CU safety Ray Polk, despite being injured for all but the first half of the CSU game, has nonetheless been a captain for five of the first six games this season.
– In August, head coach Jon Embree indicated that captains would be selected on a "game-by-game" basis. However, after the second game of the season, the same four players – offensive tackle David Bakhtiari, defensive tackle Will Pericak, linebacker Derrick Webb, and safety Ray Polk – have been the captains.
– All eight of CU's seniors are on pace to graduate. Two, Ryan Dannewitz and Dustin Ebner, have already graduated, while five others will graduate in December. The only senior slated to graduate in May is Nick Kasa, who will graduate in four years.
– USC has out-scored its opponents in the first half this season by a margin of 128-41, while Colorado has been out-scored by its opponents in the first half by a margin of 73-150.
– USC has won 59 of its last 67 home games.
– This weekend is Family Weekend at USC. Members of the 1972 national championship team will be honored during the game. The 2012 season is also the 80th anniversary of USC's 1932 national championship team, and the 50th anniversary of USC's 1962 national championship team.
– USC has produced more NFL draft picks (476) than any other school in the country, and has had more first-round draft picks (77) than any other school. The 44 Trojans on NFL rosters on opening day this fall was seven more than any other school …
October 16th
Embree press luncheon quotes: CU selling "opportunity"
From cubuffs.com … Identify the college football coach who said the following about this week's opponent:
"They are deep, they are talented, they just change jersey numbers every year but the guys all look the same . . . . They draft, we recruit. And they get the first 25 picks of the draft."
That could be Colorado's Jon Embree as he (star) gazes at Southern California, but it's not. Embree might think it, but he didn't say it. USC features the probable No. 1 NFL draft choice in quarterback Matt Barkley, receivers Robert Woods and Marqise Lee, tailback Silas Redd . . . and that's merely the headliners on offense.
The quotable coach was Tennessee's Derek Dooley, who was truthfully hyping No. 1 Alabama – the Vols' opponent Saturday in Knoxville.
Embree, meanwhile, is prepping his Buffaloes for Saturday's trip to the Los Angeles Coliseum to meet the No. 11 Trojans. USC is a 41-point favorite, a hideous but hardly surprising spread that Embree claimed he wasn't aware of until being briefed shortly before his weekly media luncheon on Tuesday.
Embree contends that he doesn't fret over that ugly figure seeping into the Buffs' locker room and doing early week psychological damage: "I don't really worry about that; it doesn't change how you prepare. You try and do everything that you would do normally. I don't read the papers or any of that stuff, so it doesn't affect me, and as coaches we just have to be positive on the field and do a good job of leading (players) and preparing them and then going out and playing. Go out and play the game."
That this game is being played in an area the Buffs recruit heavily and that the oddsmakers' inkling that the contest won't be close don't faze Embree either. In fact, he's viewing the Buffs' first visit to the Coliseum as Pac-12 Conference members as "a good opportunity  . . . we (signed) ten kids last year out of California. I don't know how many we have committed now (from California), but there are a few more that are close. It's always good to go back out there and let kids play at home. That's one of the advantages of getting in this conference, going out and playing in Los Angeles or the Bay area every year so that kids can learn more about your program.
"Anytime one of our teams is out there, whether it's men's basketball or soccer, whatever, that's huge. We have a lot of alumni out there and we get a lot of kids in our general student population from California. It's a win-win."
Embree is basing that assessment as much on exposure as he is on results – and maybe more so this season. He believes CU prospects or potential prospects who attend or tune into Saturday's game can't help but see an opportunity to help the Buffs. He voiced the same thought last week before the nationally televised Thursday night game against Arizona State, which perhaps underscored his belief with a 51-14 win that actually was close for a half.
Although CU has been outscored 93-31 in its past two games, Embree doesn't see that lopsided total or the Buffs' other three losses as seriously damaging the reception he and his staffers are receiving from prospects.
"They need to understand there are different things going on within your program and how they fit," Embree said. "They need to understand that we're not instant oatmeal, we're not just adding water and get going. If that's what they're looking for, then this isn't the place for them.
"But if they want to be part of something special and help build something, if they want to get a great education, then they'll continue to want to be a Buff. Those are the things to talk about . . ."
Through games of Oct. 6, CU was tied for fifth nationally with Akron in the number of true freshmen played (13). Punch in the number of redshirt freshmen playing and the Buffs' first-year participant total goes to 21.
The same chart lists USC at 11 true freshmen and 25 first-year participants, which brings us back to Dooley's quote on the Crimson Tide. USC is in that "we recruit, they draft" mode, too. Eventually, Embree wants CU in that same conversation, but for now this has to be among his best opening lines in living rooms: "I ask kids, 'Is it your dream to play college football or watch someone else do it? Do you want to go stand in someone's line and wait a couple of years? If that's what you want, great. If you want a chance to play early and be a part of something special, then you'll come here.'"
When Embree elected to stay in-state – he was a nationally recruited Cherry Creek High School tight end prospect – and signed with former Buffs coach Bill McCartney in the mid-80s, he said he "dreamed of playing college football; I didn't dream of watching anyone else play."
Injury report
Tailback Terrance Crowder – knee suffered a torn ACL in practice on Oct. 3; surgery pending – OUT
Linebacker Brady Daigh – neck suffered a sprain late against Arizona State; all tests were negative – PROBABLE
Defensive end Samson Kafovalu – elbow suffered a mild hyperextension late against Arizona State (Oct. 11) – DAY-TO-DAY
Safety Ray Polk – ankle suffered a high sprain against Colorado State (Sept. 1); in boot for 3 weeks, is now running – QUESTIONABLE
Wide receiver Paul Richardson – knee suffered a torn ACL in practice (April 9); underwent surgery (Apr. 16), progressing nicely but out for the year – OUT
Tailback Christian Powell – thigh suffered a deep bruise against UCLA (Sept. 29), bye week helped heal a bit, should return for USC – PROBABLE
Defensive tackle Justin Solis – concussion suffered against UCLA (Sept. 29) – DAY-TO-DAY
Linebacker Paul Vigo – foot suffered in practice (Oct. 3), could be out up to three weeks but progressing nicely – QUESTIONABLE
Linebacker Kyle Washington – concussion suffered early against Arizona State (Oct. 11) – DOUBTFUL
Cornerback Yuri Wright – concussion suffered in practice (Oct. 2), should return for USC QUESTIONABLE
Linebacker Doug Rippy is off the injured list, and should be 100% for USC
October 15th
Nick Kasa added to Mackey Award watch list
From cubuffs.com … Senior Nick Kasa is one of 26 players to be named to the 2012 John Mackey Award midseason watch list, an award presented annually to the country's best tight end on December 6 in Orlando at the Home Depot College Football Awards Show.
Off to a solid start to the season, Kasa has 11 catches for 239 yards and three touchdowns over the course of six games. He is averaging a team-best 21.7 yards per reception and has six catches of 20-plus yards. In a tough loss against Arizona State last Thursday, Kasa was one of the bright spots with a season best four receptions for 71 yards and a touchdown.
In the last three weeks, he has 10 catches for 199 yards and three touchdowns.
The former defensive end is in his first season at tight end and is also known for his vicious blocking abilities. On special teams, he is among the team leaders with four knockdown or springing blocks and has also forced two fair catches on the punt unit. At 6-6, 260, he runs in the 40-yard dash in the 4.55 range.
The John Mackey Award is in its 12th season and is managed by the Nassau County Sports Commission, a non-profit organization sponsored by Briarcliffe College. The recipient is selected by vote of the John Mackey Award Selection Committee. The winner will be presented live on December 6, 2012 at The Home Depot College Football Awards Red Carpet Show airing at 4:30 p.m. MT on ESPNU. Since 2000, the John Mackey award has listed 11 NFL players as alumni.
CU's Daniel Graham won the award in 2001 in its second year of existence. His position coach that year was CU head coach Jon Embree. Embree also coached Marcedes Lewis at UCLA when he won the award in 2005.
Semifinalists for the 2012 John Mackey Award will be named on November 12 and finalists on November 19.
Eric Bieniemy interview
From cubuffs.com … Eric Bieniemy has been in his role as Colorado's offensive coordinator for a season and a half, or 19 games. He concedes he's faced a learning curve in his new job, but he won't concede it is steeper than he can handle.
"Has there been a learning curve? Yes. Is it something that's a huge learning curve? No. You know what I mean? It's not a difficult one," Bieniemy said Monday, taking a break for a Q&A session with CUBuffs.com as he and his offensive staff continued preparations for Saturday's game at No. 11 Southern California.
Bieniemy contended being an offensive coordinator is "not as scientific as a lot of people would like to make it out to be. It comes down to X's and O's."
But the X's and O's – as well as the W's – have eluded the Buffaloes. In a 1-5 start to Jon Embree's second season, CU is still searching for the strong running game and balanced offense that Bieniemy and Embree said would be their trademark.
This week's Pac-12 Conference statistics show CU at No. 10 in both rushing offense (110.8 yards a game) and total offense (327.3 yards). The Buffs are ninth in passing offense (216.5 yards) and last in scoring (20.8 points a game).
The "EB" Q&A:
CUBuffs.com: You're in your second year with this . . . do you feel like when you came into this there was a big learning curve as far as being a coordinator?
Bieniemy:  "Yes and no . . . yes there is because first and foremost you're overseeing the entire offense. Secondly, calling plays obviously was something I hadn't done. But other than that, football is football. That's when certain positions and certain titles can become overrated. At the end of the day, we all collectively have to coach our guys and we've all got to be on the same page . . . we've got to make sure we're putting our guys in the right situations to be successful."
CUBuffs.com: Do you feel like every day, every game is still a learning experience for you?
Bieniemy: "It has been, but after doing it – and I haven't done it for years – but after doing it you find your rhythm. The thing is, after doing all the studying and preparation you do during the course of the week that helps you. You have so much time to figure teams out and they're going to do what they do. It's not like they're going to reinvent the wheel; if they're great at it they're going to do what they do. They thing is, we've got to do what we do and be better than how well they execute their scheme."
CUBuffs.com: Jon said following the Arizona State loss (51-14 last Thursday night) that he would have a conversation with you and your coaches on offensive improvement. Has that conversation taken place?
Bieniemy: "Yes . . . at the end of the day, it just comes down to us executing. We play pretty good football for a half. We come out in the second half, we get a good drive going and then all of a sudden we just don't execute. One thing we cannot do is be our own enemy. Like I've said before, I'd like to see a game where we stop shooting ourselves in the foot . . . that's basically what it comes down to. We've got to keep coaching the details more and more. But also, too, we have to make sure our players keep understanding the importance of accountability, understanding that we only have 'X' amount of opportunities to make something happen."
CUBuffs.com: Are you saying this offense practically has to be error-free to be efficient?
Bieniemy: "You hate to say perfect, but the thing is . . . let's just put it this way: If we physically get beat on a play, that's fine. But when we don't do it right, that's an issue. You know what I mean? We're scaling everything down, so we've got to be much better than we are."
CUBuffs.com: Have you scaled back things even further than you did several weeks ago?
Bieniemy: "Oh, yeah."
CUBuffs.com: "What's the percentage of your playbook that you're using now?"
Bieniemy: "It's hard to give a percentage. I'd just say it's simple. We just need to go out and play fast and execute."
CUBuffs.com: Do you feel like your move to the sidelines has been beneficial?
Bieniemy: "It's been since the Washington State game, but that seems like it was years ago . . . but it's been great. You get a great feel for everything. There's nothing like having an opportunity to talk to the kids right after they come off of the field and hearing what they say. Nine out of ten times they're going to be 100 percent correct in what they're seeing and stating. That's the beauty of being down there. And just getting the rhythm and seeing what's going on . . . what's the ebb and flow? How does the defense look? And on top of that, there's nothing like looking a kid in the eye . . . that goes a long ways as well."
CUBuffs.com: We haven't talked about an obvious need for more skill position players . . .
Bieniemy: "We're not there yet. Obviously we still need some more firepower. That goes without saying. But to our credit, our kids fight every week. They play hard, they fight the fight . . . we haven't had any kick back or anything like that. These kids are all in and that's what makes it so frustrating because you want these kids to have so much success. The thing we need to understand is we have to make sure we overcome self. That's where our struggles have been."
CUBuffs.com: Jordan Webb has started all six games at quarterback. He's done some good things, but has he been as consistent as you would like?
Bieniemy: "Webb is still the starter, but our other guys will get reps. I believe (Webb) has that fight in him and has heart. He does need to be more consistent, and that's the hard part."
CUBuffs.com: Will you get Christian Powell back this week? (The Powell missed the ASU game with a deep thigh bruise.)
Bieniemy: "Yes, and that should help us. He's a different style of runner; he packs a little more oomph."
CUBuffs.com: What's been the most frustrating thing for you during the first half of this season?
Bieniemy: "I just want to see what happens if we play a game where a team physically beats us and can say 'we're better than you.' I just want to see us play assignment-sound football. I know you can't always be perfect, but I just want to see us execute a game plan and give ourselves a chance to have a chance. Then let the chips fall. If we're not good enough, we're not good enough. But let's get it to the fourth quarter and see what happens.
"It's tough, it's very challenging. It makes you find out a lot of things about yourself. For whatever reason, we've been placed in this situation and I've accepted this challenge. What makes it worth the while is our kids. They fight, they fight.
"We had a hiccup in Fresno (a 69-14 loss to Fresno State), but other than that our kids . . . they've played hard and fought their asses off every game. It's not like they're going out there with the intent to make mistakes. There's nobody slacking off; they're going out there playing every play to win."
October 14th
Jon Embree wants to focus on offense with extra days before USC game
Colorado is last in the Pac-12 in scoring defense … by a wide margin. The Buffs are giving up 41.3 points per game. The next worst team in the Pac-12, at least in terms of giving up points, is Arizona, which is giving up 32.7 points per game.
So CU head coach Jon Embree's focus … is on the offense.
From the Daily Camera … During his postgame comments Thursday night, Embree made it clear that he believes his defense is doing enough to win games and he has been disappointed with the inability of the offense to be more productive.
Embree said he planned to meet with his offensive staff Friday afternoon to discuss ways of improving the offense and scoring more points in the second half of the season, which is definitely the tougher half of the 2012 schedule.
In an interview with the Camera on Friday morning, Embree expanded on his thoughts about the need for more offensive production. He said he understands the perception created by lopsided scores is that the defense is the major problem, and he wants to see improvement on that side of the ball, too. But he believes that aside from the 69-14 loss at Fresno State, the defense has played well enough to win this season.
"This conference is an offensive conference," Embree said. "You're going to have to score 30-plus points to have a chance to win. Our defense has given us a chance. (Thursday) night it was 34-17 for a long time and if we can put some pressure on them and do some things offensively, that helps the defense out.
"When you're playing these spread offenses and you're sprinting 40, 50 yards every snap to try to get to the ball, it starts wearing you down. So the combination of us not scoring and three-and-outs, you put your defense at risk. That's exactly what we've done."
The Buffs are scoring just 20.6 points per game and are one of the worst rushing teams in the nation averaging 110 yards a game. Embree said those facts must change for CU to be more competitive going forward.
"We've got to look and find ways of how to run the football better," Embree said. "I mean, how many fourth-and-1s have we not made this year? We got to have a way to run the ball and say, 'Hey, we can run this play and get three of four yards.'
"We've got to, as a staff, find a way to help the kids and find a way for us to be able to do that. … If you look at other scores around the conference at what other teams are doing, you got to get around 30 points, and we're not doing that."
Crawley calls players out
Freshman leadership, bravado, or …. something else?
From the Daily Camera … Freshman cornerback Kenneth Crawley said after the Arizona State game that he believes some of his teammates on defense quit down the stretch against the Sun Devils.
"I feel as though the defense gave up, some players gave up," Crawley said. "They're a hell of a team. They've got a lot of great athletes, but I felt like we should have done better."
Crawley was asked why he thought some of his teammates quit.
"We're down for one," he said. "That's basically it. We was down. … I know there was some (quit) out there."
Embree and CU junior Parker Orms both said they don't agree with Crawley's assessment that some players threw in the towel. Embree said he believes the Sun Devils' final touchdown was a product of CU defenders not being able to focus after watching linebacker Brady Daigh taken off the field on a stretcher.
Embree reported Daigh had passed all necessary tests and was released from the hospital. He said the sophomore might be healthy enough to play as early as this week.