Colorado Daily – Stanford
November 3rd
Webb to start; three more players out due to injuries
CU head coach Jon Embree confirmed Friday that junior Jordan Webb would be starting at quarterback for Colorado against Stanford (if you follow CU at the Game on Twitter, you got the news about noon yesterday … just sayin').
While the decision will not be popular amongst the Buff faithful (be ready for boos on the first overthrow or sack on third down), Embree justified the decision basedu upon decision-making skills. Embree said that Webb is about "90%" when it comes to making the right reads against opposing defenses, while Connor Wood and Nick Hirschman were about "50/50" on their reads. Even with that, Embree did confirm that Hirschman will play against Stanford. It sounds, however, as if the sophomore's play will be situational, rather than due to Hirschman winning the job back on merit from the transfer from Kansas.
Buff fans don't see what the CU coaches see on film and in practice, but if the Buffs fall behind early against the Cardinal, what may be a practical coaching decision will be seen by the Buff Nation as a stubborn refusal to see the obvious – Webb is the most ineffective quarterback in the Pac-12. Webb is 1-7 as a starter at Colorado, and while Webb cannot be personally blamed for one of the worst defenses in college football, the quarterback is the face of the team. If Embree and his staff aren't seeing as trying every possible remedy to pull the Buffs back into respectability, Buff fans will react accordingly.
Several more Buffs out due to injury
Senior linebacker Jon Major will not play (elbow) against Stanford, Embree reported Friday. Two other players, defensive lineman Nate Bonsu and Josh Tupou, will also be on the sidelines. Major, Bonsu and Tupou join center Parker Orms, center Gus Handler, and tailback Josh Ford.
November 2nd
Stanford Notes worth Noting
Stuff you will hear from television and radio announcers during the game …
– Stanford coach David Shaw and Colorado coach Jon Embre are both in year two at their schools. Shaw is 17-4; Embree is 4-17 ….
– Stanford running back Stephan Taylor is 96 yards away from his third consecutive 1,000-yard season. No Cardinal has ever posted three 1,000-yard seasons;
– Stanford controls its own destiny in the Pac-12 North. The Cardinal are 4-1 in conference play, tied with Oregon State for second place. The Cardinal play both Oregon schools the next two weekends;
– Colorado is last in turnover margin in the Pac-12 (minus-eight). Stanford is first in turnover margin in the Pac-12 (plus-eight);
– The last time Stanford played the Buffs in Boulder, in 1990, head coach David Shaw was a freshman wide receiver (CU won the game, 21-17, on a controversial fourth down plunge by Eric Bieniemy).
– Colorado has been out-scored, 112-24, in the first quarter this season, and 239-79 in the first half;
– Colorado is giving up 46 points per game. No Colorado team in history has given up more than 42 points per game;
– If he starts (as expected), Colorado defensive end Will Pericak will be starting his 46th consecutive game, which would be a record for a defensive player (offensive lineman Ryan Miller started 47 consecutive games);
– If Nick Hirschman starts at quarterback instead of Jordan Webb, it will mark the fifth consecutive season in which Colorado has had multiple starters at quarterback. Only eight schools nationally have a longer string of seasons without a full-time starter at quarterback;
– If Christian Powell rushes for more than 37 yards in the game, he will pass his coach, Eric Bieniemy, on the freshman all-time rushing list. Coming into the game, Powell has 471 yards rushing, sixth-highest total for a freshman in CU history. Bieniemy is currently 5th on the list, with 508 rushing yards in his freshman season (1987);
– If tight end Nick Kasa scores a touchdown, it will be his fourth of the season, tying him with a host of players for 6th on the all-time list of touchdown receptions by a tight end in a season (the overall record is eight, by Gary Knafelc in 1953);
– Stanford leads the all-time series between the two schools, 4-3, including the last three games. The only game between the two teams since 1993 was last season in Palo Alto, a 48-7 romp by No. 7 Stanford;
– Stanford is 110th in the nation in passing defense, but Colorado is only 88th in the nation in passing offense;
– Stanford is 90th in in the nation in passing offense, but Colorado is 115th in the nation in passing defense;
– Colorado is last in the nation in scoring defense, at 46.0 points per game. Next in line, Marshall, at 119th nationally, has given up 23 fewer points than Colorado in the same number of games.
And this, for Buff fans … It won't be mentioned by the announcers, but this Saturday, November 3rd, is the 22nd anniversary of the epic CU comeback win over Nebraska in Lincoln in 1990. The Buffs trailed, 12-0, after three quarters, but rallied for four touchdowns in the final stanza to earn a trip to the Orange Bowl with a 27-12 victory. If you need a little fix, here is a link to the recap of that game.
November 1st
Yuri Wright Still Believes
From the Daily Camera …
Yuri Wright has had to get used to a lot in his first six months as a college student and football player, but one of the biggest changes in his life is something he has no plans to get used to.
Wright has already experienced more losing — and by much bigger margins — than he did in his two years of playing a significant role for his high school team, national power Don Bosco Prep in New Jersey.
"It's rough, but you've just got to keep fighting," Wright said after a practice this week. "You can't give up. Just because you've been winning all your life, there is times when you're going to be down. You just got to keep fighting and one day you will get back to where you were."
Wright was the highest rated recruit in Colorado's 2012 recruiting class. PrepStar named him to its "Dream Team" as the No. 2 cornerback in the nation and the 52nd best player overall. Two-thirds of the way through his first college season, he understands as well as anyone how meaningless those rankings and accolades are on the field on Saturdays.
He and the rest of his teammates have experienced more of their share of hang-your-head results in producing a 1-7 record. The CU defense has been historically bad, in part, because of the learning curve Wright and his fellow freshmen are experiencing.
Wright has played in six of the Buffs' eight games and has been on the field on defense for 220 snaps, making 13 tackles, including one for a loss. He missed the Arizona State and USC games because of a concussion suffered in practice, but he returned to start against Oregon last week.
He was now started games at both cornerback spots, three on the right side and once on the left, where he is the probable starter again this week when Stanford visits Folsom Field on Saturday.
Wright set career highs in playing time and tackles last week at Oregon when he was on the field for all 75 snaps and recorded four stops. He said he hasn't doubted his physical abilities at this level. He said he had played against some of the Ducks in high school all-star games and went into last week's game feeling confident he had the tools to make plays.
He's trying to do all he can to improve the mental side of the game, which will allow him to rely more freely on his remarkable athleticism.
"Just keep improving and keep working hard and get in the play book," Wright said. "Just keep getting better every day and keep learning. Once we do that and combine it all together, you will definitely see a change in us. I think by next year we'll be a pretty good team."
Coach Jon Embree has said numerous times this season he believes the program has a bright future on defense when Wright and some of his fellow freshmen mature. Wright's classsmates Kenneth Crawley and Marques Mosley also have started games in the secondary this season and defensive linemen Josh Tupou and Samson Kafovalu have started in the trenches.
While Embree is disappointed in the results his team is producing, he is excited about development he says he sees in many of the young players on the team. Embree says he plans to make cut-up videos of the freshmen playing this season and show them to players next year.
"And they will be able to see the difference when they watch that they will say, 'That is not me, I am way better than that now,'" Embree said. "It is true, when you watch yourself as you evolve as a player, you will be shocked at some of the stuff you put on tape, when you first start playing. It will blow your mind because you realize how much better you are and again that will help give them confidence.
"There is a lot that will go into it, the good thing is they don't go into it alone, that is when it is hard, they are all going through it together, so they all help each other get through it."
Wright described himself as "hungry" to get his hands on the ball before his freshman season ends. Some of his best friends on the team have been able to do so already. Crawley is the team's primary punt returner, though he has returned just nine punts. Mosley is the only freshman defensive back to make an interception so far.
"If I get it, I'm taking it back to the house," Wright said. "I'm looking for a pick-six."
His plan for making it happen is simple.
"Just do your job," he said. "If you do your job, things will come your way. I think if I stay consistent in doing my job, then it will pay off and I'll end up with a few interceptions and maybe fumbles."
October 31st
Colorado lands (permanently) in the Bottom Ten
What happens when you finish October 0-3, being out-scored 171-37? After a September in which you lose to Sacramento State at home, and give up 69 to Fresno State?
The Bottom Ten.
The Buffs made a guest appearance earlier in the season, and have been flirting on the "waiting list" since, but now are official members, coming in at No. 6 in this week's Bottom Ten list.
At some point, ESPN will make the Jordan Webb connection, with Webb's former team, Kansas, the only other member of the Bottom Ten.
From here on, it's probably going to take a victory to keep the Buffs from remaining a member of the Bottom Ten for the rest of the season …
October 29th
Injury report not positive – Orms may be done for the season
Colorado not only suffered a beat-down against Oregon, they were beat up. Three contributors have been knocked "out", perhaps for the season, while two other starters are questionable for Saturday's homecoming game against Stanford.
Here is this week's injury report:
Offensive tackle David Bakhtiari –  knee/ankle – suffered sprains in practice (Oct. 23) – QUESTIONABLE
Linebacker Brady Daigh – neck – suffered a sprain late against Arizona State; all tests were negative; limited in practice this week – QUESTIONABLE
Running back Josh Ford – ankle – suffered late in the Oregon game (Oct. 27), high ankle variety – OUT
Center Gus Handler – knee suffered a sprain (MCL) early in the Oregon game; likely out 2-3 weeks – OUT
Defensive back Parker Orms – concussion – suffered two in the last two games, USC (Oct. 20) and Oregon (Oct. 27) – OUT
Safety Ray Polk – assorted suffered facial lacerations – at Oregon (Oct. 27), still on mend from high ankle sprain versus CSU (Sept. 1) – PROBABLE
Wide receiver Nelson Spruce – concussion – suffered early in the Oregon game (Oct. 27) – DAY-TO-DAY
Defensive tackle Josh Tupou – ankle – suffered originally in practice (Sept. 11), kept reinjuring to point where he missed Oregon game – DAY-TO-DAY
Linebacker Kyle Washington – concussion – suffered early against Arizona State (Oct. 11) – DAY-TO-DAY
From the above list, Bahktiari has made 30 career starts, including seven this season (he sat out the Oregon game); Daigh has played in 18 career games, including six this season; Gus Handler has 15 career starts, including five this season; Parker Orms has 14 career starts, including five this season; Nelson Spruce has five career starts, with all five coming this season; Kyle Washington has five career starts, including two this season; Josh Tupou has four career starts; all coming this season; and Josh Ford has played in 19 career games.
For a team which is as young as the Buffs, the above injury list includes players with a total of 73 career starts … ouch!
Stanford to change quarterbacks?
From ESPN … The competition to be Andrew Luck's long-term replacement is not as settled as it once seemed.
With Josh Nunes struggling to consistently move the offense, Stanford coach David Shaw said Tuesday that he plans to play backup quarterback Kevin Hogan more. Hogan will take about 12 to 20 snaps at Colorado on Saturday, putting pressure on Nunes to improve after several sloppy starts.
Hogan, a redshirt freshman, played only about six downs in each of the last two games. While most of that time has been as a read-option or wildcat-style quarterback, expect more passes and packages soon.
"He's not ready to take it all right now," Shaw said, "and I'm not ready to take it all away from Josh."
Nunes has started all eight games since the Indianapolis Colts selected Luck with the No. 1 overall pick in the NFL draft. The redshirt junior completed 7 of 15 passes for 136 yards and a touchdown as Stanford squeezed past lowly Washington State 24-17 last week. He never found his rhythm, and at times looked lost
The defense, which has carried the Cardinal all season, sacked Jeff Tuel a school-record 10 times, and Ed Reynolds returned an interception for a touchdown in the fourth quarter to bail out the offense again.
Asked if he'd consider starting Hogan should the trend for both quarterbacks continue, Shaw said: "Anything is possible. Anything is possible, which is always the thing when you're going to give a guy more time at any position.
"We just can't have another half like we had this past game where we had 15 plays the whole first half. We have to be more efficient."
Washington State, the only winless team in Pac-12 play, had 25 first downs to 12 for Stanford. The Cardinal converted five of them, only put together one complete drive all game, and Shaw spelled Nunes for five consecutive plays with Hogan between the third and fourth quarters.
Apparently Shaw has finally seen enough to audible from a formula that so often hasn't worked.
Nunes beat out strong-armed Brett Nottingham, once considered the favorite for the starting job, in fall practice. Hogan emerged late in that competition, and even though the depth chart still lists Nottingham as No. 2, Hogan has since passed the redshirt sophomore for playing time.
While Shaw said in spring practice he disliked a two-quarterback approach because it could disrupt rhythm, circumstances have forced him to consider otherwise.
"It's not so much a change in philosophy as saying, `This is what is prudent. This is what is the smart thing to do," Shaw said.
Nunes has completed 52.6 percent of his passes. Shaw has said all year he wants that figure to be at about 70 percent, especially considering Stanford doesn't throw deep that often.
Nunes has thrown for 1,620 yards, 10 touchdowns and seven interceptions. His struggles have been well documented in losses at Washington and Notre Dame, but so have his highlights. He led Stanford to a 21-14 victory against then-No. 2 Southern California, and rallied the Cardinal from a two-touchdown deficit to stun Arizona 54-48 in overtime.
Nunes has shouldered the blame for any offensive struggles.
"It starts with me," he said Tuesday, adding that he isn't bothered at all by splitting time with Hogan, and praising his budding backup. "I just need to make the throws and be more consistent and get us into the right plays more often."
Shaw also is quick to point out that not all the blame falls on Nunes.
Top wide receiver Ty Montgomery has missed three straight games with a lower leg injury, and he dropped two key passes in the loss at Washington, among others. Stephan Taylor ran for a career-high 189 yards against Cal two weeks ago, but then the young offense struggled to create lanes against the Cougars. The senior ran for only 58 yards on 21 carries.
Hogan has seven carries for 16 yards in four games and has only thrown the ball once, connecting with tight end Levine Toilolo for a 9-yard touchdown in Stanford's 21-3 win at rival California.
Shaw said Hogan has an "added mobility," earned more playing in practices, and has "done exceptionally well" with the small amount of offense he has run. Shaw said he isn't worried about the potential impact on Nunes' confidence and expects the move to only motivate both quarterbacks more.
"As I said in front of the team, this is big-time college football. There's competition everywhere," Shaw said. "Josh has responded great in practice, and so has Kevin. It's not necessarily to compete to be the starter. It's competing for plays."
Permanent captains named
It seems like just a formality now …
At the beginning of the season, head coach Jon Embree indicated that captains would be named for each game, on a rotating basis dependent upon how the team was playing, and who deserved the starts.
That rule held true for all of two weeks, as the captains shifted from week one to week two. However, starting with week three, the same captains – offensive tackle David Bakhtiari; defensive tackle Will Pericak; safety Ray Polk; and linebacker Derrick Webb have been the "weekly" captains. This week, the media guide dispensed with the week-to-week list, now listing the four as "Season Permanent".
October 28th
Thoughts about Autzen
Just a few thoughts about my first trip to Autzen Stadium this past weekend (I've now visited half of the stadia of the Pac-12!) …
– I got a tour of campus from my son-in-law (an OU grad). Nice enough campus, but nothing spectacular. Plenty of nice fall color (a little past prime), but buildings were non-descript and showed the eras in which they were built (makes you appreciate the CU campus all the more). One piece of advice: If you go to Eugene, and ask where to find the "Knight building", be prepared to be asked for clarification. There were a number of buildings on the Oregon campus named after someone in the Phil Knight family (so apparently Nike money is going out to more than just the athletic department). Overall, I would rate the Oregon campus higher than those I have seen in places like Lincoln and College Station, but not as nice as Athens, Georgia, or the U-Dub campus in Seattle;
– The football stadium in Eugene is separated from the main campus by the Willamette River. The walk across the river, and then up through a grove of trees leading up to the stadium, was the nicest part of the Oregon campus tour;
– Autzen Stadium is almost exactly the size of Folsom (54,000 capacity, though the sell-outs have allowed for standing room only tickets, adding a few thousand more to the crowd). Nice, but, surprisingly enough, there is only one video board. If you are sitting in the bowl, the area which includes the visiting fans, the Oregon band, and about a third of the student sections, and you want to see a replay, you have to turn around to watch. Kinda strange for a University which has everything else money can buy to not have video boards in both endzones;
– Speaking of all that money can buy, there is a huge athletic department building next to the stadium, which includes an indoor practice facility … and there is more construction going on, with several cranes dotting the landscape;
– The Oregon fans have a reputation for being loud, despite their (relatively) small number. I can't say that it ever got that loud when we were there but, to be fair, the crowd never had to be loud. The Buffs were down 14-0 before the CU offense ever took a snap. By then, the outcome of the game was already known, so it would have just seemed like piling on to make noise against the pitiful Buffs on their third down attempts;
– The students at Oregon, like those at CU, come to the game late. The students sections were only about half full at kickoff, which I found strange. Yes, it was a noon kickoff, and yes, it was raining off and on, but these students should know by now that if you want to see the Oregon starters, you had better show up early. After halftime, the student section was again only about half filled. The reason for the last of interest was the same as for the CU student section – a blowout – but you would think that more fans would stick around when it is their team which is up 56-0;
– Before the game, the P.A. announcer boomed: "It's a balmy 51 degrees, and there is no chance of rain because …" letting the crowd finish, "It never rains at Autzen!". Nice inside joke, because apparently it always rains at Autzen. Luckily, we were never subjected to a downpour during the game, but the threat was always there, and it did drizzle off an on all afternoon.
Ed Reinhardt …. The best part of the day for Buff fans occurred before kickoff. Ed Reinhardt, Jr., who suffered a severe brain injury in the Buffs' game against Oregon in 1984, made his first return to Autzen since suffering his injuries, and was honored in a brief ceremony before the game. The Reinhardts and Bill McCartney have often spoken of the quality of treatment and outpouring of support received by Ed and his family from the people of Eugene back in 1984 when Ed was in a coma in a Eugene hospital. The ovation Ed was given by the crowd at Autzen was prolonged and genuine. It was a proud moment for both programs … (If you are unfamiliar with the story, here is a link to the writeup for the '84 CU/Oregon game).
—
Question for CU administration this Saturday?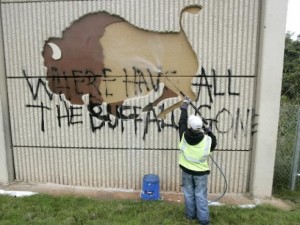 Okay. We'll see if the crowd this weekend makes it past 40,000 …
The real story behind the photo … As part of various improvements and beautification projects, the Oklahoma Department of Transportation has incorporated images of bison on retaining walls near and for overpasses. Fellow alum Steven Jacobi (Civil Engineering '81) is a long-time ODOT employee.  He also is a bleeds-black-and-gold Buffs fan.  Steven is actively involved in design of these road improvements, whether structural or aesthetic.
A vandalism incident associated with graffiti a few years ago resulted in the attached image that unfortunately summarizes the state of our program.
Thanks to CU at the Gamer Russ D. for the photo and the story …
The true state of the CU program?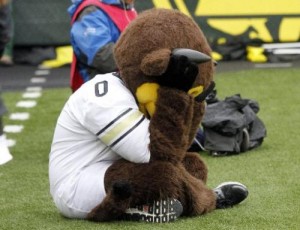 (Photo from the Boulder Daily Camera)
October 27th
Nick Hirschman to start against the Cardinal?
Sophomore quarterback Nick Hirschman may his second career start when Colorado takes the field against Stanford this Saturday.
Hirschman, who had an ill-fated first start on the road against Arizona State last season, played the final two drives of the first half, and all of the second half, against Oregon. In leading the Colorado offense in its only two scoring drives of the game (admittedly against second-string competition), Hirschman went 7-of-16 for 64 yards. Webb, prior to being replaced, went  7-of-11 for 31 yards.
"We'll take a look at that," said CU head coach Jon Embree after the Oregon game, when asked about whether Hirschman would start. "He did some things that were decent. We've got to get better with some ball placement. We can help him out, too, by catching it."
And what about Connor Wood, the presumptive starter just three months ago, as the opening of fall camp loomed?
"Nick is performing better right now than Connor," said Embree. "That's why we went with (Hirschman)."
Colorado a 28-point underdog to Stanford
Colorado will face its third straight top-15 team this Saturday, as the 6-2 Stanford Cardinal come to Boulder for Homecoming.
And the Buffs will take the field as a 28-point underdog.
While it may seem like a four-touchdown spread may not be enough for a team which has given up 50 or more points in four of its eight games, Stanford is different than USC and Oregon. The Cardinal wins its games with defense, not offense. Stanford is averaging a more modest 27 points per game, almost 27 points per game less than Oregon. Against Washington State last weekend, the Cardinal struggled at home, gaining only 256 yards of total offense. In fact, only twice this season has Stanford scored more than 24 points in a game.
Still, these are the 2012 Buffs, and there is almost nothing – negative – which would come as a surprise at this point. In 21 games with Greg Brown as defensive coordinator, Colorado has given up 40 or more points 11 times. To date, Colorado has given up 368 points, or 46 points per game. The school record for futility in points allowed is 451, or 41 points per game, in 1980. For Colorado to avoid a new high (low?) in points allowed in a season, the Buffs would have to give up only 82 points, or 20.5 points per game, over the final four games. To avoid the highest average per game, the Buffs have to "hold" the opposition to 124 points or less, or an average of 31 points per game.