Colorado Daily – Arizona State
October 12th
Brady Daigh doing okay
In response to inquiries about sophomore linebacker Brady Daigh, who was taken off the field on a stretcher late in the fourth quarter of the Arizona State game, Robin Daigh has posted the following update at BuffStampede.com:
Brady was released from the hospital last night after his CAT scan came back showing no sign of spinal injury. Today he feels like he was run over by a truck and is receiving treatment from the training staff, but is in good spirits. His teammates have been great.
True to form, last night in the ER his concern was whether he could play at USC. These kids have more heart and desire than the board is led to believe.
He asked that I thank everyone who has sent prayers and support his way. It is much appreciated.
Robin Daigh
Good news, indeed …
October 11th
Drew Litton
Once again, Litton tells it like it is ….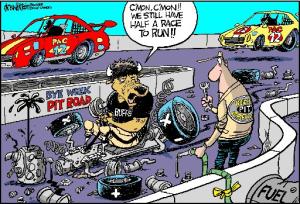 Note – Remember to follow me on Twitter tonight. I'll be passing along news and notes of interest throughout the game.
October 10th
Still looking for a reason or two to head up to Folsom for the Arizona State game?
Well, CU has a few incentives for you.
First, as you know, the tickets are cheap. You can get four for $100 at the CU website, www.cubuffs.com, or even cheaper just outside the stadium.
Not enough?
Well, the Buffs will be honoring John Wooten, who will become the sixth CU inductee into the College Hall of Fame this December (story below). And, while it has not been officially announced, it wouldn't be a surprise if the Buffs have on hand CU professor David Wineland, who won the Nobel prize for Physics earlier this week (Wineland is the fifth Nobel Prize winner in science with ties to CU).
Still not enough?
Well, the men's basketball team will be receiving their Pac-12 championship rings between the first and second quarters Thursday night. (The timing cannot be a coincidence. Between the first and second quarters is the best time to: a) have the most students there – as they usually don't show up until midway through the first quarter; b) hopefully have CU still in the game against Arizona State, so fans will not have gotten up and left yet; and c) maximize the ESPN exposure. Give out the rings between the first and second quarters, and ESPN will cover it during the break. Make the presentation at halftime, and ESPN may or may not bother to mention it when they come back for third quarter coverage.
Still not enough?
Well, Pac-12 commissioner Larry Scott will be on hand … and we don't want the Pac-12 commissioner thinking that Colorado is only good for 40,000 to 45,000 a game, do we?
CU at the Game!
John Wooten – Hall of Famer
John Wooten , the All-American guard for the University of Colorado in the mid-to-late 1950s, was selected by the National Football Foundation's Honors Court for induction into the College Football Hall of Fame this December 4 in New York City. He will join 13 other players and three coaches in the Class of 2012, and Colorado will honor Wooten with traditional On-Campus Salute for incoming Hall of Fame inductees this Thursday at halftime of the nationally televised Arizona State game on ESPN.
He will become the sixth Buffalo enshrined in the Hall, joining Byron White (inducted in 1952), Joe Romig (1984), Dick Anderson (1993), Bobby Anderson (2006) and Alfred Williams (2010). Like White and Romig, Wooten played in the platoon era of the sport and excelled at offensive guard along with playing defensive tackle.
"I always felt that I made a great decision to go to Colorado, I had a great time, and forged many relationships which still exist today," Wooten said. When an honor like this comes, it makes you reflect on all things that have happened across your life, and it makes you happy. I just smile at how great the good Lord has blessed me. My wife (Juanita) told me this is 'Your great birthday present for number 76'."
"This is something I never dreamed of," he continued. "I can truthfully say that it never really entered my mind that someday it could happen. I looked every year when it the new inductees were announced to see who made it, and had such a great feeling for the guys who I played against and knew of their great careers. It is difficult to believe that I am privileged to receive such an honor, but I am totally thrilled."
"We had some real fine players and some really good teams," Wooten said of the CU squads in the mid-to-late 1950s. So many outstanding players and leaders – Boyd Dowler, Bob Stransky, Wally Merz, Bob Salerno, the Stapp (Dick and Bob) brothers, John Bayuk, Bill Mondt – I could go on and on. I just played hard, did all I could to help us win. I felt very good about my career."
Arizona State star defensive lineman a Mullen product
From azcentral.com … Three weeks ago, Arizona State's Junior Onyeali bolted past a Utah tackle and pretty much two-hand shoved quarterback Jon Hays to the ground. The sack happened in a flash, a blur of violence and speed.
Onyeali's explanation: "I was just mad."
For Pac-12 opponents, this is not good news. Onyeali, the 2010 Pac-10 Defensive Freshman of the Year, added two more sacks against California, giving him four through five games.
"I feel like I haven't been playing as well as I can, and each play I just need to treat it like it's my last," said Onyeali, a junior defensive end.
Thursday's game at Colorado is big for him. Onyeali is from Denver, graduating from Mullen High in 2010. This will mark the first time he's played in Colorado since high school, and he expects to have a significant cheering section.
"I got my family coming out," Onyeali said. "I have a lot of coaches who have been there for me since I've played Little League, just a lot of people in my life that's going to be there."
It's been a long journey for Onyeali. After a successful freshman season, he suffered a knee injury last year, which kept him out four games. Then, as the Sun Devils prepared for their bowl game against Boise State, Onyeali had a heated exchange with then-coach Dennis Erickson, resulting in a suspension.
Shorty after his arrival, coach Todd Graham made the suspension indefinite, keeping Onyeali out of spring practice. Graham didn't fully reinstate Onyeali until just before preseason camp, but he's had no complaints.
"He's probably had to do more than any person in this program to be on this team," Graham said. "He's one of the hardest-working guys on the field. He practices hard every day, so I've really seen a guy that's maturing.
"And he's very appreciative. He comes up and thanks me, says, 'Coach, I really appreciate what you're doing for me.' He's been a joy to coach. I've had zero issues and, to be honest, he's been a bright spot."
Even when he's angry.
…. Onyeali was a four-star defensive line prospect from the Recruiting Class of 2010 (the lame duck year after Dan Hawkins was "retained" for another year the prior Thanksgiving). Onyeali did have an offer from Colorado, but Boulder was not one of the five official visits he took (in addition to Arizona State, Onyeali took official visits to Minnesota, Syracuse, USC and TCU). Onyeali did attend the Buffs' "Friday Night Lights" Camp in June of 2009, but never seriously mentioned CU as being an option …
October 9th
Transcript from Jon Embree's Tuesday press conference
General
"Before I get started, I would like to say congratulations to David Wineland, he's a lecturer in the Physics Department and today he won the 2012 Nobel Peace Prize for physics… We're excited to play Arizona State. We're coming off of a bye week, which has been good for us. It's allowed us to get some guys back healthy. It's allowed us to address a couple issues with tackling and turnovers. We did a lot of tackling in practice. To the players, it may not have felt like a bye week because we had a lot of live periods within practice, but it was good to do that. Our preparation for Arizona State started on Sunday. They pose several different problems with how they run their spread offense. It's a little different than what UCLA did, but we have to do a good job with our assignments and make tackles when we get the opportunity. Defensively, they are a blitzing, pressure team. They come from all different angles. They blitz different parts of the field and there are no set tendencies with them. We have to be good with our protections and with our tempo up front when we throw. Running the ball, we have to do a good job of getting it to the right guys."
On Coming Off A Bye Week
"It's been good to have a bye week. It gave the kids a chance to get away a little bit. We gave them basically Friday and Saturday off. That gave them an opportunity to get away from football so to speak and a couple kids were able to go home. They haven't been able to go home since early June and this gave them time to see mom and dad. That's been good."
On The Crowd This Season At Folsom Field
"We're really looking forward to Thursday night and having a great crowd. You guys have been tremendous for us all year. We got a commitment at the UCLA game from a kid who had a couple of SEC offers. He in fact had been committed to a school in the SEC. Him seeing our environment and our fans at Folsom Field; it convinced him to be a Buff. Don't underestimate the impact that you guys have on our recruits. We don't have any recruits in this weekend, but we will every other weekend. Your role and what you guys do is important and we really appreciate you guys."
On Safety Ray Polk
"He's back this week and it means a lot. The communication and all of that; we'll see how he feels today, but I think we'll have him back. If not, for some reason if we don't, we have to continue to move forward. He does a great job of getting guys lined up in formation. When you have young guys back there, it's important to have someone back there that not only knows what needs to be done, but is good about communicating it and not whispering it. He yells and makes sure guys see what's going on and then if it doesn't happen, he's able to cover for someone. When he went down at the CSU game, I knew in my heart that if he had been in there, two of their touchdowns wouldn't have happened. That's how big it is having someone like Ray Polk in the game."
On Freshman Defenders Taking On High Temp Offenses
"It can cause problems. We practice it a lot so they can see it. I think when you look at our last game; our issues weren't necessarily assignment issues but more physical issues. I think for our younger guys in the backend, you just have to simplify it, which we've done. A lot of times when you play those teams, you're in man coverage, so that makes it even easier for them. Most of the time, they understand that. You have to simplify what you're doing in the backend. Up front, there are some things that we're trying to do to help them. Again, there haven't been too many mental mistakes from those guys. If there have been issues, it's been from a physical standpoint. I expect that to continue to improve and get better. I really am pleased with our young guys and how they've played this year on both sides of the football. I think they have represented themselves well. Yeah, they make mistakes but at the same time I see a lot of them make plays. You see the confidence with them. As they gain more confidence and understand that they can play at this level, their talent will continue to shine. Having said that, it's going to be an entirely different issue when you play Oregon. The speed of how they do things is completely different from anything that we have seen or that we will see."
On Thursday's Game Being Nationally Televised On ESPN
"Every game is important. With the way things are now with the Pac-12 Network and with the other TV packages we have, a lot of kids watch us play. So every game is important. This game is important for us for a lot of reasons. Obviously we have the opportunity to get to 2-1 in the South. Playing Arizona State on national television is good so that kids out there can see how we play. When it comes to recruiting, a lot of kids are looking for opportunity. That's really the number one thing they are looking for. As you've seen, I'm not afraid to play freshman. If they are the best guy, they are going to play. I think all of those factors override the fact that it is a Thursday night ESPN game. It doesn't make it any bigger than what it is. It's an important game because it's the next game. It's an important game because it's a home game and we need to win at home. It's an important game because it gives us an opportunity to get to 2-1 in the South. It just happens to be on national television. That's our approach to it and we will never change that."
On Defending High Tempo Offenses
"You have to have versatility in your players. That's why guys like Kyle Washington from safety to linebacker and Paul Vigo, you need those body types to help combat what these offenses do. You need guys that can cover, yet are big enough to do some stuff in the run game. Parker Orms, if he's our nickel and our dime player, they can put him in a bad situation in these spread offenses. We use him a little bit differently. Having Paul Vigo and guys like Kyle Washington being able to do those things, it allows us to at least have better match ups. When you look at other teams around the conference and the things that they do, it's more of that all-around athlete on defense now. It has to be speed first and size second. Hopefully you get the total package. You've got to keep recruiting speed and that's something that we've talked about from day one since we've been here. We aren't where we need to be from that standpoint. We need to continue to improve that. You have to have speed. With the tempo and them spreading you out; there were a couple of times that we had the opportunity to make a tackle for a no gain and it ended up being about a 10-yard gain one time and about a 15-yard gain another time, and it was a scheme where our guy just wasn't fast enough. You don't fix that in the weight room. You have to go out and recruit that. That's something we'll address on the recruiting standpoint on the defensive side."
On ASU's Spread Offense
"They do a good job of spreading it around but they still have tendencies. You can still use those tendencies to help you prepare. Their go-to guy is really D.J. Foster, he's a true freshman. When they really need a play, I feel like that's the guy that they'll go to. Him or receiver [Rashad Ross]. Those are the guys that when it's crunch time, they'll look at. With D.J., they'll put him at running back, slot receiver, outside, they move him around. Same with [Jamal] Miles, those are their core playmakers. Not to say the other guys can't make plays or don't make plays, but I think when you look at it in crunch time, those are the guys they will probably go to first."
On The Importance Of Practice
"We did a tackling circuit that I'm sure the kids just loved; we did that every day to start practice.  Then within practice, it was live. Whether it was seven on seven, which is something you normally don't make live, we also made some team periods live.  And we did that just so that they are aware.  It is not something kids do on purpose, kids are trying to make plays, but we have to get better about understanding when you have the football and what that means.  So we just keep harping on it, we have the scout team guys tackle the football against our offense, then when defense is going against our scout team or against our two's.  We did a lot of good work this week.  We try to emphasize the same thing.  I know they look at me like I'm crazy sometimes, but I get on guys if they miss an interception.  You have to do it in practice if you are going to do it in a game, same with fumbles; we don't get the ball, coach Embree is not very happy and I let them know about it.  So I am going to keep emphasizing it until it becomes a second nature to them, and some of it is just getting the bounce.  We have to be better about being around the ball when it is fumbled.  I think we got one against UCLA, but there are more opportunities out there for us.  Some of it is just when you're young, you are just worried about doing your job, you are not thinking about when you are tackling, about getting the football, you are just thinking about making that tackle.  Some of that stuff goes hand in hand."
On Screen Passes
"We are not getting what we need out of the screen game.  We are working on it, we are emphasizing it.  We have had some big opportunities and just for whatever reason they haven't been able to connect.  Last year, [former QB] Tyler [Hansen] had a good knack of doing some stuff on screens to help us too.  I am not saying Jordan [Webb] doesn't.  Sometimes when you are running screens and everybody is running in at the quarterback, he (Hansen) knew where Speedy (former TB Rodney Stewart) was going to be, and sometimes Speedy knew when to go quicker.  I wanted to slow it down, and those kinds of things were not quite in sync like that at times.  Sometimes it is the quarterback, sometimes it is the back, and sometimes it is the line.  But we work it every day, we work screens every day, it is a part of our TTO period, and then we work it at practice.  It is something we will continue to emphasize and hopefully it will pay off."
On Getting Wins At Home
"I have never been around anything like this in my life; as a player, or as a coach, where you struggle when you are at home or on the road.  It is something that we have talked about, and I'll talk about it tonight.  Tonight is the night that I will address the team about where our mindset needs to be for Thursday.  It has been talked about, when we trained this offseason; [director of speed-strength and conditioning] Malcolm [Blacken] had the guys running and doing different things in the stadium and about defending your home and about what it means and why we are doing it in this stadium.  Why your guys are throwing up and different things that are happening to them.  Why we are training at such intensity and doing things to protect this field, this stadium.  For a reason it hasn't worked.  I know that is why coaches do stuff where they spend the night in the gym to, 'Protect their house' but I don't think I can get away with that, sleeping out there on Ralphie, that might be the last straw, so if that happens we need to have a fundraiser to get us some sleeping bags.  We will need about 70 of them, or actually I will make the coaches sleep out there too, so we will need about one hundred sleeping bags.  If it gets to that."
On A Winning Mindset At Home
"I don't think the guys look at it any differently, I really don't.  Again I haven't been around where it has been that extreme at either place.  I just knew where bottom was as a coach, and as a player, that when you win it somewhere else, the best sound is silence.  The best sound was singing the fight song with your fans and it is quiet, that was your mindset.  Then being at home, it is about the place being definite.  You can't hear yourself, talk to your teammate, you go on in there and you sing the fight song with your teammates.  The bottom line was the common denominator was winning, like [former defensive tackle] Kerry Hicks (in the crowd).  Kerry can probably tell you about this; going into K-State beating them to go to the Cotton Bowl.  That place, it went quiet and there was not a better feeling in the world.  Then beating Nebraska 62-36, just how crazy that was.  But it is all about winning, so I emphasized about winning on the road last year, this year I didn't really say anything to the team about only winning on the road we were only 1-1, it wasn't the same kind of emphasis.  At home, you have mom, dad, grandma, whoever is here, girlfriends, all those people are there and you want to represent well.  There is nothing worse than losing at home and then you go home and don't want to do anything.  So hopefully our mindset has changed."
On Creating Turnovers
"Generally, what you would like is that the first guy is going to make the tackle and put his hat on the wall, so to speak that is a term for your helmet.  Put your helmet right there on the ball, or tackling him with enough violence that he doesn't care about the ball, so that is the first thing and that is a one guy deal.  If not, you wrap them up; the second guy comes in and says, 'Let's go get the football.  So that is how it is on defense.  Like I said, we did a lot of tackling, trying to work on that.  We caused some fumbles.  Really one of best players in the tackling drill was Marques Mosley, he had a great knack that showed in that drill of tackling, having him wrapped up and being able to get the ball out.  I think out of his five times he went, he caused three fumbles.  And the thing I love about that kid and I told you guys about his toughness and his want to; we had to call a time out at Fresno State to get him out of the game because he was hurt, and so I come to find out in the tackling drill that the second time he went, his nose was bleeding and he didn't blink, he went every time.  Finally, we had to pull him out of that drill to go get his nose fixed.  Some guys have it; some guys have a good knack to force a turnover.  I remember we had a guy here, [former safety] Steve Rosga, he was always around the ball and got turnovers.  He was not a great tackler but he was always making sure that he was the second guy.  So he would go tackle the ball and get the ball or make plays and interceptions.  Marques is one of those guys, and I think we have some guys that have that in them, it is just working on that technique."
On His Number Two Quarterback For The Game
"It should be Connor [Wood].  I think he is good to go."
On Injuries
"I will know more on a lot of those after practice because I like to see the guys go a couple days and then see how they respond.  We talk about some of the issues these guys have, also they wake up and it's worse and not better.  Because you have to practice, I have a rule: you have to practice and really practice on Wednesday's, so in our case yesterday.  And then I want to see how you respond going through stuff today, before we can say you are in or out.  But I hope to have a lot of the guys back…  We are in full pads, we got after it.  So I need to see how guys respond doing that."
—
Doug Rippy: "I feel like I'm back now"
Colorado will play before a national television audience on Thursday night (7:00 p.m. MT, ESPN), and will do so with the team as healthy as it has been since the season opener.
The only player still listed as "Out" for the Arizona State game is wide receiver Paul Richardson, who is sitting out the season. Otherwise, there are eight other players on the injury list, with all being listed as either "probable" or "day-to-day".
Two seniors who are expected back – and not a game too soon – are safety Ray Polk and linebacker Doug Rippy. The last time Polk was on the field of play, Colorado had a 14-3 second quarter lead against Colorado State. Arguably, the CU defense has not been the same since. Polk, who has been nursing a high ankle sprain, was in a boot for three weeks, but began running last week, and appears to be ready for play Thursday night.
Rippy suffered a knee sprain against Sacramento State, and has not been back in action since. While still listed as "probable", Rippy is anxious for action.
"I'm excited . . . I feel like it's been a very, very long time," Rippy told cubuffs.com before Monday's practice. "I'm feeling 100 percent. Injuries like this take time, but now I can't tell there was anything wrong with my right knee – the one I had repaired. That's a good thing, and I'm feeling great.
"There are seven games left and it's my senior year. You don't expect things to happen, especially your senior year. It happened. I think it might have been a good sign to get me to quit worrying about my other (right) knee. I'm just ready; I feel like myself."
The injury to Rippy's right knee required surgery and forced him to sit out the last half of the 2011 season. He tweaked his left knee in game two this season and spent the next three weeks as a spectator. Touted as one of the Buffs' top two or three returning defensive players, his leadership as well as his on-field ability have been missed.
Veteran linebackers coach Brian Cabral will be happier than most to welcome Rippy back, but he still plans to be cautious about how he uses him. "I'll break him in (slowly)," Cabral said. "I'm not going to throw him to the wolves . . . but, yeah, we can sure use his leadership."
"These past three or four weeks helped me get refocused and get back on track. Coming off an injury, you're worried about it. You want to go out and play, but at the same time, sometimes physically you feel all right, sometimes you don't. I feel like I'm back now."
From his vantage point on the sidelines the last three weeks, Rippy said he couldn't question the Buffs' "effort, our toughness." But he added that he saw a leadership void: "The same guys can't lead all the time. Other guys have to step up. Once we get that, I think we'll be fine. We have a lot of young guys playing; with that being said, they make a mistake and sometimes they might get down on themselves. Other guys have to pull them out of that."
Others … Center Gus Handler, who suffered a sprained ankle against Sacramento State, and has not played since, has been listed as "probable" … fellow center Brad Cotner, who started against Fresno State in place of Handler, only to suffer a "turf toe", is listed as "day-to-day" … Quarterback Connor Wood, who suffered from a sternum ailment the past few weeks, is ready to resume duties as the primary backup to Jordan Webb … Linebacker Jon Major, who suffered a bruise/contusion to his quadriceps against UCLA, which kept him out of the second half of that game, is listed a "probable" for Arizona State … Tailback Christian Powell is also working off a quadricep contusion suffered against UCLA. Powell was held out of Monday's practices. and will be re-evaluated on Tuesday. If Powell can't go, Tony Jones will the starter on Thursday … Defensive end Chidera Uzo-Diribe suffered an ankle sprain against UCLA, and was also held out Monday. Uzo-Diribe is listed as "day-to-day" for the game against the Sun Devils.
October 8th
CU/USC game time set
Colorado takes to the road next weekend to take on the USC Trojans in the Coliseum.
The game will be played on the Pac-12 Networks, and will kick off at 4:00 p.m. Mountain time.
With CU likely to be three to four touchdown underdogs, the later start gives Buff fans one consolation … not having to see the score on the ESPN scroll of ranked team scores all day Saturday.
Arizona State weaknesses … ?
Colorado opened as a 23-point underdog to Arizona State. It's the third straight game that CU has been a three-score underdog (and we don't want to talk about what the spreads might be for USC and Oregon).
So, any hope for the Buffs, as they play before a national television audience on ESPN?
Three writers for the Arizona Republic were asked about the Sun Devils, including what they thought were the greatest issues for Arizona State going forward …
Q: Your biggest concern?
Boivin: The kicking game. Alex Garoutte was 2-for-5 on field-goal attempts against California, including a missed 30-yarder. I hate getting on kickers because they have a job I would never want a part of, but odds are good the Sun Devils will be in a situation soon where a field goal can win or lose it. They need to have confidence in Garoutte (or someone else). They don't yet.
Cooper: The secondary. They were torched the second half of last season, giving up a lot of big plays. They have been very solid thus far. However, Cal's Zach Maynard is the only starting quarterback to play a full game against them. Moving a skilled offensive talent like Deantre Lewis to the secondary speaks to the concerns of that position.
Haller: Defensive depth. One serious injury anywhere will change the season. ASU has two players on its second-team defense (Lewis and Kevin Anderson) that began preseason camp on offense. The second-team linebackers include a former walk-on and converted defensive end. The defensive line appeared to be in slightly better shape until last week, when Graham announced the suspension of tackle Mike Pennel.
Not much  … but if you want to have something to hang your hat on, start with the above.
Meanwhile, Arizona State head coach Todd Graham is making Colorado look like world-beaters:
From CoachingSearch.com … "Colorado has already upset Washington State this year," Graham said. "They are at home. They want nothing more than to upset another one, and we have to go in there just like we learned about going to Missouri. We are going on their field. We have to be the most passionate team on that field. They are going to be at their best. That is their field. North Carolina State, where was that at? It was at North Carolina State. That's college football."
Graham's top goals this week are improving the Sun Devils special teams ("We have to get the intensity of special teams the same as it is on offense and defense, and it's not there. That's one of the biggest challenges in coaching," he said.), and continuing his team's maturing process, he said.
"The guys really have a workman's attitude, but we have to be hungry," he said. "That's what I asked of the day. I said, 'I thought you guys worked really good, but did you work harder than any other free safety in America or any other running back in America?' I don't know if we did that, but we are working."
October 7th
CU President Bruce Benson: "I haven't heard a word (on Buff fans exasperation concerning facilities)"
Even in a bye week, the Buffs fall behind …
From the Daily Camera… While Colorado football fans are antsy over the lack of any news regarding enhancements to Folsom Field and some are panicking about the results the team is producing so far this season, president Bruce Benson lives in another realm where patience rules.
The news this week that Colorado State president Tony Frank has decided to proceed with plans to build a $250 million stadium on campus in Fort Collins has only added to the frustration fans feel in Boulder.
There has been talk at CU of a permanent indoor practice facility for at least 20 years with no progress toward actually beginning such a project. In June, chancellor Phil DiStefano briefed the Board of Regents about options the schools is exploring for upgrades at Folsom including an indoor facility.
In an interview Friday, Benson said he has heard very little from CU fans and donors about possible Folsom Field upgrades or concerns about the Buffs' 1-4 start. He said CSU's announcement has no influence on CU's plans or time line.
"It doesn't put any pressure on me," Benson said. "We're going to do what's right for our institution and not worry about CSU.
"They've got a big hill to climb. I've talked to Tony and I know what's been the papers. They've got to raise $125 million private in two years. Naming rights and all that other stuff is not in that $125 (million). It's true, pure philanthropy is what I'm told. So they've got work to do. I can't opine on who their donors are or how they're doing. It's not my business. But it's a lot of money. I wish them luck. I hope they can get it done."
Benson attends most CU football games home and away and says he talks with a lot of the biggest donors to the school and the athletic department at the games. Apparently those folks either don't have the same sense of urgency as those who post their complaints on message boards or call talk radio or they just haven't brought it up with Benson.
"There certainly hasn't been any conversation like that that I've had and I see a lot of people and go to a lot of events," Benson said. "My phone hasn't been ringing. My emails aren't off the walls. I'm not getting any pressure. Somebody else might be, but I sure haven't heard a word." (emphasis added).
The CU Foundation, the school's fundraising arm, is completing a feasibility study with its donors in an attempt to gauge how much money it might be able to raise for Folsom Field enhancements that could include the practice facility, enclosing the north end of the stadium, remodeling Balch Fieldhouse on the west side including possibly adding suites, a second level of seating and a new pressbox.
The total cost of completing all those upgrades would likely be approximately $220 million.
CU is also interested in more upgrades at the Coors Events Center, including adding a club level.
Benson said he doesn't expect the school will have any news on its facilities plans until January at the earliest. He refused to say if the school would be willing to invest a percentage of the television money it receives annually from the Pac-12 Conference to fund its projects if it can't raise enough money from donors.
CU has received fewer than 10 donations of $1 million or more to its athletic department in its history, which makes raising $220 million an extremely ambitious endeavor.
"I have no problems doing the upgrades if the money is there," Benson said. "Sure, I want everything upgraded. We've been building great academic buildings. …I think we're doing some really good things on the campus."
… If you would like to let President Benson know that you are a CU fan who hasn't apparently been heard from, the email for the Office of the President is OfficeofthePresident@cu.edu. (Note: this is the address given on the CU website, but when I tried it, it didn't work. If you want to go the old-fashioned route of communications, the address for the President's office is: 1800 Grant Street, Suite 800, Denver, CO 80203 (303) 860-5600.
You can also follow President Benson on Facebook and on Twitter (@CU_Bruce_Benson). The President has two "Town Hall" meetings scheduled over the next few weeks:
University of Colorado Denver
3 p.m. Monday, Oct. 24, Lawrence Street Center, 1380 Lawrence St., Second Floor Terrace Room
Anschutz Medical Campus
3 p.m. Tuesday, Nov. 1, Ben Nighthorse Campbell
From the "Misery loves company" department …
Last night, No. 21 Nebraska was destroyed in the Horseshoe by No. 12 Ohio State, 63-38. The score was eerily similar to the 62-36 waxing the No. 14 CU Buffs put on No. 2 Nebraska in 2001.
The case has been made by CU fans – for the past decade – that Nebraska has never recovered from that loss (much as CU has never recovered from the 70-3 loss to Texas in the 2005 Big 12 championship game). Cornhusker fans, though, have been in a state of denial for 11 seasons.
But one Nebraska fan has seen the light. Under the heading "We Are Who We Are", HuskerMax posted the following (thanks to BuffHerdNerd at BuffStampede.com for finding this):
On Nevember 10, 2001, Nebraska had just finished beating KSU 31-21 to run it's season record to 11-0. They were ranked #2. Over it's past 36 games, Nebraska was 33-3…over its past 100 games (dating back to the start of the 1994 season), Nebraska was a jaw-dropping 91-9. These 91 wins included 27 against ranked teams (in 33 games) which included 12 against top 10 opponents. It possessed THREE national championships in 7 years and thanks to their 20-10 victory over #3 OU just a few weeks earlier, the 2001 Nebraska Cornhuskers were going to be headed to it's 4th national championship game. All it had to do was clean up the pieces of the the CU Buffies . Nebraska was not only in college football's elite, it was the very epitome of its royality.
Who knew that when we went to bed that night, happy from watching the Huskers win another game, that their place on college football's throne was about to ripped away permanently.
Since that horrific day in Boulder, Nebraska has played 138 games. They have posted a less-than-jaw dropping record…86-52. However, 29 of those 86 wins have come against non-BCS conference opponents on the non-conference schedule. Take out the games against those non-conference, non-BCS conference opponents, and Nebraska is 58-51 since November 23, 2001.
Nebraska has scored 40+ points 31 times since that KSU game..but only 13 of those have come against teams from a BCS conference. However, Nebraska has allowed 40+ points 21 times and has a 2-19 record in those games.
Nebraska has played 39 ranked opponents and is only 11-28 in those games. 15 of those games were against top 10 opponents…they have one only twice.
Nebraska has been destroyed by OSU, Wiscy, and Michigan since joining the B1G. sure, they did beat two of those teams but needed improbable comebacks from huge definicts to do it…at home.
The CU game was eaily dismissed as an anomly. But then came the Penn State blowout in the 4th game of the 2002 season only to have it followed up with the 36-14 blowout loss to ISU the very next week. When Solich was fired, we all believed we would be right back in the hunt for national titles. They weren't. Pelini was then hired after the Callahan fiasco. He'd be the savior. Things did get better and delusions of grandeur once again crept into our thoughts. I think we all have watched Alabama, USC, Oklahoma, etc., and thought, "won't it be great when Nebraska is back doing that!?" All 3 of those schools climbed out of the muck to return to excellence…it's only a matter of time for Nebraksa.
But then Pelini started ranting about like an angry child…and the 5-star recruits didn't seem to come…and the wins against the premier competition didn't materialize…and the blowouts continued…like last night.
We, as fans, have just known that things will get better. For years we have maintained a death grip on our elevated sense of self-importance and a belief that Nebraska's seat in the college football elite is simply being kept warm. It's been more than a "belief" it's been an "expectation."
We have been fools. We are who we are…squarely in the middle of college football's version of the middle class. Nebraska is the school teacher, the electrician, the car salesman dragging himself to work to do a job he hates daydreaming of one day becoming an actor, golfer or race car driver.
Do I hear Coldplay? Yeah…I do…sing along with me! "I used to rule the world…seas would rise when I gave the word, now in the morning I sleep alone, sweep the streets I used to own..
October 5th
Former Buff coach Chuck Fairbanks has brain cancer
From the Oklahoman … Former Colorado football coach Chuck Fairbanks has been diagnosed with inoperable brain cancer and will begin treatment Monday at the Mayo Clinic in Phoenix.
"I'm feeling good and I'm confident we're going to win this," Fairbanks said Saturday morning. "I never went into a tough fight thinking I was going to lose. I'm not going into this one that way, either."
The 79-year-old Fairbanks said he was diagnosed in late August and is scheduled for 42 days of radiation and chemotherapy treatments.
Fairbanks played collegiately for coach Duffy Daugherty at Michigan State and served as head coach of the Sooners from 1967-72 before leaving to coach the NFL New England Patriots (1973-78). Fairbanks later replaced Bill Mallory as head coach at Colorado (1979-81) and coached the inaugural season of the USFL New Jersey Generals (1983).
Fairbanks' coaching career began at Ishpeming High School in Michigan. He later served as an assistant under Frank Kush at Arizona State (1958-61) and Bill Yeoman at Houston (1962-65) before arriving at OU in 1966.
Fairbanks was promoted to Sooners head coach following the death of Jim Mackenzie in April 1967.
… After stints with the Sooners and the New England Patriots, Fairbanks was lured back into the college game in 1979 by the University of Colorado. As the Buffs' head coach, Fairbanks went 7-26 before leaving the school in the spring of 1982 to coach the New Jersey Generals of the USFL.
While Fairbanks is the source of ridicule in CU lore, it must be remembered that, while Fairbanks went 7-26 in his three seasons at CU, his successor, Bill McCartney, went 7-25-1 in his first three seasons in Boulder … and was given a contract extension.
Once a Buff, always a Buff … Buffs4Life!
Thoughts and prayers go out to Chuck Fairbanks and his family.
Ticket price down to $25 for Arizona State game
The CU athletic department is running a promotion for next Thursday night's game.
If you don't already have your tickets, you can get four for $100 … here's a link.
On the front page of the media release, which usually comes out on Tuesday's before a Saturday game, Dave Plati used to run notes about how many tickets had been sold for the next home game, along the lines of  "around 4,000 tickets remain unsold as of Tuesday morning". With ticket sales declining along with CU's chances at a winning season, the notation has been left off this year. Only 46,843 were on hand for Sacramento State; 46,893 for UCLA – and both games were played on picture perfect fall afternoons. A Thursday night game can be a tough draw, anyway, and with Colorado likely to be a three-touchdown underdog for the third consecutive game, there are likely to be a host of empty seats for the ESPN national television audience to view.
So, while selling seats fro less than half of their value does cheapen the product, you can't blame the CU adminstration for trying to put some fannies in the seats.
October 4th
Buff players getting a few days off
With a bye week, there is going to be some down time … at least for the players.
Colorado practiced on Tuesday and Wednesday, but will have only conditioning drills on Thursday. Players will then have Friday and Saturday off, before returning to practice on Sunday afternoon. Meanwhile, the Colorado coaching staff will use this weekend to hit the recruiting trail, to try and entice a few more players to come to Boulder – and to retain the commitments already in hand.
During Wednesday's practice, the Buffs conducted a "Buff Bowl", an intrasquad battle involving the scout team players (insert jokes about the Buff Bowls being the only Bowls CU will participate in this fall here: ___________). A total of 12 players were kept out of practice this week, nursing a myriad of injuries. Jon Embree did report, however, that many of the injured, including senior safety Ray Polk and senior linebacker Doug Rippy, may be available to play next week. Polk was able to run for the first time this week, and Embree stated that the safety's high ankle sprain was not causing Polk new problems.
October 3rd
Tight end Vincent Hobbs' father paralyzed
This story helps to keep our disappointments concerning CU football this season in perspective …
From the Daily Camera … Colorado's Vincent Hobbs was on his way to a big play when a UCLA defender punched the ball out of his hands on Saturday.
The Bruins recovered and it turned out to be a pivotal play in CU's 42-14 loss.
If Hobbs had his way, that would be the worst part of his first season as a Buffalo.
Instead, the worst moment for the true freshman tight end came on Sept. 16, when he got a call from his mother that his father, Leon, fell and was in the hospital. Doctors found a tumor on Leon's spine and he has been paralyzed from the neck down ever since that fall.
"It's not too good," Hobbs said. "My father is paralyzed as we speak, but rehab is going on. He's speaking, he's talking, he's laughing, so that's all that matters. As long as he's breathing, I'm good."
The news hit Hobbs and his family hard, though. Shortly after receiving the call from his mom, Hobbs flew home to Dallas and spent that week with his family. He was in Texas when his teammates were in Pullman, Wash., on Sept. 22, defeating Washington State, 35-34.
Although he's been with the team the past week and a half, Hobbs still battles every day to keep his focus when he's on the football field.
"It's tough on him right now and it's on his mind," CU tight ends coach J.D. Brookhart said. "He's working through it."
Hobbs said the long-term prognosis for Leon, 57, is unknown.
"If he can walk again, it's not going to be until probably years later," Hobbs said.
"It's weighing on me pretty hard, but you know, I love him and he's talking to me. I talk to him every day. I'm going home this weekend to go see him and spend time with him, so that'll make me have a lot of weight off my shoulders."
… All the best to Vincent Hobbs and his family … the Buff Nation is behind you!!
Arizona State defensive lineman suspended
From azcentral.com … Mike Pennel's future at Arizona State may be in jeopardy.
Todd Graham announced after Tuesday's practice that the junior defensive tackle is suspended indefinitely for not meeting team standards. It marks Pennel's second suspension in less than a month.
"I'm not lowering our standards, period," Graham said. "Bottom line, that's what it is. We're never excited about stuff like (this). It's difficult, but at the end of the day, we're going to do things one way. We're going to do things the right way."
Pennel, a 6-foot-5, 355-pound transfer from Scottsdale Community College, was expected to add much-needed size and strength to ASU's defense but it hasn't worked out that way.
Graham suspended Pennel for ASU's Sept. 8 win over Illinois. Although Pennel returned and played with the second team against Missouri and Utah, he dressed but didn't play in last Saturday's win at California.
Pennel did not attend Tuesday's practice.
Coming out of SCC, Pennel initially committed to Arkansas but changed his mind. He had reported scholarship offers from Arizona, Colorado, Texas A&M, Kansas State and West Virginia, among others. Before the season, defensive coordinator Paul Randolph called Pennel a "once-in-20-years" physical talent. At ASU's preseason Media Day, teammate Junior Onyeali, who played against Pennel in high school in Colorado, also sung the defensive lineman's praises.
"He destroyed us," Onyeali said. "He was the sole reason why they beat us. We couldn't stop him in the middle. Triple-teaming him, it just wasn't working. …He is definitely big. Most people don't know this, but he is as agile as they come. You should see him on the basketball court. You don't see many guys his size move like that."
According to his Twitter account, Pennel seems to understand the severity of his latest actions.
"It's unbelievable I've done this to my family, teammates and the ASU fans," he wrote. " I'll be a better person from this. I have no choice but to be."
October 2nd
Finding positives in a negative September
Colorado should be at least 3-2 right now … but could just as well be 0-5.
In a year when Colorado appears to be well on its way to a record-setting seventh consecutive losing season, it's hard to find positives.
Kyle Ringo from the Daily Camera tried. See if you agree …
If you didn't think there were any positives that came during this 1-4 start, you weren't looking hard enough. Here is our list in no specific order:
Coaches willing to adapt
Unlike his predecessor, coach Jon Embree has proven he isn't the stubborn sort, or at least he is not so stubborn he refuses to adjust on the fly.
When the running game clearly wasn't effective in the season opener, he moved freshman fullback Christian Powell to tailback and made him the starter. Powell has been the Buffs' most consistent rusher to this point.
Embree also chose to give backup quarterbacks Connor Wood and Nick Hirschman playing time during recent games, both to prevent Jordan Webb from getting too comfortable and to get those players some meaningful experience.
Embree approved offensive coordinator Eric Bieniemy's request to move back to the sideline where he feels he is most effective as a coach and play caller.
The Buffs were having trouble in the passing game because of a lack of speed at wide receiver and poor protection up front. Embree adjusted by using more short passing plays and favorable formations, including three wide receivers bunched on one side. The Buffs have been a more effective passing team the past two weeks.
Crawley making plays
For the second straight season a freshman cornerback is making plenty of plays forthe defense. Kenneth Crawley led the team in tackles against UCLA and is the third leading tackler this season behind senior linebacker Jon Major and safety Terrel Smith.
Crawley has plenty of room to grow, but it's difficult to argue with Embree who said he is excited to see Crawley as a junior and senior. Crawley also is returning punts and while that endeavor has been an adventure at times, it's obvious he has the talent to become a game-changer in that role.
Steady young linebackers
With senior Doug Rippy missing most of the past four games, sophomore Brady Daigh has played well in his absence, and he's not alone.
Kyle Washington and Paul Vigo were both moved from defensive back to linebacker in the offseason and both have been steady contributors and have had starting roles against different opponents.
Obviously both have made mistakes along the way, but considering they were thrust into prominent roles so soon after switching positions, they have been bright spots for a struggling defense.
Finding ways to make plays
Wide receiver became a concern in late August when Paul Richardson opted to sit out the season and focus on rehabilitating his injured knee and freshman Jeff Thomas was sent home to Texas by coach Embree after several off-the-field issues in camp.
Sophomore Tyler McCulloch and redshirt freshmen Nelson Spruce have proven they can make big catches and help the offense move the ball even if they are hard pressed to make big plays down the field the way Richardson does.
McCulloch and Spruce both have caught two touchdown passes and have combined for 33 catches and 403 yards.
Kasa finds his role
Eyebrows raised in the middle of last season when Nick Kasa moved from defensive line to tight end. Kasa worked hard in the offseason to prove he can succeed at tight end and there is little doubt he can five games into his senior season.
He is as responsible as anyone for the Buffs' only win, making a stellar 70-yard touchdown catch and run and recovering a fumble on the game-winning drive at Washington State. He is improving as a run blocker and has coaches wishing they had another year or two to work with him.
"He can be a match up problem and I'm glad that we have him," Embree said last week. "Like I said, he gets better every week, he does, he makes his share of mistakes. The thing I love about Nick, he doesn't make the same mistake twice and as a coach that's really what you love, because it's so important to them. He's a prideful guy, he wants to do it right and I look for him to continue to have more impact on the games."
Poston up
A year after playing just six snaps as a defensive tackle, third-year sophomore Kirk Poston has earned more playing time, including several starts, at defensive end. He is second in sacks and is coming off the best game of his career, in which he made three total tackles for a loss against UCLA.
Poston is one of a handful of young defensive linemen to earn their first significant playing time at the college level. Josh Tupou, Justin Solis, Tyler Henington and Samson Kafovalu have all had positive moments on the field in the first five games that bode well for the rest of this season and beyond.
"Their effort, without a doubt, has been good," Embree said. "They are hanging in there, for the most part, from a physical standpoint too. So that's been good."
And finally
Buffs fans have to feel good for veterans such as Parker Orms and Nate Bonsu who have had a hard time staying in the lineup battling injuries earlier in their careers. Both have played in all five games and are among the team's top-10 tacklers.
October 1st
Buffs to use bye week to heal, get back to basics
Remember the "Bloodbath Trilogy"?
In 2003, after the Buffs were manhandled by No. 10 Florida State, 47-7 (here's the game recap, if you are up for it), Colorado head coach Gary Barnett took advantage of the CU bye week to put the team through a series of drills, dubbed the "Bloodbath Trilogy" by the players. It was a return to basics for a team ranked 104 (out of 117) in rushing offense in the nation, 107th in scoring defense, 108th in total defense, and 115th in passing defense. "Those drills helped us," said senior linebacker Sean Tufts. "We just lined up and played football. It's almost like two-a-days again."
Fortunately for Colorado, the schedule makers had been kind. After running the non-conference slate 2-2 (wins over Colorado State and UCLA; losses to Washington State and Florida State) the two-time defending Big 12 North champions would face Baylor in their first game in conference play. The Bears were as close to a bye week a Big 12 team could ask for while still actually taking the field. The Bears had lost 37 of their previous 38 conference games, and had won only four conference games since the league had been formed in 1996. The last two times Colorado had played Baylor, the Buffs had shut out the Bears.
Looking for a confidence boost? Play Baylor.
Baylor 42, Colorado 30. (Here's a link to the story for that game, if you are really masochistic).
Oops.
The 2003 Buffs finished the season 5-7, the only year between 2001 and 2005 in which Colorado failed to win the Big 12 North.
So, how will the 2012 Buffs, 1-4 for the month of September, deal with the bye week?
"It will give us a chance to really focus on the younger kids and work on some fundamental things," said Jon Embree. "Some more individual technique stuff that you don't necessarily maybe get during a normal game week."
"I am not familiar with a bye week here," said quarterback Jordan Webb. "But a bye week is good for getting back to the fundamentals. Really focusing on the little things and getting back to what we were doing really well during camp. Getting back out there and converting on third downs and getting guys healthy will be pretty good."
Defensive coordinator Greg Brown said it will be back to fundamentals for his defense as well. "Fundamentals and tackling," said Brown. "The amount of missed tackles we had (Saturday), we left a lot on the field simply by missed tackles. There were a lot of plays underneath that turned into big plays because of the missed tackles. That would have to be first and foremost. The bye week is all about fundamentals – get better and improve on the fundamental aspects."
Colorado did not have a bye week in Jon Embree's first season. A 13-week gauntlet was one of a myriad of reasons given for the Buffs falling to a 3-10 record.
So this is Embree and Co.'s first chance at a mid-season do-over.
Buff fans can only hope that it helps …