Colorado Daily – Doldrums
December 31st
CU Moose in Alaska
The Buff Nation knows no boundaries!
Below are pictures submitted by CU at the Gamers Antonio and Willow Monterrosa, getting up close and personal with a moose in Alaska.
Disclaimer: Do not try this at home. Willow and Antonio are both professionals, with three CU degrees between them!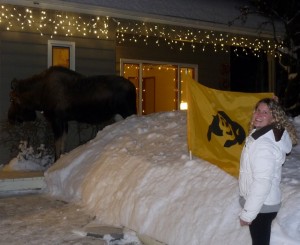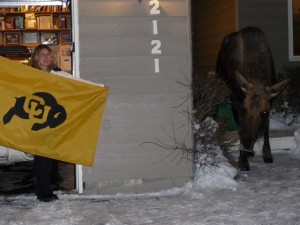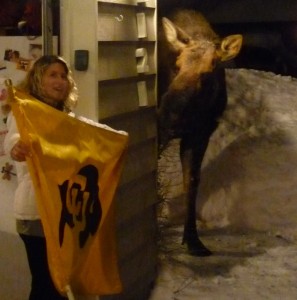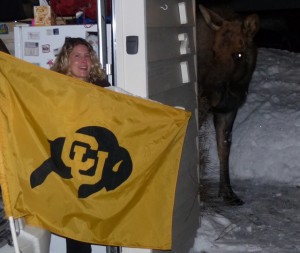 December 29th
Embree talks recruiting
B.G. Brooks of cubuffs.com did an interview with Colorado head coach Jon Embree, which is important enough to reproduce in its entirety here …
1.    CUBuffs.com: The current dead period ends Jan. 4, and I'm assuming you'll hit the road immediately. What direction will you head?
Jon Embree: "That's right . . . and I'm heading West, to Hawaii and California. It'll be my first trip to Hawaii and second to California."
•2.    CUBuffs.com: What's the biggest difference in this recruiting season and last – taking into account the full season you've had as opposed to last year?
JE: "The biggest difference is that a year ago, we really didn't get started (recruiting) until this coming week . . . talk about a short window. This year, we've had a better evaluation of players. We've gotten to see how they really feel about football and where it is on their list of things that are important to them, where it fits into their lives. And we've been able to establish relationships. We're almost where we need to be . . . I'd like to be doing a lot of junior recruiting, but we're not at that point yet. Next year I think we can be comfortably looking a year ahead."
•3.    CUBuffs.com: How would you rate things to this point?
JE: "I think it's gone very well. We've missed on a couple of elite players, but only won three games. Say what want, but at end, it (winning) has to help. At the same time, we've gotten commitments from some very good players. We've been able to balance the roster at some positions. And there are still some guys we can finish on and have a very good class."
•4.    CUBuffs.com: Have there been any major surprises out there for you?
JE: "The response has been really good . . . I don't feel like it's ever been, 'Wow, we don't have a chance on that kid,' but at the same time just getting in on a kid is not what you're looking for. Are you in their top two? Did you have a legitimate chance? If you're just one of five, you're not really in it. You have to be in their top two."
•5.    CUBuffs.com: You've said before your visits began that prospects' reception has been good . . . has that held up?
JE: "Yeah, it's gone very well. Kids have been real receptive. They see the direction of program and want to be involved in helping us continue that process . . . and do some exciting things."
•6.    CUBuffs.com: Along those lines, is there one common question recruits are asking you?
JE: "Not really, there's not one general question, but kids see what's going on. It's not like they haven't been paying attention. They see opportunity . . . they can come in and have an impact early. Those kinds of things. Most kids want that opportunity. I'm asking them, 'Do you want to play or stand on the sidelines and wait your turn?' These kids want to be a part of something that's growing. We won two of our last three, and we've talked to them about that every time we've called them. But you can't sit there and pretend like you don't have scars. We do, and I'm going to be honest. I'll tell where we are, what the deal is. At the end of the day, they'll know what our goals are – changing the culture, changing the environment, and giving them the opportunity for success in college. They've paid attention. It's been really good."
•7.    CUBuffs.com: Do you have any "silent" commits?
JE: "Yeah, we've got a couple of guys – if they stay true to what they say. But I've told them that they need go public. They can help with some of the other players we're after. If they're going to truly be in, they need to be in. Taking trips is great, but if you're going to be a Buff, now's the time to do it. I can understand that some kids are involved in things they have to do, in recruiting and out. But we'll see over the next two weeks or so."
•8.    CUBuffs.com: CU "turned" a handful of recruits last year . . . do you feel you have to take that approach this year?
JE:  "There are a couple of guys we're actively recruiting who are committed to other schools. A year ago, we went out and got eight players from someone else. This year, we feel like we have to be good with the guys we've got (committed). The next two weeks are really important. Some schools during this time frame don't go out at all. Some go to (high school) all-star games and see guys. We'd rather see the guys we have (committed)."
•9.    CUBuffs.com: Coaching changes have been prevalent . . . has there been an effect on your approach to things?
JE: "It really hasn't affected us. It may here or there help on a guy, but for the most part it hasn't done anything. Some name schools – for example, UCLA – didn't have a coach and still had three kids commit. Now, whether those kids wanted to get in before a coach was named and fill a scholarship, I don't know. But the overall situation (of schools changing coaches) hasn't really affected us."
10.CUBuffs.com: How would you respond to those recruiting analysts who say you're dangerously short on four- and five-star prospects?
JE: "That's all right, it doesn't bother me. To get elite playmakers we have to continue to improve ourselves. You can go around all day about stars. Greg Henderson (freshman corner) did pretty well for us and he wasn't a five-star guy. I just want football players. That (star rating) stuff is for barrooms and the Internet. You can point to five stars that bust and one stars that become stars. I'm just trying to get the best players. But again, we won three games . . . I don't think people realize how hard it was for us (CU) in the mid-90s. We'd won a lot of games, we had guys who had won the Heisman, the Thorpe Award and the Butkus. People have to realize we're not a logo school . . . Ohio State and USC have great classes every year. They've got 50 or 60 years of tradition, huge national fan bases. But that doesn't mean we can't do it here. That's what we're shooting for."
•11.CUBuffs.com: So, from that answer on the star system, I'm guessing your opinion of those ratings hasn't changed?
JE: "How many of these people really see kids play? A kid commits to Texas and goes from no stars to three, or from three to five. Explain that to me. I'm not down on these (recruiting) sites; they give fans good reason to go them, but it's like being in a sports bar. I'm not down on Rivals.com and Scout.com . . . I know they've helped kids get noticed. But their rating systems are different from coaches. Look at Michigan State, what was their senior class rated? You get a transfer in, you get some guys who pan out that weren't five-star guys . . . We – and I'm talking about coaches – have to be able to develop guys to give yourself a chance. That's just my take on it."
•12.CUBuffs.com: What would be a best-case finish for the Buffs in the final month leading to signing day?
JE: "First, I'm very happy with the guys we have; we want to hold onto them. But if we could get a couple of more corners, the right tight end, maybe a playmaker or two, the right defensive lineman . . . our situation on that side of the ball is not good. We need to get as many as we can (on defense). Some will play, some will redshirt. We need to build there and have legit depth. This class, with last year's class, gives us a good base from a program standpoint. We just have to go out and finish strong – and hopefully get a head start on some seniors for next year."
December 28th
Buffs lose out on tight end recruit
Scratch another four-star recruit off the board.
Tight end Taylor McNamara, a highly sought after prospect from San Diego, is going to become an Oklahoma Sooner. McNamara, considered by Rivals to be the No. 2 tight end recruit in the nation, had previously committed to Arizona. When head coach Mike Stoops was fired, however, McNamara re-opened his recruitment, and the choice came down to Colorado and Oklahoma.
"What it really came down to is I really wanted to go to a place where I could play early and win games," McNamara told Rivals.com. "Colorado is obviously not in a place where they're going to be winning as many games as Oklahoma. I'm all about winning. I love winning and I really realized it this year.
"My team went 8-4 and the year before that we were 2-8. I could really see the difference really in life, when you're winning things just go well. When you're losing things aren't going well. It means a lot to me and football is a big part of my life and that's everything down in Norman."
Apparently the lure of playing for a former NFL tight end – in the end – was not enough to sway McNamara.
And the Buffs' search for their first four-star recruit of the 2012 class continues …
December 27th
Colorado still operating in the black
According to an article in The Business of College Sports, the University of Colorado athletic department is doing fairly well, both overall and in comparison to other Pac-12 schools.
The article looks at revenue and expenses for football and basketball for the 2009-10 and 2010-11 fiscal years.
2009-10 … In 2009, Colorado reported $26.2 million in football revenue, with $12.5 of expenses. The $13.7 million profit sounds great, until the reality hits that the remainder of the athletic department is funded by these profits. Overall, CU's revenue of $26.2 million was 5th amongst Pac-12 schools, with Washington the surprising leader ($33.9 million), followed by Arizona State ($29.58 million), Oregon ($29.50 million), UCLA ($29.0 million). At the bottom of the league was Washington State ($12.7 million), which fared even worse than Utah, then from the Mountain West Conference with little expectation of moving elsewhere, at $14.7 million.
The Colorado basketball program in 2009-10 almost held its own, with $3.58 million in revenues and $3.81 in expenses. The $224,000 loss was only one of three programs in the Pac-12 to lose money on basketball, though Oregon (-$2.2 million) and USC (-$1.0 million) were further down the scale. At the top of the heap was, not surprisingly, UCLA, with $12.3 million in revenue.
2010-11 … For the 2010 football season, the University of Colorado witnessed a slight decline in revenue, down to $25.9 million from $26.2 million. Expenses, though, witnessed a significant increase, from $12.5 million to $16.3 million (largely attributable, one would imagine, to the regime change). The profit margin, as a result, fell significantly, from $13.6 million to $9.6 million. CU's football revenue remained fifth overall amongst Pac-12 schools, but the gap between CU and the schools behind it narrowed considerably.
In basketball, with the help of a team which made it to the NIT semi-finals and set a school record for victories, Colorado actually turned a profit. The profit margin was still small, $136,157, but it was at least a profit. Still, CU remained 10th in the league in men's basketball profits, with nine other schools making at least $1 million in profits, with – once again – only Oregon and USC showing a loss.
2011-12 … Will not likely be a good one for the CU athletic department. In addition to the hangover from the shift from Dan Hawkins to Jon Embree, the Buffs were also a team without a conference in 2011 – at least in terms of television revenue. The Buffs took in some additional revenue from the extra sums paid by Fox and extra league games and the inaugural Pac-12 championship game, and the Ohio State game (a road trip with no reciprocal game in Boulder) was all about helping the bottom line. Still, it will likely be a down year as the athletic department looks for the new dawn of the Pac-12 television contract in 2012-13.
(Thanks for the link, Neill!)
Now, what about the rumors out of Ft. Collins?
Ever since Colorado State hired its new head coach, for twice the salary of Jon Embree, there has been discussions in the Buff Nation about why Colorado has – by a wide margin – the lowest paid coach in the Pac-12. As part of the same discussion, there are questions as why Colorado has not announced any plans for spending the television revenue windfall which is to be coming the Buffs' way over the next decade.
The rumblings got even louder when rumors began surfacing that CSU is working on raising funds for a new, $250 million stadium.
Reality check.
Colorado State has announced improvements to its Moby Arena, built in 1966. The improvements are to be in two phases, with $4.5 million for improvements, with another $11 million to add a glass tower and sky boxes. The first phase is to be put into place over the next two years, with $1.5 million coming from a loan owed to the school by CSU-Global campus; $1.5 million from additional revenues from enrollment growth; and $1.5 million from an as yet unidentified donor.
There's no schedule for the second phase of the project because a funding source has not yet been identified, CSU President Tony Frank said.
Sound like a $250 million check is in the mail?
Nope.
Will Colorado State be able to make any headway from athletic revenues?
Please.
The same Business of College Sports review shows the following about Colorado State revenues the past two fiscal years:
2009-10: $7.2 million in football revenue; $1.9 million in basketball revenue
2010-11: $7.7 million in football revenue; $2.3 million in basketball revenue
With a third straight 3-9 season being posted in 2011, followed by a buyout of Steve Fairchild and an expensive hiring of Jim McElwain, it is fair to say that the coffers of Colorado State will not be flush anytime soon.
So, if Colorado State announces a $250 million stadium anytime soon, Colorado fans will have plenty to complain about … but until then …
… we should still be complaining about how the rest of the Pac-12 has set into place capital improvements, but Colorado has been silent.
December 21st
Happy Festivus Day!
For fans of Seinfeld, Festivus Day is a holiday to be spent airing grienvances (and to demonstrate feats of strength!).
For fans of the Colorado Buffs, Festivus Day (actually its December 23rd) is just as imaginary a holiday.
Junior college players could commit to teams starting today, and while Colorado was in the running for a few prospects who could both help and qualify, there was nothing but a coal in the stocking.
Other Pac-12 teams, however, made out fairly well.
USC, it should come as no surprise, came out the best.
The Trojans were able to flip defensive end – and former UCLA commit – Morgan Breslin (Pleasant Hill, Calif./Diablo Valley College). Breslin had committed to UCLA last summer but took an official visit to USC this past weekend. A scholarship opened up for the Trojans when defensive end Nick Perry declared for the 2012 NFL draft, and upon being offered by USC, Breslin didn't waste time in jumping on it. Breslin is eligible to play three seasons for USC.
Safety Gerald Bowman, meanwhile, spent a year at North Carolina Tech before following teammates to Pierce College. After a stellar first year there, USC offered a scholarship and had been chasing him in a big way. Bowman eventually had interest in Oklahoma, and took an official visit there in early November, but an official visit to USC in late December — coupled with Ed Orgeron's constant presence — was enough for the Trojans to land one of the top junior college recruits in the country.
USC also received good news from All-American junior safetyT.J. McDonald, who announced Wednesday that he would be returning for his final season with the Trojans in 2012.
"USC has been a powerful place for my family and it has been a part of my entire life," McDonald said in a statement released by the school. "I came to USC at a unique time, when we were on probation, and a bowl ban, and nobody on my team was part of the reason for that bowl ban. We took it on full force and now we are on the way back to the greatness of USC."
Utah also had a good day, as running back Kelvin York (Fullerton JC, Calif.) signed with the Utes. A former USC commitment, he narrowed his choices to the Utes and Washington before deciding to go with Utah.  York tore his meniscus during a November contest and missed the last part of the season. In early December, York said he talked with USC and when he wasn't guaranteed that a scholarship would still be available to him, he decided to go in a different direction. That new direction is to Utah, and he'll have three years to play two for the Utes.
In addition to York, Utah got some good news from an existing player, as Utah nose tackle Star Lotulelei decided to return to the Utes for his senior season. The 6-foot-3, 325-pound team captain, who was recently named the best defensive lineman in the Pac-12 by his peers, is putting an NFL career on hold after weighing his options, according to the Deseret News.
"I think it would be better for me and my family if I stayed," Lotulelei said while noting he consulted with his parents and wife, Angelina, after getting input from some scouts about his future. Education was also a big factor in Lotulelei's decision, as he'll earn his degree next fall.
Against Colorado in the 2011 season finale, the first-team all-conference player was held to three tackles, though he did register Utah's only sack of the game …
December 20th
Ohio State penalties announced
The NCAA hit Ohio State with a one-year bowl ban and other penalties Tuesday for a scandal that involved eight players taking a total of $14,000 in cash and tattoos in exchange for jerseys, rings and other Buckeyes memorabilia.
The university had previously offered to vacate the 2010 season, return bowl money, go on two years of NCAA probation and use five fewer football scholarships over the next three years.
But the NCAA countered with a bowl ban in Urban Meyer's first year as head coach in 2012, further reduced the number of scholarships and tacked on a year of probation.
It was a sobering blow to Ohio State and athletic director Gene Smith, who through a lengthy NCAA investigation had maintained there was no way the Buckeyes would be banned from a bowl game.
"I'll be shocked and disappointed and on the offensive," Smith said in July of his reaction if there was a bowl ban. "It'll be behavior you haven't witnessed (from me)."
But after the initial tattoo scandal, Ohio State and the NCAA discovered two additional problems. Three players were suspended just before the start of the season for accepting $200 from booster Bobby DiGeronimo, and midway through the Buckeyes' 6-6 season it was revealed that several players had been paid too much for too little work on summer jobs — supplied by the same booster. He has been disassociated from the program.
Former coach Jim Tressel, forced out in the wake of the scandal, was hit with a five-year "show-cause" order that all but prevents him from being a college coach during that time.
The NCAA also issued a public reprimand and censure, put the Buckeyes on probation through Dec. 19, 2014, and reduced football scholarships from 85 to 82 through the 2014-15 academic year.
December 19th
CU wide receiver commit has torn ACL
Colorado prospect Peyton Williams, who was injured in the Texas state semi-finals (see December 11th story, below) has a torn ACL. Williams, who caught 90 passes for 1,162 yards and ten touchdowns this fall, will have to undergo surgery, with his return to football for the 2012 season an unlikely proposition.
Williams becomes the second Texas Buff recruit to suffer a serious injury this fall. Running back recruit Terrence Crowder tore his ACL just five carries into his senior season.
With the loss of both Williams and Crowder, the Colorado is down to two healthy wide receiver commits (Gerald Thomas and Jeffrey Thomas) and two healthy running back commits (Damien Payne and Donta Abron) .
Time for the Buffs to put out an ad in the personals? … "Help wanted: Skill position players. Three or four stars preferable but willing to negotiate" …
December 18th
Texas running back heading to junior college
Texas running back Traylon Shead made the decision to transfer, and Colorado was one possible destination.
But not any longer.
This week, Shead decided to make the move to Navarro junior college, a move that allows him to come in and contribute right away, instead of transferring to another Division I school where he'd be forced to sit out another season.
"I've sat out two years, and to go to another D-I I'd have to sit out another," Shead told teh Palestine Herald Press. "I'll get playing time going the JUCO route. Navarro seems like a great place."
Colorado has commitments from Davien Payne and Terrence Crowder, but have had former commits Benjamin Catalon (TCU) and Erich Wilson (Washington) commit to other teams.
Marcus Rios commits to UCLA
Coveted cornerback recruit Marcus Rios, from Elk Grove, California, has committed to UCLA.
We met with Coach Mora on Friday," Cosumnes Oaks head coach Ryan Gomes told BruinBlitz.com. "We had a very good two hour meeting. We literally sat down and talked for a couple of hours. "Coach (Jim) Mora explained his vision of the program and where he feels UCLA is heading," Gomes said. "Marcus was already had a huge level of respect and appreciation for UCLA as an institution and so the football piece set it over the top."
The Bruins in Rios get one of the best corner prospects out of the Golden State this season. He lived up to his four-star reputation as he earned Conference Defensive Player of the Year and first-team all-conference after accounting for 59 tackles, 16 pass deflections and four interceptions.
Colorado is still in search of its first cornerback commitment from the Class of 2012.
December 17th
Ryan Miller invited to East-West Shrine Game
Colorado senior guard Ryan Miller has been invited to participate in the East-West Shrine game Jan. 21, in St. Petersburg, Fla., CU sports information director Dave Plati said.
Quarterback Tyler Hansen also could play in the game. He is currently the first alternate quarterback for the game and would participate if one of the other invited quarterbacks cannot play or chooses not to.
Kevin McDermond, a spokesman for the Under Armour Senior Bowl, said that postseason all-star game played each year in Mobile, Ala., is just beginning to announce its rosters and send out invitations to players. Former Buffs Nate Solder and Jalil Brown played in the senior bowl last year.
Running back Rodney Stewart, wide receiver Toney Clemons, guard Ethan Adkins and defensive end/linebacker Josh Hartigan could also be in line for invitations to any of the all-star games this season.
December 16th
Colorado to host nationally televised Thursday night game in 2012
Some of the Buffs' 2012 schedule is set.
September 1st – We know that Colorado will take on Colorado State and new head coach Jim McElwain in Denver.
September 8th – We know that Colorado will face Sacramento State from the Big Sky Conference in the Buffs' home opener.
September 15th – We know that Colorado will take its one-game road winning streak to Fresno to take on the Fresno State Bulldogs.
We also know that the Buffs will have a home game against Utah in the regular season finale on Friday, November 23rd.
The other eight games?
Home against Arizona State, UCLA, Washington and Stanford.
On the road against Oregon, Washington State, Arizona and USC.
But when will those games be played?
All we know for now (but stay tuned, the schedule is supposed to be released Saturday) is that Colorado will have a home game on  Thursday, October 11th.
"I recognize a Thursday night game presents logistical challenges for our campus community," Colorado chancellor Phil DiStefano told faculty and staff in a memorandum. "One advantage garnered from our West Coast conference membership is a later kickoff time of 7 p.m., giving our campus more time to transition from daytime academic pursuits to the evening's sporting event."
The new $3 billion Pac-12 television deal with ESPN and FOX calls for at least eight weeknight games each season in the conference. League officials have said they are committed to spreading those games around so that one school is not affected by the schedule more often than others.
"I am fully aware that the academic life of our campus continues past 5 p.m., and that there are traffic, parking and scheduling impacts that start well before kickoff," DiStefano said in the message to campus. "I have charged the committee that led the planning efforts for this year's evening game against USC to bring its experience and logistical know-how to the planning for next fall's contest."
Colorado will also have a bye week in 2012, so it may be that the Buffs will be taking its bye on Saturday, October 6th, in order to have more time to prepare for its home game on October 11th.
December 15th
Foes of $2,000 stipend plan gather enough votes to suspend implementation
So that's how CSU was able to finance its $250,000 to pay for a search committee …
The governing body of the NCAA said Thursday the number of schools seeking an override to the plan to allow a $2,000 stipend to student-athletes had reached 125 — the necessary number to suspend the rule until it can be reconsidered by the Division I Board of Directors at January's NCAA convention.
The board passed legislation in October to give some athletes an additional $2,000 toward the full cost-of-tuition, money that would go beyond tuition, room and board, books and fees. Some schools have expressed opposition because they believe it violates the NCAA's philosophy on amateur sports. But most are concerned about compliance with Title IX rules requiring schools to treat men's and women's sports equally, or the budget hit athletic departments will face with incoming recruits next fall.
The board has three options when it meets in January: Rescind the stipend and operate under previous NCAA rules, modify the rule or create a new proposal that would go back to the schools for another 60-day comment period, or allow members to vote on the override. It would a take 5/8ths majority of the roughly 350 Division I members to pass.
Some conferences already have agreed to start giving out the additional money, and NCAA vice president David Berst acknowledged Wednesday that many of the 1,000 or so student-athletes who have signed national letters-of-intent did so with the expectation of receiving the additional money.
Those athletes will get the stipend, the NCAA announced in a statement on its website.
But unless the override measure fails or the board passes a modified version, athletes who sign with schools in February or April would be prohibited from receiving additional money.
Emmert has insisted over the past several months that the additional money is not pay-for-play and compares it to stipends non-athletes receive beyond the cost of tuition, room and board, books and fees. Until 1972, college athletes were permitted to receive a small monthly payment as laundry money.
December 14th
Ryan Miller third-team AP All-American
While many in the Buff Nation are still wondering why senior offensive guard Ryan Miller failed to make the Pac-12 All-Conference team, All-American accolades continue to roll in.
The latest honor – Miller was named today to the Associated Press All-American team, earning third-team honors.
On the Associated Press team, there were a total of nine players from the Pac-12 – all on offense. Stanford placed four players on the All-American team, with three from USC and one from Oregon. Two quarterbacks made the team, with Andrew Luck being named second team, with Matt Barkley third team. Three other "skill" position players made the team – USC wide receiver Robert Woods (1st team), Oregon running back LaMichael James (2nd team), and Stanford tight end Coby Fleener (3rd team). The other four players named were all offensive linemen, including Miller.
The other eight teams from the Pac-12 were shut out of the Associated Press team.
Brian Cabral to Hawai'i?
The University of Hawai'i has received over 30 applicants for its head coaching vacancy.
Reportedly included on that list is long-time Buff linebackers coach Brian Cabral. As interim head coach at CU last fall in the wake of the Dan Hawkins firing, Cabral went 2-1, defeating Iowa State and Kansas State at home before losing to Nebraska in Lincoln.
Also on the list of potential candidates is Utah offensive coordinator Norm Chow.
Others who have applied include associate Hawai'i head coach Rich Miano, Oregon State defensive coordinator Mark Banker and Jacksonville Jaguars offensive coordinator Dirk Koetter, according to the report.
A week ago Greg McMackin reached a retirement agreement with Hawaii after four seasons in which he went 29-25. He will receive a buyout of $600,000, about half of the $1.1 million the school owed him on a five-year contract that was supposed to expire Jan. 15, 2013.
December 13th
Jim McElwain introduced as CSU head coach
"It's a great day for Colorado State," said new CSU athletic director Jack Graham as he introduced Jim McElwain as the Rams' new head coach. McElwain was joined by his wife, Karen, and their three children on the podium.
"His arrival starts a bold new era for CSU football," Graham said.
McElwain comes to CSU after being the Alabama offensive coordinator since 2008. He replaces Steve Fairchild, who was 16-33 in four season with CSU. The Rams were 3-9 in each of the past three seasons.
"He is a man of great character and great integrity," Graham said. "We run a squeaky-clean program here; we don't cheat."
Graham said McElwain has signed a five-year deal, and his yearly base salary will be $1.3 million and another $150,000 in bonuses. None of that bonus money is tied to wins, Graham added.
McElwain said he met with the players before the news conference.
"As the vision goes, we put the calendar together and we need to hit the ground running and get the word out on what our plans and vision are," he said. "This bold, new era, I'm really excited to lead."
December 12th
Jim McElwain to become the next head coach at Colorado State
A year ago, he was a candidate for the job opening at Colorado.
The past few weeks, his name has been associated with head coaching vacancies at Memphis, Arizona State, Houston, and Fresno State.
And now he is going to become a Ram.
Alabama offensive coordinator Jim McElwain, according to multiple reports, is to become the next head coach at Colorado State.
McElwain will continue coaching the No. 2 Crimson Tide's offense through their Jan. 9 contest against No. 1 LSU in the Allstate BCS National Championship in the Mercedes-Benz Louisiana Superdome in New Orleans .
McElwain is expected to receive a five-year contract worth about $1.5 million per season from Colorado State, which about double the base salary for CU's Jon Embree. This past season (before incentives) Embree earned $725,000, the 2nd-lowest base salary in the Pac-12 (Paul Wulff, Washington State – $600,000). With the new coaches being hired, Embree slips to 12th in the conference, well behind Oregon State's Kevin Riley ($1.3 million).
Jim McElwain had previously coached for Fresno State and developed them into offensive machines. He also did that at Alabama with the immense wealth of talent he has had to work with, namely running back – and Heisman finalist – Trent Richardson (see full resume, below).
The Rams had put up three straight 3-9 records with Steve Fairchild at the helm. He and athletic director Paul Kowalczyk are no longer with the school while new AD Jack Graham is looking to make a signature move early on in his tenure at the position.
Mission accomplished.
My question: It was being reported earlier today that McElwain had been offered the post at Fresno State, which is making the jump to the Mountain West Conference next season, but had turned it down. Does this mean that McElwain sees the situation at Ft. Collins as having greater potential than that which exists in Fresno?
Hard to see it … but that must be the case.  
Program Note – Last December, McElwain was a candidate for the head coaching job at Colorado. Below is my write up …
(Other resumes, if you are interested in taking a trip down memory last to last December, can be found at "The Next CU head coach …". Resumes I posted for names we were tossing around last December, like Mike Leach, Al Golden, Troy Calhoun, Les Miles, David Shaw, Brady Hoke, and, of course, Bill McCartney, Eric Bieniemy, and Jon Embree).
Jim McElwain
Resume … Jim McElwain is in his third year (now fourth) of a very successful run as the offensive coordinator at Alabama.
Born in Missoula, Montana, in 1962, McElwain was an all-state quarterback in high school before going on to play football at Eastern Washington. McElwain stayed on as a graduate assistant after graduating in 1983, earning an assistant coach position at Eastern Washington in 1985. In nine seasons in Cheney, McElwain coached quarterbacks and wide receivers, with the Eagles twice earning 1-AA playoff bids. McElwain then moved on to another Big Sky school, Montana State (I knew there was a reason I liked this guy!). The highlight of his four years in Bozeman came in 1998, when the Bobcats led the conference in scoring, with 31.6 points per game.
McElwain's first 1-A coaching job came in 2000, when he was hired as the receivers and special teams coach by Louisville. In his first season, the Cardinals set a school record with nine blocked kicks. After the 2002 season, McElwain was offered the position of assistant head coach at Michigan State, following Louisville head coach John L. Smith to East Lansing. In his three seasons with Michigan State (2003-05), McElwain coached receivers and special teams.
The NFL came calling after the 2005 season, but McElwain's experience with the League was brief. McElwain was the quarterbacks coach for the Oakland Raiders in 2006, but, after a 2-14 season, the entire staff of Art Shell, including McElwain, were fired. McElwain then spent one very successful season with Fresno State. There, as offensive coordinator, McElwain helped lead the Bulldogs to a 9-4 record, with Fresno State averaging almost 33 points per game (ranked 32nd in the nation).
On February 1, 2008, McElwain was hired by Nick Saban to be the offensive coordinator for Alabama. In his first season with the Crimson Tide, Alabama went 12-0 in the regular season, and was ranked No. 1 in the country before season-ending losses to Florida in the SEC title game and to Utah in the Sugar Bowl. In 2009, however, Alabama redeemed itself, going undefeated and winning the national championship. In 2009, Alabama was ranked 12th in rushing offense and 22nd in scoring offense, with Mark Ingram winning the Heisman trophy. So far in 2010, Alabama is ranked 30th in rushing offense, 36th in passing offense, 23rd in total offense, and 24th in scoring offense.
Positives
– McElwain is from the west, and has recruited in Pac-10 country during his stints at Eastern Washington, Montana State, and Fresno State. Unlike Malzahn, McElwain does not have roots in the SEC, and would be far less likely to leave Colorado for an SEC head coaching position.
– McElwain has seen what it is like to compete at different levels. From humble beginnings with Big Sky Conference teams, McElwain has reached one of the pinnacle of the college football world, Alabama, and has won a national championship and coached a Heisman trophy winner.
– McElwain has coached different positions. He has coached quarterbacks, wide receivers, and special teams on his way to being an offensive coordinator.
Negatives
– While Alabama did win the national championship in 2009, and McElwain did coach a Heisman trophy candidate, the Crimson Tide wins most of their games with defense. Alabama in 2009 was ranked 92nd in the nation in passing offense – for a 13-0 team. The Alabama defense, at the same time, was ranked in the top ten in nearly every category, and was ranked second in the nation in rushing defense, total defense, and scoring defense. McElwain won't have the Alabama defense to bail him out in Boulder.
– McElwain has never been a head coach at any level.
– While he has coached seven different schools, none of them had any great success until McElwain hit Alabama. It could certainly be argued that McElwain is more of a product of Alabama's success than that Alabama owes its success to McElwain.  
And, for those of you with 20/20 hindsight, here is what I had to say about Jon Embree when he was still just a candidate for the CU head coaching job …
Jon Embree
Resume:  As a Player … At CU … Jon Embree was an outstanding player on some poor Colorado teams. Embree was a first-team All-Big Eight tight end in 1984, leading the Buffs in record-setting fashion. Embree caught 51 passes for 680 yards, shattering CU records in both categories. The four-year letterman also led the team in catches in 1985 … with nine catches. After the Buffs switched to the wishbone, Embree's pass-catching role was reduced considerably, with Embree catching only 17 passes his last two seasons. Still, Embree did enough in his years in Boulder to be drafted in the 6th round by the Los Angeles Rams in 1987 … In then NFL … Embree played only two seasons with the Rams before suffering a career-ending elbow injury in 1989.
As a coach … Jon Embree spent ten years as an assistant coach at the University of Colorado, coaching under Bill McCartney, Rick Neuheisel, and Gary Barnett. While in Boulder, Embree coached tight ends (1993-94; 1999-2000), defensive ends (1995-98), and wide receivers/kickers (2001-2002). Embree moved on to UCLA in 2003, named as assistant head coach/wide receivers (2003), and assistant head coach/tight ends and passing game coordinator (2004-05). While in college, Embree coached two John Mackey Award winners – Daniel Graham at Colorado and Marcedes Lewis at UCLA … In 2006, Embree was hired as tight end coach by the Kansas City Chiefs, where he coached All-Pro tight end Tony Gonzalez. Under Embree, Gonzalez led all NFL tight ends with 99 catches for 1,172 yards. After three years with the Chiefs, Embree joined the staff of the Washington Redskins as tight ends coach in January, 2010.
Positives
– Again, like McCartney and Bieniemy, Embree would bring an unquestioned loyalty to the Colorado program, and would understand the opportunities/limitations of the head coaching job in Boulder.
– Embree is a Colorado native, going to high school in Denver (Cherry Creek), and committed to play for CU and Bill McCartney in one of the darkest periods of Colorado history. He was a team leader for a team which only had one winning season in his years in Boulder, but he was there on the field for the epic 20-10 win over Nebraska in 1986. He understands what it is like to see CU at the bottom, and what it takes to get Colorado back on top.
– Embree will have a number of recruiting advantages, having ties to both the Denver area, as well as a number of years coaching (and recruiting) for UCLA.
– While best known as a tight ends coach, Embree has had a number of different positions to coach, including wide receivers, defensive ends and kickers. He has also served in the capacity as an assistant head coach while at UCLA.
Negatives
– While a known quantity for many Buff fans, Embree would not likely be seen as a "home run" hire by the national media. Bieniemy was a star on a national championship team, while Embree toiled in anonymity for a poor to fair Colorado program.
– Without a head coaching background, concerns will be raised about Embree's ability to bring aboard a first-class assistant coaching staff.
– Embree's son, Tyler, is a junior at UCLA. Would Embree want to coach against his son in 2011?
Buffs lose out on junior college offensive lineman
It came down to Colorado and Utah for junior college offensive lineman Alexandru Ceachir. Originally from Russia, the Santa Monica junior college offensive tackle was in Boulder the weekend of December 2nd-3rd, then in Utah this past weekend.
Ceachir's choice … Utah.
According to Ceachir, committing to Utah was an easy call to make. "What can I say? They have great coaches. It's a great school with great people. I feel comfortable in the program, and that's my choice," Ceachir told UteZone.com. It also didn't hurt the Utes cause that Ceachir will be able to enroll in January and be available for spring practices. To qualify at CU, Ceachir needed more credits, and would have had to enroll this summer.
Any chance the Buffs might still lure him to Boulder? "I'm not taking my word back," he said.
December 11th
Colorado wide receiver recruit Peyton Williams injured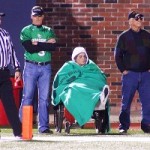 Colorado wide receiver recruit Peyton Williams was injured during the Texas state semi-finals. According to an ESPN story, Williams went down in the first quarter and had to be carried off the field after injuring his left knee. "It just kind of gave out on me," said Williams.
After the game, Williams was still unsure what was wrong with his knee, but he was there celebrating with his teammates on the field on crutches and with tears in his eyes. Williams' schoo, Carroll (15-0), advanced to play Fort Bend Hightower (13-2) in the 5A Division I state title game at 4 p.m. Saturday at Cowboys Stadium.
It is being reported that Williams – and the CU coaching staff – will know more about Williams' injury on Tuesday.
Williams is considered to be a three-star prospect, and has run a 4.4 in the 40. In May, Williams' 4×400 relay team captured a state championship. "I had a low 48 in my split, which wasn't my best, but we won with a time of 3:13," Williams said.
Let's hope for the best …
December 9th
Henderson, O'Neill on Freshman All-American team
Cornerback Greg Henderson and punter Darragh O'Neill were both named to the College Football News All-Freshman team, with both players named to the second team.
This past season, Henderson led the team in snaps from scrimmage, with his 843 plays. Henderson demolished the old freshman record of 597 plays, set by Jordon Dizon in 2004 (third on the list – to give you an idea of how unusual Henderson's season was – is sophomore safety Terrel Smith who was on the field for all of 414 plays last fall). Henderson was seventh on the team in tackles, with 59. Henderson also posted three tackles for loss, a team-leading nine passes broken up, adding an interception and a fumble recovery.
O'Neill, meanwhile, met or exceeded the expectations of the Buff Nation and the CU coaching staff. Playing in his first year of football at any level, Henderson was second in the nation amongst freshman punters. Against Oregon, O'Neill set freshman records for punts inside-the-20 (with six) and inside-the-ten (with four). In 74 punts, O'Neill put 21 inside the 20-yard line, with only two touchbacks (Zach Grossnickle's numbers in 2010: 60 punts; with 11 inside the 20-yard line).
The Upside … when taking a look at the recruits the Buffs are trying to lure to Boulder for the Class of 2012 … Greg Henderson was considered a two-star prospect, whose only other offers came from New Mexico and Air Force. Darragh O'Neill, was a walk-on, who was not in the recruiting database for the Class of 2011 for either Rivals or Scout.
The Downside … The College Football News All-Freshman team had two Buffs on the second team. On the CFN All-Freshman first team, however, there were a total of 11 players from the Pac-12, including six from USC alone (so the demise in the Trojans might still be awhile in coming), with one player each from Utah, Oregon State, Washington, Oregon, and Stanford.
So, while we celebrate the accomplishments of Greg Henderson and Darragh O'Neill, it with the understanding that there is still a great deal of work to be done in Boulder before the Buffs are amongst the elite in the Pac-12.
December 8th
Ryan Miller second-team All-American
Colorado had one player named to the All-Pac-12 team last week, an offensive lineman.
On the second-team All-Pac-12 offensive team was …
… sophomore offensive tackle David Bakhtiari.
So when the All-American teams were announced, it was only natural that the only member of the 2011 Buffs to be honored would be an offensive lineman …
… senior offensive guard Ryan Miller.
On Thursday, Ryan Miller was named second-team All-American by the Walter Camp Football Foundation.
It's the oldest All-America team in college athletics, as the organization was the first to select one back in 1889. This is the 122nd team, which is selected by head coaches and sports information directors in the Football Bowl Subdivision (FBS).  
Miller, 6-8, 295 pounds, prepped at Littleton's Columbine High School and was a member of CU's 2007 recruiting class.  His true sophomore season was cut short due to a broken fibula, but he played in the season's first four games, more than enough to letter, and became the just the ninth player out of almost 2,000 lettermen in school history to earn five letters.
"It sure feels good.  I feel honored and I am very thankful to have played five seasons in front of all the Buff fans at Folsom Field and for coach Embree this year," Miller told cubuffs.com.  "It's been an honor and pleasure."
He set the school record for the most career games started with 47 (48 including the 2007 Independence Bowl), breaking the old marks of 45 overall (ILB Jordon Dizon) and 44 by an offensive player (held by two players); he started the last 37 games of his career.  From his redshirt sophomore through his senior seasons, he played 2,548 snaps, all but two of the team's total.  In 3,320 career plays, he allowed just five sacks, allowed only nine pressures and was called for 10 penalties, only four in his last three seasons.  In his career, he had three position coaches: Jeff Grimes for his first two, then Denver Johnson for two, and Steve Marshall his senior year. 
"We're real proud of the accomplishments he had this year," Marshall said.  "He played extremely well the second half of the season and deserves every honor he gets.  It's rare for a college player to have to endure three different position coaches in their career … change can be unsettling dealing with new philosophies and teaching techniques.  But Ryan worked extremely hard under the new circumstances and just got better and better each week and had a heck of a year as it turned out."
This past season as one of four team captains, he played 850 snaps from scrimmage, all but one of the CU's total (the one was allowing another senior to finish the Arizona game).  He graded out to 83.3 percent on the season, coming on strong the last half of the season (88.8 percent in the final six games), and posted 80 percent or better grades in 11 games, with a season-best 90.1 versus Arizona.  He led the team with 40 "great effort blocks," awarded for knockdowns, downfield blocks, touchdown blocks (which he had three) and blowing opponents off the line (not pancakes).  He was called for just two penalties, and allowed a single quarterback pressure and just one sack. 
Miller was one of 65 players on the official preseason watch list for the Outland Trophy (one of 14 guards to make the list) and was one of 15 guards on the 125-man official watch list for the Lombardi Award.
December 6th
Programs! Get your programs!
Want to be the smartest guy in the sports bar?
Commit to memory the latest conference alignments.
The Big East has morphed into the Big Continent, adding Boise State and San Diego State from the Mountain West Conference, to go with SMU, Houston, and Central Florida (all from Conference USA). And these five teams will be joining …
see, it's hard.
Okay, the remaining members of the Big East*, at least for football, are: Cincinnati; Louisville; Rutgers; UConn; and South Florida … which gives the Big East ten teams altogether. (Navy and Air Force are still being courted as football only members, to bring the league up to 12 teams – the magic number for a lucrative championship game).
*Subject to litigation – The Big East is trying to keep defectors West Virginia, Syracuse and Pittsburgh around for two more years. Currently, West Virginia has a lawsuit against the Big East, so stay tuned …
What about the Big 12?
Well, Missouri and Texas A&M are off to the SEC, which would leave the Big 12 with eight of its original 12 members … but the league is adding TCU (formerly of the Big East – for about a month – and the Mountain West) and West Virginia (from the Big East), which brings the Big 12, at some point in the near future … back to ten members (but the league has indicated that it might not be done with expansion).
And the Mountain West Conference?
Damned if I know …
Gone over the past two years are TCU, Boise State, San Diego State, BYU, Utah … and now possibly Air Force.
Left are Colorado State, Wyoming, New Mexico, and UNLV, to be supplemented by Fresno State and Hawai'i (both looking for new head coaches) and Nevada. Hawai'i is not scheduled to join the league until 2013, but if Air Force leaves, and Hawai'i doesn't join early …
the Mountain West Conference will have six teams in 2012 …
Or am I missing somebody? (Utah State, perhaps?)
In any event, if I am looking at becoming the head coach at Colorado State, I'm looking at a conference with no chance at a BCS bowl bid … but one which could be dominated in pretty short order.
So, to earn your free drinks at your local sports bar, or to impress your friends at your Super Bowl party, try these stumpers:
1) What current member of the Mountain West is the only returning member of the conference to have a winning record in 2011?
2) What current member of the Mountain West is the last to win a Mountain West Conference championship?
Answers:
1) Wyoming, 8-4 and heading to the New Mexico (to face Temple, in case you were wondering);
2) Colorado State, in 2002.
December 5th
Pac-12 Underdogs in six out of seven bowl games
Oregon is the only favorite. The Ducks are given six points against Wisconsin in the Rose Bowl.
The biggest underdog is Arizona State against Boise State in the MAACO Las Vegas Bowl: 13.5 points. UCLA is the smallest, getting 2.5 from Illinois in the Kraft Fight Hunger Bowl.
Oklahoma State is favored by 3.5 over Stanford in the Tostitos Fiesta Bowl. Baylor is favored by 10 over Washington in the Valero Alamo Bowl. Texas is favored by 3.5 over California in the Bridgepoint Education Holiday. Georgia Tech is favored by three over Utah in the Hyundai Sun.
So, if things go by expectations, the Pac-12 should go a terrible 1-6 this bowl season…
Cliff Harris era finally over at Oregon
At least he kept the Buffs from being shut out at home for the first time since 1986 …
Harris, who was suspended for the final games of the year, earned All-American honors in 2010 and was a consensus 2011 preseason All-American, but he never impressed Ducks coaches as much as he impressed some fans and some media. He didn't start until the second half of the 2010 season, and he didn't see much action when he returned from a suspension this year.
Harris was credited with just nine tackles and one interception in six games this season. He finished his career with 61 tackles and eight interceptions, including one returned for a touchdown. He scored touchdowns on four of 38 punt returns, though two were against woeful New Mexico in the 2010 opener.
He also was suspended from the team — he missed the opener against LSU — after he was stopped by police for driving 118 mph with a suspended license on the interstate. Dashboard camera footage from an Oregon State Police patrol car during the June 12, 4:30 a.m. traffic stop included this memorable exchange:
Patrolman: "Who's got the marijuana in the car?"
Harris: "We smoked it all."
(And don't forget, Oregon quarterback Darron Thomas was in the car when it was pulled over … never investigated, never missed a down).
December 4th
Pac-12 Bowl partners set
While the national championship game will be an All-SEC affair, the Pac-12 has some interesting bowl matchups.
Rose Bowl – No. 6 Oregon v. No. 9 Wisconsin
Fiesta Bowl – No. 4 Stanford v. No. 3 Oklahoma State
Alamo – Washington v. No. 15 Baylor
Sun – Utah v. Georgia Tech
Holiday – Cal v. Texas
Las Vegas – Arizona State v. No. 8 Boise State
Kraft Fight Hunger – UCLA* v. Illinois
* UCLA, despite a 6-7 record, was allowed by the NCAA to participate in a bowl game
It's hard not to see the Pac-12 entry being the underdog in all but perhaps the Rose Bowl, and even the Oregon/Wisconsin game will be close.
It will be interesting to see whether Stanford will face an Oklahoma State team disappointed at missing out on the national championship game – or one determined to show that they belonged in New Orleans instead of Tempe.
Washington and Arizona State got tough draws, both getting ranked teams with agendas. Boise State is always looking to impress, and travels well. The Sun Devils, still without a future head coach being named, will have little to play for in Las Vegas other than trying to avoid a losing season (6-6 heading in).
Washington, meanwhile, heads off to the state of Texas to play a Baylor team not only excited to be playing close to home, has a team which defeated both Oklahoma and Texas in the same season since … well, ever. The Bears are coming off of a 48-24 win over the Longhorns, the second-highest total for Baylor over Texas ever (and the first time the Bears have beaten the Longhorns in back-to-back seasons since taking four straight … in 1935-38.
Rodney Stewart named MVP – Hansen, Clemons, Pericak, Hartigan, Behrens and Henderson also honored
Senior tailback Rodney Stewart was named by his University of Colorado teammates as the Buffaloes' 2011 Most Valuable Player, according to a press release from cubuffs.com.
Stewart led the team in rushing with 854 yards, becoming the first player in school history to lead the team in four seasons, which he did in consecutive years. He also led the team in receptions with 45, gaining 571 yards; he was the first player in the nation (and just one of three) to have 500 yards rushing and receiving in 2011, and became just the 12th player in CU history to have 500 of each for a career. His 1,686 all-purpose yards were the sixth-most in a season at Colorado, despite the fact that he missed the better part of four games with knee and ankle injuries.
He missed most of the second half in CU's season finale at Utah with a sprained ankle, thwarting his effort to become the 27th player in the NCAA (FBS) history to have 3,000 rushing and 1,000 receiving yards in a career. Otherwise, Stewart made an indelible mark on CU record book, finishing with 809 rushing attempts (first), 3,598 yards (second), 25 rushing touchdowns (10th), 150 points (tied for 18th) and 16 100-yard games (second). He was first in receptions by a running back with 93 (tied for 14th overall) for 969 yards (first by a running back, 26th overall), while amassing 3,635 yards of total offense (11th), 4,567 yards from scrimmage (first) and 4,828 all-purpose yards (first).
Senior wide receiver Toney Clemons and senior quarterback Tyler Hansen were named the John Mack Award winners as the team's most outstanding players on offense. Clemons was second in receptions (45) but first in receiving yards (680), with team-bests of 15.8 yards per receptions and eight touchdowns. He was on fire the last five games of the season, catching 25 balls for 476 yards (19.0 per), with five touchdowns. He closes his career with three 100-yard games in his last four, and with 86 receptions (tie-18th), 1,162 yards (17th, just four yards behind CU head coach Jon Embree in 16th); and 11 touchdown catches (tie-9th).
Hansen threw for 2,883 yards and 20 touchdowns, completing 56.1 percent of his passes in starting 12 of 13 games this year. Those were the second-most passing yards in a single season at CU, as were his 2,998 yards of total offense, trailing only Koy Detmer's 1996 numbers in both. He finished in the top five in five major passing categories: 872 attempts (third), 505 completions (third), 5,705 yards (fourth), 35 TD passes (fourth), 6,183 yards of total offense (fourth). He also tied the school record for the most 200-yard passing games in a season with nine in 2011.
Senior outside linebacker Josh Hartigan and junior defensive tackle Will Pericak shared the Dave Jones Award as the team's outstanding defensive players. Hartigan led the Buffaloes in sacks for the second straight season, recording eight, which gave him 15 for his career, tying him for 12th all-time with his position coach, Kanavis McGhee. Overall, he had 31 tackles, 24 solo and 10 for losses, with seven hurries, three third down stops and a pass broken up. Pericak was fourth on the team in tackles with 64 (33 solo, two for losses), with a team-high eight hurries. He also had five third down stops, three tackles for zero, two passes broken up, a caused interception and a blocked kick, a PAT try by Cal, the first blocked by a CU player since 2005.
The Lee Willard Award for the most outstanding freshman went to cornerback Greg Henderson, who played in all 13 games, started 12, with his 823 snaps from scrimmage being the most any true freshman has ever played in a single season at Colorado. He had 58 tackles, seventh most on the team that included 44 solo, three for losses and a quarterback sack, along with a team-high nine passes broken up, six third down stops, four touchdown saves, a forced fumble, a fumble recovery and an interception.
Pericak also was one of three players to earn the Dean Jacob Van Ek Award for academic achievement; senior defensive backs Anthony Perkins and Travis Sandersfeld shared the honor. Both Pericak (3.43 grade point average) and Sandersfeld (3.38) are majoring in Business-Finance, while Perkins graduated with a degree in Integrative Physiology last December and has been working toward a second in History.
The coaching staff reduced the number of team awards from 20 to five, but did not rule out renewing some in the future or transferring to the spring.
In all, 70 players earned letters this season, including all 28 seniors and 25 cited as first-year lettermen with 15 of those players true freshmen. The breakdown included 32 players on offense, 33 on defense and five specialists.
The complete list of CU award winners announced Sunday; the most valuable player was selected by the players and all others by the coaching staff:
Zack Jordan Award – (most valuable player, selected by teammates): TB Rodney Stewart
John Mack Award – (outstanding offensive player): WR Toney Clemons, QB Tyler Hansen
Dave Jones Award – (outstanding defensive player): OLB Josh Hartigan, DT Will Pericak
Lee Willard Award – (outstanding freshman): CB Greg Henderson
Dean Jacob Van Ek Award – (academic excellence): OL Blake Behrens, SS Anthony Perkins, CB Travis Sandersfeld
Best Interview – (selected by team beat media): WR Toney Clemons
Previously announced:
Buffalo Heart Award – (selected by "the fans behind the bench"): TB Rodney Stewart
Congratulations to all!
2012: Buffs to avoid facing a BCS team until Pac-12 play begins
Bring on the Big Sky!
Colorado has only played two Big Sky teams (as FCS teams, anyway) in school history, but will face a third next September 8th.
It was announced this weekend that the Buffs fill face off against Sacramento State between games at Mile High against Colorado State and on the road against Fresno State.
While a game against a 1-AA team suggests an easy win, Buff fans know otherwise. In 2006, Dan Hawkins made his debut as head coach with a 19-10 loss to Montana State. Then, in 2008, Colorado had all it could handle from Eastern Washington, before a late touchdown return for an interception sealed the victory.
What can Buff fans expect from Sacramento State?
Hard to say.
The Hornets opened the 2011 season with an upset of Oregon State in Corvallis – which should give the Buff Nation pause right there. A few weeks later, Sacramenton State defeated the Montana Grizzlies for the first time ever (17 meetings). The only other victories, though, were against lowly Northern Colorado (0-11 this fall) and Idaho State (2-9, with victories only over Western State and Northern Colorado).
At the end of the campaign, the Hornets were looking at a 4-7 overall record. Sacamento State lost four of its last five games, but those four losses were by a total of 21 points.
Still, it's nitpicking for Colorado coaches and players to worry about Sacramento State's record. The Hornets are 1-AA, and should be taken to the woodshed by the Buffs.
Of course, that's what Oregon State fans thought this past September …
2012 Non-Conference schedule
With the Sacramento State game set, the Buffs now know their three non-conference opponents. Colorado will open September 1st in Denver against Colorado State (3-9, with an eight game losing streak to end the 2011 season), at home against Sacramento State (4-7, 3-5 in Big Sky play), and on the road against Fresno State (4-9 after a 35-28 loss to San Diego State Saturday night. Pat Hill, the head coach for 17 years in Fresno, may or may not be on the sidelines come next September).
That's a combined record of 11-25 for Colorado's first three opponents, with only one of those 11 victories coming over a BCS team (Sacramento State's victory over Oregon State). Conversely, five of the victories came over teams which are 1-AA or below (including two over Northern Colorado).
Only twice before in the modern era (since 1962) has Colorado not faced a BCS conference team in non-conference play. In 1998, Colorado faced off against CSU, Fresno State, and Utah State, while in 2001, Colorado played CSU, Fresno State, and San Jose State.
Buff fans will be looking for a 3-0 record to start the 2012 season.
The issue at hand is whether Colorado, which already will have four new Pac-12 head coaches with which to contend, will have two brand new head coaches to face in the non-conference schedule. Colorado State seems destined to part ways with Steve Fairchild, who has produced three consective 3-9 seasons, while in Fresno, Pat Hill may have worn out his welcome at a school which he put on the national map.
The safest of the three non-conference coaches is probably Marshall Sperbeck at Sacramenton State. Despite a 4-7 record in 2011, and a 24-32 record in five seasons, Sperbeck isn't likely to get fired this off-season. Last year, Sperbeck led the Hornets to a 6-5 record … the first winning record in Sacramento since 2000.
December 1st
Colorado State hires a new athletic director … Will Fairchild be the next to go?
Colorado State fired athletic director Paul Kowalczyk on Thursday and replaced him with retired businessman Jack Graham, 59, a former Rams' quarterback who has never worked in athletic administration.
Up next could be football coach Steve Fairchild, whose team hasn't won more than three games in the past two seasons, and is 3-8 heading into the season finale Saturday against Wyoming.
"I want to see our football team consistently be a top-25 team, competing in a bowl game every year," Graham told the Denver Post. "We have high expectations. I'm not happy with where the CSU football team is. We're 3-8. That is not acceptable."
"You cannot ignore football," said Graham. "Football is what people significantly look to as the program within the athletic department that significantly defines its success. Right or wrong, that's the reality. And our football program isn't anywhere near where it needs to be.
"It may be on the cusp of being there. I don't know that at this point. Coach Fairchild and I will talk about that and figure it out. But we are going to get it right."
Graham is going to ride up to the Wyoming border with Fairchild on Friday, when the two schools' ROTC groups exchange the traditional game ball ahead of Saturday's season finale.
"Is it an interview process? I think that is a fair characterization," Graham said. "Steve has a leg up because Steve has four years of history at the institution and 17 of our 24 starters are coming back next year. There is a ton of work that Steve and his staff have done. I need to know what work has been done and where he thinks the program is and what he thinks it can look like in 2012."
The Rams are 16-32 under Fairchild, who was hired before the 2008 season after the firing of longtime coach Sonny Lubick.
Kowalcyzk had 3½ years remaining on his contract, and will be paid $830,000, none of which will be covered using public funds or student fees, CSU said. (Note to CSU: When you will be behind big brother CU in television rights by a margin of $25 million to $2.5 million, you may not want to spend a third of your television revenues buying out the athletic director).
Also on Graham's to-do list is mending the relationship between Lubick, the program's most successful coach, and the athletic department. In addition, Graham wants to reconnect with disillusioned alumi and donors, and find new potential donors.
However, job one is turning around the football program.
"I follow CSU football religiously and I'm not happy where the program is today," Graham said. "We're 3-8 right now, and my hope is that we'll end up being 4-8 on Saturday. But that's not an acceptable result and that result needs to change."
We'll see. The eyes of the Buff Nation will be upon Ft. Collins after the Wyoming game, to see if Steve Fairchild becomes the fifth head coach of a team on the Buffs' 2012 schedule to lose his job in 2011.
November 29th
Target 2012: Bowl Game
Beat CSU – check; Win final home game for the seniors – check; get rid of the damn road losing streak – check.
While the Buffs were not able to check too many of their goals for the 2011 season, winning two of the final three games does leave room for quiet optimism for the 2012 season.
And time for a new set of goals.
"We can start talking about that because we've won on the road," head coach Jon Embree said at his press conference Tuesday. "I don't think you can talk about those goals until you start winning on the road. As this program continues to grow and flourish and progress, that (bowl) should be the next step for us."
Embree also noted that the importance of winning in November can't be overestimated.
Winning two of the last three "helps validate some of the things we've been talking to recruits about," he said. "If you're going to get to a bowl game, you've got to win in November."
When future opponents see CU on their November schedules, Embree would like them to recognize that the Buffs "are playing their best football."
As for recruiting …
Embree indicated that he expects to sign 28 prospects, using three scholarships "held" from the Class of 2011 to go with the full 25 allowed annually.
Embree also stated that he isn't into "over-signing" – the practice of signing more than 25 and counting on attrition of some sort bringing the number back to the limit.
"Unless you know you're signing Player X in case so-and-so doesn't qualify or is hurt or is a candidate to gray shirt . . . I'm all for it," he said. "The other way, I don't know. If you sign a kid and then sign someone else you think is better and put that (first) kid out, I'm not for that."
CU's priorities in the 2012 class will be tight ends, cornerbacks and defensive linemen. Embree expects to sign at least three tight ends, five defensive linemen and three or four corners.
At least three recruits are scheduled to enroll for the spring semester, with the possibility of that number increasing to five to seven. Embree said even though finding junior college transfers who qualify under CU's strict admission standards is challenging, "there are some JC guys we're looking at." (Including at least one offensive lineman, Alexandru Ceachir, who will be taking an official visit to Boulder this weekend. Program Note: I will have a full list of visiting players – now up to at least six – profiled on Thursday night or Friday morning) 
Upon his hiring last December, Embree said his recruiters would be unlikely to stray out of the Buffs' established recruiting footprint unless bona fide prospects contacted CU. That apparently has happened with at least four recruits in Washington, D.C., and New Jersey – normally unusual areas for the Buffs to be visiting.
In a geographical breakdown of his staff's recruiting territories, Embree said offensive coordinator/running backs coach Eric Bieniemy and defensive ends coach Kanavis McGhee would visit the D.C./New Jersey prospects because of the positions they play and not necessarily because Bieniemy and McGhee are assigned to recruit those areas.
As Embree promised, CU's heaviest out-of-state focus is on California and Texas, with at least eight staffers assigned to recruit portions of each state. Embree said while "it's been good to get back into Houston and Dallas," San Antonio "is turning out to be pretty good for us. We got a couple there last year and there's a couple with interest this year."
Prospects' overall reception of CU, despite the 3-10 final record, has been positive, he said: "We've had good responses from recruits. There's the athlete that wants to go to a readymade situation. Then, there's still some good athletes out there that want to go play in a good conference and want to be around good coaches . . . those are the ones that we've been hearing a lot from.
"There's some other good players, but because of our record they don't have an interest in us. It'll be like that every year. But as you continue to build and improve on things, I think eventually those kinds of athletes will be interest in Colorado."
Jon Major Pac-12 Defensive Player-of-the-Week
Jon Major, a junior from Parker, Colo., had nine tackles, including two tackles for loss totaling nine yards in the 17-14 win at Utah. He also had a sack in the fourth quarter for seven yards. Major and the Buffalo defense limited Utah to just 39 yards and one first down in the half. Utah's 274 yards were the second lowest allowed by Colorado this season behind 243 by Colorado State.
Major is the third Buff to be honored as a Pac-12 Player-of-the-Week this season. Sophomore wide receiver Paul Richardson was honored for his record-setting 284-yard receiving effort against Cal, while senior defensive back Travis Sandersfeld was honored after the Buffs' victory over Arizona.
This season, every team in the Pac-12 has had at least one representative on the Player-of-the-Week list. The breakdown: USC 8; Washington 5; Oregon State 5; Utah 5; Colorado 3; Oregon 3; Stanford 2; Washington State 2; Arizona State 2; Cal 2; Arizona 1; and UCLA 1.
Other Pac-12 Awards
Offensive Player of the Year: Andrew Luck, QB, Stanford
Pat Tillman Defensive Player of the Year: Mychal Kendricks, LB, California
Freshman Offensive Co-Players of the Year: Marqise Lee, WR, USC and De'Anthony Thomas, RB, Oregon
Freshman Defensive Player of the Year: Dion Bailey, LB, USC
Coach of the Year: David Shaw, Stanford
All-Pac-12 Team
With a 3-10 team, it was not entirely surprising that only one Colorado player was named to the Pac-12 team.
Any guesses?
On the second-team All-Pac-12 offensive team was …
… sophomore offensive tackle David Bakhtiari.
Congratulations to David. It will be nice to have him along the line for the next two seasons!
Pac-12 title game has the feel of the 2005 Big 12 championship game
Colorado fans would be forgiven if they are feeling a little sense of deja vu this week, as unranked and tattered UCLA heads up to Eugene to get thumped on by Oregon in the inaugural Pac-12 championship game.
With the best team in the South, USC, home gloating over its season-ending 50-0 thrashing of the Bruins, UCLA nonetheless backed into the title game when Utah lost to Colorado, and Arizona State imploded down the stretch. The 6-6 Bruins are a 30-point underdog to the Ducks, and the line could go even higher.
Head coach Rick Neuheisel was informed Monday that he would not be retained as head coach, but would be allowed to coach the Pac-12 title game.
Sound like 2005 to you? The Buffs were humbled by Nebraska, 30-3, in the 2005 regular-season finale, but still backed into the title game because Iowa State – for the second year in a row – couldn't make a field goal in its final game of the season. The Buffs' reward was to head off to Houston to play a Texas team with Vince Young and national title aspirations. The CU head coach, Gary Barnett, was rumored to be on his way out, and the Buffs played as if they didn't care.
Texas did care, though, and the final score was 70-3. Two days later, Barnett was gone.
70-3 … sounds about right for this weekend's game …