November 11th
High-wind warning may affect Colorado game against Arizona
Batten down the hatches …
According to accuweather.com, there is a high-wind warning for Boulder for Saturday, with the warning not set to expire until well after the game (12:30 p.m. kickoff) should be over:
…HIGH WIND WARNING REMAINS IN EFFECT FROM MIDNIGHT TONIGHT TO 6 PM MST SATURDAY…
* TIMING…WESTERLY WINDS WILL INCREASE ACROSS THE FRONT RANGE FOOTHILLS AFTER MIDNIGHT TONIGHT AND CONTINUE THROUGH SATURDAY.
* WINDS…WEST WINDS WILL INCREASE TO 30 TO 50 MPH WITH GUSTS IN EXCESS OF 75 MPH POSSIBLE LATE TONIGHT AND SATURDAY. THE STRONGEST WINDS ARE EXPECTED ACROSS WESTERN BOULDER AND WESTERN LARIMER COUNTIES WHERE A FEW GUSTS MAY APPROACH 100 MPH.
* IMPACTS…TRAVEL ACROSS NORTH TO SOUTH HIGHWAYS AND ROADS WILL BE VERY DIFFICULT DUE TO STRONG AND GUSTY CROSS WINDS. AREAS SUSCEPTIBLE TO HIGH WINDS INCLUDE…HIGHWAY 93 BETWEEN GOLDEN AND BOULDER…HIGHWAY C-470 ALONG THE FOOTHILLS IN JEFFERSON COUNTY…U.S. HIGHWAY 36 BETWEEN BROOMFIELD AND ESTES PARK…THE PEAK TO PEAK HIGHWAY FROM ESTES PARK THROUGH BLACKHAWK…U.S. HIGHWAY 287 FROM LAFAYETTE TO THE WYOMING BORDER…AS WELL AS THE CARTER LAKE AND HORSETOOTH RESERVOIR AREAS IN LARIMER COUNTY.
PRECAUTIONARY/PREPAREDNESS ACTIONS…
REMEMBER…A HIGH WIND WARNING MEANS THAT STRONG AND POTENTIALLY DAMAGING WINDS ARE EITHER OCCURRING OR HIGHLY LIKELY.
How will the wind affect the Colorado game against Arizona?
Both teams make their living by passing. Arizona is 4th in the nation in passing, and Colorado is far more comfortable passing the ball.
Neither team can run the ball effectively – Arizona is 112th in the nation in rushing; Colorado 114th, with both schools posting less than 95 yards rushing per game. Arizona is slightly better at stopping the run (169 yards per game to the opposition, compared to 191 for Colorado).
The Buffs' numbers, though, do not accurately take into account the loss of Rodney Stewart for much of three games. Without the Colorado senior in the lineup, the Buffs went for 62, 98, and 83 rushing yards as a team. With Stewart back in the lineup against USC, the Buffs' total went up to 134 yards rushing.
Further, you would have to believe that high winds favor the Buffs psychologically. They have practiced and played in Boulder, so high winds are not exactly an uncommon occurrence. Even to the extent that they are unusual for the Buffs, it will be more of a distraction to the visiting Wildcats, none of whom have ever played a game in Boulder.
What's more, Arizona lives more off of the long pass than does Colorado (and it will be the bombs which are most susceptible to high winds). Arizona has nine players with receptions of 26 yards or longer, with seven players posting receptions in excess of 40 yards. Colorado, meanwhile, has only eight pass plays all season which have covered over 40 yards (with many starting out as short passes. The two longest Buff pass plays – Paul Richardson's 78-yarder v. Cal and Rodney Stewart's 76-yarder v. Stanford – both started off as short passes).
An advantage for Colorado?
The Buffs will take whatever they can get …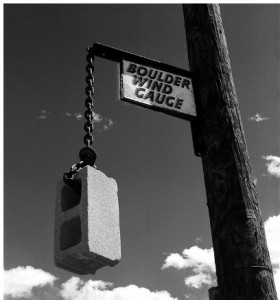 November 10th
CU Athletic Director Mike Bohn's letter to the Buff Nation
Dear Buff Fans,
I would be remiss if I did not take time to share with you the tremendous feedback we have received from fellow Pac-12 administrators, out of town guests and media about our passionate fan base from both home and away football games this fall.
We are honored and most appreciative of the positive influence you are making in our efforts to improve on the rich tradition of the University of Colorado. Your tremendous pride and competitive spirit is a point of difference for us to convey in recruiting all students to attend our outstanding institution and inspires other Buff faithful to maintain a high level of engagement and perseverance.
We treasure our supporters and the communities we serve as a vital part of our team, and we have been invigorated by standing Shoulder to Shoulder with each of you this season. Most of the results have not been easy for anyone, which makes your outstanding support and energy that much more special.
On the last weekend in October, we were thrilled with the turnout of about 300 CU fans at the Pac-12 cross country championships in Tempe. As most know, the Buffaloes captured both the men's and women's titles and I can't emphasize how proud everyone at the university is of Mark Wetmore's teams, but also of the amazing support we had on hand to cheer the Buffs on.
Last week's USC game was featured on ESPN for a Friday night exclusive broadcast. We were incredibly proud to demonstrate to the nation how so many of our fans get behind the program wearing black, and showing a high level of commitment to the Colorado Buffaloes.
Your positive energy helps our program immensely in so many ways, from uplifting the team on the field, to demonstrating to numerous key constituents that you are with our team through all of the ups and downs a season can have and that we are a valuable part of the fabric of our University and the entire Front Range. ESPN did an excellent job in showcasing the campus and the city of Boulder throughout the broadcast, and that will pay dividends in the future.
This week offers you many wonderful opportunities to see the Buffaloes compete and to further experience the pageantry and excitement of our intercollegiate athletic program. The men's and women's basketball teams open their seasons with a doubleheader Friday night at the new and improved Coors Events Center, starting with Linda Lappe's women's team at 5:30 p.m. and Tad Boyle's men's squad at 8 p.m.
Then Saturday, it's our annual Senior Day in football with a 12:30 p.m. kickoff against the University of Arizona. We'll be honoring the seniors right after warm-ups conclude at about 12:15; if you can make it into the stadium by then, you can help make the final game at Folsom Field for 28 seniors that much more memorable.
We look forward to seeing you often throughout the year and thank you again for the heartfelt support and interest in the growth and prominence of the Colorado Buffaloes.
Go Buffs,
Mike Bohn
November 8th
Jon Embree Press Conference Quotes
On What He Will Remember Most About The Seniors – The want-to in this group; the adversity that they have faced. They've played hurt, they've played beat up. We had Saturday and Sunday off and you don't realize how tired you are and how worn down you are until you stop. I know how refreshed and reenergized I felt in coming in on Monday so I can understand as a player and what having two days off can do for you. This is a group that there is still some stuff out there for us as far as what they want to do and what they want to accomplish. I will remember them as a group that really wanted to try and get things done and help set this program on the right path."
On How He Has Reacted To The Team And Seniors Not Having Success – "I feel for them, I do, but they can still win their final home game, they can still end the road losing streak. There is still some stuff that they can accomplish along that line. I went to a bowl game my senior year, but I didn't win my last game here at Folsom Field and that still kind of bothers me. There is still some stuff out there for them and I expect they will have a great effort on Saturday and do what we can do to get them to sing that fight song afterwards."
On Arizona QB Nick Foles – "Nick, one thing that jumps out to me is how accurate he is throwing the deep ball. He throws the deep ball really well. He is a big kid. I've heard stuff about him, Brownie (defensive coordinator Greg Brown) and Tui (defensive line coach Mike Tuiasosopo) have validated a lot of stuff. He is a very good athlete, a real good basketball player. He is real competitive. They let him do some stuff as far as running their offense. You can see that. He will be another challenge for our secondary. Every week, you are going to face that. He is a guy that I know will play on Sundays. I don't know where the draftniks have him and all that, but he might be a first rounder also, possibly – just with his talent level and his arm. I don't know who all else is coming out. Between him and (Matt) Barkley and (Andrew) Luck, some of those other guys who are out there, he was to be mentioned in the same breathe with those guys."
On Defending The Deep Ball – "We have to be better, we'll mix coverages. We just have to be better playing it. Sometimes it is just finding the ball. Sometimes it is our technique at the line of scrimmage. One thing that helps is if the quarterback is on the ground. That helps you a lot back there too. There are a lot of factors that go into it; it is not just about the guys covering. Sometimes it is the underneath coverage and getting re-route that helps the guys at the back end, so there are different factors that go into that."
On If Some Of The Injured Defensive Backs Will Be Back This Week – "We'll see. I just get leery on concussion guys, saying they're back. Until they run around and are not afraid to hit, I don't count on those guys. Sometimes they are back and then the first play they hit somebody and they are out for the game. That would help to have them back, and obviously the suspended guys in Parker (Orms) and Paul (Vigo). That will give us a little bit of a boost."
On If DB Parker Orms Can Step In The Same Role As He Had Before – "I don't know how unrealistic it is. If anything, this probably helped him from the standpoint of he was dinged up with a knee, a hamstring, a calf and all that so that might have actually helped him to have that time off to heal. We'll see how he practices and where he is at. They got back in it last week a little bit and they were all over the place, like a young colt running around, just getting their legs underneath them and not falling down. There are some timing things and we'll see how they go this week. As things progress and how well can he show that he is ready to take that role back. As soon as he is at that stage, I'm sure that we will do that."
On DB Jason Espinoza's Performance Against USC – Jason played well. He is another guy that has been in and out. He just wants to play football and help us anyway that he can. The situation arose that he could help us at corner. He had the big interception. It would have been nice if he could have scored with it. I was giving him a little bit of a hassle about that. It was good to have him out there and he did some other good things tackling and rerouting."
On The Opportunity For The Offense To Take Advantage Of A Banged Up Arizona Defense – "They have had some similar issues as far as injuries and all that, but for us, from an offensive standpoint, I don't know about opportunity but this is a good week because it is the next week for us to develop some consistency and what we are trying to do. We have to be better in the red zone. We have to be consistent. It is amazing, the first drive was like, 'Wow,' and then you struggle and you come back in, you move it again, and then you stall out in the red zone. This is a good week for us because it is the next game to try to get the pieces to move in the right direction. We have (No.) 5 (Rodney Stewart) back and we now have (No.) 6 (Paul Richardson) back for a couple of weeks and getting them to play together and back in the offense so that helps. It is a unique dynamic on that side of the ball in that when you are missing different guys and they are key guys and all of sudden they come back and just everyone getting on the same page and readjusted to what their roles are and what we are asking them to do."
On If Arizona's Record Is Deceiving – "Yeah, they have played very well. They played Washington well. They had a stretch similar to what we had where they went through the gauntlet early in the season, Okie State, SC, Stanford, Oregon; they went through that stretch and were very competitive in those stretches. I'm not looking at them at all from a record standpoint."
On If He Will Make Any Changes To His Field Goal Team – "No. Like I said at the (post-game) press conference, we were just unfortunately not getting enough lift on the ball. It wasn't an issue of protection. Like I told Will [Oliver] after the game, I believe in him. He is our guy. It is not like him so I'm not overly concerned with him performing this Saturday and I'm sure he is anxious to get out there and knock one through for us."
On What He Tells the Seniors Now That Their Final Home Game Is Here – "I've been telling this to them for a while, you are really going to miss it. We are doing senior day a little differently, right after warm ups, we'll introduce the seniors so obviously we would love for people to come and be here to thank them. Just so we can go into the locker room and run out behind Ralphie one more time. You are going to miss that. It is not just being your last game, but what you'll miss is the locker room. I've told the players this, whenever it ends – and any athlete will tell you this – it's the camaraderie, it's the times in the locker room that you miss the most. It is a sacred place, not everyone is allowed in there and some of your funniest memories, some of the craziest things you can imagine have happened in that locker room. You will miss it and for some of the other guys, you are going to miss the fact that you won't be able to compete anymore. When you can't compete and you are a competitive person, it is hard to fill that void. Some of them are going to see that soon. Folsom Field is a special place. I know they won't miss walking up that hill after practice – the dreaded hill – but everything else that goes along with being a Buff from singing the fight song to running out behind Ralphie to the Blackout last week to wearing all gold, it really is a special place. Until you don't have it, sometimes you maybe don't realize what you had and the opportunities that were in front of you."
On Guys Having A Higher Sense Of Urgency For This Week's Game – "I have felt like that really the last couple weeks that we have had a good sense of urgency. It really has. We haven't really had to prod or get on them about practicing and preparing. We really haven't. They have been great on it all year. At our team meeting yesterday, you could tell by looking at some of the guys' faces that they see what is staring at them and they see what is about to happen. I think there will be a great sense of urgency; I've talked to the freshmen about this – really before Washington – about playing the rest of the season for the seniors. I had each freshman write a particular senior a letter, just basically knowing what kind of impact that senior had on them and why they will play the best that they can play for the remainder of the season. Those are the guys that need to continue to have the sense of urgency, the younger guys because you always think that your time here will never end, you think you are here forever. It does go fast, but they have to play with the same kind of urgency that they want the freshmen to play that are going to be freshmen when they are seniors. They have to prepare and do everything with the same sense of urgency as if they were a senior and it was another freshman doing it for them. I think they understand that and I think they have done a good job of trying to do that."
Injury update
Several Buffs continue to mend, while several others remain question marks …
– Freshman safety Kyle Washington had not been cleared from his concussion Monday but will be tested Tuesday and hasn't been ruled out of Saturday's game.
– Senior wide receiver Kyle Cefalo, who suffered a knee sprain against Washington, and hasn't played since, said he plans to play this week.
– Freshman linebacker Brady Daigh, who broke his wrist in the game against USC. will play with a cast. Daigh will have surgery after the season.
– Senior wide receiver Logan Gray suffered a leg bruise in the second half against USC, remains "day-to-day'.
– Senior cornerback Brian Lockridge, who suffered an ankle sprain against Washington, and hasn't played since, is listed as "day-to-day".
– Senior free safety Ray Polk remains "day-to-day". Polk suffered a concussion against Washington, missed Oregon, but returned for Arizona State. His symptoms returned, and he was held out of the USC game.
– Senior strong safety Anthony Perkins is hoping to be able to play in his final home game, but he still has a long way to go recovering from an ankle injury suffered just nine plays into the Oregon game.
For those keeping score at home, the above list contains three safeties. With Polk and Perkins, starters for much of the season, unable to go against USC, freshman Kyle Washington and sophomore Terrel Smith were the starters. Of those four – the only four players who have started at safety this season – only Smith is certain to be available against the No. 4 passing offense in the nation …
Arizona upbeat about playing Colorado
With a 34-21 loss to Utah, the Arizona Wildcats joined Colorado, USC, and Oregon State in the group of Pac-12 teams ineligible for post-season play.
Does this mean that the Wildcats will have nothing to play for this weekend in Boulder?
Not according to the Arizona players and coaches.
Wide receiver Dan Buckner listed seven somethings for the Arizona Daily Star: "For myself, for those around me, for my teammates, for the seniors, for my family, for Arizona, for the alumni," he said. "The whole town watches us, and we've been letting them down this year. Do it for everyone."
UA interim coach Tim Kish said Monday he has a handful of reasons to be encouraged. The Wildcats outgained Utah by 150 yards, limited the Utes rushing attack to under 3 yards per carry and converted on 8 of 14 third-down situations. But big mistakes doomed the UA as Utah blocked two punts, intercepted quarterback Nick Foles three times and recovered a Keola Antolin fumble.
By cleaning a few things up, Kish said, the Wildcats have a chance to salvage the final part of a lost season.
"If you allow them to think there's nothing to play for, then that's what you're going to get," Kish said. "That isn't going to happen here. We have a chance to play Saturday, and a chance to win a conference game."
November 7th
Arizona opens as a double-digit favorite
Perhaps Colorado truly has found bottom.
After five games against very good competition, five games in which the Buffs left little reason to watch the second half of play, Colorado and its fans were looking forward to playing a team with a losing record for the first time in the 2011 season.
However, according to the oddsmakers, its more of the same ol', same ol'.
Forget the fact that Arizona is only 2-7. Forget the fact that the Wildcats haven't won away from home in over a year. Forget the fact that, against 1-A competition (excluding a season-opening win over Northern Arizona from the Big Sky Conference), Arizona has lost 12 of its last 13 games, dating back to a five-game losing streak to end the 2010 season.
Colorado is still worse. A lot worse.
Arizona is listed as an 11-point favorite over Colorado on the road this weekend.
Why?
Look no further than the fact that Arizona  is 4th in the nation in pass offense, while Colorado is 97th in the nation in pass defense.
Colorado will get back defensive backs Parker Orms and Paul Vigo from suspension this week, and perhaps another defensive back or two (Ray Polk? Kyle Washington?) back from injury. Perhaps having a full complement of recruited defensive backs will slow down the Arizona offense.
Until that is demonstrated, though, on the field, Las Vegas – and the rest of the college football world – will remain skeptical.