October 30th
Buffs along the Great Wall
Here's another little pick-me-up for members of the Buff Nation. Below is a photo of a CU at the Gamer and his family taken along the Great Wall. It's not as if Jim and his family had to travel far on vacation … they live in Thailand.
Another reminder – the worst day as a member of the Buff Nation is still better than almost any other day!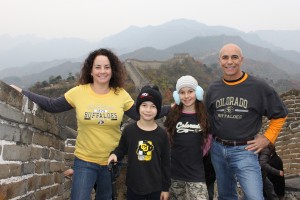 October 29th
In Search of Good News
Cross Country teams pick up first Pac-12 titles for Colorado
The University of Colorado finally has something to celebrate in its first year in the Pac-12 Conference.
Five members of the men's cross country team finished in the top 15 Saturday at the Pac-12 cross country championships at Wigwam Golf Course to earn the first Pac-12 championship in school history. "Our fellas ran smart and soundly and we're thrilled to win," coach Mark Wetmore said. 
A short while later, CU picked up the team victory in the women's race, as well.
"It means a lot to have that history to be the very first Pac-12 championship ever," Wacker said. "Against a conference that history like this, like the Pac-10 did and having the greatest competitors in the nation. Most of the teams here are all ranked. It just means an incredible amount to be able to compete with the best and do our best."
Colorado No. 32!
In the world of academics, Colorado still has a great deal to shout about.
The Academic Ranking of World Universities has the University of Colorado-Boulder ranked 32nd in the world.
Behind Harvard, the Pac-12 has the next two schools, with the University of California-Berkeley and Stanford coming in at No. 2 and No. 3. Other schools from the Pac-12 in the rankings are: UCLA (No. 13); University of Washington (No. 16); USC (No. 46); University of Arizona (No. 78); Arizona State (No. 81); University of Utah (No. 82)
In case you were still wondering if the move to the Pac-12 was the right move for the university, on and off the field … the only two teams from the Big 12 ranked in the top 100 are Texas (No. 38) and Texas A&M (No. 95).
Buffaloes to greet Buffs – and opponents – on the Turnpike
From the Daily Camera … Ted Turner has driven along U.S. 36 into Boulder countless times and seen the iconic Flatirons, snow-capped mountains and red-roofed buildings that line the University of Colorado campus.
But for him, a natural scene of beauty is still missing. And he'd like to change that.
The CNN founder has offered to donate 20 young buffalo to the city of Boulder for a herd that can be viewed along U.S. 36 between the Davidson Mesa and town, he announced during a local visit Friday.
The chief executive of the media mogul's Ted's Montana Grill operation and Boulder City Councilman George Karakehian came up with the idea to reintroduce the native species on at least 200 acres on the side of the Boulder Turnpike.
"It'll be cool to come across that hill every morning and see a herd of bison instead of cattle," said McKerrow, whose daughter attends CU. "It ties in so well with the Buffaloes at the university."
Karakehian said open space officials have identified some areas for the herd, but they have not picked out a specific location.
October 26th 
Magnificent Seven
Injuries have forced Colorado to insert more new players into the lineup than at any time in a generation. Through eight games, 33 players have seen their first action in a Buff uniform, a high going back at least to 1984.
Within that group of 33 are 25 freshman, 15 true and 10 red-shirt. The 15 true freshman is also a high dating back to 1984, and is only the third time over that span that the Buffs have fielded as many as ten freshmen.
Which begs the question: Who's left?
Of the 2011 recruiting class, there are only seven scholarship freshmen who have yet to have their red-shirts torn off for the good of the order.
Can you name them …?
In alphabetical order, the "Magnificent Seven" are:
Jermane Clark, defensive back
Brad Cotner, center
Stevie Dorman, quarterback
Drew Ebner, wide receiver
Sherrard Harrington, defensive back (injured this summer)
Marc Mustoe, offensive lineman
Stephane Nembot, offensive lineman (was recruited as a defensive lineman, but switched during fall practices)
Nelson Spruce, wide receiver
How many did you remember?
Colorado back in the Bottom Ten
It was inevitable.
At 1-7, with 145 points surrendered in the past three games, it was just a matter of time before Colorado made its debut in "The Bottom Ten".
After a few weeks on the "waiting list", the Buffs made their Bottom Ten debut at No. 9, sandwiched between 1-7 Indiana and 1-6 Idaho. Of the teams listed in the Bottom Ten (excluding the No. 5 spot, which is reserved weekly for a good team who has had a bad week), only No. 7 Minnesota and No. 8 Indiana are teams from a BCS conference who rank "higher" than the Buffs.
Small consolation … Minnesota took the Buffs' next opponent, USC, down to the wire in the season opener. In a game played in Los Angeles, the Golden Gophers played the Trojans tough in a 19-17 loss, a game in which Minnesota was within a field goal of victory for the final eight minutes of the game.
So, there is still hope for an exciting November, Buff fans!
October 25th
Jon Embree Press Conference Quotes
On Arizona State – "No rest for the weary. We get to start with the South and we get to start with the team that is leading the South, the Arizona State Sun Devils. [Head coach] Dennis [Erickson] has done a very good job. When you look at them, you have to start with [QB] Brock Osweiler, he is impressive, especially when you see him and he is all of 6-8. Seeing him and some of the other quarterbacks at Pac-12 Media Day, it was like a basketball team walking around there. He does a good job and [WR Aaron] Pflugrad on the outside and [Jamal] Miles; he has some real good receivers. Defensively, they are very physical up front, real active. I love 43 [Davon Coleman], the defensive end, he is a heck of a player, and then obviously [LB] Vontaze [Burfict] and what he does and the energy he brings. It is another good test for the Colorado Buffaloes."
On If The Seniors Have Told Him What Their Goals Are For The Rest Of The Season -"Yes they have. They are still in the process of coming in and talking and meeting with me about those things and what they want to achieve and what they hope to do as far as their legacy. I'm pleased with what I have been hearing so far."
On What He Has Heard From The Seniors – "There are guys that want to leave a legacy and help show these kids how to win, the younger ones. Try and help springboard us into 2012. There are guys, the road issue, that is something that is still important to them. It is still important to them to have the right guys in the locker room. There have been some varying things, but the one common theme is that they still want to win, they still want to prepare, they still want us to coach them hard and prepare them hard and that is what we will continue to do."
On If It Is Tempting To Play More Younger Guys – "We are about where we are. I am not going to burn any redshirts for one game or a few plays. If any more freshmen play, they have to play and it has to be a situation with an injury or the depth is such that they will get some quality reps. We'll still play the guys that give us the best chance to win. We are not going to forsake everybody and throw in all of the young guys."
On QB Nick Hirschman Getting Reps With The First Team This Week – "Nick will continue to get his normal reps and we will have some with the first team while Tyler [Hansen] bounces back from his concussion. He has been improving every day, so that is a positive sign, but Nick will have to continue to prepare as if he is the guy and I think that is important because this will be good for him to learn to prepare like that all of the time as a backup, especially as a backup quarterback. You need to prepare like you are the guy going in there, because obviously you want to play away, especially at that position. This will be good experience for Nick as he continues on throughout the year on how to prepare and what all goes into it."
On QB John Schrock Also Getting More Reps – "Yes, John Schrock will get some too and he is a very smart kid and he does a good job of learning and picking up things with the offense, whether it is him getting the reps or not. I'm not overly concerned about him. Obviously from a coaching standpoint, we have to do things with the game plan to help these kids so that if Schrock is in there, we have to make sure that whatever part of the game plan he is comfortable with, that those are the plays we need to run."
On Why People Should Continue To Support The Team – "Because it helps us with recruiting, our players deserve it, they have worked hard. It has been a crazy year. Obviously the frustrating thing about this year is the injuries because you can't control that. It is completely out of your control, and so I would like… [The fans] to come and support them. It is easy to support someone when they are winning and when things are going great, but to help someone when things are not going great says more about you as a person. Whether it is football or someone in life. Are you going to give up on someone because they are doing something that you don't want them to do, and if you care about them, you will help them get to where they want to go. And us having people in the stands helps us to where we want to go. They helped us this weekend with a couple of recruits that I feel very good about, but that would not have happened if those people were not in the stands. If they don't want to come, give them to someone that does want to come because we do need people down there."
— 
Happy Anniversary!
It was 25 years ago today that the football program at the University of Colorado enjoyed one of its greatest moments.
True, the 1985 team had posted a 7-5 record, the first winning season in six years, but it was the 1986 team which truly made history.
The 1986 season did not start out as well as had been hoped, with the Buffs losing all four non-conference games. Long-suffering Colorado fans couldn't help but wonder if the 7-5 record the year before had been the aberration, and that the program was headed back to oblivion.
The Buffs righted the ship, though, winning their first two Big Eight games. Still, the 2-4 Colorado team was a heavy underdog to undefeated and third-ranked Nebraska. The Cornhuskers hadn't lost to Colorado in 17 seasons, and the numerous Big Red fans which supplemented the Folsom Field crowd settled in for yet another beating.
Then … magic.
With two touchdowns on gadget plays, Colorado took down No. 3 Nebraska, 20-10. In 32 years as a Buff fan, I have never been a part of another game which meant as much to me than that game. While it can be argued that Bill McCartney had already righted the Colorado ship, and that the foundation for a national title run was already laid prior to October 25, 1986, I contend that the seeds for the national title four years later were sown that afternoon.
Jon Embree on The Significance Of Oct. 25, 1986 – "20-10, they took the goal posts down to Pearl Street. That was the day that we beat Nebraska. First time in 18 years that we beat them. They came in, I think they were No. 3. It was a great team effort. The thing that was really great about that was that that was 'the game.' You talk about a signature win for your program, that was the one for us because that was Mac's fifth year and that was my fourth year, my senior year, he had been building and talking about that moment since he recruited me, about beating Nebraska, about the importance of it. For us to go out there to do that in the circumstances that we were in, we were 2-4 at the time, and obviously nobody gave us the chance. To go out there and beat them, not upset them but beat them, was unbelievable, and that is why I mean it was a signature win for the program. You can get upsets here and there, but when you can beat a program like that. I think next year they lost 7-0, but after that it was Colorado beating them, but it was that game that set it in motion. It was that game let the Jeff Campbell's, the McGhee's, the Michael Jones', all of those guys that were freshmen and that next class that you can do it and here is what is expected of you, it validated Mac from the standpoint of how we practiced, how we prepared. It was a great win. It was a long time ago, it is hard to believe that it has been that long."
On If It Was The Most Significant Win Of His Playing Career – "Without a doubt."
On If He Took The Goal Post Down To Pearl Street After The Win Over Nebraska – "No, I met the goal post down there later that night. I was too tired after that game. I was usually so tired after the games that I would go home and sleep until 9:30 or 10 and then get up. I got to Pearl Street at about 10 o'clock."
On How He Played In The Game Against Nebraska- "Played a good game. Primarily run blocking, caught a pass. Back then, I had nine passes for the year so that was one of the rare opportunities. Then I got a pass interfered once in the end zone, but it was a good game and I played a good game because we won. That was the kind of game we had, good enough to let the Buffaloes beat Nebraska. Made the Victory Club, which was one of the highest honors that you could get here at Colorado. Coach Mac made the Victory Club that year and that week. I had a very good game and a very good year that year."
On If He Will Help Bring The Goal Post Down To Pearl Street Once His Team Gets That Signature Win – "As long as they don't have me carry too much of it. I'll put my hand on it. I would love to be part of something like that. I don't know if I can help carry it down there, but I can meet them down there. I'll never be too old to do that."
The full recap of the 1986 Colorado/Nebraska game is the "Archive Game of the Week". There is the full story of the game, along with YouTube videos of both touchdowns, as well as a 15-minute highlight reel.
The Buff Nation hasn't had much to celebrate of late, so take a few minutes to relive one of our greatest moments.
Enjoy!
October 24th
Colorado Injury list continues to grow …
WR Kyle Cefalo knee suffered a sprain against Washington (Oct. 15) OUT/1-2 WEEKS
OL Shawn Daniels calf suffered a severe strain in practice (Aug. 11), progressing well, resumes practice this week DAY-TO-DAY
DB Jason Espinoza concussion suffered against Washington (Oct. 15), did not meet requirements to be cleared for Oregon PROBABLE
DB D.D. Goodson concussion suffered in the fourth quarter against Oregon (Oct. 22); did not return to game DAY-TO-DAY
QB Tyler Hansen concussion suffered late in the first half against Oregon (Oct. 22); did not return to game DAY-TO-DAY
OT Jack Harris ankle suffered a break in the California game, had surgery Sept. 22 OUT/2-4 WEEKS
OLB Josh Hartigan stinger suffered in practice (Oct. 4), played with it at Stanford but sat out Washington game PROBABLE
CB Brian Lockridge ankle suffered a sprained ankle late in the Washington State game (Oct. 1) OUT/1-2 WEEKS
SS Anthony Perkins ankle suffered a sprain after just nine snaps against Oregon (Oct. 22); did not return to game QUESTIONABLE
FS Ray Polk concussion plus other maladies; suffered during Washington game (Oct. 15), not cleared in time for Oregon game PROBABLE
WR Paul Richardson knee suffered a severe sprain in practice (Oct. 5) OUT/1-2 WEEKS
CB Travis Sandersfeld leg suffered a fractured fibula in practice (Sept. 13), has resumed practicing with increased reps DAY-TO-DAY
TB Rodney Stewart knee suffered a severe sprain against Washington (Oct. 15) OUT/1-2 WEEKS
OUT FOR THE SEASON
OL Blake Behrens shoulder chronic shoulder and bicep tendinitis has basically ended career OUT
CB Jered Bell knee suffered a torn ACL in the third fall practice (Aug. 6); scheduled for surgery OUT
DB Will Harlos concussion also endured a hamstring injury OUT
DL Tony Poremba concussion suffered in practice (Oct. 4); has had multiple in his career OUT
ILB Douglas Rippy knee suffered torn ligaments against Washington (Oct. 15); will undergo surgery after a healing period OUT
The injury list does not include the following players, who have been suspended indefinitely:
Parker Orms – (So.) – defensive back – lower leg injury suffered against Ohio State
Paul Vigo – (So.) – defensive back – hamstring – out since the Colorado State game
Ayodeji Olatoye – (So.) – defensive back – had played the first four games of the season (no tackles)
Liloa Nobriga – (So.) – linebacker – dressed for two home games and CSU game, but had not yet played a down
After going through this list, it's easy to understand why the Colorado coaching staff felt compelled to not only tear off the red-shirt of running back D.D. Goodson, but to insert him into the defensive backfield with only two days practice at the position …
Buffs a 30-point underdog against Arizona State
Three weeks ago, Colorado was a 29-point underdog to Stanford … and lost by 41.
Two weeks ago, Colorado was a 14-point underdog to Washington … and lost by 28.
Last weekend, Colorado was a 33-point underdog to Oregon … and lost by 43.
A huge underdog in each game, the Buffs still managed to lose by double digits over the spread.
This weekend, Coloriado is a 30-point underdog to Arizona State.
You do the math …