September 4th
Pac-12 falling behind?
According to an article by Bruce Feldman of CBSSportsline, entitled "At first glance, Pac-12 seems lacking", the league lost some luster in the first weekend of the college football season.
The lead, of course, was how Oregon was dismantled by a depleted LSU squad, 40-27, in the marquee matchup of the weekend.
Feldman noted how Chip Kelly, head coach of the league's present flagship school, Oregon, pointed out before the LSU game that those teams that handled Oregon are great ones, well-coached and stocked with outstanding athlete. He echoed that point, again, after losing to LSU: "They've got a little bit different athlete running around out there right now," Kelly said. "Looking at their D-line, standing next to them, walking off the field, they don't look like the kind of guys we see. That's the common trait, the trait you saw in the Auburn game."
"As blunt as that is, that's still not the kind of talk you'd expect to hear from the coach of a powerhouse program", wrote Feldman.
Other than Oregon and Colorado, the other teams to lose in week one were UCLA and Oregon State. The Bruins' defense was no match for Houston's offense, with UCLA falling on the road, 38-34. "The Bruins need to get things sorted out fast or they could be starting at a 1-4 start, with only next week's game against San Jose State seeming like a solid W", wrote Feldman. Oregon State, for its part, lost to a Big Sky Conference opponent, Sacramento State, 29-28 in overtime.
Even some of the eight wins, noted Feldman, were less than impressive. USC struggled at home against Minnesota, hanging on for a 19-17 win. Washington, meanwhile, was also pushed to the limit by another Big Sky Conference team, Eastern Washington, winning 30-27. Both the Trojans and the Huskies needed interceptions in the last minute to escape with victories. Washington State, even though it opened with a dominating 64-21 victory over Idaho State (yes, another Big Sky school – in all, there were five games with the BSC this past weekend), the Cougars lost their starting quarterback, Jeff Tuel, which could hamper Washington State's victory total down the road.
So, even though the Buffs have started the season 0-1, they are not alone in waking up disappointed this Sunday.
Perhaps, just perhaps, that could also mean that Colorado's path to a successful season might not be as difficult as once forecast …  
September 3rd
Gameday – at last!
Last practice on NFL practice field
It took a seven hour flight and an hour bus ride, but the Buffs did make it to their hotel in one collective piece on Thursday.
They even had enough energy to participate in a walk-through practice at their hotel, which comes with an scaled down practice field (NFL teams have used it for Pro Bowl practices).
Embree called that brief practice "very, very good . . . awesome, in fact, when you consider just coming off the plane and what we did. They're having fun; I was worried about us being too tight, too up for the playing the game early in our minds. But we're in a good mindset . . . let's go."
By all means … let's go!!
Bieniemy to patrol the sidelines
Offensive coordinator Eric Bieniemy will be on the sidelines for the season opener, instead of up in the coaches' box.
Jon Embree said "everyone was more comfortable" with Bieniemy, who still will call offensive plays, being on the sideline and Scherer in the booth: "We can get everything we want done with him on the sidelines. And it'll help free me up to be with the defense, although I'll be involved on both sides of the ball."
And, Embree conceded, Bieniemy's fire might be felt better from near rather than from afar: "Yeah, there's a little bit of that involved, too."
During fall practices, Bieniemy watched his offense from a crane, but the whole idea didn't seem like a good fit. Bieniemy is an "in your face, look me in the eyes" kind of coach, and that wouldn't work on gameday if Bieniemy was confined to the coaches' booth upstairs.
Granted, there will likely be three or four cutaways for the television networks each game, showing Bieniemy with a contorted face after a bad play, or playing cheerleader after a good one.
I'm okay with that.
September 1st
Ohio State suspends three more players
Three more players, including two starters, have been suspended by Ohio State for receiving impermissible benefits at a charity event earlier this year.
Running back Jordan Hall and defensive backs Corey Brown and Travis Howard have been suspended for Saturday's season opener against Akron for each receiving benefits of $300 or less.
Ohio State self-reported the violations and has petitioned the NCAA for their reinstatement, although the school is also considering additional sanctions against the players.
Here's the funny part … "We take this matter seriously," athletic director Gene Smith said in a statement. "Our commitment to institutional integrity is steadfast, and we must hold everyone associated with our athletics programs accountable for lapses in judgment. We believe in transparency with the NCAA, all regulatory bodies and all of Buckeye Nation." … you might put that quote into the "Really?" category after what has transpired in Columbus over the last year.
While the three players will likely be back on the field before Colorado comes to town on September 24th, the latest distraction cannot help the Buckeyes.
Hall and Howard both are listed as starters on Ohio State's depth chart for the Akron game, while Brown is a reserve. At running back, sophomore Carlos Hyde and freshman Rod Smith are listed evenly on the depth chart behind Hall. Sophomore Dominic Clarke is listed behind Howard at cornerback.
August 31st
CONNOR WOOD – QB
Just the facts … Committed August 31st … Wood is a transfer from the University of Texas, and was member of the recruiting Class of 2010. Wood is from Houston, Texas, and is 6'4, 209-pounds, and runs a 4.6 in the 40. Wood was a red-shirt in 2010, and will have to sit out the 2011 season due to NCAA transfer rules. Wood will have three years to play three, starting in 2012. Rivals bio  Scout bio
What others had to say about Wood …  Wood was considered to be a four-star prospect by both Rivals and Scout. Rivals had Wood listed as the No. 3 pro-style quarterback in the nation, the No. 16 player out of Texas, and gave Wood the ranking as the 113th-best overall player to sign a letter of intent in 2010. Scout rated Wood as the No. 9 quarterback overall in the nation.
Barton Simmons, a scout for Rivals, had this to say about Wood:
On the Hoof: Physically, Wood has a great quarterback body. He has broad shoulders, is strong through the chest, has a sturdy base and should have the strength to take a college pounding. Wood is similar in size and build to current Stanford quarterback Andrew Luck.
Needs Improvement: At times, Wood doesn't consistently get good spin on his football, particularly on vertical routes. He has a tendency to hang the football in the air too long. He will need an adjustment period to deal with the speed of the college game after playing at a low level of football in high school.
Most Impressive: Wood has very good arm-strength, but what really makes him special is his athleticism. His high release combined with good size benefit him as a passer. Though he is a big, physical prospect, Wood can really run, is mobile in the pocket and is very comfortable throwing on the run and outside of the pocket. As far as the physical tools that you look for in a quarterback, there is very little that Wood is lacking.
Conclusion: Wood will not be asked to step in right away at Texas and compete for a starting job and that should do wonders for his development. With the tools that he has to work with, Wood has the potential to develop into a premier Big 12 quarterback.
In high school, Wood passed for 8,417 yards and 73 touchdowns, with 31 interceptions. At the All-American Bowl in January, 2010, Wood received honorable mention as being the passer with the most accurate arm. Scout listed Wood's strengths as being arm strength, running ability, mobility and size.
At the Texas 2011 Spring game, LonghornDigest.com broke down Wood's performance this way: "Wood was the only quarterback to produce an explosive play with his legs, scampering 11 yards for a first down on third-and-9 … Wood was especially strong in first downs and second downs, with two of his four incompletions coming as part of the second team. On the first team, Wood was 3-of-5 on first and long, completing those throws for 36 yards and two explosive plays. Additionally, he completed all four of his second-down attempts for 37 yards and another explosive. On first- and second-and-long, Wood was 7-of-11 for 73 yards and three explosive plays. On the first-team overall, Wood was 7-of-10 for 64 yards with two explosive plays." 
Wood had other offers from … LSU – the week of his commitment. Wood traveled to Boulder before taking a trip to Baton Rouge and making his final decision to become a Buff. In 2010, however, Wood had offers from all over the country. Amongst those teams after Wood's services were Oklahoma, Alabama, Notre Dame, Nebraska, Stanford, Arizona, and Texas A&M. The list would have been even more extensive, but Wood, like so many Texas recruits, committed early, giving a verbal commitment to the Longhorns in February, 2009, almost a full year before he signed his letter of intent. At the time of Wood's recruitment, Colorado wide receivers coach Bobby Kennedy was the assistant recruiting coordinator at Texas.
In his own words … "I want to thank coach (Mack) Brown, coach (Bryan) Harsin, all of the coaches, and my teammates for the opportunity to play at a great school like the University of Texas," Wood said. "I loved playing for UT and gave it my all, but I felt I needed to seek a new opportunity. I will always cherish the memories and friends I developed as a Longhorn, but I'm excited about the next chapter in my life and looking forward to playing at the University of Colorado."
In case you are wondering … the highest rated Buff from the recruiting Class of 2010 – until today – was Paul Richardson. The late-signing wide receiver, also a refugee from another school (UCLA) was the only four-star player signed by the Buffs in the year Wood signed with Texas. Richardson was rated as the 38th-best wide receiver in 2010 … The two pro-style quarterbacks rated ahead of Wood by Rivals were Jake Heaps, who signed with BYU, and Phillip Sims, who signed with Alabama … Nick Hirschman, the quarterback signed by Colorado from the Class of 2010, was rated as the No. 42 quarterback in the nation by Scout, the No. 48 quarterback in the country by Rivals. Both services rated Hirschman as a three-star prospect.
August 30th
Wood still on the road
Former Texas quarterback Connor Wood was in Boulder on Monday, and is visiting LSU on Tuesday.
All we know for certain at this point:
1) Wood has permission from Texas to transfer to another school; and
2) Wood has to make a decision in the next 24 hours, as the deadline to add classes at both Colorado and LSU is Wednesday.
So stay tuned …
August 29th
UPDATE: Looking good for the Buff Nation
It is being reported (thanks, SDBuff) that Connor Wood was in fact in Boulder, with his parents, on Monday, and that he has a release from Texas in hand.
Wood's transcripts have been submitted to the school, and the former Texas quarterback could be a Colorado Buff as early as Tuesday.
The only remaining issue – other than confirming that Wood and the Colorado coaches have agree to wed – is getting Wood enrolled in school for the fall term. According to the CU Registar's office, the deadline to add a class without a professor's signature is this Wednesday.
Stay tuned … once Wood is officially declared to be a Buff, a complete profile will be posted …
As to Shane Dillon
There have been concerns expressed that if Connor Wood signs on with the Buffs, that quarterback recruit Shane Dillon might sign elsewhere. The report is, though, that Dillon has been spoken to, and that he is looking forward to the competition for the starting quarterback position at Colorado.
Texas quarterback visits Boulder
A logjam at the quarterback position in Austin may work out well for the Buffs in Boulder.
Texas head coach Mack Brown announced Monday that the starting quarterback for the Longhorns this year will be Garrett Gilbert. The junior threw 17 interceptions last season, leading Texas to a 5-7 record, but apparently none of the other contenders were able to unseat the incumbent.
"He's the starting quarterback at Texas. If he moves the ball and scores, he'll keep it," coach Make Brown said. "He wouldn't be our starting quarterback if we didn't have faith in Garrett."
Texas' depth chart had been kept secret through training camp, but Gilbert said he was told a week ago he had moved to No. 1 after the team's second scrimmage.
Offensive coordinator Bryan Harsin tried to make the competition as intense as possible between Gilbert, Case McCoy (the designated backup), and freshmen David Ash and Connor Wood. The Longhorns charted every pass of every drill, third down conversion and touchdown drive during camp, and Harsin said Gilbert had the best understanding of the plays, defensive reads and audibles.
The relevance to the Buff Nation?
Glad you asked.
There has been a great deal of discussion that one of the odd-men out, red-shirt freshman Connor Wood, is visiting Boulder today (Monday) and may be transferring schools. The story is that Wood, with a great deal of young talent on the Texas roster, is looking for a new home, and that new home could be in Colorado.
Wood was a four-star recruit out of Houston, and was rated as the No. 3 pro-style quarterback in the nation in 2010. Wood had offers from all over the country, including offers from schools like Alabama, Nebraska, Oklahoma, Notre Dame and Stanford.
The issue of concern for Wood – and for the Buffs – is that fall classes have already begun in Boulder. Wood sat out last season, and so is a red-shirt freshman. Under NCAA transfer rules, he would have to sit out the 2011 season, and would then have three years to play three, starting in 2012. If Wood does not transfer now, though, he would, in essence, have to burn another year sitting on the bench in Austin, then transfer, and then only have two years to play two, commencing in 2013.
Colorado head coach Jon Embree has, at times, expressed confidence in his backup quarterbacks. At other times, he has been quite critical. The Buffs have only one other upperclassman on the roster at quarterback, junior transfer Brent Burnette, but Burnette has failed to impress, and will likely never see the field of play as a Buff.
As a result, the 2012 quarterback battle will likely come down to red-shirt sophomore Nick Hirschman, red-shirt freshmen John Schrock and Stevie Dorman, and true freshman Shane Dillion (should Dillon honor his verbal commitment and sign with the Buffs next February). This is not a bad lineup of talent, but not overwhelming, either (and there are no guarantees that Dillon will in fact become a Buff).
So, if Wood is in fact in Boulder, he and his family will have to make a quick decision.
One that could have a significant effect the CU lineup for the next few years …
August 28th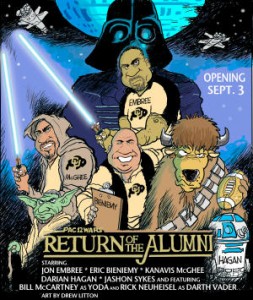 You've just got to love Drew Litton!
August 26th
Embree wows Buff kickoff luncheon crowd
The first game of the Jon Embree era is now just days away …
… and it sounds as if the Buffs are ready.
"People are talking about the Buffaloes, and we're excited about the opportunity in front of us," Embree told the 23rd annual Boulder Chamber kickoff luncheon at Balch Fieldhouse on Friday.
"I know we were picked 13th in this conference out of 12 teams by the media," Embree joked. "That's all right. So we're picked 13th. But here's the good thing. We get to go play."
His No. 1 goal for the group is to "get the bricks back." Embree's reference was to the wall in the Dal Ward Athletic Center where the scores of major program victories had been recorded in the past before being painted over in recent years.
Rather than shy away from the 18-game road losing streak, Embree has embraced the challenge. "That's where we are right now," Embree said. "Sept. 3 is the first opportunity. People talk about the schedule (being tough). You know what? I love the schedule. I love that we open up on the road so we get a chance to get that off the books and bring the bricks back."
Harkening back to the early days of Bill McCartney, when the new CU head coach implored Buff fans to not sell their tickets to Nebraska fans, Embree asked those assembled to make Folsom Field one of the more feared places to play in the Pac-12. "We need to be one of those schools (with a home field advantage)," the coach said. "If you can't come and you've got tickets, get somebody else there in your seats and put them in the black and gold because we need you guys."
Embree also talked about how he had early on questioned whether he had been too hard on the team during practices, but had been reassured by the players that they were embracing the new system. "That physical mentality, that mental toughness that I talked about in the first team meeting, it's here, we got it," Embree said. "These guys have done everything we've asked them to do and more.
"You're going to be proud of this Buffalo team."
We already are, coach.
And thanks.
Here is a link to Embree's speech.