June 21st
Home again
Back in Bozeman after eight days on the Monterey pennisula – tough duty.
The final round was a great deal of fun for Brad and I. We actually took time to eat breakfast before leaving for the course (not to mention doing my Father's Day write-up, below. If you read my June 20th posting sometime during the day, you know my wish came true! I finished Tiger chasing more than Dustin Johnson with, "Thanks, Tiger, for that (keeping Jack Nicklaus' legacy a topic of discussion at every major). Now go out an shoot a 75 today. You have my permission." All Tiger did was go out and shoot a 75, when an even par 71 would have won the championship).
Sunday was bright and cool, much like it had been most of the week. There were a number of early pairings with well known players, so we took off for the 6th hole to watch them play through that par-5, which was the easiest hole on the course through three rounds. We saw pairings with Jason Gore, David Toms, David Duval, and Sergio Garcia hit on and make their putts.
Our plan – After watching the well known players take their shots at eagle on the 6th, we would watch a no-name group – amateur Scott Langley (more on him, below) and Yuta Ikeda from Japan, hit in. We would then head over to the grandstands 100 feet away which faced the famous par-3 seventh hole to watch several other name players coming through later – Lee Westwood, Vijay Singh, and Jim Furyk – play the 7th before following Furyk and his playing partner, Scott Verplank, around to our resting spot for the afternoon, the 15th.
Our reasoning for moving from the 6th to the 7th along with a no-name group was sound. When a well-known player comes through, there is usually a group of spectators which will take off to follow. Since we figured the amateur Langley, playing with Yuta Ikeda, would not have a large following, we would be able to find spots to sit on the grandstands at the 7th after the Sergio Garcia/Kenny Perry twosome played their shots on the 7th hole.
The good news: We got to see the amateur Langley make a birdie on the 7th. 
The bad news: Two groups behind Langley/Ikeda was the pairing of Vijay Singh and Shaun Micheel. As we watched Lee Westwood and Jason Allred hit their approach shots on 7, there was a tremendous roar from 100 feet away. Shaun Micheel, the 2003 PGA champion, had just made a double eagle. The albatross, as it is known, is one of the rarest scores in golf – a two on a par-five. Yes, Brad and I missed Micheel's shot … but we were close by!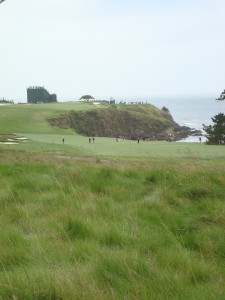 Brad and I did follow Jim Furyk for awhile, but we were bad luck. Furyk, who was one-under on his round when we started watching him, promptly double bogeyed nine and bogeyed ten. That Furyk recovered two shoot a two-under 34 on the back nine (and an even par 71 overall) on his round was, we believe, due to the fact that we stopped following him …
After leaving Furyk, we watched a few groups hit into the par-13 12th, before returning to the 6th hole to watch the leaders come through.
As you know, it was a day of attrition. Graeme McDowell was the last man standing – and he shot a three-over 74 to finish even par for the tournament. Everyone else, with the exception of frechman Gregory Havret, who managed a one-over par 72 to finish at one-over, kept going backwards. Three stars, who could have won the U.S. Open if they had just managed to stay around par, faltered. Phil Mickelson backed up with a 73, as did Ernie Els, while Tiger Woods, who would have won with an even par 71 on his final round, ballooned to a 75 to finish in a tie for fourth with Phil Mickelson.
The saddest part of the day was watching third round leader Dustin Johnson implode. Five shots clear of the field other than McDowell at the start of the round, Johnson went six over on his first three holes, and never recovered. At the end of the day, Johnson posted an 11-over par 82, well back in a tie for 8th place.
Memories
There were many memories, and at least as many stories, which Brad and I will take from our week at Pebble Beach. Amongst those …
Favorite moment,  on the course … On Friday, we were positioned on the 6th hole. Phil Mickelson had shot a 75 in his first round, finishing his round without a single birdie. Mickelson, though, opened his second round with a string of birdies, culminated with a birdie on the 6th hole to go four under on his round. There was a great roar from the crowd as his putt went in, and it was great to be a part of it. (If you ever get to see a video of that round, and that shot, Brad and I are in the background as Phil celebrates his birdie!).
Favorite moment, off the course … On Tuesday, things were backed up as I hit one of the hotels in my mid-sized Lexus (the only day I didn't get to drive an SUV). There was a woman waiting to get to the course, along with four college teammates of amateur Scott Langley. I had a car which could hold four people, but I had five passengers to transport. No problem, said the four Illinois college players, as they all piled into the backseat. I got them to the course as quick as I could, and the group was appreciative. I learned about Langley – he was the NCAA individual medalist at this spring's championships, but that was not enough to get him to Pebble Beach. He played himself in by winning his sectional qualifier – and decided I had a new name on the leaderboard to follow.
Langley played well. He was one of only two amateurs to make the cut, finishing in a tie for low amateur with Russell Henley at eight-over, tied for 16th. On Sunday, just before Brad and I watched Langley birdie the 7th hole, we watched him play the 6th, and met his step-mother and the mother of his girlfriend. Just like Langley's college roommates, they were good people.
Favorite moment, off the course, part two … I had the good fortune to meet Phil Mickelson's parents. On Tuesday, Mrs. Mickelson needed a ride to mass. It was not on our official route, but no one in our group of drivers objected. Then, on Saturday night, as I was waiting for Brad to get off work, I got to meet Mrs. Mickelson once more, and had a nice talk (see below), while she waited for her husband.
I was a Mickelson fan before this week. Meeting his parents just solidified my admiration.
Favorite hole at Pebble Beach … The 6th.
There are much more famous holes at Pebble Beach. The short par-3 7th hole is featured in almost every photograph collage of the resort (and became the first hole to be played at less than 100 yards in major championship history this weekend). The long par-3 17th hole has had many a historic moment due to its difficulty (on Sunday, a ridiculouly low 8% – eight percent! – of the players hit the green with their tee shots). The par-five 18th is probably the most famous hole in all of golf.
But I'll take the 6th. The easiest hole on the course, it is nonetheless a tough drive (Tiger Woods put his tee shot in the Pacific on Sunday), with a completely blind second shot up a 50 foot incline. Players have to pick out a spot to aim at, then hope for the best. The hole can give up a double eagle, as Shaun Micheel posted on Sunday, but it also can create double bogeys for those who hit poor shots. A great hole!
Below are some of the pictures I took of the course on Wednesday, the last day cameras were allowed …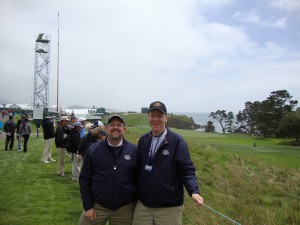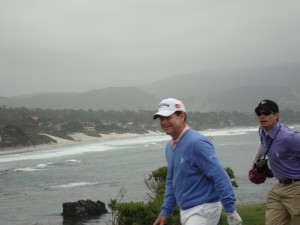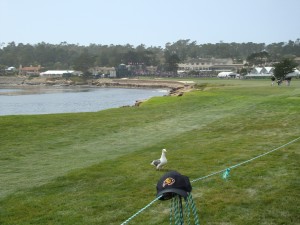 June 20th
Father's Day at the Open
The third Sunday in June is always Father's Day.
The third Sunday in June is also always the final round of the U.S. Open.
As play opens Sunday, Dustin Johnson is 6-under, three clear of Graeme McDowell, five clear of Tiger Woods. Starting play on Saturday tied for 25th, Woods shot up to third place with a remarkable 66. Johnson, however, matched Woods' score with a 66 of his own to maintain his lead. Graeme McDowell is still in contention at three-under. Ernie Els (even) and Phil Mickelson (at one-over) are out bets.
Brad and I had a good Saturday ourselves. We watched some good golf during the day. We followed David Duval, who teed off early. Duval was impressive early, touring the front nine in a four-under 31 (we followed him for the first few holes of the back nine, but he blew up to a 43 on the way in). There was also a touching moment – If you watched the television coverage, you may have seen a deer and her two fawns making their way down the 15th fairway. I was in the stands as the three deer were cheered on by the crowd before thinking better of it and heading back up the 15th fairway and out of sight.
Brad had to work the hotel shuttle night shift, and didn't get off work until 9:00 p.m. local time. Play on the course finished for the day around 8:15, so I wandered over to the shuttle area in time to see Phil Mickelson walk out of the players' hospitality tent with Padrig Harrington. A moment before, Brad thought that his day was almost done, but would you leave if you had the chance to ferry Paddy back to his rented house? It was too good an opportunity to pass up.
Initially, I was bummed that Brad got to give a ride to a player, but, as I was waiting for Brad to return, Phil Mickelson's mother came up, looking for a ride. While she was waiting for her husband to catch up with her, I was able to continue a conversation we started on Tuesday. As the light faded over Pebble Beach, and the remaining spectators scurried off, leaving the course quiet and peaceful, I learned that Phil has an older sister (by 18 months) and a younger brother (by seven years). The whole family is in the golf business, with Phil's sister, who was a gymnast in college, is now a golf instructor. Mickelson's brother Tim, meanwhile, is a golf coach at San Diego University. (Phil, Sr., has a business selling those periscopes you see out in the crowd).
As for play on Saturday, the conditions were good, but the course was up to the challenge. While I was upset that Tiger played his way back into contention, you had to be impressed with his back nine 31. His round of 66 matched that of Mickelson on Saturday, and was equaled a few hours later as third round leader Dustin Johnson also posted a round of 66.
It should make for an interesting final round today.
Happy Father's Day!
Tiger chasing more than Dustin Johnson
As noted below, I am not a Tiger Woods fan.
But I do have to – grudgingly – admit, however, that Tiger has done more to preserve the legacy of my all-time favorite player, Jack Nicklaus, than any other player since Tom Watson.
Jack Nicklaus played his final round of competitive golf at the British Open at St. Andrews in 2005 (I was in the stands at 18 on Friday when Jack birdied his final hole – a cherished memory), and he last one a major in 1986, twenty four years ago. It would be easy for the networks to present their coverage of major tournaments without ever mentioning his name. And yet, every time a major is played, Jack Nicklaus' record is discussed.
Thanks to Tiger Woods.
Tiger Woods has won 14 major titles; Jack finished his career with 18. Woods has made it clear that his goal is to surpass the total Nicklaus set. As a fan of Nicklaus, I want the record to be preserved. My mantra during the weeks that a major title is at stake is "ABT – Anybody But Tiger". Yes, I admire his skills – his putting display on Saturday, when Woods was making putts from everywhere on an afternoon when no other player seemed to be able to get close to the hole, was amazing.
I acknowledge Woods' talent – but I still am protective of Nicklaus' record.
At the same time, if there was no Tiger Woods, there would be little note of Jack's record. If the battle today was between Dustin Johnson and Graeme McDowell, in search of their first major titles, and Phil Mickelson, in search of his fifth, there would be little mention of Jack Nicklaus, other than to show the grainy film of his famous one-iron shot on 17 in the 1972 U.S. Open, the first of five Opens contested at Pebble Beach.
Thanks, Tiger, for that.
Now go out an shoot a 75 today.
You have my permission.
June 18th
The U.S. Open at Pebble Beach
In 2010, the U.S. Open is being contested at Pebble Beach for the fifth time in its storied history. In 1972, Jack Nicklaus famously stroked a one-iron which hit the 17th flag on the 71st hole of the championship, extending his final round lead to four strokes. In 1982, Tom Watson stole the title away from Nicklaus, chipping in from the deep rough on that same 17th hole. In 1992, the wind was so ferocious that eventual winner Tom Kite  needed a six iron to get the ball to the green on the famous 106-yard par-3 7th hole. Then, in 2000, Tiger Woods lapped the field, racing out to a 15-stroke victory.
In 2010 … well, the complete story is yet to be written.
At the midway point, former champion Tiger Woods is seven strokes off the lead of Graeme McDowell, who finished his second round at three under. Hot on McDowell's heels is Phil Mickleson, who shot the best round of the tournament so far, a 66, to post a two-round total of one under. In all, only five players are under par at the midway point.
And, yes, Brad and I are having a great time.
Friday was a day off for both of us, which meant a ten hour day on the course. We saw too many players to mention, but we did follow the threesome of Tom Watson, Rory McIroy, and Ryo Ishikawa for much of their rounds. We were not sure if Watson was going to make the cut, meaning that Friday would possibly be the sixty year old Watson's final round in a major. Wanting to be a part of history, Brad and I made sure to follow Watson's group up the 18th hole. We were in the stands as Watson bowed to the stands upon receiving a standing ovation. At the time, Watson's seven over total did not look like it would make it to the weekend, but no one bested McDowell's three under. This was important to Watson, and, as it turned out, 25 other players. The cut is usually top 60 and ties, but the USGA has a rule that all players within ten strokes of the lead are allowed to play the weekend. Exactly ten strokes behind the leader, Tom Watson's remarkable career in majors will be extended for at least two more rounds.
Brad and I were also witness to Phil Mickelson's rise up to the front page of the leaderboard. After a disappointing 75 in his first round, with nary a birdie on the card, Mickelson birdied four of the first six holes of his second round, including a birdie on the six hole with Brad and I in the stands. Mickelson went on to post a 31 on the front nine on his way to a 66.
What a great day!
(Full disclosure: I am not a Tiger Woods fan. This has nothing to do with Tiger's Thanksgiving weekend issues, nor his list of transgressions. It has everything to do with the numbers 14 and 18 – as in the number of majors Woods has won and the number of majors Jack Nicklaus won. I grew up a Nicklaus fan, and have been very protective of his legacy. It does not bother me at all when Woods struggles in majors, so his three-over 74, followed by a one-over 71, helped made for an enjoyable day!).
Fashion revelation
One cannot make a trip to Pebble Beach without obtaining souvenirs.
One cannot make a trip to Pebble Beach for a major championship without gathering a suitcase full of souvenirs.
It was earlier this week, after concluding our golf watching for the day, when Brad and I were in the gigantic merchandise building, that I had one of those "aha" moments. Not perhaps as much a revelation as inventing the lightbulb, but it was a revelation nonetheless.
Brad and I were looking at golf hats, and Brad pointed out a red hat that he thought I might like.
"I can't get that hat," I started to chatise Brad, who should have known better. "That hat is …"
Then it hit me like a load of bricks. I raised my hands, mouth agape.
I was going to say, "I can't get that hat, That hat is red".
But, as of this past week, I now can.
In 1982, Bill McCartney became the head coach at Colorado. Coming from Michigan, he was surprised to find that Colorado did not have a designated rival, a la Ohio State, Michigan State, or Notre Dame. So, McCartney after learning that Colorado fans disliked Nebraska more than any other team, chose the Cornhuskers as the Buffs' chief rival. McCartney set up pep rallies, toured campus groups, and put out letters to alumni – anything to rally the Buff Nation. Around the athletic department offices, red apparel was banned.
I took McCartney's rallying cry to heart. For the past 28 years, I have gone without red clothing. I could not bring myself to wear anything which could be, even remotely, associated with Nebraska.
Thing is, Nebraska joined the Big Ten last week. The Cornhuskers are no longer the Buffaloes chief rival.
I can now wear red …. at least until Utah, Stanford, USC, or Arizona State becomes our chief rival, and red is once again banned ….
June 16th
Last day of practice
Tomorrow (Thursday), practice is over. From now on, it all counts.
Of course, I'm talking about our hotel shuttling efforts!
The system is working much better than earlier in the week – better coordination – and we continue to meet interesting people. Between the two of us, today Brad and I ferried most of family of Lucas Glover, the defending U.S. Open championship. One anecdote from Glover's father about last year's title: Glover was a late qualifier, so there was little time for his family to prepare to make the trip to Bethpage Black in New York. Everything happened so fast, said Glover's father, that he never had the chance to hit the merchandise tent. As a result, the father of the U.S. Open champion had to get a 2009 U.S. Open souvenir hat … online.
While waiting to give family members rides back to their hotels, we in the shuttle crew have set up camp next to the driving range. The players, after they have finished their rounds and practice range shots, head through our gate to get to their cars. Today, we were within an arm's length of many of the game's best known players – Ernie Els, Stewart Cink, Sergio Garcia and Davis Love III, to name a few.
Personally, I got a "how are ya" from Tom Lehman, and a "Thanks, guys" from one of my personal favorites, David Duval.
How's about that? The 2001 British Open champion (who I followed during the first round at Royal Lytham and St. Anne) talked to me! Duval could have just kept going through the gate. He could have ignored us altogether. But no! He said, "Thanks, guys"! Just like that, "Thanks, guys"!
It was a special moment I don't think either of us will ever forget.
June 15th
It's a tough job, but someone's got to do it
Brad and I arrived in San Francisco on Sunday – he from Denver; me from Bozeman. We proceeded from the airport as far south as Santa Cruz, our home base for the 2010 U.S. Open. Our job for the week is "Hotel Shuttles". There are three hotels down on Cannery Row in Monterey which have made arrangements with the USGA to have VIP's shuttled from their hotels to the U.S. Open site at Pebble Beach. Parking is at a premium under normal circumstances here – parking is a real issue with a major championship in town.
As is the case at most PGA events, players get their own Lexus SUV's to drive around. Their extended family members, caddies, and other invited guests, though, often need a hand getting to the first tee.
That's where we come in.
Each volunteer driver gets our own Lexus to use to chauffer our VIP's. We have had two days now to traverse the winding roads of 17 Mile Drive, and we have the route down. Now, we get to enjoy the fruits of our labor – the people.
For instance, Tuesday I got to bring into Pebble Beach a physician/trainer/nutrionalist from Austrailia, who counts amongst his clients Ernie Els, Stuart Appleby, and Robert Allenby. Then I got to meet the father of qualifier Arjun Atwel from India. Atwel is ranked 451st in the world, but, according to his father, has been "adopted" by Tiger Woods even though he is actually four years older than Woods. Tiger played three rounds of golf with Atwel in Los Angeles before coming up to the U.S. Open, and has played every practice round with him. (Side notes: I learned from Atwel's father that in Calcutta, there is the world's second oldest golf course, second only to St. Andrews. I also learned that it takes 24 hours to fly from Calcutta to San Francisco … Things you didn't know you didn't know!).
I also got to meet Phil Mickelson's parents. Very nice people, and everyone was gushing over them. When Mrs. Mickelson asked if she could get a ride to mass today (Tuesday), it was not a problem for our crew – even though our job description is just to drive back and forth from golf course to hotels.
Finally, there was Adam Scott's girlfriend. In a word? Yummy. I'd say more, but my wife might read this …
Once we are done with our shifts, we are free to head out to the golf course for the rest of the day (this is a great gig. You volunteer to work four days during the week – between five and six hours a shift – and you get passes to the course for the entire week!). Tuesday was for practice rounds, but we saw many of the world's best. Not to name drop, but we got up close and personal (pictures allowed on practice days) with the likes of Phil Mickelson, Jim Furyk, Tom Watson, David Duval, Rocco Mediate, Vijay Singh, Davis Love III, Stewart Cink and Sergio Garcia. In case you haven't seen these players in person, they are often much smaller than they look on television – but just as powerful striking the ball!
We also got the spectator's tour of the Pebble Beach golf course. Of course, we took in the vistas at the famous par-3 17th and par-3 7th; looked over the cliffs into the Pacific Ocean on the 8th and 9th, and strolled down perhaps the most famous hole in all of golf, the par-5 18th hole.
A good start, all in all. Brad and I both have to work on Wednesday, the last practice day. We then split two of of the four days of the tournament (I have to work on Thursday; Brad on Saturday), but we get all day Friday and Sunday to watch the U.S. Open championship at Pebble Beach.
I know, I know. It sounds like real tough duty.
We'll keep giving it our all!!