—
Colorado Daily
—
May 27th
… CU in a few minutes …
Steven Montez working as a counselor at California quarterback retreat
From the Daily Camera … Given the opportunity to teach kids about the nuances of playing quarterback, Steven Montez couldn't say no.
This weekend, Montez is one of about two dozen college quarterbacks mentoring young passers at Steve Clarkson's 13th Annual Quarterback Retreat in Coronado, Calif.
"I've never been a counselor for anything," said Montez, a redshirt sophomore who is projected to take over as Colorado's starting quarterback this year. "This is my first deal like this and it's real cool. They bring you out here and you're just coaching kids and you're telling them what you know and what the experience is like.
"It's awesome, because you come here and some of the kids recognize you and they know your name. It's nice to be a role model, especially when you can come and give back to them and teach them and give them tips of the trade and what you do."
The camp, which started Saturday and concludes Sunday at Coronado High School, includes players in grades 3-12, which gives Montez the opportunity to teach in a variety of ways. He's also enjoying being a part of an event that includes several of college football's elite passers, including reigning Heisman Trophy winner Lamar Jackson of Louisville, UCLA's Josh Rosen and Georgia's Jacob Eason.
… Continue reading story here …
–
—–
May 25th
… CU in a few minutes … 
Neill Woelk: "Early Rankings Provide Buffs With Plenty Of Motivation"
From CUBuffs.com …
News: For some inexplicable reason, the national love the Colorado Buffaloes were getting at the end of last football season is starting to dissipate somewhat.
Views: The lack of respect doesn't bother the Buffs one bit. They've seen it before and their answer is always the same: see you on the field next fall.
Here is some background: In early January — just after the national championship game — the Buffs appeared in a number of "way too early" top 25 rankings for 2017. CBS Sports, Sporting News, ESPN and SECCountry.com all had the Buffs in their top 25 for next fall.
Not that anyone should have been surprised. The  Buffs finished with a 10-4 record, an 8-1 Pac-12 mark and a No. 15 ranking in the final USA Today/Coaches poll and a No. 17 spot in the Associated Press rankings. With the vast majority of their offense coming back and a host of key defenders, there is no reason to think they won't be in the mix again when it comes to Pac-12 contenders.
But for whatever reason, the Buffs slipped from the radar just a bit in the post-spring rankings. CBS Sports, the Sporting News and ESPN all dropped the Buffs from their post-spring top 25. Neither are the Buffs included in the post-spring top 25 from Bleacher Report, Fox Sports or Athlon's.
… Continue reading story here …
–
—–
May 24th
… CU in a few minutes … 
CU athletic department debt service projected at $14.8 million 
From the San Jose Mercury News … The Pac-12 is not quite halfway through its 12-year, $3 billion contract with ESPN and Fox.
But that money, in a sense, has already been spent. It has been spent on brick-and-mortar items like, well, brick and mortar.
An analysis of Pac-12 financial projections indicates the schools owe more than $100 million in debt service in fiscal year 2017 alone.
The vast majority of debt is funding massive infrastructure projects – stadiums and arenas, offices and training centers – designed to keep Pac-12 football and basketball teams competitive with those in peer conferences.
"A lot of it is unnecessary in an engineering sense,'' said Dan Rascher, a sports economist at USF. "The schools have facilities."
… Here are the projected debt service payments for FY17 (provided by the schools, with the exception of ASU):
Oregon: $19.1 million
Cal: $18.7 million
Washington: $16.2 million
Colorado: $14.8 million
Washington State: $9.2 million
Oregon State: $8.7 million
Arizona: $8 million
Utah: $4.6 million
Arizona State: $4.2 million
UCLA: $3 million
… Continue reading story here …
–
—–
May 23rd
… CU in a few minutes … 
Dr. David Clough stepping down as CU Faculty Athletic Representative after 12 years
From CUBuffs.com … Dr. David Clough still remembers the reaction he received when he attended his first national meeting as the University of Colorado's Faculty Athletic Representative in 2005.
The sympathy Clough received from his cohorts was palpable. "When I said my name and institution, you could hear the people say, 'Ohhhh,'" Clough remembers.
It was not, to be honest, the perfect time to be the FAR from Colorado. The school had been embroiled in several controversies in the previous months and years, each of which received national (and mostly unwanted) attention.
"To be honest, we were in the dumps," Clough said. "There hadn't been a lot of positive publicity."
But now, 12 years later, that atmosphere has changed dramatically.
"It's not something I thought about consciously at the time, or really at any time in these last 12 years," Clough said. "But when I reflect on it today, all that stuff is gone — it's really gone, and it is broader than just athletics. The university is in a good spot. To be a part of that trajectory is something I'm proud of.  When you look at where we are today compared to where we were in 2004 and 2005, we're just in a much better place."
… Continue reading story here …
–
—
Jalen Sami looking forward to joining CU football … but perhaps not until January 
From the Daily Camera … Around the discus ring at the state track and field meet last weekend at Jefferson County Stadium, it wasn't difficult to find Jalen Sami.
Sami is a mountain of a young man who hopes to one day be a rock in the middle of Colorado's defensive line. He signed his letter of intent with CU in February as part of the Buffaloes' 2017 football recruiting class.
Prior to joining the Buffs, however, Sami put the finishing touches on his prep athletic career at Vista Ridge High School, placing 12th in the discus and seventh in the shot put in Class 4A.
"I probably could have done better," Sami said after finishing the discus. "There's always room for improvement, but I'm pretty excited for CU."
When exactly Sami gets to CU is unknown, however.
At 6-feet, 5 ¾ inches and 345 pounds, Sami looks ready to take the field and be a run stuffer for the Buffs right now, but he might actually wait until January to join the team as a gray shirt (which means he would delay enrollment and his scholarship would not count toward the NCAA's 85-scholarship limit in 2017).
… Continue reading story here …
–
—–
May 22nd
… CU in a few minutes … 
Board of Regents go into overtime with no resolution
… Related … "CU regents direct Bruce Benson to review procedures in wake of Joe Tumpkin report" … from the Daily Camera
Press release from the CU Board of Regents … The Board of Regents today engaged in a collaborative discussion on issues surrounding the inquiry into the response to domestic violence allegations against former assistant football coach Joe Tumpkin. The Board directed President Bruce Benson, in consultation with the Board, to outline any necessary changes to university policies and procedures, specify how training and education will be enhanced, and recommend appropriate action for CU employees involved. A public report will be issued when complete.
At the next regularly scheduled meeting, June 15-16, the Board will take up the contract extension for head football coach Mike MacIntyre.
–
—–
May 21st
… CU in a few minutes …
Neill Woelk – CU has a history of two sport stars
From CUBuffs.com … When Colorado football and track standout Isaiah Oliver recently made news by finishing fourth in the Pac-12 decathlon and just missing a chance to advance to the NCAAs, it sparked memories of other two-sport standouts in CU history.
There was a time when multi-sport stars were fairly commonplace on the college athletics landscape, and Colorado's history is sprinkled liberally with such standouts.
But two-sport athletes became more and more rare beginning in the mid- to late 1970s, when specialization — a year-round commitment to just one sport — began to be the norm. Now, most sports at the Division I level have rigorous offseason programs that make it much more difficult for athletes to participate in more than one sport in college. (The fact that CU dropped baseball in 1980 also reduced the opportunity for two-sport Buffs standouts.)
Women's varsity sports, meanwhile, weren't added until the mid-1970s at Colorado — and even then, the choices were limited for several years until the Buffs slowly began adding more sports. And, just as is the case with men's sports, a year-round commitment to one sport  reduces the chance for multi-sport participants.
Still, there have been a handful of two-sport participants at CU over the last few decades.
… Continue reading story here …
–
—–
May 20th
… CU in a few minutes … 
Phillip Lindsay: "We've built a foundation here now and it needs to stay like that"
From the Daily Camera … Throughout his career at Colorado, running back Phillip Lindsay has always been known as a player that will maximize his ability.
It would be difficult to find a player on the team that works harder than Lindsay, a 5-foot-8, 190-pound senior who is one of the most versatile running backs in college football.
In preparing for his final season at CU, however, Lindsay is motivated not only by taking another step personally, but by doing all he can to maximize the ability of his teammates.
"I'm definitely getting to my goals," he said after a recent workout in the CU weight room. "The key is for everybody around me to get to theirs, because it's a team thing. If your team isn't doing what they're supposed to and every person isn't hitting their max or hitting what they're supposed to, we're not going to do well as a team."
… Lindsay has every intention of keeping the momentum going.
"We've built a foundation here now and it needs to stay like that," Lindsay said. "If we stick to what we know and if we stick to our morals and the foundation that we built, we should be fine."
A lot of that responsibility falls on Lindsay and other veterans, and he certainly embraces that role.
… "I'm going to push my teammates to the max because I know I can get a lot out of them," Lindsay said. "This is it for me. I want to be able to go out with a bang and I know a lot of my other teammates want to go out with a bang.
"You have players that have been through the f ire that know what it takes to win. We've all been here, so we know what to expect."
… Continue reading story here …
–
—–
May 19th
… CU in a few minutes … 
CU Board of Regents set to meet Monday on Joe Tumpkin case
From the Daily Camera … The University of Colorado's Board of Regents have scheduled a meeting on Monday to discuss the findings of an external investigation into the Boulder campus' handling of domestic violence allegations against a former football coach.
A special board meeting has been scheduled for 10:30 a.m. Monday in Denver. The agenda for the meeting indicates the board will immediately break into a closed-door executive session to "discuss a personnel matter at CU Boulder and receive legal advice on specific matters."
The board is expected to reconvene publicly some time after 2 p.m.
CU spokesman Ken McConnellogue said the meeting is about the investigation into former safeties coach Joe Tumpkin, which officials last week said was "really close" to completion.
… Continue reading story here …
–
—
Neill Woelk: "Buffs' Culture of Success Firmly Embedded, Producing Results"
… Definitely worth your time to read the entire article, and, if you are so inclined, to remind your favorite member of the Board of Regents of all the good that is going on in the Champions Center. The Board is reportedly going to meet this Monday, May 22nd (Regent contact information can be found here) …
From CUBuffs.com … Last weekend's performances by the Colorado women's and men's track teams — both of whom recorded their best-ever finishes in the Pac-12 — served as an excellent wrap-up to what has been one of the more successful overall years ever for the Colorado Athletic Department.
No doubt there have been outstanding years for the Buffs in the past, highlighted by national championships, conference titles and NCAA Tournament berths. But from top to bottom, beginning to end, the 2016-17 year produced a healthy string of successes that fit nicely into CU's mission statement: "To compete for and win championships."'
The fact that the year coincided with the Buffs' first full year utilizing complete use of the Champions Center, Indoor Practice Facility and renovated Dal Ward Center is no coincidence. CU's world-class facilities have proven to be a boon to literally every program in the department, giving Colorado's student-athletes every tool necessary to achieve in the classroom and on the playing surface.
…
So why the success on so many fronts?
Truth is, there is no one reason. Rather, it is simply what Athletic Director Rick George consistently refers to as a "winning culture." George not only encourages success in every area, he does his best to provide the tools necessary to attain that success — whether it be in terms of facilities, academic support, nutrition, counseling or coaching. All are part of the formula and all are top-flight — and without any one of them, the foundation would not be as strong.
Still, there is no doubt CU's new facilities have played — and will continue to play — a major role in Colorado's climb to the elite level.
…
But as someone who has watched the development of CU Athletics now for 40 years, the last two years have been eye opening.
Certainly Colorado has enjoyed successful eras in the past. It is a department rich in tradition and brimming with success stories throughout its history.
But in terms of overall health, in terms of success at every level — women's sports, men's sports, academics, student-athlete health and mental well-being — this truly has the chance to be an era that will go down as a golden age in the long and storied history of CU Athletics.
The foundation has been built and the culture has been firmly embedded.
If you are a fan of the University of Colorado — in any regard — it is a culture worth supporting.
… Full story (including a listing of the successes of individual programs in 2016-17) can be found here …
–
—–
May 18th
… CU in a few minutes … 
CU Video production: The BlackoutBoyz
Quality highlights, great interviews … another great production from the Emmy-award winning crew at CU Video.
Co-offensive coordinator/wide receivers coach Darrin Chiaverini (to his charges): "A lot of great players, a lot of great receivers, have worn the black and gold. It's an honor; not a right to wear that. It means tradition, accountability to the group. Not just to yourself, but to the group … It's an honor to be a part of this great family and tradition. A lot of people try to do it, but not everybody can do it. At the end of the day, being a BlackoutBoy is making plays, and playing with that swagger ….":
–
—–
May 17th
… CU in a few minutes … 
CU linebacker Kenneth Olugbode an undrafted free agent who could catch on
From Pro Football Focus … Undrafted free agents are such an important part of filling out final rosters that some teams have been known to dole out bonuses to scouts responsible for bringing players in that make the final 53 in September. With such a deep draft class, it was inevitable that there would be a number of players still on the board after pick No. 253 last Saturday.
Here is a look at 10 of PFF's favorites that have great shots to land roster spots in the fall due to their fits with their new teams …
6. Kenneth Olugbode, ILB, Cleveland Browns
In terms of off-ball linebackers, Cleveland's depth basically consists of Demario Davis, who earned an overall grade of just 58.4 last season. Kenneth Olugbode went undrafted largely because he measured out at just 6-foot-1, 222 pounds, at his pro day, but his significant improvements as a run defender in 2016 and potential as a coverage and special-teams player may land him a roster spot. He posted a PFF overall grade of 87.7 at Colorado last season, and was at his best in the biggest games. Against Michigan, Stanford, and Washington, Olugbode racked up a total of 33 solo tackles with 18 defensive stops.
–
—–
May 16th
… CU in a few minutes …
CU Sports Information Department wins FWAA's "Super 11" Award for the third time in four seasons
… Much deserved. I don't know how many of you have interacted with CU's Sports Information department, but Dave Plati, Neill Woelk, et al., run a first class operation. As I have noted on many occasions, CU at the Game simply wouldn't exist without the generosity of Dave Plati, and his giving me unfettered access to CU records … 
From CUBuffs.com … News: The University of Colorado's Sports Information Department is named a "Super 11" award winner for the fourth time in eight years and third time in the last four seasons. The designation is presented annually by the Football Writers Association of America to the best performing sports information departments in the Football Bowl Subdivision.
View: The only surprise would be if CU Sports Information Director Dave Plati's crew didn't make the final cut. Colorado has for years (actually decades) been considered as having one of the best press boxes and overall sports information departments in the nation. The FWAA's award is simply confirmation.
(This is, of course, where I must also offer full disclosure. After more than 30 years of working as one of the ink-stained wretches on the newspaper side of the equation, I now technically work for CU's Sports Information Department. But my job, particularly on game days, is still geared toward writing about the game while utilizing the same information and services required by every other journalist in the press box to successfully perform their duties.)
Colorado was one of five winners from this year to have previously won the award. Other multiple-year winners included USC, Nebraska, Clemson and Navy. First-time winners were Air Force, Arkansas State, Miami (Ohio), Oklahoma State, Tennessee and UTEP. The award dates back to the 2009 season.
In a press release announcing the winners, former FWAA president and head of the Super 11 committee Tim Griffin said, "Our organization believes this award is one of the most important tasks that we do each year. There are many outstanding SID staffs across the country. But these 11 departments we are honoring are consistently exemplary beyond expectations. We hope these awards help to showcase them."
According to the release, "Criteria employed in determining the winners not only included how press boxes and media operations were operated, but also the quality and timeliness of information provided. Also judged was the amount of information presented and appropriately updated on websites, and personal responsiveness to media inquiries as well as the accessibility of a program's players, coaches and assistant coaches. The ratings considered those departments that went the extra mile in servicing the media."
In those areas, Colorado has literally set the standard. Ask virtually any reporter, local or national, and they will tell you that CU has for years delivered in terms of access and information — and rapid delivery of both. In fact, Colorado has pioneered press box practices that have now become uniform in most FBS facilities.
"This is a team award, from the full-time staff to our student assistants and those dozen or so people who have worked game days, in many cases for decades," Plati said.  "You need an organized, devoted team to earn this award, and the workload is essentially the same regardless if your team is winning or losing.  And you need the cooperation from your coaches and players, and it's up to us to explain the importance of being available, win or lose.  Through the years you have to adapt to the changing needs of the media, although I can honestly say I don't miss the ditto machine and leaving the press box with my hands stained in blue ink."
–
—–
May 15th
… CU in a few minutes … 
CU "Wall of Champions" completed
From Neill Woelk at CUBuffs.com … The "pride and tradition" of the Colorado Buffaloes runs long and deep. There is no questioning the imprint the Buffaloes have left on the college landscape over more than a century of competition at the highest level of collegiate sports.
But that tradition has not stopped in college. CU also has a proud tradition of sending its athletes on to the next level — in a multitude of sports — where they have also left their mark.
The success and legacy of those Buffs is reflected in the Wall of Champions, a recently completed display in the CU Champions Center that features eight 6 foot-by-3 foot installation pieces  featuring each athlete: golfer Emily Talley, soccer's Nikkie Marshall, track standouts Jenny Simpson and Emma Coburn, basketball player Chauncey Billups, football players Chad Brown and Nate Solder, and football player (CU) and skier (Olympics/Team USA) Jeremy Bloom.
The installation, part of the continual process of making the Champions Center a showcase for CU's proud tradition, also serves two specific purposes. One, it continues the process of connecting CU Athletics with the community. Two, it serves as a reminder and motivation for Colorado's current athletes.
"I think the creation of the Wall of Champions reflects the diversity of our sports and truly speaks to the community," said Emily Canova, assistant athletic director for special projects. "We have 17 sports at Colorado and I think community members can resonate with each sport — whether they do it themselves, have a child that participates or they follow a particular sport or athlete. I think it really represents the fact that everyone in our community can be a part of CU Athletics."
… Continue reading story here (including short video of the "Wall") …
–
—
History of Colorado Football
Found on YouTube by Maximus Buff … good stuff.
Part I favorites … 43 seconds (Mickey Pruitt sacks Oregon's Chris Miller, 1985 … 1:04 (Hagan pitch to Flannigan v. Oklahoma, 1989) … 1:50 (1991 Orange Bowl highlights) … 3:03 (Stewart to Westbrook – Michigan, 1994) … 3:20 (Salaam's run to 2,000 – Iowa State, 1994)
Part II favorites … 1:40 (Joey Johnson's fumble return v. Texas A&M, 2001) … 1:52 (Highlights of 62-36 rout of Nebraska, 2001) … 2:18 (Highlights of Big 12 championship game v. Texas, 2001) … 4:35 (Lawrence Vickers laying out a CSU defender at the goalline, 2005)
–
—–
May 14th
Buffs sign NFL Contracts
From 247Sports …  Fourth-round pick, Tedric Thompson, was the first Seattle rookie to announce a deal or rather his agency announced it on his behalf.
The terms of the deal were not disclosed but due to the rookie pay scale being less fluid these days, Spotrac was able to project his contract at around $3,072,044 in total value over four years with a $672,004 sign bonus. The teams projected cap hit should they release Thompson would be $633,001.
The talented safety out of Colorado can play either spot but it looks like they'll start him behind Kam Chancellor to begin camp, unless something changes.
–
—
From the Dallas Cowboys … When rookie cornerback Chidobe Awuzie was at Colorado, the team had a saying they liked to throw around in the locker room: "Knowledge equals confidence equals playing fast."
Awuzie took that emphasis on knowledge and made sure he was applying it beyond the football field. The Cowboys' second-round pick missed the first day of rookie minicamp practice on Friday so that he could attend his college graduation.
His parents bought plane tickets to Denver back in December to see their son get a diploma, so attending the ceremony was planned long before April's NFL Draft, but it led to a hectic few days for the business operations management major.
Awuzie came to The Star in Frisco on Thursday for routine medical tests, measurements and other rookie formalities. Then after his Thursday night flight was delayed, he took off for Denver, arriving there around 3 a.m. Friday so he could be ready for an 8 a.m. university graduation ceremony, but didn't actually get to walk the stage until the evening for the business school ceremony. Afterwards he went straight to bed so he could get back to Dallas by 5 a.m. and participate in Saturday's minicamp practice.
–
—
From the San Francisco 49ers … The San Francisco 49ers announced they have signed CB Ahkello Witherspoon to a four-year deal.
Witherspoon (6-3,195) was the first of two third-round draft picks (66th overall) by the 49ers in this year's draft out of Colorado. In three seasons with the Buffaloes, he appeared in 36 games (21 starts) and registered 77 tackles, three interceptions, one forced fumble, one fumble recovery and 28 passes defensed. In 2016, he earned Second-Team All-Pac-12 honors, appearing in 13 games (12 starts) where he registered 24 tackles, one interception, one forced fumble, one fumble recovery and 22 passes defensed. His 22 passes defensed on the year led the nation and tied the school record for the most in a single season (22 passes defensed by Ben Kelly in 1998).
–
—
Jordan Carrell's contract with the Dallas Cowboys … from overthecap.com
2017 Salary Cap Charge: $481,875
% of 2017 Team Cap: 0.29%
2017 Cash Payout: $532,500
% of 2017 Team Cash Spending: 0.35%
2017 Salary Cap Charge: $481,875
Total Contract Value: $2,467,500
Annual Contract Value: $616,875
–
—–
May 11th
… CU in a few minutes … 
More delay from the Board of Regents
… this is starting to get ridiculous …
Tweets from Boulder Daily Camera writer Brian Howell:
— Board of Regents will not meet on May 17, but expect to set a new date that will be before their regular June 15-16 meeting
— CU spokesman Ken McConnellogue said he believes investigation into Tumpkin situation is "really close" to being completed
From the Daily Camera … "We understand folks' perception that it is taking a long time," CU spokesman Ken McConnellogue wrote in an e-mail to the Daily Camera. "Part of that is, as you know, we engaged two of the top Title IX attorneys in the country to do the work. Since they are leaders in the field, they have other clients and demands on their time. Having said that, I think we are really close."
The Board of Regents has its next regularly scheduled meeting set for June 15 and 16, but McConnellogue believes the investigation will be completed before then.
"I fully expect (the Board of Regents) will set a new date in the near future that will be well before their next regularly scheduled meeting on June 15-16," McConnellogue said.
–
—
ESPN – Tedric Thompson the "steal" of the fourth round of the NFL draft
From Seahawks.com … For ESPN Insider, senior writer Mike Sando asked four NFL personnel evaluators for their favorite steals in each of the seven rounds of the 2017 NFL Draft.
Seahawks rookie safety Tedric Thompson, who the team selected on Day 3 with pick No. 111, was selected as the steal of the fourth round in Sando's piece:
There was strong support for Thompson from two of the evaluators and a feeling that the safety from Colorado would become a starting-caliber player in the NFL. Thompson's ball-hawking ability helped him pick off 13 passes in college.
This draft was particularly strong for safety depth, which helps explain how Seattle found Thompson in the fourth round. Thompson was the 12th safety selected and the first of three consecutive taken among the first six picks in the fourth round. Eddie Jackson (Chicago Bears) and Rayshawn Jenkins (Los Angeles Chargers) came off the board right after Thompson, making this a trio to watch over the next few years.
Other notable players Thompson was picked over as a steal in the fourth were running backs Tarik Cohen (Chicago) and Donnel Pumphrey (Philadelphia), along with offensive lineman Zach Banner.
–
—
ESPN – Three Off-season questions: Colorado
From ESPN … It's a slow time of year in college football. Spring practices are over and the NFL draft has come and gone, leaving four long months before college football returns to our television screens. Over the next couple weeks, we'll take a look at some questions facing each Pac-12 team. Next up: Colorado.
Can Colorado sustain success over the long term? …
How quickly can the defensive rebuild take shape? … 
What will come of the investigation into the university's handling of a domestic abuse allegation against a former assistant coach? …
… Continue reading story here …
–
—
Chidoe Awuzie on graduating: "I was able to set a goal early and accomplish it"
From Neill Woelk at CUBuffs.com … When Chidobe Awuzie arrived in Boulder as a University of Colorado freshman in 2013, he had a goal and a dream.
As far as his family was concerned, the goal — a college degree — was non-negotiable.
The dream — a chance to play in the National Football League — was up to him.
In typical Awuzie fashion, he not only achieved both, but did so in outstanding fashion.
Last December, Awuzie earned his degree from the Leeds School of Business, reaching the goal in 3½ years — a timespan considered excellent for any student, and almost mind-boggling for anyone involved with the time demands and rigors of Division I athletics.
In April, Awuzie became the 60th overall pick in the NFL Draft when the Dallas Cowboys made him their second-round selection.
To those who know him well, neither came as a surprise.
… Continue reading story here …
–
—–
May 10th
… CU in a few minutes … 
Eleven Buffs participating in NFL mini-camps
Press release from CUBuffs.com … Eleven former Colorado Buffaloes are participating in rookie minicamps with NFL teams over the first two weekends in May.
Here is a look at the Buffs as they work to make their respective NFL teams.
Chidobe Awuzie & Jordan Carrell – Dallas Cowboys
The second-round draft pick, Awuzie, and seventh round pick, Carrell, both report for rookie minicamp with the Cowboys Thursday night. Dallas' rookie minicamp runs Friday through Sunday.
The Cowboys lost four key components from its 2016 secondary and drafted four players in the defensive backfield to help fill the void. Awuzie will have his opportunity to compete to get on the field right away in his rookie season.
"I really like him. Everyone is kind of looking at him as a nickel player (in the slot) because he's good at blitzing," former Cowboys head coach Dave Campo (2000-02) told DallasCowboys.com. "He's very quick-footed, and he's also very physical. He's a little small, they say. But in reality he's 5-11. If he were 6-0 everyone would say he's got the perfect height. He's 5-11 and ¾ , so he's not that little. I think he's an outside corner first, and a nickel (interior/slot) second. That's great because he has the ability to play both positions. And he could even be a cover safety. The way the league is today – with four receivers, including tight ends – you need safeties that can cover."
For Carrell, DallasCowboys.com staff writer David Helman says "As competitive as the defensive line promises to be, it doesn't look like there's a lot of room on the bubble. The Cowboys typically keep anywhere from eight-to-10 defensive linemen on their 53-man roster…" He goes on to note that "there should be plenty of competition for the final few spots between guys like free agent signee Damontre Moore, as well as seventh round draft picks Joey Ivie and Jordan Carrell."
Tedric Thompson – Seattle Seahawks
After Seattle drafted just one defensive back (safety Earl Thomas in the first round of the 2010 draft) over the last seven years, the Seahawks selected four defensive backs this year. Thompson will join his other three defensive backfield draft mates at Seattle's rookie minicamp being held this weekend.
Four Buffs were in San Francisco
CB Ahkello Witherspoon was one of four Buffs drafted this year, going in the third round to the 49ers. OLB Jimmie Gilbert signed an undrafted free agent contract with the 49ers after the draft and DL Samson Kafovalu and center Alex Kelley were two of 56 players San Francisco invited to tryout at its rookie minicamp last weekend along with its 10 draftees and 18 total undrafted free agents.
"I think people say a big upside, and I really believe with Ahkello that there is," San Francisco 49ers general manager John Lynch said of Witherspoon to ESPN staff writer Nick Wagoner. "But yet, I think we can throw him out there next year and he can play. He's demonstrated that he can hang with big-time receivers."
Here is the full ESPN feature on Witherspoon: Link
Sefo Liufau – Tampa Bay Buccaneers
After signing an undrafted free agent contract with the Bucs, Liufau participated in Tampa Bay's rookie mini camp last weekend. He wore No. 8 with the Bucs and up next for Liufau is OTA offseason workouts that run May 23-25, May 30-31, June 1 and June 5-8.
With the departure of Mike Glennon to Chicago, there is an opening in Tampa to be the back up to Jameis Winston at quarterback. Tampa Bay also signed Tufts' Alex Snyder to compete with Liufau and four-year NFL quarterback Ryan Griffin, who has two seasons under his belt with the Bucs, for the back-up spot.
Kenneth Olugbode – Cleveland Browns
Olugbode was one of two linebackers the Browns signed undrafted free agent deals with following the draft. Cleveland signed 11 total undrafted free agents to go with its 10 draft picks and all will report for rookie minicamp this weekend.
Josh Tupou – Cincinnati Bengals
The undrafted free agent signee with Cincinnati participated last weekend in the Bengals rookie minicamp.
Tupou, who was given jersey number 68, is one of nine defensive tackles currently on the Bengals roster and of those nine, he is one of two rookies along with Michigan's Ryan Glasgow.
Sean Irwin – Jacksonville Jaguars
The former Colorado tight end was invited to tryout this weekend at Jacksonville's rookie minicamp. The Jaguars have six tight ends on its roster and two fullbacks. Irwin can be used both as a blocker out of the backfield or attached to the line, as well as a receiving tight end.
–
—
Jonathan Huckins: "I think I made a big jump from how I played as a guard last year"
From the Daily Camera … Replacing a three-year starter and doing so at a new position is a challenge, but it's one that Jonathan Huckins has fully embraced.
The senior is projected to take over as Colorado's starting center in the fall, and has put himself in position to excel in his new role.
"He had an excellent spring," head coach Mike MacIntyre said. "He's very, very bright. He's in great shape. I think he'll be an excellent center."
Alex Kelley, who recently received a mini-camp invitation from the NFL's San Francisco 49ers, started 38 of CU's 39 games at center over the past three years, but Huckins believes he can step in and make the transition a smooth one.
"I can definitely feel the pressure (of replacing Kelley)," the 6-foot-4, 310-pound Huckins said. "Alex was a great center for us for three years. I definitely leaned on him, stuck to his advice and took that to heart. Overall, I think the whole center position, I think it does fit me better. I think this is a good position for me.
"I feel really comfortable. I know this offense really well."
… Continue reading story here …
–
—
Mike MacIntyre makes the cover of Mile High Sports Magazine
"Approach Shots: In football and golf, Mike MacIntyre chooses a thoughtful path"
From Mile High Sports … It could be debated which task is more difficult: Chipping in from 40 yards out on hole No. 7 at Boulder Country Club's Les Fowler Par 3 Course, or winning the Pac-12 South in football.
At first glance, that seventh hole looks pretty straightforward. But when one's tee shot ends up considerably short, it undoubtedly becomes trickier. The green is elevated and narrow, and unless the pin is all the way in the back, there's rarely much landing area with which to work. It's guarded by a sand trap to the west and a hard drop-off into the rough on the east. That same steep slope exists on the back, but there are also trees ready and willing to make that third shot messy. And remember, on the Les Fowler track, they're all par 3s, so there's little room for error if par is the goal.
From any vantage point, when the view from the bottom looks significantly longer than 40 yards (that's a mere chip shot field goal in the thin air of Boulder, Colo.), the notion that a cellar-dwelling football team could climb the entire ladder and win the Pac-12 South seems daunting at best. For a team that finished tied for last in 2011, last in 2012, last in 2013, last in 2014 and last again in 2015, ascending to the very top of the division with an impressive conference record of 8-1 is the equivalent of hitting a hole-in-one.
Don't tell any of that to University of Colorado head football coach Mike MacIntyre.
Who holed one out from 40 out on hole No. 7.
And who did, in fact, win the Pac-12 South in dramatic fashion last fall.
If someone had asked MacIntyre which scenario would have been more likely to play out, the ol' ball coach would have probably bet on his football team. Coach Mac is a good (but not great) golfer. He is, however, the 2016 Pac-12 Conference Coach of the Year, Walter Camp Coach of the Year, Home Depot Coach of the Year and Associated Press Coach of the Year, all of which points to the fact that he is a great football coach.
… Continue reading story here …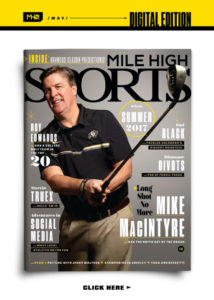 –
—
Call made to contact Board of Regents
There is a special meeting of the Board of Regents on the books for Thursday, May 17th. At that time, they may be reviewing the report they commissioned to investigate the handling of the Joe Tumpkin dismissal, as well as Coach MacIntyre's contract extension.
I won't go into great detail here about the history. You can find a good recounting of the events leading up to this meeting here, here, or here.
At several of the CU fansites, campaigns have been launched to contact the members of the Board of Regents, reminding them of how well CU athletic director Rick George and CU head coach Mike MacIntyre have done in resurrecting the the football program in particular, as well as the athletic department in general.
It seems hard to imagine, but it appears that there are several Regents who just don't "get it", that the football program is the "front porch" the University, that a healthy athletic department lifts the entire school. As Bear Bryant so succinctly put it, "You can't rally around a math class".
If you would like a good background of the issues, as well as good arguments to make, BuffNik at AllBuffs has put together an exemplary chronology, with talking points for potential emails. That thread can be found here.
The only cautionary point I would make is to keep it polite, and try and make it personal to you – your history with the school, your location (remember that Regents are elected, so let them know which district you live in), and how much the University and its athletic teams mean to you . The Board of Regents are receiving hundreds of emails, and multiple emails with regurgitated language may not only be ignored … they may prove counterproductive if the Regents feel they are been overly pressured by a small group of agitated fans.
If you would like to send an email to the members of the Board of Regents, they can be found below (it wouldn't be a bad idea to include President Bruce Benson (Bruce.Benson@cu.edu) if you decide to send an email.
–
—–
May 9th
… CU in a few minutes … 
American Football Coaches Association propose allowing up to four games without loss of redshirt
From Fox Sports … The American Football Coaches Association is forwarding a proposal to the NCAA that would allow players to participate in up to four games of a season without burning their redshirt year. If passed, theoretically, a coach could unleash his touted four-star freshman running back in the TaxSlayer Bowl.
"I think that would be pretty intriguing to some of the fan bases," said AFCA executive director Todd Berry, "which might legitimize some of those bowl games and make them more interesting.
Following the AFCA's board meetings last week in Phoenix, Berry said that while McCaffrey and Fournette made headlines, players shutting it down before a lower-tier bowl game is "not a new thing." While those particular stars dealt with legitimate health issues last season, others in the past might develop a "magic injury" right before the bowl.
In many cases, the freshmen redshirting are far more excited to be there than the graduating seniors.
"One could argue that [playing redshirts] is not what the bowl games are for," said Berry. "Well, it is now. We lost this idea that every bowl game mattered a long time ago."
But bowl games aren't the primary impetus behind Berry's proposal, one he says garnered "unanimous" support at the AFCA's convention last January.
With the season getting ever-longer (15 games for the two teams that reach the national championship) and the average number of plays per game ever-increasing, coaches often see their teams decimated by injuries at a certain position. At which point they may face the desperation decision of lifting a guy's redshirt late in the season and thus burning an entire year of eligibility.
… Continue reading story here …
–
—
CU receives some respect … from Oregon State writer at SBNation
From BuildtheDam.com …
"The Top 5 Receiving Corps That Oregon State Will Face In 2017"
1. Colorado Buffaloes
The Buffs are loaded at the receiver spot for next season, headlined by big-time play-maker Shay Fields, who caught 56 passes for 883 yards and 9 touchdowns in 2016. As a rising senior, Fields may be one of Colorado's best offensive NFL prospects for next year's draft, along with guard Jeromy Irwin and running back Phillip Lindsay. Besides Fields, the Buffs still have Devin Ross, the team's leading receiver from a season ago at their disposal, as well as the trio of Juwann Winfree, Kabion Ento and Bryce Bobo, who are all suitable targets in their own right. Winfree is a solid-sized pass-catcher who is returning from a torn ACL, while Ento has already been labeled as the surprise of the spring practices for Colorado. As for Bobo, he'll add another piece of depth to one of the deepest receiving corps in all of college football, that could also mix in four-star recruit K.D. Nixon, pending they choose not to red-shirt the Texas native.
"The Top 5 Secondaries Oregon State Will Face in 2017"
1. Colorado Buffaloes
In the Pac 12, there was no better ball hawking team than the Buffaloes. Along with 15 interceptions, the Buffaloes had an outstanding 72 passes defended, 12 more than the runner up UCLA Bruins & USC Trojans. Not only did the Buffaloes have success within their conference, they were also the fifth-best passing defense in the nation. Despite the loss of their top cornerback, Chidobe Awuzie, it is highly unlikely that Colorado will not continue to make opposing quarterbacks' and receivers' Saturday rough.
–
—–
May 8th
… CU in a few minutes … 
Sophomore cornerback Isaiah Oliver finishes fourth in decathlon
From CUBuffs.com … After beginning the day in first place, Colorado sophomore Isaiah Oliver slipped ever so slightly, finishing fourth with 7,394 points, but Oliver wasn't alone in the top five as a strong finish from junior Andrew Ghizzone gave him a fifth-place finish with 6,925 points to give Colorado's track and field team two top five finishes in the 2017 Pac-12 Combined Event Championships.
… Oliver started the day much like he finished the first day, breaking school records.  In the 110-meter hurdles Oliver finished second place running the race in a school record time of 14.36 seconds.  Ghizzone was right behind him in fifth with a solid time of 15.00 to help him stay within striking distance of the top five.
Following the 110-meters was the discus throw where Oliver yet again put on a great performance throwing for a distance of 121-7.75/37.08 to finish third in the event.  While Ghizzone kept pace with a sixth-place finish after recording a distance of 104-11.00/31.98.
It was in the pole vault where Ghizzone made his leap into the top five, where he would stay, winning the event clearing a height of 15-5.00/4.70, taking the event.  Oliver finished eighth clearing a height of 12-5.5/3.80.
Two events remained and Ghizzone had placed himself in position to finish in the top five, while Oliver continued to hunt the top while locking up his own top five finish.
The final field event was the javelin throw and Oliver again lead the way for the Buffs, taking fourth in the event after throwing a distance of 159-1.25/48.50.  Ghizzone, himself, threw for a distance of 144-3.25/43.98 giving him a sixth-place finish in the event.
Finally, the 1500-meters was next and a solid race from the Buff duo would mean a pair of top five finishes for CU.
Neither Ghizzone or Oliver disappointed, finishing three and four in the race to lock up their top overall finishes.  Ghizzone ran the race in 4:32.54, good enough for third, while Oliver came in only seconds behind finishing the race in 4:32.81, which for Oliver meant a fourth-place finish.
–
—–
May 7th
… CU in a few minutes … 
Sophomore cornerback Isaiah Oliver continues to set school records
From CUBuffs.com … Colorado sophomore Isaiah Oliver is sitting in first place with 4,006 points in the decathlon after breaking two Colorado records, one that he owned already, on his way to a great first day here at the Pac-12 Combined Event Championships at the Whyte Track and Field Center in Corvallis, Oregon.
Sitting in sixth place after the first round of events with 3,524 is Colorado junior Andrew Ghizzonerounding out the men for Colorado.
Oliver's Day:  Oliver started the day off in style breaking two school records in the first two events of the day.  In the 100-meters Oliver scorched the race in 11.82 seconds which broke the school record that Oliver himself had set previously in the season.
Oliver followed that up by leaping past the previous Colorado record in the long jump, recording a distance of 24-1.75/7.36 on his way to what already was his second win in just the first two events.
After Oliver's torrid start to the decathlon he sat in first place with 1,801 points and a lead that he wouldn't relinquish for the remainder of the day.
Next up was the shot put, and Oliver put together yet another top performance.  He recorded a distance of 42-2.5/12.87 for a second-place finish, helping to pad his overall lead.
Oliver recorded a seventh-place clearance of 5-11.5/1.82 in the high jump, but he returned for the final event on the day, the 400-meters, determined to hold onto his overall lead heading into the second day.
In that 400-meters race Oliver did just that, recording what's now the second fastest time in CU history, finishing the race in 48.15 seconds to solidify his lead heading into the final day with 4,006 total points.
–
—–
May 6th
… CU in a few minutes … 
Mike MacIntyre talks about recruiting and the "Four F's"
From USA Today …
Q: From a talent perspective, what does it take for a recruit to be noticed by your staff?
A: I learned from Coach (Bill) Parcells that setting physical parameters for the positions you're recruiting can really help narrow the focus on who you actually recruit. At Colorado, we have a specific height, weight and size that we're looking for out of each position. Now that can vary a little bit, especially when you're dealing with high school players. For instance, you might have a guy that has the height you're looking for but he might not have the size yet. That's where you have to get eyeballs on him and project whether you think he's going to grow into those parameters or not. When you're dealing with 16 and 17-year old kids, a lot of how you physically evaluate them has to do with projection, because most of them aren't a finished product yet.
Now, there are instances when we will totally break the parameters and recruit a guy that doesn't fit our mold. If we're going to do that though, as Coach Parcells would always say, he better be able to walk on water! A good example of that would be when we recruit the running back position. Height isn't a huge concern for us because all we want out of our running backs is for them to have the ability to square a guy up and miss. They don't make the holes based on height, they make the holes based on width.
Q: Talk to me about the value system you've implemented within your football program.
A: The value system that we live by at Colorado is based on Foundation, Family, Future and Football. We call it The Four F's and it's really about making sure our guys have their priorities in order.
Foundation: Consistency in your daily approach to life is what creates a solid foundation. I tell our guys this all the time, "Show me your friends, I'll show you your future. Show me your choices, I'll show you your destiny." It's our job as a staff to help our young men make the right choices and make sure they are surrounding themselves with the right people. It's their job to have the daily discipline needed to consistently reach their full potential.
Family: It's all about team to us at Colorado. Put others first. Care more about the guy next to you than you do yourself. That's accountability and it's what you do when you're part of a family. When you give that love, you're going to feel it, too.
Future: Football is merely a temporary future. The real future is the education you're working for. Keep those in the right order and have a passion about what you want to do when you're done playing football for the University of Colorado.
Football: I firmly believe that if you have the first three of these values in order, you will be free to be the best football player you can be. If you're having issues with the first three, you're going to be clouded up and limited with what you can achieve on the football field. The better you can be off the field, the better you're going to be on the field.
… Continue reading story here …
–
—–
Recruiting Coordinator Darrin Chiaverini: "We're going in the right direction"
… Related … Current CU recruiting rankings – Rivals: 40th nationally; 6th in Pac-12 … Scout: 42nd; 7th in the Pac-12
From the Daily Camera … While there hasn't been a whole lot of noise on the recruiting trail lately, the Colorado football program is still riding positive momentum as it works on building its 2018 class.
Six players are already committed for 2018 – two more than at this time last year – and there figures to be plenty more over the next few months.
Now in the middle of the spring evaluation period – which began April 15 and runs through May 31 – CU is aiming to put together another strong class as it continues to build its program.
"We're a lot farther ahead at this point," CU co-offensive coordinator and recruiting coordinator Darrin Chiaverini said. "We're headed in the right direction, as far as recruiting goes."
… Continue reading story here …
–
—–
May 5th
… CU in a few minutes … 
CU to take on Nebraska earlier than September, 2018?
From PacificTakes.com … "Spring Pac-12 bowl projections: Oregon and UCLA get back to bowl games"
Rose Bowl … USC v. Ohio State
Fiesta Bowl … Washington v. Penn State
Alamo Bowl … Stanford v. Texas
Holiday Bowl – Colorado vs. Nebraska – I like Colorado's depth chart more and more every time I look at it and think they should finish second in the South, setting them up for a very good bowl. A Colorado/Nebraska rivalry revival in San Diego would be very fun.
Foster Farms Bowl … Washington State v. Iowa
Sun Bowl … Utah v. Virginia Tech
Las Vegas Bowl … Oregon v. Boise State
Cactus Bowl … UCLA v. Texas Tech
… Not going bowling … Arizona, Cal, Arizona State, Oregon State …
–
—–
May 3rd
… CU in a few minutes …
Mike MacIntyre: "I think we should be one of the top three offenses in our league"
From the Daily Camera … In looking back at what was accomplished during spring drills, Colorado head football coach Mike MacIntyre was especially pleased with how the Buffaloes' offensive line came together.
"I thought both sides of the lines made a lot of progress from the beginning to the end," MacIntyre said. "If we come back healthy on our offensive line … I think we'll have the best eight guys on the offensive line that we've had. We kind of move up the food chain, I believe, on the offensive line in the Pac-12."
… Given the talent and progression of Irwin, Kaiser, Kough and Miller, there's a decent chance all of them will be on the field this season.
"It gives you more flexibility so you might be able to do some things to get more guys on the field," MacIntyre said. "You might even be able to rotate a couple guys, which you don't (normally) do on the offensive line much. If we can do that this year, we can keep them fresh and fast. As many plays as we play, that'll give us an advantage."
… Continue reading story here …
–
—–
May 2nd
… CU in a few minutes … 
Mike MacIntyre on Steven Montez: "He understands what he has to do and how he has to do it"
From the YahooSports … Rising redshirt sophomore quarterback Steven Montez was thrown into the fire last season when an ankle injury sidelined former school record setting signal-caller Sefo Liufau.
That experience could prove valuable for Montez when the 2017 season gets underway Friday, Sept. 1 when the Buffaloes face rival Colorado State in Denver.
Most indicators from spring practice were encouraging as far as the 6-foot-5, 225-pound Montez, who redshirted in 2015, getting accustomed to his new role as Colorado's fulltime No. 1 quarterback.
He entered the spring as CU's top quarterback and exited the March 18 spring game at Folsom Field with a firm grasp on the No. 1 job after completing seven of his final eight passes.
Colorado coach Mike MacIntyre was pleased with Montez's growth from last season when the former 3-star prospect from Del Valle High School in El Paso, Tex. started three games (Oregon, Oregon State, USC)
How impressed was MacIntyre and the Colorado coaches in Montez for the progress he made over the course of the 15 practices in February and March? He was named co-recipient along with cornerback Isaiah Oliver of the prestigious John Wooten Award for outstanding work ethic during spring practice.
"Like you always want to say, he had a better grasp of the offense," MacIntyre said Monday during the Pac-12 coaches spring teleconference. "He knew where he was going with (the football). He was cleaner with his alignments and he was cleaner getting guys lined up. He understood exactly what we were looking for. He understood when he made a mistake. He corrected himself before we could because he already knew it."
… Continue reading story here …
–
—
CU Pride Points
From CU Advocates … This month's CU pride point spotlights the high caliber of CU's graduate schools and programs across all four campuses.
UNIVERSITY OF COLORADO BOULDER
No. 1: CU Boulder holds the top ranking nationally for atomic/molecular/optical physics.
Top 10: CU Boulder holds a top ranking for ceramics (fifth). It also lands spots for environmental law (sixth), environmental engineering/environmental health engineering (ninth) and aerospace/aeronautical/astronautical engineering (10th).
Another 17 CU Boulder schools and programs hold places on the national rankings within their fields: clinical psychology (16), audiology (17), physics (18), earth sciences (23), chemistry (24), speech language pathology (24), psychology (26), School of Education (29), biological sciences (30), College of Engineering and Applied Science (32), English (35), Law School (36), computer science (40), political science (40), Leeds School of Business (46 for part-time MBA schools), mathematics (46)  and economics (50). Not all disciplines are ranked by the publication.
See the full CU Boulder rankings here.
UNIVERSITY  OF COLORADO ANSCHUTZ MEDICAL CAMPUS
School of Medicine
Top 10: The school ranks third nationally for family medicine, sixth for pediatrics, sixth for rural medicine and eighth for primary care.
The school ranks 35th overall for research.
College of Nursing
The college's nursing master's degree is 26th; doctor of nursing practice, 34th.
Graduate School
Top 10: The master's program for physician assistant ranks fifth.
Among master's/doctorate programs in physical therapy, the program ranks 15th.
Skaggs School of Pharmacy and Pharmaceutical Sciences
The school ranks 22nd nationally for the doctor of pharmacy program.
UNIVERSITY OF COLORADO DENVER
CU Denver schools and programs that are ranked include health care management (23), School of Public Affairs (34), biological sciences (75), the Business School's part-time MBA program (84) and the School of Education and Human Development (120).
UNIVERSITY OF COLORADO  COLORADO SPRINGS (UCCS)
At UCCS, the part-time MBA is No. 46. The nursing master's degree at the Helen and Arthur E. Johnson Beth-El College of Nursing and Health Sciences ranks 52nd; the doctorate of nursing practice, 54th.
–
—
… And this … 
Boulder junior builds top-10 website for alumnus father's law firm
… full disclosure … I went to law school with Patrick … 
From colorado.edu … Patrick Mulligan's father may have transferred from University of Colorado Boulder to graduate from the University of Denver, but his continuing love for Buffs football paved the way for two generations of CU students.
"We started going to games when I was a little kid," says Patrick (PoliSci'84; Law'87), who grew up in Wheat Ridge with four siblings. "We didn't have a lot of extra money, but we all got to go occasionally. It was a big treat."
Mulligan and two brothers attended CU, as have Patrick's three sons, including Colin, 21, currently a junior who, like his father, is a member of Phi Beta Kappa.
In 1982, Patrick started the first springboard diving and master's swimming classes at the CU Rec Center, a job he kept through his first year of law school.
He began his career as a deputy public defender with four Colorado jurisdictions. He opened his own his own criminal-defense law firm as a sole practitioner in 1994. In 2013, he invited his cousin, Marshall Breit, to join the firm, which is now known as Mulligan Breit.
"We're still trying to help people who are often mentally ill, mentally challenged, substance addicted or abusers, or frequently, all of the above," Patrick says. "They are the part of society that people don't want to recognize or care about."
He credits his parents for teaching their children to put public service first. His two sisters work in public education, his older brother is director of a public health-care clinic for American Indians in California, and his younger brother also served as a deputy public defender.
Colin is Patrick's youngest son, and the third to attend CU. After declaring as an economics major, Colin decided to pick up a minor. His older brother Brian (Psych/Adv'15) suggested he check out the Technology, Arts and Media program, about which his friends had raved. After taking a few introductory TAM classes, Colin was raving, too, especially about a course in web development and design.
… Continue reading story here …
–
—–
May 1st
… CU in a few minutes …
Mark Johnson out as the sports director at KOA … but will still announce CU games
… Related … "Johnson to continue as voice of the Buffs" … from the Daily Camera
… Not sure how this is going to work …
From Mark Johnson's Facebook page … You never know when the winds of change will blow? But as a follower of Jesus, we always have the opportunity to demonstrate real faith in action when life is altered! Today is one of those days/opportunities for me! After nearly 13 years as the Sports Director at KOA, Newsradio, I've been dismissed in a budget cutting move by the company. I thank them for the honor of being associated with one of the truly great and legendary stations in the country for well over a decade. Being that there was a contractual separation in my job, I'll still be the Voice of the Buffs and am blessed with my partnership with the University of Colorado and Learfield Sports! (Go Buffs! Go Learfield!).
–
—
Mike MacIntyre Monday media teleconference notes and quotes
Notes from CUBuffs.com and the Daily Camera …
— On successful spring practices: "The kids are working hard. You saw it in the spring and you saw it in the weight room. When you have a draft like this, and they see how hard the guys worked who got drafted, that's a motivation for them. It becomes one of those things that is a constant if you have good leaders."
— On Phillip Lindsay being a Heisman trophy candidate: "He's an all-around back. He's not just a guy that you hand the ball to, he's not just a guy you bring in on third down. He's an all-around football player. I'm excited about his future. Hopefully we have an excellent year this year and he'll get some of the recognition he deserves."
— On Jonathan Huckins taking over at center for three-year starter Alex Kelley: "He had a great spring, he's in great shape, his weight is really good. I saw him this morning and he's excited about everything he's doing. I think he'll be an excellent center.  He's athletic for us, he understands the game, he's played a lot of snaps and I'm excited about Jon. I hope he has a great senior year."
— On the development of quarterback Steven Montez: "He had a better grasp of the offense. He knew where he was going with it, he was cleaner with his alignments, he was cleaner with getting guys lined up,  he understood exactly what we were looking for. He understood when he made a mistake he could correct himself. He's in much better shape than he's ever been and he is moving well and his arm is extremely strong and even more accurate than it was last year. He's kind of elevated everything a little bit."
— On status of injured players: MacIntyre said receiver Juwann Winfree (knee), outside linebacker Derek McCartney (knee) and running back Donovan Lee (leg) are expected to be ready to go when fall camp opens on July 28. Running back Kyle Evans (hip) is doing "really well" and the Buffs hope he's back this fall, as well.
— On CU having four lightly recruited players being drafted: "All of our guys going is really exciting for them and also for our program. I think it just shows you that we evaluate pretty well, I think, in the way we evaluate talent in recruiting. None of those were big-time stars (coming out of high school) and they all ended up getting drafted and they'll play for a while."
–
—
ESPN Post-spring Pac-12 rankings
From ESPN … Now that every school is finished with spring practice, here's an updated look at how the Pac-12 power rankings will look in 2017:
1. USC
2. Washington
3. Stanford
4. Washington State
5. Colorado … There is a lot of talent to replace on defense, but coach Mike MacIntyre has done an excellent job building something that should last for years. The Buffaloes have one of the best groups of receivers in the conference, return second-team All-Pac-12 running back Phillip Lindsay and should be in good shape with Steven Montez replacing Sefo Liufau at quarterback.
6. Utah
7. UCLA
8. Oregon
9. Oregon State
10. Arizona State
11. Arizona
12. Cal
–
—–
April 29th
… CU in a few minutes … 
Four undrafted Buffs sign free agent deals
From CUBuffs.com … Inside linebacker Kenneth Olugbode has signed on with the Cleveland Browns.
He finished 16th all-time on CU's all-time tackles list with 299 career tackles. He had 13 career games recording 10 or more tackles, including seven as a senior. He played in 41 games, making 36 career starts.
Olugbode was named a second-team All-American by Pro Football Focus after his senior season when he also collected honorable mention All-Pac-12 honors from the league coaches.
— Nose tackle Josh Tupou has signed with the Cincinnati Bengals.
A formidable force right up front and center in CU's defense, Tupou recorded 166 tackles in his career, 16 tackles for losses, six sacks, 19 hurries and seven third down stops. He was honorable mention All-Pac-12 in both 2014 and 2016.
— Outside linebacker Jimmie Gilbert has signed as a free agent with the San Francisco 49ers while quarterback Sefo Liufau signed with Tampa Bay.
Liufau is the owner of 99 school records (64 passing, 24 total offense and 11 others). Of those 99, he owns 84 outright and tied for the other 15). Included among the top career marks he owns are total offensive yards (10,509), passing yards (9,568) and 300-yard passing games (10) in addition to numerous single-season and game records. He was just the second CU player to serve as a team captain for three seasons (doing so in 2014, '15 and '16), the first since Pat Carney did so over 120 years ago (1891-92-93). He was named the 2016 Polynesian College Football Player of the Year by the Polynesian Football Hall of Fame (he is of Samoan ancestry).  Including the Alamo Bowl, he played in 42 career games with 40 starts, the most starts ever by a CU quarterback (leading CU to a 16-24 record).
Gilbert finished tied for sixth all-time at Colorado in quarterback sacks (20) for 156 yards in losses (also sixth).  His 44 third down stops were the fourth-most in school history, his 31 tackles for loss were 18th and his nine forced fumbles tied for the third most.
–
—–
April 25th
… CU in a few minutes … 
CU nutrition specialist Laura Anderson: "Nutrition and the weight room go hand in hand"
From CUBuffs.com … Remember when your mom told you to eat your vegetables?
Your mom was right on the money. Those vegetables are a very necessary building block in the development of healthy bodies. You should have listened.
Colorado athletic department lead dietitian Laura Anderson has a similar message for Buffs student-athletes — although Anderson's message is quite likely a little less subtle than your mom's.
"You can't out-train a crappy diet."
In other words, all the time in the world in the weight room isn't going to fix a body fueled by candy, soda pop and frozen pizza.
It's Anderson's job to make sure the Buffs understand this message — and her means of motivation involve far more than your mom limiting your Playstation time.
Anderson can actually have an influence on an athlete's playing time.
… Continue reading story here …
–
—
Policy on dealing with additional long term contracts should be in place by June
From the Daily Camera … Now that the Colorado athletic department knows it has the luxury of offering more contracts to coaches, the work is underway to figure out how to use those contracts.
Last month, Governor John Hickenlooper signed Senate bill 17-041, which will allow more contracts for those in the athletic department. For years, the Buffs have been hamstrung by state legislation that limited state schools to just six contracts per campus.
CU has been using all six in athletics, but no longer operating with that restriction gives the Buffs better opportunities to hire and retain quality coaches.
"It is a game changer for us," CU head football coach Mike MacIntyre said. "It was a big problem when I first got here."
… Just because the Buffs can offer unlimited contracts doesn't mean they will. George said the Buffs are currently in the process of developing their plan on how to wisely use their contracts. The new law is scheduled to go into effect on Aug. 9, giving the Buffs plenty of time to work on their policy.
… Continue reading story here …
–
——
April 23rd
… CU in a few minutes … 
MacIntyre on QB's: "I came out (of spring) saying, 'Wow, they all have a chance to help us' "
From the Daily Camera … While MacIntyre has yet to pronounce StevenMontez as the starter, it's clear the redshirt sophomore is on that path.
"If he keeps going on the trajectory, he will be (the starter) and he should be," MacIntyre said.
MacIntyre was quick to point out, however, that redshirt freshman Sam Noyer and true freshman Tyler Lytle — who enrolled in January — both played well in spring.
"I came out (of spring) saying, 'Wow, they all have a chance to help us,'" MacIntyre said.
In the Pac-12, strong quarterback play usually leads to team success. It's once again a conference loaded with talented passers, with Montez showing the ability to be among them. He threw for 1,078 yards, nine touchdowns and five interceptions as Liufau's backup last season, while also rushing for 231 yards.
"He's in phenomenal shape and he's throwing the ball well," MacIntyre said. "I thought he had a really good spring and made some strides in the right direction. I'm excited about what he can do."
… Continue reading story here …
–
—
Lindsay: "I hold myself to a high standard and I'm not going to let any of these young guys slip"
From CUBuffs.com … Phillip Lindsay had a simple message for all of his Colorado teammates Friday morning.
"Once we get back for summer, it's on," CU's senior running back said. "You can't go home in the summertime and get fat or not work out. You have to start where you left off. A lot of our young players have had some big gains and we have to keep that up. We have to keep moving forward."
Lindsay and his teammates are currently putting the finishing touches on their final spring strength and conditioning session. They began end-of-spring testing on Friday and will continue next week. They will then concentrate on finals and finishing the semester strong in the classroom, then have some time off before summer workouts begin.
That session is set to begin June 5. They will then have a few days off before fall camp opens July 28 — only the third time in CU history that the Buffs have opened fall camp in July — all of which sets the stage for the Sept. 1 season opener vs. Colorado State in Denver.
… Continue reading story here …
–
—–
–
—–