—
Colorado Daily
—
July 10th
… CU in a few minutes … 
Mark Haynes to join Colorado Athletic Hall of Fame – Class of 2017
From CUBuffs.com … A first-team All-American by the Associated Press as a senior in 1979 (second-team by UPI) … A first-team All-Big Eight performer as a senior as well, when he was the recipient of the Zack Jordan Award as CU's most valuable player as voted by his teammates … A member of CU's All-Century team selected in 1989 … Played cornerback as a senior under Chuck Fairbanks, but lined up as an "Apache" back in Bill Mallory's system his first three seasons … His 256 career tackles were the second most by a defensive back in a Colorado career at the time of his graduation, while his 17 pass deflections were tied for seventh … Had 4.4 speed in the 40-yard dash as a Buffalo … He was a first-team member on CU's All-Century team (selected in 1989) … A first round choice by the New York Giants in the 1980 National Football League Draft (8th overall; it was the fourth-highest a CU player has ever been selected at the time and is still fifth on the list some 36 years later) … He played in 127 career NFL games with New York (1980-85) and Denver (1986-89) … Had 17 career interceptions in the pros (1 TD) … Selected as an NFL All-Pro four times (1981, 82, 83, 84) and played in the Pro Bowl three times … Appeared in three Super Bowls with the Broncos.
–
—–
July 9th 
… CU in a few minutes … 
Phillip Lindsay and Derek McCartney will accompany Mike MacIntyre to Pac-12 media days
From NCAA.com … The 2017-18 college football season is drawing closer, which means it's time for coaches to take the podium for their annual media days.
The Pac-12's media days will take place from July 26-27 in Hollywood, California.
Here is the official schedule for the Pac-12 media days.
Wednesday July, 26 (all times pacific) 
9 a.m. – Pac-12 Commissioner Larry Scott
9:40 a.m. – ARIZONA – Head Coach Rich Rodriguez, Jacob Alsadek (OL), DeAndre' Miller (LB)
10:05 a.m. – CALIFORNIA – Head Coach Justin Wilcox, Tre Watson (RB), James Looney (DT)
10:30 a.m. – UCLA – Head Coach Jim Mora, Scott Quessenberry (OT), Kenny Young (LB)
10:55 a.m. – OREGON STATE – Head Coach Gary Andersen, Ryan Nall (RB), Manase Hungalu (LB)
11:20 a.m. – COLORADO – Head Coach Mike MacIntyre, Phillip Lindsay (RB), Derek McCartney (LB)
11:45 a.m. – WASHINGTON – Head Coach Chris Petersen, Jake Browning (QB), Keishawn Bierria (LB)
Thursday, July 27
9:40 a.m. – OREGON – Head Coach Willie Taggart, Justin Herbert (QB), Troy Dye (LB)
10:05 a.m. – ARIZONA STATE – Head Coach Todd Graham, Kalen Ballage (RB), JoJo Wicker (DL)
10:30 a.m. – STANFORD – Head Coach David Shaw, Bryce Love (RB), Harrison Phillips (DT)
10:55 a.m. – WASHINGTON STATE – Head Coach Mike Leach, Jamal Morrow (RB), Peyton Pelluer (LB)
11:20 a.m. – USC – Head Coach Clay Helton, Sam Darnold (QB), Cam Smith (LB)
11:45 a.m. – UTAH – Head Coach Kyle Whittingham, Salesi Uhatafe (RG), Filipo Mokofisi (DT)
There will also be a live television show following all the action from media days on Pac-12 Networks from 9:30 a.m. -12:30 p.m. PT on July 26 and 27.
The Pac-12 football schedule can be found here. The 2017 Pac-12 Championship game is set for Friday, Dec. 1 at Levi's Stadium in Santa Clara, California.
–
—–
July 7th
… CU in a few minutes … 
Neill Woelk – Storylines for Fall Camp 
… Fall Camp opens July 28th … Season opener against CSU eight weeks away (September 1st) … 
From Neill Woelk at CUBuffs.com … Cleaning out the notebook with some notes, observations and questions as Mike MacIntyre's Colorado Buffaloes approach the three-week countdown to the opening of fall camp (July 28):
1. Biggest question of camp?
2. Most difficult hole to fill this year?
3. Unheralded player ready to make name for himself
4. Is quarterback Steven Montez ready to take the next step?
5. Most intense position battle
6. Is O-line ready to take another step forward?
7. Does RB Phillip Lindsay have another gear?
8. Impact player on defense many folks have forgotten about
9. So what about that defensive line?
10. Who has the edge in CU's opener?
… Read Neill Woelk's answers to these questions here …
–
—–
July 6th 
… CU in a few minutes … 
Rocky Mountain Showdown tickets go on sale Wednesday
From the Daily Camera … Tickets for the Rocky Mountain Showdown will go on sale Wednesday.
The annual football game pitting in-state rivals Colorado and Colorado State will be held Sept. 1 at 6 p.m. at Sports Authority Field at Mile High in Denver.
CU fans can purchase tickets at CUBuffs.com or by calling 303-49-BUFFS.
This year's matchup, to be broadcast on the Pac-12 Networks, will be the 17th to be played in Denver. Colorado leads the all-time series with the Rams, 64-22-2, including 10-6 in Denver.
CU is seeking a third consecutive win in the series, something neither team has done since CU won three in a row from 2003-05.
… Continue reading story here …
–
—
2018 verbal commit Jarek Broussard excited to be a Buff
From the Daily Camera … As a high school sophomore, Jarek Broussard had an opportunity to visit Colorado for a church camp.
When the opportunity came up about a year later to visit for a football camp, he couldn't pass that up.
Now, Broussard is looking forward to making the Centennial State his home after high school. A senior-to-be at Bishop Lynch High School in Dallas, the 2018 recruit gave his verbal commitment to Colorado last month.
"I had been to Colorado for a church camp once and I really liked the atmosphere," he said. "Going back from a football standpoint I thought would be even cooler. I ended up camping there and had the time of my life. I met the staff and it just felt like a place I would want to be for the next four years after high school."
… Continue reading story here …
–
—–
July 5th
… CU in a few minutes … 
Sports Illustrated – Top 40 Workout Warriors in College Football includes CU's Drew Lewis
From Bruce Feldmen of Sports Illustrated … I've been compiling my annual Freaks list of college football's top workout warriors in the sport for almost 15 years now. I set out to showcase the guys who create some of the biggest buzz inside their programs by displaying the rare physical abilities that wow folks who are typically used to observing gifted athletes. This list is compiled with the help of many coaches, players and sports information directors around the nation.
26. Drew Lewis, Linebacker – Colorado
The Buffaloes' cornerback Isaiah Oliver is a pretty good candidate for this list too as he excels for the Colorado track team, but I'm going with their 6'2", 220-pound inside linebacker. This spring Lewis broad jumped 10'10", which is better than any linebacker did at this year's NFL combine. He also power cleaned 345, second-most on the entire team, and squatted 435 for six reps. Lewis has quite the pedigree. His dad, Will, played CB in the NFL and CFL and is now the director of scouting for the Kansas City Chiefs. His uncle, Tim, was a standout DB at Pitt who was a first-round pick by the Green Bay Packers. Drew's older brother Ryan is a cornerback at Pitt now. He also has three cousins who played football at Pitt, including former NFL DB-turned-front office man-turned-ESPN analyst Louis Riddick.
… Full story can be found here …
–
—
CU Launches Ralphie's 50th anniversary campaign
From CUBuffs.com … For five decades, University of Colorado live buffalo mascot Ralphie has roamed the sidelines in Folsom field.
Since 1967, CU's beloved mascot has led the team out on to the field before games. After well over 300 games and many more appearances, the University of Colorado will celebrate Ralphie's 50th Anniversary this 2017 season and the year-long celebration was launched Tuesday night at the Fourth of July firework show at Folsom Field.
Ralphie, with a team of varsity student-athletes called Ralphie Handlers, is a symbol of Buff pride and is best known for leading the football team onto the field on game day. As one of the most exclusive sights in college or professional sports, even opposing teams are excited to watch her round the end zone and fly by their sideline.
Each year, about 15 Ralphie Handlers train for many hours to run with Ralphie in the most thrilling mascot display in all of college sports. They have to be strong and fast to run with Ralphie V who weighs to 1,200 pounds and can run up to 25 mph.
Being a Ralphie Handler takes up to 30 hours a week during football season and up to 15 hours a week the rest of the year. While the Ralphie Handlers are volunteers, the Ralphie Live Mascot Program uses donations to pay for everything else—including premium hay, care for Ralphie, custom harnesses, ropes, gloves, travel, and Nike workout and game gear for the handlers.
As part of the 50th Anniversary, CU is looking to continue the legacy of its live mascot Ralphie and her handlers. It has set a goal to raise $50,000 by the end of the 2017 football season to keep the Ralphie program alive and well.
Fans of Colorado and Ralphie lovers can make a direct donation to the Ralphie Handler program online through the crowdfunding page CU has set up.
Click here to go to that crowdfunding page.
CU is also offering rewards for those who donate this fall to the Ralphie program and fans are encouraged to share widely on social media their fond memories of Ralphie.
–
—–
July 4th – Happy Independence Day!!
… CU in a few minutes … 
Mike MacIntyre: "The team is real confident in Steven Montez" 
From the Daily Camera … To this point, Mike MacIntyre's tenure as the head football coach at Colorado has been synonymous with the career of quarterback Sefo Liufau.
Both arrived in Boulder for the 2013 season. Both endured three excruciating losing seasons. And, together they were the faces of CU's resurgent 2016 season, in which the Buffs went 10-4 and won the Pac-12 South division with an 8-1 conference record.
Even as Liufau battled injuries last season, MacIntyre stuck with his veteran quarterback, who is CU's all-time leading passer and yet became more of a running threat during the second half of last season.
MacIntyre and the Buffs now enter a new era, so to speak, as Liufau has exhausted his eligibility and sophomore Steven Montez is set to take the reins of the offense.
The young gunslinger appears ready to handle the job.
"I'm excited, to say the least," Montez said.
… It would not be a surprise to see Montez challenge Liufau's single-season CU record for touchdown passes (28, in 2014) or passing yards (3,200, also in 2014). It also wouldn't be a surprise if he challenged the CU record for most interceptions thrown in a season (16, by John Hessler in 1997), because of his gunslinger mentality.
… Continue reading Daily Camera quarterback preview here …
–
—–
July 3rd
… CU in a few minutes … 
Buffs' defensive line talented, but inexperienced
From the Daily Camera … Every week throughout the 2016 season, the Colorado football team knew what it would get from its defense line.
Jordan Carrell, Samson Kafovalu and Josh Tupou were not only stout up front, but reliable. Week in and week out, that trio — all seniors — showed up to play.
With all three now gone, the Buffaloes face the task of finding not only a new set of starters, but some quality depth behind them.
"We still have a ways to go," defensive coordinator D.J. Eliot said after spring football. "(Senior Leo Jackson III) is the only one with any game experience, so when the lights come on, some of those guys are going to have to get used to playing in that environment, but I think we have a group of guys to work with."
Technically, Jackson isn't the only defensive lineman with game experience, but he's got a lot more than anyone else on the roster and will be counted on as a leader up front.
"I expect a lot out of him," defensive line coach Jim Jeffcoat said.
… Continue reading Daily Camera defensive line preview here …
–
—–
July 2nd
… CU in a few minutes … 
Hagan v. Johnson in basketball benefit dedicated to Rashaan Salaam for Mental Health and Suicide Prevention
From Eventbrite.com … Join us at the DeVaughn Levy-Hagan Memorial Basketball Game!
Watch Buff Legends Darian Hagan vs. Charles Johnson compete with their teams of CU Alumni Athletes and Friends.
This benefit is dedicated to Rashaan Salaam for Mental Health and Suicide Prevention.
Proceeds will benefit nationally touring critically acclaimed play 'A Day for Grace' serving communities to address these issues.
Tickets include admission to the basketball game and Pasta Jay's dinner with the players following the game
Event Sponsored by Pasta Jay's and Bovine Metropolis Theater
When:
Saturday, July 22, 2017, 3–7pm
Where:
Boulder Country Day School Gymnasium
4820 Nautilus Court North
Boulder, Colorado 80302
Ticket prices include basketball game and dinner:
$25 for Adults
$10 for Kids
Sponsor Packages: (Click on Tickets for details and to purchase a package)
$1000 Slam Dunk Sponsor
$500 Full Court Sponsor
$250 Three Point Sponsor
$100 Free Throw Sponsor
This year's basketball game will be held at Boulder Country Day School Gymnasium and will be followed by dinner with the players. All attendees receive a ticket for the game 3-5pm and will join the players for dinner from 5-7pm. Bidding for the silent auction items will available online starting at 11am.
Funds raised will support the Fall 2017 Boulder StoryHealers production of A Day for Grace
Boulder StoryHealers mission is to humanize and improve mental health through the power of storytelling
Boulder StoryHealers is a project of the Colorado Mental Wellness Network, a 501(c)3.
For more information on this event, please contact Jessica Vincent at 720-220-3549 or e-mail at jessica@boulderstoryhealers.org
–
—
Phillip Lindsay: "For me, I'm never satisfied with what I've done"
From the Daily Camera … Throughout the history of Colorado football, there have been some great running backs to come through Boulder.
All the way back to Kayo Lam and Byron "Whizzer" White in the 1930s, CU has had a tradition of stellar backs, including Charlie Davis, James Mayberry, Eric Bieniemy, J.J. Flannigan, Chris Brown, Rodney Stewart and, of course, the late Rashaan Salaam, who won CU's only Heisman Trophy in 1994.
Coming into this season, senior Phillip Lindsay has a chance to do something none of the greats ever did.
Lindsay rushed for 1,189 yards last season and could become the first player in CU history to post back-to-back 1,000-yard seasons. Bieniemy, CU's all-time leading rusher and one of the men who recruited Lindsay to Boulder, is the only player in program history with two 1,000-yard seasons (1988 and 1990).
A Denver native, Lindsay could put himself among the top three rushers in CU history with a great season, and he could wind up among the top 15 in receptions, as well.
… Continue reading the Daily Camera running back preview here …
–
—–
July 1st
… CU in a few minutes … 
Buffs' weakest link? Perhaps it's the linebacker corps
From the Daily Camera … Colorado football fans have yet to get much of a look at the players that will man the middle of the Buffaloes' defense.
Head coach Mike MacIntyre has seen enough, however, to feel confident that CU will once again get quality play from its inside linebackers.
Led by junior Rick Gamboa, who has racked up 175 tackles over the past two years, CU's inside linebackers are talented, but mostly unproven.
"I feel good about all those guys," MacIntyre said. "If our linebackers stay healthy, Rick Gamboa can make plays and Drew Lewis and Akil (Jones) can run like the wind. We just have to find some other guys to help us on special teams and fill in for injuries and be ready to go."
… Continue reading the Daily Camera linebacker preview here …
–
—–
June 30th
… CU in a few minutes … 
CU to host Football Women's Clinic on July 19th
From CUBuffs.com … Your chance to roam with the Buffaloes is back, as CU is once again hosting its Colorado Football Women's Clinic coming up on Wednesday, July 19.
This clinic will provide women an insider's look at how the CU staff and coaches work to identify, recruit and sign top student-athletes. Attendees will learn about the recruiting process, receive behind-the-scenes access and have an opportunity to participate in on-field drills.
The event is intended to provide a comfortable setting for women to get an exclusive education and experience with the football staff and coaches.
Note: Please note that while this program is designed for women, registration is not limited to women. Tennis shoes and casual dress is highly recommended as there will be interactive skill stations. All attendees will be required to fill out a medical waiver prior to participation.
Registration: Go to www.cubuffs.com/events. Please register no later than Friday, July 14.
Location: Registration will take place in the third-floor lobby of the Champions Center. Detailed parking and access directions will be sent to all registered attendees.
When, Where: Wednesday, July 19, 2017 – CU's Champions Center. Registration/reception opens at 5 p.m. with presentations to begin at 5:30 p.m.
Cost: $35 per person. Includes official gift, light snacks and beverages.
–
—
This just in: CU wide receiver corps one of the best in the country
From the Daily Camera … Colorado quarterback Steven Montez has only three career starts under his belt, but he's got the confidence of a veteran.
And, why shouldn't he? As he comes into this next season as the Buffs' likely starter, he's got a group of receivers that most quarterbacks in the country can only dream about. National publications all rank the Buffs' receiving corps among the top five in the country and many have them in the top two.
Most of those rankings are based on what the Buffs have coming back. Of the 214 passes caught by CU receivers last year, players responsible for 213 of those are back. That includes Devin Ross (66 catches), Shay Fields (52) and Bryce Bobo (41), who are all seniors.
… Continue reading Daily Camera wide receiver preview here …
–
—–
June 29th
… CU in a few minutes …
CU in good shape at the safety positions even after the graduation of Tedric Thompson
From the Daily Camera … Throughout his first two seasons with the Colorado football team, safety Afolabi Laguda was impressed with the play of teammates Chidobe Awuzie and Tedric Thompson, who are now in the NFL.
Laguda was even more impressed with how those two performed off the field.
"I saw them work countless hours to be in the positions they are in now to go to the next level," Laguda, a senior, said this past spring.
That example has inspired Laguda, who is now one of the leaders of the defense. While Awuzie (who played cornerback) and Thompson (last year's starter at strong safety) are now gone, Laguda has no doubt that the Buffs can still be very good, especially at safety.
Thompson will be tough to replace, but the Buffs (10-4, 8-1 Pac-12 last year) are stacked with experience and talented veterans at safety.
… Daily Camera preview of the CU safeties can be found here …
–
—–
June 28th
… CU in a few minutes … 
Buff offensive line: "We have a lot of experience"
From the Daily Camera … Two years ago, the constant shuffling of offensive linemen proved to be one of the main problems for the Colorado football team, which went 4-9 in 2015.
Going into the 2017 season, CU head coach Mike MacIntyre is confident enough in his linemen that he thinks some shuffling would be good for the Buffs.
Four starters are back from a line that was much improved in helping CU go 10-4 and win the Pac-12 South last year, and the young talent is as good as it's been in years.
With preseason camp just a month away, the Buffs aren't sure who will wind up as their starting five linemen, but they like their options.
"If we can (rotate linemen) this year, we can keep them fresh and fast," MacIntyre said this spring. "As many plays as we play, that'll give us an advantage."
… Continue reading offensive line preview here …
–
—–
June 27th
… CU in a few minutes …
Buffs4Life continues its good works
From the Daily Camera … Every year, when a new set of young athletes arrives on the Colorado campus, they have visions of scoring touchdowns, hitting game-winning baskets or crossing a finish line before the competition.
Leaving the CU campus doesn't mean leaving the Buffaloes' family, however. In fact, Jon Embree and many former Buffs have made it their mission over the past 11 years to strengthen that bond between Buffs past and present.
This past weekend, the Buffs4Life organization conducted its annual family weekend of events, including the Kyle MacIntosh Memorial Fun Run, family barbecue and pool party and 12th annual golf tournament and awards dinner.
"It's reunited guys and got guys reconnected," said Embree, a former CU tight end and head football coach and founder of Buffs4Life. "When you leave and go a bunch of different directions and start having kids and families, sometimes you lose contact. This has been a way for a lot of guys to come back and reconnect."
The weekend events brought many former Buffs together, including football players Joel Klatt, Ronnie Bradford, Darian Hagan, Jashon Sykes and Vance Joseph, who is now the head coach of the Denver Broncos. Former CU basketball players Levi Knutson and Beau Gamble, and Buffs from other sports were also in attendance.
… Continue reading story here …
–
—
Quality wide receiver corps helping young defensive backs improve
From Neill Woelk at CUBuffs.com … Throughout 2016, the Colorado Buffaloes' wide receiving corps honed its skills on a daily basis against one of the best secondaries in the nation, one that ultimately produced three picks in the 2017 NFL Draft.
This year the tables are turned. Every one of those Buffs receivers from last year's team is back, along with some other ultra-talented wideouts. Now, a younger, less-experienced — but still very talented — secondary will test itself daily against a group that is already being touted as one of the best overall receiving corps around.
"Last year was killer," Buffs wide receiver Bryce Bobo said recently. "We had Chido (Awuzie), Tedric (Thompson), Ahkello (Witherspoon), Fo (Afolabi Laguda). We were going up against the best in the nation every single day. When you do that, you feed off each other's energy and it just gets you better as a player because you're developing against the best competition there is."
Not that there won't be some experience in the CU secondary next fall. Laguda returns at safety, as will safety/Buff back Ryan Moeller, and Isaiah Oliver is back at corner. All have significant starting experience. Also back after a year away from the program is Evan Worthington, who will likely see time at nickel, safety and perhaps even Buff back.
But the Buffs also have a host of youngsters vying for playing time in the secondary, a group that includes junior Nick Fisher, sophomore Anthony Julmisse, junior college transfer Dante Wigley and redshirt freshmen Ronnie Blackmon and Trey Udoffia.
They won't have to go far to get better. Some of the best players they will see all year will be lined up across from them in practice, a group that includes Bobo, Shay Fields, Devin Ross, Kabion Ento, Jay MacIntyre, Juwann Winfree, Johnny Huntley — as well as a host of talented incoming freshmen.
–
—
Year-end email update from CU athletic director Rick George
From CUBuffs.com … Our 128th year of intercollegiate athletics is officially in the books, and when all was said and done, it was one of our most successful years across the board.  I'd like to highlight some of the top achievements of the past 10 months.
We have 17 programs, but with skiing a coed program, there are 16 that can be ranked – and at one time or another over the course of the year, 15 were ranked in their respective national Top 25 while 14 competed in the postseason in either NCAA Championships or their respective equivalents.
It was quite an exciting year for the football program, starting with winning the Pac-12 South in record turnaround fashion and going to a bowl game for the first time in nine years.  The crowds at Folsom grew throughout the season and culminated with a sellout against Utah, our first in eight seasons.  And wrapping things up with a consensus top 30 recruiting class, which was also deemed the most improved class over the previous year by 24/7 Sports.
I am very proud of the turnaround experienced this season by our women's basketball team under first-year coach JR Payne.  We improved from 7-23 to 17-16 and reached the third round of the women's NIT.  One of if not the most competitive conferences in the sport, sophomore Kennedy Leonard earned unanimous first-team All-Pac-12 Conference honors.
How about the week ending March 12?  We had nine of our student-athletes crowned individual national champions.  It started with skiing on Wednesday (March 8), when freshman David Ketterer won the NCAA Giant Slalom.  The next day, junior Petra Hyncicova captured the NCAA Classical title, with Ketterer adding the slalom crown Friday morning.  Later that day, our women's distance medley relay team comprised of Tabor Scholl, Elissa Mann, Sage Hurta and Dani Jones won the indoor NCAA title.   And then on Saturday morning, Hyncicova made it a double sweep for the skiers as she won the freestyle, and to top off the national titles, Jones won the 3,000-meter run for her second title.
Our fourth year of competing in women's lacrosse became a landmark one, with Coach Ann Elliott's team finishing with a 16-4 record and earning its first-ever NCAA tournament berth.  There are only 26 teams in the country who receive an NCAA bid and to be one of those teams with a program that had been in existence for four years was quite an accomplishment.   The team ascended to as high as No. 4 in the polls, winning their first 11 games and finished second with an 8-1 mark in our last year competing in the MPSF; the Pac-12 Conference will begin to sponsor the sport in 2018.  Two of our top student-athletes, Darby Kiernan and Page Soenksen, were on the watch list for the Tewaaraton Award, presented to the top female college lacrosse players in the country.
Combined, our women's and men's cross country and track programs had an outstanding year.  Beginning with a sweep of the Pac-12 Championships in cross country in October to third and fourth place finishes in the league's outdoor meet with great things in-between.  In the USTFCCCA NCAA Division I Program of the Year Standings, our women placed second and the men 12th (those are computed by where each program finished in the NCAA Championships).  Only Oregon, which pulled off the rare triple of winning all three titles, was ahead of our women.
The Sportswomen of Colorado bestowed on our very own Ceal Barry its prestigious Lifetime Achievement Award.  She received the honor on March 12, and at the same banquet, Mark Wetmore was recognized as its Collegiate Coach of the Year and two of our student-athletes as Collegiate Skiers of the Year, Tonje Trulsrud (alpine) and Petra Hyncicova (Nordic).
The Colorado Sports Hall of Fame recognized several with CU ties at its annual awards banquet in April; MacIntyre was selected as "King of the Hill," an honor bestowed upon a person with great accomplishments.  Our two bronze medal winners in the Rio Olympics, Jenny Simpson and Emma Coburn were named the co-female athletes of the year.  And alums Jeremy Bloom (football, Olympic skiing) and John Wooten (football) were inducted into the Hall, the 49th and 50th Buffaloes to enter the state's Hall, the most from any entity.
And here are some "one-liner" tidbits for you:
Three of our coaches were recognized with "Coach of the Year" honors: Mike MacIntyre for both the Pac-12 and as the consensus national; Mark Wetmore as the Pac-12 selection for both men's and women's cross country; and Ann Elliott the choice for the MPSF in lacrosse;

We had 63 student-athletes make the various Pac-12 All-Academic teams, along with 13 named to the National All-Academic Ski Team and 22 more between lacrosse and the indoor track teams to the MPSF academic squads;

We had 39 athletes either named or earn All-America honors (20 first-team);

In the Pac-12, we had 37 All-Pac-12 performers (12 earning second-team status), while 10 skiers earned All-RMISA honors and eight lacrosse players garnered all-MPSF accolades;

This past spring semester, our 350-plus students-athletes posted two school record grade point average numbers: 2.994 for the spring term and a 2.970 cumulative figure (six straight semester terms over a 2.9, and seven straight where the cumulative average has exceeded 2.9).

Four players were selected in April's NFL Draft, while soccer standout Danica Evans was the 22nd overall selection in the February NWSL Draft;

Soccer also enjoyed a dramatic turnaround, going from last to second in the Pac-12 (1-8-2 to 8-2-1) and advancing to the NCAA second round where it took a late goal by top-seeded South Carolina to end their season;

Both David Ketterer (Alpine) and Petra Hyncicova (Nordic) were named the national skiers of the year for their respective disciplines;

Hyncicova, Dani Jones (track) and Derrick White (basketball) were our athletes of the year among several award winners at our annual CUSPY's in April;

Late last week, the San Antonio Spurs selected White with their first round pick (29th overall) in the 2017 NBA Draft – Derrick is our third first rounder this decade;

Senior Esther Lee's 11-under par 61 in September was the low round of the year in women's NCAA play as she led the Buffs to a second place finish in the Pac-12, a program best, and their second best final season ranking (21st);

Lee's freshman teammate, 19-year old Robyn Choi, qualified for the U.S. Women's Open (July 13-16 in New Jersey) with a 67-72—139 effort in May's sectional qualifier;

The men's golf team at one point was ranked No. 18, its highest ranking at any point in the spring since 1981 and recorded the nation's low single round, a sizzling 22-under par 266 in February's Wyoming Desert Intercollegiate;

Our Tom Hansen Medal Winners (presented by the Pac-12 to each school's outstanding senior athletes) were Haley Smith (basketball) and Jaron Thomas (track & field);  Haley was also our nomination for the NCAA "Woman of the Year" honor;

The volleyball team defeated five top 25 opponents in Jesse Mahoney's first year as coach, one shy of the school record, and peaked at No. 16 in the polls;

Senior running back Michael Adkins was one of 10 student-athletes representing six schools from the Pac-12 earlier this month in Indianapolis at the NCAA's Career in Sports Forum;

Tad Boyle is on the coaching staff of the USA Basketball Men's U19 World Cup Team — he is one of two assistants to Kentucky's John Calipari, who is the head coach; the other is Tad's former college teammate, Danny Manning.  The team will compete 

July 1-9

 in Cairo, Egypt;

Many of you are familiar with "The Rise" series our sports video department under Jamie Guy created last fall; once again, Jamie and John Snelson are up for a Heartland Emmy (they already have two in their trophy cases);

For the third time 

in four years

, our sports information department was honored with the "Super 11" Award from the Football Writers Association of America;

In our "Drive to 105," we surpassed the one-hundred million mark and stand at just over $100.6 million;

Our brand new Champions Center is one of three finalists for the USG NACDA Sustainability Award, which recognizes those institutions that have demonstrated innovation and initiative in implementing sustainable building practices;

And through the first three quarters of the fiscal year, we're up some 20 percent in overall licensing royalties.
All of us were excited when one of the fast-rising stars in the broadcast journalism world – Kate Fagan – gave this year's commencement address at CU's graduation ceremony.  Kate lettered four years in basketball for Ceal and has been in various roles at ESPN since 2012, including writing for ESPNW and appearing on several of the network's popular discussion programs.
As we put the 2016-17 finishing touches on our academic and athletic year, we are also saying goodbye to one of the longest tenured employees anywhere on the CU campus: our longtime audio and visual engineer, John Templeton, will retire on June 30 after 44 years of service to the university.  If you missed Neill Woelk's story on CUBuffs.com, here's the link: http://www.cubuffs.com/news/2017/6/9/general-after-44-years-at-cu-templeton-stepping-down.aspx?path=general.
Best wishes to all for a great summer and we hope to see you when the '17-18 season commences on August 20th with the first home event against Colorado College in women's soccer.
C ollaboration and U nity,
Rick George
Athletic Director
–
—–
June 26th
... CU in a few minutes … 
Who will replace Awuzie and Witherspoon at cornerback? 
From the Daily Camera … When he was hired as Colorado's defensive coordinator in January, D.J. Eliot was well aware that the Buffaloes were losing two NFL-caliber cornerbacks.
It didn't take Eliot long, however, to realize that the Buffs have a pretty darn good corner coming back.
"Isaiah Oliver wasn't necessarily listed as a starter last year, but he's a really good player," Eliot said at the conclusion of spring drills. "He's very impressive with his coverage skills and his effort and his toughness. I've been very pleased with him."
… As for the other side of the field, that's still a mystery. The Buffs will go into the fall with several players competing for a starting role at both corner and nickel.
… Read the full cornerback preview from the Daily Camera here …
–
—
Frazier, Huckins participate in NFL Careers in Football Forum
From CUBuffs.com … University of Colorado football student-athletes George Frazier and Jonathan Huckinsrecently returned from a weekend trip to San Francisco where they participated in the NFL Careers in Football Forum put on by the Pac-12 Conference.
Frazier, a senior who is earning concurrent degrees (bachelor's in ethnic studies and a masters in educational foundations, policy and practice), and Huckins, also a senior who is studying economics, were among a group of 19 football players from across the conference to attend the two-day educational forum where they were introduced to both NFL and Pac-12 staff members.
"It was a great experience to meet other players in the Pac-12 that have the same mindset that I have and are trying to do the same things," Frazier said. "It was a great networking opportunity and it was cool to talk to a lot of people in the Pac-12 and in the NFL network to see what they do and how they got there."
… Continue reading story here …
–
—–
June 25th
… CU in a few minutes … 
Former Buffs Emma Coburn and Jenny Simpson continue to rack up titles
From the Daily Camera … Former University of Colorado runners Jenny Simpson (1,500) and Emma Coburn (steeplechase) earned national titles on Saturday at U.S. outdoor track and field championship in Sacramento, Calif.
Another former Buffalo, 31-year-old Sara Vaughn, finished third in the 1,500.
"We have an enormous school pride," Simpson said.
Coburn, who won the bronze medal in Rio, secured her spot to represent Team USA at the World Championships when she won the steeplechase final in 9 minutes and 20.28 seconds, marking her sixth national title of her career.
Simpson won her fourth consecutive national title in the 1,500 with a powerful homestretch run to win the race in 4:06.33.
Vaughn executed a stunning come-from-behind effort to claim the third and final spot with a finishing time of 4:07.85, less than a second ahead of fourth-place finisher Lauren Johnson.
… Continue reading story here …
–
—–
June 24th
… CU in a few minutes … 
Linebacker coach Ross Els taking on special teams coaching duties
From the Daily Camera … While the Colorado football team had a fantastic season in 2016, its special teams were not exactly special.
That phase of the game was clearly a weakness for the Buffaloes throughout the season. In fact, special teams have been an issue for the past couple of years.
CU's field goal percentage over the last two seasons (63.6 percent) is the worst in the Pac-12. After getting six kicks blocked in 2015, the Buffs had four blocked last year (they had a total of two blocked from 2012-14). Opponents scored three touchdowns with CU's punt team on the field last year.
Head coach Mike MacIntyre took some steps in the offseason to address the special teams issues.
In February, Ross Els was hired to coach linebackers, but he was also brought in because of his extensive experience with special teams. The Buffs went with a committee approach to coaching special teams last year, but MacIntyre said this spring, "It's still a little bit up on the air, but basically (Els) is going to be doing the special teams."
… Read the Daily Camera's special teams preview here …
–
—
CBS Sports – Take the "under" on CU's 7.5-win total 
From CBS Sports … The 2017 college football season is less than three months away with media days starting in mid-July to kickstart prediction season among college football writers and analysts. The sportsbooks, however, don't wait for expert picks or preseason previews to start setting the expectations for the fall, releasing title odds and win totals throughout the offseason.
We're going to be making individual team picks for all of the Power Five conferences using the full 130-team FBS list released by the South Point Sportsbook earlier this month.
Colorado — 7.5 (Under): Colorado was one of my favorite stories of the 2017 season. The Buffaloes seemingly came out of nowhere to go 10-4 and win the Pac-12 South. Unfortunately for the Buffs, I don't see the same kind of magic taking place in 2017. The biggest key to Colorado's turnaround was its defense last season, and not only do the Buffs lose nine starters from last year's team, but defensive coordinator Jim Leavitt left to take the same gig at Oregon. I just don't think Colorado is at a point where it can reload quickly enough to get to 8-4 after so many significant departures.
… Read about predictions for other Pac-12 teams here …
–
—–
June 23rd
… CU in a few minutes … 
Buffs receive Pac-12 South division championship rings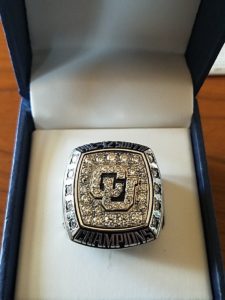 From CUBuffs.com … The University of Colorado football program was presented with their 2016 Pac-12 South Division championship rings Friday Night in the Petry & Harrington Family Auditorium on the third floor of CU's Champions Center.
The rings are quite a spectacular reward presented to the student-athletes, coaching staff and support staff for The Rise of the Buffaloes last year. With a 8-1 league record, Colorado won the Pac-12 South Division to make its first Pac-12 Championship game appearance before going on to play in the Valero Alamo Bowl. CU finished the year with a 10-4 record, the eighth 10-win season in program history and first since 2001.
The team was fed a lobster and steak dinner before watching a highlight video specially prepared for the unveiling of the championship rings. CU head coach Mike MacIntyre had the entire program then open up the boxes with their rings at the same time.
"From the bottom of my heart, from the deepest part of my soul, I thank everybody in here," MacIntyre told the room filled with players, coaches and support staff. "Everybody in here is getting a ring and people associated with this program have made your dreams and my dreams come true."
A number of seniors off the 2016 team returned for the ring celebration, including 2017 NFL Draft picks Chidobe Awuzie, Jordan Carrell and Ahkello Witherspoon.
"I always wanted a ring. In high school we came up short, the first few years in college we came up short, but it is so gratifying to get one now," Awuzie said. "Coming back here to Colorado to see all my best friends, my teammates I grinded so hard with, it's looking pretty. I love having this ring and it is a symbol of all the work we put in these last four years."
What's to Come
With this year's Colorado unit in the middle of its summer strength and conditioning period, and fall camp opening in just 35 days,Friday's dinner and ceremony served as a reminder to the team of what all the hard work they are putting in now is for.
There is a big sense of urgency on this team not to see a drop-off from a championship level.
"This is all cool and everything, but we have to go in there and produce again," said running back Phillip Lindsay, who was a captain on the 2016 team and returns next year once again as a team captain. "We got to go in there and get a couple more rings. We have to get a Pac-12 Championship and we got to go to that Rose Bowl. That's our goal. Nothing less and that is what we are going to go for."
About the Season
Colorado in 2016, a year in which it was picked to finish dead last in the Pac-12 South Division, completed the single biggest improvement in league record from one year to the next. Finishing 8-1 in league play, that was a reversal from a 1-8 mark in 2015, or a difference in seven games.
In Pac-12 history, there are just two instances where a school won seven or more games in league play than it did the season before, with Colorado joining the 1940 Stanford team as the only ones to accomplish the feat. Stanford's 6½-game improvement that year had been the best from one year to the next, with three others improving by five games; but at a +7, last year's the Buffaloes became the league's all-time most improved team.
CU's turnaround registered nationally. Taking a closer look at the current landscape of the so-called Power-5 conferences (Atlantic Coast, Big 12, Big Ten, Pac-12 and Southeastern) and examining the history of those teams, CU's turnaround is up there with some of the all-time finest among college football's big boys. The Buffaloes became the ninth team among the Power-5 schools since 1972 to win 10 or more games after finishing the previous season with four or fewer wins (1972 was the year freshman became eligible to play NCAA Division I football, thus defining the modern era).
CU also became the third team in history to end a run of 10-straight losing seasons with a 10-win season.
–
—–
June 22nd 
… CU in a few minutes … 
Criminal case against Joe Tumpkin delayed in dispute over cellphone access
From the Daily Camera … The criminal case against Joe Tumpkin, the former University of Colorado assistant football coachaccused of assaulting his ex-girlfriend, has stalled as attorneys fight over how much access his defense team should have to the woman's cellphone records.
Tumpkin, 45, is charged with five counts of felony second-degree assault, and was scheduled for a preliminary hearing Thursday in Broomfield.
But that hearing was canceled after Tumpkin's attorneys asked the Colorado Supreme Court to weigh in on their conflict with the prosecution over evidence in the case — a move that could hold up proceedings for months.
According to the original appeal filed by Tumpkin's lawyers in Broomfield District Court, "the disclosure of the cellphone data has been an ongoing dispute between the parties."
… Continue reading story here …
–
—–
June 21st
… CU in a few minutes … 
Pac-12 South Division championship rings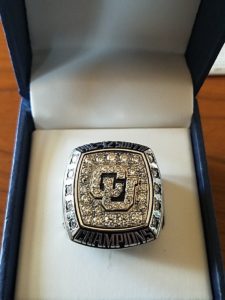 –
—–
June 20th
… CU in a few minutes … 
Jonathan Huckins: "We're going to have to work for everything possible"
From CUBuffs.com …  He's slimmer, trimmer, stronger and healthier.
Jonathan Huckins is ready to roll as his final season with the Colorado Buffaloes approaches.
"Everything feels good," Huckins declared recently. "Eating healthy has been a huge thing. I've dropped weight that I don't need, put on weight that I'm using in a good way, and I just feel healthier about it. My body feels good, and when you can feel that way and work it at the level that we do, it helps every facet."
Huckins, a senior offensive lineman, and his teammates are ramping up their summer strength and conditioning session, as well as player-led volunteer workouts. Everything is geared toward the July 28 opening of fall camp, which will set the stage for the Sept. 1 season opener vs. Colorado State in Denver (6 p.m., Pac-12 Networks).
The clock is definitely counting down, and this year, Huckins plans to be a key factor all season.
Huckins has battled injury and illness at times in his career at CU, but has still managed to get plenty of regular playing time. He had 10 starts in 2015 and was expected to battle for a starting spot again last season before a stomach ailment set him back in fall camp.
… Continue reading story here …
–
—–
June 19th
… CU in a few minutes … 
Single-game tickets and three-game packages now on sale 
From CUBuffs.com … Single-game tickets and a three-game ticket package for University of Colorado home football games went on sale for the first time Monday.
The single-game tickets are for one of six home games in Folsom Field only or one of CU's five road games; tickets to the Colorado-Colorado State game at Sports Authority Field at Mile High in Denver will go on-sale Wednesday, July 5.
Single-game ticket prices for Folsom Field start at $30 and the home slate features Texas State, Northern Colorado, defending Pac-12 Champion Washington, Arizona, California and Rose Bowl Champion USC visiting Boulder this fall.
Fans who are interested in attending more than just one game, but aren't able to do a full season package, can still save off the single game price with a 3-Game Pick Your Plan. Packages start as low as $86, and fans can pick a seat in any area of the stadium to customize the plan that works for them.
They will be available on-line at CUBuffs.com, in-person at the athletic ticket office in CU's Champions Center, or by phone (303-492-8337).
Season tickets are currently on sale starting at $175 and can be obtained in any of the aforementioned ways.
… Link to ticket options can be found here …
–
—
Linebacker Pookie Maka to transfer 
Pookie Maka, a red-shirt freshman linebacker, will not be with the Buffs this fall.
Maka was a member of the Recruiting Class of 2016,  and was considered to be a three-star prospect. When Maka signed with the Buffs, he had offers from a dozen other schools, including Washington, Utah, Oregon State, and Washington State from the Pac-12.
The Buffs loved Maka's pass rushing ability coming out of high school. On signing day in 2016, head coach Mike MacIntyre said, "I call him a heat seeking missile on the quarterback. The quarterback needs to find out where he is and he always plays with passion and effort."
According to Adam Munsterteiger at BuffStampede.com, Maka intends to transfer to a junior college in California this fall.
The loss of Maka will make it just that much easier for CU to get to the 85 man roster limit on August 1st, but it comes at the expense of one of the thinnest positions on the team. Michael Matthewes, junior college transfer Shamar Hamilton, and Sam Bennion will have an even greater opportunity to see playing time at outside linebacker this fall … along with true freshmen Dante Sparaco (who at least was an early enrollee, and was on campus this spring) Carson Wells, Jonathan Van Diest and Nate Landman.
–
—–
June 16th
… CU in a few minutes …
Details of Mike MacIntyre's contract
Courtesy of the Daily Camera … On Thursday, the Colorado Board of Regents voted to approve the contract extension of CU head football coach Mike MacIntyre. Below are some of the main details of that contract.
BASE/SUPPLEMENTAL SALARY
MacIntyre's base salary is $500,000 in the first year (2017) and will increase by $75,000 each year.
MacIntyre will receive $1.15 million per year in supplemental salary for radio, TV and other media and public appearances.
MacIntyre will receive $1.15 million per year in supplemental salary for sponsorship support (Nike).
Here's the breakdown of MacIntyre's annual base and supplemental salary:
2017: $2,800,000
2018: $2,875,000
2019: $2,950,000
2020: $3,025,000
2021: $3,100,000
Dec. 31, 2021: $100,000
Total of base and supplemental salary: $14,850,000
INCENTIVES
Potential incentives MacIntyre can earn each year. Maximum annual incentive total: $2.15 million (could only be reached if Buffs win the CFP national title)
1. Academic progress towards graduation for football players: Up to $100,000
2. Welfare and development of football players, including citizenship: Up to $100,000
3. Development of football program outreach, culture and reputation on campus: Up to $100,000
4. If football team attains graduation success rate of 75% each year: $50,000
5. If football team attains an APR rating of 980 after the academic year: $25,000
6. Football team wins national championship: $750,000

7. Football team wins 7 games in the regular season: $50,000
8. Each regular season win after 7 wins: $25,000
9. MacIntyre is selected Pac-12 Coach of the Year: $50,000
10. Football team wins Pac-12 Championship game: $50,000
11. MacIntyre wins AP and/or Walter Camp coach of the year: $100,000
12. Football team plays in a bowl game not affiliated with the College Football Playoff system: $200,000
13. Football team plays in a College Football Playoff bowl game: $250,000
14. Football team appears in College Football Playoff championship game: $400,000

BUYOUT

The liquidated damages section of MacIntyre's contract does not appear to have changed from the original contract. Here is what MacIntyre must pay CU if he terminates his contract early:

1. If deal terminated in first contract year (2017): $2.3 million
2. If deal terminated in second contract year (2018): $1.9 million
3. If deal terminated in third contract year (2019): $1.6 million
4. If deal terminated in fourth contract year (2020): $1.3 million
5. If deal terminated in fifth contract year (2021): $1 million

If MacIntyre is fired without cause, he is entitled to claim the remaining balance of his base and supplemental salary, as well as the total amount for items 1, 2 and 3 of incentive salary listed above.
–
—–
June 15th
… CU in a few minutes … 
CU Board of Regents unanimously approve Coach MacIntyre's contract
… Related … "MacIntyre Signs Contract Extension Through 2021" … From CUBuffs.com (story from January, when the contract extension was first announced
From CUBuffs.com … The University of Colorado Board of Regents today approved a contract extension for CU Boulder head football coach Mike MacIntyre.
The contract has the same terms as presented to the board in February, with the exception of added language regarding training and reporting responsibilities. The vote, which came as part of the board's consent agenda, was unanimous (note … Regents voted 8-0 to approve the contract, while Regent Linda Shoemaker did not vote. She left the table just before the vote and returned shortly after that … ).
"I appreciate the confidence in me the Board of Regents demonstrated by approving this extension," MacIntyre said. "I look forward to continuing to contribute to the success of our student-athletes in the classroom and community and on the football field."
–
—–
June 13th
… CU in a few minutes … 
George Frazier preparing to play on offense, defense and special teams
From CUBuffs.com … Just about every member of the Colorado football team is currently engaged in summer strength and conditioning sessions, working on specific drills that will make them better at their specific position.
But Buffs senior George Frazier isn't limiting his drills. He can't. The two-time CU captain is preparing to play offense (tight end/H-back), defense (defensive line) and special teams (he's played on every kicking team at some point). While he's not sure where he will play or what position — he played on both sides of the ball in spring practices — he is making sure he will  be ready for anything and everything when fall camp rolls around.
Frazier is a rarity in today's college football world for a number of reasons.
One is the fact that he has played on both sides of the ball in college. In his three previous seasons, he has recorded 15 tackles on defense (including three for loss) and one pass defended, while also scoring four touchdowns rushing and another receiving. He's also been among the team leaders in special teams production each year, and has proven to be a quality blocker, particularly in goal-line situations.
But what might be most impressive about Frazier is the respect he has earned from his teammates. While his statistics — on either side of the ball — are by no means eye-popping, the fact that he is a two-time team captain as selected by his teammates is a testimony to his importance to the team on the field and in the locker room.
… Continue reading story here …
–
—
Former Buff standout Nate Solder planning one day camp in Buena Vista on July 1st
Press release from CUBuffs.com … University of Colorado alum and Super Bowl champion Nate Solder is returning to his roots and will headline a one-day football camp on the fields where he played his high school football.
Solder, currently an offensive tackle with the Super Bowl champion New England Patriots, starred at CU late last decade.  He played his prep ball at Buena Vista High School, and is returning to Colorado and the mountain town of Buena Vista to take part in the camp at his alma mater on Saturday, July 1.
The "2017 Buena Vista Football Camp" will be broken down into two three-hour sessions: the morning runs from 8-11 a.m. for those entering the third-through sixth grades this fall, with the afternoon camp set for 12-3 p.m. for those entering the seventh-through 12th grades.  All positions and skill levels are welcome.
Solder will be joined by several players, including Connor McDermott, Brian Stork and Ryan Wendell, teammates from the Patriots, along with a few other NFL stars from the Denver Broncos, Carolina Panthers and New York Jets.  A few former CU teammates will also be participating, including Scotty McKnight, Ryan Miller, Jason Brace, Eric Lawson and Keenan Stevens.
"I am really looking forward to returning home to Colorado and engaging in this camp with several friends I have made playing in the NFL.  We know it will be a great experience for those who will participate.
"I haven't been home in a while and I have been wanting to have my NFL friends out for a long time."
The cost to attend the camp is just $25 and includes instruction and a camp T-shirt.  While walk-ups will be accepted the day of the camp, it is preferred that those interested register in advance.  To register or for more information, please email Lexi Solder at lexisolder@gmail.com.
Buena Vista High School is located at 559 S. Railroad Street in Buena Vista, which is located about 60 miles west of Colorado Springs off U.S. Highway 24 (approximately 75 miles southwest of Denver).
Proceeds will be put toward the Johnson's All-Heart Award, which is given to a Colorado high school assistant coach that is not only involved with kids during sports, but also invests time outside the season of sports in helping develop successful young adults.  It is presented in the name of the Johnson Family, of which five members died in September 2013 in a rock and mudslide about 8 miles from Buena Vista.  The parents, Dwayne and Dawna Johnson, were both coaches at BVHS; they lost a daughter and two nieces but were survived by daughter Gracie and son Dakota.
–
—–