—
Pac-12 Notes
—
January 17th
… Foe Pause … 
Arizona State president Michael Crow on the Pac-12: "Relative to the long term, we're doing exceedingly well on every front"
From azcentral.com … In a season of widespread discontent about the Pac-12 — be it leadership, financial health or on-field performance — Arizona State President Michael Crow preaches patience and perspective.
If Crow was delivering a sermon on the Pac-12, it would be out of Ecclesiastes 3. To everything there is a season … a time to get, and a time to lose; a time to keep, and a time to cast away.
Except Crow is not among the growing crowd that wants to cast out 10th-year Pac-12 Commissioner Larry Scott.
Crow was chair of the Pac-12 CEO group when Scott was hired in summer 2009 and one of only three Pac-10 presidents/chancellors then who are still around among the 12 today. The two others are UCLA's Gene Block and Oregon State's Ed Ray.
… "To some extent, I don't really understand (the criticism)", Crow said. "What I mean by that is when I came here in this job 16 years ago, the conference had very little income, the conference was not highly capable of doing all the things we're now capable of doing.
"Several of us including myself decided we needed to go in a new trajectory. We decided to acquire a new commissioner, do a new television contract and launch a network. Also to expand the conference from 10 to 12.
"Of the 10 presidents that were in the room at the time, three of us are still there. All the others have traded out. Now what we have is people arriving on the scene now and they're looking around and saying look at all the resources the SEC has and look at all the resources the Big Ten has, and we don't have the same resources. We're like no, but as soon as our contracts are renegotiated, we'll have more and we're extremely well positioned with our network to do all kinds of things.
"I'm basically urging everyone, it's a long-term play so you have to take a long-term view. Relative to the long term, we're doing exceedingly well on every front and we have more control. The others have sold their networks to commercial entities and thereby have lost control of their networks and lost control of their scheduling and other things, and we have not.
"I don't know who's doing all the portrayals (of Pac-12). If they're looking at income from the Big Ten and the SEC, yes our income is lower than theirs. If they're looking at our particular football performance, mediocre compared to others but lots of new coaching appointments, lots of new opportunities … ".
… Continue reading story here …
–
—–
January 16th
… Foe Pause … 
Mike Leach: NFL prejudice against Air Raid offense "just NFL arrogance and lunacy"
From Football Scoop … The Air Raid is so popular right now that one of Leach's former players just got an NFL head coaching job after going 35-40 in six seasons at the college level.
The revolution is over, and the rebels have won.
So, how does Leach feel about his offenses infiltration of the NFL? Naturally, he loves it. "You can run the whole thing," Leach told KJR-AM in Seattle on Tuesday. "Any notion that 'anything you can run in college, you can't run in the NFL,' that's just NFL arrogance and lunacy."
Leach then tore into — in the way only Leach can — pretty much the only objection against the Air Raid left.
"I think the stupidity of the NFL hits a new low every time I hear this: 'I've never seen the quarterback take a snap from under center.' Oh really? You haven't seen him take a snap under center," Leach said. "You're at the highest level. Somehow you've squirmed and crawled, probably very similar to Gollum from Lord of the Rings, and found yourself in the NFL and somehow you have the total inability to teach a guy to take a snap. Aren't they proud to have you? Every 7th grade coach in the country can teach a guy to take a snap… Well, obviously it's because he can't. He's got an inability to stick his hand under somebody's ass and pluck a ball away once it's placed at the top."
… Continue reading story here …
–
—–
"Way Too Early" 2019 All-Pac-12 teams include several Buffs
From Pacific Takes … Just want to give a very early look at how our 2019 preseason All-Pac-12 teams could look come August. Transfers, injuries and various other offseason craziness could change these a lot in the next eight months.
First Team
Offense
QB Justin Herbert Sr. Oregon
RB Eno Benjamin Jr. Arizona State
RB Jermar Jefferson So. Oregon State
WR Laviska Shenault Jr. Colorado
WR Michael Pittman Sr. USC
TE Colby Parkinson Jr. Stanford
OL Trey Adams Sr. Washington
OL Nick Harris Sr. Washington
OL Jake Hanson Sr. Oregon
OL Calvin Throckmorton Sr. Oregon
OL Abe Lucas So. Washington State
Defense
DL Bradlee Anae Sr. Utah
DL Leki Fotu Sr. Utah
DL Christian Rector Sr. USC
DL Mustafa Johnson Jr. Colorado
LB Evan Weaver Sr. Cal
LB Troy Dye Sr. Oregon
LB Colin Schooler Jr. Arizona
DB Jaylon Johnson Jr. Utah
DB Julian Blackmon Sr. Utah
DB Myles Bryant Sr. Washington
DB Camryn Bynum Jr. Cal
Special Teams
K Jet Toner Sr. Stanford
P Oscar Draguicevich Jr. Washington State
R Travell Harris So. Washington State
–
Other Buffs:
Second team defense: LB Nate Landman Jr. Colorado
Third team offense: OL Will Sherman So. Colorado
Honorable mention offense: OL Tim Lynott Sr. Colorado
–
—–
January 15th
… Foe Pause … 
Jon Wilner – Oregon and Utah big winners as Pac-12 has fewest early NFL defections in years
From the San Jose Mercury News … At this point, there are 10.
That number could increase as news trickles out over the next few days. But with the NFL's early-entry deadline having come and gone, it appears the Pac-12 suffered limited damage.
It's all about degrees, right?
The number of underclassmen declaring for the 2019 draft wasn't going to be zero, and it wasn't going to be limited to two or three.
But in both size and quality, the list of departures constitutes a best-case scenario for the conference. Not since 2013 have so few players left early.
(Of course, there's a reflective component, too: The Pac-12's lack of high-value underclassmen, as compared to previous years and to other Power Fives, helped shape a season in which the conference did not produce a top-tier, playoff-caliber team.)
The 10 confirmed departures are:
Arizona State: WR N'Keal Harry
Oregon: WR Dillon Mitchell
Stanford: WR JJ Arecega-Whiteside, OG Nate Herbig, TE Kaden Smith
UCLA: OL Andre James and TE Caleb Wilson
Washington: CB Byron Murphy and S Taylor Rapp
Washington State: TB James Williams
While acknowledging the potential for additional names to surface — the NFL will release the official list of draft-eligible underclassmen on Friday — the Hotline, of course, has reaction to the known exodus:
*** For the first time in at least a decade, no USC players are leaving early.
(It might be more than a decade; the Hotline didn't look back beyond that point.)
That's a fairly damning commentary on the evaluation, teaching and development taking place within the program, which has few equals over time as a pipeline to the NFL.
… Continue reading story here …
–
—–
January 14th
… Foe Pause … 
USC's top running back recruit decommits 
From YardBarker.com … USC has lost one of their top running back recruits for the 2019 class.
Jordan Wilmore announced on Twitter Monday that he was "decommitting" from the school.
"I would like to thank the God because none of this would be possible without him. I'd like to thank the previous staff and current staff for recruiting me. But I would like to announce that I am DECOMMITING from the University of Southern California today and opening up my recruiting. God bless and have a great evening," Wilmore wrote in a note shared on Twitter.
Wilmore is rated as a four-star prospect by 247 Sports. The Lawndale (Calif.) product's decommitment comes days after he received a scholarship offer from UCLA.
Wilmore had been committed to the Trojans since August but did not sign with them on the early National Signing Day in December. USC already has Kenan Christon set to join the program as a running back from the 2019 class.
–
—
Jon Wilner grades Pac-12 coaches (CU not as bad as you might have thought)
… Cal and Oregon received grades of "C"; UCLA a "C-"; Arizona a "D" and USC an "F" … 
From the San Jose Mercury News … Here's our last (planned) review of the 2018 season. Once the NFL Draft deadline passes (today), we'll pivot to a multi-part, multi-week outlook for 2019.
Take issue all you want with the grades below, but know this: The Hotline was unsparing in assessing its own performance.
In a column published last month, I self-assigned grades of D or lower on one-third of my preseason predictions.
The coaches got off easy by comparison.
Grades are based on performance vs. Hotline expectations, which take into account personnel, schedule, injuries and whatever team-specific developments apply.
Head coaches are held responsible for the work of their coordinators and assistants.
Colorado
Record: 5-7/2-7
Coach Mike MacIntyre (dismissed in November)
Grade: C-
Comment: It's not as simple as giving MacIntyre an A for his 5-0 start and an F for his 0-6 finish, but it's close. So start with averaging those to a C, then add injuries to Laviska Shenault and Evan Worthington — the two players CU could least afford to lose, aside from Steven Montez — and the coaching grade creeps up to a C+ … then factor in the unforgivable, unfathomable meltdown against Oregon State, and the overall drops to a C-.
–
—
Second former Duck suing Oregon and Willie Taggart for workout injuries
From Bleacher Report … Oregon Ducks offensive lineman Sam Poutasi filed a $5 million negligence lawsuit against the NCAA, the University of Oregon, former Ducks head coach Willie Taggart and former Ducks strength and conditioning coach Irele Oderinde in relation to a January 2017 offseason workout that led to him spending a week in the hospital.
On Friday, James Crepea of The Oregonian reported Poutasi is seeking damages for "physical and emotional pain, inconvenience, loss of enjoyment of life, and diminishment of avocational abilities, in the past, present, and future" after he suffered rhabdomyolysis.
Former Ducks offensive lineman Doug Brenner filed a similar lawsuit Wednesday, seeking $11.5 million in damages from the same "strenuous" workouts.
The lawsuits allege players were not allowed to drink water during the first day of workouts and the sessions were likened to basic military training, per Crepea.
Brenner told Fox 12 Oregon his body "gave out" during the final day but added that he felt the pressure to perform because the staff was "trying to see who was going to quit."
"My pee was black. Looked like coffee. My arms were so big and swollen, I couldn't take my own shirt off," Brenner said. "I couldn't even reach my face to eat."
He added: "My body is ruined. My kidneys are damaged. My life might be shorter because of this."
… Continue reading story here …
–
—–
January 12th
… Foe Pause … 
ESPN "most anticipated" 2019 games includes Nebraska at CU (but not for the right reasons)
From ESPN … The start of the 2019 season is seven and a half months away, but it's never too early to look ahead at the biggest nonconference games on the schedule. This list features several rematches, renewed rivalries and a Notre Dame first. But perhaps most important, all of these games figure to have College Football Playoff implications.
Here's a quick glance at the biggest matchups we can't wait to see:
10. Nebraska at Colorado – September 7th
The hype machine has already started for the Cornhuskers in Year 2 under Scott Frost. They are ranked No. 24 in our Way-Too-Early Top 25 and return dynamic quarterback Adrian Martinez. The improvement was evident as 2018 went on. This is a rematch between former Big Eight rivals after Colorado won 33-28 in 2018, but the Buffs have serious questions after losing seven straight to close the season.
8. Stanford at UCF – September 14th
LSU broke UCF's 25-game winning streak in the PlayStation Fiesta Bowl, but there is one hard truth that remains unchanged: For UCF to have any shot at making the top four, it must go undefeated and have impressive nonconference wins to boot. On paper, Stanford is the best nonconference opponent UCF has on its 2019 schedule (Pitt is the other Power 5 nonconference game). If UCF loses either game, the playoff talk will end quickly.
5. Auburn v. Oregon – August 31st
Oregon appears to be on the rise again under Mario Cristobal after finishing the season with some momentum and signing a top-five recruiting class. It also gets quarterback Justin Herbert back for his senior season. Auburn coach Gus Malzahn may or may not have quieted his critics after the Tigers crushed Purdue 63-14 in the Franklin American Mortgage Music City Bowl, but now he's got to decide on a new starting quarterback. If Auburn loses this game, expect the howls about his job security to start right away.
–
—–
January 11th
… Foe Pause … 
… Related … "Utah offensive coordinator Troy Taylor will be Sacramento State's head coach" … from the Salt Lake City Tribune
From the Salt Lake City Tribune … Andy Ludwig, Utah's first and longest-lasting play-caller of the Kyle Whittingham coaching era, is returning to the Ute football program as offensive coordinator, The Salt Lake Tribune confirmed Thursday night.
Utah announced Ludwig's hiring Friday morning, with a news release crediting his involvement in "the most successful season in Utah football history," based on the 2008 team's 13-0 record with a Sugar Bowl victory over Alabama.
Whittingham's statement mentioned Ludwig's "wealth of knowledge and experience as a collegiate offensive coordinator, as well as being and outstanding quarterbacks coach and recruiter" and said the transition should be smooth because he's "obviously very familiar with our program."
… Whittingham again has a full 10-member staff, with the hiring of defensive line coach Sione Po'uha as Andersen's replacement and linebackers coach Colton Swan as the successor to Justin Ena, who followed Andersen to USU. The next question is whether the rest of the offensive staff will remain intact or if Ludwig will bring in any of his own assistants.
… Continue reading story here …
–
—
Colorado State to play at Michigan in 2022
From the Daily Camera … Colorado State athletic director Joe Parker went back to his roots as an athlete to find another destination game for Rams football fans.
Friday, CSU and Michigan announced they will play Sept. 3, 2022. It will be played at "The Big House" in Ann Arbor, Mich., a venue that seats more than 107,000 fans (it has held as many as 115,000), making it the largest stadium in the United States. It will be the second meeting between the two schools, the first coming in the 1994 Holiday Bowl.
Colorado State will receive a $1.8 million guarantee on or before Feb. 1 after the game is played. There are also provisions in the contract if either team cancels the game.
"To get to where we want to go as a program we have to continue to test ourselves against the best programs in the country," CSU football coach Mike Bobo said in a release. "I have a great deal of respect for the Michigan program, and to have a chance to play in one of the most iconic stadiums in the nation presents a tremendous opportunity for us."
It will mark the second road trip to a Power Five school for the program that year, with a game scheduled at Washington State on Sept. 17. In recent seasons, Colorado State has played at Alabama twice, as well as Florida. Next year the team plays at Arkansas, makes trips to both Oregon State and Vanderbilt and 2020 and then to Iowa in 2021. The Rams have 18 non-conference games scheduled with Power 5 schools through the next 10 seasons, with games as far out at 2028.
… Continue reading story here …
–
—–
January 10th
… Foe Pause … 
Only two Pac-12 teams listed with better than 50-1 odds to win 2019 national championship
From CBS Sportsline … The Clemson Tigers finished off the college football season with a memorable and resounding 44-16 thumping of Alabama in Monday's title game.
With quarterback Trevor Lawrence and many other stars returning, it's no surprise the Tigers are early favorites to repeat as champions next year.
Sportsbook Betonline.ag already has released a live wagering menu for next season's winner of the College Football Playoff Championship, with the Tigers leading the way at 2/1 odds.
Odds courtesy of BetOnline.ag, here is the menu of college football future odds to win the 2020 CFP title:
Clemson, 2/1
Alabama, 5/2
Georgia, 12/1
Michigan, 12/1
Ohio State, 12/1
Oklahoma, 14/1
Florida, 25/1
Nebraska, 25/1
Notre Dame, 25/1
Texas, 25/1
Washington, 25/1
Oregon, 33/1
Auburn, 50/1
LSU, 50/1
Mississippi State, 50/1
Wisconsin, 50/1
–
—
Oregon State quarterback Jake Luton granted a sixth year of eligibility
From ESPN … Oregon State quarterback Jake Luton has been granted a sixth year of eligibility by the NCAA.
Luton has started in just nine games for the Beavers since his first season in 2017 because of injuries. That year he missed eight games with a spine injury, then last season he missed all or parts of seven games with an ankle sprain.
NCAA rules allow players who have redshirted in their first year to be granted an extension if they play in four games or fewer in a season, as Luton did in 2017.
In his time with the Beavers, the 6-foot-7 junior college transfer has passed for 2,513 yards and 14 touchdowns.
He earned Pac-12 Player of the Week honors last season following a come-from behind overtime victory over Colorado that snapped a 22-game losing streak on the road.
–
—
Los Angeles Times: Klingsbury debacle makes USC "look like fools"
Related … "USC football (and UCLA basketball) need to get their s**t together" … from Jon Wilner at the San Jose Mercury News
From the Los Angeles Times … Kliff Kingsbury said the USC job was "calling my name."
He said the USC job "is where I wanted to be."
Asked whether he was at USC to stay, he said, "That's the plan."
Asked about the NFL, he said, "I haven't even thought about it, honestly."
Kingsbury said these things about two weeks ago in an interview with ESPN's Shelley Smith. Their conversation took place about two weeks after he was hired as USC's offensive coordinator and the team's most important offseason acquisition.
But, perhaps worse, it makes the USC athletic department look like fools.
In their third coaching fumble since the departure of Pete Carroll — they haven't gotten it right since — the Trojans were swindled like a hayseed sitting at a street corner shell game, and they have nobody to blame but themselves.
… Continue reading story here …
–
—
Former Oregon offensive lineman suing school and former coach Taggert for workout injuries
From ESPN … An $11.5 million lawsuit against the NCAA, the University of Oregon and former Ducks football coach Willie Taggart was filed Wednesday on behalf of former Oregon offensive lineman Doug Brenner, seeking compensation for "serious, lifelong injuries sustained during a series of highly controversial workouts imposed on Duck players in January, 2017," Brenner's attorney told ESPN.
Taggart's strength and conditioning coach, Irele Oderinde, was also named as a defendant in the lawsuit submitted by the firm of Kafoury & McDougal and attorney Travis Eiva.
According to the lawsuit, which was filed in circuit court in the state of Oregon, "the coaches imposed a physically impossible exercise regimen of squats and told the student athletes that the workout 'would demonstrate who wanted to be on the team.'"
"The drills were done in unison, and whenever a player faltered, vomited, or fainted, his teammates were immediately punished with additional repetitions," Mark McDougal, a member of Brenner's legal team, said in a statement. "A key goal of this lawsuit is to force the NCAA to ban these kinds of punishing, abusive workouts. These workouts are contrary to NCAA guidelines for protecting players from injury and death. Guidelines, however, are only suggestions. The NCAA needs to enact and enforce binding regulations that outlaw these practices."
… Continue reading story here …
–
—–
January 9th
… Foe Pause … 
ESPN bold prediction: Urban Meyer will replace Clay Helton as coach of the Trojans
From ESPN … What's in store for 2019? Here are 10 bold predictions for the 2019 season.
5. The Pac-12 gets left out of the CFP again
The Pac-12's football reputation has taken a beating lately, but the league will be better in 2019 — just not good enough to have one of its teams crack the top four.
The Pac-12 will feature some of the sport's best quarterbacks this coming season: Oregon's Justin Herbert, Washington's Jacob Eason (a Georgia transfer) and Stanford's K.J. Costello.
It's all about baby steps, and the league should be better in 2020, after Washington rebuilds its defense with Chip Kelly in Year 3 at UCLA.
6. Urban Meyer takes over at USC
Perhaps no FBS coach is going to face more pressure this coming season than USC's Clay Helton, who went 5-7 in 2018 after winning 21 games the previous two seasons combined. Trojans athletic director Lynn Swann has shown patience, but it will run out after a mediocre season in 2019.
Meyer, who said he believes he'll never coach again, will be the top candidate to replace Helton. Meyer, 54, won more than 90 percent of his games at Ohio State, never lost to rival Michigan and won three Big Ten titles and the 2014 national championship.
Meyer isn't going to sit around and do nothing, and it's not like he hasn't changed his mind about retirement before.
–
—
CSU's Mike Bobo turns down scheduled $100,000 pay increase
From the Loveland Reporter Herald …  Mike Bobo sat on the couch in his office and spoke with a decisiveness in his voice. The Colorado State football coach bluntly evaluated the 2018 season, saying the Rams failed in all three phases of the game in a 3-9 campaign.
In diagnosing the season with his staff, athletic director Joe Parker and some of the players he expects to carry a leadership role in 2019, what linked the outcomes was a lack of accountability.
It's the message he's discussed with his staff and what will be delivered to the team when the players return from break in January. To make sure they understand accountability begins with him, Bobo said Monday he will set the initial example.
Bobo informed Parker two days after the loss to Air Force he would decline his $100,000 raise for the 2019 season. He amendment his contract and signed it in the past week, leaving his salary for this season at $1.8 million.
"I didn't think we were very disciplined, I didn't think we were very accountable to each other, and ultimately that's my responsibility," Bobo said. "I thought it was a way to show accountability is a two-way street, in my opinion. It's easy to say it's this guy's fault or that guy's fault, but ultimately I'm the guy in charge and made a decision, called Joe on the telephone and told him that's what I wanted to do."
… Continue reading story here …
–
—–
January 8th
… Foe Pause … 
Kliff Kingsbury abandons USC for head coaching job in the NFL
From ESPN …  The Arizona Cardinals have hired former Texas Tech coach Kliff Kingsbury to be their next head coach, the team announced Tuesday.
Kingsbury will receive a four-year deal with a team option for a fifth year. A news conference to introduce him is set for Wednesday.
"Cardinals fans, can't tell you how excited I am to be your head coach," Kingsbury said in a tweet released by the team. "Looking forward to taking the field at State Farm Stadium in front of the red sea. It's time to rise up."
Kingsbury, 39, will replace Steve Wilks, who was fired Dec. 31 after one season (3-13) in Arizona.
Kingsbury was fired by Texas Tech on Nov. 25 after seven seasons, including six as head coach, and was hired by USC to be its offensive coordinator Dec. 5. Kingsbury also interviewed with the New York Jets for their head-coaching vacancy.
… Continue reading story here …
–
—
Washington State into the top ten in final AP rankings; Utah drops out
From CBS Sports … Moments after the 2019 College Football Playoff National Championship concluded, the final college football rankings for the 2018 season were released. As one would expect, national champion Clemson was a unanimous choice for No. 1 in the nation, receiving all 61 first-place votes. But to some surprise, finishing just behind Alabama at No. 3 — ahead of both of the other CFP teams — was Ohio State.
OSU defeated Washington 28-23 in the Rose Bowl, while every team previously ranked around it — Notre Dame and Oklahoma in the CFP, Georgia in the Sugar Bowl, UCF in the Fiesta Bowl — fell during bowl season. In fact, if you include Alabama, seven of the top 10 teams in the nation lost at some point this postseason.
LSU finished ahead of Florida at No. 6 despite the Gators being ranked ahead of the Tigers in the penultimate poll, beating them head-to-head in the regular season and both teams winning their bowl games. Georgia also finished ahead of Texas at T7 with Florida despite the Bulldogs losing to the Longhorns just days ago in the Sugar Bowl and beating the Gators earlier in the season.
Associated Press poll: 
1. Clemson
2. Alabama
3. Ohio State
4. Oklahoma
5. Notre Dame
6. LSU
7. Florida
7. Georgia
9. Texas
10. Washington State
11. UCF
12. Kentucky
13. Washington
14. Michigan
15. Syracuse
16. Texas A&M
17. Penn State
18. Fresno State
19. Army West Point
20. West Virginia
21. Northwestern
22. Utah State
23. Boise State
24. Cincinnati
25. Iowa
Others Receiving Votes: Appalachian State (11-2) 96; Stanford (9-4) 52; Mississippi State (8-5) 45; Utah (9-5) 43; UAB (11-3) 32; Iowa State (8-5) 26; Auburn (8-5) 15; Oregon (9-4) 11; Missouri (8-5) 10; Georgia Southern (10-3) 6; Troy (10-3) 6; Oklahoma State (7-6) 3; NC State (9-4) 2; Wisconsin (8-5) 2
–
—–
January 7th
… Foe Pause … 
Report: USC's Kliff Kingsbury released to interview with NFL teams
From CBS Sports … The Kliff Kingsbury era at USC is off to a bizarre start, and it could be over before the new offensive coordinator even coaches a game with the Trojans. The former Texas Tech coach has begun interviewing for NFL head coaching positions, according to Fox's Jay Glazer. USC initially blocked Kinsbury from taking such interviews, but that is apparently no longer the case. NFL Network's Ian Rapoport reports that Kingsbury remains in his position with the Trojans, which have now opened the door for him to take interviews.
The NFL recently started enforcing an old rule that requires organizations to request permission from college athletic directors.
"If permission is denied, the NFL club should respect that decision just as it would respect a similar decision from another NFL club," the rule states, according to ESPN's report. "NFL clubs that fail to follow these protocols may be subject to disciplinary action for conduct detrimental to the League."
ESPN's Adam Schefter reports that the Arizona Cardinals and New York Jets have showed interest in Kingsbury.
… Continue reading story here …
–
—
College Football Board of Managers – "much too soon" to talk about playoff expansion
Press release …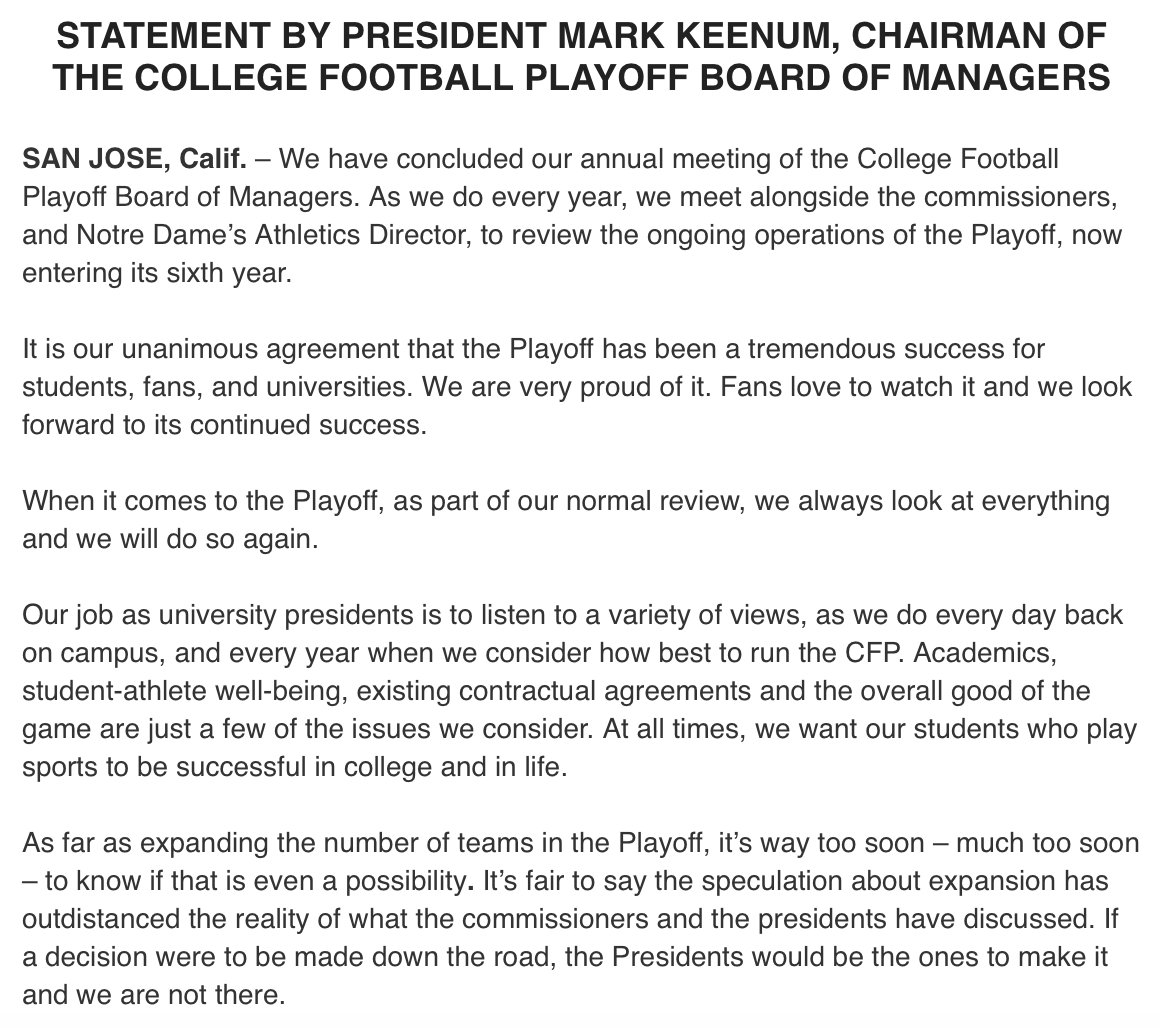 –
—–
College Football Hall of Fame Class of 2019 includes two players and one coach from the Pac-12
From National Football Foundation … The National Football Foundation (NFF) & College Hall of Fame announced today the 2019 College Football Hall of Fame Class, which includes the names of 13 First Team All-America players and two standout coaches. The inductees were selected from the national ballot of 76 All-America players and six elite coaches from the Football Bowl Subdivision and the 100 players and 32 coaches from the divisional ranks.
2019 COLLEGE FOOTBALL HALL OF FAME CLASS
PLAYERS:
TERRELL BUCKLEY – DB, Florida State (1989-91)
RICKEY DIXON – DB, Oklahoma (1984-87)
LONDON FLETCHER – LB, John Carroll [OH] (1995-97)
JACOB GREEN – DL, Texas A&M (1977-79)
TORRY HOLT – WR, North Carolina State (1995-98)
RAGHIB ISMAIL – KR/WR, Notre Dame (1988-90)
DARREN McFADDEN – RB, Arkansas (2005-07)
JAKE PLUMMER – QB, Arizona State (1993-96)
TROY POLAMALU – DB, Southern California (1999-2002)
JOE THOMAS – OL, Wisconsin (2003-06)
LORENZO WHITE – RB, Michigan State (1984-87)
PATRICK WILLIS – LB, Mississippi (2003-06)
VINCE YOUNG – QB, Texas (2003-05)
COACHES:
DENNIS ERICKSON – 179-96-1 (65.0%); Idaho (1982-85, 2006), Wyoming (1986), Washington State (1987-88), Miami [FL] (1989-94), Oregon State (1999-2002), Arizona State (2007-11)
JOE TAYLOR – 233-96-4 (70.6%); Howard (1983), Virginia Union (1984-91), Hampton (1992-2007), Florida A&M (2008-12)
"We are extremely proud to announce the 2019 College Football Hall of Fame Class," said Archie Manning, NFF Chairman and a 1989 College Football Hall of Famer from Mississippi. "Each of these men has established himself among the absolute best to have ever played or coached the game, and we look forward to immortalizing their incredible accomplishments. The Class will be part of a momentous year as we celebrate the 150th anniversary of college football this season."
… Continue reading story here …
–
—–
January 6th
… Foe Pause … 
Big Ten wants to discuss playoff selection process after being shut out of playoffs the last three years
Related … "CFP expansion is unlikely, but a change to selection protocol is possible" … from CBS Sports
From The Athletic … Conversations about​ whether the​ College Football Playoff should​ expand from its​ current​ four-team format continue,​ with much​ of​​ the support for change emanating from the Big Ten and Big 12.</span​>
Add Big Ten commissioner Jim Delany to the growing chorus calling for an examination of the CFP structure now, well before the end of the Playoff's initial 12-year contract with ESPN ends in 2026.
"The Big Ten would be happy to discuss structure issues with colleagues," Delany told The Athletic. "It's probably a good idea, given all of the conversations and noise around the issue, to have discussions with our colleagues.
"The Big Ten would definitely have conversations."
Delany is the second Power 5 conference commissioner to tell The Athletic that he supports serious efforts to examine and potentially expedite expansion. "It's an appropriate thing to begin thinking about," Big 12 commissioner Bob Bowlsby said last week.
There have been no formal conversations about expansion yet among Playoff leadership, but these are people who will be in the room if and when there are. It is significant coming from Delany, who for years during the BCS era pushed back against any type of playoff format but spoke to The Athletic late last week about being open to discussions about a larger field.
Three consecutive years without the league's conference champion being included in the four-team CFP field can change opinions. Multiple Big Ten athletic directors spoke to The Athletic about concerns that are twofold: not valuing conference champions, and not rewarding difficult schedules.
… Continue reading story here …
–
—
Pac-12 hosting national title game, but is a national afterthought
Joke from article … ""I've got good news for Pac-12 football" … What's that? … "You're not Pac-12 basketball"
From USA Today … As the national championship game kicks off in the heart of the Pac-12's footprint, the league is nowhere to be found.
There's no shame for the Pac-12 in missing the championship game. Alabama and Clemson occupy their own special tier in college football. But the next tier of teams does not include the Pac-12, either. There wasn't a Pac-12 team anywhere near the Playoff conversation for most of the season. There's not an obvious team from the league ready to jump into it next year, either.
This isn't a completely new phenomenon. The Pac-12 has missed the Playoff in three of its five seasons. But as the championship is played in its backyard, the Pac-12 has never felt farther away from participation. The league's football – and basketball, too, but that's a topic for another column – is at a low ebb. And at least outwardly, there's not much indication that many care all that much.
"The reality is if this game was in Atlanta in Mercedes-Benz Stadium and it was Oregon vs. Oklahoma, you'd have a huge SEC contingent of fans," said ESPN analyst Brock Huard, the former Washington quarterback. "And they'd be mad. You'd see their (SEC schools') jerseys. You'd feel their passion. They'd be there and they'd want their teams to be there."
But here? There's crimson, and that weird combination of orange and purple, the Tide and Tigers fans mingling while dodging raindrops. But Stanford and California fans aren't out in force, much less any of the other Pac-12 schools.
To Huard, it's simply an extension of the vibe he got while calling Pac-12 games during the season.
"You go to Madison or Ann Arbor, or most of the SEC schools, or Austin or Norman, and it feels big," he said. "It just doesn't feel that way in this conference."
–
—
Kingsbury may resign from USC in order to pursue NFL positions 
From NBC Sports … Lynn Swann has placed Kliff Kingsbury in check. Kingsbury may soon put Swann in checkmate.
With Swann, the Athletic Director at USC, blocking Kingsbury from interviewing for head-coaching vacancies with the Jets and Cardinals, Kingsbury may simply resign his position as Trojans offensive coordinator and move on.
Per multiple sources, Kingsbury's contract has a very low buyout. But the buyout never came up because the NFL teams, honoring the strong mandate issued at last month's ownership meeting, contacted Swann and requested permission to interview Kingsbury. Swann said no, and that was the end of it.
But that may not be the end of it. Kingsbury, the former Texas Tech head coach, may simply pay the buyout, walk away, and see what happens with any NFL head-coaching or offensive coordinator opportunities.
Kingsbury will undoubtedly find work at least as an offensive coordinator, given the demand for quality offensive minds (which will become more pronounced as NFL head-coaching jobs are filled with offensive coaches) and the extent to which NFL teams are embracing college offensive concepts.
–
—–
January 5th
… Foe Pause … 
USC denying requests from NFL teams to interview Kliff Kingsbury
From CBS Sports … NFL teams may be interested in Kliff Kingsbury, but USC doesn't feel like having its new offensive coordinator interview for other jobs. That according ESPN's Adam Schefter, who reports that the New York Jets and Arizona Cardinals have requested to interview Kingsbury only to have their advances rebuffed by USC to this point.
NFL rules dictate that teams must seek permission from athletic directors before interviewing college coaches.
Kingsbury was hired as USC's offensive coordinator in December 2018 after he was fired at Texas Tech. The Trojans are hoping Kingsbury can revitalize an offense that finished 91st nationally last season with an average of 26.1 points per game and 63rd nationally with 5.78 yards per play.
Though Kingsbury posted a 35-40 record in six seasons at Texas Tech, NFL teams are interested due to his offensive acumen.
–
—
Class of 2017 overall No. 1 prospect may transfer from UCLA to USC or Stanford
From 247 Sports … Former UCLA linebacker Jaelan Phillips is considering a transfer to USC or Stanford, a source with direct knowledge of the situation told 247Sports.
The No. 1 overall prospect in the 2017 class per the 247Sports Composite, Phillips announced in December he would withdraw from UCLA due to "multiple injuries" (a move that was first reported by Bruin Report). Phillips, however, has had a change of heart and is considering resuming his football career with either the Trojans or Cardinal, the source said.
When healthy, Phillips made a major impact for the Bruins during his underclassman seasons.
… A former high school All-American and All-American Bowl selection, Phillips ranks as the 40th-highest ranked recruit in 247Sports history.
–
—
Stanford star wide receiver JJ Arcega-Whiteside announces he will enter NFL Draft
From YardBarker.com … It's time for NFL teams in need of a game-changing wide receiver to get excited.
Stanford star wide receiver JJ Arcega-Whiteside announced on Friday that he will enter the NFL Draft.
Arcega-Whiteside caught 63 passes for 1,059 yards and 14 touchdowns this season. He had 781 receiving yards and nine touchdowns last season and 379 yards and five touchdowns in 2016.
At 6-foot-3 and 225 pounds, Arcega-Whiteside has an NFL-type body and the ability to out-jump defensive backs and win on 50-50 balls. He was an unstoppable force for the Cardinal offense this season and is a game-changer in the red zone — reminiscent of Tampa Bay wide receiver Mike Evans who was drafted No. 7 overall in 2014.
–
—–
January 4th
… Foe Pause … 
Stewart Mandel answers questions about the future of Washington and Oregon
From The Athletic …
Stewart: It may be the understatement of the year to mention how disappointing it has been lately to be a Pac-12 fan. That said, I can remember being extremely worried when Chris Petersen took over Washington. With his Boise State coaching record and the ability to recruit at a Power 5 school, I figured the Huskies would be CFP-bound every year. I realize he has won two Pac-12 championships, but he is getting drubbed in his bowls. Any thoughts on his mysterious loss of football acumen?
Adam, Berkeley, Calif.
Anytime you evaluate a coach's performance, it's important to do so in the context of historical benchmarks at that program. No, Petersen has not won 88 percent of his games like he did at Boise State, but he's at .691 over his five-year tenure and .780 over the past three seasons. The first mark is the highest of any U-Dub coach since Don James (.726), who left in 1992. And Petersen's run of three consecutive 10-win seasons had not been previously accomplished by anyone.
So by those metrics, Petersen has been a major success. But I get why people might still feel a little underwhelmed. Washington has yet to win a single notable nonconference or bowl game against a respected opponent. The Huskies have lost to Oklahoma State, Boise State, Alabama, Penn State, Auburn and Ohio State, while beating a 10-win Fresno State team last year and … Southern Miss, Rutgers (twice) and Illinois. His best achievements (like going 5-0 so far against Washington State) have come from within the Pac-12, at a time when the conference isn't particularly respected.
I do think Washington underachieved this season. The Huskies had a talented enough defense to make a run at a Playoff berth, but their offense just never came together, save for the fourth quarter of the Rose Bowl. For all his achievements, four-year QB Jake Browning did not seem to improve over the second half of his career. So while reaching Pasadena for the first time since 2000 was no minor milestone, there's certainly reason for Washington fans to feel like the program missed an opportunity.
All that being said, let me pose a question that Bruce Feldman recently asked me on the podcast: With Urban Meyer now retired, the sport's top two coaches are unquestionably Nick Saban and Dabo Swinney. How many other coaches in the sport would you definitively put ahead of Petersen for No. 3? I'm guessing it's a short, short list — if it's a list at all. Washington is in good hands, and I'm fascinated to see the Jacob Eason era unfold next season.
With 10 or 11 returning starters on offense, including Justin Herbert, a top-5 national recruiting class and not turning over a head coach for the first time since Mark Helfrich, is Oregon a legit national championship contender next year?
John D.
I attended the Ducks' 7-6 Redbox Bowl thriller against Michigan State, and I'm confused. Did you watch the same game?
–
—
January 3rd
… Foe Pause …
National championship game may not be a sell-out in Pac-12 footprint
From ESPN … Qualifying for the College Football Playoff National Championship never has been harder for teams other than Alabama and Clemson.
Getting into the stadium to watch the Crimson Tide and Tigers play for the title for the third time in four years has perhaps never been cheaper.
Prices for tickets for Monday night's championship in Santa Clara have been plummeting the past few days. Factors include the College Football Playoff final being located thousands of miles away from the two campuses, possible fatigue for fan bases of teams that have become annual participants in the playoff, and a game site in an expensive market lacking college football die-hards.
"It's sort of a perfect storm of factors at play this year," said Jesse Lawrence, the founder of TicketIQ, a secondary ticket market. "It's a big ask for fans to come, and that's why we're seeing the prices the way they are."
… The CFP picked Santa Clara as its site for this year in part hoping to broaden college football's fan base. The Bay Area is much more of a pro sports region, and it appears that not enough locals want to brave rush-hour traffic to attend the game Monday night. Games at California and Stanford struggle to draw big crowds, and the annual Pac-12 championship game uses tarps to cover empty sections at Levi's Stadium.
Tickets for the championship game are considerably cheaper than those for the SEC championship game last month in Atlanta between Alabama and Georgia and both CFP semifinal games.
… Continue reading story here …
–
—
Oregon's record-setting wide receiver declares for the NFL Draft
From the Oregonian … Oregon's record-setting receiver is leaving for the NFL.
Dillon Mitchell, who broke the Oregon program record for receiving yards in a season during Monday's Redbox Bowl, announced Wednesday he is entering the 2019 NFL draft.
"I want to express my sincere gratitude and appreciation for the tremendous support and cheers I've received since coming to Oregon in 2016," Mitchell wrote via social media. "It has been great living a childhood dream these last 3 years. Ever since 7th grade, I wanted to be an Oregon Duck. I fell in love with the uniforms, the players, the fast spread offense, and the Nike brand. A lot of my peers and people doubted me making it here way back then. But through a lot of hard work, determination and support I was able to make that dream come true. Through this journey, I have made unforgettable lasting memories and brothers for life. I will always cherish my time here and know that I am an Oregon Duck for life. I don't know what the future holds but I am going to put it all in God's hands. With that being said, I would like to announce that I am declaring for the 2019 NFL Draft."
… Continue reading story here …
–
—–
January 2nd 
… Foe Pause … 
Top Washington safety declares for the NFL draft
From ESPN … Washington safety Taylor Rapp will skip his final season of college football to enter the NFL draft, the player announced.
Rapp is the No. 5 prospect at safety in the most recent rankings by ESPN's Mel Kiper.
Rapp announced his decision in a tweet less than 24 hours after the Huskies lost to Ohio State in a Rose Bowl game that he missed with a hip injury reportedly suffered in the Pac-12 championship game.
"Ever since I was a child, I dreamed of playing in the National Football League," Rapp wrote. "Now, with this incredible opportunity in front of me, I feel it is in my best interest to seize it."
… Continue reading story here …
–
—
Pac-12 hires top public relations firm to fix the conference's broken brand
From the Oregonian … The Pac-12 Conference has hired one of the world's top public relations and crisis management agencies.
Its mission?
Fixing the conference's broken brand.
The repair is necessary, but what the conference members need most to compete is additional revenue. The brand isn't broken because of public perception. It's busted because of results.
FleishmanHillard, whose notable clients include Levi's, Chevrolet, JPMorgan Chase, Crocs and Alibaba Group, has been retained by the conference. In 2017, Fleishman took the lead on crisis-management work for USA Gymnastics, which was enmeshed in a sex-abuse scandal.
Documents obtained by The Oregonian/OregonLive outline the Pac-12 Conference's relationship with the public-relations agency. In an Oct. 31 memo addressed to the Pac-12 CEO Group, the conference's head of communications, Andrew Walker, indicated that one of the primary objectives of a new communication strategy was to protect and enhance the Pac-12 brand.
… Continue reading story here …
–
—–
January 1st – Happy New Year!
… Foe Pause …
No. 9 Washington falls, 28-23, to No. 5 Ohio State in the Rose Bowl
From ESPN … Dwayne Haskins passed for 251 yards and three touchdowns, and Urban Meyer finished his coaching career at Ohio State with a 28-23 victory after the Buckeyes held off Washington's thrilling fourth-quarter comeback in the 105th Rose Bowl on Tuesday.
Parris Campbell, Johnnie Dixon and Rashod Berry caught TD passes in the first half for the fifth-ranked Buckeyes (13-1), who took a 25-point lead into the fourth.
But Myles Gaskin threw a touchdown pass and rushed for two more scores for the No. 9 Huskies (10-4), scoring from 2 yards out with 42 seconds left.
The Buckeyes intercepted Jake Browning's pass on the 2-point conversion attempt and then recovered the Huskies' onside kick to wrap up the final game of Meyer's seven-year tenure.
… Continue reading story here …
–
—
Rose Bowl previews and predictions – No. 9 Washington v. No. 5 Ohio State, 3:00 p.m., MT, ESPN
From the Pac-12 …
—
From Yahoo Sports …
WHAT'S ON THE LINE
Ohio State: Aside from a win in Meyer's final game, the Buckeyes are going for the school's first Rose Bowl win since the 2009 season.
Washington: You have to go all the way back to the 2000 season (when Rick Neuheisel was coaching) for the last time Washington visited Pasadena on New Year's Day. UW won that day in a 34-24 decision over Purdue. UW is also just 1-3 in bowl games under Chris Petersen and that lone win was the 2015 Heart of Dallas Bowl. A Rose Bowl win would obviously mean much more for the program.
PREDICTIONS
Nick Bromberg: Ohio State 34, Washington 20
Sam Cooper: Ohio State 31, Washington 23
Pat Forde: Ohio State 31, Washington 21
—
From Athlon Sports … Final Analysis
Both Ohio State and Washington kicked off 2018 frequently mentioned in the College Football Playoff conversation. The Buckeyes missing the field as Big Ten champions for a second consecutive season might cast a pall of disappointment over their Rose Bowl trip, but appearances in the historic game have been fleeting for the program. Motivation should be no problem for Ohio State.
Washington's season endured more on-field ups and downs, but the Huskies hit their stride in the final month. Of no coincidence, Washington was the closest to full strength it had been all year with the returns of Hunter Bryant, D.J. Beavers and Trey Adams to the lineup.
Add a month for the always-creative Chris Petersen to game plan, and Washington will give Ohio State a fight. The Buckeyes have more difference-makers on offense than any opponent Washington's outstanding defense has faced this season, however.
Prediction: Ohio State 34, Washington 27
–
—–