—
Colorado Daily
—
December 15th
… CU in a few minutes … 
Plati-Tudes – A Look Back at the Last Decade 
From Dave Plati at CUBuffs.com … Highlights Happenings Off The Fields, Courts and Courses
Welcome to a notes and comment column in its 19th year, penned by CU Associate Athletic Director David Plati, who is his 36th year as the Buffaloes' director of sports information.
Plati-'Tudes No. 111 … Tuesday (Dec. 10) was the 25th anniversary of Rashaan Salaam winning the Heisman; I've written several pieces in the past on that evening and the 1994 season in general, so no real reason to rehash (think I've told about every detail that I can, or that can share ;).  But if you haven't seen Chris Fowler's personal remembrance of that weekend in New York City, the link is here: https://www.instagram.com/tv/B5oPkSAgZip/ … Last Thursday (Dec. 5) was the day we lost Rashaan at the age of 42; it was also the day we lost Mark Simpson after he valiantly fought lung cancer for years at the age of 55 in 2005.  Fortunately, a good memory has emerged for that date, as in 2018, that was the day we announced the hiring of Mel Tucker as football coach.  There are two major stories out there at present; there are some things written in those that I doubt happened or might be framed correctly by third parties.  Do know that Rashaan was revered here, and welcomed at any and every opportunity he wanted to visit campus or come an event or games.  It often has come up how we brought the Heisman back to Colorado and that it had its own seat on that United flight.  We covered it with a blue blanket, and it always reminded me of that scene from the movie, E.T. 
Quick Hits
All our programs this year to date who play dual schedules opened up with multiple wins before suffering their first defeats: both basketballs, football, soccer and volleyball combined to go 
28-0
.  Puts a little pressure on the lacrosse and tennis teams this spring, eh?! … Did you know that 
Mel Tucker's 
first CU football team wound up facing five of the top 19 quarterbacks nationally in passing efficiency?  They hung in there as best as they could, considering the two starting cornerbacks missed 16 games … CBS play-by-play man 
Kevin Harlan
 (one of the best) has ties going back to the old Big Eight; it's always great to hear him refer to us as "CU" when he does Bronco games and is talking about Phillip Lindsay … It was good to see 
Taylor Kornieck
 become our all-time leading points scorer in women's soccer this fall (102 points); she took my class a couple of years ago so it was fun to see her set the mark.  Now if only the NCAA would quit sending us to the southeast against a top seed 
every single time
 we win a first round game (when you read "every single time," imagine it being said like this clip from 
Beetlejuice
: 
https://www.youtube.com/watch?v=N8x8xqZzD8w
).  Okay, I'm out there, but most of you knew that.
–
—–
December 14th
… CU in a few minutes … 
Larry Scott: 10:00 MT kickoffs in 2020 still on the table
From Dawgman.com … Early-morning kickoffs for Pac-12 football games as soon as next season are still within the realm of possibility, according to conference commissioner Larry Scott.
Scott said Thursday during a forum sponsored by the Sports Business Journal that the conference has not ruled out the potential for 9 a.m. PT kickoffs to occur in conference-play starting in 2020.
Our schools are very hungry (for exposure)," Scott said on Thursday. "We have got challenges being on the west coast, including time zone change. A lot of great windows for us where we can maximize revenue and exposure are late and we miss certain audiences. So our schools are hungry to be in the biggest, widest, most-viewed television windows. And this early window has emerged."
Scott reiterated that any decision for member institutions to have 9 a.m. PT kickoffs would be "completely voluntary."
"This will be completely voluntary," Scott said. "One of the things I've learned is that there is a very delicate balancing act of how you maximize revenue and exposure and what you do for television, and the impact on the fans that are paying for the ticket and might have to drive an hour to get to the stadium and want to bring a family."
The prospect of 9 a.m. PT kickoffs in the Pac-12 is something that has been discussed since at least this past Summer. According to an August report from CBS Sports' Dennis Dodd, "approximately half" of the schools in the Pac-12 would be in favor of the early-morning kickoffs starting next fall. There were some discussions about instituting some early starts this season, but those talks were tabled until next year's spring meetings.
The change is being considered in order to get the conference some more exposure on Saturdays in the fall. When ESPN's College GameDay goes off the air and gives way to the 12:00 p.m. ET games, the Pac-12 is nowhere to be found because 10 of its 12 teams play in the Pacific Time Zone for at least part of the season. The conference may try to fix that issue by instituting some early starts for the 2020 campaign. The conference previously stated that the programs just needed more time to make a decision on the issue.
… Continue reading story here …
–
—–
December 13th
… CU in a few minutes … 
Defensive coordinator Tyson Summers happy to grade on improvement
From the Daily Camera … Under the direction of first-year coordinator Tyson Summers, the Colorado defense was a work in progress this season.
What made Summers pleased at the end of the campaign was that the progress was evident.
CU (5-7, 3-6 Pac-12) wrapped up its season on Nov. 30 with a 45-15 loss to Utah. The final numbers paint a not-so-pretty picture for the defense, as the Buffs ranked eighth in the Pac-12 in yards allowed (441.9 per game) and ninth in points allowed (31.8 per game). It was the first time since 2014 that a CU defense gave up more than 28.2 points per game.
How the Buffs finished the season was more to Summers' liking.
"I do think that we stressed improvement in what we were trying to do," Summers said. "I think our staff did a really good job of being able to try to fit the things that we felt like we could do well."
The improvement showed up statistically.
First 8 games: 34.9 points and 486.9 yards per game; 6.93 yards per play
Last 4 games: 25.8 points and 352.0 yards per game; 5.57 yards per play
In November, the Buffs were fifth in the Pac-12 in points allowed.
… Continue reading story here …
–
—
Pac-12 coaching grades: Mel Tucker receives and A-
From Jon Wilner at the San Jose Mercury News … Before we get to the letter grades, here's the total number: $37.8 million
That was the combined salary for the Pac-12 head coaches in 2019.
… We don't begrudge the coaches from making what the market allows.
But for $37.8 million — the salaries were taken from the awesome USA Today database — you should expect the best product possible for each individual program.
You should expect the best teaching and the best tactics.
You should expect the best gameplans and the best game management.
… Now, it's time to evaluate the coaches.
Grades are for this season only — we're not judging careers — and are based on performance vs. Hotline expectations, which take into account personnel, schedule, injuries and whatever team-specific developments apply.
In other words: How did the team perform against a reasonable expectation of performance?
Head coaches are held responsible for the work of their coordinators and assistants.
Colorado
Record: 5-7/3-6
Coach: Mel Tucker
Grade: A-
Comment: As noted above, each team's performance relative to our expectations plays a central role in the overall grade, and we didn't expect much from CU, especially on defense. But nine quarters (out of 48) most influenced our grade: The wins over Stanford and Washington and the first quarter at Utah. That late-season stretch … coming when it did (after a five-game losing streak) … and how it did (physical play at scrimmage) … and powered by upperclassmen who were recruited by a different staff … that late-season stretch accounts for a chunk of the A-. Whether Tucker is able to elevate the program consistently remains very much unknown. But the start was impressive.
–
—–
December 12th
… CU in a few minutes … 
First way-too-early 2020 prediction: A 6-6 record for CU an "attainable goal"
From the Unafraid Show … The 2019 season was the third straight 5-7 season for Colorado Buffaloes Football. What can CU do to break the 5-7 "curse" of sorts? They can build upon the successes in the first year of the Mel Tucker era. No one outside of Boulder expected the Buffs to have November wins against Pac-12 stalwarts Stanford and Washington. Also, every Buffaloes home game was decided by one possession. The Buffs went 4-2 in these games. For 2020, the Buffs will need to build upon their valiant efforts at home against all opponents.
However, one area where the Buffaloes will absolutely have to improve in 2020 is their road play. Counting out the neutral-site win over Colorado State in College Football Week 1, the Buffs went 1-4 on the road this season. They won their first true road game of the season against then-ranked Arizona State. No one expected the Buffaloes to win this game. Unfortunately, the rest of the road slate for CU turned out as many expected it to. They were outscored 162-42 in their last four road games against Oregon, Washington State, UCLA, and Utah.
… The Buffaloes are losing arguably their top three players on offense: Quarterback Steven Montez and wide receivers Laviska Shenault, Jr., and K.D. Nixon. The latter two decided to forego their senior season and declared for the NFL Draft. They will also be without standout graduate transfer safety Mikial Onu on defense in 2020.
Finishing 6-6 is an attainable goal for the Buffs. Going 4-5 in-conference is an attainable goal for the Buffaloes, and Mel Tucker will have more of his recruits playing, including Brendan Rice, the son of San Francisco 49ers Hall of Famer Jerry Rice. Tucker may also be getting the services of Antonio Alfano, a transfer defensive end from Alabama who has been hyped up locally. Tucker will also be getting a dual-threat quarterback prospect in Brendon Lewis, who is from Melissa, Texas.
Fans will want to see improvement from year one to year two of the Mel Tucker era. It is vitally important for Tucker to make the 6-6 mark. It would bring more exposure to the team nationally and it would help the team's "relentless" mantra be broadcast to a wider audience, including possible recruits. No one is expecting the next few years of Colorado Buffaloes football to be Bill McCartney-esque, but it is important for Mel Tucker to get the program away from the "just another Pac-12 opponent" label.
–
—
Signing Day Press Conference set
… It's getting closer! … Next Wednesday could be a very big day for the CU football program! … 
Press release from CUBuffs.com … Next Wednesday, December 18, the University of Colorado will hold its annual press conference for the third annual December signing period in football, which starts that morning and runs through Friday, December 20.
Prospects can begin to sign national letters-of-intent beginning at 7 a.m. local time on Wednesday through 11:59 p.m. Friday night (also locally).
We will be in Champions Center Room 319, the location for our weekly presser during season.
Mel Tucker will begin his second signing day press session as CU's head coach at 3:00 p.m.; Tucker will give his review of this year's recruiting class and will take questions afterward.  He will also take questions at that time to review the 2019 season in general.
No other sport has signings during this period.
The sports information office will provide information and bios.  There is nothing else going on that afternoon, so media members can work in the room as long as necessary (or you can relocate to work in the SID office).
The press conference will also be streamed live on CUBuffs.com; there is no charge for access.
–
—
CU picks up a preferred walk-on defensive back from Broomfield
Broomfield senior defensive back Trey Ortega has announced on twitter that he will be a preferred walk-on at Colorado.
Ortega's tweet: "Super stoked to say I am committed to the University of Colorado. Thank you to all the coaches and family members who have helped me get to this point!"
Ortega was not rated by either Rivals or 247 Sports, but, according to MaxPreps, the 6'0″, 175-pound cornerback/slotback had a productive season for the 13-1 Broomfield Eagles. On offense, Ortega had 47 carries for 276 yards and four touchdowns, while contributing nine receptions for 92 yards. On defense, Ortega had 12 tackles and two interceptions.
Here is a link to Ortega's Hudl.com highlights
–
—–
December 11th
… CU in a few minutes … 
*Video – K.D. Nixon highlights*
From BuffsTV …
–
—
Another good story on Rashaan Salaam (from ESPN)
From ESPN … In an old 45-story redbrick building in lower Manhattan, six college students wait. Kerry Collins, perfectly coiffed and wearing a roomy off-the-rack suit, is nervous. Warren Sapp is working the room, waiting for the after-party. He knows he's not going to win the 1994 Heisman Trophy, but he's on a free trip to New York and plans to live it up. His unlikely sidekick for the weekend is Rashaan Salaam, a running back from Colorado whom he's gotten to know from the college banquet circuit. Salaam is his polar opposite — quiet and unassuming. He is the baby of the group, 20 years and 2 months old, and has a smile so bright it could melt snow off the Rockies.
Only Salaam isn't smiling as much on this trip.
He does not want to win the Heisman. He doesn't even have a speech prepared. He knows the pressure and attention that comes with the award and wants no part of it. His mother, Khalada, seems equally wary. She has prayed that the Heisman, if he wins it, will not be the pinnacle of his career.
"Dawg, don't even sweat this," Sapp told Salaam earlier in the week. "It's just a trophy."
Sapp knows Salaam is going to win — he has rushed for 2,055 yards in a single season — and makes a point to sit next to him at the ceremony so he can say "I told you so."
A man with slicked-back hair and an East Coast accent walks to the dais, turns an envelope sideways and opens it.
"Rashaan Salaam, University of Colorado," he says.
Salaam's teammates back in Boulder leap up and down, hug and light cigars in celebration.
He rises from his seat, then sinks back down for a moment. Everything is about to change.
… Continue reading story here …
–
—
CSU coaching search "clumsy … a bizarre mix of contradictions"
… Related … "The latest at Colorado State" … from FootballScoop.com
From teryfrei.com … With the early letter of intent signing period approaching, the reasonable assumption was that Colorado State would have named a successor to Mike Bobo by now.
Or at least be on the verge of doing so.
That still might happen today.
But the search, with former CSU assistant Urban Meyer serving as a consultant to athletic director Joe Parker and new CSU president Joyce McConnell, has been clumsy. It also has been a bizarre mix of contradictions, including a convenient leak of five candidates apparently interviewed that at least came off as if it was designed to run the names past the Ram constituency.
In contrast to the search five years ago, when DHR International's Glenn Sugiyama and Pat Richter were involved, there is no established search firm in the mix.
Here's Kelly Lyell's look in the Coloradoan at the search.
The five candidates, named by SB Nation's Tennessee-based Steven Godfrey, are:
— LSU defensive coordinator Dave Aranda. Problem is, he's the highest-paid assistant in college football and while he has said he wants to be a head coach, he can be picky and will land a Power 5 job soon.
— Steve Addazio, fired Dec. 1 at Boston College.
— Former Tennessee coach Butch Jones, now on the Alabama staff as an "analyst." Translation: He's living off his buyout from Tennessee. Around here, he's best known as the Cincinnati coach who seemingly was about to take the Colorado job when he symbolically was guided around some food carts at Folsom Field to avoid the media and soon was out of the picture to go to Tennessee instead.
— Former Indiana (2011-16) coach Kevin Wilson, now the offensive coordinator at Ohio State.
— Former CSU running back Tony Alford, now assistant head coach and running backs coach at Ohio State.
Man, that must be a bit awkward in the Ohio State offensive meeting room and offices, with both Alford and Wilson going after the CSU job.
… Continue reading story here …
–
—–
December 10th
… CU in a few minutes … 
On the 25th anniversary of his Heisman: The Troubled Life of Rashaan Salaam
From Sports Illustrated … Every year, the Heisman Trophy Trust invites past winners to return for the annual ceremony in New York City, so they can be trotted out for a series of dinners and glad-handing functions. It gives the players a chance to relive their glory days, while the trust uses their collective star-power to further mythologize the trophy. The past winners are stationed onstage every year, as a new member joins their fraternity.
Rashaan Salaam, the 1994 winner, a running back from the University of Colorado, did not particularly enjoy attending the annual gala. At these types of events, people tended to ask, What are you up to? How're you doing? Questions Salaam did not like answering.
Salaam did not have as much to talk about as the other Heisman winners. He'd often come across articles calling him one of the greatest Heisman busts of all-time. When he signed autographs with the other winners, he told a friend, "Nobody ever comes through my line." At the ceremony, he often palled around with Mike Rozier, the 1983 winner from Nebraska. After a few drinks, Salaam would open up. "A couple times he told me, he wished he never won the Heisman," Rozier says. "It was too much pressure for him."
The Heisman is the highest honor a college football player can receive; it bestows upon the winner great prestige, but also great expectations for their NFL career—and Salaam never lived up to those expectations. In fact, he flamed out of the league rather quickly. Afterward, he told those close to him that he felt like a failure, like he had let them down. He fell into a depression. Then, as he struggled finding his identity after football, the Heisman followed his name everywhere he went, in everything he did. Winning the award turned out to be the best and worst thing to ever happen to him.
… Continue reading story here …
–
—
Six Buffs earn All-Pac-12 honors
… Related … 2019 First- and Second-Team All Pac-12 Selections By Program (Includes Specialists): 1. Utah – 10 … 2. Washington – 9 … 3. USC – 8 … 4. Arizona State – 7 … 5. Oregon – 5 … 6. Washington State – 4 … 6. Stanford – 4 … 8. Cal – 3 … 8. Oregon State – 3  … 8. Colorado – 3 … 11. UCLA – 1 … 12. Arizona – 0
Press release from CUBuffs.com … Six University of Colorado football players earned All-Pac-12 Conference honors from the league coaches for this past season, as the team was released Tuesday.
Junior inside linebacker Nate Landman earned first-team honors, the only Buff to make the top tier.  He is the first Buffalo inside 'backer to earn first-team all-conference honors since CU joined the Pac-12 in 2011, and the first Since Jordan Dizon made the All-Big 12 first team in 2007.
Landman led the team in tackles for a second straight year with 137, the most by a Buffalo since Dizon recorded 160 in 2007.  Of those 137, 112 were credited as solo stops, second-most in CU history.  He played the most snaps on defense (785 out of 815), led the team in third down stops (15), had one interception and caused two, recorded eight tackles for loss including two quarterback sacks, had five tackles for zero (giving him 13 tackles at or behind the line of scrimmage), and had five passes broken up.
Two Buffaloes earned second-team honors, senior punter Alex Kinney and junior receiver Laviska Shenault.
Kinney averaged 44.4 yards for 59 punts, with 23 inside-the-50 (18 inside-the-15) and 14 that traveled 50 or more yards.  Most of his kicks were not returned (75 percent) and the punt team forced 27 fair catches; for the second straight year, CU did not have a punt blocked.
Despite missing one full game and the better part of four others due to injuries, Shenault tied for the team lead in receptions with 56, though led in yards with 764, averaging a team-high 13.6 yards per catch.  He scored six touchdowns, four receiving and two rushing, as he had 23 carries for 161 yards.  He earned 46 first downs, 26 on third for fourth down plays and was second on the Buffs in all-purpose yards with 979.
Three others garnered honorable mention honors, senior receiver Tony Brown, graduate offensive tackle Arlington Hambright and senior outside linebacker Davion Taylor.
Brown also had 56 receptions, which he gathered in for 707 yards (12.6 per), with a team-high five receiving touchdowns.  He also had a rushing score and matched Shenault's team bests of 11 catches for 20 or more yards and 28 for 10 or longer; he earned 34 first downs.
Hambright, who earned the league's offensive lineman of the week honor in CU's 16-13 win over Stanford, graded out to 83 percent for the season, with 75 knockdowns, 14 perfect blocks on touchdown passes and 12 touchdown blocks on running plays.  He was in for 831 snaps overall on offense.
Taylor finished second on the team in tackles with 69, of which 56 were solo stops.  He led the team in tackles for loss (nine) and in stops at or behind the line of scrimmage (15).  He also tied for the team-high in passes broken up with seven, had 14 third down stops and added three touchdown saves and two quarterback pressures.
The Associated Press All-Pac-12 teams are due for release on Thursday.
–
—
K.D. Nixon declares for the NFL Draft
Junior wide receiver K.D. Nixon announced via Twitter that he was declaring for the 2020 NFL Draft.
The video: "What's up, Buff Nation. KD Nixon here – superstar nation. Thanks to God, Colorado, Coach Tucker and all my fans. With that being said, I am declaring for the 2020 NFL Draft. Rock out".
From his Instragram account: "This University has molded me into a man & helped me mentally and physically. The relationships I came across here will always be cherished no matter what & very proud to be a part of this University.
"Since I was 3, I have been playing this sport & I knew from the jump one day this will help me glorify GOD's purpose and take care of my family one day. Football has opened many doors and blessings in my life! I want to give thanks to everybody who played a part in my journey!
"After much prayer & discussion with my family, I have decided to forego my senior season & enter the NFL Draft! I am looking forward to contributing at the next level! Rockout Buff nation".
–
… CU Press Release: Colorado junior wide receiver K.D. Nixon has announced that he will forego his final season of eligibility and declare for the 2020 NFL Draft.
Nixon was presented with CU's Eddie Crowder Award at Sunday's end of season banquet for outstanding team leadership and finishes his career in the top 25 in CU history in receptions and receiving yards, mostly amassed in his sophomore and junior seasons.
"K.D. Nixon has been a tremendous, productive and versatile Colorado Buffalo," CU coach Mel Tucker said. "He's a solid contributor that we'd love to have back for his final year, but I'm excited about his professional football future.  We're thankful for his hard-working attitude, his leadership on and off the field and how he's embraced our relentless culture. I look forward to seeing him excel as an NFL player.  Once a Buff, always a Buff."
Nixon played in 35 career games and started 20 and ends his CU career with 90 receptions for 1,118 yards and seven touchdowns.  He ranks 25th in CU history in both receptions and receiving yards.  He also had 16 rushes for 30 yards and one touchdown, 43 kickoff returns for 770 yards and three punt returns for nine yards.  In all, he amassed 1,148 yards from scrimmage, 1,927 all-purpose yards and nine touchdowns.  He completed his only career passing attempt, a 38-yard touchdown to Dimitri Stanley.  As a freshman, he also amassed 22 special teams points, second-most on the team and led the team with seven forced fair catches and seven times was first downfield.
He was a game captain for the UCLA game as a junior and named the NFF Colorado Chapter Player of the Week after the Nebraska game in which he caught six passes for 148 yards, including a 96-yard flea-flicker from Steven Montez.  That play is the longest play from scrimmage in CU history and believed to be the longest flea-flicker in college or pro football history.
"This University has molded me into a man and helped me both mentally and physically," Nixon said. "I will cherish the relationships I made here no matter what and always be very proud to be part of this family.  Football has opened many doors and blessings in my life.  I want to give thanks to everybody who played a part in my journey.  After much prayer and discussion with my family, I have decided to forego my senior year and enter the NFL Draft.  I'm looking forward to contributing on the next level.  Rock out Buff Nation!"
Nixon will finish the semester academically and begin combine training in January.  Some future dates of importance are the NFL Combine, which will be held Feb. 23-March 2 in Indianapolis, CU's pro day in mid-March and the NFL Draft, which will take place April 23-25 in Las Vegas.
Nixon joins Laviska Shenault Jr. as the 10th and 11th Colorado players to declare early for the NFL Draft; the nine previous Buffs were all juniors as well and were all selected, including two in the first round (defensive tackle Leonard Renfro by Philadelphia in the '93 draft and running back Rashaan Salaam by Chicago in '95).  Two others were second-round selections, the last two to declare: receiver Paul Richardson (by Seattle in 2014) and Isaiah Oliver (by Atlanta in '18).
This is just the second time more than one player has declared for the NFL draft early; in 1995, defensive tackle Shannon Clavelle joined Salaam in coming out early.  He was selected by Buffalo in the sixth round.
–
—
Dimitri Stanley: "I'm definitely ready to step in as a leader"
From the Daily Camera … Like a lot of the young players on the Colorado football team, Dimitri Stanley came away from this season believing he took another step forward as a player.
The redshirt freshman receiver also knows there's plenty more steps he can take.
Stanley finished this season fourth on the team in catches (29) and receiving yards (312), while scoring two touchdowns. He also rushed for 14 yards and gained 47 yards on eight punt returns.
"I think it went pretty well," he said of his first full season of college football. "I think I have a lot to work on over the offseason, but a lot of growth that can definitely be made for me and that I plan to make."
A four-star recruit coming out of Cherry Creek High School, where he caught 81 passes for 1,192 yards and 20 touchdowns as a senior, Stanley has steadily worked his way up the ladder at CU.
In 2018, he took advantage of a new NCAA rule that allows players to compete in up to four games and maintain a redshirt. He played in three games in 2018 and caught six passes for 43 yards.
This season, the 5-foot-11, 185-pound Stanley played in all 12 games and started eight as a slot receiver. He caught at least one pass in 11 games.
… Continue reading story here …
–
—–
December 9th
… CU in a few minutes … 
CU picks up a two-star wide receiver as a preferred walk-on
Justin Schafer, a two-star wide receiver prospect from Rancho Santa Margarita, California, has announced that he will be coming to Boulder as a preferred walk-on:
Schafer's tweet: Huge honor for me to announce that I have committed to the University of Colorado to continue my academic and football career as a PWO! Huge thanks to everyone that has supported me in this process!
Schafer is rated as a two-star prospect by 247 Sports com. He is listed as 6'1″, 175-pounds, the No. 422 overall wide receiver prospect in the nation. He is showing an offer from the University of San Diego, with interest in Stanford and Northwestern. He also had a preferred walk-on offer from Wake Forest.
This past season, for the 10-2 Tesoro high Titans (rated as the No. 52 school in the state of California by MaxPreps), Schafer had 80 receptions for 1,091 yards and 14 touchdowns.
"I have no idea what colleges aren't seeing," Schafer's coach Mike Poston told 247 Sports. "Justin can do it all. He's very consistent, catches everything, runs well, is good after the catch and always competes.
"He's a tremendous student as well with Ivy League grades. I've personally reached out to every Ivy League School about him and I don't get why they're not all over him but he would be a steal for anyone."
Here is a link to his Hudl.com highlights.
–
—
Pat Rooney: 2019 season "the basis for something bigger on the way"
From the Daily Camera … There wasn't a formal, end-of-year media session finalized on the schedule this past week for Colorado football coach Mel Tucker. But the Buffaloes' leader nixed the idea anyway.
It's time to get out on the road and take advantage of his first full offseason at CU.
As championship Saturday unfolded across the nation, with a spot in the College Football Playoff seemingly up for grabs after Utah's drubbing at the hands of Oregon in the Pac-12 Conference title game Friday night, the Buffs were out of the postseason picture, taking stock of their third straight 5-7 season in the first year under Tucker.
Tucker and his staff have already hit the road, hustling to secure the final pieces of a recruiting class that, in the early returns, has the look of being the best in years for the CU program.
It's yet another reason for optimism as fans take stock of Tucker's first year in Boulder (the one-year anniversary of his hiring was Thursday). Another 5-7 season certainly isn't reason to start popping the champagne bottles. But for once the 5-7 mark felt like the basis for something bigger on the way rather than the crumbling, and wasting, of potential. In the midst of the mid-season five-game losing streak, the Buffs looked just like any other CU team of the past decade-plus, outside the 10-4 2016 season. By the end, the Tucker Buffs altered that notion.
… Continue reading story here …
–
—
CU Athletics Department update from AD Rick George 
From CUBuffs.com … As we head into the holiday season, I have many great achievements to share with you.
The NCAA released national graduation rates in mid-November, and our six-year cohort number was an all-time high at 91 percent.  Since this information was tracked under its current formula, we had hit 90 percent for first time in the last report; it was at just 72 percent when it started being computed in 1998.  In addition, our student-athletes collectively achieved a grade point average of over 3.0 for the first time for the spring 2019 semester.  These terrific results are due to the hard work of our 350-plus student-athletes, coaches and the entire staff in the Herbst Academic Center.
Our fall sports seasons are concluded, and we enjoyed several highs with some lows mixed in; overall, I believe they were all extremely competitive and the future is bright.  At present, our overall record versus all Division I competition is 336-104-2, a 76.2 winning percentage and in the first release of the Fall Learfield Cup standings, we are ranked No. 4 in the country.  Here's a closer look:
Cross Country.  The cross country teams finished the year with a pair of top 10 finishes at the NCAA Championships with the men placing third and the women 10th.  The men were led by seniors Joe Klecker who was the runner-up finisher and John Dressel who placed seventh.  Senior Sage Hurta was the first CU female to finish (38th), becoming just the second CU female to earn All-America honors four times in cross country.  We also did well at the Pac-12 Championships: Klecker took home the individual crown and helped the Buffs record their seventh Pac-12 team title in the nine years we have been a member of the conference.   The women were fourth at the meet and again were led by Hurta, who was ninth overall.
Klecker was named the Pac-12 athlete of the year for cross country, while Kashon Harrison garnered freshman of the year accolades.  Hurta earned the scholar-athlete of the year honor for cross country, the third time in four years a Buffalo was selected for the prestigious award.
Mark Wetmore is in his 25th year as our cross country head coach, and under his tenure, the school has posted simply amazing numbers: eight national championships (five men, three women), 49 NCAA appearances between the two (32 top five finishes, 44 top 10 efforts) and 35 conference titles (19 men, 16 women).
Football.  While we didn't get to a bowl and have a winning season, I am excited about what I saw on and off the field.  We had some good wins, defeating Nebraska and Arizona State when they were ranked in the top 25, and beating two of the perennial Pac-12 powers, Stanford and Washington, in November.  We had seven one-score games, tied for the fourth-most in the country, and those build character.  I am extremely confident in our football program's future under the leadership I have seen Mel Tucker demonstrate in his short time in Boulder.
This group of seniors went through a lot, which is often the case anywhere with a coaching change.  But Mel embraced them and they fought in every game until the end and never gave up.  Several of those seniors and one junior – Laviska Shenault, who declared for the draft earlier this week – will go on to play on Sundays: 31 of the 32 NFL teams scouted our games in person this fall, over half doing so multiple times.
We had an increase of over 1,000 season tickets and sold out our allotment of student passes (12,500); Folsom sold out twice and in the end, we finished at 98.8 percent capacity, one of the top 10 figures in the nation.
Soccer.  The team earned its fifth appearance in the NCAA Championships under eighth-year head coach Danny Sanchez; a 6-0 win over Northern Colorado was our fifth first round win, and for the fifth time, the NCAA shipped us to the southeast for a second round match against a top seed.  This year, it was against top seed and second-ranked North Carolina, the third time we have been pitted against the Tar Heels on their home field, and for the third time, our women battled hard but lost, 1-0.  Senior goalie Jalen Tompkins, who made an incredible nine saves against North Carolina, and the program's all-time leading points leader, Taylor Kornieck, both earning All-Pacific Region recognition.  The team finished 12-8-2 on the season.
Volleyball.  The Buffs started out the season strong with five straight wins, including impressive sweeps of Iowa and then No. 5 Illinois in the annual Pac-12/Big Ten Challenge series.  The team finished the non-conference season with only two losses, both against CSU including the inaugural Golden Spike Match.  Unfortunately, youth and injuries caught up and we endured a 10-game losing streak to open Pac-12 play before splitting the last 10 matches, including wins over UCLA and Cal, both ranked No. 24 at the time.  Senior Rachel Whipple became just the fourth CU player with multiple 400 dig seasons and three players earned all-conference recognition, two honorable mention All-Pac-12 (Jenna Ewert and Justine Spann) along with Sterling Parker named to the All-Freshman team.
Men's Golf.  We defended our titles in two fall tournaments, winning the Gene Miranda-Air Force Falcon Invitational as well as our own Mark Simpson-CU Invitational.  In the process, those were the 16th and 17th team victories for Coach Roy Edwards, which set a school record as he tied and then surpassed 16 by the late Mark Simpson.  Senior Daniel O'Loughlin enters the spring portion of the schedule as one of Pac-12's (and nation's) top players, as he won one fall tournament (CU's Simpson) and owned a sparkling 70.4 stroke average.
Women's Golf.  The team participated in five fall tournaments and recorded top nine finishes in all, as Anne Kelly's young team is maturing (five underclassmen on the roster of seven).  The best finish was fifth in SMU's Trinity Forest Invitational. Individually, senior Kirsty Hodgkins led the Buffs with a 73.0 stroke average, as she recorded a pair of runner-up finishes at SMU and in the Betsy Rawls Invitational.  This is Kelly's 23rd season as head coach, as she has become the longest-tenured female head coach in our history, breaking a tie with Hall of Fame coach Ceal Barry who coached the women's basketball team for 22 seasons.
Tennis.  The team, in its second year under coach Danielle Steinberg, had an extraordinary fall season, easily its best in recent memory.  The Buffs were semifinalists in doubles at the annual ITA Mountain Regional Championship as well as had Sara Nayar as a finalist in singles play. Nayar and Monica Malinen also were invited to the ITA All-American Championships where they advanced to the quarterfinals in doubles play.  Nayar's success granted her an invitation to the ITA Fall National Championship where she advanced to the consolation round of 32.  Additionally, freshmen Maria Campos and Sophia Derivan picked up two flight wins in the Rice Fall Invitational and Rebel Invitational, respectfully.  The team will begin its spring season in mid-January with two matches in California against Southern Utah and Fresno State.
Men's Basketball.  In his 10th season as head coach, Tad Boyle might just have his best team when all is said and done.  Currently ranked No. 20 in the nation, the team is off to a 7-0 start heading into a nationally televised game this Saturday at No. 2 Kansas (5 p.m. MST, ESPN2).  Dating back to last February, the team is 19-4, tied for the fifth-best record in a 23-game span in program history.  The team had a once-in-a-lifetime experience playing the Pac-12's annual game in China, spending a week in the country and then capping it with a win over Arizona State.
Sophomore Evan Battey was selected as one of two student-athlete representatives to serve on the Pac-12 Conference's Mental Health Task Force.
Women's Basketball.  Coach JR Payne's team is off to a 7-0 start, the best since her first team went 10-0 in the fall of 2016.  After a very good win against Wisconsin at home, they went on the road and won back-to-back at two traditionally tough places to play – Wyoming and Colorado State.  Only four non-conference games remain until the Pac-12 opener at Utah on Dec. 29.
Indoor Track. Our season starts this weekend with some performers heading to Colorado Mines and others to Air Force.  All eyes through both the indoor and outdoor seasons will be on senior Dani Jones in her bid to win at least a fifth NCAA individual title; she is one of six CU athletes to have won four.
Skiing.  A month from now, the Buffaloes will begin our march for a 21st national title in the sport.  We had another highly successful Ski Ball back in September (the program's primary fundraiser), and as always, thank you to those who attend that special event.  Richard Rokos is in his 30th year as head coach, the fifth coach in our history to lead a program for three or more decades.
Alumni News.  We had three of our golfing alumni earn Tour cards for the 2020 season. Jenny Coleman ('14) and Esther Lee ('18) earned their LPGA Tour cards as both finished in the top 10 of the Symetra Tour's money list.   Sebastian Heisele ('11), by virtue of finishing in a tie for second in Europe's Challenge Tour Grand Final, earned his card for the European Tour. All three are fully exempt for the first time in their professional careers.
And congratulations are in order for junior volleyball player Emily DeMure, who in October was named Miss Colorado USA for 2020!
In closing, here's an excerpt from a recent column that appeared in CU Boulder Today, which is distributed weekly on campus.
"There is no greater priority I have as athletic director than ensuring the health and wellness of our student-athletes.  We know that mental health needs are growing for all college students.  In athletics, we have two full-time licensed counselors to address psychological health and performance needs.  On average, they see about 40 student-athletes per week; given this demand, we will soon hire two more staff members and a post-doctoral resident.
"Our student-athletes face many pressures, which has only been increased in this social media age.  We want to ensure their success while they are here and after they graduate.  We know that only a small percentage of them will continue on professionally, thus our Scripps Leadership and Career Development program is in place to prepare them for the day that will come when their collegiate career comes to an end.  One of these programs is called STEPS (Success Training and Exit Planning for Seniors).  Former CU standout quarterback Sefo Liufau recently joined current seniors at a dinner to talk about his struggles to make it in the NFL. Liufau told the audience how grateful he is to have an economics degree that he uses in his current profession as a Denver-area mortgage loan originator.
"Another key aspect of wellness is ensuring our student-athletes remain healthy now and long after they leave CU.  The long-term impacts of concussions have been debated in the press in recent years.  We don't just want to talk about it—we want to study the facts and present those findings to the benefit of all.  That's why our athletics staff is working closely with two CU Boulder professors on Pac-12-funded studies."
Best wishes for a happy holiday season and a happy new year!
C ollaboration and U nity,
Rick George
–
—–
December 8th
… CU in a few minutes … 
Awards Banquet: Laviska Shenault repeats as team MVP – Kinney; Montez; Taylor; and Landman named team captains
From CUBuffs.com … Junior wide receiver Laviska Shenault, Jr., was named the University of Colorado's most valuable player at the team's annual senior banquet Sunday afternoon at the Dal Ward Athletic Center.
Shenault, who announced this past Tuesday that he will forego his senior year in declaring for the National Football League draft, is just the sixth player in school history be named the team's MVP on multiple occasions.  The first year of the award was in 1959.
Joe Romig remains the only three-time recipient of the honor, as the guard/linebacker won it his sophomore through senior years (1959-61); Shenault joins James Mayberry (running back, 1977-78), quarterback Darian Hagan (1989, 1981), and receivers Rae Carruth (1995-96) and Nelson Spruce (2014-15) as two-time winners.  Shenault was the fifth sophomore to win when he was honored for 2018, and is now the seventh junior to be recognized.
Despite missing one full game and the better part of four others due to injuries, he tied for the team lead in receptions with 56 but led in yards with 764.  He scored six touchdowns, four receiving and two rushing, as he had 23 carries for 161 yards.  He earned 46 first downs, 26 on third for fourth down plays and was second on the Buffs in all-purpose yards with 979.
Shenault finished his CU career eighth all-time in receptions (149), 11th in receiving yards (1,943), 25th in yards from scrimmage (2,223) and 35th in all-purpose yards (2,332).  He was 45th in scoring (108 points on 18 touchdowns, 10 scored via receiving).
While captains were selected for every game by the coaches, the team selected the ones who would go down as the captains for the season.  Punter Alex Kinney, quarterback Steven Montez and outside linebacker Davion Taylor, all seniors, and junior linebacker Nate Landman were selected to go down in history for the 2019 season.
The coaches instituted a new award, based on the program's 2019 theme of being relentless.  The "Relentless Award"
Was presented to sophomore tight end Brady Russell as he best exemplified the "severity, intensity, strength and pace to which the CU program, is held to, and operates at high velocity and an uncompromising effort on a daily basis."
Russell, who was placed on scholarship prior to the season, caught 23 passes for 221 yards and two touchdowns, and also caught a pass for a two-point conversion.  The nephew of Matt Russell, CU's Butkus Award-winning linebacker in 1996, he also played on special teams.
The John Mack Award for the most outstanding player on offense was given to quarterback Steven Montez, who wrapped up his CU career the owner of 51 records (37 outright, 14 shared).  Included among those were several notable ones such as career passing yards (9,629), touchdown passes (63) and total offensive yards (10,609).  This season, he completed 63 percent of his passes for 2,808 yards and 17 touchdowns (against 10 interceptions), and ran for another 153 yards and three scores.  It was his third straight season with over 2,500 yards passing, one of his school marks as he finished his time at CU making 36 consecutive starts, a record for the quarterback position.
The Dave Jones Award for the outstanding defensive player was presented to junior inside linebacker Nate Landman, who shared the honor a year ago.  He led the team in tackles for a second straight year with 137, the most by a Buffalo in 12 seasons.  Of those 137, 112 were credited as solo stops, second-most in CU history.  He'll enter his senior season 21st on CU's all-time tackle list with 277; this year, he also played the most snaps on defense (785 out of 815), led the team in third down stops (15), had one interception and caused two, recorded eight tackles for loss including two quarterback sacks, had five tackles for zero (giving him 13 tackles at or behind the line of scrimmage), and had five passes broken up.
The Bill McCartney Award for special teams achievement was awarded to tight end Beau Bisharat and punter Alex Kinney.   Bisharat finished as CU's special teams points leader for the third straight year, earning 28 on the strength of eight tackles (two inside-the-20), six forced fair catches, five first downfield credits that altered returns, five knockdowns and two downed punts.  He finished with 98 career points, second in school history since the points program started in 1987.
Kinney averaged 41.9 yards for 262 career punts, 10th-best at Colorado, with school records of 96 punts inside-the-20 and 63 inside-the-15.  This year, he averaged 44.4 yards for 59 punts, with 23 inside-the-50 (18 inside-the-15) and 14 that traveled 50 or more yards.
The coaches also added three new "most improved" awards for the fall that have usually been awarded previously only in the spring.  Sophomore tailback Alex Fontenot was the choice on offense, junior inside linebacker Akil Jones on defense and receiver Jaylon Jackson on special teams.
Fontenot led the team in rushing with 874 yards as well as in all-purpose yards with 996, scoring five touchdowns and having the second-most first downs earned with 61.  Jones was fourth on the team in tackles with 61 (50 solo), seven at or behind the line of scrimmage with three third down stops and two pass break-ups.  Jackson, one of the gunners on the punt coverage unit, earned 13 special teams points (third on the team), with two tackles (both inside-the-20), a forced fumble and five forced fair catches.
CU's inspirational honors went to cornerback Lucas Cooper and outside linebacker Nu'umotu Falo, both seniors, as they received the Derek Singleton Award for spirit, dedication and enthusiasm; senior outside linebacker Davion Taylor and junior receiver K.D. Nixon shared the Eddie Crowder Award for outstanding team leadership; redshirt freshman defensive tackle Jalen Sami was the recipient of the Tyronee "Tiger" Bussey Award for inspiration in the face of physical adversity; and the Tom McMahon Award, for dedication and work ethic, was shared between three seniors: cornerback Delrick Abrams, receiver Tony Brown and safety Mikial Onu.
Fifth-year senior center Tim Lynott Jr. claimed the Dean Jacob Van Ek Award for academic achievement.  Lynott graduated last May with a bachelor's degree in strategic communication and currently has a 4.0 grade point average in graduate course work in organizational leadership.
The Scout Team Awards recipients were freshmen offensive linemen Austin Johnson and walk-on quarterback Matt Ryan on offense; freshman outside linebacker Alec Pell and sophomore transfer, Ryan Travis, walk-on safety.  This year, the coaches added awards for special team performers, with those going to freshmen receivers Clayton Baca and Alex Smith, both walk-ons.  The players selected for these honors are those who contributed the most to the weekly preparation on their respective scout teams over the course of the entire season.
The Lee Willard Award for the most outstanding freshman was shared by tailback Jaren Mangham and cornerback K.J. Trujillo, both true frosh.  Mangham rushed for 441 yards, the eighth-most in a single-season by Buff freshman, and scored three touchdowns.  He also had 10 receptions for 41 yards and earned 28 first downs overall.  Trujillo started six games after being pressed into duty due to injuries, and was on 21 tackles (16 solo, including a quarterback sack) in 438 snaps from scrimmage.  He had an interception, five passes broken up, five third down stops and two touchdown saves.
Montez once again earned the "Best Interview" honor from CU's beat media, for his attending every weekly press luncheon to being available postgame, whether the Buffaloes won or lost.  He's the fifth player to win the honor twice since its inception in 1987, joining Matt Russell (1995-96), George Hypolite (2007-08), Scotty McKnight (2009-10) and Phillip Lindsay (2016-17).
Head coach Mel Tucker, who completed his first season at Colorado with a 5-7 record, told the crowd in attendance that this season "Was not just about wins and losses.  It was about building a culture from the ground up through everything that we did on a daily basis.  You have to believe in yourself and embrace the vision; you can't wait for someone else to show you how to do it."
In all, 78 players earned letters this season, including 17 seniors and 32 who were cited as first-year lettermen.  The lettermen broke down into 36 on offense, 37 on defense and five specialists.
The complete list of CU award winners announced Sunday, selected by the coaching staff unless otherwise noted:
Team Captains (player vote): Alex Kinney, Nate Landman, Steven Montez, Davion Taylor
Relentless Award (exemplifies traits program held to): TE Brady Russell
Zack Jordan Award (most valuable player): WR Laviska Shenault
John Mack Award (outstanding offensive player): QB Steven Montez
Dave Jones Award (outstanding defensive player): ILB Nate Landman
Bill McCartney Award (special teams achievement): TE Beau Bisharat & P Alex Kinney
Lee Willard Award (outstanding freshman): TB Jaren Mangham & K.J. Trujillo
Most Improved Award (Offense): TB Alex Fontenot
Most Improved Award (Defense): ILB Akil Jones
Most Improved Award (Special Teams): WR Jaylon Jackson
Offensive Scout Player of the Year: OL Austin Johnson & QB Matt Ryan
Defensive Scout Players of the Year: OLB Alec Pell & S Ryan Travis
Special Teams Scout Players of the Year: WR Clayton Baca & WR Alex Smith
Dean Jacob Van Ek Award (academic excellence): C Tim Lynott, Jr.
Derek Singleton Award (spirit/dedication/enthusiasm): S Lucas Cooper & OLB Nu'umotu Falo
Tyronee "Tiger" Bussey Award (inspiration in the face of physical adversity): DT Jalen Sami
Tom McMahon Award (dedication/work ethic): CB Delrick Abrams, WR Tony Brown &S Mikial Onu
Eddie Crowder Award (outstanding team leadership): WR K.D. Nixon & OLB Davion Taylor
Offensive Trench Award: OT Arlington Hambright & OT William Sherman
Defensive Trench Award: DE Mustafa Johnson & DE Terrance Lang
Best Interview (selected by team beat media): QB Steven Montez
Previously announced:
Buffalo Heart Award (selected by the fans): C Tim Lynott, Jr.
–
—–
December 5th
… CU in a few minutes … 
CBS rates first-year head coaches (Mel Tucker gets a C+)
From CBS Sports … The 2019 regular season is in the books, and several rookie coaches made their first impressions on the college football world. From Ryan Day at Ohio State to Manny Diaz at Miami and everyone in between, coaches laid the groundwork for the future of their respective programs throughout the fall.
Some were successful … and others were not. Some led their teams to bowl games … and others fell just short. But the process is still ongoing, potentially with better days on the horizon for some. Others could be a flash in the pan at their programs with the bottom set to fall out by the time Year 2 rolls around next summer.
Let's grade the first-year coaches from 2019 based solely on their performance this season.
Colorado – Mel Tucker – 5-7 … Tucker couldn't lead the Buffaloes to a winning record despite having quarterback Steven Montez and wide receiver Laviska Shenault. That shouldn't happen … Grade: C+
–
—–
December 4th
… CU in a few minutes … 
Buffs pick up future long-snapper 
With four-year long-snapper J.T. Bale graduating, the Buffs were in the market for a new long-snapper … and it looks like they found one.
Travis Drosos, from Perry high school in Gilbert, Arizona, is coming to Boulder as a preferred walk-on.
From his tweet announcing his decision: "Beyond thankful for the opportunity to play at the University of Colorado Boulder. Thank you".
A first team all-regional performer, Drosos had preferred walk-on offers from Oregon State, Utah and Arizona.
CU has two other walk-ons on the roster for next season,  red-shirt freshman James Townshend and freshman Derek Bedell.
Here is a link to Drosos' Hudl.com highlights.
–
—
NFL Insider: "Zero doubt" that Laviska Shenault is a first round pick
From the Daily Camera … In 15 years of scouting and covering the NFL Draft, Cecil Lammey has seen exceptional talent year after year.
Colorado's Laviska Shenault is unlike anyone Lammey has scouted.
"We've never seen a Laviska Shenault," said Lammey, an NFL insider for 104.3 The Fan in Denver. "He's kind of a Julio Jones combined with a little Christian McCaffrey. Trying to do a pro comparison on Laviska Shenault is going to make my head explode this spring, because it's a combination of star names at different positions."
On Tuesday, Shenault declared for the 2020 draft, electing to forego his senior year and pursue his NFL dream. For the past year, Shenault has been viewed as a possible first-round pick, and Lammey said that hasn't changed.
Shenault could be CU's first first-round pick since tackle Nate Solder and cornerback Jimmy Smith in 2011.
"There's no doubt that Laviska Shenault is a first-round pick; zero doubt," Lammey said. "Now, where in the first round does he go? The answer we won't truly get until the combine, until those medical evaluations. He should test off the charts. He should be one of the combine stars. But it's really the behind-the-scenes medical check that he'll have with 32 teams, basically as they poke and prod him all weekend in Indianapolis. That's going to determine, is he a top-10 pick, like he was before the start of the season?
… Continue reading story here …
–
—
Praise for Laviska: "As good as he is on the field, he's an even better person"
From CUBuffs.com … Laviska Shenault said he first began to believe he could play in the National Football League when he was playing on his DeSoto (Texas) high school scout team.
"Players on the varsity would tell me, 'You're gonna be great one day, you're gonna be great,'" Shenault said Tuesday afternoon. "So that's from that point on I just kept working, kept working."
He did indeed keep working. It produced stardom at DeSoto, then All-America honors as a sophomore at Colorado and a standout junior season as well.
Tuesday, he moved one step closer to his dream of playing pro ball when he announced that he would forego his final year of eligibility with the Buffaloes and make himself eligible for the NFL Draft next April.
Shenault and CU Athletic Director Rick George appeared at an afternoon press conference to discuss Shenault's decision. George filled in for CU head coach Mel Tucker, who was on the road recruiting.
"This is an exciting day for Viska," George said. "He's a special young man and as good as he is on the field, he's an even better person. He's represented Colorado in an incredible way. The memories that he gave our fans the last three years have been significant. He's worked his entire life to get to this point. I'm proud of him and happy for him and I wish him the best. I don't watch a lot of NFL football but I know I'll be watching this guy every Sunday for a long time in what I hope is a great career for him."
Shenault was an electrifying and extremely versatile player in his career with the Buffs, while earning a reputation as a physical receiver who was almost impossible to tackle in a one-on-one situation.
… Continue reading story here …
–
—–
December 3rd
… CU in a few minutes … 
Laviska makes it official: Shenault declares for NFL Draft
Note … Shenault is the 10th Buff to declare early for the NFL Draft. All of the previous nine Buffs to declare early were drafted (most recent: Isaiah Oliver in 2018, taken in the second round by Atlanta) … 
From CUBuffs.com … Colorado junior wide receiver Laviska Shenault Jr. has announced that he will forego his final season of eligibility and declare for the 2020 NFL Draft.
A top NFL prospect after a breakout sophomore season in 2018, Shenault cemented those rankings as a junior, putting his superior speed and strength to the test despite being hampered with injuries and becoming the focal point for all defenses the Buffs faced in 2019.
"Laviska Shenault represented our relentless culture and was one of the most dynamic, dominant and versatile players that I have ever coached," CU coach Mel Tucker said. "He embodies the true 'show me, don't tell me' competitive spirit.  I look forward to watching him develop and compete at the elite level and thank him for his contributions on and off the field.  Once a Buff, always a Buff."
One of the most dynamic players in the nation over the past two seasons, he lined up, caught passes and ran the ball from a multitude of positions including outside receiver, slot receiver, h-back, tailback, and tight end, as well as running the ball out of the wildcat position.
"First and foremost, I want to thank all of my friends, family and all those who helped me get where I am today," Shenault said. "I took in a lot of wisdom and knowledge from all of you and used it to make me a better man on and off the field.  I'm blessed to be in the position I am today and I know my dad would be proud of the foundation I left as I pursue my dream of playing at the next level and declaring for the 2020 NFL Draft."
… Continue reading story here …
–
–
—
Alex Fontenot on 2019 season: "We did all we could and it's a good first step"
From Brian Howell at the Daily Camera … Despite the all-too-familiar and excruciating 5-7 record this year, Tucker proved he can coach – and he's proving he can recruit. He's highly respected by the players, the administration, the fans and, yes, even the media.
"There's been a culture change here at CU, and definitely a lot more intensity with coach Tuck," senior receiver Tony Brown said. "He brings that SEC culture here and he's a players' coach and we all like that, but I think the culture was what changed."
Senior star backer Davion Taylor said the team felt more like a family this year, and it started with the seniors, who led the buy-in to Tucker and his staff. Looking to the future, the younger players have bought in, too.
"(The foundation) has definitely set in," redshirt freshman receiver Dimitri Stanley said. "Me actually getting to experience what it was like last year versus this year, definitely a culture change. Definitely a different sense of urgency when it comes to just where we need to be. I think coach Tuck will definitely have us ready and prepared to win games next year."
Sophomore running back Alex Fontenot told me, "I feel like we did all we could and it's a good first step."
That, frankly, is what Tucker wanted to get out of this season: steps forward. I know he was confident he could figure out how to win six games and go to a bowl game, but I also know he wasn't delusional. He and George had high expectations, but Tucker knew he was taking over a program that needed some work – or a lot of work.
… Continue reading story here …
–
—
CU commit Montana Lemonious-Craig: "I have a daily schedule: go to school, practice, homework, sleep"
… Related … "CU Recruiting Class of 2020"
From the Los Angeles Sentinel … Inglewood senior Montana Lemonious-Craig plays on both the Sentinel's football and boys basketball teams. His main focus is his schoolwork and his athletics skills, he works to avoid distractions.
"I have a daily schedule: go to school, practice, homework, sleep," Lemonious-Craig said. "I don't really have time for too many social events."
Lemonious-Craig have been playing both sports since his youth, he started playing basketball at seven years old at the Inglewood park league and football at eight years old with the Inglewood Jets.
Playing football gives Lemonious-Craig a unique set of skills on the court.
"Athleticism, toughness, all that interacts with being on the basketball court," he said. "Sometimes there's a certain toughness that football players have that basketball players don't."
With Inglewood football going to the playoffs, Lemonious-Craig did not fret about his games overlapping basketball games. His coaches understand his obligations to both teams that he's on.
"I'm trying to be successful in both," he said. "Once I'm on one for that time period, I'm dedicating all my time to that sport."
While the Sentinels had a contending football season, Lemonious-Craig noted how a challenge was getting his teammates accustomed to the culture implemented by their new coaching staff.
"We were coming off of a very struggle-built season last year, it was kind of hard to tell everybody we got it this year," Lemonious-Craig said. "Once everybody was able to buy in, the results were coming."
The Sentinels were undefeated in-season; in five games, their opponents did not score. Lemonious-Craig finished his senior football season with 1227 total receiving yards. He scored a season high of 4 touchdown catches in a shut-out win against West High School.
In their win against Santa Monica in the second round of the playoffs, Lemonious-Craig racked up 135 reception yards and two touchdowns.
… Continue reading story here …
–
—–
December 2nd 
… CU in a few minutes … 
CU coaches out on the recruiting trail (maps)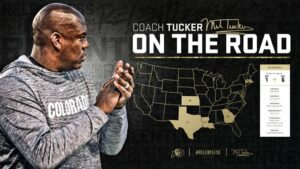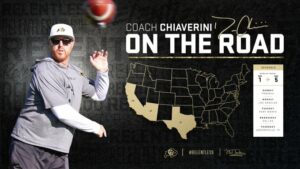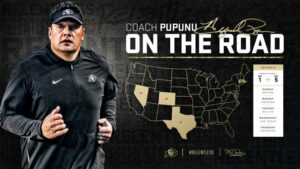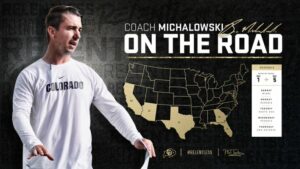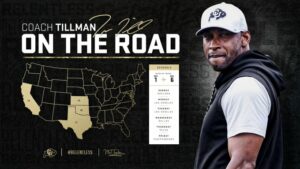 –
—
"Physicality" a watchword for Buffs going forward: "I knew what to expect and I know where we need to go"
From the Daily Camera … Mel Tucker spent the previous four seasons in the Southeastern Conference, where toughness is the standard across the board. Six of the top 20 scoring defenses in the country in 2018 were from the SEC, including Georgia, which ranked No. 14 with Tucker as coordinator. His Georgia defense ranked sixth nationally in 2017. In 2016, the SEC had four of the top seven scoring defenses in the country (Washington, which had arguably the best defense of the Pac-12 era in 2016, ranked eighth that year).
Tucker's vision for CU stems from nearly 30 years of playing or coaching physical defenses – not from watching film of the Utes or anyone else in the Pac-12.
"I knew what to expect and I know where we need to go," he said after the loss to Utah. "I knew where we needed to go before I got here, in terms of what type of team we need to build, in terms of physicality and how we need to recruit, and what type of players we need to have and what type of structure we need to have, and discipline and culture. That doesn't have anything to do with Utah."
Rather than Saturday's game being a lesson taught by the Utes, it was an example of Tucker's message getting through to his team. The Buffs were beaten on the scoreboard, but not physically.
"I definitely think that we matched their physicality," receiver Tony Brown said. "They just made more plays than us. They're a very good team, but physicality wise, I definitely think we matched them."
… Continue reading story here …
–
—–
December 1st 
… CU in a few minutes … 
Neill Woelk – Nine Takeaways from the 2019 season
From CUBuffs.com … On the surface, the Colorado Buffaloes' last three seasons have been similar. Each year, the Buffs finished with a loss that left them one game short of bowl eligibility.
But when you dig a little deeper, the difference between 5-7 in 2018 and the same record this year is dramatic. The Buffs are a different team. The foundation coach Mel Tucker began putting down a year ago is settling into place, and he and his staff are already in the process of building on those cornerstones.
Typically, we follow every game during the season with takeaways from that specific contest. But with 2019 now in the books, we'll look back at the season with an eye on the future at the same time.
Our initial takeaways from 2019:
1. The Buffs are physically and mentally tougher. Perhaps the most telling example of that improvement came in Week 10 of the season. With a five-game losing streak hanging over their heads — and memories of 2018's season-ending seven-game swoon all too real — the Buffs shook themselves out of their doldrums and beat Stanford, 16-13. One week later, they knocked off Washington for their first win over the Huskies since entering the Pac-12.
Two wins over two perennial Pac-12 powers sent the message that these Buffs were a different breed from years past. They showed an element of toughness against two programs whose calling card has been physical, fundamentally sound football — and they beat those programs at their own game.
That's something Buffs fans had not seen in a while. Aside from the 2016 senior-dominated bunch that won the Pac-12 South, the Buffs have not been a program known for its toughness.
That has changed, and it's no doubt a message that has been heard throughout the Pac-12.
… Continue reading story here …
–
—
Laviska Shenault likely to turn pro: "Most likely I'm out … we'll see" 
From the Daily Camera … Before the Colorado football team played a game or even held a practice this season, Laviska Shenault knew there was a good chance he was preparing for his final season with the Buffaloes.
Walking out of Rice-Eccles Stadium in Salt Lake City on Saturday night, the sensational junior receiver wasn't ready to officially declare he's not coming back for his senior year, but chances are that CU's 45-15 loss to Utah was his final college football game.
"Most likely," he said. "Most likely I'm out, but I'm going to sit down and talk to my mom and my coaches. At this point, I just have to be smart and I've got to make a long-term decision for me. I just have to make a smart decision for myself. So we'll see."
The 6-foot-2, 220-pound Shenault came into the season projected as a first-round pick in the 2020 NFL Draft if he skipped his senior season. Despite dealing with injuries and not putting up the numbers many expected, his draft status hasn't changed much. Even in a class potentially loaded with exceptional receivers, Shenault is still projected as a first-round pick in most mock drafts.
… Continue reading story here …
–
—
With Arizona's loss to ASU, Buffs finish 5th in Pac-12 South
From the Daily Camera … It is perhaps a small consolation to Colorado, but when the college football regular season came to a close on Saturday night, the Buffaloes avoided their familiar spot in the Pac-12 standings.
Arizona's loss to Arizona State late Saturday night left the Buffs (5-6, 3-6 Pac-12) in fifth place in the South standings. It's just the second time in nine years in the conference that CU was not in last place.
Arizona (4-8, 2-7), which lost its last seven games, settled into the basement.
While the Buffs didn't achieve their goals of bowl eligibility and winning the South, they did win at least three conference games for just the second time in the last 12 years – dating back to their final three years in the Big 12. The only other year was the 2016 Pac-12 South title season, when the Buffs went 8-1 in the conference (10-4 overall).
… Continue reading story here …
–
—–