—
Pac-12 Notes
—
December 14th
… Foe Pause … 
Industry experts: Pac-12 Networks model not as bad as thought
From Jon Wilner at the San Jose Mercury News … We interrupt the popular narrative — that Pac-12 commissioner Larry Scott has pursued a horrendous media strategy — for some perspective. (Yep, that gosh-darn perspective.)
In a recently-published roundtable discussion for AthleticDirectorU, a well-respected industry site, three media experts addressed the decision to retain 100 percent ownership of the Pac-12 Networks and the opportunity that presents for a mega-deal in coming years.
The experts are Tom Stultz, president of JMI Sports; AJ Maestas, CEO of of Navigate Research; and Hillary Mandel, senior vice president of IMG Media.
Surprise, surprise: They have a slightly different view of Scott's strategy than the non-experts.
The link to the full roundtable is below, but here are a few snippets.
On the Pac-12's decision to take 100 percent ownership of its network:
Stultz: "The true value of the conference's strategy won't be fully known until the next round of rights negotiations. The Pac-12 will have more options available to it than any other conference because of the rights it has retained. Whether or not that pays off will be clear once those negotiations occur."
Maestas: "No one can predict the future, but no sports property I know of regrets their decision to take equity in their own network. I think it was very smart at the time and long-term will prove to be the right decision, even if they are feeling some short term pain. If the Pac-12 had followed the Big Ten/SEC model, it would have committed itself to a disadvantaged position in perpetuity."
… Continue reading story here …
–
—–
December 13th
… Foe Pause … 
Arizona State kicks off bowl season against MWC champion Fresno State
From ESPN … Las Vegas Bowl, 1:30 p.m., Saturday, ABC
Why to watch: Two coaches in their second acts — Arizona State's Herm Edwards and Fresno State's Jeff Tedford — have found unexpected success.
Whom to watch: Fresno State quarterback Marcus McMaryion, an Oregon State transfer, has completed 69.8 percent of his passes for 3,453 yards, 25 touchdowns and 3 interceptions. He ranks No. 3 among Group of 5 players with a 78.5 total QBR.
Motivating factor for Fresno State: The Bulldogs are trying to become the first team in the 97-year history of the program to win 12 games in a season. They can also beat the Sun Devils for the first time; they're 0-3 in the series, with the most recent meeting coming in 1941.
Motivating factor for Arizona State: The Sun Devils can turn around their postseason slump in Edwards' first season. They've dropped six of their past eight bowl games and three of the past four.
Prediction: Fresno State 35, Arizona State 28
–
From CBS Sports … Arizona State (+5) vs. Fresno State: I've been a fan of Fresno State this season, and not just because it went 9-4 ATS. It's been a good team all season long, and it won the Mountain West because of it. Still, while it's dominated the Mountain West, for the most part, Fresno State has struggled when facing stronger teams. Using S&P+ ratings, the Bulldogs have played five top 60 teams this season. It is 3-2 in those games, with two losses coming on the road against Minnesota, and at Boise State in their regular season meeting.
This line opened with Fresno State as a 3.5-point favorite and it's climbed since it was announced that Arizona State's N'Keal Harry wouldn't be playing in the game. He's a big loss, but I'm not sure he alone is worth a point and a half to the spread. Even if they aren't at full strength, I'm more inclined to trust the Arizona State team that's been battle-tested by the more difficult schedule this season. The fact that none of the Sun Devils' five losses have come by more than a touchdown and is 5-2 ATS as an underdog this year. Fresno State 27, Arizona State 24
–
—
Jon Wilner's Bowl picks: Pac-12 to go 4-3
From the San Jose Mercury News … How should we define a successful bowl season for the Pac-12, which is in dire, desperate need of a successful bowl season?
It depends whether Washington wins the Rose Bowl, which, one could argue, is the conference's most significant postseason game since the Huskies were in the playoff two years ago.
Actually, check that. It's more important than UW's semifinal duel with Alabama because back then, the conference wasn't coming off two substandard regular seasons and one atrocious postseason.
Which makes the Huskies' looming date with Ohio State the Pac-12's most significant postseason game since Oregon's appearance in the national championship at the end of the 2014 season.
Washington's date is momentous because it's the Granddaddy and because it's Ohio State and because it's Power Five champ against Power Five champ and because of the Pac-12's less-than-stellar showing on the national stage in the past 12-24 months.
The conference has seven bowl games.
It is facing six opponents from the Power Five (one ACC, two Big 12, three Big Ten).
It is favored in four, a pick (even) in one, a slight underdog in one and a sizable underdog in one.
Straight-up winners: Arizona State, TCU, Iowa State, Stanford, Oregon, Utah and Ohio State.
Five-star special: Arizona State. Bowl games are often about nothing more than motivation, especially games early in the three-week cycle. Edge to ASU, which is coming off an inspired season and epic comeback in the regular-season finale.
–
—–
December 12th
… Foe Pause … 
Quotes of the year from Herm Edwards, Mike Leach, and Chip Kelly
From ESPN … It's the end of the year, the dreaded doldrums between the greatness of college football season and the greatness of the college football bowl season.
We're passing the time with remembering our favorite tweets, phrases, outburts and utterings this year.
OK. Cool. Read 'em! Do we have to say any more? We're not going to! So quit asking …
Herm Edwards …
"Am I supposed to be looking at you? Am I looking at you, cameraman? Who am I looking at? That camera? OK. Got all these cameras, I don't know who to look at. Who's in charge of this? Send somebody up here and say what camera you're supposed to look at."
— New Arizona State coach Herm Edwards, upon taking the podium at Pac-12 media day.
"Signing Day is a little bit unusual for me, because in pro football, you get to draft them. In college, they get to pick you!"
— Edwards, on college recruiting.
Mike Leach …
"All you people who like disco and want to revive disco, you're out of your mind. I don't care what you think."
— On his prom.
"You don't wanna get tied up with him. You don't want to let him get his hands on you. He is big and he's got long leverage. So you don't want him to get those things on you."
— Scouting Oregon coach Mario Cristobal for a potential coach's brawl.
"They didn't pay me last time. And I'm happy here. … They haven't paid me for 2009 and we won nine games that year. And they haven't won nine games since."
— On Dec. 1, dismissing news reports that he was interested in returning to Texas Tech.
Chip Kelly …
"The only person I'm disappointed in is [Oakland A's general manager] Billy Beane, I wish he would have given him more money. Maybe he wouldn't have come back."
— UCLA coach Chip Kelly, after Oklahoma quarterback Kyler Murray accounted for 375 yards and five touchdowns in a Week 2 win over the Bruins.
"At one point Milli Vanilli was on top of the world, and then it all crashed and burned."
— Kelly, on why USC's three-game winning streak against the Bruins entering this season wasn't a source of concern.
… and, because I'm from Bozeman …
"These guys do not wear undershirts. These guys do not wear cutoff socks. If it was legal, they would be having a beer at halftime. They are old school. They want to fight you. … These guys wish they were smoking a cigarette and having a Budweiser."
— Portland State coach Bruce Barnum on Montana State, to Skyline Sports.
… Read full list of quotes here …
–
—–
December 10th
… Foe Pause … 
Pac-12 teams favored in four of seven conference bowl games
… Note … After going 1-8 in bowl games last year, the Pac-12 is looking to save some face this post-season … 
From CBS Sports …
Sat., December 15th – Las Vegas Bowl — 1:30 p.m., MT, TV: ABC
Arizona State vs. No. 21 Fresno State (-4.5)
Wed., December 26th – Cheez-It Bowl — 7 p.m., MT, TV: ESPN
TCU vs. Cal (PK)
Thurs., December 27th – Alamo Bowl — 7 p.m., MT, TV: ESPN
No. 24 Iowa State vs. No. 13 Washington State (-4)
Mon., December 31st – Sun Bowl — noon, MT, TV: CBS
Pittsburgh vs. Stanford (-6.5)
Mon., December 31st – Redbox Bowl — 1 p.m., MT, TV: FOX
Michigan State vs. Oregon (-2.5)
Mon., December 31st – Holiday Bowl — 5 p.m., MT, TV: FS1
No. 22 Northwestern vs. No. 17 Utah (-6.5)
Tues., January 1st – Rose Bowl Game — 3 p.m., MT, TV: ABC
No. 9 Washington vs No. 6 Ohio State (-6.5)
–
—–
December 4th
… Foe Pause … 
Jon Wilner's All-Pac-12 teams includes three Buffs
… Note … The Pac-12 will announce its All-Pac-12 teams on the Pac-12 Networks Tuesday, 6:00 p.m., MT … 
From the San Jose Mercury News …
FIRST TEAM
Offense
QB: Washington State's Gardner Minshew
RB: Arizona State's Eno Benjamin
RB: Utah's Zack Moss
OT: Washington State's Andre Dillard
OT: Oregon's Calvin Throckmorton
OG: Utah's Jordan Agasiva
OG: Oregon's Shane Lemieux
C: Arizona State's Cohl Cabral
TE: UCLA's Caleb Wilson
WR: Oregon's Dillon Mitchell
WR: Stanford's JJ Arcega-Whiteside
WR: Arizona State's N'Keal Harry
All-Purpose: Arizona's JJ Taylor
Defense
DE: Washington State's Logan Tago
DE: Utah's Bradlee Anae
DT: Washington's Greg Gaines
DT: Oregon's Jordon Scott
LB: Washington's Ben Burr-Kirven
LB: Utah's Chase Hansen
LB: Cal's Jordan Kunaszyk
LB: Colorado's Nate Landman
CB: Washington's Byron Murphy
CB: Utah's Javelin Guidry
CB: Stanford's Paulson Adebo
S: Washington's Taylor Rapp
S: Washington State's Jalen Thompson
Specialists
K: Utah's Matt Gay
P: UCLA's Stefan Flintoft
KOR: Washington State's Travell Harris
PR: Arizona's Shun Brown
SECOND TEAM
Offense
QB: Oregon's Justin Herbert
RB: Washington's Myles Gaskin
RB: UCLA's Joshua Kelley
OT: Arizona State's Quinn Bailey
OT: Utah's Jackson Barton
OG: USC's Chris Brown
OG: Oregon State's Gus Lavaka
C: Washington's Nick Harris
TE: Stanford's Kaden Smith
WR: USC's Michael Pittman
WR: Colorado's Laviska Shenault
WR: Utah's Britain Covey
All-Purpose: Stanford's Cameron Scarlett
Defense
DE: Oregon's Justin Hollins
DE: USC's Christian Rector
DT: Colorado's Mustafa Johnson
DT: Utah's Leki Fotu
LB: Arizona's Colin Schooler
LB: Arizona State's Merlin Robertson
LB: Cal's Evan Weaver
LB: Utah's Cody Barton
CB: UCLA's Darnay Holmes
CB: Oregon's Thomas Graham
CB: Cal's Camryn Bynum
S: Oregon's Ugo Amadi
S: Cal's Ashtyn Davis
Specialists
K: Arizona State's Brandon Ruiz
P: Utah's Mitch Wishnowsky
KOR: Oregon's Tony Brooks-James
PR: USC's Tyler Vaughns
–
—–
December 3rd
… Foe Pause … 
Washington State Athletic Director upset that Cougars were denied a New Year's Six Bowl
From The Athletic … Washington State athletic director Pat Chun was not pleased to see two-loss Washington State finish No. 13 overall in the College Football Playoff rankings, dropping below three-loss teams in Florida, LSU and Penn State after losing the Apple Cup against rival Washington two weeks ago.
"We can easily infer that where we're ranked is a result of maybe the perception of the league," Chun said, per Kyle Bonagura of ESPN.com.
He continued:
"We're very disappointed with where we ended up being ranked. We believe, as a 10-win team in Power 5 league, the manner in which our two losses came, statistically how we match up with the other teams in the same cluster as us, we believed our résumé ranked perhaps higher than where the committee thought it was, but they are empowered to make those decisions. We'll respect those decisions.
"We are not happy with where we're ranked, but we're ecstatic to be in the Alamo Bowl."
Chun believed Washington State should have been awarded a New Year's Six bowl, but instead landed in the Alamo Bowl against No. 24 Iowa State. Whether that was disrespect against the Pac-12 is harder to gauge, especially since the conference had a pretty obvious down year.
… Continue reading story here …
–
—
Point of no return – ASU star wide receiver N'Keal Harry hires an agent; will skip Las Vegas Bowl
From ESPN … Arizona State standout wide receiver N'Keal Harry will not play in the Sun Devils' bowl game, coach Herm Edwards confirmed to ESPN on Monday.
Edwards said that Harry, who had already decided to forgo his senior season and declare for the 2019 NFL draft, has signed with an agent and has already started training for the NFL draft.
"N'Keal is N'Keal. He's one of those guys who you have to find ways to get him the ball," Edwards said. "I felt like [offensive coordinator] Rob Likens did a great job of moving him around, whether it was moving him inside or outside. In the big moments, he came up with big plays. You need a play and he makes one that ignites the team. He catches it at moments of big games and when the momentum needed to be switched, he made those plays.
"That's the kind of guy he is."
… Continue reading story here …
–
—–
December 2nd
… Foe Pause …
Pac-12 bowl games set 
Pac-12 bowl games (by seeding)
Rose Bowl … January 1st … Washington v. Ohio State
Alamo Bowl … December 28th … Washington State v. Iowa State
Holiday Bowl … December 31st … Utah v. Northwestern
Redbox Bowl … December 31st … Oregon v. Michigan State
Sun Bowl … December 31st … Stanford v. Pitt
Las Vegas Bowl … December 15th … Arizona State v. Fresno State
Cheeze-It Bowl … December 26th … California v. TCU
–
—
John Canzano's four-part series an indictment of commissioner Larry Scott and the Pac-12
… Note … Canzano is a columnist for the Oregonian, and recently published a scathing four-part series, pulling no punches in condemning the current status of the Pac-12, and laying it all at the feet of Pac-12 commissioner Larry Scott …
Part 1: How Larry Scott and the Pac-12 continue to lose ground in the college football arms race
Part 2: A look inside the beleaguered Pac-12 instant-replay command center, where Woodie Dixon is still a central figure
Part 3: Pac-12 loses 'staring contest' with DirecTV, leaving fans in the dark and limiting the conference's reach
Part 4: Closing the door on the Pac-12 Conference headquarters: Is Larry Scott willing to make changes?
–
One response … A tweet from Washington State president Kirk Schulz:
"I have read all of the articles – and I am sure most of my colleague Presidents have as well. As Presidents – we will certainly be discussing many of these issues. However, just because we don't tweet about these conversations doesn't mean we aren't having them. #GoCougs"
–
—
Former Utah athletic director Chris Hill calls for an investigation into Pac-12's expenditures
From Football Scoop … In one of the more thoroughly reported and devastating takedowns of conference leadership we've ever seen, this week Oregonian columnist John Canzano took a knife to Larry Scott's conference and methodically went to work slicing and dicing. The result is a well filleted corpse, shedding some light into the belly of the Pac-12 conference.
The entire series was well reported; but if you only catch this closing piece you'll know enough. Pac-12 leadership has a lot of questions to answer; and it isn't hard to envision sweeping changes coming at the top of the conference.
In Canzano's summary piece, former Utah athletic director Chris Hill, who spent 31 years with the University, is "publicly calling for an internal investigation into the conference's expenditures." Can you imagine an athletics director for a major public university feeling the need to call for an investigation into his own conference's finances? Action needs to be taken.
–
—–
November 29th
… Foe Pause … 
No. 11 Washington holds off No. 17 Utah, 10-3, to claim Pac-12 championship
… Note … If Jimmy Lake is to become CU's next head coach, his final game at Washington – the only touchdown of the game scored by the Washington defense – was a great audition … 
… Related … "One bad bounce ends Utah's Rose Bowl hopes in a 10-3 loss to Washington" … from the Salt Lake City Tribune
Game Story from ESPN … Byron Murphy returned a deflected interception 66 yards for the game's only touchdown to lead No. 10 Washington to a 10-3 victory over No. 17 Utah in an offensively challenged Pac-12 championship game Friday night.
In a matchup of the two stingiest defenses in the conference, neither offense could get much of anything going at all. So it was only fitting that a dropped pass by Utah (9-4, No. 17 CFP) led to an interception for Washington (10-3, No. 11 CFP) and the only touchdown.
Both teams had been held to just one field goal when the Huskies broke through late in the third quarter.
… Continue reading story here …
–
—–
November 28th
… Foe Pause … 
Grading the 2018 coaching hires – Five from the Pac-12
From CBS Sports … The 2018 regular season is in the books, and several first-year coaches made their first impressions on the college football world. From Chip Kelly at UCLA to Scott Frost at Nebraska and everywhere in between, coaches laid the groundwork for the future of their respective programs throughout the fall.
Some were successful, and others were not. Some led their teams to bowl games, and others fell just short. But the process is still ongoing, potentially with better days on the horizon for some. Others could be a flash in the pan at their programs with the bottom set to fall out by the time Year 2 rolls around next summer.
Let's grade the first-year coaches from 2018 based solely on their performance this season.
Arizona – Kevin Sumlin … 5-7 … Grade: D … Sumlin came in with a superstar in quarterback Khalil Tate, laid several eggs early, blew a rivalry game to Arizona State and missed a bowl.
Arizona State – Herm Edwards … 7-5 … Grade: B+ …  The experiment paid off better than expected, including wins over Michigan State and Utah, and it ended with a bowl berth.
Oregon – Mario Cristobal … 8-4 … Grade: B- …  The Ducks had the talent to contend for the Pac-12 North, but bad losses to Stanford and Arizona were head-scratchers.
Oregon State – Jonathan Smith … 2-10 … Grade: D- … Only one of the Beavers' wins was over an FBS program, but it was a 28-point comeback.
UCLA – Chip Kelly … 3-9 … Grade: C … Closing strong with a win over rival USC was great, but that record in the Pac-12 South is unacceptable.
—–
November 27th
… Foe Pause … 
Championship game odds … Pac-12 title game the closest
From 5Dimes.com …
— Pac-12 title game … No. 11 Washington is a 5.5-point favorite over No. 17 Utah … Friday, 6:00 p.m., MT, Fox
— Big 12 title game … No. 5 Oklahoma is an 8.5-point favorite over No. 14 Texas … Saturday, 10:00 a.m., MT, ABC
— SEC title game … No. 1 Alabama is an 8.0-point favorite over No. 4 Georgia … Saturday, 2:00 p.m., MT, CBS
— ACC title game … No. 2 Clemson is a 26.5-point favorite over Pittsburgh … Saturday, 6:00 p.m., MT, ABC
— Big Ten title game … No. 6 Ohio State is a 14.5-point favorite over No. 21 Northwestern … Saturday, 6:00 p.m., Fox
— Others … 
— Cal is a 2.5-point underdog at home against Stanford … Saturday, 1:00 p.m., MT, Pac-12 Networks
— Mountain West title game … No. 22 Boise State is a 2.5-point favorite over No. 25 Fresno State … Saturday, 5:45 p.m., MT, ESPN
— American title game … No. 8 Central Florida is a 3.5-point favorite over Memphis … Saturday, 1:30 p.m., MT, ABC
— Mid-American title game … Buffalo is a 3.5-point favorite over Northern Illinois … Friday, 5:00 p.m., MT, ESPN2
–
—-
AT & T drops Pac-12 Networks
… Note … If you read the entire article, the loss of AT & T  and U-Verse isn't great in terms of dollars, but it is in terms of optics, with the Pac-12 – which could use some good news, absorbing another black eye … 
From Jon Wilner at the San Jose Mercury News … The Pac-12 announced a gut-punch today that was months in the making:
AT&T will no longer carry the Pac-12 Networks on its U-verse service, effective Sunday.
Yep, the conference's wholly-owned networks have been dropped by a distribution partner that just happens to be one of the largest telecommunications brands in the world.
Not. Good. At. All.
Neither the Big Ten Network or the SEC Network has ever lost a major distribution partner.
"We are of course disappointed by AT&T's decision to no longer carry Pac-12 Networks on AT&T U-verse; we made every effort to extend our agreement,'' Alden Budill, the networks' SVP/head of distribution, said in a statement released to the Hotline.
"Even so, we've known this was a possibility for some time, and we have planned accordingly.
"We're staying focused on maximizing the strong value we deliver to our long-term partners, and we're proud that Pac-12 fans anywhere in the country have multiple ways to access our networks and the sports they love."
Quick background before we assess the situation:
… Continue reading story here …
–
—
Kahlil Tate issues with Arizona offensive coordinator Noel Mazoone could lead to a transfer
From the Arizona Daily Star … Quarterback Khalil Tate spoke with Arizona Wildcats coach Kevin Sumlin on Monday, and neither party pushed the idea of Tate transferring, according to a source privy to that conversation.
Reports that Tate was likely to transfer surfaced Monday, but the Star's source said Tate has not expressed that desire to Sumlin.
That conceivably could change in the coming weeks or months. However, it hasn't come up at this point.
The lines of communication between Tate and Sumlin remained open throughout an up-and-down season that began with Tate being touted as a Heisman Trophy contender; saw him struggle to play through an ankle injury; and finished with him playing some of his best football before an ill-fated fourth quarter in the season finale against Arizona State.
The idea of Tate transferring stems from possible friction between him and offensive coordinator Noel Mazzone, who's also Arizona's quarterbacks coach.
It is not known whether Tate, a junior, is on track to graduate before next season. If he were to graduate, he'd be eligible to play immediately at any other FBS school. If he didn't, he'd have to sit out a year.
Tate enrolled at Arizona in January 2016, so he will have completed 3½ years of school by the end of the '19 spring semester. Messages left with members of Tate's camp to ascertain his academic status and future plans were not returned.
–
—–
November 26th
… Foe Pause … 
ASU star wide receiver N'Keal Harry declares for the NFL Draft
From CBS Sports … Arizona State wide receiver N'Keal Harry is going pro. The junior said in a note on Monday that he will be joining the 2019 NFL Draft after posting his second straight 1,000-yard season, hauling in 73 passes this year for 1,088 yards. He had four catches for 55 yards in Saturday's barnburner against Arizona, which snapped his streak of three straight games with 100-plus yards.
Harry is ranked No. 23 on CBS Sports' prospect rankings, and is a potential first-round pick. Harry is the third-ranked wide receiver, trailing only Ole Miss' A.J. Brown (sixth overall) and Buffalo's Anthony Johnson (11th overall).
Harry caught 82 passes for 1,142 yards last year, but he has one more touchdown this season with nine.
–
—
Colorado State Athletic Director Joe Parker: "I am confident in the leadership of our football program"
A letter from Joe Parker to CSU fans: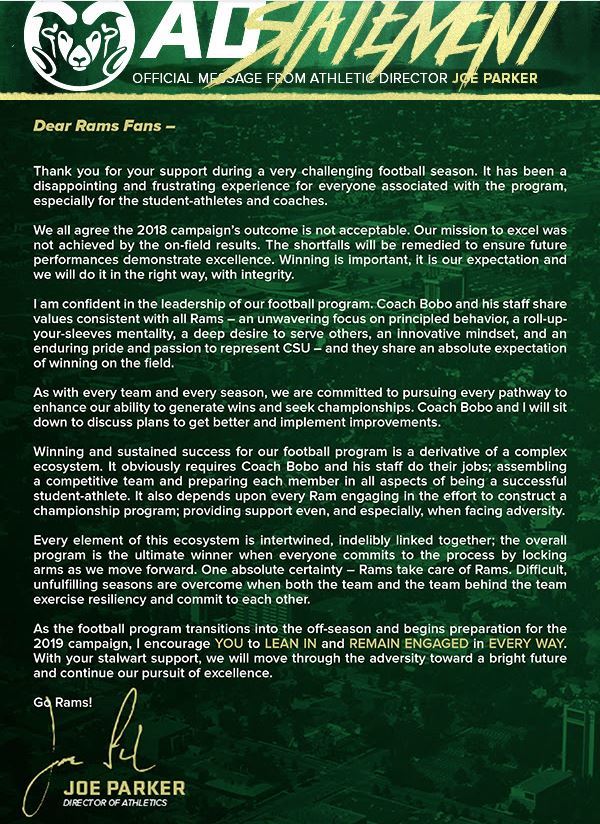 –
—–
November 25th
… Foe Pause … 
USC Athletic Director Lynn Swann: "Clay Helton is our head coach and he will continue to be our head coach"
… Related … "Trojans explain commitment to coach despite 5-7 season" … from CBS Sports
From USC Athletics … To the Trojan Family:
The 2018 USC football season was disappointing to me, to Coach Helton and his coaching staff, to our players and to our great fans.  Nobody is happy with our record.  Everyone deserves better.
It is my firm belief that we have a good team returning next year and a solid foundation in place, and that Clay Helton is a good coach.  Let me be clear to everyone, our players, our recruits and our fans.  Clay Helton is our head coach and he will continue to be our head coach.
I am a strong advocate of consistency within a program, sticking by a leader, supporting them and helping them and their team improve.
One season does not define a coach.  Remember, Coach Helton inherited a program in turmoil.  He won 10 games, including the Rose Bowl, in his first year in 2016.  He won 11 games and the Pac-12 title in 2017.  He runs a clean program, he graduates his players, he recruits well, he produces NFL players.
We see top programs across the country have down years and the fans want to change coaches.  In fact, it happened a few years ago with yesterday's opponent, but that administration remained committed to their head coach, who made some key changes, worked hard to fix things and got his team to improve markedly.  That will happen here at USC.
Coach Helton and I meet extensively each week to evaluate our program from top to bottom.  We acknowledge and understand our deficiencies in areas that include culture, discipline, schemes, personnel and staff.  We agree that changes need to be made, and they will.  We will improve and get better, in all areas.  Coach Helton has a plan in place to get USC back to the top.
I have heard from many in the Trojan fan base.  Some will be happy that Coach Helton remains our coach, others will not.  I love our fans' passion about USC football.  They have high standards, as do we.
Fight On.
LYNN SWANN
USC Athletic Director
–
—
Arizona Wildcats' disappointing season ends with fourth-quarter meltdown to Sun Devils
… Related … "Will Arizona QB Khalil Tate return next season? 'Next question,' he says" … from the Arizona Daily Star
From the Arizona Daily Star … Chants of "ASU! ASU" thundered through Arizona Stadium moments after an improbable comeback that had to be seen to be believed.
About 10 minutes later, Arizona Wildcats players tried to process what had just happened. They mostly were at a loss for words — stunned into silence.
Sophomore linebacker Colin Schooler found a way to describe it. In nine words, he summed up a disappointing game and a frustrating season.
"We need to play four quarters every single week," Schooler said.
The Wildcats didn't do that Saturday afternoon against Arizona State, and it cost them. They played an incomplete game to finish a season in which they never quite jelled.
ASU rallied from a 19-point fourth-quarter deficit to shock Arizona 41-40 in front of 51,805 fans who rode the emotional roller coaster alongside the participants.
A win would have made the Wildcats bowl-eligible, and it would have brought the Territorial Cup back to Tucson. Instead, Arizona ended Kevin Sumlin's first season at 5-7 overall — and 4-5 in the Pac-12.
"Every loss hurts," senior receiver Shawn Poindexter said, "but yeah, this kind of sucks."
It wasn't just that the Wildcats lost; it was how they lost.
–
—
No. 3 Notre Dame rolls to 12-0 season, beats rival USC 24-17
From ESPN … Notre Dame's offensive skill players gathered on the sideline and looked up at an unfamiliar sight on the scoreboard. The Fighting Irish hadn't faced a double-digit deficit at any point in their perfect season before Southern California jumped to a 10-0 lead Saturday night.
With their national championship dreams suddenly in a wee bit of trouble, running back Dexter Williams spoke up.
Somebody has got to make a play!" Williams shouted.
Ian Book and Chris Finke did just that on Notre Dame's next drive, and Williams did it himself right after halftime.
By the time the Irish were done making plays at the Coliseum, they were well on the way to the College Football Playoff with the Jeweled Shillelagh firmly in hand.
Book passed for 352 yards, Williams went 52 yards on a go-ahead touchdown run and No. 3 Notre Dame completed an unbeaten regular season and likely secured a playoff spot with a 24-17 over longtime rival USC.
… Continue reading story here …
–
—–
November 24th
… Foe Pause … 
CU's 2019 non-conference opponents finish the 2018 season with a combined 12-24 record
… CU's 2019 non-conference opponents: CSU (3-9) … Nebraska (4-8) … Air Force (5-7) … 
"Recinos' FG lifts Iowa over Nebraska 31-28 at final whistle" … Game Story from ESPN …
"Fagan rushes for 260, Air Force beats Colorado State 27-19" … Game Story from ESPN …
–
—
Washington punches ticket to Pac-12 title game with road win over Washington State
From ESPN … Chris Petersen walked away from the party happening in the end zone where the Apple Cup was being passed around by his players for the sixth straight year. He reached down and grabbed a chunk of the snow that blanketed the turf of Martin Stadium and fired back at the snowballs being flung his way from his two sons.
There was plenty of celebrating by Washington's coach and his players — snow angels, snowball fights — after the Huskies continued their dominance over Washington State in an Apple Cup the purple and gold won't soon forget.
"I've heard it sucks to lose to the Cougs. I'm glad I don't have to experience it," Washington quarterback Jake Browning said.
Myles Gaskin broke free for an 80-yard touchdown run early in the fourth quarter, and No. 16 Washington won its second Pac-12 North Division title in three years, beating No. 7 Washington State 28-15 on Friday night.
With blustery winds blowing in waves of snow, Gaskin found enough traction to carry the Huskies into the Pac-12 championship game and ruin yet again the title hopes of Washington State. It was the third straight year the Huskies denied Washington State the North crown.
… Continue reading story here …
–
—–
November 22nd – Happy Thanksgiving!
… Foe Pause … 
Different takes on the hiring of Les Miles at Kansas
… a taste of what is to come when CU announces its new hire …
— "Kansas makes an unimaginative hire of an unimaginative coach"
From The Athletic … Kansas is making an extremely shortsighted decision in hiring Les Miles to be its football coach. Yes, Miles has the phrase "national championship coach" permanently affixed to his name, but that national championship was 11 years ago. It was so long ago that Nebraska and Missouri were still in the Big 12 and the phrase "RPO" had not yet been uttered during a football broadcast.
And yes, he will bring the program attention with all his wacky Lesisms. No one would deny the guy gives a damn strong press conference. But I've yet to see a program win football games on the strength of its coach's one-liners.
… Continue reading story here …
— "Les Miles and Kansas were the perfect match for rehabilitation, relevancy and respect" 
From CBS Sports … This is a good hire. This is a good hire because of dual desperation: Miles wants back on the field, and Kansas wants to be relevant. That alone makes it a worthwhile connection.
This is a school that once gave Turner Gill a guaranteed, five-year, $10 million contract. This time around, whether it works or not, is sure to be more performance art from Miles. Following a low-key press conference, Miles was asked about the gaudy ring on his right hand. It wasn't from LSU's national championship in 2007. It was from the 2011 SEC championship season that ended when LSU lost to Alabama in the BCS Championship Game rematch.
… Continue reading story here …
–
—
Utah picks up graduate transfer linebacker with disciplinary past
From ESPN … Former Penn State linebacker Manny Bowen is headed to Utah for his final season as a graduate transfer.
Bowen was dismissed from the program following the Nittany Lions' bowl game last season for what the school said was a violation of unspecified team rules. After briefly returning during training camp, he left the team before the season began. In three seasons at Penn State, Bowen made 21 starts and appeared in 35 games with 134 tackles and 12.5 tackles for loss.
Bowen will graduate from Penn State in December and will be on scholarship beginning in the spring semester at Utah.
… Continue reading story here …
–
—–
November 21st
… Foe Pause … 
USC fans raising money for "Fire Helton" banner and full page ad
From USCFootball.com … "USC has a long, storied history of excellence in college football. Unfortunately, rather than honor that history our administration has decided to turn its back on it and settle for mediocrity. In addition, the voice of the "$100 donor" has been dismissed and the fan base that supports our legendary football team ignored.
The goal of this campaign is simple: We want to spread the message that Trojan Family is not happy with how the athletic department is being run and, most of all, that Clay Helton should not continue on as our football coach."
The campaign has two concrete monetary goals it's trying to achieve. The first is to raise $2,000 for a plane to pull a banner over the campus of USC on Saturday before the Trojans take on the Fighting Irish. The campaign has already blown by that mark despite not even being a day old. Currently, $6,196 has already been raised by fans of the Trojans. The second monetary goal is a bit more ambitious. The creators of the GoFundMe want to raise $20,000 to cover a full-page ad in the Los Angeles Times calling for Helton's firing. At the current pace that money is being raised, they could hit that goal by about Thursday.
USC fans have already raised an impressive amount of money, but all this may not be necessary depending on how Saturday's game goes. If Notre Dame embarrasses USC in Los Angeles, which is a probable outcome, the calls to end the Helton era will only grow that much louder.
–
—–
November 20th
… Foe Pause … 
Washington State to play Houston in 2019 AdvoCare Kickoff
From ESPN … No. 8 Washington State and Houston will meet next season in the AdvoCare Kickoff on Sept. 13, at NRG Stadium in Houston.
For Washington State, the game figures to be its marquee nonconference game of the season, while Houston will play Oklahoma to start the season.
"We are excited to face a quality program such as the Houston Cougars next year in the AdvoCare Texas Kickoff Game at NRG Stadium," said Washington State director of athletics Pat Chun. "It provides our fan base the opportunity to see a tremendous nonconference opponent in a great part of the country, while giving our student-athletes the chance to play in a world-class stadium."
Washington State (10-1, 7-1 Pac-12) remains in contention for a College Football Playoff spot this season and enters Friday's Apple Cup against rival Washington needing a win to advance to the Pac-12 championship game.
"We are honored to receive the invitation to participate in the AdvoCare Texas Kickoff," said Chris Pezman, Houston's vice president for athletics. "We have fond memories from our last action in the event and look forward to creating more in front of our hometown fans in a primetime nationally-televised game."
Houston (8-3, 5-2 AAC) can clinch a spot in the American Athletic Conference game title game with a win against Memphis on Friday
–
—
The Athletic: What happens next for USC will be fascinating
From The Athletic … If there was a moment that sums up where USC football is right now, it happened at the start of the fourth quarter Saturday. Mo Bamba was playing over the Rose Bowl speakers, and the Trojans' players, leading 27-21 with the ball in UCLA territory, began dancing en masse toward midfield. The scene left many Trojans fans rolling their eyes.
"It was that fake swagger," said one former USC player who told The Athletiche was disgusted by the way his old team performed against its archrival. "You watched them during the game and they had no juice. What happened to USC? I was embarrassed watching that." 
A week earlier, one of the Trojans' leaders, Iman Marshall, lost his cool and committed a penalty by jawing at the Cal sideline. That ended the Trojans' hopes for a victory. And that was after their defense couldn't hold up against a Cal offense playing five former walk-ons.
Against UCLA, USC followed up their dancing with a costly penalty on the game's next play and proceeded to get outgained 156-43 and outscored 13-0 in the game's final 15 minutes. The Bruins also put together a 97-yard touchdown drive in the quarter that was their longest scoring drive of their season.
What happens next for USC will be fascinating. Sources say AD Lynn Swann was adamant earlier in the week in telling USC brass and Clay Helton that he wanted stability and was keeping the head coach. But that was before the loss to a two-win UCLA team.
… Continue reading story here …
–
—
Jon Wilner's Pac-12 Power Rankings: Utah's Division run impressive
From the San Jose Mercury News … It took a mere eight years for all six teams to win the Pac-12 South championship.
The Hotline would argue that the best came last.
Utah isn't the best of the eight division champs. (We'd take USC '17 over any of 'em.)
Heck, this might even be the best Utah team of the division era. (The '15 version was pretty good.)
But from our vantage point, the Utes' path in 2018 was the most challenging, thereby making their accomplishment the most impressive.
1. Washington State (10-1/7-1)
Last week: 1
Result: Beat Arizona 69-28
Next up: vs. Washington (Friday)
Comment: Apple Cup? For the Cougars, it has been the Apple Turnover: They have 15 of 'em in the past three years. Another multi-giveaway game this week, and the result will be the same.
2. Washington (8-3/6-2)
Last week: 2
Result: Beat Oregon State 42-23
Next up: at Washington State (Friday)
Comment: First came the bye week; then came Oregon State; now comes life as the underdog. Chris Petersen must be in Husky heaven.
3. Utah (8-3/6-3)
Last week: 3
Result: Won at Colorado 30-7
Next up: vs. Brigham Young
Comment: Despite Jason Shelley's terrific performances, the Utes won't have a quarterback controversy next season … until the first so-so game from Tyler Huntley.
… 11. Colorado (5-6/2-6)
Last week: 11
Result: Lost to Utah 30-7
Next up: at Cal
Comment: Outscored 44-0 in the second half of the past two games.
–
—–
November 18th
… Foe Pause … 
Los Angeles Times: "After losing to Bruins, this looks like the end for Clay Helton at USC"
From the Los Angeles Times … As a late Saturday afternoon chill descended upon his latest nightmare, Clay Helton disappeared into a Rose Bowl tunnel underneath USC fans wildly flapping their hands.
They were waving him good-bye.
Helton later walked into a corridor that had been filled with a baritone voice resonating in anger.
"[Bleep] Helton!'' chanted a man from the bleachers above. "Fire Helton!''
If Saturday in Pasadena wasn't the precise end of Clay Helton's career as USC coach, you could certainly see it from here.
In the wake of the season's most embarrassing loss in its biggest game, a 34-27 defeat to UCLA, it seems impossible that Helton will keep his job beyond next week's season finale against Notre Dame.
With all due respect to the three-win Bruins, this wasn't so much a football game as a portrait of a talented Trojans team in chaos.
–
—
Washington State up to No. 7 in Associated Press rankings
From CBS Sports … UCF had the spotlight in Week 12 with Cincinnati coming to town and the Knights didn't disappoint with a 38-13 rout of the Bearcats. And now, Associated Press Top 25 voters are responding in kind. UCF rose three spots to tie for No. 8 with LSU. It's the highest ranking for UCF this season as it rides a 23-game winning streak dating back to last season.
Though Ohio State was able to squeak out yet another close victory, a 52-51 overtime thriller at Maryland, the Buckeyes fell one spot to No. 10 with Michigan looming in Week 13.
Elsewhere, West Virginia fell out of the top 10 after losing 45-41 at Oklahoma State while Syracuse fell seven spots after getting boatraced by Notre Dame 36-3. However, No. 23 Army is ranked in the AP Top 25 for the first time in 22 years. Pitt also checks in at No. 24 and will play Clemson in the ACC Championship Game.
1. Alabama
2. Clemson
3. Notre Dame
4. Michigan
5. Georgia
6. Oklahoma
7. Washington State … up one spot from last week
8. LSU
8. UCF
10. Ohio State
11. Texas
12. West Virginia
13. Florida
14. Utah State
15. Penn State
16. Washington … up one spot from last week
17. Kentucky
18. Utah … up three spots from last week
19. Syracuse
20. Northwestern
21. Boise State
22. Mississippi State
23. Army West Point
24. Pittsburgh
25. Iowa State
Others Receiving Votes: Fresno State (9-2) 100; NC State (7-3) 45; Cincinnati (9-2) 43; Missouri (7-4) 34; Texas A&M (7-4) 29; Auburn (7-4) 11; Iowa (7-4) 8; Stanford (6-4) 8; UAB (9-2) 5; Houston (8-3) 3; Wisconsin (7-4) 2; Buffalo (9-2) 1; Troy (9-2) 1
—
USA Today / Coaches' poll
1. Alabama
2. Clemson
3. Notre Dame
4. Michigan
5. Georgia
6. Oklahoma
7. Washington State … up two spots from last week 
8. LSU
9. UCF
10. Ohio State
11. Texas
12. West Virginia
13. Florida
14. Penn State
15. Utah State
16. Washington … up one spot from last week
17. Utah … up two spots from last week 
18. Kentucky
19. Syracuse
20. Mississippi State
21. Northwestern
22. Boise State
23. Fresno State
24. Army West Point
25. Pittsburgh
Others Receiving Votes: Iowa State (6-4) 85; Cincinnati (9-2) 74; Texas A&M (7-4) 57; NC State (7-3) 51; Wisconsin (7-4) 32; Missouri (7-4) 27; Boston College (7-4) 22; Auburn (7-4) 20; Appalachian State (8-2) 18; Troy (9-2) 16; Iowa (7-4) 12; UAB (9-2) 12; Georgia Tech (7-4) 10; Duke (7-4) 7; Oklahoma State (6-5) 3; Virginia (7-4) 2; South Carolina (6-4) 1; Georgia Southern (8-3) 1; Buffalo (9-2) 1
–
—
Kansas introduces Les Miles as the new head coach for the Jayhawks
From ESPN … Les Miles has been hired as Kansas' next head football coach, the school announced Sunday.
"Since the beginning of our search, we focused on identifying and recruiting an experienced head coach with a strong track record of success on and off the field," athletic director Jeff Long said in a statement. "Les Miles is exactly what we need for our program right now. His national reputation as a great recruiter and as a coach who student-athletes love playing for will enable us to break the cycle and return a winning tradition to the Kansas Jayhawks. We are thrilled to have Les and his family as Jayhawks."
Miles will receive a five-year contract that will pay him $2.775 million per year, with additional retention bonuses due in November 2020 and November 2022.
… Continue reading story here …
–
—–
November 17th
… Foe Pause … 
Oregon holds off late Arizona State rally to win 31-29
Arizona State's loss to Oregon gives Pac-12 South title to Utah
From ESPN …  The Oregon Ducks made what might be quarterback Justin Herbert's final game at Autzen Stadium more of a cliffhanger than they would've liked.
Herbert threw for 262 yards and two touchdowns and Oregon held off a late rally by Arizona State to win 31-29 and knock the Sun Devils out of contention for a spot in the Pac-12 championship game.
Herbert has not said whether he will return for his final year of eligibility for the Ducks. He was asked after the game for his takeaway on how he played against the Sun Devils.
"Fortunately it doesn't fall just on my shoulders. The defense played really well," he said. "I know the feeling all too well of going against these guys every day and they played big-time football. Sometimes you have to rely on your defense and they did a great job."
Dillon Mitchell, Herbert's his favorite target this year, caught four passes for 103 yards and a touchdown against the Sun Devils.
Arizona State (6-5, 4-4 Pac-12) headed to Eugene on a three-game winning streak and needing a win to stay alive in its division race. But Utah defeated Colorado 30-7 in Boulder earlier in the day, giving the No. 19 Utes six wins in conference play. The Sun Devils' loss meant they could not catch Utah with just one game to go.
… Continue reading story here …
–
—
Kelley rushes for 289 yards, leads UCLA past USC 34-27
USC falls to 5-6 with loss … with Notre Dame up next
Game Story from ESPN … Joshua Kelley has been watching the UCLA-USC rivalry since he was 8 years old. On Saturday, he cemented his legacy in the Crosstown Showdown's history.
The junior running back rushed for 289 yards on 40 carries and scored two touchdowns to lead the Bruins to a 34-27 victory over the Trojans at the Rose Bowl.
It is the third-most rushing yards in a game in UCLA history and the most by a Bruins back against the Trojans. Gaston Green had the previous mark with 224 yards on 39 carries in 1986.
"It was crazy and finally I was out there and wanted to embrace every single moment of it," said Kelley, who transferred from UC Davis. "It was a crazy experience. I sure enjoyed it and our team did too."
Kelley's 55-yard touchdown up the left sideline on an outside zone play with 10:39 remaining gave the Bruins a 28-27 lead. JJ Molson then added a pair of field goals to extend the margin for UCLA (3-8, 3-5 Pac-12).
Kelley was surprised by the number of carries he had but UCLA coach Chip Kelly did not mind giving his back a heavy workload.
"I wish he had carried it 100 (times) to be honest with you," Kelly said.
… Continue reading story here …
–