–
Pac-12 Notes
–
October 21st
… Foe Pause …
Taylor Kelly may start for Arizona State against Washington
From ESPN … Arizona State coach Todd Graham said if quarterback Taylor Kelly is ready to play Saturday at Washington, he will start for the No. 14 Sun Devils.
Kelly has been out since breaking a foot during a 38-24 win at Colorado on Sept. 13.
"This is Taylor's football team," Graham said. "He's earned that."
The Sun Devils (5-1, 3-1 Pac-12) have gone 2-1 during that stretch with Mike Bercovici at the helm. In three starts, Bercovici has completed 63 percent of his throws for 1,243 yards with nine touchdowns and two interceptions.
He had a five-touchdown performance — which included a last-second, game-winning Hail Mary — on the road at No. 16 USC. And he threw one touchdown and no interceptions in a 26-10 win last week over No. 23 Stanford.
"I'm not a head coach that's going to change quarterbacks up very often, especially one I've won 22 games with," Graham said. "If he's ready to go, which I think he will be, he'll go. That doesn't mean Mike won't play. We're not the same team we were before Taylor got hurt. I think we're better because of how Mike has developed."
—
Travis Wilson named the starter for Utah for game against USC
From the Salt Lake City Tribune … Once again, Travis Wilson is Utah's starting quarterback.
For the time being.
The latest Utah depth chart — in something of a surprise, given Kyle Whittingham's comment Saturday that his starting quarterback would likely remain a secret — shows Wilson's name in bold atop that of junior Kendal Thompson.
"I just wanted less questions for me during the week," Whittingham explained at Monday's news conference. "I kind of played that strategy game last week by not announcing, but we figured that this week, let's just announce it and be done with it and move on."
The Utes' Saturday opponent, USC, is susceptible to the pass, allowing 251 yards per game through the air, but is tied for 20th in the nation with nine interceptions. Of the two starters, Wilson has thus far been less likely to turn the ball over.
But the starter in Utah's previous two games has finished the game on the sidelines — Wilson, against UCLA, and Thompson, against Oregon State. Both times, Whittingham said he was looking to give the offense a "spark."
There will not be a set rotation, he said, and he'd prefer that Wilson or Thompson seize hold of the job for keeps.
He draws a distinction between a quarterback battle and a two-quarterback system.
"People say, 'Oh, well you're playing two quarterbacks so it's a two-quarterback system,'" Whittingham said. "No, it's not as far as my definition. … We're waiting for some separation to occur."
—-
Formula: USC the greatest football program of all time … Colorado 14th (and 2nd in the Pac-12)
Who doesn't want a little bit of good news? As poorly as the CU football program has performed over the past decade, it's become easy to forget how great the Buffs have been (and can be again).
One Daniel Zillmer at FanSided.com has come up with an objective formula for determining the greatest programs. The criteria:
Zillmer broke down the Power Five conference schools based upon the following criteria:
- National Championship – 16 points
- Conference Championship – 14 points
- Heisman trophy winner – 12 points
- Bowl game victory – 10 points
- Bowl game loss – 6 points
- Consensus All-Americans – 4 points
- Regular season wins – 1/4 point
The Breakdown:
1st – USC
2nd – Oklahoma
3rd – Michigan
4th – Alabama
5th – Notre Dame
–
14th – Colorado – "Colorado, like Georgia Tech, is vastly underrated college football program. They've claimed one national championship and have won 26 conference championships, 12 bowl games, and 675 all-time wins. They also boast 30 consensus All-Americans".
17th – UCLA
24th – Washington
28th – California
29th – Stanford
31st – Utah … 24 conference championships in WAC and MWC help Utes position
32nd – Arizona State
42nd – Oregon … recent success not enough to overcome tepid past
50th – Arizona (last amongst the 50 teams graded)
not in the top 50 … Oregon State and Washington State
——
October 18th
… Foe Pause …
Arizona State hands Stanford 26-10 defeat
From ESPN … Arizona State coach Todd Graham has pointed to Stanford as a model of what the Sun Devils should aspire to as a program: The character, the discipline, the efficiency and, certainly, the winning.
But each time the teams met on the field, Arizona State fell flat, overrun by the powerful Cardinal.
That's what made this one so sweet. Not only did the Sun Devils finally beat Stanford, they won in Stanford-like fashion.
Dominating on both sides of the ball, the 17th-ranked Sun Devils cleared a big hurdle by racing past No. 23 Stanford 26-10 Saturday night.
"To turn the tables and beat a team like that and dominate them physically the way we did, because of the respect we have for their program, that one meant more to me personally than any win we have had," Graham said.
The Cardinal had become a nemesis of sorts for Arizona State, powering past the Sun Devils in two games last season, including a dominating win in the Pac-12 Championship game.
Arizona State (5-1, 3-1 Pac-12) reversed the field against Stanford in the desert rematch with an efficient performance on both sides of the ball.
The Sun Devils scored the most points allowed by the nation's top-rated defense behind a nice mix of run and pass.
—–
CU's next opponent, UCLA, escapes Cal with a 36-34 win with a late interception
From ESPN … Brett Hundley threw for 330 yards and two touchdowns and added a third score on the ground to help UCLA snap a seven-game skid at California with a 36-34 victory Saturday.
Hundley accounted for 424 yards of offense to overcome his own fumble and interception as the Bruins (5-2, 2-2 Pac-12) won at Memorial Stadium for the first time since 1998.
It wasn't easy with the Bruins not taking the lead for good until Ka'imi Fairbairn kicked his third field goal, a 26-yarder with 3:40 remaining that provided the go-ahead score and helped UCLA get back on the winning track after losses to Utah and Oregon.
The win was sealed when Marcus Rios made a juggling interception on a Jared Goff pass at the 2-yard line with 51 seconds left to thwart Cal's comeback attempt.
Goff threw for 303 yards and two touchdowns for the Golden Bears (4-3, 2-3).
——
October 17th
… Foe Pause …
What does Washington have to do to break a ten-game losing streak to Oregon?
From the Seattle Times … By now you've probably heard that Chris Petersen is 2-0 against Oregon. And you probably don't need another reminder that the Huskies have lost 10 in a row to the Ducks.
Is Petersen the coach to finally get Washington over the Oregon hurdle? And can the Huskies make that leap Saturday?
We're not ruling out that possibility.
What does UW have to do to win this game?
The strategy isn't much different than most games: run the ball and stop the run. And take care of the ball, which UW has done better than anyone in the country.
Every year in 2006, the Ducks have led the Pac-12 in rushing, and that hasn't changed, despite a different style with two bigger backs in Royce Freeman and Thomas Tyner getting the bulk of the carries. Still, the Ducks are averaging 98 yards less than they did two years ago on the ground (running 58 percent of the time now, compared to 64 percent in 2012). They're still a great running team, but they're also running into a great run defense. The Huskies will try to make them one-dimensional — which might sound a bit strange, considering the youth and lack of depth in the UW secondary — but UW's best shot is to make Mariota beat them with his arm, and not his feet.
The Huskies, meanwhile, have struggled to build a consistent rushing attack. They don't necessarily need to play keep-away from the Ducks — that strategy doesn't matter much an Oregon offense that can score so quickly — but sustaining some drives would give the UW defense some rest and allow them to be fresher for a potential fourth-quarter push.
…
It probably goes without saying, but Cyler Miles has to have a great game, too. He was good last week at Cal; he'll need to be even better this week.
And Mariota will need to make a few mistakes.
All that's possible, but it's hard to predict all that coming together perfectly for the Huskies this time.
Prediction: Oregon 34, Washington 27.
–
No. 20 Utah survives in double-overtime win over Oregon State
From ESPN … Utah running back Devontae Booker said he hadn't had "video-game stats" like this since high school.
Booker ran for 229 yards and three touchdowns, including a 19-yard dash in the second overtime that gave No. 20 Utah a 29-23 victory over Oregon State on Thursday night.
"It was pretty much myself just running hard," Booker said after compiling the fifth-best rushing total in Utes history. "They gave me the ball, I just took it and ran with it. Got in the end zone, scored, end of game."
Booker also ran for a 15-yard score in the first overtime to put Utah (5-1, 2-1 Pac-12) in front 23-16. The Beavers (4-2, 1-2) answered with Sean Mannion's 2-yard touchdown pass to Jordan Villamin on fourth down to force another period.
Trevor Romaine, whose 49-yard field goal as time expired in regulation tied the game at 16, attempted a 37-yard field goal that went wide right, giving the ball back to Utah for the game-winning drive.
It was Booker's third straight game with more than 150 yards rushing for the Utes, off to their best start since winning their first eight games in 2010. Utah has won all four of its road games this season.
Mannion threw a 72-yard touchdown pass to Villamin early in the fourth quarter to put Oregon State in front 13-9.
But the Utes mounted a comeback and Booker ran 53 yards to the Oregon State 6. On fourth down, he plunged into the end zone with 4:20 left for a 16-13 lead.
Romaine's 49-yard kick sent the game to overtime.
Mannion threw for 272 yards and two touchdowns. He surpassed former USC quarterback Carson Palmer (11,818 yards) for second on the Pac-12′s career list for yards passing with 12,014. He trails only former Trojan Matt Barkley, who had 12,327
"Just disappointment, really," Mannion said. "I think it's going to hurt now, but when we go home or when we're all sitting around tomorrow, we're going to feel pretty proud of the way we fought."
Kendal Thompson started at quarterback for Utah, ending more than a week of speculation about who coach Kyle Whittingham would go with in Corvallis. The depth chart going into the game listed Travis Wilson "or" Thompson, a transfer from Oklahoma.
Wilson started the second half.
——
October 16th
… Foe Pause …
USC mid-season report: Trojans still in search of an identity
From the Orange County Register … USC coach Steve Sarkisian recently recalled a conversation he had with former coach John Robinson before the season. Robinson told Sarkisian that he wouldn't know his team until about halfway through the year.
Here we are, at the midpoint of Sarkisian's first season, and he still doesn't know exactly what he has.
"We're still learning," Sarkisian said. "We're still finding out."
The Trojans have endured just about everything a team could through six games: a massive off-field distraction (Josh Shaw); a blowout victory (Fresno State); a thrilling conference road win (Stanford); a shocking upset loss (Boston College); a victory fueled by a Hail Mary (Oregon State); a loss on a Hail Mary (Arizona State) and a great escape via a missed field goal (Arizona).
All of those experiences should, in theory, steel a young team for the second-half trials that lie ahead.
"We faced some adversity, once again," junior receiver Nelson Agholor said after last week's 28-26 victory at Arizona. "All we're going to do is continue to grow from that."
Despite plenty of turbulence, the 4-2 Trojans have arrived at a good place at the halfway point. USC leads the Pac-12 South at 3-1, although 2-1 ASU would own the tiebreaker. The Trojans never have played in the conference's championship game, and they have a legitimate shot at it.
Taking a page from mentor Pete Carroll's motivational playbook, Sarkisian is stressing to his team that every game is a championship game – even against last-place Colorado on Saturday.
"They all are from here on out," Sarkisian said. "We have to maintain the pace we're at. We have a half-game lead, or however you want to look at it in the conference. We need to keep the lead. To do that, we have to go out and win every game."
—–
October 14th
… Foe Pause …
Larry Scott interview covers a wide variety of topics
CBS Sportsline has posted an interview with Pac-12 commissioner Larry Scott. The interview covers a wide variety of topics, from the playoff system to the DirecTV to future conference expansion. The full interview can be viewed here.
Some excerpts:
CBSSports.com: Some Pac-12 coaches have said they would like to see every conference play nine conference games and a championship game. Do you agree with that and is that even realistic given that conferences have different needs and desires?
Scott: I respect the fact that we've got a system where every conference can decide on their own. I'm not going to pass a value judgment on what anybody else does. But I would like to see a day when everyone's running the race over the same course because it's hard enough to compare conferences where there's not a lot of interconference play. It would be nice and easier for the committee to measure if everybody had at least the same conference schedule. It would be ideal if they had the same conference schedule and comparable nonconference competition.
CBSSports.com: The Pac-12 laid out its agenda items for NCAA autonomy, as did other conferences. It's a lot of very vague statements that have been discussed for a while. At what point do we start to see specifics to implement generic ideas?
Scott: I expect you'll see some very concrete actions coming out of (the Oct. 27 Pac-12 presidents) meeting. … There are things we might do as individual schools or possibly within the Group of 5 autonomy. But there's quite a bit we can do on our own.
CBSSports.com: Where do things stand with getting Pac-12 Network distribution on DirecTV?
Scott: There's no new news at this point. I know it's very frustrating to our fans. Longterm, I'm very confident in our model. It takes a little longer to achieve our goals as an independent. We're the only conference that owns and controls it ourself. We did it because longterm we thought we'd be better off, masters of our own content, control our own destiny.
CBSSports.com: Is it a case with DirecTV that it's a battle over pricing and you're holding firm to a certain price?
Scott: I don't actually look at it as a battle because we have 70 different distributors and they all pay the same price. That's the way the market works. You don't actually negotiate individually. There's a set price and most have favored-nation clauses (meaning the seller gives the buyer the best terms it makes available to any other buyer) and everybody kind of pays the same.
I think (DirecTV has) been reluctant for a variety of reasons. It may have something to do with their sale. We're hopeful that if their sale with AT&T goes through, we'll be dealing with a different group and it's a group we already have a close relationship with. AT&T is a big sponsor with the conference and they carry the Pac-12 Network on their U-verse service already. I would expect a much more fruitful conversation with them that, at earliest, would take place first or second quarter next year.
——
Cal loses leading tackler for the rest of the season
From ESPN … California's leading tackler, safety Griffin Piatt, will miss the rest of the season with an undisclosed knee injury, according to a school spokesman.
Piatt injured the knee in Saturday's 31-7 loss to Washington. Through six games, he leads the Bears in tackles (32.5), interceptions (3) and passes defended (9). Piatt, a converted receiver, missed the entire 2013 season after he tore his ACL in spring practice.
The injury comes at an especially bad time for Cal, which was without projected starting safeties Michael Lowe (concussion) and Stefan McClure (calf) against Washington. Both players will practice this week, but their availability for Saturday's game against UCLA in Berkeley remains unclear.
Cal has not lost at home to UCLA since 1998, a span of seven games.
… (Against Colorado, Piatt had 11 tackles (seven solo), and three passes broken up) …
——
October 13th
… Foe Pause …
Colorado a 19-point underdog to USC this weekend
Colorado is a 19-point underdog this weekend on the road against USC (4:00 p.m., MT, Pac-12 Networks), according to vegasinsider.com, which is not too surprising. After all, Colorado is not a great road team, USC is the No. 22 team in the nation, and, well, Colorado has never defeated USC (0-8 all-time).
Still, the Buffs were a 17-point underdog to Arizona State, an 11.5-point underdog to California, and a 7.5-point underdog to Oregon State, and the Buffs came in under the spread on all three games.
So CU has that going for it … which is nice.
Other Pac-12 betting lines:
- No. 20 Utah is a three-point favorite on the road against Oregon State (Thursday night, Fox Sports, 8:00 p.m., MT)
- No. 23 Stanford is a four-point favorite on the road against No. 17 Arizona State (8:30 p.m., MT, ESPN)
- No. 9 Oregon is a 20-point favorite at home over Washington (6:00 p.m., MT, Fox Sports)
- No. 26 UCLA is a 7.5-point favorite on the road against California (1:30 p.m., MT, ESPN2/ABC)
——
October 12th
… Foe Pause …
Oregon back into top ten in AP poll; UCLA drops out
In another volatile week in college football, Mississippi State – Mississippi State! – is the nation's new No. 1 team. Three straight victories over top ten teams have vaulted the Bulldogs from unranked to No. 1 in five weeks – the fastest rise from unranked to No. 1 in the 78-year history of the AP poll.
For the Pac-12, it was one in and one out of the top ten. Oregon, No. 12 last week, moved up to No. 9 after defeating UCLA. Arizona, 28-26 losers to USC, fell from No. 10 to No. 15. Arizona State, which was idle, nonetheless moved up three spots, to No. 16, in a tumultuous week amongst the ranked teams. Utah was similarly benefitted, moving up four spots, to No. 20, without lifting a finger.
Los Angeles also gained and lost a ranked team. USC, winners over Arizona, moved into the poll, at No. 22. UCLA, meanwhile, losers to Oregon, dropped out of the poll, falling to No. 26 overall.
Stanford, which took out Washington State on Friday night, moved up two spots, from No. 25 to No. 23, to give the Pac-12 six ranked teams overall.
Joining UCLA amongst the "others receiving votes" was Washington, at No. 32 overall.
The October 12th rankings:
——
October 11th
… Foe Pause …
USC beats No. 10 Arizona on missed field goal by the Wildcats
From ESPN … Southern California faced the prospect of a second straight stinging defeat, watching as another opponent moved into position for a gut-wrenching score.
No Hail Mary this time, just a wide right — and a big sigh of relief for the Trojans.
Javorius Allen ran for 205 yards and three touchdowns, and USC escaped with a 28-26 victory over No. 10 Arizona on Saturday night when Casey Skowron pushed a last-second 36-yard field goal wide right.
"I said this to the team: 'God's got a plan, but we're not exactly sure what his plan is for us yet," USC coach Steve Sarkisian said. "He's sure testing our will, our resolve, our leadership, our character. I couldn't be more proud of our team just to continue to fight."
USC (4-2, 3-1 Pac-12) left the Coliseum defeated and deflated a week ago after losing to Arizona State on a Hail Mary.
The Trojans were headed toward another disheartening loss after Jared Baker scored on a 1-yard with 1:07 left and Caleb Jones recovered the onside kick following a failed 2-point conversion try.
With the crowd roaring for another improbable victory by Arizona, the Wildcats came up short when Skowron missed his third field goal of the night with 17 seconds left.
A seven-day emotional roller coaster over, the Trojans now find themselves atop the jumbled Pac-12 South.
"I never thought it was over; last game showed that," USC defensive end Leonard Williams said. "We learned that we had to play every second of the game."
Especially against the Wildcats.
Arizona (5-1, 2-1) struggled with red zone issues in the first half and didn't have much of a run game with leading rusher Nick Wilson out and Terris Jones-Grigsby going down late in the first half.
But, like they had so many times, the Wildcats came roaring back.
Baker scored all three of his touchdowns in the second half, and Anu Solomon had another big night, throwing for 395 yards and a touchdown on 43-of-72 passing.
The Wildcats put themselves in position to tie after Baker's 1-yard run, but he was stuffed by Williams on the 2-point try.
They had a chance to win after Jones recovered the onside kick, but Skowron couldn't come through.
—–
Washington overwhelms Cal
From ESPN …   Cyler Miles threw for 273 yards and three touchdowns, Shaq Thompson returned a fumble 100 yards for a score and Washington overwhelmed California 31-7 on Saturday.
The Huskies (5-1, 1-1 Pac-12) forced five fumbles, recovering three of them, and sacked Jared Goff four times to quiet the country's second-highest scoring offense. Washington went ahead 28-0 at the half to bury the Golden Bears (4-2, 2-2) in a hole they could never dig out of.
Miles tossed TDs of 86, 25 and 11 yards. He completed 22 of 29 passes, and the Huskies ran for 111 yards behind Lavon Coleman and Dwayne Washington to spoil Cal's homecoming.
Goff, who had three fumbles, threw for 304 yards. He finished 35-for-51 passing but was limited to mostly short and intermediate throws because of Washington's pressure.
–
Preseason No. UCLA 7 likely out of the national title race after second straight loss
No. 18 UCLA suffered its second straight defeat, and may be out of the polls, after losing, 42-30, to No. 12 Oregon …
From ESPN … One snap after Oregon's defense recovered Brett Hundley's fumble deep in UCLA territory, Marcus Mariota found an edge and scampered around it, diving for the Ducks' first touchdown.
With those back-to-back plays, the Ducks demonstrated why it has been seven years since they lost back-to-back games in the same season — and why it certainly wasn't about to happen again at the Rose Bowl.
Mariota ran for two touchdowns and passed for 210 yards and two more scores as No. 12 Oregon rebounded from its first defeat with a 42-30 victory over No. 18 UCLA on Saturday.
Royce Freeman rushed for 121 yards and two touchdowns for the Ducks (5-1, 2-1 Pac-12), who built a 42-10 lead early in the fourth quarter with systematic superiority over UCLA, a preseason Top-10 team. Thomas Tyner and Pharaoh Brown caught TD passes as Oregon coasted home in its sixth straight win over the Bruins (4-2, 1-2).
A week after a 31-24 home loss to Arizona, Oregon showed no symptoms from the loss.
"It says a lot about the character of this team that they were able to flush (last week) and just keep chugging," Mariota said. "We came out this Monday, and you could feel the intensity pick up. … We believed in what we could do."
Left tackle Jake Fisher's return from injury boosted the offense and encouraged Mariota, who had been sacked 12 times in the past two games without Fisher watching his back. The defense kept Hundley uncomfortable for most of the day, giving up just 232 yards in the first three quarters while Oregon built an insurmountable lead.
"I know that our guys were ready to go today," Oregon coach Mark Helfrich said. "It meant a ton to them in every phase, and they earned it."
Mariota also made the game's most entertaining play when he recovered his own fumble while rushing for a 23-yard score early in the second half, impressing his teammates and coaches with his dribbling skills.
"Next time, I want him to do a 360, pick it up and score," Oregon offensive coordinator Scott Frost said with a grin.
Hundley passed for 216 yards and ran for a score for the Bruins, who followed up their last-minute loss to Utah by falling into a huge early hole. The Bruins are probably out of the national title race after back-to-back defeats, and their large home crowd trickled out of Arroyo Seco throughout the second half.
—-
Stanford handles Washington State and Connor Halliday
From ESPN … The defense came as advertised for Stanford, and so did the offense.
Cardinal coach David Shaw is at the point where he finally accepts the good is going to come with the bad this season, and he just hopes his players can overcome the miscues when the competition gets tougher.
Kevin Hogan threw for 284 yards and three touchdowns, and No. 25 Stanford slowed down Connor Halliday and the Air Raid offense in a 34-17 victory over Washington State on Friday night.
"We're going to try to be perfect but also realize we're not going to be perfect," Shaw said, citing a speech star Ty Montgomery gave the team earlier in the day. "Give a great effort and try to be perfect, but when we're not, we can't let the sky come falling down around us. We're just going to play through our mistakes and continue to give a great effort."
That approach was enough to get by a one-dimensional team. Whether it will work against the Pac-12 heavyweights on the horizon — including games at Arizona State, UCLA and Oregon — is still to be determined.
Greg Taboada grabbed his first two career TDs and fellow tight end Eric Cotton had his first scoring catch to help the Cardinal (4-2, 2-1) rebound from a nonconference loss at Notre Dame and renew their chase for a third straight conference championship.
A week after Halliday threw for an NCAA-record 734 yards in a 60-59 loss to California, the nation's stingiest scoring defense harassed him all over the backfield.
Stanford held Halliday to 42-for-69 passing for 292 yards and two touchdowns on mostly short and intermediate passes. The Cardinal also forced one interception and had four sacks.
"We didn't have time for downfield passes," Halliday said.
The Cougars (2-5, 1-3) have lost two in a row, and their chances of making consecutive bowl games under Mike Leach look dim.
—–
October 10th
… Foe Pause …
Barry Switzer admits to covering up crimes committed by Oklahoma players
"I'm shocked. Shocked to find out that gambling is going on in here" … from the greatest movie of all time, Casablanca.
From the USA Today … Switzer told USA TODAY Sports a cozy relationship with the local sheriff and other officials helped keep embarrassing incidents involving his players out of the newspapers and out of the public eye.
"I'd have local county people call me and say, 'One of your guys is drunk and got in a fight and is jail down here.' And I'd go down and get him out. Or I'd send an assistant coach down to get his ass out," Switzer said Thursday. "The sheriff was a friend of the program. He didn't want the publicity. He himself knew this was something we didn't need to deal with in the media or anything with publicity."
This was standard operating procedure in college football, according to Switzer.
"This is back before social media and the Internet and all that," he said. "And most colleges ran it that way. Most coaches ran it that way. We all did."
–
Pac-12 national leaders
CU's Nelson Spruce continues to lead the nation in receptions per game (11.2) and receiving touchdowns (with ten – no one else in the nation has more than six). Spruce is third in the nation in receiving yards per game (138.8).
Other Pac-12 notables:
- Oregon's Marcus Mariota is the nation's leader in passing efficiency (202.4);
- Washington State's Connor Halliday is the nation's leader in pass completions per game (41.67) – CU's Sefo Liufau is third, with 31.33
- WSU's Halliday is also the nation's leader in passing yards per game (508.7) – CU's Liufau is 12th, with 314.5
- Washington State, not surprisingly, is the nation's leader in passing offense, with 523.0 yards per game
- Stanford is second in the nation in total defense, giving up 232.4 yards per game
- Stanford is the best in the nation in scoring defense, giving up only 8.6 points per game
- Oregon State is fourth the country in kickoff returns, at 27.0 yards per return (the Beavers were leading the nation, with 32.5 yards per return, before taking on the Buffs, and being held to 63 yards in five returns, a 12.6 yard average)
—–
October 9th
… Foe Pause …
No decision yet on suspended USC defensive back
From the Orange County Register … There is no change in the status of suspended cornerback Josh Shaw, and Sarkisian indicated that the decision might be out of his hands.
"There is not even a decision to be made on our end at this point," Sarkisian said.
Shaw's reinstatement would have to go through several administrative layers before getting to Sarkisian, according to a source familiar with the situation.
Shaw suffered sprains to both ankles when he fell from a balcony at a Los Angeles apartment complex Aug. 23. Shaw initially lied to school officials about what happened, resulting in an indefinite suspension.
The LAPD investigated the incident, and that investigation is ongoing, Officer Jane Kim said. She said detectives have not provided an update on the case since Sept. 22. A call to Shaw's attorney was not immediately returned.
Given USC's recent defensive struggles, Sarkisian said he'd like to have Shaw back. Shaw was a projected starter and team captain.
"When you have a senior DB, you'd love to have him out there, especially in our conference where there are so many people throwing the ball," Sarkisian said. "We haven't even gotten to the meat of it yet. We still have Washington State and Cal to come, and these guys are unbelievable with what they are doing throwing the ball. We would love for that to occur."
——
Pac-12 coordinator of officiating resigns (too little, too late?)
From ESPN … In the wake of a tumultuous couple of weeks for Pac-12 officials, the league's coordinator of football officiating has resigned.
The Pac-12 announced Tony Corrente's resignation in a statement Wednesday night, citing personal and professional reasons.
"Under Tony's leadership, our program made great strides in improving the quality, accountability and consistency," commissioner Larry Scott said in the statement. "While it's unfortunate that Tony has decided to leave us at this time, I want to express my appreciation for his contribution, and for leaving our officiating program strong and headed in the right direction."
Pac-12 officials have come under fire the past couple of weeks following a series of high-profile, questionable calls and non-calls in several games. It spilled over Saturday in Colorado when coach Mike MacIntyre was seen screaming at officials and following them off the field following the Buffs' 36-31 loss to Oregon State. The tirade earned MacIntyre a $10,000 fine and a reprimand from the league earlier this week.
Corrente had served as the Pac-12′s officiating coordinator since 2011 and is an NFL official who worked last season's AFC Championship Game. He missed part of the 2012 season after being diagnosed with throat cancer.
Jim Blackwood, who has more than 20 years as a college conference coordinator and 10 years as an NFL replay official, will serve as interim coordinator for the remainder of the season. He previously served as the instant replay supervisor under Corrente.
The league will conduct a search for a permanent replacement after the season.
–
October 8th
Texas Tech worried luring students to West Virginia game with waffle giveaway
Texas Tech plays West Virginia Saturday, with an 11:00 a.m. local time kickoff. Like Colorado, Texas Tech is concerned about getting students to the game, and getting them there on time.
The Red Raiders' solution …
From yahoosports.com …  Things aren't going so well in Lubbock these days.
After the Red Raiders opened the season 2-0, they've dropped their last three, including both contests in Big 12 play. In order to make sure student support doesn't start wavering, Tech is offering a new promotion for this weekend's game against West Virginia — free waffles.
Yes, this is a real thing.
The program is giving away 10,000 waffles in a promotion it's calling #turndownforwaffles. Again, this is a real promotion.
If there's one benefit to the promotion (other than free waffles), fans will have something to either binge eat or throw at the team if things go south against the Mountaineers.
—–
October 7th
Washington State head coach Mike Leach fires special teams coach
From the Spokane Spokesman-Review … Mike Leach didn't wait until practice to make significant changes to Washington State's special teams, dismissing coordinator Eric Russell two days after the Cougars gave up two kickoff returns for touchdowns and missed a potential winning 19-yard field goal in WSU's 60-59 loss to California on Saturday.
"We made a change at special teams and well I think a great deal of coach Russell but we wanted to split the special teams up among the assistants and the way he's most effective is with him running the whole thing," Leach said. "He's a great coach. Yeah, I decided to make a change at special teams."
Russell was also the team's assistant head coach.
Firing an assistant coach in midseason is a rare move, but it's not an unprecedented one. The closest Leach has come before came in 2007 at Texas Tech, when defensive coordinator Lyle Setencich resigned following a 49-45 loss to Oklahoma State.
The Cougars (2-4, 1-2 Pac-12) have struggled with field goals and kick coverage all season. The week prior to the Cal game the Cougars gave up another special teams touchdown on a punt return at Utah.
Erik Powell started the season as the team's field goal kicker but was replaced by Quentin Breshears after Powell missed two kicks of less than 40 yards at Nevada. The pair have combined to make just 6 of 11 field goal attempts this season.
–
Three of four Pac-12 games this weekend predicted to be very close
Four Pac-12 teams – Colorado, Arizona State, Utah and Oregon State – have the weekend off, but the other eight teams are in action, with three of the four games predicted to be very close affairs (with Cal going from underdog to favorite against Washington) … odds from vegasinsder.com:
- Washington State at Stanford … 7:00 p.m. (MT), ESPN (Friday) … Cardinal a 17-point favorite (opened at 18)
- Oregon at UCLA … 1:30 p.m. (MT), Fox … Ducks a 2.5-point favorite (opened at 3.00)
- USC at Arizona … 8:30 p.m. (MT), ESPN2 … unranked Trojans a 2.5-point favorite on the road over No. 10 and undefeated Wildcats (down from 3.0)
- Washington at California … 4:00 p.m. (MT), Pac-12 Networks … Bears are a 3.5-point favorite, have opened as a 2.5-point underdog to the Huskies
—–
October 6th
… The Buff Nation not alone category ….
Michigan State athletic director chides student body for "embarrassing" participation at Nebraska game
From ESPN … Changes may be coming to the student section at Spartan Stadium after what officials called a disappointing showing for Michigan State's 27-22 win over Nebraska on Saturday night.
Athletic director Mark Hollis took to Twitter on Sunday night to express his "embarrassment" with the pockets of empty seats that filled the student section during Saturday's prime-time, nationally televised game against the Cornhuskers.
He said he spoke to members of the student body about finding ways to increase attendance.
Hollis said more than 13,000 students bought season tickets to this year's home games. Their corner of the stadium never filled Saturday for one of the most anticipated Big Ten regular-season games of the season.
By the fourth quarter, when Michigan State built a 27-3 lead on a wet night with temperatures in the 40s, more bleachers were visible than bodies.
Michigan State coach Mark Dantonio and a few Spartans players said they noticed the evaporating crowd during the fourth quarter. The noise decreased, they said, during Nebraska's late comeback bid.
…
… Meanwhile … Iowa State athletic director fined for complaining about officials …
From ESPN … The Big 12 reprimanded and fined Iowa State athletic director Jamie Pollard $25,000 – the largest fine ever doled out by the league — for ripping officials after the Cyclones' loss Saturday at Oklahoma State.
"Mr. Pollard's public statements called into question the integrity and competence of game officials and the conference's officiating program," Big 12 commissioner Bob Bowlsby said in a statement. "To insinuate that games are called unfairly to negatively impact a program is irresponsible and completely baseless.
"… We take pride in our officiating programs and will continue to strive for the highest possible standards and the fairest competition."
The Big 12 added that further remarks from Pollard would result in more serious penalties moving forward. Pollard issued a statement Monday apologizing for violating the Big 12 sportsmanship guidelines.
On Saturday, Pollard questioned the competence of Big 12 officials during an impromptu news conference after the Cyclones' 37-20 loss.
"We've been on the short end of several controversial calls, and it's hard to sit idle (and) watch ESPN, Fox (and) other announcers not debate, but feel sorry for Iowa State because maybe they'll be an apology for a call," Pollard said after the game. "Coach (Paul) Rhoads and I have tried to deal with that internally, and I've tried to do it the right way, but it's no longer fair to put our student-athletes, our coaching staff, and our fans in that position."
Pollard referenced a controversial call at the end of the first half, when officials initially ruled that Oklahoma State running back Desmond Roland had been stopped short of the goal line as time expired. The call, however, was reversed, giving the Cowboys a 13-6 halftime lead.
"I don't know how things change," Pollard said Saturday night. "But it's frustrating and it's not fair. It's not fair to our players. They're frustrated. And they're frustrated with the lack of action."
—–
October 5th
… Foe Pause …
Arizona goes from unranked to No. 10 in the nation; Oregon down to No. 12
Last week, the Pac-12 conference had five ranked teams … and four teams lost this past weekend.
Arizona, No. 29 and just outside the rankings last week, defeated No. 2 Oregon … and moved into the top ten.
In a wild weekend in which four of the top six teams in the nation lost (that had never happened before), the dust settled with the two top teams from 2013, Florida State and Auburn, in at No. 1 and No. 2. Mississippi and Mississippi State, fittingly, came in tied for No. 3.
In the Pac-12, Arizona is the new top Cat, in at No. 10. Oregon fell from No. 2 to No. 12; UCLA from No. 8 to No. 18; Stanford from No. 14 to No. 25; USC from No. 16 to unranked (No. 28). Arizona State, which scored three touchdowns in the final four minutes to defeat USC, rose one spot from No. 21 to No. 20.
California, which had one victory in 2014, received six votes this week, good enough for 35th in the nation.
The rankings:
—–
October 4th
… Foe Pause …
No. 8 UCLA stunned by Utah
From ESPN … Utah coach Kyle Whittingham spent the day watching a wave of wild results sweep across the nation and engulf the Pac-12, not that he needed the reminder.
A week ago, the Utes squandered a 21-point lead to Washington State. The next time out, they rallied to upset a Top 10 opponent for the second consecutive season.
Andy Phillips kicked a 29-yard field goal with 34 seconds left for Utah, and UCLA's Ka'imi Fairbairn missed two field-goal attempts with no time on the clock as the Utes stunned the No. 8 Bruins 30-28 on Saturday night.
"That was a gutsy performance," Whittingham said. "I've never understood what the word 'signature win' is, but this is a big win for us on the road. It says what our capabilities are if we play a complete game and play smart and play a full 60 minutes."
They played a great game and beat us," UCLA coach Jim Mora said. "It doesn't matter if it was the offense, the defense, special teams or the coaching. We have to figure out why. We have to push on from here."
Booker ran for 156 yards and Oklahoma transfer Thompson added 83 yards on the ground for the Utes, who bounced back splendidly.
"When you rush for 242 yards against the talent that UCLA has in the front seven, you've done some good work," Whittingham said.
UCLA led 28-27 after Hundley hit Eldridge Massington for a 40-yard TD strike with 4:50 to play, part of a second-half flurry in which Hundley passed for 187 yards and two scores on just eight completions.
—-
Arizona State scores three touchdowns in final 3:53 to shock No. 16 USC
From ESPN …  Mike Bercovici collapsed on the Coliseum turf after he released his final throw for Arizona State, cramping up from dehydration.
Jaelen Strong wasn't sure he could get to it, but he sprinted and leaped — and wasn't quite sure how he ended up with the ball in the end zone, his teammates mobbing him.
When Bercovici and Strong finally got up, the Sun Devils celebrated an improbable comeback capped by an unbelievable finish.
"You never know what this game can come down to," Strong said.
Strong caught a 46-yard touchdown pass from Bercovici as time expired, and Arizona State scored three TDs in the final 3:53 to shock No. 16 Southern California 38-34 on Saturday night.
Bercovici capped his 510-yard, five-touchdown passing performance with his third scoring pass to Strong, who slipped in front of USC's Hayes Pullard at the goal line and pulled in the Hail Mary, walking into the end zone stunningly untouched.
"I'll be honest, it was a little bit of a prayer," said Bercovici, the San Fernando Valley product making his second start in front of dozens of friends and family.
"I just immediately fell to the floor. I saw Jaelen take a step in the end zone, and I don't think I could have made it down 50 yards to the end zone. It was an indescribable feeling. I've got people telling me, `Get up, get up, get up!' But all I wanted to do was run upstairs to my mom and give her a big hug."
A week after giving up 62 points in a humbling loss to UCLA, the Sun Devils (4-1, 2-1 Pac-12) stormed the field to celebrate their first win at the Coliseum since 1999.
—–
California 60, Washington State 59 … with game decided on a missed 19-yard field goal attempt
From ESPN …  Jared Goff threw for 527 yards and five touchdowns as California held on to beat Washington State 60-59 on Saturday in a game in which WSU quarterback Connor Halliday broke the NCAA passing record.
Washington State kicker Quentin Breshears attempted a 19-yard field goal with 19 seconds remaining and was wide right, preserving the win for California (4-1, 2-1 Pac-12), which is enjoying its best start since 2008.
Halliday threw for 734 yards and six touchdowns for Washington State (2-4, 1-2).
Washington State has the nation's No. 1 passing attack, while Cal's is No. 8, and the teams did not disappoint, combining for 1,400 yards of offense.
Goff's 51-yard touchdown pass to Trevor Davis with 3:18 left in the game provided the winning points for California.
Halliday broke the NCAA passing yardage record for all levels, breaking the mark of 716 set by David Klingler of Houston in 1990.
Trevor Davis of Cal ran two kickoffs back for touchdowns in the wild third quarter when the two teams combined to score 56 points.
Washington State scored first on a 90-yard touchdown pass when Halliday threw to a streaking Vince Mayle, who caught the ball over his shoulder at midfield and outran the Cal defense into the end zone.
Breshears kicked a 42-yard field goal to give WSU a 10-0 lead.
California was forced to punt on its first three possessions. But the Golden Bears got on the scoreboard when Goff hit Davis, who broke three tackles to complete a 27-yard touchdown reception.
Washington State replied with an 85-yard drive that ended when Halliday connected with Isiah Myers on a 16-yard touchdown pass for a 17-7 lead with 10:59 left in the half.
Cal marched quickly down the field on its next possession, but the drive stalled on the WSU 13 and the Golden Bears settled for James Langford's 31-yard field goal to cut WSU's lead to 17-10.
Halliday replied with his third touchdown pass, a 17-yarder to River Cracraft for a 24-10 lead late in the first half. The drive featured a 30-yard reception by Dom Williams.
Washington State turned the ball over on downs with just over a minute to play in the half. Cal's drive stalled at the 8 and Langford kicked a 26-yard field goal to bring the Golden Bears within 24-13 at halftime.
Halliday, the nation's passing yardage leader, had 337 yards in the first half on 22-of-29 passing.
The third quarter saw an explosion of offense, with each team scoring four touchdowns.
Cal's first play of the second half was a 55-yard pass completion from Goff to Stephen Anderson. Then Daniel Lasco caught a short pass from Goff and ran up the middle for a 27-yard touchdown to cut WSU's lead to 24-20.
After a WSU punt, California took the lead with an 85-yard drive that required only four plays. Goff's 40-yard pass to Chris Harper put the ball at WSU's 15. Lasco ran the next play in for a touchdown that gave Cal a 27-24 lead with 11:31 left in the third.
But WSU regained the lead on the next series when Halliday threw an 86-yard touchdown strike to a wide-open Cracraft for a 31-27 lead.
Then Washington State recovered an on-side kick and drove to the Cal 1, where Gerard Wicks ran in for a touchdown and a 38-27 WSU lead.
Cal's Davis took the ensuing kickoff in the end zone and ran it back 100 yards for a touchdown, cutting the WSU lead to four points.
Halliday threw a 9-yard touchdown pass to Myers on WSU's next possession and the Cougars once again led by 11 points.
But Davis again took the ensuing kickoff and ran 96 yards up the right sideline for a touchdown, cutting WSU's lead to 45-41.
Halliday hit Cracraft for a 9-yard touchdown pass and a 52-41 lead.
Cal opened the fourth quarter with a 5-yard touchdown pass from Goff to Bryce Treggs to get within 52-48.
Cal went ahead when Goff connected with Treggs on a 21-yard touchdown pass that put the Golden Bears up 54-52 with 8:34 left in the game. Langford's conversion kick was blocked by Xavier Cooper.
Washington State drove 69 yards in 11 plays on the next possession, with Gerard Wicks running over from the 1 to put the Cougars ahead 59-54 with 4:19 left.
But California came right back, with Goff throwing a 51-yard touchdown pass to Davis for a 60-59 lead with 3:18 remaining. The Golden Bears attempted a two-point conversion pass that failed.
Washington State took over with 3:17 left in the game and drove to the California 1. Breshears 19-yard field goal attempt was wide right with 19 seconds left.
—-
No. 14 Stanford falls to No. 9 Notre Dame on last minute touchdown pass
From ESPN … Everett Golson threw a 23-yard touchdown pass to Ben Koyack in the corner of the end zone with 61 seconds left as No. 9 Notre Dame overcame two turnovers and two bungled snaps on field goal attempts on a cold, rainy Saturday to beat No. 14 Stanford 17-14.
Koyack was alone in the corner and Golson almost didn't find him in time. But Koyack caught the pass as he fell out of bounds and safety Jordan Richards dove to try to break it up on Notre Dame's last chance on fourth-and-11.
The Fighting Irish improved to 5-0 for just the third time since Lou Holtz left in 1996. The other two times were in 2002, when they started 8-0 in Tyrone Willingham's first year as coach, and two seasons ago, when they had an undefeated regular season. The Cardinal (3-2) have two losses this early in the season for the first time since opening 1-2 in 2008 in Jim Harbaugh's second season as coach.
Golson also threw a 17-yard TD pass to Chris Brown and Notre Dame amassed 370 yards of total offense against the nation's top defense. The game wasn't as exciting as Notre Dame's 20-13 overtime victory two years ago on a goal-line stand, but it was close.
The Irish defense held the Cardinal to 139 yards total offense and just 47 yards rushing. Stanford receiver Ty Montgomery, who entered the game averaging 69 yards a game receiving, was held to four catches for 12 yards. But he did have a 42-yard kickoff return that helped set up a Stanford touchdown late in the fourth quarter.
—-
October 3rd
Arizona upsets Oregon for the second year in a row
Game recap from ESPN … True freshman Nick Wilson ran for two touchdowns and caught a scoring pass from quarterback Anu Solomon to help the Wildcats (5-0, 2-0 Pac-12) open the season with five straight victories for the first time since 1998.
Terris Jones-Grigsby plowed into the end zone from a yard out for the tiebreaking touchdown with 2:54 left, and Arizona held on after sacking Mariota and recovering his fumble.
It was the third time since 2007 that an unranked Wildcats team upset an Oregon squad ranked in the top five.
"They're probably having a good time in Tucson, Arizona, right now," Wildcats coach Rich Rodriguez said.
With his team trailing 24-14 going into the final quarter, Oregon's Matt Wogan made a 21-yard field goal. Mariota then hit Keanon Lowe with a 9-yard scoring pass to tie it with 8:21 left.
With Arizona driving downfield, the Ducks (4-1, 1-1) sacked Solomon on third-and-8, but Tony Washington was called for unsportsmanlike conduct to give the Wildcats a first down.
A pass interference call got Arizona closer for Jones-Grigsby's go-ahead touchdown. And on Oregon's ensuing series, Mariota was sacked by Scooby Wright, who stripped the ball from the Heisman Trophy hopeful and recovered it himself.
It was a good play by him, honestly," Mariota said.
Arizona then gained a clinching first down on the ground and ran out the clock, silencing Autzen Stadium's 100th straight sellout crowd.
"Last year it was really heartwarming because it was the seniors' last home game and it was improbable, of course," Rodriguez said. "This one, I don't know if anybody picked us. I don't know how many people were talking about us, but I bet you most of them weren't thinking this was going to happen, not on the road."
Mariota, who hugged Rodriguez after the game, threw for 181 yards and a touchdown. The quarterback also caught a TD pass but was sacked three times and turned the ball over for the first time all season.
"I thought we played hard, for the most part. We came out ready to play; we didn't play cleanly enough or smart enough," Oregon coach Mark Helfrich said.
—
Reaction from Duck fans …
Asked by the Oregonian to sum up their feelings about the game in five words or less, Duck fans posted their thoughts:
- And the Ducks humbly bow out
- Just another duck football season
- three straight goal line runs
- fire the coaching staff ASAP
- only swear words will work
- blew our wad on Sparty
- Lack of discipline. Poor coaching
- costly lack of discipline
–
… And then there is this, from Oregonian columnist John Canzano …
Now, as a matter of introduction, Oregonian columnist John Canzano is about as popular with Duck fans as Denver Post columnist Mark Kizla is with Buff fans. Canzano is always the glass half-empty guy, the guy who likes to stir up controversy with extreme comments.
That being said, if you are up for a little schadenfreude, Canzano's column is for you. The entire rant can be found here.
Some excerpts:
… There was blood in the water at Autzen Stadium on Thursday night. Here was championship-hyped Oregon plodding around the field like some foot-shuffling rube, defense on roller skates, offense tripping over its shadow, drawing boos and trailing Arizona …
… Arizona exposed Oregon, especially after some careful halftime adjustments, piling up 13 third-quarter first downs. There were too many defensive shortcomings to list here … No answer from Oregon. No adjustment. Just flat embarrassing …
… The shine is gone. The strut is gone. In a couple of weeks, all that replaced by a slouch, and an uncertain gaze, and so much sloppiness. There were suspicions last season, even with a 10-2 record and an Alamo Bowl, about whether the program had taken a giant step backward. Losing to a BCS-bowl bound Stanford program you could live with, but losing at Arizona? Now losing to Arizona twice straight?
Helfrich is now 3-3 in his last six Pac-12 games. He's 8-3 overall in conference play. Kelly's conference record in four seasons: 33-3.
Right now, the University of Oregon shouldn't be worried about whether it can climb with one loss back into the national playoff hunt. It should be worried about whether the coaching staff has what it takes to keep Oregon as relevant as it should be.
——-
October 2nd
CSU President: Give me two more months to look into options
Colorado State president Tony Frank appeared before the CSU Board of Governors this afternoon, and asked for two additional months to weigh the four different options for addressing the on-campus stadium issue.
If you are not up on the four options CSU is looking at, the Coloradoan has done a good job of synthesizing the choices. The article detailing the four options can be found here.
In a few words, the four options are as follows:
Option One … Maintenance of Hughes Stadium – $30M from general fund to upgrade and maintain existing stadium
Option Two … Hughes 2050 – Rebuilding/remodeling Hughes at its present site
Option Three … Phased in on-campus stadium
Option Four … Public/Private option (Private entity builds the new stadium; CSU leases property)
–
Power-Five Conferences moving forward with proposals to provide more benefits to student-athletes
From ESPN … The five wealthiest college football conferences have notified the NCAA of their proposals to provide more benefits to athletes under the new governance model that allows the Atlantic Coast Conference, Big Ten, Big 12, Pac-12 and Southeastern Conference to pass legislation without the support of the other Division I leagues.
The autonomy structure went into effect on Wednesday, which was also the first day for the power conferences to offer suggestions about what rules they want to implement. The NCAA board of directors in August passed a proposal to give autonomy to the five major conferences. The transition to the autonomy structure will happen in January.
Those conferences endorsed changes that would increase benefits to student-athletes, all of which have been touted by conference leaders for several years, including:
• Funding athletic scholarships that would cover the full cost of tuition.
• Guaranteeing multiyear scholarships for athletes.
• Lifetime scholarship guarantees that would allow former athletes to return to school at any time and complete their degrees.
• Providing long-term health care and insurance to former athletes.
The conferences have also said they will review the time demands for athletes.
The Pac-12 says presidents and chancellors will explore how to implement the proposed reforms at its board meeting Oct. 27, including by each institution, conference-wide action or among the five major conferences.
Any rule changes that occur would not start until the 2015-2016 academic year.
—-
CSU Board of Governors meeting today
From the Coloradoan … CSU President Tony Frank on Thursday, Oct. 2, will ask the university system governing board to give him two additional months to study "at least four options" before making a final recommendation on the long-debated on-campus football stadium.
Members of the Board of Governors are scheduled to meet Thursday and Friday at the Colorado State University campus in Fort Collins. Frank is expected to give the board an update on the stadium project from 3:30 to 4 p.m. in the North Ballroom in the Lory Student Center.
The remainder of the story can be found here.
—-
October 1st
Former CSU athletic director challenges Board of Governors to go ahead with on-campus stadium
Jack Graham, fired as the athletic director at Colorado State University in August, has fired back against his former employer.
In a guest commentary in the Denver Post, Graham challenges the CSU Board of Governors to go ahead with Graham's vision for an on-campus stadium, saying that the money is there for the project:
The opening … The Colorado State University community has stepped up to deliver record-level donations to fund a new, on-campus football stadium, and there is a practical and readily achievable plan of finance to pay for it. The CSU Board of Governors, which is meeting on Thursday to talk about the stadium, should adopt this plan and challenge the people in the university responsible for delivering it to do so.
The remainder of the commentary can be read here.
Interesting stuff – we'll see how this all plays out …
–
Two defensive players quit Arizona
From Tucson.com … The Arizona Wildcats got a little thinner on defense this weekend.
Defensive end Jordan Allen and linebacker Mekani Kema-Kaleiwahea both left the program recently.
Allen, a fifth-year senior, who transferred from LSU before the season, is likely done with football. Kema-Kaleiwahea, who legally changed his name from Keoni Bush-Loo last month, will look to transfer closer to home. He's originally from Ewa Beach, Hawaii.
Allen started the first game of the season in place of Reggie Gilbert, who was out with a foot injury. He played in limited duty as a backup against UTSA and didn't get any snaps against Nevada. Last week against Cal, Allen saw a few plays in the first half.
All total, he had two tackles and one pass breakup on the season.
The defensive end left the LSU program during spring drills. He graduated in May and committed to the UA with one year to play and was eligible to play right away.
"You're bringing in a grown man," UA coach Rich Rodriguez said of Allen in July. "He's played at a high level in a really good program. For him, it's just learning what we do, and then he'll be playing."
In an interview with the Star earlier this month, defensive line coach Bill Kirelawich said Allen, who played in a four-man front at LSU, was learning to adjust to the UA's three-man defensive line. He said he was inconsistent, but thought he'd "be be a better player in November than September."
Kema-Kaleiwahea competed for a starting spot at outside linebacker in training camp. But the junior, who was part of Rodriguez's first recruiting class at the UA, recently found himself behind several other players on the depth chart.
—–
September 30th
Pac-12 television schedules for the next two weekends
This weekend (October 2nd-4th) … Washington has a bye week:
Arizona at Oregon … 8:30 p.m. (MT) … ESPN (Thursday night)
Stanford at Notre Dame … 1:30 p.m. (MT) … NBC
Oregon State at Colorado … 2:00 p.m. (MT) … Pac-12 Networks
Arizona State at USC … 5:30 p.m. (MT) … Fox
California at Washington State … 8:30 p.m. (MT) … Pac-12 Networks
Utah at UCLA … 8:30 p.m. (MT) … ESPN
Next weekend (October 10th-11th) … Colorado, Utah, Arizona State and Oregon State all have bye weeks:
Washington State at Stanford … 7:00 p.m. (MT) … ESPN (Friday night)
Oregon at UCLA … 1:30 p.m. (MT) … Fox
Washington at California … 4:00 p.m. (MT) … Pac-12 Networks
USC at Arizona … 8:30 p.m. (MT) … ESPN2
—–
September 28th
Oregon edges closer to No. 1
Oregon was idle this past weekend (the Ducks play Arizona Thursday night), but moved closer to No. 1 after Florida State had to rally to defeat North Carolina State. The Ducks remain No. 2, with 13 first place votes, up one from last week. In overall points, the Ducks closed the gap from 39 points to just 11 (1416 to 1405) with Alabama 1387) and Oklahoma (1357) close behind.
In the rest of the Pac-12 … UCLA moved back into the top ten, jumping three spots to No. 8 after crushing Arizona State, 62-27 … Stanford, at No. 14, and USC, at No. 16, both moved up two spots after posting wins this past weekend … Arizona State dropped out of the top 25, falling from No. 15 to No. 26 … Arizona, at No. 29, and Washington, at No. 37, were the only other Pac-12 schools receiving votes this week.
—–
September 27th
… Foe Pause …
Washington State rallies from 21-0 deficit to defeat Utah, 28-27
From ESPN … Connor Halliday threw for 417 yards and four touchdowns, including the game-winning score to Vince Mayle, and Washington State overcame a 17-point halftime deficit to shock Utah 28-27 on Saturday night.
Rain fell steadily throughout but Halliday heated up in the second half, throwing for 267 yards in the final two quarters and the WSU defense came up with key stops to give the Cougars (2-3, 1-1 Pac-12) the victory.
On a drive they started on their own 8, Halliday connected with Mayle in full stride on his route across the middle. Mayle, who had eight receptions for 120 yards, sped untouched 81 yards for the go-ahead touchdown with 4:58 remaining.
In stark contrast to Halliday, Utah's Travis Wilson completed 18 of 38 passes for 165 and consistently overthrew receivers or rifled the ball too hard. Booker rushed 24 times for 178 yards but the Cougars outgained the Utes 495-357.
–
Stanford gets past Washington, 20-13
From ESPN … David Shaw provided a scathing assessment of Stanford's offense. Fortunately for the coach and the Cardinal, the public criticism came after a win.
Kevin Hogan ran for a 5-yard touchdown with 4:29 remaining, and No. 16 Stanford used its stingy defense and a poorly timed fake punt by Washington to post a 20-13 win on Saturday.
Stanford (3-1, 1-1 Pac-12) made just enough mistakes to let the Huskies linger into the fourth quarter despite the Cardinal dominating statistically. But Stanford capitalized on Washington coach Chris Petersen's risky and ultimately unsuccessful decision to run a fake punt at the Huskies 47 midway through the fourth quarter.
Six plays later, Hogan scored and the Cardinal had passed their first road test of the season. Now they can turn their attention to next week's showdown at Notre Dame.
"I think we are so much better than we are playing, and the point I got across to the team is it doesn't matter how good we are, it matters how well we play," Shaw said. "And right now, when you look at us right now we're a semi-efficient, sloppy offense and that's not one thing we've ever been known for and it's one thing we better not be known from here on out this season."
Six times the Cardinal drove inside the Washington 30, but a missed field goal and fumble by Hogan never let Stanford pull away. The Cardinal committed three turnovers, including Remound Wright's fumble late in the second quarter that Shaq Thompson returned 32 yards for a touchdown to pull the Huskies (4-1, 0-1) even at 13.
–
September 26th
… Foe Pause …
UCLA turns 17-6 second quarter deficit into 62-27 rout of Arizona State
From ESPN … Ishmael Adams gave UCLA a boost with a 95-yard interception return for a touchdown just before halftime and followed with a 100-yard kickoff return for another score in the third quarter, sparking the 11th-ranked Bruins to a 62-27 rout against No. 15 Arizona State on Thursday night.
UCLA (4-0, 1-0 Pac-12) won its first three games by a combined 18 points against non-ranked opponents, raising questions about just how good the Bruins are this season.
They provided an emphatic answer — at least on offense — by turning a matchup of the past two Pac-12 South champions into a rout, scoring 28 points during a 7-minute span of the second and third quarters.
UCLA had 582 yards of total offense, five plays of 80 yards or longer and scored the most points in the 55-year-history of Sun Devil Stadium.
Brett Hundley was the catalyst, returning from a left arm injury to hurdle defenders, dive for first downs and complete passes all over the field. He threw for 355 yards and four touchdowns on an efficient 18-of-23 passing, including an 80-yard score to Jordan Payton to open the second half.
"It's an absolute inspiration to offense, defense and special teams for him to not just play, but to be out jumping over guys and diving on the ground," UCLA defensive coordinator Jeff Ulbrich said.
The downside for the Bruins was the defense.
Arizona State (3-1, 1-1) ran a staggering 105 plays and gained 626 yards against the young Bruins' defense.
The problem for the Sun Devils was a few of their faults were exposed, too.
The rebuilt defense had its hands full with Hundley and the Bruins all night, giving up a string of big plays.
Mike Bercovici showed flashes of brilliance in replacing injured starter Taylor Kelly, throwing for 488 yards and three touchdowns in his first start while setting school records with 42 completions on 68 attempts.
He also displayed his penchant for turning the ball over, throwing two interceptions and losing a fumble that led to a UCLA touchdown.
The combination sent the Sun Devils to an ugly loss after three wins to start the season.
"That was embarrassing. It was a frustrating night," Arizona State coach Todd Graham said. "The standard that we set here was not met tonight."
——
September 25th
… Foe Pause …
Colorado State falls short of fund-raising goals for new stadium; other options being explored
From the Coloradoan … CSU President Tony Frank said Thursday, Sept. 25, that he will not proceed with his financing request for a new on-campus stadium when he meets next week with the university's Board of Governors but he is not yet willing to abandon the idea.
Frank, in an email to the Coloradoan, said he wants another two months to explore options, including other financing options for either a new on-campus facility or to pay for renovations at Hughes Stadium.
Other options which are being explored can be found in the remainder of the article, which can be found here.
– If you want to check out the reaction from the Ram Nation, click here.
– If you would like to take a video tour of the $30 million in repairs which will be required of Hughes stadium, you can click here.
——
September 24th
… Foe Pause …
Brett Hundley participating in (limited) practices, with Arizona State game coming Thursday night (8:00 p.m., MT, Fox Sports)
From ESPN … UCLA coach Jim Mora said he's going to "push it as far out as you can" before making a decision on whether quarterback Brett Hundley will start Thursday night against Arizona State in Tempe.
Hundley injured his left (non-throwing) elbow in UCLA's 20-17 win over Texas on Sept. 13. The Bruins had a bye last week and Mora has been tight-lipped about the status of the All-America candidate.
Sometimes it goes right up to kickoff before you make that decision," Mora told reporters after practice on Tuesday. "In the NFL you have to declare a guy inactive or active, at this level you don't. We just take it as far as we can and make the best decision for the player first, and the team second."
Mora said Hundley has practiced, but has been limited.
Through three games, Hundley is completing 70.4 percent of his passes with three touchdowns and an interception. He's also rushed for 74 yards and a score. Jerry Neuheisel replaced Hundley against Texas to lead the Bruins to a dramatic fourth-quarter victory, throwing two touchdowns on 23 of 30 passing.
The winner of the last two showdowns between ASU and UCLA has gone on to win the Pac-12 South Division, with ASU winning last year in Los Angeles and UCLA winning at ASU in 2012.
"It's not like anyone is trying to pull anything over on Todd Graham, because you're not going to pull anything over on Todd Graham," Mora said. "They are preparing for UCLA. They are preparing for schemes and plays and tendencies. I'm sure they are assuming that Brett is going to play. That's what I'd be doing. And I'm nowhere near the coach that Todd Graham is. They'll be ready regardless."
Mora is right. Graham is expecting Hundley to play.
"If Brett Hundley didn't play, it would totally shock me," Graham said on Tuesday's Pac-12 coaches teleconference. "But that makes it easier for us. You better prepare for the best one. Not taking anything away from the backup quarterback, but Brett has some skills that are really, really special.
——
September 23rd
… Foe Pause …
Former USC player suing school and Lane Kiffin for playing him while injured
From ESPN … Former USC Trojans cornerback Brian Baucham is suing the school and former coach Lane Kiffin, alleging he was forced to play in a game while ill.
A law firm representing Baucham, AgnewBrusavich, said the suit was filed Monday in Los Angeles County Superior Court.
Baucham claims he suffered "cardiopulmonary damage" and "brain injury with neurocognitive deficits" after he played against California at the Coliseum on Sept. 22, 2012. Baucham's lawsuit claims he was ill and dehydrated before the game, but was "forced" to play by Kiffin.
"USC and head coach Kiffin were clearly negligent and acted with conscious disregard for Brian's welfare and safety by forcing him to play … despite his verified medical history and seriously ill condition," said Bruce M. Brusavich, Baucham's attorney.
Baucham, who had sustained a concussion two months earlier, collapsed on the field in the fourth quarter against Cal. He was taken to a hospital by ambulance and spent several days on a ventilator.
A brain scan later revealed Baucham "had sustained a brain injury and had bleeding in the brain," the lawsuit said. Baucham has no memory of the second half of the game, according to his lawsuit.
Baucham, a fifth-year senior in 2012, didn't play for the Trojans again. The lawsuit also claims USC attempted to revoke Baucham's scholarship after his injury, but Baucham and his family fought the school until he graduated.
The lawsuit doesn't name an amount of damages Baucham is seeking.
USC athletic director Pat Haden issued a statement Monday night.
"It wouldn't be appropriate for us to comment on this lawsuit, and due to privacy laws we cannot comment on the specifics of this case," Haden said. "I will say that I am confident that we provide excellent medical treatment to our student athletes and that their health is always our primary concern ahead of any athletic competition."
—–
September 22nd
… Foe Pause …
Oregon State at Colorado game time set
Colorado game against Oregon State to kickoff at 2:00 p.m. (MT) next Saturday, October 4th. The game will be televised by the Pac-12 Networks.
Other Pac-12 games next weekend:
- Arizona at Oregon, 8:30 p.m. (ESPN) – (to be played Thursday, October 2nd)
- Stanford at Notre Dame, 1:30 p.m., MT – NBC
- California at Washington State, 8:30 p.m., MT – Pac-12 Networks
- Utah at UCLA – TBD
- Arizona State at USC – TBD
–
Nine teams from the Pac-12 receiving votes in latest AP poll
Nine teams from the Pac-12 received votes in the latest Associated Press poll.
Oregon held at No. 2, but lost five first place votes after its close 38-31 victory over Washington State.
With the other four ranked Pac-12 teams on byes this weekend, there was little movement. UCLA moved up one spot to No. 11, No. 15 Arizona State and No. 16 Stanford held firm, and USC dropped one spot to No. 18 because of Mississippi State's win against LSU.
Taking into account the others receiving votes category, the other ranked teams in the conference would be: No. 31 Utah, No. 32 Washington, No. 37 Arizona and No. 39 (tied) Oregon State.
——-
September 20th
… Foe Pause …
Arizona scores 36 points in the fourth quarter; beats Cal on a Hail Mary, 49-45
From ESPN …  Anu Solomon hit Austin Hill on a 47-yard Hail Mary on the game's final play and Arizona scored 36 points in the fourth quarter to pull off an improbable 49-45 win over California Saturday night.
Cal (2-1, 0-1 Pac-12) threatened to turn Arizona's whiteout into a blowout, deflating the Wildcats and their white-shirt-wearing fans with two quick scores and a 22-point halftime lead.
Arizona (4-0, 1-0) charged back behind Solomon, who threw for 520 yards and had four of his five touchdown passes in the fourth quarter.
The Wildcats recovered an onside kick after Cal was called for a batting penalty and pulled within two after Solomon hit Cayleb Jones on a 15-yard scoring pass.
Arizona got the ball back with less than a minute left and pulled off the miracle when Hill, a senior who missed last season with a torn ACL, brought the ball down among five Cal defenders.
Solomon shook off a pair of first half interceptions to complete 47 of 73 passes, both school records. Jones caught 13 passes for 186 yards.
Arizona finished with 627 total yards, and Cal had 573.
Behind Jared Goff, who threw for 380 yards and three touchdowns, Cal led 31-16 heading into the fourth quarter.
That's when Arizona kicked its high-octane offense in gear, marching for one score after another.
Solomon hit Hill on a 9-yard touchdown pass, then Jones on a 16-yarder after Khalfani Muhammad scored on a 50-yard touchdown run. Muhammad scored again on a 6-yard run to put Cal seemingly in good position, up 45-30 with just over 5 minutes left.
But the Wildcats kept coming.
Arizona marched for a 6-yard touchdown run by Terris Jones-Grigsby then recovered a second try at an onside kick after Cal's batting penalty. Jones, who had 13 catches for 186 yards, pulled down a 15-yard pass from Solomon with 2:44 left, but the Wildcats' two-point try failed.
With a chance to put the game away, Cal couldn't finish it off. James Langford hooked a 47-yard field goal left, turning the ball over to Arizona at its own 29-yard line with 52 seconds left.
Solomon completed a couple of short passes before finding Hill on a 20-yard pass that moved the chains and briefly stopped the clock. Arizona raced to the line and Solomon spiked the ball to set up the final shot at the end zone.
Hill came down with it, sending the Wildcats streaming from their sideline and the Bears collapsing to the turf.
—-
No. 2 Oregon escapes Pullman with a 38-31 win over Washington State
From ESPN … Oregon coach Mark Helfrich had one word to describe Marcus Mariota's play against Washington State: "Ridiculous."
Mariota threw for 329 yards and five touchdowns to stay in contention for the Heisman Trophy and help Oregon hold off Washington State 38-31 Saturday night in a matchup of two of the top offenses in the nation.
Mariota completed 21 of 25 passes without an interception and also rushed for 58 net yards despite being sacked seven times.
"He did a great job of rattling the defense in the second half," Helfrich said. "The guy is special."
Devon Allen and Keanon Lowe each had two touchdown receptions for Oregon (4-0, 1-0 Pac-12). Allen caught seven passes for 142 yards.
"A road win in this conference is hard," Helfrich said after the Ducks rallied to beat Washington State for the eighth consecutive time. "We are 4-0 and we got a big win on the road.
"There was a ton of adversity," Helfrich said.
Connor Halliday threw for 436 yards and four touchdowns, completing 43 of 63 passes, for Washington State (1-3, 0-1). The Cougars, who boast the nation's top passing attack, came into the game as 24-point underdogs but kept it close in an entertaining game.
"I thought we took a step in the right direction today," WSU coach Mike Leach said. "I thought we played extremely hard the entire game."
Washington State played stout defense in the first half, sacking Mariota five times and recording seven tackles for losses, while holding the Ducks to a total of 210 yards. The score was tied 21-all at halftime.
However, the Cougars' offense stalled in the second half, as the Ducks outscored them 17-10 to take the win.
—-
Utah takes down Michigan in the Big House
From ESPN … Travis Wilson returned after a frightening fall in the first half to throw a third-quarter touchdown pass, and Utah finally finished off a 26-10 win over Michigan on Saturday after a lightning delay in the fourth quarter of 2 hours, 24 minutes.
The game was delayed with 7:51 remaining, and when it resumed, not much was left of the announced crowd of 103,890. Michigan (2-2) was already down 26-10 at that point.
Wilson left the game in the second quarter after he tried to leap over a Michigan defender and landed on his head. The Utes (3-0) led 13-10 at halftime anyway, and Wilson found Dres Anderson for a 28-yard touchdown early in the third.
After the delay, the teams came out to the wet field and finished in front of about 105,000 empty seats. Red-clad Utah fans, who had been mostly relegated to Michigan Stadium's upper reaches, took advantage of the unique opportunity and went to the sections down lower, right behind their team's sideline.
Michigan's running game looked improved against the likes of Appalachian State and Miami (Ohio), but in two games against tougher competition, the Wolverines haven't been much of a threat offensively. They lost 31-0 to Notre Dame and went without an offensive touchdown against Utah.
Michigan turned the ball over four times, bringing its total to 11 over the last three games. Devin Gardner went 14 of 26 for 148 yards with two interceptions, and the Wolverines struggled to protect him from Utah's aggressive pass rush.
–
Washington falls behind Georgia State, 14-0, at halftime – rallies for 45-14 rout
From ESPN … The Washington Huskies needed a second half surge to overcome a 14-point halftime deficit to earn a 45-14 victory over Georgia State on Saturday afternoon.
Washington (4-0) was outgained by Georgia State (1-3) by a 231-73 margin and held possession for over 21 minutes in the first half as the Panthers built a 14-0 lead.
The Huskies finally woke up after the break and settled in on both sides of the ball.
Cyler Miles completed 19 of 27 passes for 154 yards and three touchdowns to lead the Washington rally.
The Huskies forced a Georgia State three-and-out on their opening possession of the second half. A 35-yard punt return from Dante Pettis put Washington's offense in business. Jeff Lindquist subbed in for Miles and scored on a 9-yard touchdown run to put the Huskies on the board.
Washington finally managed a sustained drive to pull back even with the Panthers.
Miles capped a nine-play drive with a 10-yard touchdown pass to Kendyl Taylor to tie the game at 14.
The wheels began to fall off for Georgia State. Avery Sweeting fumbled on the first play of the Panthers ensuing possession and Sidney Jones recovered for the Huskies. Four plays later, Myles connected with Kasen Williams for a 3-yard touchdown to give Washington its first lead of the game.
Miles threw a 9-yard touchdown to Jaydon Mickens and Lindquist added a 14-yard touchdown run as the Huskies closed the door on Georgia State. The Huskies held Georgia State to just 42 yards of offense in the second half.
Chris Petersen is the first Washington coach since Gil Dobie in 1908 to begin his career at the school with a 4-0 record.
—-
Pac-12 GameDay guide
ESPN has posted a viewer's guide to the Pac-12 games this week (USC, UCLA and Arizona State have byes). A brief write-up for each game can be found here.
The games:
Utah at Michigan
Time: 3:30 p.m. ET/12:30 p.m. PT
TV: ABC/ESPN2
Georgia State at Washington
Time: 6 p.m. ET/3 p.m. PT
TV: Pac-12 Networks
California at Arizona
Time: 10 p.m. ET/7 p.m. PT
TV: Pac-12 Networks
No. 2 Oregon at Washington State
Time: 10:30 p.m. ET/7:30 p.m. PT
TV: ESPN/WatchESPN
San Diego State at Oregon State
Time: 10:30 p.m. ET/7:30 p.m. PT
TV: FOX Sports 1
——-
September 19th
… Foe Pause …
Experts pick the winners for Week Three
Colorado, a seven-point favorite against Hawai'i this Saturday, is a unanimous pick of the experts … but the endorsements are occasionally lukewarm:
- Jon Wilner of the San Jose Mercury News likes Colorado to beat Hawai'i, and by more than a touchdown: Here's the rare instance in which the betting public is giving Hawaii too much credit. Seven points? The Buffs just played Arizona State to a 14-point game and now face a team that's two tiers below the Sun Devils AND making a long trip to play at altitude. The line should be 10+. Pick: Colorado. Wilner's other picks can be found here.
- Athlon Sports had this to say about the CU/Hawai'i game … The Warriors will be happy to say goodbye to the Pac-12 as they will be facing their third such opponent in four weeks. Narrow losses on the Islands to Washington and Oregon State by a combined nine points should have Colorado focused, but this will be Hawaii's first trip to the Mainland. Despite losing in its first game at Folsom Field last week to Arizona State, Colorado has increased its offensive production — both in yards per game and per play — in each of its first three games. The Warriors would be a sneaky outright upset pick if this game was in Honolulu but since this game is coming at home, Mike MacIntyre knows this is a must-win situation. The rest of Athlon's Pac-12 picks can be found here.
- The Spokane Spokesman- Review had this take on the Buffs against the Rainbow Warriors: The fact that the Buffaloes are only favored by a touchdown at home against a Mountain West team that just lost its best offensive weapon is only mildly disturbing. Colorado 27-17.  The remainder of the picks (including a 45-27 prediction for Oregon to be the home-standing Cougars of Washington State), can be found here.
- The Tacoma News Tribune picked Colorado, but with a less than ringing endorsement: This would be a much more difficult outcome to predict if the Rainbow Warriors' bruising running back, Joey Iosefa, hadn't injured his ankle last week. Beating a Pac-12 team on the road without him will be difficult, even if it is just Colorado. The pick: Colorado 30, Hawaii 27. The remaining picks for the Pac-12 games this week can be found here.
- Madduxsports.com, a betting site, had this to say about the game … Both of these teams are much better than last year when they combined for 5 wins. Still, they are both 1-2, but they have been competitive in every game. I like Colorado to win handily at home especially without Iosefa for Hawaii.
—–
September 18th
… Foe Pause …
UCLA coach Jim Mora refusing to give an update on Hundley's status
From ESPN … UCLA coach Jim Mora refused to update the condition of Brett Hundley and isn't saying who will start at quarterback when the No. 12 Bruins visit Arizona State in next week's Pac-12 opener.
Hundley hurt his left elbow last Saturday in the first quarter against Texas, and Jerry Neuheisel came off the bench to throw the game-winning touchdown pass in a 20-17 win over the Longhorns.
Mora refused to discuss the status of Hundley's non-throwing arm, saying only that "someone has to go in." He also has closed all practices and restricted media availability leading up to the game against the No. 15 Sun Devils.
"I feel good about our team," Mora said when asked about injuries. "They work hard every day. They have a great attitude. They work hard to get back on the field if they are not on the field. They work hard to stay on the field if they are on the field. I'm excited about our team."
Arizona State, meanwhile, has acknowledged that quarterback Taylor Kelly will not play against UCLA after injuring his right foot in a 38-24 win at Colorado.
Mora refused to acknowledge that Neuheisel would be the next man up if Hundley can't play.
"Just because Jerry went into that game doesn't mean that is our backup quarterback," Mora said. "We've never determined who is No. 2, 3, 4. We've got a whole bunch of guys. Next time it could be [redshirt freshman] Asiantii [Woulard]. Heck, Asiantii could start the Arizona State game, who knows?"
–
- Utah believes it can win on the road against Michigan, according to this article from the Salt Lake City Tribune, despite posting only one win outside of the state of Utah in the past two seasons (of course, that was in Boulder in 2012).
- Washington State is trying to prepare for its game against Oregon as if it is any other game, according to this article. "It doesn't matter who we play," Washington State wide receiver Dom Williams said. "We can play the Seahawks. You just go out there and play. It doesn't matter who the opponent is."
- Cal, at 2-0 (after going 1-11 last season), has new found confidence heading into its game against Arizona Saturday. "I don't know if we're the Steel Curtain quite yet," coach Sonny Dykes told the San  Jose Mercury News, "but the guys feel they have the opportunity to be a good defense."
——
September 17th
Pac-12 non-conference schedule
Here is a look at the top ten non-conference games for the 2015 season, along with a list of the Pac-12 games (including a few conference games) for the 2015 season:
10 notable nonconference games
Michigan at Utah
Arizona State vs Texas A&M
Washington at Boise State
Oregon at Michigan State
Oregon State at Michigan
Washington State at Rutgers
BYU at UCLA
California at Texas
USC at Notre Dame
Notre Dame at Stanford
Here is the full schedule:
Week 1
Thursday, Sept. 3
UTSA at Arizona
Michigan at Utah
Saturday, Sept. 5
Arizona State vs Texas A&M, NRG Stadium, Houston
Arkansas State at USC
Virginia at UCLA
Colorado at Hawaii
Eastern Washington at Oregon
Weber State at Oregon State
Washington at Boise State
Portland State at Washington State
Grambling State at California
Stanford at Northwestern
Week 2
Saturday, Sept. 12
Arizona at Nevada
Cal Poly at Arizona State
Idaho at USC
UCLA at UNLV
UMass at Colorado
Utah State at Utah
Oregon at Michigan State
Oregon State at Michigan
Sacramento State at Washington
Washington State at Rutgers
San Diego State at California
Central Florida at Stanford
Week 3
Saturday, Sept. 19
Northern Arizona at Arizona
New Mexico at Arizona State
Stanford at USC
BYU at UCLA
Colorado vs. Colorado State, Sports Authority Field at Mile High, Denver
Utah at Fresno State
Georgia State at Oregon
San Jose State at Oregon State
Utah State at Washington
Wyoming at Washington State
California at Texas
Week 4
Friday, Sept. 25
Saturday, Sept. 26
UCLA at Arizona
USC at Arizona State
Nicholls State at Colorado
Utah at Oregon
California at Washington
——
September 16th
Chances to win
Need more CU in your life?
Fate Brewing Company, which is hosting the Mike MacIntyre show, is giving away a trip to Las Vegas to watch the CU men's basketball team in the Pac-12 tournament next spring.
From Fate Brewing Company: "Win a Trip to Las Vegas for the CU Postseason Basketball Tournament. Enter to win simply by attending the CU Football Coaches Radio Show live broadcast from our lower patio 7pm Wednesday nights. Prize includes round trip airfare, hotel, CU tournament tickets and gear. Multiple entries encouraged. Contest ends 12/3/14″.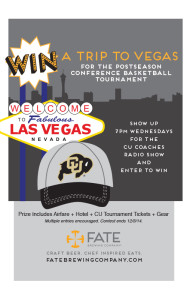 Meanwhile, the University of Colorado is auctioning off a "Black Storm" helmet worn during the Arizona State game. The auction runs through September 22nd (the latest bid, when I posted this, was $575.00).
Details on the auction can be found here.
——
September 15th
UCLA – no updates on Hundley
From the Orange County Register … There was no update to be had on UCLA quarterback Brett Hundley's injured left elbow on Sunday, and according to coach Jim Mora, there won't be any definitive status updates before UCLA takes on Arizona State next Thursday, after the team's bye week.
"I'm not going to tell anyone anything until kickoff before Arizona State," Mora said. "Nobody. Nothing."
Hundley landed awkwardly on his non-throwing elbow during the first quarter of Saturday's narrow victory over Texas. He was taken to the locker room and did not return. A report from Fox Sports on Saturday night claimed that Hundley's injury was only a "slight hyperextension" and that he was expected to return by the end of the week.
But Mora would offer no further clarity on Sunday, outside of explaining that Hundley had yet to have a necessary MRI on the injured elbow. The lack of transparency is mostly consistent with how he's handled other key injuries this season; though, Hundley's health is obviously on a different level of importance for a UCLA team with three straight close-call victories to start the season.
That uncertainty makes this week an ideal one for UCLA's bye, as the Bruins have 10 days until next Thursday's primetime Pac-12 opener.
In that span, backup quarterback Jerry Neuheisel, who was the hero of a spirited comeback against Texas on Saturday, will get more reps in practice to prepare, if he's needed. Otherwise, Mora said, plans this week at quarterback won't be any different than usual.
"Jerry pretty much prepares the way he prepares, which is very thoroughly," Mora said. "He'll just get more reps."
—
Arizona State quarterback Taylor Kelly likely out for game against UCLA
From ESPN … Arizona State quarterback Taylor Kelly is not expected to play against UCLA on Sept. 25 due to a foot injury, according to a source.
Mike Bercovici will be prepared to start at quarterback, the source said. The Sun Devils' bye week will give them extra time to provide first-team reps to Bercovici, who may also have to start against USC the following week.
Kelly, a senior, is one of seven Sun Devil quarterbacks to pass for more than 6,000 career yards. He tossed 57 touchdowns the past two seasons and set the school record for completion percentage last season.
Bercovici, a junior, has a strong arm and quick release but has limited game experience.
–
Oregon, UCLA rankings unchanged; USC down eight spots
As was the case last week, the Pac-12 has five teams ranked in the Associated Press weekly poll. Oregon, with an easy victory over Wyoming (though the Pokes did have a 7-0 lead at the end of the first quarter), remain at No. 2. UCLA, a winner over Texas despite losing quarterback Brett Hundley during the game, remained at No. 12.
The remaining three ranked Pac-12 teams are bunched between No. 15 and No. 17. Arizona State, a 38-24 winner over Colorado, moved up one spot to No. 15, while Stanford, despite a 35-0 win over Army, dropped a spot to No. 16.
USC, which had moved into the Top Ten with an upset win over Stanford, fell eight spots after losing to Boston College, coming in at No. 17.
Washington (T-37th) and Arizona (T-41) were the only other two Pac-12 schools to receive votes this week.
—–
September 13th
… Foe Pause …
…. Boston College 37, No. 9 USC 31 … A week removed from upsetting Stanford in Palo Alto, the Trojans took on Boston College. Taking the same long distance trip to the Northeast the Buffs took the week before, USC did not return with a victory.
…. No. 16 UCLA 20, Texas 17 … Playing without an injured Brett Hundley (elbow injury to non-throwing arm) for much of the game, UCLA still managed to pull out a victory over Texas. Backup Jerry Neuheisel (yes, that Neuheisel) hit for a 33-yard score with three minutes to play for the game-winner.
…. No. 15 Stanford 35, Army 0 … In three games, the Stanford defense has given up a grand total of 13 points … and the Cardinal is still 2-1. Stanford posted its second shutout of the season (the Cardinal opened the season with a 45-0 shutout of UC-Davis), but struggled early. It was only 7-0, Stanford, until a touchdown in the last thirty seconds of the half gave the Cardinal a 14-0 halftime lead.
…. No. 2 Oregon 48, Wyoming 14 … Remember how, last season, the Buffs took the opening drive against Oregon and posted a field goal, and then, on their next possession, Paul Richardson hit D.D. Goodson for a 75-yard touchdown. Remember how, shortly thereafter, reality set in? Same for Wyoming, which held a 7-0 lead against Oregon – no small feat – but then watched as the Ducks outscored the Cowboys 41-0 in the second and third quarters.
…
Same story, different week for UMass
Another week, another tough three-point loss for UMass, as the Minutemen fell to Vanderbilt, 34-31, missing a 22-yard field goal in the final seconds.
UMass led the game for 52 minutes of game clock, but, just like a week before against Colorado, could not hold on.
There were strange similarities to both games:
- The team colors for both Colorado and Vanderbilt both black-and-gold;
- Against Colorado, the Minutemen led 21-20 at halftime, while against Vanderbilt, the Minutemen led 24-20;
- Midway through the third quarter of each game, UMass led by the score of 31-20.
Vanderbilt, playing at home, needed two non-offensive touchdowns just to stay in the game. Down 17-7 in the second quarter, the Commodores returned a fumble for a score. Down 31-20 with nine minutes to play in the game, Vanderbilt blocked a punt for a touchdown to turn the momentum of the game.
Vanderbilt took its first lead of the game with just over a minute to play in the game, 34-31. UMass didn't quit, driving the ball right down the field, and even had a first-and-goal at the Vandy four yard line with 14 seconds to play. Two incompletions later, kicker Blake Lucas was called upon for a chip shot field goal to send the game into overtime. Instead, Lucas shanked the ball badly, and UMass was left to ponder yet another three-point loss to a Power-Five conference school.
… Glass half-full: Colorado struggled against UMass last week, but it now appears that the Minutemen have a pretty good team.
… Glass half-empty: The Buffs play the Minutemen again next season, and what appeared to be one of the easier games on the 2015 schedule just got that much more difficult.
—–
September 12th
Larry Scott not worried about a lack of a DirecTV contract
Below are a pair of articles discussing the Pac-12, television contracts, DirecTV negotiations, and the future of the Pac-12 in comparison to the rest of the college sports world.
Interesting reads …
From the Los Angeles Register … Commissioner Larry Scott continues to take a long-term view regarding the Pac-12 Networks' carriage dispute with DirecTV.
Scott believes the Pac-12 Networks eventually will gain full distribution – especially if the AT&T purchase of DirecTV goes through – and that that conference will be in an advantageous position because its members own the networks.
"You've got three different models out there," Scott said at halftime of the USC-Stanford game Saturday. "You've got the SEC Network, which is 100 percent owned by a media company (ESPN); you've got the Big Ten Network, majority owned by a media company (Fox); and you've got us, 100 percent owned by the schools.
"I like our model. I think we're going to be looking back a few years from now, and people will wonder how we got full distribution and still were able to maintain ownership ourselves."
Less than a month into its existence, the SEC Network is on almost every major system. Scott said he's "happy for them" and believes it's good news for college sports networks in general. He also noted the SEC Network's unique negotiating advantage.
"They've got the benefit of ESPN's leverage, which we don't have," Scott said. "We're independent. And that means it's going to be a tougher, longer road to get to full distribution. But ultimately our schools will have complete control and derive all the benefits."
–
And from Pacific Takes … The Pac-12 is now clearly second in the pecking order of college football conferences, and the war chests of each school in the conference should ensure that they are able to get the pick of the litter for much of the next decade.
Now, it's clear that this has its downsides. Without distribution, it remains very difficult for many fans outside the West Coast to view all the good Pac-12 football there is to offer. However, due to the huge ESPN/FOX deal that Scott originally signed, the majority of the best games the Pac-12 will be involved in this season will be carried on national networks, so that somewhat lessens the problems the conference faces. The Pac-12 gets the national distribution it wants while their netwok.
Moreover, with the network now seeding in money, it won't be long before the Pac-12 will have the upper-hand in a Power 5 world. If you're wondering why Larry Scott is pushing hard for the big five conferences to split away from college football and form their own Division IV, it's because he knows that every national cable and satellite provider would have to come to the table and deal with the Pac-12 once the conference negotiates its next TV contract.
While that's still a decade away (although I can imagine a renegotiating somewhere during the lifetime of the current contract if the TV revenue keeps on expanding at its current rate), by then the fully profitable Pac-12 Networks will be poised to take a much LARGER chunk of their TV rights away from ESPN and FOX and have better selection of premier games like a Michigan State-Oregon or USC-Stanford.
This model is very similar to how professional sports leagues like the NFL, MLB and NBA have approached their TV deals; in each subsequent renegotiation, the networks of those sporting leagues have taken a greater chunk of the TV rights and collected more of the profit for themselves.
Additionally, in a Power 5 world, if big schools only played big schools in non-conference matchups (as opposed to the FCS-FBS special that lights up the conference for the first few weeks of the season), then the Pac-12 Network would certainly get some of those games, and it's highly unlikely that DirecTV could withstand the pressure of trying to blackout big power conference matchups.
And the potential revenue that could come from a wholly independent conference network in that structure (compared to even the SEC and B1G Networks) would be enormous. There are many avenues for the Pac-12 to fully benefit from this structure compared to the other big conferences, and could eventually reattract the interest of schools like Texas and Oklahoma for further expansion.
This next era of college football might take time to shape, but you can see why Scott is pushing for it as quickly as he can.
—–
September 9th
… Foe Pause …
Pac-12 names Week Two Players-of-the-Week
From the Pac-12 … Quarterback Marcus Mariota of Oregib, defensive end Leonard Williams of USC and kicker Andre Heidari of USC have been named offensive, defensive and special teams Pac-12 Players of the Week in football.
Mariota, a junior from Honolulu, Hawai'i, completed 17 of 28 passes for 318 yards and three touchdowns and added nine carries for 42 yards in Oregon's victory over No. 7 Michigan State. Mariota completed seven of 12 passes for two TDs in the second half to pull the Ducks from a nine-point deficit to a 46-27 win. In the third quarter Mariota improvised for a remarkable 17-yard flip pass to Royce Freeman on third down to inject momentum into a team that capped its next three drives with scores.
Williams, a junior from Daytona Beach, Fla., a 2013 All-American first teamer whose playing status against No. 13 Stanford was in doubt because of a sprained ankle he suffered in practice this past Tuesday, started and played most of the game. He had a game-high 11 tackles with a sack that came on the Cardinal's final drive of the game, which preserved the Trojans' 13-10 victory.
Heidari, a senior from Bakersfield, Calif., nailed a career-long 53-yard field goal (tied for the third longest in USC history) with 2:30 to play to give USC a 13-10 win at No. 13 Stanford. It was the second consecutive year that USC defeated the Cardinal on a Heidari field goal.  Heidari made a 47-yarder last year with 19 seconds to go. Against the Cardinal on Saturday, he also hit an earlier 25-yard field goal and a PAT, plus he had a touchback on one of his four kickoffs.
——
September 8th
… Foe Pause …
USC athletic director Pat Haden fined $25,000 by Pac-12
From ESPN … USC athletic director Pat Haden has been fined $25,000 and reprimanded by the Pac-12 for his actions in the third quarter of the Trojans' 13-10 win against Stanford on Saturday.
Haden left the press box after getting a text message from someone on the USC staff — at the request of coach Steve Sarkisian, who also was reprimanded — and went to the sideline, where he got into a lively discussion with the officiating crew.
The conduct by [Haden] was inappropriate," Pac-12 commissioner Larry Scott said in a statement. "Such actions by an administrator in attempt to influence the officiating, and ultimately the outcome of a contest, will not be tolerated."
Haden issued an apology on Sunday and imposed a sideline ban on himself for USC's next two games.
"In retrospect, I should not have approached the game officials," said Haden, who is also on the College Football Playoff selection committee. "I should have waited until after the game and gone through the appropriate channels."
That wasn't enough for Scott and the conference.
"The conduct by both Sarkisian and Haden were in clear violation of our conference's standards of conduct policy," Scott said. "We appreciate the public apology and recognition of the errors in judgment, as well as Pat Haden's self-imposed two-game sideline ban. We took this into consideration as we determined the discipline. Nonetheless, the actions fell short of our expectation of our head coaches and athletics directors as role models for our student-athletes and important leaders of our institutions."
Haden's actions won't affect his standing on the selection committee.
—
USC coach regrets calling AD down to the sideline during Stanford game
From ESPN … Southern California coach Steve Sarkisian regrets asking athletic director Pat Haden to come down to the field at Stanford Stadium on Saturday for what turned into a confrontation with game officials.
Haden also issued a statement of apology Sunday night for the weird moment between the third and fourth quarters of No. 9 USC's 13-10 victory over No. 15 Stanford.
Haden said he will stay off USC's sideline for the next two games, and Sarkisian said he shouldn't have summoned his boss down from the press box during a dispute with officials.
"It was just a spur-of-the-moment, gut feeling," Sarkisian said. "Quite honestly, looking back at it now, I regret putting Pat in that situation."
Haden jogged onto the field after getting a text from a member of the USC staff on the sideline. The Trojans had just been hit with 35 yards in penalties on three straight plays, with Sarkisian getting whistled for unsportsmanlike conduct and star linebacker Hayes Pullard getting ejected for targeting the head of Stanford's Ty Montgomery on a punt return.
Haden ended up in an animated discussion with the officiating crew while Sarkisian sought clarification of the calls. Sarkisian wishes he hadn't put Haden in a potentially embarrassing situation.
"It's my job to manage the game," Sarkisian said. "Pat's job is not to manage the game and manage the officials. That's my job to do."
Haden is a member of the College Football Playoff selection committee, which chooses and seeds the teams that will play for the national championship. He is one of five active athletic directors on the ostensibly impartial 13-member committee.
The College Football Playoff does not send its committee members to games, so Haden was acting in his role as the school's athletic director, but his involvement in the game raised an already hot topic about bias from the 13 committee members. Haden is recused from voting for USC, but not for Stanford.
Haden apologized to Pac-12 Commissioner Larry Scott, the officials, Stanford and fans "for any distraction I might have caused."
"In retrospect, I should not have approached the game officials," Haden said. "I should have waited until after the game and gone through the appropriate channels."
——
September 7th
… Foe Pause …
Hawai'i and Oregon State (CU opponent Nos. 4 and 6) wage interesting battle on the islands
From ESPN … Sean Mannion threw for 300 yards and three touchdowns Saturday night and Oregon State beat Hawaii 38-30.
Mannion completed 26 of 37 passes as the Beavers (2-0) racked up 464 yards of total offense against the Rainbow Warriors (0-2).
Victor Bolden caught 11 passes for 119 yards, including a 6-yard touchdown reception early in the second half. Terron Ward rushed for 124 yards and scored on runs of 32 and 2 yards in the first half.
Oregon State built a 38-7 lead by the 10:56 mark in the third quarter, but Hawaii scored the final 23 points of the game, including 16 points in a four-minute stretch early in the fourth quarter.
Joey Iosefa had a career-high three touchdown runs for Hawaii.
Hawaii drove 59 yards to the Oregon State 16 on the game's opening possession, but linebacker Jabral Johnson forced a fumble by Iosefa, which was recovered by the Beavers' Siale Hautau.
Oregon State recycled the turnover into a 4-yard touchdown pass from Mannion to Richard Mullaney to open the scoring and extended its lead on Mannion's 5-yard scoring strike to Connor Hamlett on the Beavers' next drive.
Two possessions later, Ward scampered into the end zone from 32 yards out to give his team a 21-0 lead early in the second quarter.
Hawaii got its first score with 10:52 to play in the second quarter when Iosefa plunged into the end zone from 2 yards out. The score was set up on an interception by TJ Taimatuia after Mannion's pass was deflected at the line of scrimmage.
Garrett Owens made a 27-yard field on Oregon State's ensuing drive and after a Hawaii three-and-out, Mannion and company drove 84 yards in seven plays, capped by Ward's second touchdown run, to make the score 31-7.
After its opening possession, Hawaii managed just 51 yards for the rest of the half.
Meanwhile, Mannion threw for 207 yards by halftime.
–
Oregon passes Alabama for No. 2 in the Associated Press poll rankings
Oregon jumped Alabama for No. 2 in the Associated Press poll after taking down No. 7 Michigan State at home. USC, meanwhile, moved into the top ten, at No. 9, after handling No. 13 Stanford (down one spot to No. 15). UCLA, despite two unimpressive victories to open the season, is No. 12 this week.
Arizona State, CU's opponent this weekend, moved up one spot, to No. 16.
Outside the poll, but receiving votes from the writers this week, are Washington (No. 39), Utah (No. 43), and Arizona (No. 44).
——
September 6th
… Foe Pause …
Washington 59, Eastern Washington 52 … Washington scored 59 points against Eastern Washington from the Big Sky Conference, and needed every one of them in a 59-52 shootout. The Eagles, the No. 1 team in the FCS, almost took out a Pac-12 team for the second year in a row (having defeated Oregon State in the 2013 opener). Washington took a 21-0 first quarter lead, but Eastern Washington kept coming back, even taking a 45-44 lead into the fourth quarter.
–
No. 14 USC 13, No. 13 Stanford 10 … Andre Heidari kicked a career-long 53-yard field goal with 2:30 remaining, J.R. Tavai forced a fumble to end the Cardinal's comeback bid and the 14th-ranked Trojans upended No. 13 Stanford in dramatic fashion. Stanford outgained USC 413 to 291 yards but couldn't overcome its own mistakes. The Cardinal committed two turnovers, eight penalties for 68 yards and Jordan Williamson missed two field goals. The loss snapped Stanford's 17-game home winning streak, which was the longest active streak in the country.
–
Nevada 24, Washington State 13 … Connor Halliday will be setting all sorts of passing records at Washington State, but the 2014 season has gotten off to a rocky start, as the Cougars fell to 0-2 after a 24-13 loss to Nevada. In two games, he's completed 78 of 113 passes for 921 yards, but doesn't have a win to show for it after dropping the opener to Rutgers, 41-38. Interesting quote Interesting post-game quote from one of the Nevada players after the game: "Honestly, because we wanted it more," defensive lineman Brock Hekking said."You look at a Pac-12 opponent — they've got all the bells and whistles, the nice uniforms and all that. We are just blue-collar guys. But our senior class has made it a point to love the game of football and every single chance we have, to leave it out on the field and empty in the tank". The Spokane Spokesman-Review post-mortem of the game can be found here and here.
—–
September 5th
… Foe Pause …
Arizona 26, UTSA 23 … Much will be said about how a missed 25-yard field goal midway through the fourth quarter doomed the Texas-San Antonio Roadrunners' chances at a upset, but there was a subtle mistake right before the half which may have been a greater culprit. Up 16-13 with just over three minutes before halftime, UTSA was stopped on a third-and-one at their 47-yard line. The Roadrunners' running back, David Glasco, was injured on the play, temporarily stopping the clock. After Glasco left the field, the clock was restarted, and UTSA punted the ball away. The problem: the Roadrunner punter could have run 30-35 seconds off of the game clock before punting, but instead ran the play right after the clock was re-started. The result being that Arizona was given an extra 30 seconds for its two-minute drill, scoring the go-ahead touchdown with 26 seconds to play before the break, seizing the momentum of the game. A little thing? Yes, but when you are the underdog (as CU will be most of the season), little things can make the difference between an upset win and a frustratingly close loss. Here is the Arizona Republic story on the game.
–
Experts chime in on No. 7 Michigan State at No. 3 Oregon and No. 14 USC at No. 13 Stanford
- ESPN writers like Stanford over USC; are split on Oregon vs. Michigan State;
- Fox analysts like USC and Oregon;
- USA Today panel split – 5-2 for Oregon; 4-3 for Stanford;
- Athlon columnists break 3-1 for both Oregon and Stanford;
- NFL.com panel goes 4-2 for both Oregon and Stanford
——-
September  3rd
… Foe Pause …
UCLA loses running back to a torn ACL
From the Los Angeles Times … UCLA running back Steven Manfro suffered a torn anterior cruciate ligament in his knee Tuesday on the last play of practice, according to a person close to the program.
Manfro, a junior, was taken off the field on a cart and had an MRI exam, which determined the extent of the injury. He is done for the season.
"That put a damper on practice," Coach Jim Mora said. "Everyone was pretty shook up. We were having a good day. It kind of changed the mood."
Manfro was part of a three-man running back rotation, with Jordon James and Paul Perkins, in the Bruins' 28-20 victory over Virginia on Saturday. He had two carries but did not gain a yard.
Besides being one of the team's fastest running backs, he is also a quality receiver and can return kicks.
"It upsets everybody, when a guy who is as critical as Steven gets hurt," Mora said.
–
USC quarterback has procedure done on toe; loses practice time in week leading up to game against Stanford
From the Los Angeles Times … USC quarterback Cody Kessler will be playing catch-up this week as the No. 14 Trojans prepare for Saturday's Pac-12 Conference opener at No. 13 Stanford.
Kessler did not practice Tuesday after undergoing a procedure for an unspecified issue with one of his toes, but he will practice Wednesday and be available to play against the Cardinal, Coach Steve Sarkisian said.
Sarkisian and Kessler declined to say what precipitated the procedure, but a person with knowledge of the situation said the quarterback was treated for an infection. The source of the information requested anonymity they were not authorized to speak on behalf of the team or Kessler.
–
USC running back Anthony Brown officially removed from roster
From the Los Angeles Times … USC has officially removed tailback Anthony Brown from its roster.
Coach Steve Sarkisian announced last week that Brown quit the team. Sarkisian addressed Brown's status after a post to Brown's Instagram account accused Sarkisian of racism.
Brown did not respond to text messages asking if he wrote the post, which has since been removed.
Brown played cornerback and started six games during his first four seasons at USC. He requested and was granted a move to tailback after Sarkisian was hired in December.
——
September 2nd
… Foe Pause …
Five Pac-12 in latest AP poll; Washington drops out
Oregon remained at No. 3 in the latest AP poll, picking up five first place votes. No. 11 UCLA, meanwhile, moved down four spots from the preseason poll after a close win over Virginia. Stanford, down two spots to No. 13 despite defeating UC-Davis 45-0, will face No. 14 USC this weekend (the Trojans moved up one spot after trouncing Fresno State).
The only other team from the Pac-12 in the first week's rankings is Arizona State, up two spots to No. 17. Washington, after escaping Hawai'i with a 17-16 win, fell out of the poll after being ranked No. 25.
Arizona, with four votes, came in at No. 44 overall.
—–
September 1st
… Foe Pause …
Shocking news: Cyler Miles to start at quarterback for Washington this weekend
From the Seattle Times … Sophomore quarterback Cyler Miles, suspended for Washington's season opener against Hawaii last week, will start the Huskies' home opener against Eastern Washington on Saturday, UW coach Chris Petersen announced Monday afternoon.
"I think he's got a pretty good football IQ," Petersen said at his weekly press conference. "He can put things together quickly football wise."
Sophomore Jeff Lindquist, in his first career start, complete 10 of 26 for 162 yards with one touchdown in no turnovers in the Huskies' 17-16 season-opening victory at Hawaii on Saturday night.
Miles, listed at 6-4 and 225 pounds, was suspended for the season opener for his involvement in two assaults of Seahawks fans after the Super Bowl in February. Miles was not charged in the incidents. He was also suspended for all of spring ball.
In his only interview availability since the incidents, Miles apologized.
"I messed up big time," he said then, "and I'm willing to face the consequences."
"I highly regret it," he added, "and I'm just very excited to get back on the team and do my best to put this past me and start working with my guys again."
–
Pac-12 names Players-of-the-Week
From the Pac-12 … Quarterback Cody Kessler of USC, linebacker Eric Kendricks of UCLA and wide receiver Kaelin Clay of UTAH have been named offensive, defensive and special teams Pac-12 Players of the Week in football.
Kessler, a junior from Bakersfield, Calif., threw for a career-high 394 yards versus Fresno State while hitting 25-of-37 passes with 4 TDs (all tying career bests) and he also opened the game's scoring with a 1-yard sneak as part of his 28 rushing yards. In the first half, he threw for 309 yards on 21-of-30 passing. He helped a USC offense, which ran a Pac-12 record 105 plays, compile 701 total yards and 37 first downs in the 52-13 victory.
Kendricks, a senior from Fresno, Calif., totaled a game-high 16 tackles, one shy of his career high in UCLA's 28-20 win at Virginia. He added a forced fumble which led to a 75-yard scoring return for a touchdown and, on Virginia's next possession, an interception which he returned 37-yards for a touchdown and resulted in the Bruins taking a 21-3 lead. The turnovers were part of a three turnover-returns second quarter which produced a trio of touchdowns for the first time at UCLA since a 1986 game at Oregon State. Kendricks, who was very active in the first half, recorded seven of his tackles in that second quarter. In the second half, two of his stops came on Virginia third down plays.
Clay, a senior from Long Beach, Calif, made an explosive Ute debut with a pair of long-distance touchdown returns during Utah's season-opening 56-14 win over Idaho State. On his first touch as a Ute, Clay returned a punt 46 yards for a touchdown late in the first half. It was Utah's first punt return for a touchdown since 2010. One quarter later, Clay returned his first and only kickoff return of the game 100 yards for a touchdown. He was the only Pac-12 player, and one of only four in FBS, to return a kickoff 100 yards during the opening weekend. He became the first Pac-12 player since 1999 (Deltha O'Neal, California) to score a touchdown on a punt return and a kickoff return in the same game.
Also nominated for Offensive Player of the Week: Anu Solomon, QB, ARIZ; D.J. Foster, RB, ASU; Marcus Mariota, QB, ORE; Storm Woods, RB, OSU; Ty Montgomery, WR/PR, STAN; Jordan Payton, WR, UCLA; Devontae Booker, RB, UTAH; Connor Halliday, QB, WSU
Also nominated for Defensive Player of the Week: Scooby Wright, LB, ARIZ; Jalen Jefferson, LB, CAL; Erick Dargan, S, ORE; Tyrequek Zimmerman, S, OSU; Wayne Lyons, CB, STAN; Leonard Williams, DE, USC; Nate Orchard, DE, UTAH
Also nominated for Special Teams Player of the Week: Casey Skowron, K, ARIZ; Zane Gonzalez, PK, ASU; Charles Nelson, PR, ORE; Garrett Owens, PK, OSU; Ty Montgomery WR/PR, STAN; Ishmael Adams, DB, UCLA
 —–
August 31st
… Foe Pause …
Oregon an 11-point pick over Michigan State this weekend
VegasInsider has posted its opening lines for the Pac-12 for Week Two
Colorado …. -17 on the road over Massachusetts
Arizona …. -8 on the road (Thursday night) over Texas-San Antonio
Washington State …. -3 on the road (Friday night) over Nevada
Utah …. – 7.5 at home over Fresno State
Stanford …. -4 at home over USC
Oregon …. – 11 at home over Michigan State
Arizona State ….  -27 on the road over New Mexico
UCLA …. -24 at home over Memphis
Oregon State …. -11 on the road over Hawai'i
And
Boise State ….  -8 at home over Colorado State
——
ESPN GameDay heading to Eugene for Michigan State vs. Oregon
From the Oregonian … Every college football fan's favorite pregame show, ESPN College GameDay, will grace the campus of the University of Oregon on Saturday for the Oregon Ducks game against Michigan State.
The show will start at 9 a.m. ET, so folks in Oregon will have to get up bright and early at 6 a.m. The whole crew, featuring Chris Fowler, Kirk Herbstreit, Desmond Howard, Samantha Ponder, David Pollack and Lee Corso, will help fans get ready for a day full of college football, but especially for the showdown between the Ducks and Spartans.
For his own health, Corso should probably put on the Ducks mascot head to avoid an angry mob.
—–
August 30th
… Foe Pause …
No. 25 Washington 17, Hawai'i 16 (Note: click on scores for ESPN recap games) … So, are you a "glass half full" person, or a "glass half empty"? Washington (coming to Boulder November 1st) was supposed to rout Hawai'i (coming to Boulder September 20th). After all, the Huskies were ranked No. 25 in the nation; the Warriors were a last game win over Army from coming into the game on a 12-game losing streak. Instead, Hawai'i had every chance in the world to defeat Washington, but came up just short. Hawai'i raced out to a 10-0 first quarter lead on its first two possessions. After posting a touchdown in the last minute of the first quarter, Washington then took the lead on a 91-yard touchdown pass from Jeff Lindquist (subbing for the suspended Cyler Miles) to wide receiver John Ross. A field before the half gave Washington a 17-10 halftime lead, and some sense that order had been restored. Instead, the Huskies punted on eight of their first nine possessions of the second half, but the Warriors were unable to capitalize, posting only two field goals. Here is a Seattle Times article entitled, "Not pretty, but it's a start". Meanwhile, the Honolulu Advertiser's take is entitled, "Close, but … ".
No. 3 Oregon 62, South Dakota 13 … 'Nuff said.
No. 11 Stanford 45, UC-Davis 0 … Cardinal builds a 38-0 halftime lead, coasts to easy win over Aggies of UC-Davis.
No. 15 USC 52, Fresno State 13 …  USC, which ended the 2013 "Season of Four Head Coaches" with a 45-20 win over Fresno State in the Las Vegas Bowl, opened the Steve Sarkisian era with an easy 52-13 win over Fresno State. The Trojans had to overcome a week in which defensive captain Josh Shaw lied about being injured and backup running back Anthony Brown quit the team while accusing his head coach of being a racist. The Bulldogs, meanwhile, had to overcome losing Derek Carr to the NFL, a much tougher task when it came to actually playing the game.
California 31, Northwestern 24 … The Cal Bears earned a measure of revenge, taking out a Northwestern team which had defeated them in Berkeley last fall. Cal sprinted out to a 31-7 third quarter lead before holding on for a 31-24 victory. The Bears took the game's opening kickoff and mounted an 18-play, 78-yard touchdown drive, chewing up almost half of the first quarter clock. After Northwestern turned the ball over on downs, ending a ten-play drive, Cal pieced together an 11-play, 77-yard drive to make it 14-0. Cal settled for a short field goal on its next possession, taking a 17-0 advantage before Northwestern woke up. The Wildcats had the ball down a touchdown with 4:14 to play, but Northwestern's final drive ended in an interception, allowing Cal to match its win total from 2013. Here is a write-up of the game from the Contra Costa Times News.
No. 7 UCLA 28, Virginia 30 … The No. 7 UCLA Bruins needed not one, not two, but three defensive touchdowns to hold off Virginia, 28-20. The Bruins forged a 21-3 second quarter lead with two interception returns for a touchdown, and a fumble return for a touchdown. At one point, UCLA had as many return yards on defense as it did total yards on offense. Virginia, down 21-3 late in the second quarter, switched quarterbacks, with Matt Johns coming in to spark a touchdown drive just before the half. Midway through the third quarter, it was 21-17, and Brett Hundley's Heisman hopes were on the ropes two days before Labor Day. The Bruins' quarterback, however, led a touchdown drive to make it a 28-17 game. The Cavaliers got a field goal with 6:47 left in the game, and had a final opportunity come to an end with a turnover on downs in the UCLA red zone. Here is the Los Angeles Times write-up of the game and a column from the Times discussing how the game affected UCLA's title hopes.
—–