Pac-12 Notes
—
September 18th
… Foe Pause …
UCLA coach Jim Mora refusing to give an update on Hundley's status
From ESPN … UCLA coach Jim Mora refused to update the condition of Brett Hundley and isn't saying who will start at quarterback when the No. 12 Bruins visit Arizona State in next week's Pac-12 opener.
Hundley hurt his left elbow last Saturday in the first quarter against Texas, and Jerry Neuheisel came off the bench to throw the game-winning touchdown pass in a 20-17 win over the Longhorns.
Mora refused to discuss the status of Hundley's non-throwing arm, saying only that "someone has to go in." He also has closed all practices and restricted media availability leading up to the game against the No. 15 Sun Devils.
"I feel good about our team," Mora said when asked about injuries. "They work hard every day. They have a great attitude. They work hard to get back on the field if they are not on the field. They work hard to stay on the field if they are on the field. I'm excited about our team."
Arizona State, meanwhile, has acknowledged that quarterback Taylor Kelly will not play against UCLA after injuring his right foot in a 38-24 win at Colorado.
Mora refused to acknowledge that Neuheisel would be the next man up if Hundley can't play.
"Just because Jerry went into that game doesn't mean that is our backup quarterback," Mora said. "We've never determined who is No. 2, 3, 4. We've got a whole bunch of guys. Next time it could be [redshirt freshman] Asiantii [Woulard]. Heck, Asiantii could start the Arizona State game, who knows?"
–
- Utah believes it can win on the road against Michigan, according to this article from the Salt Lake City Tribune, despite posting only one win outside of the state of Utah in the past two seasons (of course, that was in Boulder in 2012).
- Washington State is trying to prepare for its game against Oregon as if it is any other game, according to this article. "It doesn't matter who we play," Washington State wide receiver Dom Williams said. "We can play the Seahawks. You just go out there and play. It doesn't matter who the opponent is."
- Cal, at 2-0 (after going 1-11 last season), has new found confidence heading into its game against Arizona Saturday. "I don't know if we're the Steel Curtain quite yet," coach Sonny Dykes told the San  Jose Mercury News, "but the guys feel they have the opportunity to be a good defense."
——
September 17th
Pac-12 non-conference schedule
Here is a look at the top ten non-conference games for the 2015 season, along with a list of the Pac-12 games (including a few conference games) for the 2015 season:
10 notable nonconference games
Michigan at Utah
Arizona State vs Texas A&M
Washington at Boise State
Oregon at Michigan State
Oregon State at Michigan
Washington State at Rutgers
BYU at UCLA
California at Texas
USC at Notre Dame
Notre Dame at Stanford
Here is the full schedule:
Week 1
Thursday, Sept. 3
UTSA at Arizona
Michigan at Utah
Saturday, Sept. 5
Arizona State vs Texas A&M, NRG Stadium, Houston
Arkansas State at USC
Virginia at UCLA
Colorado at Hawaii
Eastern Washington at Oregon
Weber State at Oregon State
Washington at Boise State
Portland State at Washington State
Grambling State at California
Stanford at Northwestern
Week 2
Saturday, Sept. 12
Arizona at Nevada
Cal Poly at Arizona State
Idaho at USC
UCLA at UNLV
UMass at Colorado
Utah State at Utah
Oregon at Michigan State
Oregon State at Michigan
Sacramento State at Washington
Washington State at Rutgers
San Diego State at California
Central Florida at Stanford
Week 3
Saturday, Sept. 19
Northern Arizona at Arizona
New Mexico at Arizona State
Stanford at USC
BYU at UCLA
Colorado vs. Colorado State, Sports Authority Field at Mile High, Denver
Utah at Fresno State
Georgia State at Oregon
San Jose State at Oregon State
Utah State at Washington
Wyoming at Washington State
California at Texas
Week 4
Friday, Sept. 25
Saturday, Sept. 26
UCLA at Arizona
USC at Arizona State
Nicholls State at Colorado
Utah at Oregon
California at Washington
——
September 16th
Chances to win
Need more CU in your life?
Fate Brewing Company, which is hosting the Mike MacIntyre show, is giving away a trip to Las Vegas to watch the CU men's basketball team in the Pac-12 tournament next spring.
From Fate Brewing Company: "Win a Trip to Las Vegas for the CU Postseason Basketball Tournament. Enter to win simply by attending the CU Football Coaches Radio Show live broadcast from our lower patio 7pm Wednesday nights. Prize includes round trip airfare, hotel, CU tournament tickets and gear. Multiple entries encouraged. Contest ends 12/3/14″.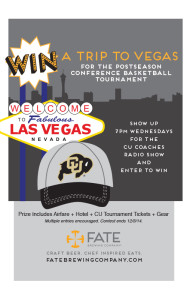 Meanwhile, the University of Colorado is auctioning off a "Black Storm" helmet worn during the Arizona State game. The auction runs through September 22nd (the latest bid, when I posted this, was $575.00).
Details on the auction can be found here.
——
September 15th
UCLA – no updates on Hundley
From the Orange County Register … There was no update to be had on UCLA quarterback Brett Hundley's injured left elbow on Sunday, and according to coach Jim Mora, there won't be any definitive status updates before UCLA takes on Arizona State next Thursday, after the team's bye week.
"I'm not going to tell anyone anything until kickoff before Arizona State," Mora said. "Nobody. Nothing."
Hundley landed awkwardly on his non-throwing elbow during the first quarter of Saturday's narrow victory over Texas. He was taken to the locker room and did not return. A report from Fox Sports on Saturday night claimed that Hundley's injury was only a "slight hyperextension" and that he was expected to return by the end of the week.
But Mora would offer no further clarity on Sunday, outside of explaining that Hundley had yet to have a necessary MRI on the injured elbow. The lack of transparency is mostly consistent with how he's handled other key injuries this season; though, Hundley's health is obviously on a different level of importance for a UCLA team with three straight close-call victories to start the season.
That uncertainty makes this week an ideal one for UCLA's bye, as the Bruins have 10 days until next Thursday's primetime Pac-12 opener.
In that span, backup quarterback Jerry Neuheisel, who was the hero of a spirited comeback against Texas on Saturday, will get more reps in practice to prepare, if he's needed. Otherwise, Mora said, plans this week at quarterback won't be any different than usual.
"Jerry pretty much prepares the way he prepares, which is very thoroughly," Mora said. "He'll just get more reps."
—
Arizona State quarterback Taylor Kelly likely out for game against UCLA
From ESPN … Arizona State quarterback Taylor Kelly is not expected to play against UCLA on Sept. 25 due to a foot injury, according to a source.
Mike Bercovici will be prepared to start at quarterback, the source said. The Sun Devils' bye week will give them extra time to provide first-team reps to Bercovici, who may also have to start against USC the following week.
Kelly, a senior, is one of seven Sun Devil quarterbacks to pass for more than 6,000 career yards. He tossed 57 touchdowns the past two seasons and set the school record for completion percentage last season.
Bercovici, a junior, has a strong arm and quick release but has limited game experience.
–
Oregon, UCLA rankings unchanged; USC down eight spots
As was the case last week, the Pac-12 has five teams ranked in the Associated Press weekly poll. Oregon, with an easy victory over Wyoming (though the Pokes did have a 7-0 lead at the end of the first quarter), remain at No. 2. UCLA, a winner over Texas despite losing quarterback Brett Hundley during the game, remained at No. 12.
The remaining three ranked Pac-12 teams are bunched between No. 15 and No. 17. Arizona State, a 38-24 winner over Colorado, moved up one spot to No. 15, while Stanford, despite a 35-0 win over Army, dropped a spot to No. 16.
USC, which had moved into the Top Ten with an upset win over Stanford, fell eight spots after losing to Boston College, coming in at No. 17.
Washington (T-37th) and Arizona (T-41) were the only other two Pac-12 schools to receive votes this week.
—–
September 13th
… Foe Pause …
…. Boston College 37, No. 9 USC 31 … A week removed from upsetting Stanford in Palo Alto, the Trojans took on Boston College. Taking the same long distance trip to the Northeast the Buffs took the week before, USC did not return with a victory.
…. No. 16 UCLA 20, Texas 17 … Playing without an injured Brett Hundley (elbow injury to non-throwing arm) for much of the game, UCLA still managed to pull out a victory over Texas. Backup Jerry Neuheisel (yes, that Neuheisel) hit for a 33-yard score with three minutes to play for the game-winner.
…. No. 15 Stanford 35, Army 0 … In three games, the Stanford defense has given up a grand total of 13 points … and the Cardinal is still 2-1. Stanford posted its second shutout of the season (the Cardinal opened the season with a 45-0 shutout of UC-Davis), but struggled early. It was only 7-0, Stanford, until a touchdown in the last thirty seconds of the half gave the Cardinal a 14-0 halftime lead.
…. No. 2 Oregon 48, Wyoming 14 … Remember how, last season, the Buffs took the opening drive against Oregon and posted a field goal, and then, on their next possession, Paul Richardson hit D.D. Goodson for a 75-yard touchdown. Remember how, shortly thereafter, reality set in? Same for Wyoming, which held a 7-0 lead against Oregon – no small feat – but then watched as the Ducks outscored the Cowboys 41-0 in the second and third quarters.
…
Same story, different week for UMass
Another week, another tough three-point loss for UMass, as the Minutemen fell to Vanderbilt, 34-31, missing a 22-yard field goal in the final seconds.
UMass led the game for 52 minutes of game clock, but, just like a week before against Colorado, could not hold on.
There were strange similarities to both games:
- The team colors for both Colorado and Vanderbilt both black-and-gold;
- Against Colorado, the Minutemen led 21-20 at halftime, while against Vanderbilt, the Minutemen led 24-20;
- Midway through the third quarter of each game, UMass led by the score of 31-20.
Vanderbilt, playing at home, needed two non-offensive touchdowns just to stay in the game. Down 17-7 in the second quarter, the Commodores returned a fumble for a score. Down 31-20 with nine minutes to play in the game, Vanderbilt blocked a punt for a touchdown to turn the momentum of the game.
Vanderbilt took its first lead of the game with just over a minute to play in the game, 34-31. UMass didn't quit, driving the ball right down the field, and even had a first-and-goal at the Vandy four yard line with 14 seconds to play. Two incompletions later, kicker Blake Lucas was called upon for a chip shot field goal to send the game into overtime. Instead, Lucas shanked the ball badly, and UMass was left to ponder yet another three-point loss to a Power-Five conference school.
… Glass half-full: Colorado struggled against UMass last week, but it now appears that the Minutemen have a pretty good team.
… Glass half-empty: The Buffs play the Minutemen again next season, and what appeared to be one of the easier games on the 2015 schedule just got that much more difficult.
—–
September 12th
Larry Scott not worried about a lack of a DirecTV contract
Below are a pair of articles discussing the Pac-12, television contracts, DirecTV negotiations, and the future of the Pac-12 in comparison to the rest of the college sports world.
Interesting reads …
From the Los Angeles Register … Commissioner Larry Scott continues to take a long-term view regarding the Pac-12 Networks' carriage dispute with DirecTV.
Scott believes the Pac-12 Networks eventually will gain full distribution – especially if the AT&T purchase of DirecTV goes through – and that that conference will be in an advantageous position because its members own the networks.
"You've got three different models out there," Scott said at halftime of the USC-Stanford game Saturday. "You've got the SEC Network, which is 100 percent owned by a media company (ESPN); you've got the Big Ten Network, majority owned by a media company (Fox); and you've got us, 100 percent owned by the schools.
"I like our model. I think we're going to be looking back a few years from now, and people will wonder how we got full distribution and still were able to maintain ownership ourselves."
Less than a month into its existence, the SEC Network is on almost every major system. Scott said he's "happy for them" and believes it's good news for college sports networks in general. He also noted the SEC Network's unique negotiating advantage.
"They've got the benefit of ESPN's leverage, which we don't have," Scott said. "We're independent. And that means it's going to be a tougher, longer road to get to full distribution. But ultimately our schools will have complete control and derive all the benefits."
–
And from Pacific Takes … The Pac-12 is now clearly second in the pecking order of college football conferences, and the war chests of each school in the conference should ensure that they are able to get the pick of the litter for much of the next decade.
Now, it's clear that this has its downsides. Without distribution, it remains very difficult for many fans outside the West Coast to view all the good Pac-12 football there is to offer. However, due to the huge ESPN/FOX deal that Scott originally signed, the majority of the best games the Pac-12 will be involved in this season will be carried on national networks, so that somewhat lessens the problems the conference faces. The Pac-12 gets the national distribution it wants while their netwok.
Moreover, with the network now seeding in money, it won't be long before the Pac-12 will have the upper-hand in a Power 5 world. If you're wondering why Larry Scott is pushing hard for the big five conferences to split away from college football and form their own Division IV, it's because he knows that every national cable and satellite provider would have to come to the table and deal with the Pac-12 once the conference negotiates its next TV contract.
While that's still a decade away (although I can imagine a renegotiating somewhere during the lifetime of the current contract if the TV revenue keeps on expanding at its current rate), by then the fully profitable Pac-12 Networks will be poised to take a much LARGER chunk of their TV rights away from ESPN and FOX and have better selection of premier games like a Michigan State-Oregon or USC-Stanford.
This model is very similar to how professional sports leagues like the NFL, MLB and NBA have approached their TV deals; in each subsequent renegotiation, the networks of those sporting leagues have taken a greater chunk of the TV rights and collected more of the profit for themselves.
Additionally, in a Power 5 world, if big schools only played big schools in non-conference matchups (as opposed to the FCS-FBS special that lights up the conference for the first few weeks of the season), then the Pac-12 Network would certainly get some of those games, and it's highly unlikely that DirecTV could withstand the pressure of trying to blackout big power conference matchups.
And the potential revenue that could come from a wholly independent conference network in that structure (compared to even the SEC and B1G Networks) would be enormous. There are many avenues for the Pac-12 to fully benefit from this structure compared to the other big conferences, and could eventually reattract the interest of schools like Texas and Oklahoma for further expansion.
This next era of college football might take time to shape, but you can see why Scott is pushing for it as quickly as he can.
—–
September 9th
… Foe Pause …
Pac-12 names Week Two Players-of-the-Week
From the Pac-12 … Quarterback Marcus Mariota of Oregib, defensive end Leonard Williams of USC and kicker Andre Heidari of USC have been named offensive, defensive and special teams Pac-12 Players of the Week in football.
Mariota, a junior from Honolulu, Hawai'i, completed 17 of 28 passes for 318 yards and three touchdowns and added nine carries for 42 yards in Oregon's victory over No. 7 Michigan State. Mariota completed seven of 12 passes for two TDs in the second half to pull the Ducks from a nine-point deficit to a 46-27 win. In the third quarter Mariota improvised for a remarkable 17-yard flip pass to Royce Freeman on third down to inject momentum into a team that capped its next three drives with scores.
Williams, a junior from Daytona Beach, Fla., a 2013 All-American first teamer whose playing status against No. 13 Stanford was in doubt because of a sprained ankle he suffered in practice this past Tuesday, started and played most of the game. He had a game-high 11 tackles with a sack that came on the Cardinal's final drive of the game, which preserved the Trojans' 13-10 victory.
Heidari, a senior from Bakersfield, Calif., nailed a career-long 53-yard field goal (tied for the third longest in USC history) with 2:30 to play to give USC a 13-10 win at No. 13 Stanford. It was the second consecutive year that USC defeated the Cardinal on a Heidari field goal.  Heidari made a 47-yarder last year with 19 seconds to go. Against the Cardinal on Saturday, he also hit an earlier 25-yard field goal and a PAT, plus he had a touchback on one of his four kickoffs.
——
September 8th
… Foe Pause …
USC athletic director Pat Haden fined $25,000 by Pac-12
From ESPN … USC athletic director Pat Haden has been fined $25,000 and reprimanded by the Pac-12 for his actions in the third quarter of the Trojans' 13-10 win against Stanford on Saturday.
Haden left the press box after getting a text message from someone on the USC staff — at the request of coach Steve Sarkisian, who also was reprimanded — and went to the sideline, where he got into a lively discussion with the officiating crew.
The conduct by [Haden] was inappropriate," Pac-12 commissioner Larry Scott said in a statement. "Such actions by an administrator in attempt to influence the officiating, and ultimately the outcome of a contest, will not be tolerated."
Haden issued an apology on Sunday and imposed a sideline ban on himself for USC's next two games.
"In retrospect, I should not have approached the game officials," said Haden, who is also on the College Football Playoff selection committee. "I should have waited until after the game and gone through the appropriate channels."
That wasn't enough for Scott and the conference.
"The conduct by both Sarkisian and Haden were in clear violation of our conference's standards of conduct policy," Scott said. "We appreciate the public apology and recognition of the errors in judgment, as well as Pat Haden's self-imposed two-game sideline ban. We took this into consideration as we determined the discipline. Nonetheless, the actions fell short of our expectation of our head coaches and athletics directors as role models for our student-athletes and important leaders of our institutions."
Haden's actions won't affect his standing on the selection committee.
—
USC coach regrets calling AD down to the sideline during Stanford game
From ESPN … Southern California coach Steve Sarkisian regrets asking athletic director Pat Haden to come down to the field at Stanford Stadium on Saturday for what turned into a confrontation with game officials.
Haden also issued a statement of apology Sunday night for the weird moment between the third and fourth quarters of No. 9 USC's 13-10 victory over No. 15 Stanford.
Haden said he will stay off USC's sideline for the next two games, and Sarkisian said he shouldn't have summoned his boss down from the press box during a dispute with officials.
"It was just a spur-of-the-moment, gut feeling," Sarkisian said. "Quite honestly, looking back at it now, I regret putting Pat in that situation."
Haden jogged onto the field after getting a text from a member of the USC staff on the sideline. The Trojans had just been hit with 35 yards in penalties on three straight plays, with Sarkisian getting whistled for unsportsmanlike conduct and star linebacker Hayes Pullard getting ejected for targeting the head of Stanford's Ty Montgomery on a punt return.
Haden ended up in an animated discussion with the officiating crew while Sarkisian sought clarification of the calls. Sarkisian wishes he hadn't put Haden in a potentially embarrassing situation.
"It's my job to manage the game," Sarkisian said. "Pat's job is not to manage the game and manage the officials. That's my job to do."
Haden is a member of the College Football Playoff selection committee, which chooses and seeds the teams that will play for the national championship. He is one of five active athletic directors on the ostensibly impartial 13-member committee.
The College Football Playoff does not send its committee members to games, so Haden was acting in his role as the school's athletic director, but his involvement in the game raised an already hot topic about bias from the 13 committee members. Haden is recused from voting for USC, but not for Stanford.
Haden apologized to Pac-12 Commissioner Larry Scott, the officials, Stanford and fans "for any distraction I might have caused."
"In retrospect, I should not have approached the game officials," Haden said. "I should have waited until after the game and gone through the appropriate channels."
——
September 7th
… Foe Pause …
Hawai'i and Oregon State (CU opponent Nos. 4 and 6) wage interesting battle on the islands
From ESPN … Sean Mannion threw for 300 yards and three touchdowns Saturday night and Oregon State beat Hawaii 38-30.
Mannion completed 26 of 37 passes as the Beavers (2-0) racked up 464 yards of total offense against the Rainbow Warriors (0-2).
Victor Bolden caught 11 passes for 119 yards, including a 6-yard touchdown reception early in the second half. Terron Ward rushed for 124 yards and scored on runs of 32 and 2 yards in the first half.
Oregon State built a 38-7 lead by the 10:56 mark in the third quarter, but Hawaii scored the final 23 points of the game, including 16 points in a four-minute stretch early in the fourth quarter.
Joey Iosefa had a career-high three touchdown runs for Hawaii.
Hawaii drove 59 yards to the Oregon State 16 on the game's opening possession, but linebacker Jabral Johnson forced a fumble by Iosefa, which was recovered by the Beavers' Siale Hautau.
Oregon State recycled the turnover into a 4-yard touchdown pass from Mannion to Richard Mullaney to open the scoring and extended its lead on Mannion's 5-yard scoring strike to Connor Hamlett on the Beavers' next drive.
Two possessions later, Ward scampered into the end zone from 32 yards out to give his team a 21-0 lead early in the second quarter.
Hawaii got its first score with 10:52 to play in the second quarter when Iosefa plunged into the end zone from 2 yards out. The score was set up on an interception by TJ Taimatuia after Mannion's pass was deflected at the line of scrimmage.
Garrett Owens made a 27-yard field on Oregon State's ensuing drive and after a Hawaii three-and-out, Mannion and company drove 84 yards in seven plays, capped by Ward's second touchdown run, to make the score 31-7.
After its opening possession, Hawaii managed just 51 yards for the rest of the half.
Meanwhile, Mannion threw for 207 yards by halftime.
–
Oregon passes Alabama for No. 2 in the Associated Press poll rankings
Oregon jumped Alabama for No. 2 in the Associated Press poll after taking down No. 7 Michigan State at home. USC, meanwhile, moved into the top ten, at No. 9, after handling No. 13 Stanford (down one spot to No. 15). UCLA, despite two unimpressive victories to open the season, is No. 12 this week.
Arizona State, CU's opponent this weekend, moved up one spot, to No. 16.
Outside the poll, but receiving votes from the writers this week, are Washington (No. 39), Utah (No. 43), and Arizona (No. 44).
——
September 6th
… Foe Pause …
Washington 59, Eastern Washington 52 … Washington scored 59 points against Eastern Washington from the Big Sky Conference, and needed every one of them in a 59-52 shootout. The Eagles, the No. 1 team in the FCS, almost took out a Pac-12 team for the second year in a row (having defeated Oregon State in the 2013 opener). Washington took a 21-0 first quarter lead, but Eastern Washington kept coming back, even taking a 45-44 lead into the fourth quarter.
–
No. 14 USC 13, No. 13 Stanford 10 … Andre Heidari kicked a career-long 53-yard field goal with 2:30 remaining, J.R. Tavai forced a fumble to end the Cardinal's comeback bid and the 14th-ranked Trojans upended No. 13 Stanford in dramatic fashion. Stanford outgained USC 413 to 291 yards but couldn't overcome its own mistakes. The Cardinal committed two turnovers, eight penalties for 68 yards and Jordan Williamson missed two field goals. The loss snapped Stanford's 17-game home winning streak, which was the longest active streak in the country.
–
Nevada 24, Washington State 13 … Connor Halliday will be setting all sorts of passing records at Washington State, but the 2014 season has gotten off to a rocky start, as the Cougars fell to 0-2 after a 24-13 loss to Nevada. In two games, he's completed 78 of 113 passes for 921 yards, but doesn't have a win to show for it after dropping the opener to Rutgers, 41-38. Interesting quote Interesting post-game quote from one of the Nevada players after the game: "Honestly, because we wanted it more," defensive lineman Brock Hekking said."You look at a Pac-12 opponent — they've got all the bells and whistles, the nice uniforms and all that. We are just blue-collar guys. But our senior class has made it a point to love the game of football and every single chance we have, to leave it out on the field and empty in the tank". The Spokane Spokesman-Review post-mortem of the game can be found here and here.
—–
September 5th
… Foe Pause …
Arizona 26, UTSA 23 … Much will be said about how a missed 25-yard field goal midway through the fourth quarter doomed the Texas-San Antonio Roadrunners' chances at a upset, but there was a subtle mistake right before the half which may have been a greater culprit. Up 16-13 with just over three minutes before halftime, UTSA was stopped on a third-and-one at their 47-yard line. The Roadrunners' running back, David Glasco, was injured on the play, temporarily stopping the clock. After Glasco left the field, the clock was restarted, and UTSA punted the ball away. The problem: the Roadrunner punter could have run 30-35 seconds off of the game clock before punting, but instead ran the play right after the clock was re-started. The result being that Arizona was given an extra 30 seconds for its two-minute drill, scoring the go-ahead touchdown with 26 seconds to play before the break, seizing the momentum of the game. A little thing? Yes, but when you are the underdog (as CU will be most of the season), little things can make the difference between an upset win and a frustratingly close loss. Here is the Arizona Republic story on the game.
–
Experts chime in on No. 7 Michigan State at No. 3 Oregon and No. 14 USC at No. 13 Stanford
- ESPN writers like Stanford over USC; are split on Oregon vs. Michigan State;
- Fox analysts like USC and Oregon;
- USA Today panel split – 5-2 for Oregon; 4-3 for Stanford;
- Athlon columnists break 3-1 for both Oregon and Stanford;
- NFL.com panel goes 4-2 for both Oregon and Stanford
——-
September  3rd
… Foe Pause …
UCLA loses running back to a torn ACL
From the Los Angeles Times … UCLA running back Steven Manfro suffered a torn anterior cruciate ligament in his knee Tuesday on the last play of practice, according to a person close to the program.
Manfro, a junior, was taken off the field on a cart and had an MRI exam, which determined the extent of the injury. He is done for the season.
"That put a damper on practice," Coach Jim Mora said. "Everyone was pretty shook up. We were having a good day. It kind of changed the mood."
Manfro was part of a three-man running back rotation, with Jordon James and Paul Perkins, in the Bruins' 28-20 victory over Virginia on Saturday. He had two carries but did not gain a yard.
Besides being one of the team's fastest running backs, he is also a quality receiver and can return kicks.
"It upsets everybody, when a guy who is as critical as Steven gets hurt," Mora said.
–
USC quarterback has procedure done on toe; loses practice time in week leading up to game against Stanford
From the Los Angeles Times … USC quarterback Cody Kessler will be playing catch-up this week as the No. 14 Trojans prepare for Saturday's Pac-12 Conference opener at No. 13 Stanford.
Kessler did not practice Tuesday after undergoing a procedure for an unspecified issue with one of his toes, but he will practice Wednesday and be available to play against the Cardinal, Coach Steve Sarkisian said.
Sarkisian and Kessler declined to say what precipitated the procedure, but a person with knowledge of the situation said the quarterback was treated for an infection. The source of the information requested anonymity they were not authorized to speak on behalf of the team or Kessler.
–
USC running back Anthony Brown officially removed from roster
From the Los Angeles Times … USC has officially removed tailback Anthony Brown from its roster.
Coach Steve Sarkisian announced last week that Brown quit the team. Sarkisian addressed Brown's status after a post to Brown's Instagram account accused Sarkisian of racism.
Brown did not respond to text messages asking if he wrote the post, which has since been removed.
Brown played cornerback and started six games during his first four seasons at USC. He requested and was granted a move to tailback after Sarkisian was hired in December.
——
September 2nd
… Foe Pause …
Five Pac-12 in latest AP poll; Washington drops out
Oregon remained at No. 3 in the latest AP poll, picking up five first place votes. No. 11 UCLA, meanwhile, moved down four spots from the preseason poll after a close win over Virginia. Stanford, down two spots to No. 13 despite defeating UC-Davis 45-0, will face No. 14 USC this weekend (the Trojans moved up one spot after trouncing Fresno State).
The only other team from the Pac-12 in the first week's rankings is Arizona State, up two spots to No. 17. Washington, after escaping Hawai'i with a 17-16 win, fell out of the poll after being ranked No. 25.
Arizona, with four votes, came in at No. 44 overall.
—–
September 1st
… Foe Pause …
Shocking news: Cyler Miles to start at quarterback for Washington this weekend
From the Seattle Times … Sophomore quarterback Cyler Miles, suspended for Washington's season opener against Hawaii last week, will start the Huskies' home opener against Eastern Washington on Saturday, UW coach Chris Petersen announced Monday afternoon.
"I think he's got a pretty good football IQ," Petersen said at his weekly press conference. "He can put things together quickly football wise."
Sophomore Jeff Lindquist, in his first career start, complete 10 of 26 for 162 yards with one touchdown in no turnovers in the Huskies' 17-16 season-opening victory at Hawaii on Saturday night.
Miles, listed at 6-4 and 225 pounds, was suspended for the season opener for his involvement in two assaults of Seahawks fans after the Super Bowl in February. Miles was not charged in the incidents. He was also suspended for all of spring ball.
In his only interview availability since the incidents, Miles apologized.
"I messed up big time," he said then, "and I'm willing to face the consequences."
"I highly regret it," he added, "and I'm just very excited to get back on the team and do my best to put this past me and start working with my guys again."
–
Pac-12 names Players-of-the-Week
From the Pac-12 … Quarterback Cody Kessler of USC, linebacker Eric Kendricks of UCLA and wide receiver Kaelin Clay of UTAH have been named offensive, defensive and special teams Pac-12 Players of the Week in football.
Kessler, a junior from Bakersfield, Calif., threw for a career-high 394 yards versus Fresno State while hitting 25-of-37 passes with 4 TDs (all tying career bests) and he also opened the game's scoring with a 1-yard sneak as part of his 28 rushing yards. In the first half, he threw for 309 yards on 21-of-30 passing. He helped a USC offense, which ran a Pac-12 record 105 plays, compile 701 total yards and 37 first downs in the 52-13 victory.
Kendricks, a senior from Fresno, Calif., totaled a game-high 16 tackles, one shy of his career high in UCLA's 28-20 win at Virginia. He added a forced fumble which led to a 75-yard scoring return for a touchdown and, on Virginia's next possession, an interception which he returned 37-yards for a touchdown and resulted in the Bruins taking a 21-3 lead. The turnovers were part of a three turnover-returns second quarter which produced a trio of touchdowns for the first time at UCLA since a 1986 game at Oregon State. Kendricks, who was very active in the first half, recorded seven of his tackles in that second quarter. In the second half, two of his stops came on Virginia third down plays.
Clay, a senior from Long Beach, Calif, made an explosive Ute debut with a pair of long-distance touchdown returns during Utah's season-opening 56-14 win over Idaho State. On his first touch as a Ute, Clay returned a punt 46 yards for a touchdown late in the first half. It was Utah's first punt return for a touchdown since 2010. One quarter later, Clay returned his first and only kickoff return of the game 100 yards for a touchdown. He was the only Pac-12 player, and one of only four in FBS, to return a kickoff 100 yards during the opening weekend. He became the first Pac-12 player since 1999 (Deltha O'Neal, California) to score a touchdown on a punt return and a kickoff return in the same game.
Also nominated for Offensive Player of the Week: Anu Solomon, QB, ARIZ; D.J. Foster, RB, ASU; Marcus Mariota, QB, ORE; Storm Woods, RB, OSU; Ty Montgomery, WR/PR, STAN; Jordan Payton, WR, UCLA; Devontae Booker, RB, UTAH; Connor Halliday, QB, WSU
Also nominated for Defensive Player of the Week: Scooby Wright, LB, ARIZ; Jalen Jefferson, LB, CAL; Erick Dargan, S, ORE; Tyrequek Zimmerman, S, OSU; Wayne Lyons, CB, STAN; Leonard Williams, DE, USC; Nate Orchard, DE, UTAH
Also nominated for Special Teams Player of the Week: Casey Skowron, K, ARIZ; Zane Gonzalez, PK, ASU; Charles Nelson, PR, ORE; Garrett Owens, PK, OSU; Ty Montgomery WR/PR, STAN; Ishmael Adams, DB, UCLA
 —–
August 31st
… Foe Pause …
Oregon an 11-point pick over Michigan State this weekend
VegasInsider has posted its opening lines for the Pac-12 for Week Two
Colorado …. -17 on the road over Massachusetts
Arizona …. -8 on the road (Thursday night) over Texas-San Antonio
Washington State …. -3 on the road (Friday night) over Nevada
Utah …. – 7.5 at home over Fresno State
Stanford …. -4 at home over USC
Oregon …. – 11 at home over Michigan State
Arizona State ….  -27 on the road over New Mexico
UCLA …. -24 at home over Memphis
Oregon State …. -11 on the road over Hawai'i
And
Boise State ….  -8 at home over Colorado State
——
ESPN GameDay heading to Eugene for Michigan State vs. Oregon
From the Oregonian … Every college football fan's favorite pregame show, ESPN College GameDay, will grace the campus of the University of Oregon on Saturday for the Oregon Ducks game against Michigan State.
The show will start at 9 a.m. ET, so folks in Oregon will have to get up bright and early at 6 a.m. The whole crew, featuring Chris Fowler, Kirk Herbstreit, Desmond Howard, Samantha Ponder, David Pollack and Lee Corso, will help fans get ready for a day full of college football, but especially for the showdown between the Ducks and Spartans.
For his own health, Corso should probably put on the Ducks mascot head to avoid an angry mob.
—–
August 30th
… Foe Pause …
No. 25 Washington 17, Hawai'i 16 (Note: click on scores for ESPN recap games) … So, are you a "glass half full" person, or a "glass half empty"? Washington (coming to Boulder November 1st) was supposed to rout Hawai'i (coming to Boulder September 20th). After all, the Huskies were ranked No. 25 in the nation; the Warriors were a last game win over Army from coming into the game on a 12-game losing streak. Instead, Hawai'i had every chance in the world to defeat Washington, but came up just short. Hawai'i raced out to a 10-0 first quarter lead on its first two possessions. After posting a touchdown in the last minute of the first quarter, Washington then took the lead on a 91-yard touchdown pass from Jeff Lindquist (subbing for the suspended Cyler Miles) to wide receiver John Ross. A field before the half gave Washington a 17-10 halftime lead, and some sense that order had been restored. Instead, the Huskies punted on eight of their first nine possessions of the second half, but the Warriors were unable to capitalize, posting only two field goals. Here is a Seattle Times article entitled, "Not pretty, but it's a start". Meanwhile, the Honolulu Advertiser's take is entitled, "Close, but … ".
No. 3 Oregon 62, South Dakota 13 … 'Nuff said.
No. 11 Stanford 45, UC-Davis 0 … Cardinal builds a 38-0 halftime lead, coasts to easy win over Aggies of UC-Davis.
No. 15 USC 52, Fresno State 13 …  USC, which ended the 2013 "Season of Four Head Coaches" with a 45-20 win over Fresno State in the Las Vegas Bowl, opened the Steve Sarkisian era with an easy 52-13 win over Fresno State. The Trojans had to overcome a week in which defensive captain Josh Shaw lied about being injured and backup running back Anthony Brown quit the team while accusing his head coach of being a racist. The Bulldogs, meanwhile, had to overcome losing Derek Carr to the NFL, a much tougher task when it came to actually playing the game.
California 31, Northwestern 24 … The Cal Bears earned a measure of revenge, taking out a Northwestern team which had defeated them in Berkeley last fall. Cal sprinted out to a 31-7 third quarter lead before holding on for a 31-24 victory. The Bears took the game's opening kickoff and mounted an 18-play, 78-yard touchdown drive, chewing up almost half of the first quarter clock. After Northwestern turned the ball over on downs, ending a ten-play drive, Cal pieced together an 11-play, 77-yard drive to make it 14-0. Cal settled for a short field goal on its next possession, taking a 17-0 advantage before Northwestern woke up. The Wildcats had the ball down a touchdown with 4:14 to play, but Northwestern's final drive ended in an interception, allowing Cal to match its win total from 2013. Here is a write-up of the game from the Contra Costa Times News.
No. 7 UCLA 28, Virginia 30 … The No. 7 UCLA Bruins needed not one, not two, but three defensive touchdowns to hold off Virginia, 28-20. The Bruins forged a 21-3 second quarter lead with two interception returns for a touchdown, and a fumble return for a touchdown. At one point, UCLA had as many return yards on defense as it did total yards on offense. Virginia, down 21-3 late in the second quarter, switched quarterbacks, with Matt Johns coming in to spark a touchdown drive just before the half. Midway through the third quarter, it was 21-17, and Brett Hundley's Heisman hopes were on the ropes two days before Labor Day. The Bruins' quarterback, however, led a touchdown drive to make it a 28-17 game. The Cavaliers got a field goal with 6:47 left in the game, and had a final opportunity come to an end with a turnover on downs in the UCLA red zone. Here is the Los Angeles Times write-up of the game and a column from the Times discussing how the game affected UCLA's title hopes.
—–
August 29th
… Foe Pause …
- Rutgers 41, Washington State 38 … Washington State's season opened with Rutgers connecting on a 78-yard touchdown on the game's very first play from scrimmage … not a good omen. The Cougars fought back however, and overcame deficits of 14-3 and 21-10 to take the second half lead. Washington State quarterback Connor Halliday completed 40 of 56 passes for 532 yards and five touchdowns (read that stat line again slowly), but it was not enough. Rutgers scored on a Paul James run with 3:24 to play, and the Cougars were not able to post a final score to pull out a victory. Here is the Spokane Spokesman-Review take on the game, quoting WSU head coach Mike Leach, "There were a lot of very positive things. It's all correctable". Here is the Seattle Times view of the game, played in Seattle (for the last time, Washington State presently has no future home games scheduled to be played in Seattle.
- Utah 56, Idaho State 14 … It was supposed to be a rout, and it was … in the end. Idaho State was 3-9 last year, with wins over Western State, Dixie State, and Northern Colorado (the Bengals haven't defeated an FBS team since 2000). Still, it was a 14-7 game early in the second quarter, and the Bengals had a first-and-goal at the Utah 10 yard line. Three plays netted no yards, and the field goal attempt was blocked. The missed opportunity seemed to take the wind out of the Bengals' sails, and the Utes went on to a 21-0 second quarter. Kaelin Clay was the special teams star of the game, returning a punt 46 yards for a touchdown in the second quarter, then returning a kickoff 100 yards for a score in the second half. The Salt Lake City Tribune take on includes coach Whittingham's comment, "Not sure how much more we know about our team after tonight".
- No. 19 Arizona State 45, Weber State 14 … There was little drama for the Sun Devils, as Arizona State led 17-0 after the first quarter, and 31-0 at halftime over the Wildcats from Ogden, Utah. "I was pleased," Sun Devils coach Todd Graham said. "I thought we dominated a team we needed to dominate". The Arizona Republic take on the game can be found here.
——
August 28th
USC running back quits team, calls coach Sarkisian a racist
From ESPN … USC senior running back Anthony Brown called head coach Steve Sarkisian a racist and quit the team Thursday.
Brown posted on his Instagram Thursday morning, "Sark treated me like a slave in his Office…Can't play for a racist MAN!!!!! #Fighton" and posted a similar message on his Facebook.
Sarkisian said he was blindsided by Brown's comments and said Brown never expressed any of those feelings to him when he met him earlier this week.
"As far as what [Brown] said on Twitter, I think it's ridiculous," Sarkisian said. "Any of you guys that know me and if you ask anybody in our building, any of our players — feel free to — that's about the furthest thing from the truth. Quite honestly, I'm shocked."
Brown, who has been sidelined most of training camp with an hyperextended elbow, was listed as the sixth running back on the depth chart after switching over from cornerback earlier this month.
"Anthony decided not to play football anymore," Sarkisian said. "We obviously tried to encourage him not to quit. We thought he could be an asset to our team, especially when healthy. We really tried to make it a point to accommodate the position change he wanted. He wanted to move to running back and we did so.
"He unfortunately got injured in training camp and was working his way back and decided he didn't want to play anymore. It's a bit unfortunate because we could have used him. We think he could have helped us."
Brown had six starts and 43 tackles during his USC career. He was limited due to injuries last season and only saw action in two games at cornerback after suffering ankle injuries against Hawaii and another against Notre Dame.
—-
Foe pause …
- ESPN has four writers focused on the Pac-12, and they have made their predictions for the first week of Pac-12 play. Cal is the only underdog (to Northwestern), with Colorado the unanimous pick to defeat Colorado State. Here's what they had to say about the Rocky Mountain Showdown: Why Colorado will win: Colorado State has a veteran quarterback in Garrett Grayson, but the Buffs finally have some experience in the secondary (though they'll miss Jered Bell). A confident Sefo Liufau leads an offense that has depth at receiver and tailback. Should it be close, Colorado also has veteran specialists. It might not be a blowout, but on paper the Buffs are the better team. – Kevin Gemmell
- The Josh Shaw saga continues. The USC cornerback, who was hailed as a hero for saving his nephew from drowning (and injuring his ankles in the process), has now confessed that the story was a lie. USC has issued a press release apologizing for posting the initial story. Shaw has now been suspended indefinitely from the team (though his injuries may have kept him from the field for most, if not all of the season anyway). For more on the story, here is ESPN's take and USA Today's story. Meanwhile, the Los Angeles Times has no fewer than five stories posted on the soap opera.
- The Pac-12 has a real game tonight, with Rutgers taking on Washington State in Seattle (8:00 p.m., MT FS1). Here is a breakdown of the matchup between the Cougars, 6-7 and coming off of a bowl loss to Colorado State, taking on a Rutgers team which also went 6-7 last season.
—–
August 27th
Nebraska using package ticket sales in order to preserve 52-year sellout record
From ESPN … Nebraska and Michigan are two of the most iconic brands in college football, known as much for their tradition of packing stadiums as their history of championships.
The Huskers have sold out 333 straight games, an NCAA record, over 52 seasons. The Wolverines have led the nation in attendance for 38 of the past 39 years and drawn 251 consecutive crowds in excess of 100,000 at Michigan Stadium.
Yet with their home openers set for Saturday, both traditional Big Ten powers are still working to sell tickets.
And while Nebraska's sacred sellout streak appears safe and Michigan will again hit six figures, they face a reality of lackluster home schedules and waning student interest in addition to the perception of sagging momentum on the field.
As a result, the powerful programs have turned aggressive in marketing to fans in unprecedented ways — all while ticket sales surge at league rivals Ohio State and Penn State.
Tickets remain available at Nebraska for five home games this fall. As of late Tuesday, about 150 student season tickets were unsold — a figure that has dropped significantly over the past week as fall semester classes began.
Less than 100 single-game tickets for the opener also remain, returned several weeks ago by visiting Florida Atlantic.
Nebraska, for the first time, offered a package of tickets at a discount for Saturday and the game next week against McNeese State.
–
USC safety admits he lied about hero story
Press release from USC … USC senior cornerback Josh Shaw came to USC athletic department officials this afternoon (Wednesday, Aug. 27) and admitted that he had lied about how he suffered his ankle injuries over the weekend.
He said that the story he told of rescuing his nephew in a pool in Palmdale, Calif., was a complete fabrication.  He apologized for misleading his coaches, teammates, athletic department officials and the public.
"We are extremely disappointed in Josh," said USC head football coach Steve Sarkisian.  "He let us all down.  As I have said, nothing in his background led us to doubt him when he told us of his injuries, nor did anything after our initial vetting of his story.
"I appreciate that Josh has now admitted that he lied and has apologized.  Although this type of behavior is out of character for Josh, it is unacceptable.  Honesty and integrity must be at the center of our program.  I believe Josh will learn from this. I hope that he will not be defined by this incident, and that the Trojan Family will accept his apology and support him."
Sarkisian said that Shaw has been suspended indefinitely from all team activities.
Shaw has retained Donald Etra as legal counsel.  Etra will issue a statement on Shaw's behalf soon.
—–
August 26th
Credibility of USC cornerback's story questioned
From ESPN … USC football coach Steve Sarkisian said the school has received several calls questioning the authenticity of Josh Shaw's story about saving his nephew from potentially drowning and is investigating the matter.
Shaw said he suffered a pair of high ankle sprains Saturday night after jumping from the second story of an apartment complex to save his 7-year-old nephew, who was struggling in the pool. Shaw said his nephew did not know how to swim.
When Sarkisian was asked who had called and made him second-guess Shaw's story, he said, "I don't want to get into who's calling us. I'd just appreciate it if you guys gave us some time to vet it and look into it so that we can give you a real solid answer instead of more hearsay and what might have or what might not have occurred."
Multiple sources told ESPNLA.com that school officials were skeptical of Shaw's story before releasing a statement about it along with quotes from Shaw and Sarkisian on Monday. Their skepticism grew larger by Tuesday as the story gained steam and multiple media outlets wanted to talk to Shaw, the 7-year-old nephew he rescued and family members who were at the party.
Sarkisian huddled with school officials before addressing the media Tuesday and took only football questions for the first five minutes before addressing Shaw.
"I'm not surprised," Sarkisian said when asked about the contradictory phone calls he received. "I get calls on a lot of different things. We have to do our due diligence and vet everything, and we'll handle it internally. We'll see what happens with this one and move forward and give you guys an update."
Shaw was not available to the media, nor will he be until USC officials find out exactly what happened, Sarkisian said.
"Josh won't be available until we find out," Sarkisian said. "I just don't want to put him in a situation of answering questions that we really don't have all the answers to."
The one aspect of Shaw's injury Sarkisian could confirm was that the cornerback did suffer two high ankle sprains and would be out indefinitely.
"I will say the X-rays and MRIs we have taken on him have come back negative," Sarksian said. "So far we don't see anything structurally wrong with him but he is very sore."
Sarkisian said he wanted to put the situation behind him but wanted to get all the facts straight first.
——-
August 25th
USC cornerback sidelined with injuries sustained saving nephew from drowning
From ESPN … USC cornerback Josh Shaw will be sidelined indefinitely after a heroic act left the fifth-year senior with a pair of high ankle sprains.
Just hours after being voted a team captain on Saturday, Shaw was attending a family function when he saw his 7-year-old nephew, who does not know how to swim, struggling in a nearby pool. Instinctively, Shaw jumped from a second-floor balcony onto concrete below and crawled into the pool where he was able to help his nephew to safety, according to a release from the school.
After getting his nephew to safety, Shaw made his way to a ladder and pulled himself from the water.
"I would do it again for whatever kid it was, it did not have to be my nephew," Shaw said. "My ankles really hurt, but I am lucky to be surrounded by the best trainers and doctors in the world. I am taking my rehab one day at a time, and I hope to be back on the field as soon as possible."
Shaw was expected to be a major part of the Trojans secondary after starting all 14 games in 2013.
"That was a heroic act by Josh, putting his personal safety aside. But that's the kind of person he is," USC coach Steve Sarkisian said. "It is unfortunate that he'll be sidelined for a while and we will miss his leadership and play, but I know he'll be working hard to get back on the field as soon as possible."
USC opens the year against Fresno State on Saturday.
—–
August 24th
Four-star defensive end recruit transfers from UCLA to Utah
From the Salt Lake City Tribune … It took a little longer than the Utes would've liked, but they've gotten Kylie Fitts.
The Tribune has learned that the one-time four-star recruit has elected to transfer from UCLA to Utah, and will be eligible in 2015. He'll have three years to play three seasons.
Fitts received at Utes offer out of high school, and originally committed to USC before making a late switch to UCLA. The Redlands, Calif., native managed only one tackle in six games as a freshman last season, but the L.A. Daily News reported he likely would've factored into the depth chart and possibly seen rotation snaps this year.
Instead, Fitts announced he would transfer early in August as the Bruins began training camp. Fresno State and San Diego State were reported as other potential landing spots.
The Utes will be looking for a replacement for Nate Orchard and Greg Reese at defensive end next year. If Fitts works out, Utah may have a talented pool to work from with Hunter Dimick, Jason Fanaika and Wallace Gonzalez among the planned returners.
——
August 23rd
Beer sales returning to college stadiums
From ESPN … Some cash-strapped athletic departments outside the Power Five conferences have started to use beer sales as an alternative revenue stream — and more could soon be following suit.
While beer drinking is a common sight at tailgate parties outside of college football stadiums, a growing number of schools are bringing the party inside, opening taps in concourses that traditionally have been alcohol-free zones.
North Texas, SMU and Troy University will begin beer sales to the general public this season. They're among 21 on-campus football stadiums where any fan of legal age can grab a brew. That's more than twice as many as five years ago.
Every institution is looking at how they can increase revenue streams, and alcohol is one of those," said Jeff Schemmel, president of consulting firm College Sports Solutions LLC. "Everything is on the table."
Most schools continue to keep alcohol restricted to premium seating areas, if they allow it at all. But offering alcohol is increasingly attractive for some campuses, especially as schools look for ways to keep fans from staying at home.
They're also encouraged by the schools that were among the first to sell alcohol and didn't report an increase in bad behavior from students and other fans.
There are 11 municipal stadiums where FBS teams are tenants and alcohol is available to the general public. The municipality usually keeps most, if not all, of the alcohol proceeds. The NCAA does not sell alcohol to the general public at its championship events. Schools and conferences are allowed to make their own policies.
According to an Associated Press survey of the 21 beer-selling schools that own and operate their stadiums, about half their concessions revenue is derived from alcohol. All but four of those schools are in conferences outside the Power Five that don't earn significant television money.
——
August 21st
CBS Hot-seat rankings – Utah's Kyle Whittingham's seat the warmest in the Pac-12
Dennis Dodd at CBS Sports has put forth his preseason College Football Hot Seat Rankings.  The rating methodology is as follows:
| | | |
| --- | --- | --- |
| Rating | What it means |   Coaches |
| 0-0.5 | Can't be touched | 37 |
| 1-1.5 | Very safe, change unlikely | 43 |
| 2-2.5 | Safe, but you never know | 26 |
| 3-3.5 | Starting to feel the pressure | 17 |
| 4-4.5 | Warm, better start winning | 4 |
| 5 | Hot seat! Win or be fired | 1 |
The only five-star "Win or be fired" coach, in Dodd's estimation, is Florida International's Ron Turner. The former Illinois head coach went 1-11 in his first season at FIU, and apparently needs to win or seek different employment.
In the Pac-12, Utah coach Kyle Whittingham is the closest to being fired, coming in at 3.5 (up from 3.0 last season). Cal's Sonny Dykes, 1-11 in his coaching debut with the Bears last season, is next in line, with a 3.0 (up from 0.5 last season).
CU's Mike MacIntyre has been placed in the "very safe, change unlikely" category, with a 1.5 rating, up slightly from a 1.0 last fall.
Other Pac-12 coaches:
Arizona – Rich Rodriguez – 1.0 (1.0 last season)
Arizona State – Todd Graham – 1.0 (up from 0.0 last season, a higher ranking despite winning the Pac-12 South last season)
Oregon – Mark Helfrich – 2.0 (up from 1.5 last season)
Oregon State – Mike Riley – 1.0 (same as last season)
USC – Steve Sarkisian – 2.5 (starting out very high for a new coach)
Stanford – David Shaw – 0.0 (same as last season – only the NFL could remove Shaw from Palo Alto)
UCLA – Jim Mora – 0.5 (same as last season)
Washington – Chris Petersen – 0.5 as the Huskies' new coach
Washington State – Mike Leach – 0.5 (down from 1.0 after a bowl berth last fall)
Other coaches of note:
Air Force – Troy Calhoun – 3.5 (up from 1.0 for a coach many wanted as CU's next head coach)
Colorado State – Jim McElwain – 0.5 (down from 2.0 … Eight wins + a ten-year contract = job security)
Hawai'i – Norm Chow – 4.0 (up from 3.0 – a 4-20 record in two seasons will warm up your chair)
Kansas – Charlie Weis – 4.5 (up from 3.0 – another 4-20 record placing a coach in jeopardy)
Massachusetts – Mark Whipple – 1.0 (the former coach gets a pass in year one of his return)
Nebraska – Bo Pelini – 2.5 (same as last season – nine wins every year … but no titles)
Miami (Ohio) – Frank Solich – 1.5 (hard to believe the former Nebraska coach has been at Miami nine seasons)
——–
Colorado State bullish on rebuilt offensive line
From the Coloradoan … You'd think there would be more concern emanating from the CSU football team during fall drills over the offensive line.
Consider that the team lost four of five starters from last year's offensive line to graduation and two projected starters this fall due to injury.
If there is concern, the feelings are being blocked out.
"We still have a lot of talent," said senior Ty Sambrailo, the starting left tackle and the only starter back from last season's 8-6 team. "We've continued to be consistent regardless of who is playing, I feel, throughout this fall camp. We're going to be just fine no matter who's playing."
Junior-college transfer Jordan Finley, who spent most of spring drills as the starting right tackle, suffered a knee injury in the final week that will keep him out of at least the first three games this fall.
Mason Hathaway, the senior who stepped in to replace him, suffered a knee injury of his own last week that could end his college football career.
Those were two significant losses to an offensive line that already was one of the biggest concerns for the Rams entering the 2014 season.
For now, the starters would appear to be Sambrailo (6-5 and 315 pounds), sophomore Fred Zerblis (6-3, 295) at left guard, redshirt freshman Jake Bennett (6-3, 295) at center, senior Mason Myers (6-3, 300) at right guard and junior Sam Carlson (6-4, 290), a former Poudre High School standout, at right tackle. Carlson, McElwain said, has been contending for a starting job since fall camp began and was taking turns with the No. 1 offense even before Hathaway was injured.
It's a big, strong, talented and athletic group that Sambrailo believes can be every bit as effective, if not more, than last year's senior-dominated front line.
"I'm excited about the offensive line," offensive coordinator Dave Baldwin said. "They're competing in camp, and they competed during the summer. They're going to be a good group."
Zerblis, Myers and Carlson have been playing together on the No. 2 offense for the past two years and Bennett joined them on that unit last fall. So it's not like the Rams are putting five guys up front who have never played together, Carlson said. They communicate well together and understand the nuances of working in step with the players alongside them in pass protection and combination blocks in the run game.
"All we lack right now is that game experience," Carlson said.
Last year's offensive line, led by second-round NFL draft pick Weston Richburg at center, opened holes that allowed Kapri Bibbs to run for a school-record 1,741 yards and 31 touchdowns while also providing Grayson with the protecting he needed to throw for a school-record 3,696 yards and 23 touchdowns.
That's a difficult act to follow.
——-
August 20th
Washington schedules home-and-home with Michigan and BYU
From the Pac-12 Networks … Washington will take on two big non-conference rivals in the coming years as the Huskies will play home-and-home series against both Michigan and BYU in the next decade.
The two series were announced today by UW athletic director Scott Woodward as part of a series of changes and additions to future Washington football schedules.
The Huskies will play host to BYU Sept. 29, 2018, and will travel to Provo on Sept. 21, 2019. The Dawgs and Cougars have squared off nine times in their history, including most recently in last December's Fight Hunger Bowl in San Francisco.
Michigan will come to Seattle for a Sept. 5 game in 2020 and then the Dawgs will go to Ann Arbor the following season for a Sept. 18 game. The Huskies and Wolverines have a history that dates back over 60 years and includes four Rose Bowl matchups among 12 all-time meetings.
"We are excited about our future football schedules," director of athletics Scott Woodward said. "Our goal is to win championships, and we will continue to work to supplement our challenging Pac-12 slate with games that are both exciting for our fans and beneficial for our program."
Along with those additions were three additional changes. Firstly, due to conflicts with its Big Ten Conference schedule, Wisconsin was forced to cancel its two games with the Huskies, previously scheduled for 2018 and 2021.
—–
Injury report from Ft. Collins – transfer running back and another offensive lineman injured
Update … It is being tweeted this morning that Dee Hart was back at practice this morning … some gamesmanship from Coach McElwain, perhaps? …
From the Coloradoan … Two key players went down with ankle injuries during practice Tuesday and another offensive tackle also was lost indefinitely to an injury, CSU coach Jim McElwain said.
Junior running back Dee Hart, a transfer from Alabama who was competing for the starting job, and redshirt freshman receiver Elroy Masters, who was singled out for his strong play following a closed scrimmage Tuesday night, both left practice early with ankle injuries, McElwain said afterward. Jordan Benson, a true freshman offensive linemen, suffered a leg injury.
None of the injuries appeared to be season-ending, McElwain said, but all three players could miss the Aug. 29 season-opener.
Hart ran for 18 yards on three carries in Tuesday's scrimmage, while Masters caught three passes for 55 yards, including a 39-yard touchdown catch on a pass thrown by true freshman Coleman Key.
Benson is the third offensive linemen sidelined by an injury. Junior-college transfer Jordan Finley will miss at least the first three games while recovering from a knee injury suffered during spring drills that required surgery, while senior Mason Hathaway suffered a season-ending knee injury during the first week of fall camp.
——-