Pac-12 Notes
—
August 20th
Injury report from Ft. Collins – transfer running back and another offensive lineman injured
Update … It is being tweeted this morning that Dee Hart was back at practice this morning … some gamesmanship from Coach McElwain, perhaps? …
From the Coloradoan … Two key players went down with ankle injuries during practice Tuesday and another offensive tackle also was lost indefinitely to an injury, CSU coach Jim McElwain said.
Junior running back Dee Hart, a transfer from Alabama who was competing for the starting job, and redshirt freshman receiver Elroy Masters, who was singled out for his strong play following a closed scrimmage Tuesday night, both left practice early with ankle injuries, McElwain said afterward. Jordan Benson, a true freshman offensive linemen, suffered a leg injury.
None of the injuries appeared to be season-ending, McElwain said, but all three players could miss the Aug. 29 season-opener.
Hart ran for 18 yards on three carries in Tuesday's scrimmage, while Masters caught three passes for 55 yards, including a 39-yard touchdown catch on a pass thrown by true freshman Coleman Key.
Benson is the third offensive linemen sidelined by an injury. Junior-college transfer Jordan Finley will miss at least the first three games while recovering from a knee injury suffered during spring drills that required surgery, while senior Mason Hathaway suffered a season-ending knee injury during the first week of fall camp.
——-
August 19th
CSU head coach Jim McElwain: "We're way ahead of where we've been the first two years"
From the Coloradoan … Players aren't looking to their coaches to see where they're supposed to line up anymore, and teammates provide encouragement to help each other get through difficult drills.
The progress CSU's football team has made over the past three years is evident in everything the Rams do, coach Jim McElwain said Monday after a morning walk-through in the Indoor Practice Facility. The Rams held a closed scrimmage Monday night under the lights at Hughes Stadium, so the morning session was designed to mimic a typical walk-through the day before a game, the third-year coach said.
"We've come a long ways as a program, and just seeing how they've approached this camp, there's a whole new resolve now," McElwain said. "… We're way ahead of where we've been the first two years."
Many of the players in the program now have been through three offseasons and two full seasons with McElwain and his staff, so they understand what's expected of them. Players are now providing much of the leadership that the coaching staff had to manufacture the past two seasons.
For example, McElwain said sophomore receiver Rashard Higgins was helping a teammate get lined up on a play during a recent practice instead of asking where he was supposed to line up, as was often the case a year ago.
More important, the coach said, is that the players understand how important everything they do throughout the year is to what kind of team they'll be this fall. They've seen the difference between three straight 3-9 seasons under former coach Steve Fairchild and the 4-8 and 8-6 seasons they've had under McElwain.
"Just seeing how the guys interact, how they understand the workload and work level in which they have to go," he said. "I haven't had to get after them very much."
The Rams, McElwain said, clearly are ahead of where they've been at this point the previous two years.
That's more critical than ever this season, with a schedule that has three of the biggest games of the year played in the first five weeks. There's the Aug. 29 opener in Denver against the University of Colorado, followed by a Sept. 6 trip to Boise State for the Mountain West opener. Three weeks after that, the Rams travel to the East Coast for the first time in 12 years to take on Boston College.
"The first part of the season, we've got some daunting things ahead of us," McElwain said. "But at the end of the day, do I think we're better? Yeah, I do."
——
August 18th
Hawai'i could drop football
CU's home game against Hawai'i on September 20th is the third in a four-game series with the Warriors (with the first two games being played in 2010 and 2011). The back end of this home-and-home is scheduled to be the 2015 season opener in Honolulu …
From nfl.com … Training camp is supposed to be a time when football programs are in high spirits, optimistic about the upcoming season. One would think that might be especially true at a program like Hawaii given its locale.
Things are not so rosy out on the islands, however. According to local station KITV, the school's athletic director says things are so dire financially with the program that there's a possibility that the NFL's Pro Bowl will be the only football being played in Hawaii in the future.
"There's a very real possibility of football going away," AD Ben Jay told the station at a Board of Regents meeting Monday afternoon.
The report also states that Jay said the department is looking at a $2.1 million deficit this year and has operated in the red 11 of the past 13 years.
That's not good for anybody, much less at a Hawaii program that made a BCS bowl not too long ago.
The Rainbow Warriors are a football-only member of the Mountain West and do not receive revenue through the conference's television deal. Instead, the school reportedly cut a new rights deal for nearly $2.3 million a year with a local venture, but it appears that offers only a slice of what the school needs to stay afloat.
Complicating matters when it comes to budgeting, attendance for football games is down noticeably as the team is in the middle of a 3-20 run under second-year head coach Norm Chow. Given increased travel demands to the mainland for football and other non-revenue sports, one can see how making things work can be difficult.
"We're going to have to generate more revenue," Jay told Hawaii News Now last week. "There's no doubt about that. We've always had to do that. People want to support football and basketball and baseball and all of our other sports, so it's going to come down to how are we going to get that support financially from our fan base and from all the folks who love UH athletics."
There's been plenty of talk in recent months about just how much money is flowing to college athletics programs, but it appears that is certainly not the case at Hawaii. As a result, football could be on the chopping block.
—–
August 17th
Associated Press preseason poll out – six Pac-12 teams ranked
Six teams from the Pac-12, led by No. 4 Oregon, are a part of the Associated Press preseason poll. Oregon received one first-place vote, as did No. 2 Alabama and No. 4 Oklahoma. Defending national champion Florida State received the other 57 votes.
AP preseason poll Trivia #1 … There has never been a consensus Preseason No. 1 in the history of the AP poll.
AP preseason poll Trivia #2 … None of the last four No. 1 preseason teams in the AP poll has finished higher than 7th (2013, Alabama – 7th; 2012, USC – unranked; 2011, Oklahoma – 16th; 2010, Alabama – 10th).
AP preseason poll Trivia #3 … The last time Colorado was in the AP preseason poll was … in 2002, when the Buffs were ranked No. 7 in the preseason poll, coming off of a Big 12 championship season (the Buffs finished No. 20 in the rankings that season).
Coming in behind Oregon from the Pac-12 were UCLA at No. 7, No. 11 Stanford, No. 15 USC, No. 19 Arizona State, and No. 25 Washington. Oregon State also received votes, good enough for 41st (with Boise State).
The rankings for the Pac-12 were not too far off from the USA Today/coaches poll, which had Oregon at No. 4, UCLA No. 7, Stanford No. 11, USC No. 15, Arizona State No. 18, and Washington at No. 25. Oregon State was also mentioned in the coaches' poll (T-46th), with Arizona getting one vote (I guess the Associated Press didn't let Wildcat coach Rich Rodriguez vote in their poll).
The 2014 preseason poll, from the Associated Press:
Others receiving votes: UCF 94, Florida 87, Texas 86, Duke 71, Iowa 68, Louisville 48, Marshall 41, Oklahoma State 37, Virginia Tech 26, TCU 23, Mississippi State 22, Michigan 19, Texas Tech 19, Miami (FL) 16, Cincinnati 15, Boise State 10, Oregon State 10, Northwestern 8, Byu 8, Penn State 5, Vanderbilt 2, Navy 2, Nevada 1, Louisiana-Lafayette 1, Utah State 1
——
CSU, already inexperienced along the offensive line, loses two potential starters
From the Coloradoan … The CSU football team has lost some depth on the offensive line with a knee injury to Mason Hathaway.
"We're going to let the swelling go down and go in and take a look," coach Jim McElwain said after Saturday's practice. "Chances are we'll miss him for probably the season."
If that turns out to be the case, the fifth-year senior's college career will be over. He played 11 games as a redshirt freshman, one as a sophomore and 11 last season as a junior.
While the injury is a blow to a unit that lost four starters from last year's offensive line, it provides opportunities for others to make a bid for playing time.
Among them is Poudre High School graduate Sam Carlson. McElwain said the redshirt junior will likely start at right tackle when Colorado State University opens the season Aug. 29 at Sports Authority Field against the University of Colorado.
"He did a couple things we haven't had that spot do in a while with some calls. He's doing a really good job there," McElwain said. "We feel really comfortable with that."
McElwain said tackle Jordan Finley, a transfer Sierra College in California, will likely be out until the fourth game of the year as he continues to rehab from a knee injury. McElwain also said tight end Kivon Cartwright should be ready to face CU as he recovers from a knee injury.
—–
August 15th
Arizona coach not happy with quarterback play – "I'm allowed to be mad"
From ESPN … Arizona coach Rich Rodriguez is mad. And by mad, we mean it in both senses of the word — angry and crazed. He was vexed when practice began Wednesday and he was volcanic when it ended. With each, er, colorful verbal explosion, the collective shoulders of reporters a football field or so away from the closed practice slumped just a little bit more.
There would be no affable exchange of pleasantries about his quarterback competition or any breezy banter on sundry topics that typically are covered during a post-practice media session. While many coaches' calculated fits of pique during practices are pure motivational theater — and there was some comic element to Rodriguez's stomping around like vintage Earl Weaver hounding an umpire — there is no question his cataclysmic frustration is genuine. He expects more from his team than they are giving him and he can't stand it that they are not responding to his challenge.
"I'm allowed to be mad," he harrumphed to reporters. "It's my right."
He was then asked — carefully, softly — if this was just one bad practice among many great days of growth during preseason camp.
"I ain't seen enough growth anywhere. No where," he frumped.
So, yeah, don't expect much of a revelation about the Wildcats quarterback competition, which officially remains a wide-open race between four guys, though most observers see redshirt freshman Anu Solomon as the leader at present. That conclusion is based on Solomon getting the most reps with the first-team offense. Senior Jesse Scroggins, the consensus leader after spring practices, missed a lot of offseason work because of injuries suffered after a automobile accident. Jerrard Randall, the most physically talented of the four, continues to struggle with the mental side of the Wildcats' scheme, while Connor Brewer is steady but brings the least to the table athletically.
Rodriguez is on edge because the winnowing is coming. Must come. With a scrimmage Saturday, he and offensive coordinator Rod Smith both said they want to narrow the field heading into next week. That means tightening the screws in practice, and that process often means delivering an earful and seeing how the recipient of said verbal projectiles reacts. As Rich Rod often says: He wants his guys to become comfortable being uncomfortable.
"I've never been one to treat [a quarterback] with kid gloves," he said a few hours before said practice. "I don't worry about their confidence. Hell, I'm worried about my confidence."
——
Oregon State to play at Ohio State for a reported $1.3 million
So you thought Colorado was the only Pac-12 school willing to travel east for a one-and-done, "play-for-pay" game against Ohio State?
Not so …
From Oregonlive.com … Mike Riley called Oregon State's marquee nonconference games some of his program's defining moments.
The Beavers now have another one on tap, as OSU will travel to national power Ohio State to open the 2018 season, both schools announced Thursday.
"We have intermittingly played games in our time here all over the country," Riley said. "It's mostly been very hard, but I think (those games have been) some very good, defining moments for our program, too. It will be great to take the team and our fans back there to play."
The Sept. 1 matchup is not part of a home-and-home series, just a trip for the Beavers to "The Horseshoe" in Columbus. Riley said he's not involved in much of the scheduling process, but that athletic director Bob De Carolis runs possible noconference matchups by him.
"These things come up, and Bob says, 'What do you think?'" Riley said, "and we usually talk from there — or I find out from there, basically."
OSU has traveled to some historic college football environments in recent seasons, playing at LSU in 2004 (a 22-21 defeat) and Penn State in 2008 (a 45-14 loss). Next season, the Beavers will play at Michigan.
Other upcoming nonconference opponents for OSU include Weber State and San Jose State in 2015, at Minnesota, Boise State and Indiana State in 2016, Minnesota and Nevada in 2017 and at Nevada in 2018.
—–
August 14th
Cal loses starting middle linebacker for the season; two other contributors also seriously injured
From BearTalk.com … Cal's football team, which had avoided serious injury through the first week of fall workouts, announced the loss of three players after Wednesday's closed practice, including a season-ending knee injury to projected starting middle linebacker Nathan Broussard.
Coach Sonny Dykes said Broussard was diagnosed with a torn ACL to his left knee after twice "tweaking" it in recent days. Broussard, a junior, suffered the same injury to the same knee during August workouts last year and missed the entire season.
Freshman safety Quentin Tartabull, expected to be a contributor this season, tore his left ACL during Wednesday morning's practice.
Sophomore reserve running back Jeffrey Coprich is out 4 to 8 weeks after breaking his left foot while making a cut during practice Tuesday and will have surgery Thursday.
"I hate it for those kids, especially for Nate, coming off that surgery (last year)," said Dykes, who characterized all three as non-contact injuries.
–
Arizona State offensive lineman announces he is gay
From ESPN … Arizona State offensive lineman Edward "Chip" Sarafin told Compete Magazine that he is gay, becoming the first active Division I college football player to come out publicly.
Like former Missouri defensive lineman Michael Sam, Sarafin came out to his team before going public.
"It was really personal to me and it benefited my peace of mind greatly," Sarafin told Compete Magazine — a Tempe, Arizona-based LGBT sports publication — of revealing his sexual orientation to teammates this past spring.
The reporter who interviewed Sarafin for the Compete Magazine story, Joshua Wyrick, said the player "cited Michael Sam as kind of the impetus for him reaching out."
Sam told teammates he was gay during his playing days but did not come out publicly until after finishing his career at Missouri.
ASU coach Todd Graham also expressed support and praised Sarafin.
"We are a brotherhood that is not defined by cultural and personal differences, but rather an individual's commitment to the Sun Devil Way," he said in a statement. "Chip is a fifth-year senior and a Scholar Baller, a graduate and a master's student. His commitment to service is unmatched and it is clear he is on his way to leading a successful life after his playing career, a goal that I have for every student-athlete. Diversity and acceptance are two of the pillars of our program, and he has full support from his teammates and the coaching staff."
"The entire athletics department is extremely proud of Chip and is unequivocally supportive of him," vice president of ASU athletics Ray Anderson said.
Sarafin has spent most of his time at Arizona State as a reserve offensive lineman. He has yet to play in a game, working as a scout-team player early in his career and providing depth on the Sun Devils' offensive line last season.
——
August 13th
Washington State picks up late three-star athlete
From NBC Sports … Unable to gain admission at this original signing place, Jeffery Farrar has moved to the other side of country to start his collegiate playing career. (Rivals bi0)
Late Tuesday night, Washington State announced via a press release that Farrar has signed a Financial Aid Agreement with the university.  Farrar had originally signed a National Letter of Intent with Virginia, but was denied admission into the university for unspecified academic reasons.
Farrar will be eligible to play immediately in 2014 and, as the school stated, will enroll in classes later this month.
Farrar was listed by Rivals.com as a three-star recruit, rated as the No. 36 athlete in the country and the No. 48 player at any position in the state of California.  ESPN.com's recruiting service rated Farrar as a four-star prospect.
In addition to Virginia, Farrar held offers from, among others, Arizona, Arizona State, Miami, Michigan State, UCLA and Utah.  Wazzu also offered the cornerback coming out of high school, and obviously maintained that interest.
—–
Ralphie's Run the best "entrance" in the Pac-12
From ESPN ….If you are a college football fan, you love your team and you love the moment it runs onto the field inside your beloved stadium. It's a moment filled with frenzy, excitement and hope. It's the only moment of the game when you are absolutely guaranteed something worthy to cheer for.
And, unfortunately, you are not qualified to objectively judge how cool your team's entrance is. Sorry. You are biased.
We are not. We are stone-cold objective. We are eggheaded employers of pure science. We used advance analytics, HUGE super-computers and a Zeus' personal "Super-Awesome Thinking Cap" to make the following list of best stadium entrances in the Pac-12 …..
1. Colorado: Look, I know Colorado has been down since joining the Pac-12, but it's possible its entrance at Folsom Field is the best entrance in all of college football. Why? Why! If you asked that question it's because you haven't seen the Buffaloes' entrance. Colorado tops this list because the team runs out behind a real, live 1,300 pound — plus or minus — Buffalo that can reach speeds of 25 mph. Not only is it awesome to watch, there's always just a little bit of the ole potential NASCAR wreck to it. Ralphie often has a mind of her own, and more than a few folks have ended up on the turf — including her handlers — while she made her mad dash. Ask Fox reporter Jim Knox …
Here is the Jim Knox You Tube run with Ralphie:
And here is a video about the Ralphie Handlers:
–
Cal sets up home-and-home with TCU and North Carolina
From Cal athletics … California has agreed to two-game series with both North Carolina and TCU, marking the first time the Golden Bears will face either school on the football field.
Cal will travel to Chapel Hill, N.C., to face North Carolina on Sept. 2, 2017, while the Tar Heels will visit Berkeley on Sept. 1, 2018. The Cal-TCU series begins when the Horned Frogs come to Kabam Field at California Memorial Stadium on Sept. 5, 2020. The Bears will play the return game on Sept. 11, 2021, in Ft. Worth, Texas.
"We are excited to be able to add a pair of quality opponents to our upcoming football schedule," Interim Director of Athletics Mike Williams said. "We want to provide our student-athletes with the opportunity to play teams that compete on a high level nationally, and both North Carolina and TCU fit that objective. We also believe our fans will appreciate being able to see new opponents visit Berkeley where we can showcase the campus and California Memorial Stadium."
The agreement with North Carolina means Cal will square off in a rare football contest against a team from the Atlantic Coast Conference. Other than a two-game series with Maryland (then a member of the ACC) in 2008 and '09, the Bears have not faced an opponent from the conference during the regular season (at the time of the game) since playing Duke in 1963.
North Carolina has participated in 30 postseason bowls in its history, most recently defeating Cincinnati, 39-17, in the 2013 Belk Bowl to complete a 7-6 campaign.
TCU has won at least 10 games eight times since 2001 under head coach Gary Patterson, winning five conference titles. The Horned Frogs have been to 11 bowls during that span, including the Fiesta Bowl in 2009 and the Rose Bowl in 2010.
Among other non-conference opponents on Cal's upcoming schedules are Texas and San Diego State, both for the 2015 and 2016 campaigns. Next fall, San Diego State will come to Kabam Field at California Memorial Stadium Sept. 12, while the Bears will visit Texas Sept. 19. In 2016, the Longhorns will make their first trip to Berkeley since 1969 and the Bears will take on the Aztecs in San Diego. Cal will also host Grambling State on Sept. 5 next year to complete the Bears' 2015 non-conference slate.
——
August 12th
Oregon not paying for insurance on quarterback Marcus Mariota
From CBS Sports … Only one of the projected top-two quarterbacks in college football has a portion of his insurance premium covered by his school.
Oregon's reasons for that illustrate the complicated decisions schools face with how to use the Student Assistance Fund.
While FSU is using the NCAA-governed assistance fund to help Jameis Winston pay for his reported $10 million package for injury protection, Marcus Mariota has his own policy worth an undisclosed value.
Oregon doesn't currently allocate its assistance funds — which checked out at $334,997 during the 2013-14 year — for insurance premiums among nearly 500 student-athletes, Ducks senior associate AD Craig Pintens said.
Four Oregon football players have taken out insurance policies. Helping all four would have exhausted most or all of the annual fund allocation, Pintens said, leaving no money to help hundreds of athletes pay for emergency dental work, trips home for funerals or other player demands.
An Oregon source said Mariota purchased his insurance a while ago, closer to the end of the 2013 season, and the trend of schools helping front player insurance bills is a relatively new one. A Texas A&M official told Fox Sports in July the Aggies are helping left tackle Cedric Ogbuehi, who considered entering May's NFL draft, with nearly $60,000. "I don't think many schools know about it," Aggies associate AD for football Justin Moore told Fox about the right to allocate for insurance.
FSU is helping Winston cover his loss of value policy, which could be as much as $60,000. Baylor is assisting three players, including quarterback Bryce Petty.
In Aug. 2013, the NCAA allocated $73,514,000 to Division I conference offices for the assistance fund, which is designed to "assist student-athletes in meeting financial needs that arise in conjunction with participation in intercollegiate athletics, enrollment in academic curriculum or recognize academic achievement."
The Ducks recently consulted the Pac-12 for interpretation on using the fund for insurance premiums. The league told Oregon the funds can be used "should the student-athlete lack financial resources to pay for or obtain a loan unrelated to future earning potential."
—–
McElwain confident CSU will be invited to become a member of a Power-5 Conference
From the Coloradoan … The biggest news coming out of CSU on Monday was football coach Jim McElwain's five-year contract extension designed to keep him around through the 2018 season.
In that contract, there's an initial buyout of $7.5 million, meaning the likelihood of bigger programs stealing him away is slim (this is up from $3 million in the previous deal). It also means McElwain, a rising star in the coaching ranks, will be stuck with a program expected to remain on the outside looking in as the five major college football conferences start to gain more power and recruiting advantages over leagues like the Mountain West.
But those inherit disadvantages of not being part of a "Power 5" conference didn't seem to faze McElwain on Monday. In fact, he was optimistic about remaining with the Rams through such a monumental change in the college football landscape.
"I really think within the next five years, there are going to be some different things happening. I feel really good about the direction we're heading at Colorado State and our vision moving forward," McElwain said. "We'll play them, we'll figure out a way to go; that's what we do."
McElwain added that part of that vision was either getting CSU into one of the Power 5's or making the Mountain West become the sixth power conference, saying, "It's our responsibility to keep this thing moving forward, and … we've got the parts in place to go and have the administration in place to get that handled."
—–
August 11th
CSU gives head coach raise and contract extension
From CSURams.com … Colorado State University and head football coach Jim McElwain have finalized a new contract that will keep the third-year head coach in Fort Collins at least through the 2018 season, interim athletic director John Morris announced on Monday.
McElwain guided the Rams' football program in 2013 to its most wins in a single season since 2002, including a victory in the New Mexico Bowl. His team's 8-6 record marked an improvement for the second year in a row after taking over a program that had posted 3-9 records for three consecutive seasons before his arrival.
"Jim McElwain has breathed new life into our football program," Morris said. "Last season's exhilarating come-from-behind victory in the New Mexico Bowl illustrated all of the positive attributes McElwain and his staff have infused in their student-athletes–the perseverance to never give up and the unique bond to support one another on every play. That was a moment that all Rams fans are extremely proud of, and it provided a glimpse of where this program is headed."
McElwain's initial five-year contract, signed upon his hire in December 2011, included base salaries of $1.35 million with the potential to earn a bonus of $150,000 related his team's Academic Progress Rate (APR) score. His new five-year contract increases his base salary to $1.5 million with the same bonus structure. Those bonuses are contingent upon having no major NCAA violations. It also includes optional extensions for up to five seasons beyond the initial term of the contract.
"We are excited that Jim McElwain will be our football coach for the long term," Morris added. "All current and future Rams can point to the stability and consistency in the football program as a cornerstone for the bright future of Colorado State Athletics."
McElwain was equally appreciative of the opportunity he now has to continue his revitalization of the Rams' football program for the long term.
"I'm thankful for the opportunity to be the head football coach at Colorado State University, and I appreciate that Dr. Frank has trusted us, our family, our coaches to take this program and keep growing it," McElwain said. "My family and I sincerely appreciate the way the people of Fort Collins and the state of Colorado, and all of the great Rams fans, have welcomed us and made this home for us."
McElwain's new contract also includes substantial increases in the amount he would have to pay CSU if he leaves before his contract is up. This includes an initial buyout of $7.5 million, and possible future buyouts of $7.5 million or more as long as he would have five years remaining on his contract, depending upon possible extensions and/or increases in his base pay.
–
Oregon loses three-year starter at left tackle to season-ending ACL
From CSNNW … Oregon left tackle Tyler Johnstone re-tore the anterior cruciate ligament in his right knee last week and will be lost for the season.
Johnstone confirmed today that he will have surgery on Friday.
Johnstone first injured the same ACL last December during the Ducks' 30-7 win over Texas in the Alamo Bowl. He hoped to be healthy for the Ducks' season opener Aug. 30 against South Dakota.
After months of rehab and being cleared by doctors to ease back into practice, Johnstone heard a popping noise from his knee during the first week of fall football practice. During a non-contact play, Johnstone was pass blocking when his knee buckled. Testing and scans followed to reveal a re-torn ACL in right knee.
Recovery time for a torn ACL is usually around 8-12 months.
The loss of Johnstone for the season could be a big blow to the team's national title hopes. The three-year starter was named honorable mention All-Pac-12 last season, and had bulked up to 289 pounds in an effort to improve his overall play.
—–
USC loses second defensive starter to season-ending injury
From ESPN … USC linebacker Jabari Ruffin suffered a torn knee ligament and will miss the 2014 season.
"This is very unfortunate news about Jabari, but I know he will rehab well and come back strong next year," Trojans coach Steve Sarkisian said. "And I know our team will step up in his absence."
The injury happened during a Sunday morning practice after Ruffin — a redshirt sophomore — intercepted a pass and was making a return. He was tackled and stayed on the ground before being helped off the field by trainers.
Sarkisian described the injury in his post-practice media session as a "knee tweak" and said he would know more Monday, but the diagnosis was worse than expected.
Ruffin (6-foot-3, 240 pounds) was playing the best football of his young career in the opening week of fall camp and was ready to be a major contributor in the rotation at the strongside linebacker spot, where he was locked in a fierce position battle with Quinton Powell. Ruffin also was expected to be a factor on special teams for the Trojans.
With fewer than 70 scholarship players in the final year of NCAA-mandated roster restrictions, the loss of a potential starter is a tough blow for the Trojans. The USC defense already was without reserve nose tackle Kenny Bigelow, who is out for the season with a knee injury suffered in summer workouts.
Ruffin had one start in 2013 with 22 tackles.
—–
August 10th
Arizona defense down three senior starters
From azdesertstorm.com … The Arizona Wildcats had yet another practice open for observation, and what I observed was a bunch of dudes walking the sidelines in yellow jerseys.
The Wildcats, especially the starting defense, are hurting big time right now. In addition to Jared Tevis, (a senior defensive back who is the Wildcats' leading returning tackler from 2013) who has sat out the last few days, Reggie Gilbert (a senior defensive lineman who is the Wildcats' leading returning sacker from 2013) is now hurt. Gilbert has an injured left foot, and was in a walking boot and using crutches Saturday night.
"We're gonna rest him for a few days and see what happens," Rich Rodriguez said afterwards.
There are several other injured second and third teamers, and Tra'Mayne Bondurant (a senior defensive back who led the Wildcats' defense in interceptions last season, who has been suspended indefinitely for violating team rules) has not returned to the field yet. This has resulted in a significant loss of depth for the defense during practice. Johnny Jackson, typically a receiver, is now trying out corner back because of this. He got a pass deflection tonight.
Also a notable injury during practice tonight was Jared Baker. After bouncing a carry out to the sideline and almost breaking out a huge run, Baker was tripped up along the sideline, and appeared to tweak his left knee. That is the same knee he injured last year. The running back did not take another snap the rest of practice after that.
——
NCAA President: NCAA will appeal O'Bannon ruling
From ESPN … In his first public comments since Friday's ruling, Emmert told ABC's "This Week With George Stephanopoulos" that college sports' largest governing body found a lot in the decision that was "admirable" and some parts they disagreed with so strongly that they could not let it go unchallenged in court.
"Yes, at least in part we will," Emmert said when asked whether the NCAA planned an appeal. "No one on our legal team or the college conferences' legal teams think this is a violation of antitrust laws and we need to get that settled in the courts."
The NCAA's decision to challenge the ruling is hardly a surprise.
Donald Remy, the organization's chief legal officer, had repeatedly said that if the NCAA lost, it would appeal the case all the way to the U.S. Supreme Court if needed. Many legal experts think this case could be heading that direction, though it's unclear whether the nation's highest court would take it.
"We remain confident that the NCAA has not violated the antitrust laws and intend to appeal," Remy said in a statement released following the television show. "We will also be seeking clarity from the district court on some details of its ruling."
Joseph Farelli, an attorney with the New York-based law firm of Pitta & Giblin who specializes in labor law, said the NCAA didn't have a choice after U.S. District Judge Claudia Wilken on Friday shot down the NCAA's argument that its model of amateurism was the only way to run college sports. Wilken wrote that football players in FBS schools and Division I men's basketball players must be allowed to receive at least $5,000 a year for rights to their names, images and likenesses, money that would be put in a trust fund and given to them when they leave school.
"I would expect them to appeal it because now you're going to have a permanent injunction that says the NCAA can't regulate what colleges do with their student-athletes," Farelli told The Associated Press. "If they don't appeal, now you have a federal court precedent."
If the NCAA allowed that decision to stand, Farelli said, it could lead to even more litigation against the NCAA on hot-button topics such as Title IX and whether there should be any cap on how much money athletes should receive.
Emmert acknowledged Sunday that Wilken's decision could lead to a fundamental shift in college sports.
Historically, the NCAA fares better in the appellate system. According to a study released last month by Illinois professor Michael LeRoy, student-athletes suing the NCAA won 49 percent of the initial cases but the NCAA won 71 percent of the appeals in both the second and third rounds.
—–
August 8th
Court rules against NCAA in O'Bannon lawsuit
From ESPN … In a landmark decision, a federal judge ruled Friday that the NCAA is in violation of the nation's antitrust laws by restricting the compensation that major college football and men's basketball student-athletes can receive for use of their names, images and likenesses.
U.S. District Court Judge Claudia Wilken, in a 99-page decision that followed a contentious three-week trial in June, sided with a group of plaintiffs, led by former UCLA basketball player Ed O'Bannon, who sued the NCAA, claiming it violated antitrust laws by conspiring with the schools and conferences to block the athletes from getting a share of the revenues generated from the use of their images in broadcasts and video games.
"The Court finds that the challenged NCAA rules unreasonably restrain trade in the market for certain educational and athletic opportunities offered by NCAA Division I schools," Wilken wrote in issuing an injunction prohibiting the NCAA from enforcing its rules on money given to athletes when it comes to their names, images and likenesses.
Wilken rejected the NCAA's arguments in defense of its economic model, saying the "justifications that the NCAA offers do not justify this restraint and could be achieved through less restrictive means" while preserving college sports competition.
In a partial victory for the NCAA, though, Wilken said it could set a cap on the money paid to athletes for use of their names and images, as long as it allows at least $5,000 per athlete per year of competition for players at big football and basketball schools.
"The NCAA's witnesses stated that their concerns about student-athlete compensation would be minimized or negated if compensation was capped at a few thousand dollars per year," Wilken wrote.
The compensation will be paid into a trust fund. However, if a school does not try to sell anything with the players' names, images and likenesses, there will be no money to pay into the trust fund. A player then would be limited to his cost-of-attendance scholarship.
Any payments to athletes would not be immediate. The ruling said regulations on pay will not take effect until the start of the next Football Bowl Subdivision football and Division I basketball recruiting cycle. Wilken said they will not affect any prospective recruits before July 1, 2016.
—–
Boise State president blasts NCAA autonomy vote
From the Idaho Statesman … The NCAA Board of Directors voted 16-2 on Thursday to approve a historic package of changes that allows the five richest football conferences — the ACC, Big Ten, Big 12, Pac-12 and SEC — to unilaterally change some of the rules that have applied to all Division I schools for years. The 65 universities in those leagues will also benefit from a new, weighted voting system on legislation covering the 350 schools in Division I.
Boise State is a member of the Mountain West, one of five Football Bowl Subdivision conferences outside of the Power 5.
"For those who already think that Division I athletics has devolved into a business that too often dictates university priorities rather than the other way around, it's about to get worse. These elite programs will bear less and less resemblance to amateur athletics and the mission and role of a university. No one should think it will stop here," Kustra said in a statement.
"This entire issue of increased autonomy for the resource five conferences should not be viewed as an intramural fight within Division I. No president within Division I should be in favor of these changes. They take Division I athletics down the wrong road to professionalism and brands the entire division as beyond the control and oversight of universities and the boards who govern them."
A handful of university presidents who spoke at NCAA headquarters after the vote agreed on one thing: Paying athletes to play is off the table. And it's very unlikely that the five leagues will design their own policies when it comes to infractions.
But there's a good chance the five leagues will take steps to add money to scholarships or craft an athlete stipend intended to help cover the so-called full cost of attending college — costs beyond tuition, room and board and books and supplies. That will be millions more in spending by leagues that are already partners in multimillion-dollar TV contracts to show off their top sports of football and basketball, raising fresh concerns about an arms race in college athletics by some, including Kustra.
It is not the first time Kustra has voiced criticism of the proposed changes.
The Mountain West, Sun Belt, Conference USA, American and Mid-American Conference are the FBS conferences outside the Power 5.
"The Mountain West appreciates the efforts of the Division I Steering Committee and chair Nathan Hatch in developing a governance structure that meets the needs of Division I as a whole. Adoption of the new governance model will allow Mountain West institutions to determine how best to meet the needs of their student-athletes while continuing to provide opportunities to compete at the highest level of collegiate athletics. Student-athlete welfare and academic excellence have always been paramount in the Mountain West and will continue to be at the forefront of the discussion as we enter this new era of Division I," Mountain West Commissioner Craig Thompson said.
"The Mountain West already has begun to involve student-athletes in its governance structure with the participation of two student-athletes at its spring 2014 Board of Directors meeting. This type of engagement will further enhance the overall experience of the student-athlete. The Mountain West membership has been actively engaged in conversations about the governance redesign for some time and we look forward to continuing the dialogue throughout the implementation phase of the new structure."
Said Sun Belt Commissioner Karl Benson: "Today's vote by the NCAA Board of Directors is historic, but our universities have understood for some time that there will more than likely be an increase in the cost of operating their athletic programs. There will be challenges, but Sun Belt universities have invested too much not to be part of major college sports in the future."
Already this year, the NCAA has agreed to settle two lawsuits for a combined $90 million and still awaits a judge's decision on a federal lawsuit in which plaintiffs led by Ed O'Bannon have argued college sports' amateurism rules are anti-competitive and allow the organization to operate as an illegal cartel. Also pending is a decision by the National Labor Relations Board on whether Northwestern football players can form what would be the first union for college athletes in U.S. history.
——-
August 7th
Power Conferences granted autonomy
From ESPN … The NCAA Division I board of directors on Thursday voted to allow the 65 schools in the top five conferences to write many of their own rules. The autonomy measures — which the power conferences had all but demanded — will permit those leagues to decide on things such as cost-of-attendance stipends and insurance benefits for players, staff sizes, recruiting rules and mandatory hours spent on individual sports.
The Power Five (the ACC, Big 12, Big Ten, SEC and Pac-12) could begin submitting their own legislation by Oct. 1 and have it enacted at the January 2015 NCAA convention in Washington, D.C. Key early issues are expected to include full cost-of-attendance stipends worth up to $5,000 per player; four-year scholarship guarantees; loosened rules involving contact between players and agents as well as outside career pursuits for players; and travel allowances for players' families to attend postseason games.
A new 80-member voting panel, which will include 15 current players, will determine policies for the five leagues. The power conferences will also carry more voting power on general NCAA matters.
Areas that will not fall under the autonomy umbrella include postseason tournaments, transfer policies, scholarship limits, signing day and rules governing on-field play.
If 75 schools from outside the Power Five vote to override the autonomy legislation in the next 60 days, the measures would be sent back to the board of directors for further consideration. But NCAA officials don't expect that to happen. Power Five commissioners have made veiled threats about breaking off to form their own division if autonomy fails.
–
Pac-12 press release on the topic
From the Pac-12 … The Pac-12 Conference will join the other four major conferences as they pro-pose, adopt, and implement positive reforms that have been made possible by today's vote to give the five major conferences greater flexibility in governance, Commissioner Larry Scott said today immediately after the NCAA Division I Board of Director's vote.
Scott expressed optimism that the five conferences would achieve consensus as they work together to submit proposals to the NCAA this fall. He said the goals of the Pac-12 in those discussions would reflect the goals recently articulated by Pac-12′s Presidents and Chancellors in their 10-point plan intended to address the welfare of today's student-athletes. Those goals range from financial concerns of scholarship to injury prevention and health care, while insisting upon the preservation of the primacy of the universi-ties' educational mission.
"We are delighted that after years of debate, a consensus has emerged that the time has come for a modern approach to governance that recognizes the need to give more flexibility to those conferences prepared to do more for student-athletes and, at the same time, preserves the collegiate model which works so well for the vast majority of Pac-12 student-athletes," said Commissioner Scott. "This is a great day for the 7,000 current student-athletes in the Pac-12 and for generations of future student-athletes who will benefit from the educational opportunities and life lessons made possible by college athletics."
Scott also said he is pleased that this major step forward was possible within the larger tent of Division I college athletics.
Dr. Elson S. Floyd, President of Washington State University and Chair of the Pac-12 CEO Group, said, "This new model will allow our conference, which has always coupled academic and athletic excellence, to continue to maintain those high standards while adapting to the changing needs and expectations of our student-athletes and our universities. We plan to address needs across the full range of sports, for both men and women, and reinforce something all of our university leaders emphasized earlier this year: education must come first."
Scott said he expects the Pac-12 to join with the other major conferences affected by the this new govern-ance model to propose, adopt, and implement new rules that would allow schools to consider the "total cost of attendance" when calculating the dollar amount of scholarships. He also said this increased flexi-bility would enable the major conferences to further support modern student-athlete needs and ensure that they obtain meaningful college degrees.
"Our goals are consistent with the tradition of collegiate athletics that, for generations, has provided for a high level of competition while providing for the education of many thousands of student-athletes across a wide variety of sports," Scott said. "I commend our Presidents and Chancellors, especially Dr. Gene Block of UCLA, a member of the NCAA Steering Committee on Governance, for the leadership they have shown in reaching this milestone. I'm confident they will continue to show leadership as we move forward."
–
Power Five conference coaches in favor of exclusive scheduling
From ESPN … Many of the Power Five conference coaches in college football told ESPN that they favor a schedule consisting of only Power Five opponents.
Of the 65 Power Five coaches from the ACC, Big Ten, Big 12, Pac-12, SEC and Notre Dame, 46 percent (30 coaches) favored playing exclusively Power Five opponents while 35 percent (23 coaches) were opposed. About 18.5 percent (12 coaches) were undecided.
The coaches, who were in Bristol, Connecticut, last month, were asked whether they would favor all Power Five conferences playing their respective conference schedules and then scheduling all nonconference games against other Power Five teams. Because of the tougher schedules under this hypothetical scenario, teams would not be required to reach six wins to play in a bowl.
The Pac-12, Big 12 and SEC coaches favored playing all Power Five opponents, while the ACC coaches were against it by a 6-4 margin with four coaches undecided. Big Ten coaches were divided: Six each were for and against it, with two undecided.
Alabama coach Nick Saban said "fans want" Power Five teams playing exclusively Power Five opponents.
"We need to be more concerned about the people who support the programs and the university and come and see the games," Saban said. "Those are the most important. But we never think about that."
Coaches from the Pac-12, whose schools already play nine league games, were the biggest proponents of a Power Five-exclusive schedule: seven in favor, one against and four undecided.
The Pac-12 coaches, such as Stanford's David Shaw, prefer the Power Five-only schedule model because they want each conference to play the same type of schedule. The Pac-12 is the only league that plays nine conference games and has a league title game.
Arizona's Rich Rodriguez, the lone dissenting Pac-12 coach, said "some of those [Group of Five teams] are better than the so-called 'haves' [Power Five teams]."
The Group of Five FBS conferences are the American, Conference USA, Mid-American, Mountain West and Sun Belt.
A couple of coaches in favor of Power Five-only opponents suggested having future nonconference opponents determined by how each team finished in its conference the previous season, similar to the NFL's scheduling model.
Arizona State's Todd Graham, who was in favor, echoed Saban's comments that fans prefer the Power Five teams playing one another.
"Fans want to see those games," Graham said. "Players want to play in them, and coaches want to coach in them."
Big 12 coaches favored it by a 6-4 margin, but Kansas State's Bill Snyder was against it. Snyder's reasoning was that the Wildcats annually need seven home games because of the amount of money brought into the Manhattan, Kansas, community. By playing only Power Five opponents, Snyder said K-State would not be able to schedule seven home games each season.
——
August 6th
CBS columnist Dennis Dodd: Pac-12 benefits the most from the new playoff system
From CBS Sports … Who benefits most? The undefeated. A four-team playoff basically will include any undefeated Power 5 team. You go 12-0 (or 13-0) you're in. That is, unless the Pac-12, Big 12, ACC, SEC and Big Ten each produce an undefeated champion. In the BCS era, that never happened. There were never more than three undefeated Power 5 teams.
So in that sense the same rules from the BCS apply …
"As soon as you lose a game you've lost the right to be the lead speaker," Oregon coach Mark Helfrich said.
Who benefits most Part II? On the conference level, it's clearly the Pac-12.
Seventeen times in 16 seasons, the Pac-12 (previously the Pac-10) had a team ranked third through six in the BCS. That's a sensible cutoff considering we already know the SEC dominated the top two. But what about teams below the top two that would have been under consideration for a four-team playoff?
Seven of those 17 Pac-12 teams finished third or fourth. The SEC and Big 12 were tied for second, landing teams in spots four through six 13 times. The Big Ten was fourth with 10.
On the surface, four teams is better than two. More access, one more game. More fairness? In one sense, the same old arguments will rage. The debate now goes from who's No. 3 to who's No. 5, No. 6, even No. 7.
When do we go to eight? CFP and ESPN officials maintain 12 years is 12 years, meaning the four-team bracket would not change until at least the 2026 season.
But experts/fans/journalists in some degree agree that an eight-team playoff is inevitable. And soon. An eight-teamer could conceivably accommodate the champions of the Power 5 conferences (Big 12, Pac-12, SEC, ACC, Big Ten) as well as two at-larges and an automatic qualifier from the Group of Five (Conference USA, Mountain West, MAC, Sun Belt).
The problem would be wedging all that in between Christmas and the second week of January. Wait, isn't that what we're doing now?
The rich get much richer: There is no limit to how many teams from a conference can get in. Conceivably, the SEC could get two (or more) in the top four as well as four (or more) sprinkled throughout the New Year's Six.
The committee will stay away from rematches but can't guarantee it. We can celebrate/dread the SEC's dominance, but let's see the national reaction the first time there's an Alabama-LSU rematch in the national championship game. Many consider a 2011 rematch of those teams the final straw in BCS outrage.
Realignment problems: Size matters in that conferences have become too big. It used to be that league champions were easy to determine. Everyone played everyone, round-robin. There was always a head-to-head game to decide a tie. To paraphrase the Big 12: There was always one true champion.
In this age of divisional play, the committee's biggest headache may be dealing with these super conferences. In any given season a deserving playoff team may not so much as win its division. Fair? (Talking to you Alabama in 2011 and 2013.)
Recusal: It's becoming clear why the CFP decided on minimal recusal policy for the committee. Using the bare-bones policy in existence, at least five current members would be ineligible to consider their teams. The policy recuses any member who is getting money from any school under consideration.
Teams of four schools directly related to committee members (USC, Nebraska, Clemson and USC) are currently ranked. If Arkansas somehow gets ranked, those five schools would account for one-fifth of the current coaches' poll.
ESPN.com reported Osborne already has been recused from voting on Nebraska. More recusals are expected next week.
Schedule strength: Seems to be a study in gum-flapping futility. The committee has said it will value conference champions (see above) and schedule strength. But what is schedule strength? After all these years we still don't know how the committee will consider the five different scheduling philosophies of the Power 5.
The Pac-12 and Big 12 play nine conference games. The Big Ten (for now), SEC and ACC play eight. The Big 12 doesn't have a championship game. The SEC and ACC have mandated a nonconference game against a Power 5 opponent. A national debate rages over the scheduling worthiness of BYU.
Things are better in our favored sport, you may have noticed, but they're not fixed.
Isn't it great?
——
August 5th
Rams pick up transfer running back from Alabama
From the Coloradoan … Former Alabama running back Dee Hart is officially part of the CSU football program.
Hart, 5-foot-9, 190 pounds, practiced with the Rams on Monday afternoon during their first workout of the fall. During the portion of practice open to media, Hart was taking snaps with the second-string offense, but Colorado State University coach Jim McElwain said to not read too much into that and that he has plenty of work to do.
Redshirt freshman Bryce Peters and junior Jasen Oden were splitting reps with the No. 1 offense.
Hart had 22 carries for 78 yards and a touchdown at Alabama in 2013. He's a former five-star recruit and knows McElwain from when he was Alabama's offensive coordinator from 2008-11. Hart will be eligible to play this season and has two years remaining.
"Coach Mac has always been one my favorite coaches I've ever played for, and that's from the bottom of my heart. He gave me a big opportunity to come and play for him," Hart said. "It goes way back, even before Alabama. He recruited me, came to my house and told me exactly what he wanted from me.
"I'm a pretty good running back, and I've always been confident in myself, but the guys I'm surrounded with here, we've been helping each other … (Oden) and these guys have been helping me get acclimated, especially to this weather."
Hart was slowed at Alabama due to multiple knee injuries, which hurt his chances of climbing the depth chart. He also had a run-in with the law in February, when he was arrested for marijuana possession, but McElwain said he knows the kind of person Hart is and that he's learned from his mistakes. McElwain added that there's no guarantee Hart will be his starting running back, saying that he'll have to earn it, just like everyone else.
Running back was a position where the Rams needed help this season, after losing redshirt sophomore Kapri Bibbs when he decided to enter the NFL draft and later was signed by the Denver Broncos as an undrafted free agent. His 1,741 rushing yards and 31 touchdowns were a single-season record for CSU.
—–
August 4th
Cal named in wrongful death lawsuit
From ESPN … The family of Ted Agu, a Cal player who died after a training run with teammates in February, will file a wrongful death lawsuit against The Regents of the University of California.
A news conference will be held Tuesday at the Alameda County Courthouse in Oakland to announce the suit.
Agu, 21, was on a supervised run with teammates near Memorial Stadium on Feb. 7 and struggled to finish. According to Cal team physician Casey Batten, members of the training staff recognized that Agu was struggling, pulled him out of the run and transferred him by cart to the team's medical facility inside the stadium.
"He was on the back of the cart, he was talking, he was hydrating, he did not exhibit any labored breathing or other signs until he got to the north tunnel," Batten said in February.
Agu collapsed around 7 a.m. CPR was administered, and he was taken to Alta Bates Summit Medical Center, where he was pronounced dead.
A release from the Agu family's lawyers, Panish Shea & Boyle, states, "Despite the symptoms which clearly could and should have been observed, UCB coaches and trainers failed to immediately come to Agu's assistance. It was only after Agu struggled and encountered obvious difficulties for a significant period of time that intervention occurred and he was placed on a cart and taken back towards the stadium, where he collapsed for the last time."
The release also states, "During the course of the conditioning drill, Agu experienced dizziness, shortness of breath, loss of balance, and other signs of extreme fatigue that were clearly symptomatic of the sickling process."
CBSSports.com reported in February, citing an unnamed source, that Agu had the sickle cell trait.
—–
August 3rd
Arizona loses 30-game starter at safety
From Tucson.com … Arizona coach Rich Rodriguez announced after practice tonight that senior safety Tra'Mayne Bondurant is no longer with the team.
Rodriguez said Bondurant had some discipline issues in the offseason and was punished. He never fulfilled some of the requirements of his punishment and this morning, he informed safeties coach Matt Caponi that he was leaving the team.
"Tra'Mayne Bondurant had some discipline things that he had to do, and he chose to leave the program, so he's no longer a Wildcat as of today," Rodriguez said. "You can do the discipline and be part of the team, or, I never lock the doors from the inside out. The doors are never locked."
Rodriguez did caution his status could change because he hadn't talked to Bondurant face-to-face since the safety decided to leave.
"I wouldn't say no chance (he doesn't return) because his position coach has talked to him, but I haven't," Rodriguez said. "He had some discipline to do and he decided to quit instead. So that's where we're at."
If the loss is permanent, it's a significant one for Rodriguez and Arizona.
Bondurant started 30 games over the first three seasons of his career and played in 36 games total. Last season, Bondurant had 72 tackles, including seven for a loss and added four interceptions, two sacks and five pass breakups.
As a sophomore, Bondurant's numbers were just as good, if not better with 74 tackles, 11 ½ tackles-for-loss, seven pass breakups and two interceptions.
For his career, Bondurant posted 191 tackles, 22 tackles-for-loss and seven interceptions. Bondurant missed a pair of games over the past two seasons because of injury, but had never been suspended for any issues.
——
July 31st
Oregon introduces "scratch-and-sniff" season tickets
From College Spun … Oregon football tends to spice things up with their season tickets, but the Ducks are really taking things to a new level this season. Where past tickets have featured cool textures or holograms, this year's tickets are apparently scratch and sniff.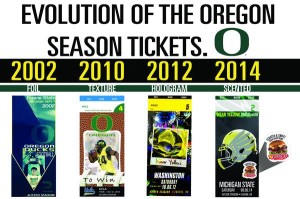 The ticket shown features a Carl's Jr. logo, so it stands to reason that it smells like a burger. What scents will the other tickets have? We're excited to find out.
—–
July 30th
UCLA's Pauley Pavilion flooded
From UCLA … Parts of UCLA's campus were impacted by a water main break on Sunset Blvd. on Tuesday afternoon. Athletic Director Dan Guerrero provides an update on UCLA's athletic facilities affected:
"At this hour, we are still gathering information and, to the extent possible, assessing the damage to our athletic facilities affected by the water main break. Regarding specific inquiries and concerns about Pauley Pavilion, most people are aware by now that the floor and locker rooms sustained significant flooding. The water will be removed from the floor tonight. We will then reassess the situation tomorrow morning and be able to provide additional information at the appropriate time."
For the latest information on the water main break, visit UCLA Newsroom.
—–
July 29th
Cal coach Sonny Dykes – We're going to be competitive
From the San Jose Mercury News … No one is more excited than Cal that a new college football season is at hand.
"I can't stress how happy we are to have last year in the past and to be where we are now," sophomore quarterback Jared Goff said Wednesday at Pac-12 media day. "We can see the growth — mentally, physically. It's a different team. It's not even remotely the same team as last year."
Coming off a 1-11 season, the Bears open Aug. 30 at Northwestern. Coach Sonny Dykes said fans will have no trouble seeing the difference in his squad.
"We were so bad last year, I think the improvement's going to be pretty obvious," Dykes said. "We weren't very competitive last year in a lot of games. That's going to be the biggest difference, competing in games, giving ourselves an opportunity to win.
"What happened so often last year is midway through the first quarter you'd look up and we were down by 21 points. I think it's going to be obvious to everybody — our fans, our opponents — that we're going to be a much-improved football team."
The Bears were winless against Football Bowl Subdivision opponents and their defense allowed nearly 46 points per game.
Goff, who passed for a school-record 3,508 yards as a true freshman, said the 2013 fiasco was an offseason motivator, but that players are no longer dwelling on the past.
"It's behind us. We're no longer thinking about last season," he said. "We're excited to move forward, make a new brand for ourselves."
–
NCAA settles lawsuit by setting up $70 million program to test for brain injuries
From ESPN … A filing in federal court in Chicago on Tuesday notified a U.S. district judge that lawyers for former college athletes and the NCAA reached a settlement in a class-action lawsuit after nearly a year of talks. Here's a rundown:
KEY TERMS: The NCAA will fund a $70 million program to test current and former athletes for brain injuries. It'll also establish a common return-to-play policy all schools must follow. And it agrees to mandate baseline neurological tests for athletes to help determine the severity of any concussion during the season.
WHO IS COVERED: Men and women who played football, ice hockey, soccer, basketball, wrestling, field hockey and lacrosse. Both current and former players going back at least five decades who suffered concussions or suspect they did also qualify to be tested.
ARE DAMAGES INCLUDED? No. There is no lump sum set aside to pay damages to athletes who suffered debilitating head injuries. However, plaintiffs' lawyers reserve the right to sue for damages on behalf of individual athletes, and the NCAA-funded testing program could help identify candidates for such claims.
WHAT'S NEXT: A federal judge in Chicago must first grant preliminary approval. Before final approval, he will hear from athletes nationwide — some of whom could object to the settlement terms. It's not unusual for a judge to order changes before giving a final OK
—-