Pac-12 Notes
—
July 28th
UCLA loses starting punter to academics
From the Los Angeles Times … UCLA punter Sean Covington has left the program because of academic eligibility issues, according to a person in the program who was not authorized to speak publicly on the matter.
The 6-foot, 218-pound sophomore averaged 41.9 yards per punt last season and handled half of the Bruins' kickoffs.
Matt Mengel, a punter who played at Long Beach City College, will join the team as an walk-on.
——
Oregon's Marcus Mariota will be able to focus on football this fall
From Sports Illustrated … Student-Athlete Marcus Mariota spends his free time playing quarterback for the Oregon Ducks football team when he is not hitting the books. And what subjects will he be focused on this fall: Golf and Yoga.
Mariota surprised many when he announced he would be returning to Eugene for one more season as a redshirt junior. The Heisman hopeful actually grabbed his degree last spring and has no more course requirements to fulfill, so he had the flexibility to take whichever classes he wanted.
It would be easy to mock Mariota or Oregon for the light course load, but there is always the chance that he is taking the classes for his graduate dissertation, "Pastimes of the Idle Rich".
—–
July 27th
Coloradoan: Sixty percent of those surveyed opposed to on-campus stadium
From the Coloradoan … Nearly 60 percent of those who responded to a Coloradoan survey about the proposed on-campus stadium at Colorado State University indicated they do not want the project to move forward.
With just three months until CSU's self-imposed deadline to decide whether it will build on campus, 59.12 percent of respondents indicated they did not want it to be built, 37.2 percent of respondents were in favor of the project and 3.68 percent were neutral.
The pro-stadium response was in line with a survey Colorado State University published in March 2012 that found 37.1 percent in favor of a stadium. In CSU's survey, 42 percent were opposed and 20 percent said they were conflicted or needed more information.
CSU has said the proposed stadium would be built using private funds. A decision from CSU president Tony Frank on if the university should move forward with the $254 million project is expected by October.
Athletics is responsible for approximately $220 million of the cost of the stadium — the rest of the cost is for classroom space — and Frank has said half of that must be raised in donations before approval is granted. CSU told The Coloradoan last week that as of June 30, it had secured $24.2 million in donations.
The Coloradoan's survey was open for two weeks in July. There were nearly 6,500 responses to 10 questions. Additionally, more than 3,000 respondents elected to add comments detailing their position on the issue.
FULL RESPONSES: Coloradoan on-campus stadium survey
–
Utah loses junior college wide receiver commit
From the Salt Lake City Tribune … Utah recruiting target Brandon Snell tweeted Saturday that he is no longer verbally committed to Utah and will explore other options.
Snell was a second-team NJCAA All-American last season at Garden City Community College in Kansas, making 72 grabs for 841 yards and 10 touchdowns.
Utah safeties coach and recruiting coordinator Morgan Scalley told The Tribune earlier this month that receiver was a top priority for Utah's 2015 class.
Dres Anderson, Kaelin Clay, and — with a big season that draws NFL interest — Kenneth Scott could potentially leave the program after this season.
Another wideout commit, Donzale Roddie, recently tweeted that he was hoping to garner another offer. If Roddie left, that would leave Justice Murphy and possibly one or both of DB/WR combos George Wilson and Michael Jacquet to reload in 2015.
—–
July 25th
CSU has raised $24.2 of $110 million fund-raising goal … with an October deadline
From the Coloradoan … CSU's record-breaking year for fundraising includes $17.7 million in donations for a proposed on-campus stadium, university officials said Thursday.
CSU raised $143.3 million during the 2013-14 school year from an all-time high of 33,716 donors supporting university goals ranging from enhancing veterinary medicine and increasing access to student financial aid to winning on the football field.
As of June 30, CSU had raised $24.2 million to go toward the stadium project, said Brett Anderson, vice president of advancement.
"These are formally binding document numbers," he said. "These are pretty much good-as-gold-type numbers."
CSU also has a "significant number" of verbal commitments from people who want to give money, Anderson said, noting those will "take time to work through the process." Some may be one-time payments, stocks or transfer of securities, he said.
These verbal commitments fill in the gap between the $24.2 million CSU has gathered and the $40 million CSU President Tony Frank told CSU System governing board members in April had been raised as of Jan. 28, 2014.
To gain approval to build the on-campus stadium, $110 million must be raised in private donations — half of what athletics is required to cover of the $254 million project. If $110 million isn't raised by the October 2014 deadline, CSU president Tony Frank can go to the Board of Governors and ask for an extension if fundraising is showing significant progress.
Athletics Director Jack Graham on Wednesday told a group of Fort Collins business leaders that fundraising efforts were going "very well."
—–
Washington quarterback Cyler Miles suspended for 2015 season opener
From the Seattle Times … Washington sophomore quarterback Cyler Miles has been suspended for the season opener at Hawaii, UW coach Chris Petersen told The Seattle Times.
Miles, the overwhelming favorite to replace three-year starter Keith Price as UW's starting quarterback this year, was linked to two assaults in post-Super Bowl incidents on the UW campus Feb. 2, but he was not ultimately charged. Miles served a three-month suspension, missing all of spring ball. Petersen reinstated Miles on May 14.
Receiver Damore'ea Stringfellow pleaded guilty to two counts of misdemeanor assault in the post-Super Bowl incidents, and his attorney told a King County judge that Stringfellow was "backing up his quarterback" during the altercations. In the first incident, Stringfellow admitted knocking down a young woman "in a harmful manner" at a celebratory bonfire after the Seahawks' Super Bowl victory over the Denver Broncos. The woman, who was taking photos of the bonfire celebration, briefly lost consciousness after the altercation with Stringfellow.
Miles, who was wearing Broncos gear, was also present at the bonfire. Less than an hour later, Stringfellow and Miles, according to the charging documents, got out of a car, chased a Seahawks fan and assaulted him. Prosecutors did not pursue charges against Miles because of insufficient evidence.
UW announced in May that Stringfellow would transfer to another school.
With Miles suspended, sophomore Jeff Lindquist and redshirt freshman Troy Williams shared quarterback reps during spring ball, and one of them will surely start against Hawaii. Neither has attempted a pass in a college game. Incoming freshman K.J. Carta-Samuels is the only other quarterback on the UW roster.
Miles, a sophomore from Centennial, Colo., near Denver, started one game for the injured Price in 2013, helping the Huskies to a 69-27 victory at Oregon State. For the season, he appeared in eight games, completing 37 of 61 passes for 418 yards with four touchdowns and two interceptions. He also ran for 200 yards on 23 carries.
——
July 24th
Larry Scott renews call for reform
From the Pac-12 … Pac-12 Commissioner Larry Scott rejected the idea of treating football and men's basketball student-athletes as employees, but stressed the need to improve financial support for student-athletes while addressing the media Wednesday at Pac-12 Football Media Day.
"What's at stake is much more than student-athletes being employees," Scott said in his welcoming remarks. "You can't design a system around the two percent" of Pac-12 football players who make the NFL.
Scott said treating student-athletes as employees would be detrimental to women's sports and Olympic sports. The Pac-12 sponsors 22 sports, and 36 varsity sports are played among Pac-12 schools.
He also emphasized his support for improved academic, financial and medical care of student-athletes across the board, standing behind a call for reform by presidents and chancellors of Pac-12 schools to offer scholarships that cover the full cost of attendance, give student-athletes ample time to finish their degrees and decrease the time demands placed on student-athletes. Scott mentioned that the Pac-12 has committed $3.5 million per year over the next three years to a Pac-12 Student-Athlete Research Program that will include a Head Trauma Task Force to focus on medical concerns such as concussions.
"It's time to make some significant changes," Scott said. "We are at the precipice of making some very important changes in college sports.
—–
July 20th
Big 12 commissioner: "Cheating pays" in the NCAA
From ESPN … Big 12 commissioner Bob Bowlsby says "cheating pays" in the NCAA these days and doesn't foresee things getting much better in the future.
During his annual state-of-the-league address from Big 12 media days Monday, Bowlsby slammed the NCAA, notably the enforcement wing of college sports' governing body.
"Enforcement is broken," he said. "The infractions committee hasn't had a hearing in almost a year, and I think it's not an understatement to say cheating pays presently. If you seek to conspire to certainly bend the rules, you can do it successfully and probably not get caught in most occasions."
Bowlsby added that he didn't think cheating was necessarily rampant in college sports. But he painted a bleak outlook for the future NCAA.
"We certainly are operating in a strange environment in that we have lawsuits," he said, "plus we have the [O'Bannon v. NCAA] lawsuit. I think all of that in the end will cause programs to be eliminated. I think you'll see men's Olympic sports go away as a result of the new funding challenges that are coming down the pipe. I think there may be tension among and between sports on campus and institutions that have different resources. It's really unknown what the outcomes will be."
Bowlsby, however, came to the defense of the collegiate model, which has come under criticism. He argued against the unionization of college athletes, noting that in his opinion, "student-athletes are not employees." He also said it wouldn't be fair to pay football players but not female student-athletes.
"It is hard to justify paying student-athletes in football and men's basketball and not recognizing the significant effort that swimmers and wrestlers and lacrosse players and track athletes all put in," he said. "Football and basketball players don't work any harder than anybody else; they just happen to have the blessing of an adoring public who is willing to pay for the tickets and willing to buy the products on television that come with the high visibility.
"We have both a legal obligation and a moral obligation to do for female student-athletes and male Olympic sports athletes just exactly what we do for football and basketball student-athletes. I don't think it's even debatable."
—–
July 19th
NCAA to help undergraduates stay in school
From CBS Sports … In an effort to regulate the number of underclassmen declaring for the NFL Draft, the league is in the process of initiating new protocols to improve the information provided to college prospects so they can make informed decisions.
According to an NFL.com report, NFL Executive Vice President Troy Vincent sent a memo to college coaches this week outlining new rules for the way underclassmen (at least three years removed from high school) can get request information. Among the guidelines are two fundamental changes: who can request a grade and the grades that are provided by the College Advisory Committee (CAC).
To this point, any draft-eligible underclassman could request an NFL grade from the board – with close to 250 underclassmen asking for feedback for the 2014 NFL Draft. Now, each school is limited to no more than five players who can submit for draft grades. However, some schools can ask for more than five in special situations.
The other major change is the draft grade underclassmen receive from the advisory board. In the past, there were five categories: first round, at least second round, at least third round, fourth-sevenths rounds or undrafted. Now, there will be only three: first round, second round or stay in school.
"We want the kid to make an informed decision," Vincent said, per NFL.com. "Use our resources, make an informed decision. Each institution has those resources for every prospect and every head coach. The numbers and the facts speak for themselves."
There is a variety of reasons why players decide to declare early for the NFL, and most of them are financially driven. But the NFL believes more players will think twice about leaving school early with the new guidelines, and it will give college coaches more discussion points when attempting to convince players to stay in school.
——
July 17th
Arizona State may start camp without four members of the Recruiting Class of 2014
Of course, the Class ranking for Arizona State will never be revised downward …
From azcentral.com … In February, coach Todd Graham signed Arizona State's first top-25 recruiting class in six years, but with just more than two weeks before the start of preseason camp, the Sun Devils still are waiting for the last members to join them.
Freshman linebacker Ismael Murphy-Richardson, freshman running back Demario Richard, junior-college running back De'Chavon Hayes and junior-college defensive tackle Dalvon Stuckey still have not been academically cleared.
Murphy-Richardson, Richard and Hayes are expected to report soon, but Stuckey still has much to do, making his situation more difficult to predict. Ranked by ESPN.com as the nation's No.8 junior-college prospect, Stuckey, if he is cleared, is expected to compete for a starting position on ASU's defensive line, where the Sun Devils are replacing four starters.
The Sun Devils recently learned Darrius Caldwell — Stuckey's teammate at Pearl River Community College in Hattiesburg, Miss. — will not join them for academic reasons. Caldwell was expected to compete at ASU's Devil-backer position.
Perhaps in a corresponding move, ASU has added Emanuel Dayries to its 2014 recruiting class. The 6-foot-4, 270-pound defensive tackle from New Orleans should be ready to go when preseason camp kicks off Aug.1.
Dayries played at O. Perry Walker High in Louisiana. Rivals and 247 Sports both ranked Dayries as a two-star prospect.
Last season, ASU got all of its incoming class in school.
—–
July 16th
USC to take on Alabama in the 2016 season-opener
From ESPN … Alabama and USC will launch their 2016 seasons on Sept. 3 at AT&T Stadium in Arlington, Texas.
The Cowboys Classic will mark the eighth meeting between the programs. Alabama got the best of USC the last time the teams met, winning 24-3 in the 1985 Aloha Bowl.
The game against the Trojans is the latest of the Crimson Tide's high-profile neutral-site openers. Alabama will play West Virginia in Atlanta this season and Wisconsin in Arlington in 2015.
By adding the nonconference tilt with USC, Alabama fulfills its new obligation from the SEC to begin scheduling at least one nonconference game against a Big Five conference opponent starting in 2016.
Last summer, Alabama canceled a previously scheduled home-and-home series with Michigan State for 2016 and '17. Tide athletic director Bill Battle said at the time that the move was done because of "the uncertainty of conference football schedules in those years."
But according to coach Nick Saban, he tried and failed to persuade the Spartans to move the game to a neutral site.
The 2016 game between Alabama and USC could feature an interesting storyline. Lane Kiffin, who was fired by USC last fall, joined the Crimson Tide as offensive coordinator in January.
Alabama won the last time it played at AT&T Stadium, beating Michigan 41-14 to kick off the 2012 season.
–
UCLA adds "LA Steel" uniforms
From UCLA … UCLA and adidas today unveiled a new TECHFIT football alternate uniform for the 2014 season.
The new "LA Steel" look marks the first grey uniform in school history. The Bruins' jerseys and pants are rendered in rich dark onyx grey and feature ultra-light metallic embellishments that shimmer, paying tribute to the bright lights of Los Angeles. UCLA's famous shoulder stripes complement the city skyline that appears on the sleeves of the TECHFIT compression base layer and the UCLA script mark on the pants. The uniform numbers are inspired by UCLA's own signature stripes.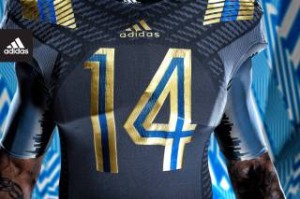 UCLA's new alternate uniform also features TECHFIT Shockweb technology, one of the most advanced compression systems in the industry. Shockweb clings tightly to the body, making players more difficult to tackle. TECHFIT's lightweight material allows players to perform at the highest levels by making them faster and increasing their range of motion.
——
July 15th
Arizona newspaper breaks down the CU/Arizona matchup
From the Arizona Daily Star … Before the 2013 season, Rich Rodriguez was asked about his defense, which gave up 499 yards per game and more than 35 points a contest in 2012. His answer was witty and accurate.
"The good news is we return a lot of guys," Rodriguez said. "And the bad news is we return a lot of guys."
Colorado coach Mike MacIntyre, in his second year with the Buffaloes, might want to steal that quote. Colorado went 4-8 last season and 1-8 in the Pac-12. Seven of its eight losses were by double-digits and the Buffs gave up more than 40 points in seven of their nine conference games.
But MacIntyre returns 57 players and 16 starters from that team, which — as Rodriguez said a year ago — can be both good and bad.
The Buffaloes have two winnable games to open the season and then host Arizona State in a critical early-season contest. Will all the returning players help or hurt the Buffs?
We'll know soon enough. Before we do, here's a closer look at the Buffaloes:
Game vs. UA: Saturday, Nov. 8.
Where: Arizona Stadium
Last year's record: 4-8
Projections: Most national analysts are in agreement about the Buffs: They should be more competitive and a tad more talented this season, but are still a year or two away from being able to get to a bowl game. Phil Steele, the Sporting News and Lindy's all project the Buffaloes to finish last in the Pac-12 South. But all had positive things to say about the Buffaloes, who had a three-win improvement last season. Lindy's wrote about the Buffs: "Colorado lost six games by 20 points or more during the 2013 campaign, but it should be more competitive in MacIntyre's second season. It's tough to see this team winning more than four or five games unless a lot goes its way." The Sporting News was a bit more succinct on Colorado's bottom line: "The Buffs still need big help to get multiple wins in the Pac-12."
Three names to know
Linebacker Addison Gillam: As a true freshman last season, Gillam may have been Colorado's best defensive player. The 6-foot-3-inch, 225-pound linebacker led the team with 107 tackles, including 6½ for a loss. He also added three sacks and an interception. The middle linebacker will serve as the leader of Colorado's defense this year, and should be even better than last season.
Quarterback Sefo Liufau: Liufau was forced into action as a true freshman last season and managed to hold his own. He threw for 1,779 yards, 12 touchdowns and eight interceptions. He set true freshman school records for attempts, completions and touchdown passes.
Wide receiver Nelson Spruce: The junior served as a solid complementary piece to star Paul Richardson last season, but will now move into the No. 1 role with Richardson in the NFL. Spruce had 55 catches for 650 yards and four TDs last season.
Three numbers to know
45.9: There were a lot of dismal stats last year for the Buffaloes, but perhaps none were worse than the 45.9 points per game Colorado's defense gave up. The Buffs ranked 122nd in the country in scoring defense.
1,346: The Buffaloes return all three of their leading rushers from a year ago — Christian Powell, Michael Adkins and Tony Jones — who combined for 1,346 yards and 10 touchdowns.
7: Colorado has been favored to win just seven of its last 37 games the past three seasons.
Different than last time
They're more experienced.
Colorado lost just 18 players from last year's roster, which is tied for fewest in the Pac-12. As we've mentioned, 57 players are back, including eight starters on offense and eight more on defense.
Moreover, Colorado returns its six leading rushers, its leading passer, four of its five leading receivers and four of its six leading tacklers from a year ago.
The experience is a good thing, no doubt, but they've all suffered a lot of losses in their career. They will try to start changing that this season.
——
July 14th
Pac-12 to provide free coverage of Pac-12 media days
From the Pac-12 … The 2014 college football season is right around the corner and the Pac-12 is rolling out the red carpet for Conference student-athletes and coaches when they take over Paramount Studios in Hollywood for Pac-12 Football Media Day July 23-24.
For the first time ever, Pac-12 Networks will cover all the action of the two day affair live with the Pac-12 Football Media Day Special, July 23 and 24 from 9:00 a.m. – 1:30 p.m. PT. In another first, both shows will be available for viewing live on Pac-12.com without authentication.
Hosted by Mike Yam, the two day special will feature an array of Pac-12 football analysts including Rick Neuheisel, Curtis Conway, Nick Aliotti and Glenn Parker providing insight and analysis into what fans should expect this season from their favorite teams. The special will also introduce the newest on-air personalities to join the Pac-12 Networks football analyst team this fall.
With the 12 Conference programs rotating through media rounds over two days, each 4.5-hour show will offer a comprehensive look at each team and feature interviews with head coaches and student-athlete representatives from six programs each day. The show also includes interviews with other notable names such as Pac-12 Commissioner Larry Scott and. Pac-12 Officiating Coordinator Tony Corrente. FOX Sports college football analyst Charles Davis and an array of other media personalities are also scheduled to appear.
In addition to offering fans complete viewing access to the Pac-12 Football Media Day Special online, Pac-12.com will house additional content generated from the @Pac12Networks Digital Plaza on-site at Paramount Studios. Hosted by Ashley Adamson, the plaza will be the go-to gathering place where student-athletes and coaches can interact to create sharable social content including photos and video features. The plaza also boasts an influencer lounge where coaches can interact with fans through a Facebook Q&A platform.
Programming elements of the Pac-12 Football Media Day Special across both days include:
Scheduled appearances from college football media personalities including: FOX Sports college football analyst Charles Davis, Adam Jude of The Seattle Times, Ted Miller of ESPN.com, San Jose Mercury News' Jon Wilner, Bruce Feldman of FOX Sports, Arizona Republic reporter Doug Haller and Chris Dufresne of The Los Angeles Times.
Day 1 (Wednesday, July 23)
Interviews with head coaches Kyle Whittingham (Utah), Rich Rodriguez (Arizona), Sonny Dykes (California), Steve Sarkisian (USC), Mark Helfrich (Oregon) and Mike Leach (Washington State).
Student-athletes duos from Utah (Dres Anderson, Nate Orchard), Arizona (Austin Hill, Jared Tevis), California (Jared Goff, Stefan McClure), USC (Cody Kessler, Leonard Williams), Oregon (Marcus Mariota, Derrick Malone) and Washington State (Connor Halliday, Darryl Monroe) share their expectations heading into the 2014 season.
Yam, Neuheisel and Conway discuss the state of college football with Pac-12 Commissioner Larry Scott
The trio gets schooled on the new rules of play from Pac-12 football officiating coordinator Tony Corrente
Day 2 (Thursday, July 24)
Interviews with head coaches Mike McIntyre (Colorado), Todd Graham (Arizona State), Mike Riley (Oregon State), Jim Mora (UCLA), Chris Petersen (Washington) and David Shaw (Stanford).
Student-athletes Nelson Spruce and Judah Parker of Colorado, Arizona State's Taylor Kelly and Jamil Douglas, Sean Mannion and Michael Doctor of Oregon State, Bruin standouts Brett Hundley and Eric Kendricks, Ben Riva and Hau'oli Kikaha of Washington and Stanford's Kevin Hogan and Jordan Richards weigh in on the state of their teams.
The Pac-12 Football Media Day Special marks the beginning of another exciting season of football programming on Pac-12 Networks and Pac-12.com. With 35 live football games, pregame, halftime and postgame reports, plus the return of Pac-12 Football Weekly and the docu-series The Drive: Pac-12 Football, Pac-12 Networks is the premiere destination for Pac-12 football fans.
More exciting announcements surrounding Pac-12 Networks football programming and personalities are still to come leading up to the season kickoff August 28 that features Utah hosting Idaho State at 4:30 p.m. PT, followed by Weber State vs. Arizona State at 7:30 p.m. PT.
——
July 12th
Arizona schools receive 315 tuition waivers annually
It'd be nice if Colorado had the same financial advantage, but it's never going to happen …
From the University of Arizona website (kudos to SDBuff at BuffStampede.com for finding this) … Many of you know Arizona State University recently instituted a mandatory student fee to help offset the funding ASU was spending to subsidize athletics. It's meant to let tuition funds flow back to academic and student support programs. Since their fee was announced, I have been regularly asked about the role student fees play in supporting university athletics and why the UA doesn't have one. The frequency of the questions made me feel like a response was warranted.
It's well known that funding makes a difference, but passing those costs on to our students won't be the first option we pursue. Both institutions annually receive 315 tuition waivers from the Arizona Board of Regents and some of our utility costs are shared with campus.  Beyond those resources the Arizona Athletics program has nearly a 30-year record of paying its way and hasn't received state-appropriated funding since the 2002-03 academic year, and hasn't received any student fee support since 2003-04. The program's financial success is the result of maximizing revenue opportunities such as broadcast rights and royalties, loyal fan attendance and generous private giving from our donors.
Our ability to generate revenue over the years has helped UA's student-athletes win 21 team national championships and 53 Pac-10/12 conference team championships. Most of the money we earn covers operations, travel and staff for 20 sports. We also pay for room, board, books and academic support for our nearly 500 student-athletes to make sure they succeed in school. While we are always striving for improvement, the latest NCAA academic report card says UA student-athletes scored well in the classroom, too.
Arizona Athletics will keep a close eye on staying competitive and we're constantly looking for new ways to compete, both financially and on the field. We greatly appreciate your support because it is critical to the success of our program and our student-athletes.
——-
July 11th
Buffalo Wild Wings Bowl now the Cactus Bowl
From azcentral.com … Good-bye, Buffalo Wild Wings.
Hello, Cactus.
The postseason college-football game played in Tempe has been renamed as the Cactus Bowl, according to an announcement by the Valley of the Sun Bowl Foundation, which owns the game. A new sponsor wasn't immediately identified.
Our new name represents an iconic symbol for the state of Arizona," said Mike Nealy, the Cactus Bowl's executive director, in a statement. "The name will also resonate with the thousands of fans traveling to the Southwest to experience our great bowl game and unmatched hospitality."
The group last month announced that Buffalo Wild Wings had decided not to renew its sponsorship — part of several bowl-naming changes in recent months that included a game now named for the digital currency known as Bitcoin.
Buffalo Wild Wings had sponsored the Tempe bowl for the past two years.
The naming limbo continues for the Fiesta Bowl, played at University of Phoenix Stadium in Glendale. After 18 years, Tostitos bowed out as sponsor of that bowl, also last month.
The Cactus Bowl will kick off Jan. 2 and will be televised on ESPN. The contest pits the sixth selection from the Pac-12 against the fifth pick from the Big 12. The two conferences have a six-year agreement to send teams to the Cactus Bowl.
The game began in 1989 as the Copper Bowl and was played at the University of Arizona for the first 11 years, before moving to the Valley. It is now played at Sun Devil Stadium on the Arizona State University campus. The game also was known as the Insight.com Bowl and the Insight Bowl.
——-
July 10th
Arizona recruiting videos up over 400,000 views on YouTube
Arizona has put it's video operation to good use, posting videos used to help in recruiting. Placed on YouTube, the four videos have over 400,000 views in just a few months.
Here is one of them (and yes, I believe CU Video could do a much better job) ….
—–
NCAA President Mark Emmert grilled by Congress
From the USA Today … Senate Commerce Committee chairman Jay Rockefeller (D-W. Va.) began a hearing on college athletics Wednesday afternoon with vigor, skepticism and the promise of this just being the start of a campaign of NCAA oversight. A little more than three hours later, he ended it with what seemed like a sense of resignation.
In between, NCAA President Mark Emmert — the hearing's star witness — announced his support for what he termed "scholarships for life," backed the NCAA away from a controversial legal position in a concussion lawsuit and faced a barrage of criticism and sharply worded questions on a wide range of issues.
Claire McCaskill (D-Mo.), who early Wednesday released a report on how colleges report, investigate and adjudicate sexual violence, blasted Emmert concerning a finding that more than 20% of schools give the athletics department oversight of cases involving athletes. In her wake, several other members of the committee, some Democrat and some Republican, followed suit.
Richard Blumenthal (D-Conn.) wrung a "commitment" from Emmert to address the matter, and Kelly Ayotte (R-N.H.), gesturing toward the hearing room's entryway, admonished Emmert to "walk out this door and fix that."
The report was based on a survey McCaskill commissioned in her capacity as chair of the Senate Committee on Homeland Security and Governmental Affairs' Subcommittee on Financial and Contracting Oversight.
The revelations overtook Rockefeller's strongly worded, but somewhat hollow, admonishment about the Commerce Committee's future intentions.
Rockefeller has announced he is not running for re-election in 2014, but in remarks directed at Emmert, he said that if the Democrats "control Congress next time … we want to make this a continuing subject of this oversight committee. We have oversight of sports. All sports. We have the ability to subpoena. We have a special investigative unit. We are very into this subject. This is part of a process here."
He later ruminated on whether the committee should subpoena college presidents to appear before the committee — a notion that Cory Booker (D-N.J.) strongly backed later in the hearing.
During questioning from Dan Coats (R-Ind.), Emmert said Wednesday's session was "a useful cattle prod. It makes sure we know that the world is watching, that the Senate is watching. I believe we will wind up in the right place in a couple of months" following NCAA governance changes. "If we don't, I'm sure we'll have these conversations again."
—–
July 9th
Will Oliver named to Lou Groza watch list
Will Oliver, a three-year starter for Colorado, has been named to the Lou Groza Award watch list. The Lou Groza Award, given out each year nation's best kicker, has 30 kickers on its preseason watch list. Semi-finalists will be announced November 6th, finalists November 24th, with the winner named December 9th.
The write-up on Oliver … A 2013 Groza semifinalist, Oliver became the first kicker in Colorado history to put together two straight seasons without missing an extra point. He needs just seven more to set the school record for most consecutive PATs. He was one of just 20 kickers in FBS with multiple field goals from at least 50 yards out.
From cubuffs.com … The senior from Los Angeles has kicked for the Buffaloes since his freshman season and enters his final campaign ranked eighth in scoring, including fourth in kick scoring, with 189 points, and also ranks fourth in both field goals (34) and field goals attempted (48).
He earned honorable mention All-Pac-12 honors last year and was one of 20 semifinalists for the award when he hit 17-of-24 field goals and all 30 of his PATs, becoming just the second player in CU history alongside Mason Crosby to advance to the semifinal stage. He ranked third in the Pac-12 and 25th nationally making 1.42 field goals per game and was one of just 20 kickers nationwide to hit multiple field goals from 50-plus yards.
A Lou Groza Award National Star of the Week after the Colorado State game in which he scored 15 points, hitting 4-of-4 field goals (21, 41, 44 and 52 yards) and made all three of his PAT attempts to go with two touchbacks on kickoffs, he was also a three-time College Football Performance Award weekly winner. He earned the CPA award for the CSU game as well as the Oregon game (10 points, 3-of-3 field goals, 1-of-1 PAT, 2 touchbacks) and the Arizona game (8 points, 2-of-3 field goals including career long 53-yarder, 2-of-2 PATs, four touchbacks on five kickoffs).
He has hit 60 consecutive PATs and needs seven more for the CU record. He hasn't missed a PAT since the final game of his freshman season and is the first player in school history not to miss a PAT in multiple seasons.
Also an excellent student, he maintains well above a 3.5 GPA majoring in Business-Management and earned Pac-12 All-Academic Team honors and was named to CU's 4.0 Club in 2013.
The full list of nominees for the Lou Groza Award can be found here. The nominees from the Pac-12:
Zane Gonzalez – Arizona State
Will Oliver – Colorado
Andy Phillips – Utah
Jordan Williamson – Stanford
—–
July 8th
USC loses a defensive lineman for the season
From ESPN … Southern California defensive lineman Kenny Bigelow is out for the season after tearing his right ACL during non-contact drills in a voluntary workout.
The redshirt freshman was expected to compete for a starting spot. He redshirted last year to adjust to the college ranks. Returning starters Leonard Williams and Antwaun Woods will anchor the defensive line, but the third spot remains open.
Bigelow's injury was announced on the school's blog.
—–
More watch lists announced – the Mackey (tight ends) and Rimington (centers)
From the Pac-12 … A half dozen tight ends and centers were named Tuesday to the watch lists for the awards that honor the top players at those positions – the John Mackey Award and the Rimington Trophy
A pair of Oregon TE's – Pharoah Brown and Johnny Mundt – were named to the Mackey Watch list, along with representatives from UCLA, Oregon State, Arizona State and USC. Meanwhile, a six-pack of the conference's top centers made the Rimington's list as well.
The Pac-12 boasted the 2013 Mackey Award winner in Washington's Austin Seferian-Jenkins.
Check out the full list of nominees:
Mackey Award (top tight end)
| Player | Team | Position |
| --- | --- | --- |
| Pharoah Brown | Oregon | Tight End |
| Thomas Duarte | UCLA | Tight End |
| Connor Hamlett | Oregon State | Tight End |
| Johnny Mundt | Oregon | Tight End |
| De'Marieya Nelson | Arizona State | Tight End |
| Randall Telfer | USC | Tight End |
Rimington Award (top center)
| Player | Team | Position |
| --- | --- | --- |
| Isaac Seumalo | Oregon State | Center |
| Jake Brendel | UCLA | Center |
| Steven Gurrola | Arizona | Center |
| Graham Shuler | Stanford | Center |
| Hroniss Grasu | Oregon | Center |
| Mike Criste | Washington | Center |
—–
July 7th
Watch Lists starting
From ESPN … This morning, the National College Football Awards Association rolled out its first two watch lists and — no surprise — several Pac-12 players were named to both the Bednarik Award watch list (given to the nation's best defensive player) and the Maxwell Award watch list (the nation's best offensive player).
Of the 76 players on the Maxwell Award watch list, 16 hail from the Pac-12. Arizona State, Oregon and USC lead the way with three players a piece on that list but again — no surprises here — the quarterbacks ruled the day for the conference as seven Pac-12 quarterbacks were listed. Five wide receivers got nods and four running backs made the list (including both of the Ducks' top guys).
MAXWELL AWARD WATCH LIST
Arizona WR Austin Hill
Arizona State QB Taylor Kelly
Arizona State WR Jaelen Strong
Arizona State RB D.J. Foster
Cal QB Jared Goff
Oregon QB Marcus Mariota
Oregon RB Byron Marshall
Oregon RB Thomas Tyner
Oregon State QB Sean Mannion
Stanford QB Kevin Hogan
Stanford WR Ty Montgomery
UCLA QB Brett Hundley
USC QB Cody Kessler
USC RB Javorius Allen
USC WR Nelson Agholor
Utah WR Dres Anderson
Of the 76 players on the Bednarik Award watch list, 13 are from the Pac-12. Stanford landed four guys while USC and Washington notched three apiece. Like the offense, almost half of the conference's recognition was in one position group (the linebackers), but there's still a good spread of recognition among the rest of the Pac-12 position groups — three defensive linemen, six linebackers, two cornerbacks and two safeties.
BEDNARIK AWARD WATCH LIST
Oregon CB Ifo Ekpre-Olomu
Stanford CB Alex Carter
Stanford DE Henry Anderson
Stanford LB A.J. Tarpley
Stanford S Jordan Richards
UCLA LB Myles Jack
UCLA LB Eric Kendricks
USC DE Leonard Williams
USC S Su'a Cravens
USC LB Hayes Pullard
Washington DT Danny Shelton
Washington LB Hau'oli Kikaha
Washington LB Shaq Thompson
For a full list of the watch listers, click here.
—–
USC fans having a hard dealing with a prospect dumping USC for … Duke
From CBSSports.com …
What they're talking about is … Tyler Petite. It's never been terribly difficult to recruit to USC, what with it having more historical success than any other program in its conference as well as, you know, being located in Los Angeles, Calif. There's a reason a certain CBSSports.com college football writer made it his first-round pick in CBSSports.com's recent 32-team program draft.
At a glance, the 247Sports composite team rankings for the class of 2015 would suggest that Steve Sarkisian isn't yet taking advantage of USC's inherent, uh, advantages, with the Trojans currently checking in at No. 17. But look closer, and it's clear that's a function of raw numbers — USC has only nine players committed. With two five-stars and three more well-regarded four-stars in the class, Sarkisian's first full class averages a higher per-recruit 247 rating (91.65) than any school in the country other than current No. 1 Alabama. If Sarkisian can complete the class with anything similar to the quality of prospect he's reeled in so far, it's going to be a top-10 class at the bare minimum.
But of course, Sarkisian still has to go out and do it, and that task was made incrementally more dificult by a surprising decision Tuesday from four-star Moraga, Calif., tight end Tyler Petite, who spurned the Trojans to play for David Cutcliffe at Duke. The Trojans still got a boost later Tuesday when three-star offensive lineman Clayton Johnson committed, but the day still finished as less of a positive than expected.
What they're saying is … mostly the right things. Mostly. The response on the forums at FightOn247 is about as measured as could be expected, with several posters wishing Petite luck, acknowledging that Duke is a "great academic school," saying USC will be fine at tight end regardless, etc.
Then you also have:
• enjoy playing at a basketball school. huge mistake.

• This is idiotic. Go to Stanford if you want elite academics (not that USC is shabby). I don't see the point in making it that much harder to get to the NFL by going to a school that peaked last year and is almost certainly on its way back down.

• Mind Boggling
And from a USC fan commenting at SBNation, the capper:
• If you make that kind of decision, then you shouldn't be a Trojan! Petite obviously "knew" his talent level was more in-line with the 2-Star talent you will find at Duke than the elite talent of USC and the Pac-12!

At USC we want "only" those who think National Championship and nothing less/else !!

Something Duke will "never" see !!!

Again, absolutely "no" loss here…

FightOn
Just so we're clear, here is a comprehensive list of fanbases for top-tier college football programs who wouldn't generate similar comments if their team surprisingly lost a four-star local recruit to Duke at a position of need:
That's the list. Still, tossing that "2-star" shade in the direction of a Duke program that's not exactly one of the Trojans' most bitter rivals is some serious overreaction.
What we're saying is … hey, did we mention USC's per-recruit rating was second in the FBS? If some anger is always expected on the fanbase's part when a quality local recruit unexpectedly picks a different program — and especially when that program is Duke — USC fans do have some motivation to be a little less prickly than usual in this case. As mentioned, their class is already in excellent shape going forward (if, yes, in need of tight ends). Sarkisian's experience in developing NFL-caliber tight ends (hi, Mr. Seferian-Jenkins) will no doubt catch the attention of a few more solid prospects at that position before Signing Day. And above all, this is USC — there's always going to be another blue-chipper coming down the pipe at some point.
It's a minor setback, and there is some pressure on Sarkisian now to add a quality tight end before February rolls around. But what's rolling around right now is July 4. Sarkisian is in fine shape on the trail, and any questions about his Trojan tenure at this stage should be directed to what on-field product he can produce this fall.
——
July 4th
Boise State reaches a deal on AAC (Big East) buyout lawsuit
From ESPN … Boise State has settled a lawsuit with the American Athletic Conference that was first filed a year ago claiming the university owed $5 million in exit fees.
The university announced Thursday that all claims have been dismissed and it has agreed to pay a negotiated exit fee of $2.3 million.
The lawsuit was first filed after Boise State backed out of joining the Big East Conference in 2012. School officials said at the time that the Big East wasn't successful in securing western members or a strong television package.
Boise State officials say that the conference has already been paid $1.6 million and will get $140,000 a year over the next five years. The money will come from $1.1 million in national television bonuses and $3 million from the Mountain West.
——
July 3rd
Washington State loses a defensive lineman and an offensive lineman
From the newstribune.com … The University of Washington's defensive line depth took a hit Wednesday.
Huskies coach Chris Petersen announced via statement that fifth-year senior defensive end Josh Shirley and seldom-used, third-year sophomore offensive lineman Taylor Hindy left the UW football team and intend to transfer.
Shirley's departure had been rumored for a while. He sat out much of the second half of the Huskies' spring practices with an undisclosed illness, and fans began speculating about his future after he didn't participate in UW's Husky Combine on May 20.
Shirley posted a photo on his Instagram acount Tuesday of himself on a jet ski with the accompanying message: "Seattle it's been real. Had to have one final ride. #illbeback #TurnThePage #NextChapter"
Shirley finishes his UW career with 18 sacks and 74 tackles in three seasons. He will be a fifth-year senior in 2014, meaning he will be immediately eligible to play elsewhere so long as he obtains his degree from UW.
A 6-foot-3, 228-pound native of Fontana, Calif., and a standout at Kaiser High School, Shirley originally signed with UCLA and coach Rick Neuheisel in 2010. But after being arrested in connection with the theft of a student's backpack in June of 2010 — along with now-Seattle Seahawks wide receiver Paul Richardson and his cousin, cornerback Shaquille Richardson — the three players were dismissed from the program before school even started.
Shirley transferred to UW to play for coach Steve Sarkisian, who had recruited him heavily, and agreed to redshirt the 2010 season as a condition of playing for the Huskies. Paul Richardson wound up at Colorado — he became the Seahawks' second-round draft pick this year —and Shaquille Richardson transferred to Arizona.
Shirley made his debut in 2011, when he played in every game, made seven starts, and recorded 8.5 sacks. That total dropped to 6.5 in 2012 and 3 last season. He had been projected by some NFL draft websites as a future first-round selection.
Hindy, a 6-foot-4, 318-pound lineman from West Hills, Calif., and Chaminade Prep, appeared in two games in 2013, against Idaho State and Colorado.
——
July 1st
If it's July 1st, it must be realignment time
July 1st, the start of a new fiscal year. No fewer than 12 teams are changing conference hats today, though the main moves are Rutgers and Maryland to the Big Ten and Louisville to the ACC.
For those scoring at home, the changes are as follows (… There will be quiz tomorrow, so bone up … ):
Rutgers to the Big Ten from the AAC
Maryland to the Big Ten from the ACC
Louisville to the ACC from the AAC
East Carolina to the C-USA from the AAC
Idaho and New Mexico State from oblivion to the Sun Belt
Tulane and Tulsa from C-USA to AAC
Old Dominion from independent to C-USA
Western Kentucky from the Sun Belt to C-USA
Appalachian State and Georgia Southern from the FCS to the Sun Belt
–
As to the major conferences over the past three seasons …
From Athlon Sports … A rocky period in college football has recently passed. Conference realignment seemingly dominated the headlines since 2011, forcing changes in membership for every league.
The Big East and WAC are no more in football, and the SEC, ACC and Big Ten have all expanded to 14 teams.
BYU decided to go Independent in football, while Notre Dame joined the ACC as a partial member.
Those are just a few of the changes that have taken place over the last few years.
What has the last few seasons in college football brought in realignment and what is the impact for the future? Let's take a look at the changes, impact and grades for each of the Power 5 leagues in realignment over the last few years.
Grading College Football's Conferences in Realignment
ACC
The Changes: The ACC added Louisville (2014), Syracuse and Pittsburgh (2013). Maryland left for the Big Ten (2014). Notre Dame joined as a member in all sports but football and hockey.
The Impact: Maryland was a founding member of the ACC, and the decision to leave for the Big Ten caught some off guard. However, Louisville is a solid all-around addition to the conference and ranks higher on Athlon's program ranking (No. 29 for Cardinals, No. 40 for Terrapins). Syracuse and Pittsburgh help the ACC increase its footprint in the Northeast.
As a 14-team league, along with the Notre Dame affiliation, the ACC has stabilized after a period of uncertainty. The conference also has a solid bowl setup, including an agreement with the Orange Bowl. Having a period of 10-15 years without any changes would help the conference continue to develop its identity. The divisional alignment has been a source of debate in recent years, and there could be changes to the Atlantic-Coastal setup.
What's Next: Will the ACC stay as a 14-team league? Unless there is a major shift again in conferences, the ACC seems unlikely to expand. Of course, if the ACC wanted to expand, Notre Dame would be its first call to become a full-time member. UConn was mentioned with Louisville as a possible replacement for Maryland, and if the ACC wanted to expand to 16, the Huskies would likely be in the mix again.
Grade: B. Losing a founding member was a surprise, but the ACC added three solid programs in Louisville, Syracuse and Pittsburgh. Most importantly, the rumors about Florida State and Clemson possibly leaving the conference never came to fruition.
Related Content: History of ACC Realignment
Big Ten
The Changes: The Big Ten hasn't seen many changes in its conference history. Penn State officially joined the league for football in 1993, but prior to that, the last addition to the conference was Michigan State in 1950. However, there have been three changes to the league's membership in the last four years. Nebraska joined in 2011, and Maryland and Rutgers will debut in the Big Ten in 2014.
The Impact: The reaction to the Big Ten's additions were mixed. Nebraska – a top 25 program – was a huge positive for the conference on the gridiron. Maryland and Rutgers? Not so much excitement among college football fans. Since 2000, the Terrapins are 93-80, and the Scarlet Knights are 86-86. While both programs have upside, neither is expected to make a huge impact in terms of winning a national championship on a consistent basis. Instead, the additions of Rutgers and Maryland are a key component for the Big Ten's Northeast/East Coast expansion. Even though success on the field matters, realignment isn't necessarily about wins and losses. Media markets and expanding the footprint can be just as valuable for a conference.
What's Next: Much like the ACC, the next question for the Big Ten is to stay at 14 or expand to 16? If a 16-team set up is in the Big Ten's future, North Carolina, Georgia Tech and Virginia have been mentioned as possible candidates.
Grade: B. Again, not everything in conference realignment makes sense in terms of wins and losses. Adding Rutgers and Maryland adds two valuable media markets, along with a key recruiting area. Nebraska had one of the top dynasties of the Associated Press poll era and can be a consistent contender for the Big Ten title. Also, the additions of Rutgers and Maryland helped to align the Big Ten into an easier-to-remember East/West format.
Related Content: History of Big Ten Realignment
Big 12
The Changes: The Big 12 has been reduced from 12 teams to 10. In 2011, Nebraska left for the Big Ten and Colorado departed for the Pac-12. Missouri and Texas A&M departed for the SEC in 2012. TCU and West Virginia joined the Big 12 to bolster the league's lineup to 10 teams.
The Impact: With Nebraska, Texas A&M and Missouri departing, the Big 12 has lost three top-30 programs. West Virginia and TCU are solid additions, but the conference no longer has some outstanding rivalry games between Texas A&M-Texas, Baylor-Texas A&M, Nebraska-Oklahoma and Missouri-Kansas. Not having a conference title game could hurt the Big 12 in the future, especially if that factors into the playoff committee's criteria.
What's Next: Expect the debate about the Big 12 and a 10- or 12-team set up to continue. The conference continues to insist it's content with a 10-team setup, but realignment rumors will never go away – at least from the fans. If the Big 12 does decide to expand in the future, it's all about adding value. So which programs could do that? BYU and UCF? South Florida? Cincinnati? Perhaps the Big 12 would make a run at teams like Florida State and Clemson (igniting old message board rumors again). Adding East Coast teams to bridge the gap from West Virginia to the rest of the conference would seem to be a top priority – if the Big 12 expands.
Grade: C. The Big 12 has two things going for it. The conference seems to be stable – for now – and Oklahoma and Texas are still in the conference. Losing Texas A&M, Missouri and Nebraska was a setback, but West Virginia and TCU are good additions, especially after both programs have time to adjust to their new conference. The Big 12 probably isn't as powerful as it once was. However, as long as Oklahoma and Texas are top-20 teams on a consistent basis, the conference should be in good shape.
Related Content: West Virginia Searches for Answers After Rocky Start in Big 12
Pac-12
The Changes: The Pac-12 didn't lose a member and added Colorado and Utah to become a 12-team league in 2011.
The Impact: The Pac-12 is one of the biggest winners in college football over the last five years. Colorado and Utah haven't experienced a ton of success so far, but the rest of the conference is on the rise. Thanks to an improved television deal, improved revenue and better facilities, the Pac-12 is now the No. 2 conference in college football. Expect Colorado and Utah to improve over the next few years, adding to what is one of the deepest conferences in the nation.
What's Next: Further realignment seems unlikely, largely because there are few candidates that could join the conference. Remember the Pac-16 proposal that included Texas and Oklahoma? Maybe that's a possibility in the future. However, the Pac-12 is stable and clearly entrenched as one of the premier conferences.
Grade: B+. We could easily upgrade this to an A. The Pac-12 has moved up the ladder in conference hierarchy, and Utah and Colorado will improve over time. Not much has gone wrong for the conference over the last few seasons.
SEC
The Changes: The SEC made its first changes in membership since 1991 by adding Missouri and Texas A&M in 2012. The league did not lose any members.
The Impact: The addition of the Aggies and Tigers gave the SEC two valuable media markets in Missouri (St. Louis/Kansas City) and Texas (Houston). And both programs also have experienced plenty of success over the last two years. Texas A&M is 20-6 since joining the SEC and had a Heisman winner in Johnny Manziel, while Missouri claimed the East Division title in 2013.
What's Next: Just like the ACC, Big Ten and Pac-12, the only question surrounding the SEC in the future is whether or not the conference will expand to 16 teams. If the SEC does expand to 16 teams, there has been plenty of discussion that teams in Virginia and North Carolina are the next targets.
Grade: A+. The SEC was the No. 1 conference in the nation prior to realignment and solidified its place at the top with the addition of Texas A&M and Missouri. The conference is deeper and has expanded its footprint into Texas – one of the nation's most fertile recruiting areas.
——
June 30th
Big 12 unveils new logo
The Big 12, which at last count had ten teams, has unveiled its new logo: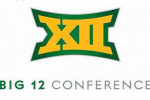 If you would like to compare, here is the old logo (call me biased, but I'd like the old one better if CU were still in that conference):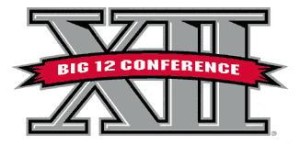 —
Stanford wins Directors Cup (again) … CU in at (a respectable) 39th
From ESPN … Death. Taxes. Stanford wins the Director's Cup.
With the college sports season officially over, Stanford claimed its 20th consecutive Division I Learfield Sports Directors' Cup award in 2013-14 as the top intercollegiate athletic department in the nation. Stanford finished with 1,482 points, with Florida (1,216,5), Notre Dame (1,128.25), Virginia (1,118.5) and Penn State (1,113) rounding out the top five.
UCLA finished seventh and USC eighth. The ACC and Pac-12 each had three institutions ranked in the top 10.
The Director's Cup is awarded based on each institution's finish in up to 20 sports — 10 women's and 10 men's. It's the most highly regarded measure of the top-to-bottom success of an athletic program, though it also favors programs that sponsor a lot of sports. Stanford had nine scores omitted because of the maximum 10 allowed scores for men's and women's sports.
Here's how the Pac-12 stacked up, with the national ranking to the left.
1. Stanford
7. UCLA
8. USC
15. Oregon
20. California
26. Arizona
27. Arizona State
33. Washington
39. Colorado
72. Utah
75. Oregon State
149. Washington State
——
June 28th
Some schools (including Colorado) paying players for working at camps
From CBSSports.com … This summer, for the first time, active college football players can receive payment to work their schools' summer camps, thanks to newly enacted NCAA legislation.
The NCAA is allowing schools to pay current student-athletes a figure consistent with the going rate for guest coaches, which fluctuates but can command close to $20 per hour depending on the school.
The players are employed to do the things summer camp coaches do: they might be teaching the game to 10-year-olds, organizing drills for high schoolers or even coaching a 7-on-7 workout.
Seems like an innocuous concept. The schools gain some highly skilled labor, the players get some spending money and a valuable experience working with youngsters.
But as with anything in the modern era of college athletics, the practice is fraught with potential complications, and some schools are working overtime trying to manage and navigate those landmines.
Among them:
– Some schools are concerned the summer jobs will be used as a recruiting enticement. Many one- or two-day camps equate to 10-hour work days for players. A sample of schools shows pay can range from $11 to $19 hourly, so in the neighborhood of $200 per day before taxes.
It is this fear that prompted the SEC to put forward "SEC Legislative Proposal 5," brought forth at the league's spring meetings in May, as obtained by CBSSports.com's Jon Solomon.
The document outlined the possibility that "recruiting conversations with prospective student-athletes will now involve discussions about the amount of money that will be provided during summer camps after commitment."
…. Colorado paid $19 per hour — the maximum for the university's hourly employees — to 40 players, totaling $6,802 during its busy June 1-4 camp sessions. No CU player made more than $308.75 total for duties that included the running of position workouts, coaching drills, shagging balls and clerical work (charting kicks, timing drills, etc).
Georgia paid about a dozen upperclassmen in the range of $40 to $150 total, or anywhere from $10 to $15 an hour, McGarity said.
Arizona State has had 11 total camp sessions and players were welcome to work them as their schedules allowed. Arizona State used players for instructional camps, padded camps for youth and 7-on-7 passing clinics. Quarterback Taylor Kelly, who enters his third year as the ASU starter, worked with the quarterbacks and was one of 20-25 Sun Devils who worked 2-3 of the camps at the $15-an-hour rate.
…. Will the NCAA eventually set guidelines on hourly rates that avoid potential recruiting pitfalls? Or should it? Without strong definition on players working camps, "you're on your own" with in-house compliance and organization, Robinson said.
If done right, however, camp pay is considered a player benefit at a time when player rights are magnified in litigation over name and likeness.
Pay-for-coaching could work if "there's a consistent way to manage it," McGarity says.
"I think it's a really positive thing you can get players that are presently with you and give them an opportunity to be a role model for those kids," Graham said. "It's neat to interact and coach them. It's neat to watch players coach."
—–
June 27th
"Conference of Champions" posts ten titles in 2013-14 (including CU's in men's cross country)
From the Pac-12 … The Pac-12 Conference has proven to be the leader again in NCAA Championships with league teams capturing 10 NCAA titles during the 2013-14 campaign. Living up to its well-deserved billing of "Conference of Champions®," it marked the seventh time the Conference has totaled double digits in NCAA titles, a feat no other conference has ever achieved. The 10 national championships came in the form of six men's and four women's team titles, also the most for any league in both categories. It is the 13th time in the last 14 years the Conference has led or tied all leagues in NCAA Championships won, also the most men's titles for the Pac-12 since winning seven in 1997-98.
The Pac-12 led all conferences with the SEC coming in second with six NCAA titles (including a shared crown in women's gymnastics). The Big Ten tallied five national titles this season, the ACC claimed four and the Big 12 two (including a shared title in women's gymnastics).
In addition to the 10 titles, Pac-12 teams recorded six runner-up finishes and at least one team placed in the top four in 22 championships. In eight championships, there were at least two teams among the final four, including in women's water polo where all four were Pac-12 teams.
Only three teams in the country won three NCAA titles this academic season, with Connecticut, OREGON and Penn State claiming that distinction. The Ducks took home the hardware in men's outdoor track & field, the program's first since 1984, and swept the men's and women's indoor national championships. It is the first time ever UO has won three NCAA titles in one academic year.
An additional four teams in the country had two NCAA titles, including USC and UCLA, along with Duke and Florida. The Trojans continue to dominate the sports of men's water polo and men's tennis, winning a sixth-straight title in the pool and a fifth in six years on the hard court. The Bruins won the Conference's third-ever women's soccer title and the program's first, while also taking home the women's tennis crown.
COLORADO kicked off the year for the Conference winning its fourth NCAA men's cross country title. CALIFORNIA was first in men's swimming, the program's third national championship in four years, and STANFORD won its third women's water polo crown in four years, extending the school's streak of at least one NCAA team championship to 38-consecutive years, an on-going record.
This year's championships add to an impressive tradition for the Pac-12. With 469 total titles, Conference teams have, by far, claimed the most national championships in the country all-time, over 200 more than the next closest league (Big Ten – 266). Only three institutions across all divisions have won at least 100 NCAA titles all-time and all three are Pac-12 members. UCLA leads the way at 110, followed by Stanford with 104. With USC's men's tennis win,  the Trojans became the third school to reach the century mark.
The moniker "Conference of Champions" has been earned by the number of titles, but also the depth of success. Pac-12 teams have won championships in 28 of the 36 Division I sports the NCAA sponsors and has reached double digit titles in 19 of those sports. Overall, the Pac-12 has claimed more NCAA titles in 49 of the last 54 years and finished second five times. It has also claimed at least six titles every year but one since 1981-82.
OREGON (3): Men's Outdoor Track & Field; Women's Indoor Track & Field; Men's Indoor Track & Field UCLA (2): Women's Soccer; Women's Tennis USC (2): Men's Water Polo; Men's Tennis CALIFORNIA (1): Men's Swimming & Diving COLORADO (1): Men's Cross Country STANFORD (1): Women's Water Polo
Oregon State loses two recruits to other sports
From KHON2 in Honolulu … Four months after signing a letter of intent to play football at Oregon State, former all-state fullback and linebacker at Kaiser high school Fitou Fisiiahi has opted not to attend OSU. (Rivals bio)
The 6'2″ 230 pounder will instead play rugby at Kutztown University in Pennsylvania. Fisiiahi is the very first recipient of the Cover 2 Ironman of the year award, and one of the most sought after recruits in the class of 2014.
The 2014 state champion says he was still planning on becoming a Beaver, when he re-assessed his options after exclusively playing rugby since the winter.
That's when Fitou decided to take his talents to the Quaker State, as the one-time captain of team USA's high school squad is fully committed to his first love.
Fisiiahi is the second signee to pass on playing football at OSU in favor of a different sport. Tight end Jake Knight will focus on track and field (Rivals bio).
—
Sandy Barbour out as Athletic Director at Cal
From Jon Wilner and the San Jose Mercury News … Sandy Barbour's tenure as Cal athletic director is over.
Barbour and chancellor Nicholas Dirks have determined that it's time for a "change in leadership" atop the athletic department, a senior university administration official told this newspaper exclusively on Thursday.
Barbour's last day will be July 15. At that time, she will transition to a different role at the school: working on the academic side in a sports management program.
The move will become official at a news conference Friday.
H. Michael Williams, a former Cal wrestler with extensive financial and leadership experience, has been named the school's interim athletic director while the university conducts a search to replace Sandy Barbour, a campus source said.
A 1982 graduate of Cal, Williams is a trustee with the U.C. Berkeley Foundation and serves on several university panels, including the recently formed Chancellor's Task Force on Academics and Athletics. He is a former vice chairman, capital markets for Barclays Global Investors.
Barbour has been in charge of Cal athletics since the fall of 2004, making her one of the longest-tenured athletic directors in the Pac-12.
On her watch, the Bears' Olympic sports have thrived and the men's basketball team program experienced a resurgence under coach Mike Montgomery, arguably her shrewdest hire.
But there have been significant setbacks, as well.
Poor budget management almost forced Cal to eliminate four intercollegiate sports, including baseball.
While she helped spearhead the construction of a new football training facility and the renovation of Memorial Stadium, the plan financing collapsed, forcing Cal to take drastic measures to service the debt.
The football team finished 1-11 last season under coach Sonny Dykes — Barbour's hand-picked successor to Jeff Tedford.
Perhaps the greatest misstep of Barbour's tenure came in the classroom. NCAA data released last fall revealed that Cal's football graduation rate (44 percent) was the worst of any school in the major conferences, humiliating the university and leading to speculation about Barbour's future.
——
June 25th
Utah picks up a commitment … from the Class of 2017!
From the Salt Lake City Tribune …  As reports leaked a week and a half ago that Langi Tuifua had committed to Utah football, he tried to rein it in.
I'm not committed yet, he said. I'm still deciding.
Turns out the Utes didn't have to wait much longer to see if the 2017 defensive line prospect from Bingham would commit after all. Tuifua called coach Ilaisa Tuiaki on Tuesday night to inform him he made up his mind: He wants to be a Ute.
"I just wanted to make sure I was making the right choice," Tuifua said in an interview with the Tribune. "I now know it's the right decision. The school has everything I really need."
At 6-foot-3 and 200 pounds, Tuifua may look a little light for defensive line, but that's in part because he's only 15 years old. His father, David Tuifua, was a defensive tackle at Ricks College and Hawaii, and the Utah staff believes the younger Tuifua will grow into his frame
A lot of what sold Tuifua on the program is family: Not only did he create some bonds with the coaching staff, but his brother goes to Utah on academic scholarship, and his sister is going to Westminster. Being close to home was important to him, as was Utah's video game programming academic offerings that he wants to pursue.
"I'm pretty set," he said. "This has been kind of my home program for a long time."
The Utes will likely have a long ride to actually sign Tuifua, who will be a sophomore on Bingham's defensive line this fall. Utah State and BYU were expressing interest after he ran the camp circuit last week including All Poly Camp. Other programs may still try to sway him over the next two-and-a-half years.
But for now, he said, he's pretty sure.
—–
The latest way for schools to up the ante … amenities at the stadium
From ESPN … Coming soon to a college football stadium near you: interactive phone apps, live pregame locker room footage, concession stands filled with food from local eateries.
And plenty of Wi-Fi.
With college football fans choosing the HDTV home experience more and more over going to games, schools everywhere are stepping up the fan experience to lure them back to the stadiums.
"We want to make sure that the fan experience in the stadium is better than the experience at home on your couch," Ohio State athletic director Gene Smith said. "That is a significant challenge. Obviously television does a great job. So you're competing against that a little bit, and competing against a lot of other things as well."
The national epidemic of declining attendance, most troublingly among students, has spurred athletic departments across the country to get creative in improving their football stadium fan amenities, while also investing heavily in the most obvious of solutions.
…. Previously, Penn State was the only Big Ten program with stadium Wi-Fi. But this summer, Wisconsin announced it would be spending $6.2 million to install a Wi-Fi network at Camp Randall Stadium for the upcoming season. Earlier this year, Nebraska's regents approved $12.3 million for a Wi-Fi and sound system project for its stadium. Ohio State and Illinois could soon have Wi-Fi capability in their stadiums, as well …
…. Others are attempting to create stadium-exclusive experiences.
Baylor will be introducing a phone app for its new McLane Stadium, which is coming equipped with Wi-Fi, that will allow fans to rank game highlights that would then be shown in order accordingly on the video board ….
This week, Oklahoma will put a proposal before its regents that would pour millions into completing the bowl on the south side of Memorial Stadium. The Sooners have a school record 92-game sellout streak, but sources have told ESPN.com that the project will aim to create better and more comfortable seating throughout the stadium, as opposed to substantially increasing its seating capacity of 82,000.
At Iowa State, regents have already approved plans to complete the bowl in the south end zone of Jack Trice Stadium. But even though the Cyclones have set single-season average attendance records the past two years, the capacity hike figures to be a modest 6,000, so the stadium will hold roughly 61,000.
Through a $450 million renovation, Texas A&M is in fact significantly expanding the capacity of Kyle Field from about 82,500 to more than 100,000. But as part of the renovation, the Aggies are also doubling the number of women's bathrooms. And they're developing a phone app that is supposed help fans deal with traffic around the stadium.
West Virginia began selling beer inside Milan Puskar Stadium three years ago, and this year, athletic director Oliver Luck said, the stadium would begin selling wine.
Hocutt noted Texas Tech recently offered a payment plan to its season-ticket holders. And according to Rutgers athletic director Julie Hermann, the school, in its first year in the Big Ten, will begin opening their RV lots a day earlier so people can go in the night before the game if they want.
——
June 24th
Utah quarterback Travis Wilson cleared to play this fall
From ESPN … Utah quarterback Travis Wilson, who was diagnosed with a career-threatening medical condition last winter, received final medical clearance Tuesday to resume playing football, the school said in a news release.
A CT scan on Friday revealed that the previous injury to an intracranial artery has remained stable since his last test in February. The injury was first discovered after Wilson suffered a concussion in a Nov. 9 game against Arizona State last fall.
"Obviously, it's great news that Travis has been medically cleared to play football again," Utah coach Kyle Whittingham said in the statement. "Travis' health was our number one concern and we're relieved for him and his family that he is OK."
Wilson, a junior and two-year starter, participated only in non-contact drills in the spring. He has passed for 3,138 yards and 23 touchdowns in his first two seasons. His 12.02 career yards per completion ranks fourth all time at Utah and his .592 career completion percentage (261-of-441) ranks seventh.
——
June 23rd
Criteria for playoff selection tie-breakers revealed
From the USA Today … On the occasion of the two-year anniversary of its birth Friday, the College Football Playoff released a document to USA TODAY Sports and other outlets that reveals its vision for how teams should be selected. The document, drafted June 20, 2012, also details the order of criteria its founders envision for the selection committee to break ties when setting the four-team playoff field.
"Strength of schedule, head-to-head competition and championships won must be specifically applied as tie-breakers between teams that look similar," the document reads. Those were proposed to differentiate between "teams with similar records and similar pedigree."
Those also are three of the criteria the College Football Playoff Management committee, a group of commissioners from Football Bowl Subdivision conferences and Notre Dame athletics director Jack Swarbrick, outlined in the document titled "How to select the best four teams". The final criterion listed is "Comparative outcomes of common opponents", but without factoring in margin of victory.
The criteria to be provided to the selection committee must be aligned," the document reads, "with the ideals of the commissioners, Presidents, athletic directors and coaches to honor regular season success while at the same time providing enough flexibility and discretion to select a non-champion or independent under circumstances where that particular non-champion or independent is unequivocally one of the four best teams in the country."
The document reveals the management committee's thinking about the limitations of the traditional polls that for years have determined college football's national champion. Of particular concern were occasions when the winning team in a head-to-head competition is ranked behind its opponent, or when a non-champion from a particular conference is ranked ahead of the champion.
As such, the management committee urged two approaches when it comes to polls: One, that "any polls that are taken into consideration by the selection committee must be completely open and transparent to the public"; and two, that preseason polls must be ignored.
Since that time, the Playoff has decided its selection committee will create and reveal its own top 25 poll each week beginning Tuesday, Oct. 28.
——
USC the first Pac-12 school to offer four-year scholarships
A sign of things (reforms) to come?
From usctrojans.com … USC will offer four-year athletic scholarships to all scholarship student-athletes in the revenue sports of football and men's and women's basketball in lieu of the current practice of offering one-year renewable scholarships, USC Athletic Director Pat Haden announced today.
Haden said this policy will be effective July 1, 2014, for all current and future scholarship student-athletes in those sports.
"In taking this action, USC hopes to help lead the effort to refocus on student-athlete welfare on and off the field," Haden said.
Haden also reaffirmed the university's commitment to assist those scholarship student-athletes in good academic standing that have exhausted their intercollegiate eligibility to obtain their undergraduate degrees. USC has assisted more than 250 former student-athletes with undergraduate degree academic support over the last decade.
—–
June 21st
Colorado second in the Pac-12 in returning starters
The Pac-12 has issued its Pac-12 Media Days (July 23-24) media prospectus. The 44-page document can be found and downloaded here.
One tidbit, found on page five, shows that Colorado is second in the Pac-12 in returning starters …
THE RETURNEES: A total of 181 starters, who started at least half of his team's games or a majority of game at a specific position, return to Pac-12 football squads in 2014. That's out of a possible 288 (including kickers and punters) for an average of 15.0 starters returning per team. USC returns the most with 18 starters, followed by Colorado and UCLA with 17 returning starters. Division champions Arizona State and Stanford return the fewest starters with 12. Here are the numbers:
A rundown of official returning starters for Pac-12 teams in 2014:
| Team | Off. | Def. | K/P | Total |
| --- | --- | --- | --- | --- |
| USC | 8 | 8 | 2 | 18 |
| Colorado | 7 | 8 | 2 | 17 |
| UCLA | 8 | 7 | 2 | 17 |
| Oregon St. | 7 | 7 | 2 | 16 |
| Wash. St. | 8 | 8 | 0 | 16 |
| California | 8 | 6 | 1 | 15 |
| Oregon | 9 | 5 | 1 | 15 |
| Utah | 7 | 6 | 2 | 15 |
| Arizona | 7 | 6 | 1 | 14 |
| Stanford | 5 | 7 | 2 | 14 |
| Washington | 7 | 7 | 0 | 14 |
| Arizona St. | 6 | 2 | 2 | 10 |
| Total | 87 | 77 | 17 | 181 |
| Average | 7.3 | 6.4 | 1.4 | 15.1 |
——-
June 20th
Washington State linebacker arrested
From the Spokane Statesman-Review … Washington State linebacker Ivan McLennan was arrested on Sunday for unlawful handling of weapons capable of producing bodily harm after pointing a nonlethal Airsoft pellet gun at a student.
Pullman police commander Chris Tennant confirmed to the Spokesman-Review that the police received a phone call the afternoon of Sunday, June 15 from a student saying that a man brandishing a firearm pointed it at them as they drove through the parking lot at 1560 NE Brandi Way.
McLennan, a junior, redshirted last season after transferring to WSU from El Camino Junior College. The 6-foot-4, 244 pound defender had a good spring backing up Kache Palacio at the Buck linebacker position.
The police log of the incident can be found here. Although the spelling of McLennan's last name is different in the report than on the WSU football roster, sources confirm that it is the same person.
"To put it in their frame of mind, this is right after the news of the shooting over at the campus in Seattle (Seattle Pacific University) and apparently the guy was thinking about coming to WSU," Tennant said. "So that's their mindset. They were quite fearful."
—–
June 18th
Linebacker leaving Oregon for "violation of team rules"
From the Oregonian … Outside linebacker Oshay Dunmore is the latest Duck to leave the Oregon football program this offseason and the second young, mobile linebacker to depart in a week.
Dunmore could not be reached for comment early Tuesday and program spokesman Dave Williford would not confirm the news, which was first reported by Justin Hopkins of 247Sports. Dunmore, however, is no longer listed on the team's online roster.
Two sources said, on the condition of anonymity, that he would leave and that it was not Dunmore's decision to depart and that their scholarships were not renewed. The sources said the exits by Robinson and Dunmore are related, were in the works for about two weeks and were the result of a culmination of team rules violations.
Dunmore already has garnered interest in several schools, and has spoken informally with USC, Washington and UCLA, among others.
The 6-foot-2, 220-pound Dunmore was a former decathlete and safety from Newport High who moved to outside linebacker last August. Dunmore was expected to start fall camp as a redshirt junior behind Tyson Coleman, who is recovering from a knee injury in December, and Torrodney Prevot on the depth chart.
…. Other Ducks have left the team this spring to find more opportunities for playing time elsewhere. Defensive back Eric Amoako was the latest to do so last week, though he was preceded by quarterback Jake Rodrigues, who left for San Diego State, quarterback Damion Hobbs, who left for Utah State, and receiver Eric Dungy, who ESPN reported in March will sign with South Florida.
——
June 16th
USC coming up with new ways to make money off of the Coliseum experience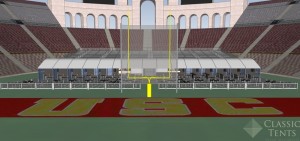 Several enhancements to the fan experience at USC home football games–on-field suites and premium clubs located on the field and outside the Peristyle–will be introduced at the Coliseum in the upcoming 2014 season through a partnership between the USC athletic department and Legends, a global leader in hospitality and client services.
Additional unique fan enhancements, including other dining and tailgating options and exclusive in-game viewing content, are being planned by USC and will be announced prior to the season.
The Peristyle Club, located outside the east end of the Coliseum, will provide members with a one-of-a-kind pre- and post-game tailgating experience, including all-inclusive upscale food and beverage, a cash bar, shaded lounge seating, music and live sports on TVs.  The Peristyle Club experience will be an arm's length away as the USC team enters the stadium during the pre-game Trojan Walk.  The Peristyle Club will be open three hours prior to kickoff until an hour after the game ends.
Ten private Field Suites, seating 16 patrons on the field just feet from the action, will line the east end zone in front of the Sun Deck.  Suite holders, who will access the field via the iconic Coliseum Peristyle stairs, will enjoy an unprecedented VIP experience.  Field Suite holders have unlimited entry to the Peristyle Club, as well as to the Field Club.
The exclusive Field Club, adjacent to the Field Suites, will provide 100 members with a high-end, on-field experience, including food and beverage service.  The Trojan football team's entrance into the stadium from the Trojan Walk will include passage through the Field Club, whose members also have access to the Peristyle Club.
—
Decision coming on the future of Utah quarterback Travis Wilson
From the DeseretNews.com … A medical decision on Utah quarterback Travis Wilson, who has yet to receive full clearance since being diagnosed with an intracranial artery injury late last season, is expected to be made about a month earlier than anticipated.
It's been moved up," said Ute coach Kyle Whittingham. "We're hoping by the end of June that we have a definite thumbs up."
Whittingham, though, tempered his statement.
"I'm not a doctor," he noted. "I'm just being very optimistic, hoping and expecting for the best."
If completely cleared and healthy, Whittingham acknowledged that Wilson is the incumbent as the starting quarterback — despite missing the last three games of 2013. Backup Adam Schulz started in his place.
When camp opens in August, the pool of candidates will be even deeper with newcomers Kendal Thompson and Donovan Isom joining a mix that already includes Schulz and redshirt freshmen Conner Manning and Brandon Cox.
Thompson, a graduate transfer from Oklahoma, is expected to get a lot of reps initially to show what he can do. Isom will also get a look.
In a worst-case scenario without Wilson, though, Whittingham said a pecking order will have to be developed with the returnees. As of now, he said, there is no definitive depth chart in place between Manning, Cox and Schulz.
Whittingham acknowledged that all of the quarterbacks did good things in spring camp, but each also has things to work on.
——
Hawai'i players have to live in locker room due to scholarship delay
From CBSSports.com … Life as a student-athlete sure is great sometimes. You get your education paid for, you get to continue playing sports, and occasionally you even get to sleep in a locker room because a delay in your scholarship funds keeps you without any money for over a week.
Wait a second, that last part doesn't sound all that fun, but that's what happened to nearly 60 Hawaii athletes when their scholarships were delayed.
Hawaii athletic director Ben Jay told the Associated Press that clerical problems delayed the processing of scholarship funds for both athletic and academic scholarships at the school. The funds — which cover roughly six weeks of expenses for students going to summer classes and living off campus — were delayed nine days, and as a result, seven of Hawaii's athletes got by sleeping in the locker room. They spent their time eating energy bars and watching television, so it was just like daily life in your own apartment, except in a locker room.
"When it comes right down to it, we need to plan better," Jay told the AP. "This should never happen again. We have a responsibility for these kids to make sure they're taken care of. That's what their parents expect of us."
Making things better is the fact that Jay also said that the school couldn't help any of the students out by getting them groceries or taking them out to eat because it'd be a potential NCAA violation. Though before we jump on the NCAA here, John Infante of AthleticScholarships.net points out that Hawaii could have received a waiver, and may not have even needed one.
—–
June 15th
Jake Heaps leaves yet another school ….
Buff fans will remember Jake Heaps as the No. 1 quarterback from the Recruiting Class of 2010. Heaps had offers from all over the country, but spurned his home state Washington Huskies for BYU. Heaps played two seasons for the Cougars before transferring to Kansas at the end of the 2011 season.
From ESPN … Another highly touted transfer has fizzled out as the Kansas starting quarterback.
Former five-star prospect Jake Heaps, who was heralded by coach Charlie Weis after his arrival from BYU, said in a statement issued by the school Friday that he'd be leaving the program when he finishes his degree requirements at the end of the month.
Wide receiver Andrew Turzilli, who graduated in May, also said that he is leaving the program, while running back Darrian Miller has left for what Weis called "personal reasons."
Heaps was considered one of the nation's top prep quarterbacks coming out of Washington's Skyline High School. He ended up at BYU and set several freshman passing records, but eventually lost his starting job and decided to transfer to Kansas.
But like former Notre Dame quarterback Dayne Crist, who also lost his starting job after joining the Jayhawks, Heaps was eventually passed over as the starter by freshman Montell Cozart.
Heaps only completed 49 percent of his passes for 1,414 yards with eight touchdowns and 10 interceptions as the Jayhawks struggled to a 3-9 finish last season.
"I am very grateful for the opportunity given to me by Coach Weis to play football and earn my college degree," Heaps said. "My wife and I have truly enjoyed being part of the Jayhawk community. We have made lifelong friends through this experience."
It's unclear whether Heaps intends to play elsewhere next season. As a graduate transfer, Heaps would be eligible to play immediately.
….. and lands in Miami
From ESPN … Quarterback Jake Heaps is transferring from Kansas to Miami, where the former five-star recruit will join a team short on experienced passers.
Hurricanes coach Al Golden announced in a news release Sunday that Heaps has signed a financial aid agreement with the school. He has already graduated and will be eligible to play immediately.
Miami is trying to find a replacement for last year's starter, Stephen Morris.
Ryan Williams, who was the backup to Morris, was expected to enter next season as Miami's starting quarterback, but he is recovering from a knee injury. That leaves redshirt freshman Kevin Olsen, sophomore Gray Crow and incoming freshmen Brad Kaaya and Malik Rosier competing for the job.
Heaps, from Sammamish, Washington, started his college career at BYU after being one of the top quarterbacks in the 2010 recruiting class.
He threw for 2,316 yards and 15 touchdowns as a freshman for the Cougars, but struggled as a sophomore, starting six games.
He transferred to Kansas and after sitting out 2012, had a disappointing 2013 with the Jayhawks. He completed 49 percent of his passes last season, with eight touchdowns and 10 interceptions.
——
June 12th
Utah wide receiver / quarterback to transfer
From BlockU.com … As a bit of a surprise, Micah Thomas, a converted wide receiver from quarterback, has decided to transfer from the University of Utah football team after just one season.
Thomas, a promising young player, came on campus as a quarterback out of Texas, but all through recruiting he was told he would likely move positions – but he'd be given a shot at QB. This past spring the transition happened for him to move to wide out, and he even took some wild cat snaps in the spring game. While he was inexperienced and raw, his speed and skills were promising
At this point it is unclear where the redshirt freshman will be transferring to, and the exact reason why he has decided to transfer.
Did he think he should be a QB, even if he was basically told that was a long shot at the U? Or was he going to be buried on the depth chart regardless of position?
…. Side Note … Micah Thomas was a three-star athlete out of the Class of 2013. Considered by Rivals to be the No. 71 athlete in the nation, Thomas, from Galena Park, Texas, had offers from Utah, Air Force, Colorado, Baylor and Rice … (Rivals bio).
—–
June 11th
Big 12 not looking to expand
From ESPN … BYU coach Bronco Mendenhall wants in the Big 12, but two league athletic directors told ESPN there have been "zero discussions" about the conference expanding.
Kansas State's John Currie and West Virginia's Oliver Luck both said the Big 12 has not had any expansion discussions, nor is it interested in doing so.
"Expansion is one thing we're not talking about," Luck said.
Added Currie: "We see how strong and productive our league is with 10 members. The camaraderie is really good."
Recently, Mendenhall told the Austin (Texas) American-Statesman that the Cougars "would love to be in the Big 12. I would love to be a member of that conference. I think that would make a lot of sense."
However, the Big 12 is not interested in adding teams, Luck and Currie said. One reason is the conference plays every league football team in its nine-game conference schedule and has an 18-game home-and-home round-robin basketball league schedule.
"The conference schedule is absolutely great," Luck said. "Our tagline is 'one true champion.'"
Luck added that there are no "available teams" — schools from the non-Power Five leagues — that would add value to the Big 12′s per-school revenue.
—–
June 10th
Tostitos, Discover and Capital One leaving present bowl affiliations
From the SportsBusinessJournal … The new College Football Playoff is going to look a lot different than the old BCS, both on the field and off.
Two more brands that were closely linked to the BCS — Discover and Tostitos — have told ESPN that they are ending their title sponsorship of playoff bowl games. Capital One, meanwhile, is in the final stages of negotiations to fill the void at the Orange Bowl, and ESPN still is looking for a sponsor to take the Fiesta Bowl position.
Discover has been the title sponsor of the Orange Bowl for the last four seasons, but the bigger surprise is Tostitos, which is set to end its 18-year association with the Fiesta Bowl, according to industry sources. The Frito-Lay brand enjoyed one of the longest-running title sponsorships in college football, but recently it advised ESPN, the CFP's rights holder, that it doesn't plan to renew.
Industry sources are not sure why Tostitos opted out, although the price increase on the title sponsorship could have played a role. Title sponsorship deals in the old BCS annually ran in the $15 million to $20 million range. Sources say that CFP title sponsorships are closer to $25 million a year, and ESPN is seeking six-year commitments.
ESPN would not comment on the moves or on any details of its sales progress.
The Orange and Fiesta bowls are part of the six-bowl CFP, which beginning this season will determine the national champion as part of a four-team playoff format. The semifinals will rotate among the six bowls in the CFP.
In April, SportsBusiness Journal reported that Northwestern Mutual would replace Vizio as the presenting sponsor on the Rose Bowl, a move that marked the first shift in bowl sponsorship positions.
The addition of Capital One to the CFP shouldn't come as a surprise, given its deep relationship with ESPN and college football. The credit card division of the bank sponsors Capital One Bowl Week each December, while also sponsoring the bowl game in Orlando formerly called the Citrus Bowl.
That Orlando bowl sponsorship is expected to end once Capital One closes its deal for the Orange Bowl. Capital One had sponsored that game, which is considered among the most elite non-CFP bowls, since 2001.
——
June 9th
Pac-12 re-states call for reforms
From the Pac-12 … The Pac-12 CEO Group – made up of the presidents and chancellors of Pac-12 member institutions – restated its intent to address the evolving needs of student-athletes and reform intercollegiate athletics at the conclusion of Pac-12 Summer Meetings, the Conference announced today.
Citing alignment to their initial letter asking presidents and chancellors of their peer conferences to sign on to their 10-point reform plan, the CEO Group moved closer to finalizing an approach that better addresses student-athletes and simultaneously reaffirms the primacy of our universities' academic mission.
"We are at a pivotal moment in efforts toward reform, and we have been delighted by the positive feedback from our four peer Conferences," said Dr. Elson S. Floyd, President of Washington State University and Chair of the Pac-12 CEO Group. "Our peers are in agreement on the need to expand scholarships to take into account to full cost of attendance, address student-athlete health, protect against unfair loss of scholarships before graduation, reduce the time demands that athletics make on our student-athletes, and incorporate current student-athletes into our governance groups."
"Our peers have requested additional discussions on our recommended reforms around strengthening Academic Progress Rates, considering the freshmen ineligibility rule in men's basketball, and the liberali-zation of current student-athlete transfer rules. Alignment among the five conferences around all these goals has never been more important, and we now look forward to working on the specific details to make reform a reality."
—
Sanctions against USC officially come to an end
USC officially will be done with NCAA sanctions on Tuesday, so the Los Angeles Times published a package this weekend looking back at the sanctions imposed and its effects.
Some of the articles:
- Sanctions are coming to an end, but effects remain
- Former coach Pete Carroll continues to assert that he wouldn't have left had he known about pending sanctions
- Just for the record, a list of the sanctions imposed
——
June 8th
Pac-12 to open an earlier television window to avoid too many late night games
More breakfast burritos at your tailgates this fall at Folsom … With CU being able to start at noon instead of 11:00 a.m. (more of an issue for west coast teams), and with these games being played on the Pac-12 networks (read: not good enough for better time slots), there could be a number of noon starts for the Buffs this year.
From the Pac-12 summer meetings … The Pac-12 announced that it has created an 11 a.m. PT (2 p.m. ET) television window for this upcoming football season in an effort to reduce the number of night games across the Conference. Pac-12 Networks will exclusively broadcast the games in this time slot in place of an evening window throughout the season. The number of 11 a.m. PT games will be determined as the season and television picks progress.
"This is a positive step for Pac-12 fans across the Conference," said Pac-12 Commissioner Larry Scott. "There has been an adjustment over the last two years with our new television agreement, and we believe fans – both in our stadiums and in the television audience – will benefit."
… For Jon Wilner's take on the subject of 11:00 a.m. Pacific time kickoffs, click here …
—–
June 7th
UCLA and Arizona set up BCS-caliber non-conference competition
From CBSSports.com … UCLA and BYU announced a home-and-home series on Thurday for 2015 and 2016. The first game between the two programs will be played in the Rose Bowl on Sept. 19, 2015 and then the Bruins will make a trip to Provo to play in LaVell Edwards Stadium on Sept. 17, 2016.
"I'm exited for this series with UCLA. It's a great matchup versus an opponent rich in football tradition, and a team that will be fighting for a Pac-12 championship," BYU athletic director Tom Holmoe said in the official release. "It's also a great opportunity for our large fan base in Southern California to see the Cougars play in the Rose Bowl — one of the most storied football venues in the country."
UCLA and Nevada have agreed to cancel their series for 2015 and 2016, making room for the BYU series on the Bruins' future schedule. Nevada has added a 2015 date at Texas A&M and a home-and-home series with Buffalo for 2015 and 2016. The Wolf Pack were scheduled to play Idaho in 2015, but that date has been bumped to 2021 or 2022.
If UCLA is in the mix for the College Football Playoff in the near future, strength of schedule will not be a knock on their resumè. The Bruins have an impressive non-conference slate for the next half decade that includes Texas, Texas A&M, Oklahoma and now BYU — not to mention a nine-game conference schedule in the increasingly competitive Pac-12.
For BYU, the UCLA series adds two high-profile games to the schedule in a time when the future of FBS independents is uncertain. Notre Dame has its agreement with the ACC and Navy is set to join the American in 2015. Soon, BYU and Army will be the last permanent independent schools at the FBS level.
From CBSSports.com … We've only got roughly two and a half months before the college football season starts and while that's a longer wait than I'd like — seriously, hurry the hell up and get here already, football season — it's not nearly as long as we'll all have to wait for this exciting Arizona-Mississippi State home-and-home series that was announced Thursday.
Oh man, I probably should have warned you to sit down before dropping that bombshell on you, my mistake. Anyway, once you've recovered from your excitement enough to continue reading, ESPN.com's Brett McMurphy is reporting that Arizona and Mississippi State have agreed to a home-and-home that will see the teams play at Arizona in 2022 and at Mississippi State in 2023.
So you've only got eight years to put your travel plans together.
In all seriousness, while you'll forget these games were even scheduled long before they're actually played, I'd much rather see schedule announcements like this than games between power conference schools and paycheck patsies.
Barring an unforeseen meeting between these two teams in a bowl game or the College Football Playoff — hey, a lot can happen in eight years — the 2022 meeting will be the first game between the schools.
–
June 6th
BYU "would love" to be in the Big 12
From ESPN … During the turmoil of conference realignment, both BYU and the Big 12 flirted with the Cougars joining the conference in 2011. Instead, the Big 12 invited TCU and West Virginia, and closed its doors at 10 members, while BYU went on to become an independent.
But BYU football coach Bronco Mendenhall is now making a case for the Cougars' inclusion into the Big 12.
"We would love to be in the Big 12," Mendenhall told the Austin American-Statesman newspaper. "I would love to be a member of that conference. I think that would make a lot of sense."
BYU suddenly has plenty of motivation to join a conference. The ACC and SEC excluded BYU from their power five non-conference scheduling mandate, which could make it difficult for the independent Cougars to fill out their football schedule. Also, if the power five conferences (ACC, Big 12, Big Ten, Pac-12, SEC) gain autonomy from the NCAA, BYU could get even further left behind.
Mendenhall said if the Big 12 became interested in expanding, BYU would have plenty to offer.
"Our attendance is high enough. And our winning percentage is high enough," Mendenhall told the paper. "We have the entire Salt Lake City and Utah market as well as a worldwide following because of the church. There'd be a ton to offer the Big 12 because it's a money-generated world right now. You're talking about an amazing kind of brand."
The American-Statesman, however, cited two sources that the idea of adding BYU has little support among Big 12 officials. Last week at its annual spring meetings, the Big 12 also announced a record $220.1 million in distribution revenue.
——
June 4th
Bo Penlini - Dump Signing Day altogether
From ESPN … Nebraska coach Bo Pelini has a solution to slow down the recruiting process: Eliminate national signing day altogether and put greater accountability behind scholarship offers.
Pelini thinks high school players should be able to sign with teams as soon as they receive scholarship offers. If coaches choose to offer scholarships to freshmen and sophomores — an increasingly common tactic — they have to be prepared for those players to sign on for the distant future.
"If somebody has offered a kid, let him sign, it's over," Pelini told ESPN.com on Wednesday. "That will stop some of the things that are happening — people just throwing out offers, some of them with really no intention of taking a kid."
As national momentum builds for an early signing date, possibly in August or December, Pelini, like many coaches, would prefer to see the recruiting process slowed down. Maryland coach Randy Edsall wants to prevent scholarship offers from being given until the start of a prospect's senior year in high school.
Pelini's idea attaches more to the offer, whenever it comes.
"Make [the offer] mean something," Pelini said. "People will be like, 'Whoa, I've got to take this kid now.' It will slow things down for the kids, for the institutions. There will be less mistakes.
"Why does there have to be one specific day? And it will get rid of some of the stuff that goes on, kids pulling the hats and so forth."
Pelini added that prospects should be able to be released from their letters of intent if coaching changes occur.
The Huskers coach hasn't formally proposed the idea but has discussed it with other coaches, who also want recruiting to slow down along with more time to evaluate prospects before offering scholarships.
Pelini doesn't think his plan will happen because guidelines for when prospects can sign have been in place so long.
"Things would slow down dramatically," Pelini said. "Some of these kids get 60 offers. Some of these people don't even know who a kid is. The whole thing gets watered down. There's no way some [team] can take that many guys."
——
CSU Stadium delayed for a year, but not due to fund-raising issues (wink, wink)
From 9News.com … At a meeting Monday night in Fort Collins, with members from Colorado State and the community, attendees were informed CSU's Stadium Project may need to be slowed down. The target date for a Fall 2016 opening may be pushed back by a year.
CSU Athletic Director Jack Graham was traveling and not present at the Community Design Development Advisory Committee meeting, however he told 9News the information was accurate and a result of design deadlines, not fundraising.
Graham gave the following reasons for the potential setback:
1. The design process has been delayed, which in turn has compressed the timeline to complete the Design Development Phase by a deadline of July 1st. Graham says at this point to hit a target date of July 1st, the quality of the design would be compromised. He told Susie Wargin "I'm still looking for ways to solve this, but I am not optimistic."
2. Once the Design Development phase is completed, the University needs to move forward with construction drawings. To meet a Fall 2016 completion date, the construction drawings need to be done in time to permit contractor "site work" in October/November. Because the Design Development deadline will likely not be met, the construction drawings will not be started in time for the site work deadline.
Graham says in spite of what will likely be a Fall 2017 date for the stadium opening, he is still proceeding with no change in fundraising efforts for the project.
"I want the Capital Campaign completed by October of this year, (which was) the original timeframe," Graham said. "The faster we get the Capital Campaign successfully completed, the sooner we can get started."
The meeting on Monday was the fourth of its kind this year and is an effort to bring members of the community into discussions with members of the University. The purpose is to let the community contribute to the design and address topics such as noise mitigation, lighting pollution, etc.
—–
June 2nd
Big Ten leaders support Pac-12 autonomy proposals
From NBCSports.com … Since it's one of those slow weekend days in the offseason, we figured we'd share a statement from the Big Ten.
In it, the (kinda) Midwest conference addresses the autonomy issue that SEC commissioner Mike Slive stumped for late this past week while also (again) dropping the "D-IV" thermonuclear option.  In said Sunday address, the Big Ten essentially locked arms with the Pac-12 and its letter last month urging the Power Five conferences — ACC, Big 12, Big Ten, Pac-12, SEC — to make sweeping changes to the current NCAA athletic model, especially as it relates to football and men's basketball.
While there was no direct secession talk in the Big Ten's statement, there was certainly the hint that, as Slive stated Friday, all options would be considered if the NCAA steering committee and/or the Board of Directors vote thumbs down on the autonomy issue in August and fail send it to the full membership for a vote next January.
The statement comes at the conclusion of the June meeting of the Big Ten Council of Presidents/Chancellors (COP/C). That (very lengthy) statement appears below, in its entirety:
The Big Ten COP/C discussed a variety of important topics during its annual June meeting, while taking part in an open house and tour of the new conference office building in Rosemont, honoring outgoing presidents and welcoming new presidents. Key areas of discussion focused on NCAA restructuring, the need for autonomy for the 65 institutions comprising the ACC, Big 12, Big Ten, Pac-12 and SEC, and ensuring accountability for delivering reform. While the NCAA Board of Directors' Steering Committee on Governance has made good progress in the area of autonomy, more work needs to be done as we seek to implement a 21st century governance structure that preserves the collegiate model while allowing each school to focus on improved student-athlete welfare.

As such, the COP/C discussed the recent letter shared by the Pac-12 presidents with their colleagues on May 14. The Big Ten has been engaged in substantive discussion over the last year on many of the principal objectives for reform referenced in the Pac-12 document, including concepts presented by Commissioner Delany to media last July in Chicago along with meetings and teleconferences in October, December and February. The majority of these objectives have long been supported by the Big Ten and its member institutions.

The Big Ten continues to strongly support full cost of attendance scholarships, reasonable on-going medical or insurance assistance to student-athletes, continued efforts to reduce the incidence of disabling injury, guaranteed scholarships to complete a bachelor's degree, decreased time demands and enhanced time to fully engage in campus life, adjusted restrictions on preparing for careers based on advice and counsel of agents and a meaningful role in governance for student-athletes.

The COP/C also examined three other principal objectives for reform proposed by the Pac-12 presidents – strengthening the Academic Progress Rate (APR) requirements for post-season play, the "one and done" culture in men's basketball and liberalizing current limits on transfer rules. While the concept of increasing APR requirements has not been discussed in the past, the Big Ten has long supported increased academic standards for all institutions. With respect to the issues of the "one and done" culture and transfer rules, the COP/C agrees that these are important issues that should be examined and addressed in cogent ways.

In addition to the substantive concepts raised in the Pac-12 letter, the conference continues to support certain procedural elements of governance restructuring including increased inclusion of faculty representatives, a voting process that does not set a bar so high that it prohibits change, and the ability to interpret and waive autonomous rules. The COP/C looks forward to further discourse on these topics with our colleagues in other conferences and Big Ten faculty, administrators, student-athletes and coaches, as we continue to discuss the best use of autonomy to give more than 9,500 conference student-athletes the support they deserve to best shape their future.

The COP/C also received an update on the traumatic brain injury (TBI) research collaboration between the conference, the Consortium on Intercollegiate Cooperation, and the Ivy League. The collaboration, begun in June 2012, continues to foster multi-institutional, cross-conference research efforts centered on the prevention, diagnosis, and treatment of TBI and sports concussion. The COP/C also reviewed the recently announced joint initiative for concussion research between the NCAA and Department of Defense, a $30 million initiative that will include research managed at three Big Ten institutions: Indiana, Michigan, and Wisconsin.
—–
Wilner: Supreme Court ruling 30 years ago set the stage for O'Bannon lawsuit
From the San Jose Mercury News … 30 years ago … 30 years ago this month … the Supreme Court cleared the way for the television rights bonanza at the heart of the O'Bannon case with a landmark anti-trust ruling.
In the NCAA vs. the Oklahoma Board of Regents, the Supremes upheld a lower court ruling and, by a 7-2 vote, determined that the association unreasonably restrained trade by limiting the schools' ability to negotiate their own TV contracts.
The Sherman Act was used to create the current system, which the Sherman Act is being used to dismantle: O'Bannon's anti-trust lawsuit aims to lift the lift the cap on what athletes can earn from the use of their name, image and likeness — with TV dollars as the focus.
The case was decided June 27, 1984. Justice John Paul Stevens delivered the opinion for the majority:
But consistent with the Sherman Act, the role of the NCAA must be to preserve a tradition that might otherwise die; rules that restrict output are hardly consistent with this role. Today we hold only that the record supports the District Court's conclusion that by curtailing output and blunting the ability of member institutions to respond to consumer preference, the NCAA has restricted rather than enhanced the place of intercollegiate athletics in the Nation's life. Accordingly, the judgment of the Court of Appeals is

Affirmed.
Armed with the ability to sign their own TV deals, and using the conferences as their agents, the universities began collecting the thousands of dollars that today is the billions of dollars that the O'Bannon plaintiffs are targeting.
What began five years ago as a case essentially focused on jersey sales … and then was merged with a case (Sam Keller) aimed at a cut of the video games pie … is now a lawsuit locked on the massive TV revenue.
Over that time, televised sporting events have become an invaluable tool for sponsors to reach advertisers: They are as close as it gets to DVR-proof. Sponsors pay more, which means networks pay more, which means rights fees soar.
The power conference schools are collecting approximately $20 million annually, with total net revenues (including football playoff and NCAA Tournament) expected to climb into the $30 million range in a few years.
The O'Bannon attorneys are simply following the money – money that began to flow to the schools 30 years ago this month.
—–
June 1st
Nebraska picks up suspended Washington receiver
If CU were still in the Big 12, there would be much more to say about this …
From CBSSPorts.com … Nebraska 's receiving corps has received a potential major boost with the arrival of Washington sophomore transfer Damore'ea Stringfellow.
A former four-star and top-100 overall recruit from Moreno Valley, Calif., Stringfellow told 247Sports' Huskers Illustrated he had officially filed his transfer papers with Nebraska late Saturday evening.
"Nebraska was my second choice when I committed to Washington," Stringfellow said. "I love the coaches and in particular [wide receivers coach Rich Fisher]. I plan on visiting in June and I will arrive July 13 or 14. This is it for me. I'm signed and set for Nebraska. My family, my mom and my dad support my decision 100 percent."
Along with Huskies quarterback Cyler Miles, Stringfellow was suspended by Washington in February after being accused of punching a man and was eventually charged with fourth-degree assault. Miles was not charged and was reinstated in May, but Stringfellow pleaded guilty to three misdemeanors and the school announced he would transfer.
Washington fans weren't thrilled to see Stringfellow leave the program, and not without reason: he finished as the team's sixth-leading receiver as a true freshman, catching 20 balls for 259 yards. 147 of those came in a breakout performance against UCLA that suggested Stringfellow may be able to capitalize on his substantial potential.
Stringfellow will redshirt during his 2014 transfer season and will have three years to play his three remaining seasons of eligibility.
—–
NCAA files emergency motion to delay O'Bannon trial
From CBSSports.com … In its latest attempt to delay the Ed O'Bannon trial, the NCAA has filed an emergency petition with the 9th U.S. Circuit Court of Appeals.
Lawyers for the NCAA asked the appeals court to vacate U.S. District Judge Claudia Wilken's order for the trial to start June 9. The NCAA also wants the appeals court to rule that the O'Bannon antitrust trial should not be held before the Sam Keller right of publicity trial involving videogames, a related but now separated case scheduled for trial in March 2015.
The filing late Thursday night marks the fifth attempt by the NCAA in recent weeks to delay and/or redefine the case. A three-judge panel from the 9th Circuit Court of Appeals previously rejected one of the delay attempts without comment.
In this latest petition, first reported by USA Today Sports, the NCAA contends there are overlapping issues between the O'Bannon and Keller cases that would violate the Seventh Amendment if Wilken rules on the O'Bannon case prior to a jury hearing the Keller case. The O'Bannon plaintiffs are seeking an injunction to end the NCAA's rules prohibiting football and men's basketball players from being paid for use of their names, images and likenesses.
Two weeks ago, the O'Bannon plaintiffs dropped their individual damages claims against the NCAA before a jury trial. The NCAA cites that change as a reason for the emergency petition.
Wilken previously ruled there are no Seventh Amendment issues and denied the NCAA's request to sever all evidence and claims related to videogames from the antitrust case. She has stated that if "factual issues are decided at the bench trial are important to the subsequent jury trial, then those issues may be re-tried during the jury trial" unless there's a final judgment not subject to appeal or an issue that can't be relitigated.
The NCAA seeks a decision from the appeals court by 8:30 a.m. on June 9, which is when the O'Bannon trial is scheduled to begin in Oakland, Calif.
"The petition filed today with the Court of Appeals makes clear the NCAA's serious concerns about potential violations of the Constitution resulting from the plaintiffs' last-minute maneuvering to obtain a bench trial," NCAA chief legal officer Donald Remy said. "While the NCAA does not take this step lightly, it could not abandon its right to a jury trial without seeking further review."
Michael Hausfeld, the lead attorney for the O'Bannon plaintiffs, called the NCAA's appeal "one last desperate effort to avoid trial." Hausfeld said the appeals are rarely granted, "but if you're responsible counsel, you're concerned about everything."
"We're going to be arguing that from the very inception of the consolidation (of the Keller and O'Bannon cases), the court clearly expressed the view that the trial of the antitrust case and the trial of the right of publicity case might be separated," Hausfeld said.
——
Washington State picks up linebacker from UCLA
From the Orange County Register … Linebacker Aaron Porter, a former four-star linebacker who left UCLA in April, will transfer to Washington State.
Porter never made a meaningful contribution in his two seasons at UCLA — even after switching to fullback late last season. Porter didn't enroll at the university for the spring quarter, suggesting he likely wouldn't return to Westwood.
… According to CougCenter.com … Porter was a very highly-touted middle linebacker coming out of high school. He was a consensus 4-star recruit out of La Habra High School in La Habra, Calif. If that school sounds familiar, it is because it is the same school current WSU wide receiver Brett Bartolone attended. Porter and Bartolone were high school teammates and part of the same recruiting class. With Darryl Monroe entering his junior season and some limited depth behind him, Porter could contend for a backup role in 2015 before competing for the starting job in 2016.
… Porter was a four-star linebacker as part of the Recruiting Class of 2012. Porter was considered by Rivals to be the 22nd-best outside linebacker in the nation, and the 36th-best player out of the state of California. Porter had offers from eight Pac-12 schools, including Colorado.
——